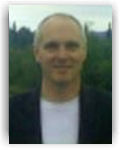 Douglas Fessenden was named Director of Loss Prevention for Restoration Hardware. Douglas was previously the Director of Loss Prevention West & West Central for Sears Holdings Corporation, and held other leadership positions in the 17 years he worked for Sears. He was also a Region Manager of Loss Prevention and Director of Loss Prevention - North West & West Central. Douglas has also worked at Timberland Retail as a Regional LP Manager, Home Depot as Multi Unit LPM and J Crew as District LP Manager. Douglas also served in the United States Marine Corps for a few years. He earned his Bachelors of Science in Business Management from the University of Phoenix. Congratulations Douglas!

The biggest cyberthreat to retailers could come from the inside - 'Nearly impossible to stop' Companies spend billions of dollars each year to protect from determined hackers attacking from across the Internet, but experts warn they shouldn't ignore a closer threat they aren't even ready for: Inside jobs. Morgan Stanley, one of the world's largest financial services firms, revealed Monday its customer information was breached. But it wasn't the result of determined hackers or sophisticated email attacks. Instead, Morgan Stanley said it was an employee who stole data from more than 350,000 customer accounts. The move is a wake-up call to companies, which spent an estimated $71.1 billion in 2014 on cybersecurity, up nearly 8 percent from the year before. And while hackers have successfully attacked large companies like JPMorgan, Target and Home Depot, experts warn employees pose just as much a threat, whether they act intentionally or by accident. While the cybersecurity industry is devising an ever growing list of technology to protect from intrusions, it turns out there's relatively little that can be done to stop an insider who already has access to a company's otherwise highly protected data. cnet.com

Former Sony Staffers Suspect Hack Was Inside Job
A Silicon Valley cybersecurity firm is doubling down on its claim that at least one former Sony employee was involved in hacking Sony. Some former employees of the company are expressing that sentiment as well, even as the U.S. government stands by its conclusion that North Korea orchestrated the massive cyberattack. Kurt Stammberger, senior vice president at Norse, which provides cyber intelligence to customers in financial services, technology and government, told The Huffington Post that the company remains "pretty confident" that "at least one ex-employee was involved, probably more" in the Sony hack. As evidence, Stammberger said that Norse has samples of malware used in the Sony hack that existed as early as July, "completely in English with no Korean whatsoever." Sony credentials, server addresses and digital certificates were already built into the malware, he added. "It's virtually impossible to get that information unless you are an insider, were an insider, or have been working with an insider," he said. "That's why we and so many other security professionals are convinced an insider played an important role." huffingtonpost.com

Sony Pictures hackers 'got sloppy', says FBI director
The bureau's director James Comey said the group posted material from servers used exclusively by the North Koreans. November's attack on the company saw the leak of sensitive documents, and film The Interview briefly shelved. Cyber security experts have been sceptical about the FBI's assertion North Korea was to blame. bbc.com

Settlement in Zappos Breach Case - 9-State Agreement Requires Online Retailer to Beef Up Security Online shoe and clothing retailer Zappos has reached a settlement with nine state attorneys general over a 2012 data breach that exposed the personal details of more than 24 million customers. Zappos has agreed to pay a total of $106,000 to the states and take several steps to protect its customers' information, Massachusetts Attorney General Martha Coakley says. In addition to Massachusetts, the settlement involves Arizona, Connecticut, Florida, Kentucky, Maryland, North Carolina, Ohio and Pennsylvania. In their inquiry into the breach, the attorneys general questioned the effectiveness of Zappos' measures to protect the confidentiality and security of private information. The Zappos incident shows the financial risks of failing to properly fund and staff information security programs. When it disclosed the breach in January 2012, Zappos said that a criminal gained access to certain parts of its network through one of the company's servers in Kentucky. The data breach resulted in unauthorized access to the following customer account information: names, e-mail addresses, billing and shipping addresses, phone numbers, the last four digits of credit card numbers and/or the cryptographically scrambled passwords (but not the actual passwords). govinfosecurity.com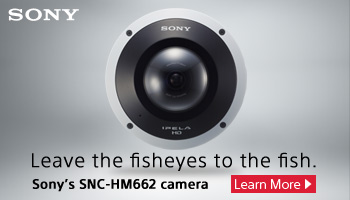 Security to be top spending priority for CIOs in 2015, survey says For the second consecutive year, security ranks as the top spending priority of CIOs in an annual survey by PiperJaffray, with 75% of respondents expecting to increase spending in 2015, up from 50% last year. The results reflect Network (firewall) and endpoint security were the top two segments of the market expected to see an increase in spending. Mobile ranked as the second greatest priority, with 62% of respondents expecting to increase their spending in 2015. Off-premise enterprise software (59%), storage (51%) and servers (45%) rounded out the top five 2015 spending priorities. chainstoreage.com

J.C. Penney Closing 40 Stores in April - Cutting 2,250 jobs
J.C. Penney Co. Inc. has completed its annual store review and will close 40 stores on or about April 4. A spokeswoman for the company said about 2,250 store associates will get pink slips as a result. The retailer typically does a review of its stores annually to decide which sites to keep and which ones to shutter. The spokeswoman also said there are no other store closures planned for this year. She also said there are currently no store openings planned for 2015. See the full list of store closures here. wwd.com

PVH Corp. to Close Izod Retail Division - 120 stores
PVH Corp. said it plans to close its Izod retail division, a move the clothing company doesn't expect to affect the brand's growing wholesale business. The Izod retail division includes about 120 stores, 20 of which will be converted to new format under Calvin Klein and Tommy Hilfiger brands that have continued to generate growth in recent quarters. wsj.com

Body Central Said to Prepare to File for Bankruptcy Within Week
Mall-based apparel retailer Body Central Corp is preparing a bankruptcy filing that could come within the next week, Bloomberg reported, citing people familiar with the matter. The Jacksonville, Florida-based company is working with the accounting and consulting firm Richter, Bloomberg said, quoting people familiar with the matter as saying. Body Central, which said earlier on Wednesday that it was facing "significant liquidity challenges," received a notice of default on $18 million in debt and is assessing strategic alternatives. The retailer is in talks to procure additional financing, which could help with a reorganization after bankruptcy. The company ceased trading on the Nasdaq in July last year. Body Central, which was founded in 1972, operates stores under the Body Central and Body Shop banners and caters to women in their late teens and twenties. reuters.com

Report on buyout conversations sends Dick's Sporting Goods shares climbing Shares of Dick's Sporting Goods Inc. surged almost 12 percent following a Reuters report that the Findlay retailer is holding early-stage conversations with a handful of buyout firms about going private. There is no formal sale process, people familiar with the matter said Wednesday, and Dick's could still decide not to go forward with a deal if the preliminary talks do not pan out. Shares of Dick's closed at $55.01, up $5.77. Dick's issued a statement saying its policy is not to comment on market rumors. Analysts have pegged Dick's as a potential buyout target, in part because its share performance has lagged peers. postgazette.com

Resignations hit Bi-Lo's c-suite
The forthcoming executive changes at Bi-Lo Holdings will evidently include more than just a new CEO and president. In addition to Tuesday's announcement that CEO and president Randall Onstead would depart as of March 1, a spokesman for the retailer said that Onstead's top lieutenant, Mark Prestidge, had resigned effective Dec. 31. Prestidge had served as EVP and COO since January of 2013. He was a former colleague of Onstead's at the Randalls chain as well as a one-time president of Kroger's Delta division. supermarketnews.com

USA Today Poll - Stein Mart Voted #1 Department Store
Stein Mart is the best department store chain in the country, according to readers of USA Today. Readers of the national newspaper's 10Best lifestyle section voted for four weeks in the poll. Though the paper gave few details, it said that the Stein Mart's "brand name fashions at discounted prices" provided the value to put the Jacksonville-based chain at the top of the list. Stein Mart currently has 270 stores in 30 states. Nordstrom, the high-end chain that opened its first Northeast Florida store last year, came in second. The full list: 1. Stein Mart 2. Nordstrom 3. Kohl's 4. Belk 5. Bon-Ton 6. Macy's 7. Target 8. JCPenney 9. Dillard's 10. T.J.Maxx. jacksonville.com

How And Why To Cope With Tougher PCI Compliance Standards
On January 1, 2015, version 3.0 of the PCI (Payment Card Industry) Data Security Standards replaced version 2.0 as the standard. In other words, what some financial institutions, merchants, and other credit card payments industry members already saw as an onerous process—complying with PCI standards and possibly being audited—is about to get even harder. While I can't take the blood, sweat and tears out of PCI compliance, as an experienced Qualified Security Assessor (QSA) I can give you some context for why PCI is issuing a new version of its standards, and why 3.0 is a good thing for your business in the end. forbes.com

71% of retailers do not have an 'omnichannel' position in the company
Despite all the buzz around omnichannel, 71% of retailers do not have a position in their company with "omnichannel" in the title, according to a survey by distributed order management solutions provider Shopatron. What's more, many retailers have put off implementing an enterprise-grade order management system because of the high investment costs, lack of integration with existing systems and the lack of time and resources dedicated to deployment. The survey reveals that retailers still have a ways to go with regards to omnichannel integration. Despite getting a lot of attention, ship-from-store and in-store pickup may not be on most retailers' short-term to-do lists. In fact, 59% of the surveyed retailers said they did not have plans to deploy new order fulfillment solutions like ship-from-store or in-store pickup. chainstoreage.com

While shoppers like in-store pickup, it is tough for retailers to do well
Online shoppers like being able to pick up a web order at a local store, but in-store pickup presents operational and logistical challenges to retail chains. In the new report, "Nailing In-Store Pickup," Forrester Research Inc. analyst Brendan Witcher says retailers are challenged to meet customer expectations about in-store pickup and those expectations are only going to rise. More than half, 53%, of the more than 3,000 online U.S. adults surveyed say they expect notification in two hours or less that orders are ready for pickup. Those expectations are likely set by some retailers' aggressive promises. For example, Best Buy Canada guarantees orders placed online will be ready for in-store pickup within 20 minutes. But while shoppers like in-store pickup, the offering isn't simple for retailers to master. In-store pickup requires merchants to have up-to-the-moment inventory data, sufficient store staff and a designated area where shoppers can pick up purchases. internetretailer.com

Survey: 70% prefer to return/exchange gifts in store vs. online
Nearly a quarter (21%) of consumers said that they are likely to return or exchange at least one of the presents that they received this holiday season. Additionally, male respondents expressed a greater interest in returning or exchanging gifts (30%) than female respondents (20%) by as much as 10%. Among all survey participants, the overwhelming majority (70%) prefer to return or exchange gifts in-store, while only 9% prefer to do so online. chainstoreage.com

Dunkin' Donuts plans 1,400 new China stores by 2035

Forever 21 to open 50 new European stores

McDonald's laying off 63 at corp. HQ

CROCS wipes out LP department


Quarterly Same Store Sales Results

Havertys Q4 up 8.3%
Supervalu Q3 up 2.3%, with net sales up 4.8%
Family Dollar Q1 down 0.4%, with net sales up 2.3%


December Same Store Sales Results

Pier 1 up 8.2%
Cato up 7%
Steinmart up 5.8%
L Brands up 4%
Costco up 3%
The Buckle up 2.5%
Conn's up 0.5%
Fred's down 1.4%

"U-Tip - The Two Minute Tip" - 'Lets Get Social'
Filming at the Live in NYC Event Next Monday!


Help your industry - Share Your Tips & Advice and maybe even some of your mistakes. No invitation needed! If you're in the LP Industry, stop on by and film a tip! Who knows who'll be impacted. After all it's all about helping the LP community grow one executive at a time. Booking times now at our upcoming Live in NYC at the NRF Big Show Now. We've got over 10 now!
Jump in, get involved and help your industry grow!
Contact Mike to film your U-TIP. Everyone's invited & Everyone has a Tip!
All the News - One Place - One Source - One Time
The D&D Daily respects your time & doesn't filter retail's reality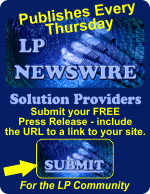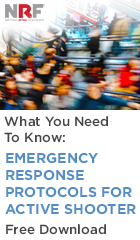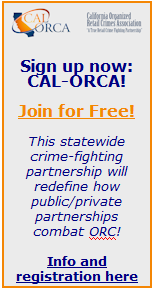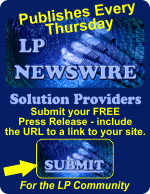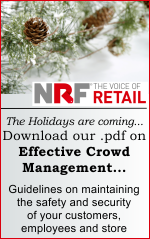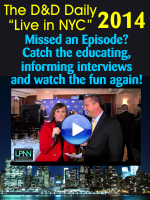 The D&D Daily
"Live in Ft. Lauderdale" at the NRF Show

NRF's LP Awards & Recognition Committee


Melissa Mitchell, CFI, Dir LP & Inventory Control, LifeWay Christian Stores
Sponsored By:




LPNN Quick
Take - 11



See all episodes here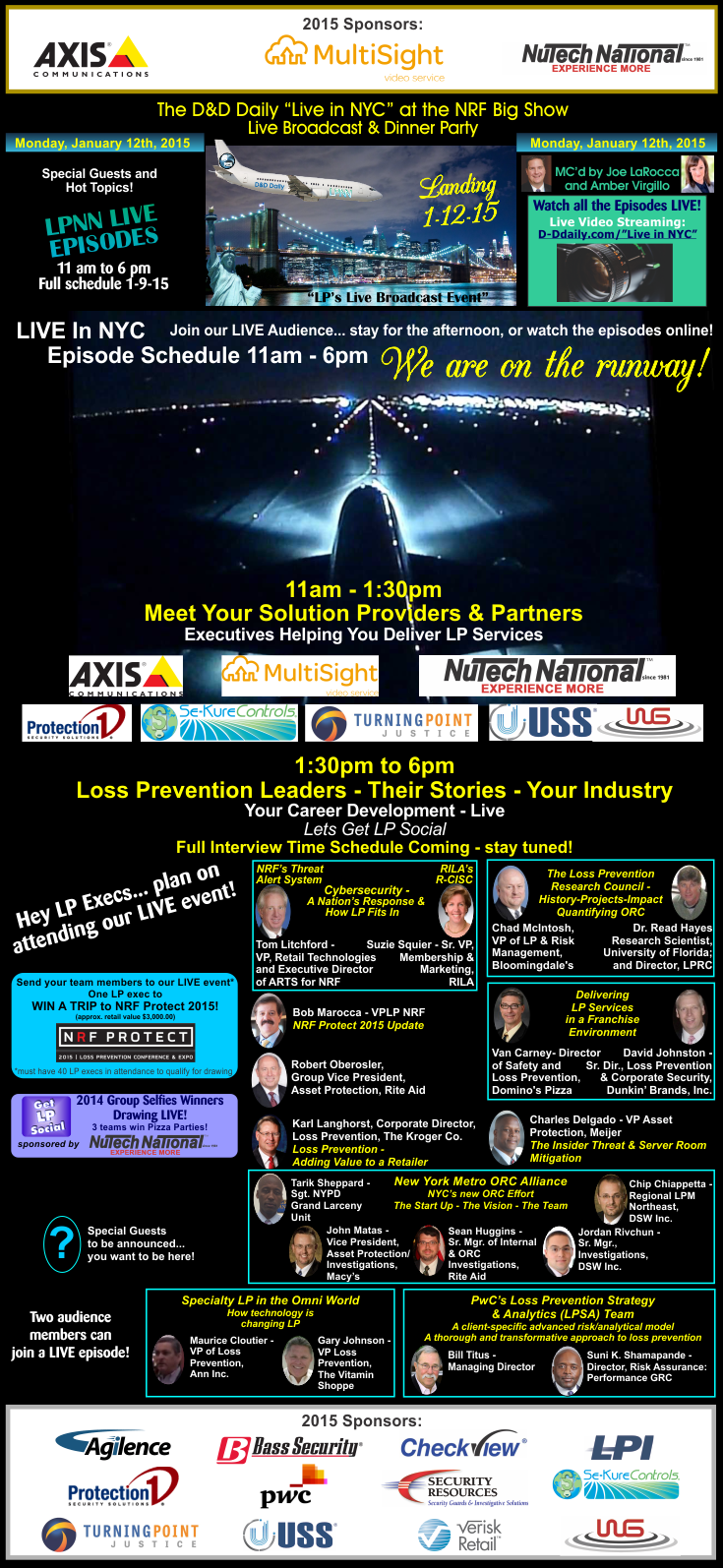 D&D Daily "Live in NYC" 2014

The Loss Prevention industry's first-ever live broadcast. With over 2,000 viewers and great Guests, Cast and Crew, the D&D Daily's "Live in NYC" event covered timely subjects and delivered valuable information for the LP viewers. MC'ed by two dynamic and absolutely energized industry executives, the event was a huge success and showed how the Daily continues to lead the way in "Educating, Informing & Instilling a Sense of Community" for the LP industry.

Visiting with LP Leaders of various Solution Providers, Retailers, Academia, and Trade Associations, the sessions covered a wide array of timely and critical subjects that can have an impact on your career and add value to your performance.
Solution Providers, have a video or commercial you want to publish? Contact us.

Stay Tuned for our New 2015 Get LP Social Column!

---

2014 LP Team Group Selfie Review

Showcasing each team in order!
Be on the lookout for our new Get LP Social 2015.

Your Team - Your Pride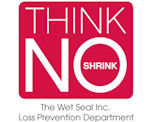 Wet Seal's Loss Prevention Team

"Think NO Shrink"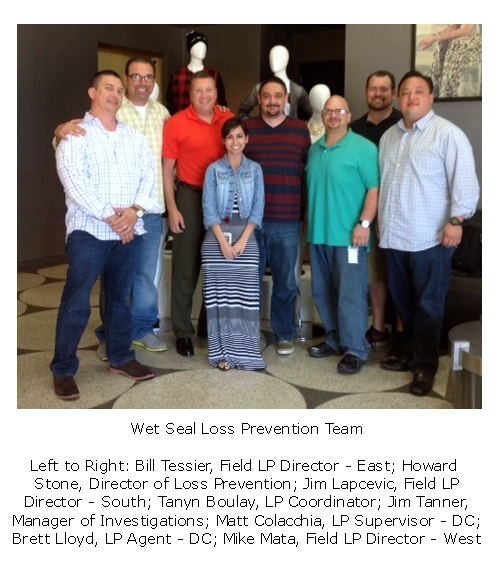 *Originally published on August 6, 2014
View all 2014 selfies here!

Three 2014 Group Selfie LP Teams to win Pizza Parties!
Drawing at our Live in NYC at the NRF Big Show, January 12th.
Make sure you're watching!



IBM: Fewer Retailer Cyberattacks, More Data Stolen
The number of cyberattacks against retailers has dropped by 50 percent over the last two years, but thieves are getting much more data from a typical attack, according to new data from IBM - and much of it is coming directly through flawed e-commerce websites, Silicon Angle reported. IBM said 61 million records were stolen from retailers in 2014, down from 73 million in 2013. However, after excluding the biggest attacks of each year - 2013's attack on Target and 2014's Home Depot attack - cyberthieves got away with 43 percent more retail data in 2014 than they did the previous year. Meanwhile, attacks and breaches dropped off significantly during 2014's Black Friday and Cyber Monday. The average daily number of attacks during the two weeks surrounding 2014's Black Friday (Nov. 24 to Dec. 5) was 3,043, down from 4,200 for the same period in 2013. The number of successful breaches was cut in half, from 20 breaches (exposing almost 4 million records) in 2013 to 10 breaches (exposing just over 72,000 records) in 2014. Despite that apparent slowdown, retailers and wholesalers are now the top industry target for cyberattackers, up from fifth place in 2013 among industries under heavy attack. pymnts.com

Mobile Payment Boasts Rosy Future, But Some Obstacles Remain in Play
It's going to take a mix of customer reward programs and greater security efforts to drive mobile payment systems forward, but the outlook is rosy, with one research firm predicting mobile payments will account for $130 billion of worldwide consumer spending in just five years. That spend point, predicted in a recent Strategy Analytics report, is equal to 254 million users making five mobile payments per month averaging about $9 each. Mobile payment vendors and service providers will have to do some work to hit that high note, however, as consumers are still a bit distrustful of the new spending approach and aren't likely to change from today's debit cards without some sort of incentive. The path to gaining mobile payment customers lies within loyalty and rewards programs. For example, Starbucks is driving customers to its mobile payment service by introducing rewards. Yet unlike some other mobile pay systems, Starbucks' app can only be used in its stores and no others, even though it taps near-field communication (NFC) technology like Apple Pay and Google Wallet, both of which can be used with whatever retail partner is using their payment system. techtimes.com

"Fraud is not a person - it is a dynamic grouping of statistics that deviate from the norm."
Stuart B. Levine, CFI, CFCI
CEO, The Zellman Group & Zellman Fraudnet


LPRC releases ORC Booster Interview Form
New Industry Tool for Store-Level LP Personnel
In an effort to help store-level LP personnel help identify if a shoplifter is linked to an organized retail crime group, the Loss Prevention Research Council (LPRC) has published an ORC Booster Interview Form to be used by any LP team throughout the retail industry. The questions were developed by the LPRC's ORC Working Group, an ongoing effort to coordinate with industry associations to produce more impactful ORC data, as well as enhanced ways to ID detained boosters. At least 29 different retailers are currently participating in the initiative, with leadership coming from veterans throughout the LP industry - including Group Leader John Hawthorne (Publix) and Co-Leaders Denny Dansak (Kroger), Tony Sheppard (CVS), Shane Hunter (Walmart) and Kevin Morrison (Lowe's).

The list of questions on the form is intended for apprehended individuals believed to be involved in ORC. Answers to the questions may be used to initiate an ORC investigation internally. After store-level personnel complete the form, they are to provide it to the individual(s) responsible for handling ORC investigations. Additionally, each form is also submitted to the LPRC for research and trend analysis - with the goal of sharing best practices with the industry and better measuring the impact that ORC has on retail.

We at the D&D Daily would like to highlight the importance of this new collaborative industry tool as an important step forward in the fight against ORC. We hope you and your team download and distribute this document as you see fit. To learn more about the ORC Working Group, how you can participate, or if you have questions about the new Booster Interview Form, please contact Kyle Grottini at Kyle@lpresearch.org.

ORC Investigators team-up to on 22 state investigation
"Macy's, in partnership with Bloomingdales, Bed Bath & Beyond, Nordstrom, Neiman Marcus, The Container Store and Saks Fifth Avenue are actively conducting a nation-wide investigation into a group led by an individual by the name of Darius Jackson. This group is primarily based out of the East Coast but have been active for us 22 different states. Their manner of operation at Macy's/Bloomingdales includes alleged theft of Men's Suits/Luxury Bedding and subsequent returns to a series of Debit Cards along with alleged compromises of employee ID#'s to process fraudulent transactions at Point of Sale to include fraud returns directly to Debit Cards and phantom EGC sales. Macy's and Bloomingdales have initiated law enforcement investigations at both the local and federal level but are looking to strengthen our investigation through collaboration with partner retailers. Please contact Chris DeSantis, Director of Central Investigations & Organized Retail Crime at christopher.desantis@macys.com to contribute to this matter or for further information."

Milwaukee area Auto Parts stores robbed 5 times in last 9 days
Milwaukee police are investigating the robbery of the Advance Auto Parts store located in the 1300 block of W. Oklahoma Avenue that occurred Wednesday evening, January 7th. Police say the robbery occurred around 6:00 p.m. It is unclear how many suspects were involved. Wednesday's robbery marks at least the fifth robbery involving an auto parts store within the last nine days in Milwaukee. The following stores have been robbed: Advance Auto Parts (12/30/14) Advance Auto Parts (12/30/14) AutoZone (12/30/14) AutoZone (1/6/15) Advance Auto Parts (1/7/15). fox6now.com

2 who allegedly tried to steal teeth whiteners from Hempfield, PA Target in custody A Cambria County couple who scuffled with a security officer at the Hempfield Target store while attempting to steal $1,200 in teeth-whitening products was arrested this week by state police in Greensburg. Christine A. Altschuh, 31, and Richard G. Mitchell, 42, both of Johnstown, were arraigned Tuesday on charges of robbery, conspiracy and retail theft. Court documents indicate that on Oct. 27, a security officer at the Route 30 store noticed Altschuh and Mitchell picking up a large number of whitening-strip kits where they began stashing the kits in Altschuh's purse. Altschuh attempted to leave the store and was stopped by the security officer. When Altschuh struggled with the officer over control of the purse, the officer was punched and kicked from behind by Mitchell. triblive.com

Duo Returns to Kohl's After Stealing Merchandise, Arrested for Grand Theft
A duo was arrested for grand theft after stealing two suitcases full of merchandise from Kohl's and then returning to the store later that same day. On Friday, the duo, later identified as Eric Penrose, 40, and Alex Penrose, 19, entered Kohl's and allegedly stole several items. According to Turlock, CA Police spokesperson Sgt. Stephen Webb, the suspects loaded up two suitcases full of merchandise and left the store undetected. Loss prevention officers were reviewing the security videos and noticed the theft, according to Webb. Later that same evening, around 8:39 p.m., the two suspects returned to the store. turlockcitynews.com

Two women charged with credit card fraud at Wal-Mart in Batavia, IL
Two Chicago women are facing multiple felony charges after they were allegedly caught using fraudulent credit cards at a west suburban Wal-Mart. Employees at the store in Batavia, called police Tuesday after they saw the women swiping several different cards at self-check-out aisles while trying to make multiple purchases. suntimes.com

Harlan, Iowa Police tracks down alleged shoplifter; persistent felony offender

Do you have an ORC case to share? Publishing it educates the LP & retail community,
which might fuel even more jobs and funding. Share your ORC news and help the industry grow!

Business Owner follows Robber to next target, a Walgreens, and Shoots Him A robbery suspect in St. Louis is in critical but stable condition after being shot by one of his victims. Police say the man tried to rob Kaiser Grand Mart before 8 a.m. Wednesday, but left without getting any money. The owner called police and followed the man to a nearby Walgreens store. Authorities say the suspect was trying to rob the Walgreens when the convenience store owner pulled his own gun. When the suspect pointed his gun at the man, the convenience store owner shot him in the chest. No one else was hurt. The gun the suspect used turned out to be a toy. yahoo.com

15-Year-Old Dies After Being Shot In Head Outside Detroit Family Dollar Store Authorities say a 15-year-old boy has died after being shot in the head outside of a dollar store on Detroit's west side. The shooting happened just before 3 p.m. Wednesday at the Family Dollar store near Joy and Evergreen roads. Officials confirmed Thursday morning that the boy had died. His name has not yet been released. Detroit Police Captain Steve Walton said the boy had exited the store after buying a pair of gloves when he was shot. Police quickly responded to the area and found the suspected gunman, an 18-year-old, hiding under a car more than a block away from the store. He was taken into custody without further incident. cbslocal.com

Washington DC Police say robbers held up a Cricket Wireless store before police shooting; bystander injured The suspects who robbed a Southeast Washington cellphone store at gunpoint on Wednesday and led police on a pursuit that ended with an officer shooting a bystander took $750 from the register, according to a D.C. police report. Police also said that the weapon one of the suspects had in his hand as he ran toward an officer was later determined to be a pellet gun. An officer fired on the man after authorities said he refused to drop the weapon, and a bullet went through a door of a barber shop and struck a man inside in the hip. The suspect was not struck. washingtonpost.com

Houston, TX Robber takes security officer's gun, steals thousands in jewelry Police say a crook stole hundreds of thousands of dollars in jewelry from a Galleria area store. They say the robber shoved a gun in the face of an officer working security, and then took that officer's weapon. The thief hit the diamond store on Westheimer Wednesday morning. "They're kind of disturbed right now," said HPD Sgt. JM Bedingfield. "You know, everybody's shaken up anytime you get robbed. The store owners of Exotic Diamonds are still trying to figure out how it could have happened. Around 11:30am, the suspect came into the store while an HPD officer was working security in the store at the time. Police say the suspect had a gun, pointed it at the officer and disarmed him. Sources say he then smashed the display cases with a gun and snatched as many Rolexes and as much other jewelry as he could, grabbing more than $300,000 worth. He stuffed what he stole into a bag and then ran out the back exit. click2houston.com


Suspect in Rite Aid theft arrested after Sacramento, CA Police chase A woman wanted in a North Sacramento robbery was taken into custody after she led officers on a chase through Midtown Sacramento, police said. The pursuit started Wednesday evening when officers responded to a call of a robbery at the Rite-Aid pharmacy at Del Paso Boulevard and El Camino Avenue. Police said two women were stealing merchandise in the store and assaulted a security officer. At some point during the chase, officers put down spike strips which blew out the tires on the Ford Explorer. The woman continued driving on the vehicle's rims, crashing into three patrol cars -- deploying the air bag of one vehicle -- during the chase, according to police. kcra.com

Serial burglary suspect busted in Seattle's Central District
Seattle Police arrested a burglary suspect known in the Central District as a one-man "crime wave." The 62-year-old man now in custody is accused of breaking into a radio station and a camera shop off 21st Avenue early Wednesday morning. Neighbors believe he is likely connected to many more cases. "I can't even tell you how many businesses have been broken into. A dozen or more. It's pretty prolific," said Cory Verellen, who owns Rare Medium in the Central District. His vintage camera shop has been hit twice in the last month. He says business owners know exactly who is behind the rash of burglaries, because he often comes into their stores, to poke around just before he commits a crime. king5.com

North Carolina Parents Turn in Teenage Sons After Recognizing Them in Burglary Footage Five teenage boys hid in the bushes outside of Tech Boyz, an electronic store in Fayetteville, North Carolina, at 3:30 a.m. on December 29. When the coast was clear, the video shows one of the teens smashing a window and unlocking the door. Then, all five boys were seen entering the store, helping themselves to more than $3,000 in laptops and cell phones. When the security alarm sounded, the teens dashed out of the store and vanished into the night. It wasn't clear footage: some of the cameras shot black-and-white video, while others relied on night vision. To the average person, the five teens may have been unrecognizable. But somebody did recognize two of them. When the video was broadcast on local news station 'WTVD' on New Years Eve, the parents of two of the boys - ages 14 and 16 - allegedly realized their sons might be involved in the robbery. people.com

Two Dollar General Employees allegedly rob store in Midland, TX
Two Midlanders were arrested Monday after allegedly taking more than $5,000 from the Dollar General store where they worked, according to court documents. Kalil Coleman, 18, and Khrystal Almager, 23, each was charged with a state jail felony charge of theft between $1,500 and $20,000. Both were being held on $10,000 bonds as of Wednesday evening. In interviews with Almager and Coleman on Dec. 30, the detective learned the theft was planned and that they were in communication the whole time, according to the affidavit. After the theft, they met at Almager's apartment with two other people and split the money, according to the affidavit. The other two people were identified in the affidavit as Kayla Spain and Tajhae Ridge. They were arrested on Tuesday. Almager, Coleman and Spain received $1,600 each, while Ridge was said to have received $800, according to the affidavit. mrt.com

Las Vegas man linked to alleged robbery, burglary spree
The superseding indictment charged Rommell Jones with 21 counts of robbery with use of a deadly weapon, 13 counts of burglary while in possession of a firearm, and two counts of attempted robbery with use of a deadly weapon. The crimes alleged occurred in October and November. 8newsnow.com

Customers ordered to lay on floor of Beaumont, TX Dollar General during armed robbery Beaumont police are looking for two men who robbed the Dollar General store. The robbery was reported around 8:55 p.m. Wednesday. Beaumont Police said two men with guns, wearing hoodies and facemasks, ordered an employee to open the register and put cash from the register in a cloth bag. A second robber stood guard at the front door and made several customers lay on the floor during the robbery. As more customers came into the store, they were ordered to lay on the floor as well. The second robber took money from two of the customers. Both suspects ran away. 12newsnow.com



St Augustine, FL Police seek "Drag queen" in watch store robbery
A man dressed as a woman is being sought in connection with a watch robbery that occurred at the St. Augustine Premium Outlets on Sunday. Deputies report the apparent "drag queen" walked into the Movado store around 6 p.m. and ran out with two watches worth a total of $7,000. The suspect is described as standing between 6' and 6'2" tall, having at least four gold teeth and wearing a wig and a dress. firstcoastnews.com

Wisconsin woman, 75, facing prison time for theft from Ramada Inn
A 75-year-old Wisconsin grandmother faces up to six years in prison if a judge decides she failed to comply with a deferred prosecution agreement and repay money she allegedly embezzled. Judith Dunn of Kenosha pleaded no contest to three counts of business theft in 2009. She was sentenced to probation and counseling for the two misdemeanor charges and the felony charge was withheld as part of an agreement with the Sauk County District Attorney's Office. Dunn agreed to pay more than $9,500 to the company that owns the Ramada Limited Hotel plus a 15% surcharge. Prosecutors say she failed to reach the terms of the agreement by the October 2014 deadline and is now facing prison time on the felony charge. jsonline.com


New Zealand Thieves 'jackpot' ATMs in 'black box' attack
Security experts are warning about the emergence of a new class of skimming scams aimed at draining ATMs of cash via a novel and complex attack. The attackers responsible for this ATM hack rely only on a mobile phone device and a USB-based circuit board. At issue is a form of ATM fraud known as a "black box" attack. In a black box assault, the crooks gain physical access to the top of the cash machine. From there, the attackers are able to disconnect the ATM's cash dispenser from the core (the computer and brains of the device), and then connect their own computer that can be used to issue commands forcing the dispenser to spit out cash. In this particular attack, the thieves included an additional step: they plugged into the controller a USB-based circuit board that ATM-maker NCR believes was designed to fool the ATM's core into thinking it was still connected to the cash dispenser. "They didn't have to do this [to get away with the money] but our guess is they thought this component would buy them some time," before the ATM's owners figured out something was wrong, said Charlie Harrow, solutions manager for global security at NCR. NCR said the crooks then attached a smartphone (a brand new, out-of-the-box Samsung Galaxy 4), which they used as a conduit through which to send commands to the cash dispenser remotely. According to Harrow, the mobile phone was set up to relay commands through a dynamic IP service. stuff.co.nz

Youngstown, OH Target employee charged for allegedly stealing $4,300

Man offers guilty plea in killing at The Smoke House Tobacco Outlet in Fort Wayne, IN

Boys, 14 And 15, Charged With Robbing Queens Electronics Store, Attacking Owner And Wife

Boston Store employee in Racine, WI accused of $1000 theft

Sparta, GA Beauty Supply store ruled an Arson

A $14,000 bike which was stolen from a Napier, NZ cycle shop is anonymously returned
---
● A-Frame Surf - Carpinteria, CA - Burglary
● Advance Auto - Milwaukee, WI - Armed Robbery
● Casey's General - Fargo, ND - Armed Robbery
● Cigarettes Cheaper - Tumwater, WA - Burglary
● Dollar General - Wyoming, MI - Armed Robbery
● E- Cig Vapor - Great Falls, MT - Burglary
● High C Market - Youngstown, OH - Armed Robbery / Shots fired
● Hurley Drugs - Williamson, WV - Burglary
● Jerry's - Lowell, MA - Armed Robbery
● Maki's Market - Atlanta, GA - Armed Robbery / Assault
● Nip&Tuck - Grand Forks, ND - Armed Robbery
● Quick Cash of IL - Waterloo, IL - Armed Robbery
● Quik Trip - Omaha, NE - Armed Robbery
● Race Trac - Orlando, FL - Shooting
● Shell - High Point, NC - Armed Robbery/ Assault
● 7-Eleven - Lawrence, MA - Armed Robbery


Kurt Salmon, Tyco Retail Solutions and Mobispoke Join Forces to Deliver 1:1 Retailing
Alliance is anchored by an interactive demonstration lab at Tyco's Retail Experience Center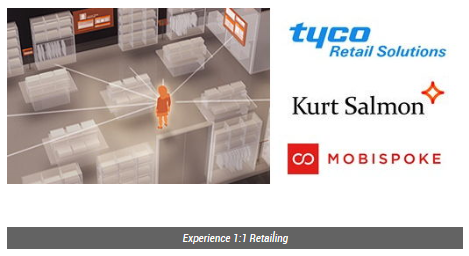 NEW YORK - January 8, 2015 - Kurt Salmon, Tyco Retail Solutions, and Mobispoke announced that they have joined forces to bring the future in-store experience - 1:1 Retailing - to life today. The result of nearly a year's worth of shared client engagements, this alliance is anchored by an interactive demonstration lab at Tyco's Retail Experience Center. To educate retailers on the key building blocks needed to facilitate 1:1 Retailing, experts will provide on-site demonstrations at the 2015 NRF Big Show in New York. To schedule an exclusive demonstration, visit www.kurtsalmon.com/retailingdemolab.

"With this collaboration, the retailers that want to provide interactive 1:1 Retailing experiences now have a platform upon which to build them," said Al Sambar, managing partner of Kurt Salmon's North American Retail and Consumer Group. "Together with Tyco Retail Solutions and Mobispoke, we provide retailers with the complete set of tools necessary to positively differentiate their in-store performance - and by extension, their customer experience - with 1:1 Retailing."

1:1 Retailing takes the information that customers offer regarding their shopping preferences and behaviors and seamlessly marries it with technology-enabled capabilities to provide a wholly personalized in-store experience. The result is an increase in shopper traffic, conversion and average basket size.

Tyco's industry-leading Store Performance software platform provides retailers with the in-store, real-time information that is mission critical for enabling rich customer experiences. As part of the platform, Inventory Intelligence enables retailers to achieve up to 99% inventory accuracy, and establish a strong foundation from which to implement successful 1:1 Retailing.

Read more here.




Limited Time Only - Post Your Multi-Unit LP jobs for FREE - Learn More Here




Today's Daily Job Postings from the Net - Appearing Today Only
View our Internet Jobs Archives here

| | | | |
| --- | --- | --- | --- |
| Job Opening | Company | Location | Origination |
| LP Specialist | Smiths Food and Drug | Las Vegas, NV | Kroger |
| LP Specialist | REI | Denver, CO | REI |
| LP Specialist | REI | New York, NY | REI |
| District AP Manager | Stage Stores | Little Rock, AR | Stage Stores |
| LP Manager Hrly | Kmart | Artesia, NM | Sears Holdings Corp |
| LP Manager Hrly | Kmart | California, MD | Sears Holdings Corp |
| AP Team Leader | Target | Indianapolis, IN | Target |
| AP Team Leader | Target | Billings, MT | Target |
| AP Team Leader | Target | Plattsburgh, NY | Target |
| AP Manager in Training | Walmart | Irmo, SC | Wal-Mart |
| AP Manager in Training | Walmart | Overland Park, KS | Wal-Mart |
| LP Manager | Macy's | Lihue, HI | Macy's |
| LP Manager | Macy's | Okemos, MI | Macy's |
| LP Manager | Macy's | Dearborn, MI | Macy's |
| LP Manager | Macy's | Taylor, MI | Macy's |
| LP Manager | Macy's | Skokie, IL | Macy's |
| LP Manager | Macy's | Livingston, NJ | Macy's |
| | | | |