Get Your Team Selfies in by tomorrow
to be entered into our Pizza Party drawing!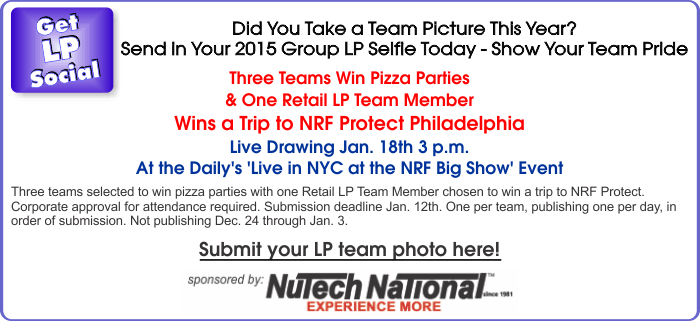 Justice Department Sending Message on Food Safety
Stepping Up Enforcement
Two newly opened investigations and a banner conviction mean the U.S. Justice Department is sending a message to the food industry to take product safety more seriously, an expert said.

Last September the former head of the Peanut Corporation of America (PCA) was sentenced to 28 years in prison over allegedly knowingly shipping salmonella tainted products that sickened hundreds. The Justice Department recently opened investigations into Chipotle Mexican Grill over an E. coli outbreak and Blue Bell Creameries LP over a listeria outbreak, both of which sickened hundreds.

The department has said it will focus more efforts on individual law-breakers after a recent memo that requires turning over information about responsible individuals to the government for a company to receive cooperation credit. The government is likely indicating that things are changing in terms of corporate responsibility and standards in the food industry, Mr. Lankler said. The Department of Justice is signaling that whatever standard the food industry thought it needed to meet for food safety, the bar is higher, he said. "The department is going to step up enforcement in areas where they can prove they sold tainted product." wsj.com

DOJ investigators in Washington are also looking into Chipotle's
food safety issues
The U.S. Justice Department's consumer protection unit is looking into a norovirus outbreak at a Chipotle restaurant in California, in a sign that a recent probe launched by federal prosecutors in California is getting attention at Washington. Officials in the Justice Department's Consumer Protection Branch contacted Los Angeles federal prosecutors to discuss the early stage inquiry on Thursday, according to people familiar with the matter. businessinsider.com

Massachusetts Police Departments Target Shoplifting with Federal Grant
Crime analysis has revealed an increase in local shoplifting, which Revere Police plan to address with the help of a federal grant, increasing police presence and loss prevention efforts for local businesses. The Revere Police Department has received a $38,495 grant to combat an increase in shoplifting in the city, Revere police said. The Revere Police Department was one of 27 cities and towns in Massachusetts to receive the Edward J. Byrne Memorial Justice Assistance (JAG) Program Implementation grant, which is a federal grant administered by the Executive Office of Public Safety and Security and Office of Grants and Research, Revere police said. The purpose of the grant is to develop and implement a "No Tolerance for Shoplifting" program. Over the next several months, the police department will have an increased presence in the city's major retail locations and surrounding areas to enhance enforcement and arrests to reduce shoplifting, Revere police said. The program is a partnership with Revere businesses and retailers to assist with their loss prevention efforts, Revere police said. itemlive.com

US Retail Fraud Survey reveals employee theft major concern for retailers
Theft by employees, of both stock and cash, is now among retailers' top three areas of concern, according to the US Retail Fraud Survey 2015. The Survey reveals that alongside online fraud and return fraud, internal theft is a major area of concern for retailers and the biggest area of store loss. Concern about employee theft of stock has risen from 18% in 2012 to 38% in 2015. While recognising that cash theft is a problem, the study reveals that it has only increased from 24% to 26% this year and comes in second, administrative third with 23% and shoplifting fourth with 11%.

Paul Bessant, Founder of Retail Knowledge who commissioned the Survey, said: "North Americans are more up front about insider fraud than their retail colleagues in the UK." Its UK sister publication noted that internal loss in the UK 'may be under reported' and comes in second as a concern, after outsider shoplifting.

James Harris, Commercial Director of Volumatic, Survey sponsor, added: "Cash and merchandise losses caused by internal fraud are only part of the story. When you factor in the costs and time spent in investigations and disciplinary procedures, not to mention the damage done to internal morale and external reputation - the cost of insider fraud can be up to three times as much as the original losses incurred." Click here to view more findings from the Survey. retailfraud.com

Calzedonia Group selects Nedap for global EAS roll-out
- Stores to be equipped with Nedap's RFID-ready loss prevention solution
The Italian fashion retailer Calzedonia Group has selected Nedap as solution provider for security solutions such as electronic article surveillance (EAS) systems, video surveillance and intrusion detection systems. The multi-year contract encompasses the supply and installation of RF EAS hardware and consumables for loss prevention purposes. The first step entails the roll-out of EAS systems to about 50 Tezenis and Intimissimi stores. Worldwide, Calzedonia has around 4000 stores across 40 countries and the first installations were already completed in the last quarter of 2015. nedap-retail.com

Agilence, Inc. Fuels Growth with $6 Million in New Funding
Agilence, Inc., the leading provider of cloud-based data analytics solutions for retail and food & beverage organizations, today announced that it has raised $6 million in new funding led by Arrowroot Capital. Additional funding was provided by previous investor Aster Capitol. Over the last 18 months, Retail 20/20 has been implemented by over 50 leading retail and food & beverage organizations in America. The funding provided by Arrowroot Capital and Aster Capital will be used to enhance product development, improve sales & marketing, and boost the already industry leading support team. prnewswire.com

Checkpoint Systems' Sense + Respond Solution Provides Multi-Channel Retailers with Real-Time Insights, Predictive Analytics
Cloud-Based Merchandise Visibility Solution on Microsoft Azure Transforms Shopper Engagement across All Channels; Creates Responsive Retail Infrastructure.

Checkpoint Systems, Inc., a leading global supplier of merchandise availability solutions for the retail industry, announced that it has collaborated with Microsoft Corp. to bring Checkpoint RFID Merchandise Visibility solutions to the cloud, and enhance them utilizing Microsoft analytical tools. The resulting cloud-based merchandise visibility solution, Sense + Respond, provides multi-channel retailers with a flexible, fast deployment approach to gather real-time insights and predictive analytics.

Sense + Respond utilizes Checkpoint Systems' leading Internet of Things (IoT) platform for retailers, the OAT Foundation Suite, along with Microsoft Azure Cloud Solutions, enabling retailers to make informed business decisions in real-time.

In the race to win shopper loyalty, retailers must find better, faster ways to understand and engage connected consumers across channels," said Uwe Sydon, Senior Vice President of Innovation, Checkpoint Systems. "As the global RFID deployment leader, we chose to collaborate with Microsoft to create a scalable, easy-to-deploy merchandise visibility solution that enables retailers to quickly realize value." businesswire.com

New Jersey sues Advance Auto, Pep Boys for overcharges
New Jersey sued Advance Auto Parts Inc and Pep Boys - Manny, Moe & Jack, accusing the auto parts and services retailers of fraudulently overcharging customers in their stores, the state's acting attorney general said on Friday. reuters.com

Kohl's Weighs Next Steps, struggling retailer considering going private
or breaking up
Kohl's, a national department-store chain with roughly 1,200 stores, with shares down 40%, is debating whether to pursue more drastic action, such as taking itself private or breaking up the company, according to a person familiar with the situation. wsj.com

These 5 retailers are suffering in a changing retail world
More shoppers are mining their phones and the web for deals and flocking to off-price chains to save a buck. They're also choosing stores that can turn around stylish merchandise fast and favoring specialty merchandise such as comfortable and stylish athletic gear. The shift is making business challenging for some traditional retailers. Even as stores typically on solid footing, including Macy's and Nordstrom, have scrambled to keep up with the shift in shopping habits, they're finding it difficult to maintain an edge. Here are five retailers facing challenges in 2016: Macy's, Nordstrom, Aeropostale, Sears, and HH Gregg. indystar.com

Is This One of the Biggest Cases of Wine Fraud Ever?
In one of the largest defaults in American wine retail history, last Friday, Berkeley, California-based wine seller Premier Cru filed for Chapter 7 bankruptcy liquidation, citing more than $70 million in debt liabilities. The shop owes customers varying sums of money, some in the hundreds of thousands of dollars. The now shuttered Premier Cru store, which was run by a partnership under the name Fox Ortega Enterprises, was widely known for its active email program that sent out wine deals to potential purchasers around the globe. The retailer sold highly sought-after, collectible bottles, often in quantity and often at attractive prices. However, Premier Cru frequently sold wines on a "pre-arrival" basis, meaning that the store was not in possession of certain bottles, so shipping was not always immediate. Thusly, customers sometimes complained about long waits in obtaining pre-paid wines, and those delays could reportedly stretch into years. eater.com

Your driver's license will work at airport security until at least 2018
The Department of Homeland Security has extended the deadline for state driver licenses to meet REAL ID standards until Jan. 22, 2018. That's good - though not entirely surprising - for people in Illinois, Minnesota, Missouri, New Mexico, Washington and American Samoa, who will still be able to use their drivers' licenses at airport security checkpoints until then. The REAL ID program is meant to "set standards for the issuance of sources of identification, such as driver's licenses," according to DHS. mashable.com

Police see spike in Springfield retail theft

Starboard Value Pushes Macy's to Pursue Deals for Its Real Estate

Hollister Latest Store Hit By Worker Suit Over On-Call Shifts

American Apparel gets $300 million bid from group supporting Charney


Quarterly Same Store Sales Results
Genesco Q4 comp's up 3%


Last week's #1 article --

Macy's Outlines $400M Cost Efficiency Initiatives
and Lists 40 Store Locations to Be Closed
- Macy's Cuts 4,500 Jobs - Reorganizes 7 Regions to 5 - 58 Districts to 47
Macy's, Inc. yesterday announced a series of cost-efficiency and process improvement measures to be implemented beginning in early 2016 that will reduce SG&A expense by approximately $400 million. To address the need for greater efficiency and productivity, among the changes being implemented by Macy's, Inc. in early 2016 are: Consolidating the grouping of existing Macy's stores into five regions and 47 local districts (down from the current structure of seven regions and 58 local districts), as well as other field support functions. businesswire.com

The Secure Stores Forum, a whole new kind of LP meeting, gets high marks from Loss Prevention leaders

This year's event is Feb. 21-23, 2016 in Miami
Last year at this time, about 45 retail Loss Prevention executives were wondering what to expect as they looked forward to the very first Secure Stores Forum event. Well, the reviews for Secure Stores were very strong indeed. The LP leaders who attended, representing retailers ranging from Bloomingdale's to Big Lots, Donna Karan to Dress Barn and more, gave the event high marks across the board.

Attendees said they enjoyed the Forum's different approach: Secure Stores Forum hosts just 50 senior LP leaders, by invitation, for intimate conversation and the opportunity for one-to-one networking at a resort between peers, colleagues and suppliers.

The Second Annual Secure Stores Forum is February 21-23, 2016 at the 4-star Eden Roc Resort on Miami Beach. A few of the 50 retailer spots for this year's event are still available, first-come, first-served, for VP and Director-level LP leaders who haven't attended before. (LP executives can call or email Secure Stores Forum for an invitation.) There is no cost to attend, and Secure Stores Forum pays all expenses: airfare, hotel, meals, for those who qualify.

We see a unique place in our industry for this event as a complement to the larger, established shows and conferences. Secure Stores Forum won't replace them, but it is doing something different, and from all reports, it's doing that something quite well. Whether you're a retailer or a service provider, Secure Stores Forum may indeed be something you should consider adding to your schedule for February of 2016.


The Secure Stores Forum - February 21-23, 2016 (800) 746-9646 -
The Event on Retail Security & Loss Prevention
Eden Roc Miami Beach, February 21-23, 2016