Sensormatic Solutions Launches Sensormatic IQ

Unify diverse data and insights with the new intelligent operating platform designed to drive improved shopper experiences and retail outcomes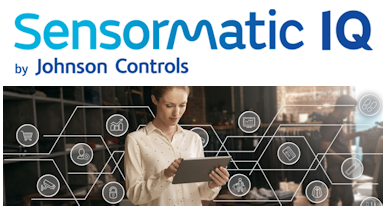 Johnson Controls, a global leader for smart and sustainable buildings, and the architect of OpenBlue connected solutions, today announced that Sensormatic Solutions, its leading global retail solutions portfolio, launched Sensormatic IQ. This intelligent operating platform for retail, backed by Sensormatic Solutions industry expertise and robust technology partner ecosystem, delivers tangible value across the enterprise.

Focus on Innovation: The open, secure and agile platform integrates the full Sensormatic Solutions portfolio, retailer, and third-party data sources, along with advanced technology such as artificial intelligence (AI) and machine learning (ML), to offer unparalleled visibility into operations and shopper insights. This combination drives prescriptive, data-driven outcomes for retailers, creating value and growth opportunities as retailers move into the future. Read More Here


Interface Security Systems Completes New $60 Million Round of Equity Financing



Interface Security Systems, a leading managed service provider delivering business security, managed network, UCaaS, and business intelligence solutions to distributed enterprises, announced the completion of a $60 million equity financing transaction led by its current sponsors SunTx Capital Partners and Prudential Capital Partners.

The additional equity capital will help facilitate the company's growth strategy and strengthen its industry-leading capabilities, featuring highly differentiated managed services.

Read more in today's Vendor Spotlight below.

---

Protests & Violence

Planning For Riots at Every State Capital
LE Leaders Taking Low Profile This Week

Justice Department and FBI Leaders Noticeably Absent Since Riot
Officials from the FBI and Department of Justice will give lawmakers their first formal briefings Tuesday on last week's deadly pro-Trump riot at the Capitol. Notably absent will be their bosses - Acting Attorney General Jeffrey Rosen and FBI Director Christopher Wray - who have kept a very low public profile for almost a week.

The acting U.S. attorney for the District of Columbia, Michael Sherwin, and the head of the FBI's Washington office, Steven D'Antuono, who are running the sprawling probe will speak by phone with lawmakers, people familiar with the matter said. The briefing comes as Washington grapples with ongoing security concerns and threats of future violence, and agents fan out across the country to tackle an investigation with thousands of suspects and crimes ranging from murder to stealing national-security information.

FBI agents have been scouring social media and pursuing some 70,000 tips the agency has received in the days since the riot, with federal prosecutors in Washington already pursuing more than two dozen arrest warrants for members of the mob on charges of gun crimes, violent entry and disorderly conduct on Capitol grounds, assaulting an officer and other offenses. More charges against individuals allegedly involved in the violence are expected to be unveiled this week.

Law-enforcement officials have also been planning for the possibility of more armed protests at every state capitol and in Washington in the days leading up to Joe Biden's inauguration, with U.S. officials ordering thousands of extra National Guard troops to Washington, D.C., and halting public tours of the Washington Monument.

Top U.S. Capitol Police officials, who are primarily responsible for securing the building, have also maintained a minimal public presence.

Messrs. Rosen and Wray have issued written statements condemning the violence and promising to pursue those responsible, but have remained out of public view as federal law-enforcement agencies begin internally scrutinizing their own actions and how, at all levels, they miscalculated the threat of violence from what they estimated would be a largely peaceful political rally. wsj.com

Editor's Note: The problem is that DC is not a state and therefore has no National Guard or State Police or Attorney General. Absent those they only have a Mayor and Chief of Police. And the Fed's simply weren't watching or listening. Three people died. Because no one was really watching and they didn't have a plan.

Planned Riots at Minnesota & Michigan State Capitals
FBI alert reveals extremists prepping for violence
at Minnesota State Capitol this weekend

The anti-government Boogaloo movement has been scouting the grounds, the report said, with one follower expressing "his willingness to die."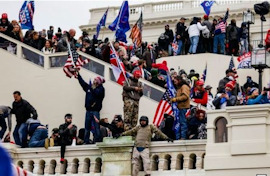 The FBI has credible evidence of a threat of violence on Sunday specifically aimed at the Minnesota and Michigan state capitols by right-wing extremists as part of their preparation for armed protests in every state and Washington, D.C., leading up to President-elect Joe Biden's inauguration.

The evidence is spelled out in a report dated Dec. 29 and written by the FBI's Minneapolis division. The report was first posted Monday by Yahoo News and verified to the Star Tribune on Tuesday as legitimate by a source who has seen the document.

The report said that some followers of the violent Boogaloo movement attended protests in early December at the Minnesota State Capitol "to identify escape points and defensible positions in the event violence occurred."

Boogaloo members "scouted general law enforcement presence" at the earlier rallies, the report noted, and "identified law enforcement numbers. ... They also identified law enforcement sniper locations and considered breaking into federal buildings for use as firing locations if fighting occurred."

One movement member went so far as to say that "the building with the snipers would need to be blown up in order to protect Boogaloo fighters in the even of a gun battle during the event," the document continued. "At least one follower expressed his willingness to die for the movement." startribune.com

FBI Warns All 50 States - National Guard Monitoring Nationwide
FBI warns of plans for nationwide armed protests this week
The FBI is warning of plans for armed protests at all 50 state capitals and in Washington in the days leading up to President-elect Joe Biden's inauguration, stoking fears of more bloodshed after last week's deadly siege at the U.S. Capitol.

An internal FBI bulletin warned that the nationwide protests may start this week and extend through Biden's Jan. 20 inauguration, according to two law enforcement officials who read details of the memo to the Associated Press. Investigators believe some of the people are members of extremist groups, the officials said. The bulletin was first reported by ABC.

"Armed protests are being planned at all 50 state capitols from 16 January through at least 20 January, and at the U.S. Capitol from 17 January through 20 January," the bulletin said, according to one official. The officials were not authorized to speak publicly and spoke to the AP on condition of anonymity.

The FBI issued at least one other bulletin - they go out to law enforcement nationwide on the topic - before the riots last week. On Dec. 29, it warned of the potential for armed demonstrators targeting legislatures, the second official said.

Army Gen. Daniel Hokanson, chief of the National Guard Bureau, told reporters Monday that the Guard is also looking at any issues across the country.

"We're keeping a look across the entire country to make sure that we're monitoring, and that our Guards in every state are in close coordination with their local law enforcement agencies to provide any support requested." latimes.com

Social-Media Watchdogs Detect Signs of Ongoing Extremist Threat
Social-media researchers who have been monitoring right-wing extremist groups' online activity in recent months, are now issuing new warnings about additional events.

Some right-wing extremists who support President Trump are trying to organize gatherings as President-elect Joe Biden prepares to take office, according to researchers' review of social-media activity. They include proposed protests at 50 state capitals and a potential demonstration at the inauguration.

For researchers at the Atlantic Council, Stanford Internet Observatory and elsewhere who map loosely organized extremist networks and the spread of disinformation, monitoring such online activity has taken on new prominence since the storming of the Capitol. wsj.com

Never Confirmed - Serving Illegally - DHS Secretary Abruptly Quits
Trump Homeland Security chief abruptly quits at tense time
President Donald Trump's acting head of the Department of Homeland Security abruptly resigned Monday, leaving the post ahead of schedule as the nation faces a heightened terrorism threat from extremists seeking to reverse the election.

The announcement by acting DHS Secretary Chad Wolf was perplexing. It came less than a week after he pledged to remain in office and just 10 days before the inauguration of President-elect Joe Biden. Wolf cited a legal challenge to his leadership as a reason for his resignation, but that had surfaced months ago.

Wolf, who had been serving in an acting capacity since November 2019 and was never confirmed by the Senate, said he was compelled to leave by "recent events," including court rulings that found he could not legally hold the position. He did not specify the other events or cite other factors. startribune.com

Twitter Has Suspended More Than 70,000 Accounts Following the Capitol Riots
According to a new update from Twitter, in the wake of the Capitol riots last Wednesday, it launched a mass purge of accounts that it found were primarily dedicated to sharing QAnon content.

As per Twitter: "Many of the individuals impacted by this updated enforcement action held multiple accounts, driving up the total number of accounts impacted. Since Friday, more than 70,000 accounts have been suspended as a result of our efforts."

Twitter says that these accounts "were engaged in sharing harmful QAnon-associated content at scale and were primarily dedicated to the propagation of this conspiracy theory across the service".

Twitter notes that, along with its regular spam account challenges, which it also warned about late last week, this new action against QAnon related accounts has seen some profiles lose thousands of followers in a matter of days. socialmediatoday.com

Capitol Riot: Self-Surveillance Feeds Investigation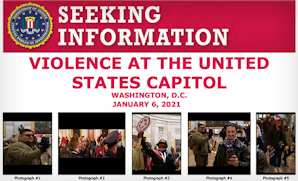 The FBI, which is leading the investigation, has a range of investigative tools and technologies to help, including facial recognition software. Potential evidence abounds, thanks in no small part to self-surveillance - namely, many members of the mob livestreamed their breach of the Capitol, took copious photographs or posted images or intentions on social media.

"Some people were being very blatant and flippant about it, smiling for the camera - those people are going to be very easy to find," Doug Kouns, a retired FBI special agent and founder of the Indiana-based private-investigation firm Veracity IIR, tells The Washington Post.

The FBI's Washington field office has issued a public appeal, saying it "is seeking the public's assistance in identifying individuals who made unlawful entry into the U.S. Capitol on Jan. 6."

The FBI is also seeking information, backed by a reward of up to $50,000, on whoever deployed two suspected pipe bombs - one placed at the city's National Republican Club and the other at the headquarters of the Democratic National Committee.
- As of early Monday, 45 individuals had been charged
- Calls to Save 'Incriminating' Footage
- Security Concerns Ahead of Inauguration
Continue Reading
National Guard Bolsters Washington, D.C., Troop Levels to at Least 10,000

Added forces expected in place by weekend as FBI warns
of armed protests nationwide in run-up to inauguration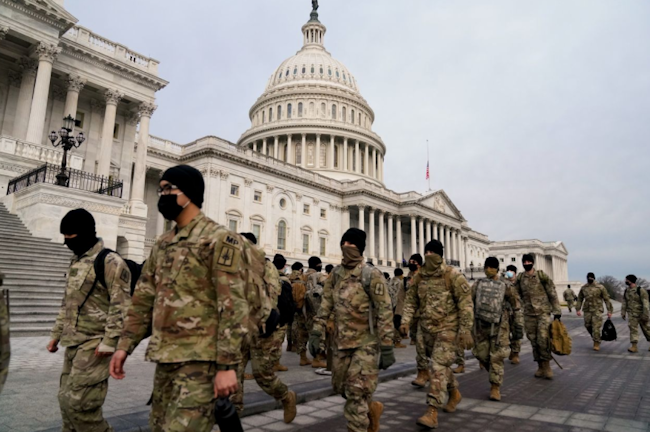 U.S. officials ordered thousands of extra National Guard troops to Washington, D.C., by the weekend as part of new security measures that include halting public tours of the Washington Monument, as authorities warn of armed protests in the nation's capital and across the country in coming days.

The signs of new security concerns ahead of President-elect Joe Biden's inauguration on Jan. 20 follow last week's attack on the U.S. Capitol by a pro-Trump mob that sought to stop Congress from certifying Mr. Biden's electoral victory.

The National Guard's top officer said he would increase the number of Guard troops in Washington to at least 10,000 by Saturday - up from a planned 6,200 - to bolster security. And the National Park Service, citing continuing danger from violent groups, said Monday that it had closed facilities, parking areas and roadways and is restricting access to the Washington Monument. wsj.com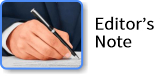 Let the Vortex Begin
Polar Vortex Couldn't Come at a Better Time
Couple that with 10,000 National Guard Troops in DC and I'd say - there probably won't be many Million Militia March rioters - But there are some warmer states they could pop up at. Just my opinion, Gus Downing

---

COVID Update
US: Over 23.1M Cases - 386K Dead - 13.6M Recovered
Worldwide: Over 91M Cases - 1.9M Dead - 65M Recovered

Private Industry Security Guard Deaths: 260 Law Enforcement Officer Deaths: 189
*Red indicates change in total deaths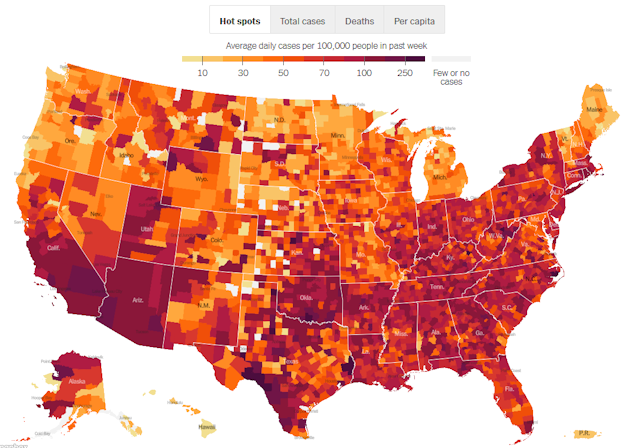 Here Come the Pharmacies
Trump Administration Recommends Vaccines Available
to Anyone 65+ & Preexisting Conditions

In an interview on ABC's Good Morning America Tuesday, Health and Human Services Secretary Alex Azar said that policy has changed, effective immediately.

"We now believe that our manufacturing is predictable enough that we can ensure second doses are available for people from ongoing production," Azar said. "So everything is now available to our states and our health care providers."

"We have got to expand the group. We've already distributed more vaccine than we have health workers and people in nursing homes," Azar said.

Most states drew up plans that initially followed CDC guidance for the first phase of vaccinations. But rollout has been slow, marred by a lack of federal funding and unclear communication about the number of doses coming each week.

Azar also said on ABC that the administration will expand the venues where people can get vaccinated. He said states have been too focused on hospitals, and the administration will help them expand to places like community health centers and pharmacies.

"We've got to get to more channels of administration. We've got to get it to pharmacies, get it to community health centers," Azar said. "It has been overly hospitalized so far in too many states. We have the vaccine. The demand is there. We have supplies that have not been ordered." thehill.com

New AI Tools Aim to Automate Aspects of Covid-19 Response

Health-care providers are looking to new AI tools designed to streamline the processes around Covid-19 testing and screening, as well as publicizing vaccine availability

Artificial-intelligence developers are helping hospitals and medical providers manage jammed phone lines, as Americans race to secure a place in line for Covid-19 vaccinations-or get a test or screening as they wait. wsj.com

Retailers Waiting for Phase 2 of Vaccinations

Rite Aid CEO Talks Vaccine & The System
Rite Aid CEO said retailers will get tapped sooner than expected
to help speed vaccine rollout

The effort has been hampered by eligibility requirements that vary widely
and vaccine doses that wind up in the trash.

Rite Aid CEO Heyward Donigan said she expects retailers will soon play a larger - and earlier - role in the Covid-19 vaccine rollout as states and counties are under pressure to pick up the pace.

The vaccines are being distributed in phases, with Americans who are more at risk, such as health-care workers and nursing home residents, getting priority.

Rite Aid is expected to be part of phase two, when shots become available to the broader public, those who don't qualify for phase one because of their age, occupation or lack of underlying medical conditions, said Donigan, speaking at the virtual J.P. Morgan Healthcare Conference on Monday. The company is one of at least 19 drugstores and grocers that have partnered with the U.S. Department of Health and Human Services to give the shots at their stores.

"I believe this is going to be ramped up more expeditiously and faster than that," she said.

The rollout has been fractured, with those who get priority to receive the vaccine varying widely from state to state and county to county. cnbc.com
Dovetailing on What HR is Already Doing
COVID-19 Analytics Remain Key to Workforce Planning
The tracking and reporting of COVID-19 analytics related to workforce infections, absences, quarantines and more remains a high priority as cases continue to rise, despite the vaccine rollout. As the pandemic enters a new stage in 2021, HR leaders are deploying next-generation analytics technologies to keep their organizations appropriately staffed while also protecting employee health and safety.

Choosing the proper technology is only half the battle in getting talent analytics right. Designing and deploying such metrics in a way that influences the decisions of business leaders often is a taller order. While CEOs or CFOs see the value of COVID-19 analytics, that's not always the case with measures like engagement scores, learning outcomes, workforce attrition rates or succession plans.

Design analytics with end-user input. It's natural to want to wait until a talent metric is fully formed before unveiling it to business leaders. But such a unilateral approach can undermine success. "If you wait until it's all shiny and perfect before introducing it for the first time, the chances are the analytic isn't reflecting the end user's priority," Tipps said. shrm.org

NYC Saw It & California's Seeing It Too
West Coast Exodus Picking Up - Tens of Thousands Leaving - COVID Last Straw?

California exodus intensifies as retirees, teachers, musicians
seek cheaper, less-crowded pastures

In the last few years, the exodus has accelerated, with tens of thousands more people leaving than moving in.

The COVID-19 pandemic has prompted even more people to give up on the state, experts say. Some have retreated to their hometowns elsewhere because they lost their livelihoods. Others are taking advantage of working remotely to escape the state's high housing prices and long commutes.

In the fiscal year that ended in July, Los Angeles County had by far the greatest net loss due to migration of any California county - more than 74,000 people, according to state demographers.

"Those who migrated earlier are turning around and going back to where they came from because they just couldn't achieve the American dream in California - because that involves buying a single-family house," and there is not enough affordable housing to keep young families in the state." latimes.com

Strongest Retail Sector in Pandemic Feels Confident - How Could They Not
Grocers Get Restaurant Sales + A Lot More Preppers

Grocery retailer confidence strong heading into 2021, says SN survey
More than 150 grocery retailers (including brick-and-mortar, online and omnichannel) shared their thoughts and plans for 2021 in Supermarket News' first Retailer Expectations Survey, covering such topics as the economy, sales projections, store count and hiring, and, of course, the impact of COVID-19 as we get closer to the one-year mark since the pandemic first struck the United States.

More than 65% of retailers expressed that they are extremely or fairly confident in the strength of the overall economy going into 2021. As for grocery sales, the optimism was even higher: When asked how they anticipate sales to perform in the first six months 2021, 82% of respondents said they expect sales to either stay the same or increase during that time frame, with nearly half (46%) anticipating a sales increase of 1% to 9%. supermarketnews.com

Editor's Note: Once we get back to normal and all the restaurants reopen, we'll see a big dip in grocery sales eventually.

Avoiding Evictions & Increased Vacancies
Retail Tenants Leverage Pandemic Stress for Rent Cuts
U.S. commercial landlords have granted billions of dollars of rent relief to struggling storefronts as property owners strive to keep falling occupancy rates from triggering more severe financial consequences.

With many commercial property tenants in dire financial straits due to the economic fallout from the coronavirus pandemic, landlords are reluctantly granting concessions on lease payments, lengthening payment terms, extending or shortening leases, lowering rents permanently and even forgiving past-due payments, according to real-estate advisers, property managers and lawyers.

Real-estate advisory firm A&G Real Estate Partners said it saved its clients about $1.7 billion through lease negotiations in the first nine months of 2020, lowering rents on 9,550 leases and securing terminations on 950 leases for 58 retailers, restaurants, educational users, office tenants and fitness and entertainment operators.

"There is so much pain in the marketplace," Mr. Bordwin said. "Every business that I speak to is now looking at their real-estate footprint to see how they can reduce costs. The landlords...are getting calls from so many people that they can't help everyone."

Retail vacancies have been steadily on the rise and are expected to significantly increase. wsj.com

Amazon Takes 1st Place
Pandemic Disrupts Grocery Preference Index (Rankings)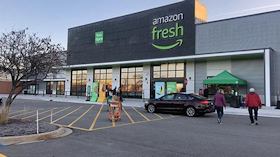 The most notable change in the 2021 ranking released on Jan. 11, is the emergence of Amazon as the most preferrred grocery retailer among the 56 companies evaluated. It moved past last year's winner H-E-B and runner up Trader Joe's to take the top spot in the overall rankings.

Another notable development saw Target, for the first time, break into the top quartile of the Retailer Preference Index. Target was the only newcomer to the first quartile overall, jumping six spots to move out of the second quartile, a spot it occupied the previous three years.

10,000 shoppers surveyed. Included a new "Covid Momentum Metric" progressivegrocer.com
1- Amazon
2- H-E-B
3- Trader Joe's
4- Wegmans
5- Aldi
6- Market Basket
7- Sam's Club

8- Costco
9- Publix
10- Target
11- Fresh Thyme
12- ShopRite
13- Sprouts Farmers Market
14- Walmart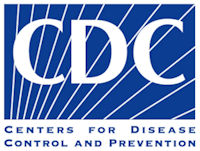 CDC: Benefits of Getting a COVID-19 Vaccine
Can a COVID-19 vaccine make me sick with COVID-19?
No. None of the COVID-19 vaccines contain the live virus that causes COVID-19 so a COVID-19 vaccine cannot make you sick with COVID-19.

Facts about COVID-19 Vaccines:
COVID-19 vaccination will help keep you from getting COVID-19

Developing a Vaccination Strategy
Whether employers require or encourage employees to get the COVID-19 vaccine, they need a plan.

Phase 1: Assessment
Phase 2: Decision
Phase 3: Incentives
Phase 4: Resources, Including Interactive Process
Phase 5: Communication and Education
Phase 6: Implementation and Continuous Improvement

Voluntary Vaccination - Being Flexible - Rights and Responsibilities shrm.org

---

5.9% of Total Returns Fraudulent - $25.3B
Online Returns Doubled With 7.5% Fraudulent - $7.7B

$428 Billion in Merchandise Returned in 2020
Consumers returned an estimated $428 billion in merchandise to retailers last year, approximately 10.6 percent of total U.S. retail sales in 2020. Of those returns, roughly 5.9 percent were fraudulent, equating to $25.3 billion, according to a report released today by the National Retail Federation and Appriss Retail.

"Last year, we saw an increase in returns of online purchases as the pandemic forced more consumers to shop online," said Mark Mathews, NRF's vice president of research development and industry analysis. "Retailers view the return process as an opportunity to further engage with customers, as it provides additional points of contact for retailers to enhance the overall consumer experience."

While the total rate of returns is in line with recent years, online returns more than doubled in 2020 from 2019 and are a major driver of the overall growth of returns. In 2020, ecommerce accounted for $565 billion or 14 percent of total U.S. retail sales. Approximately $102 billion of merchandise purchased online was returned, with $7.7 billion (7.5 percent) labeled as fraudulent.

For every $100 in returned merchandise accepted, retailers lose $5.90 to return fraud. The top categories of merchandise returned include auto parts (19.4 percent), apparel (12.2 percent), home improvement (11.5 percent) and housewares (11.5 percent). More than one-fifth of returns were completed through credit cards, followed by cash (12.7 percent) and debit cards (7 percent).

The survey of 62 retailers was conducted by NRF and Appriss Retail October 19 - November 2, 2020. Click here to view the survey results. nrf.com

NIST/NIJ Evidence Management Survey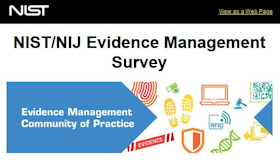 NIST and the National Institute of Justice are developing best practices for the management of physical evidence in our criminal justice system.

If you or your organization handles physical evidence, please help us by completing this Evidence Management Survey. Your input will help us make recommendations, identify knowledge gaps and develop educational opportunities that will strengthen evidence management practices.

The survey is now live and will close on April 2, 2021. It is open to both U.S. and international agencies. Please encourage people from your agency and other agencies to participate.

More information and a link to the survey are available on the NIST website: More Info and Link to Survey

2021 brings minimum wage hikes in more than 50 states, localities

The Future of Payments is Instant


Quarterly Results
Albertson's Q3 identical sales up 12.3%, digital sales up 225%, net sales up 9.3%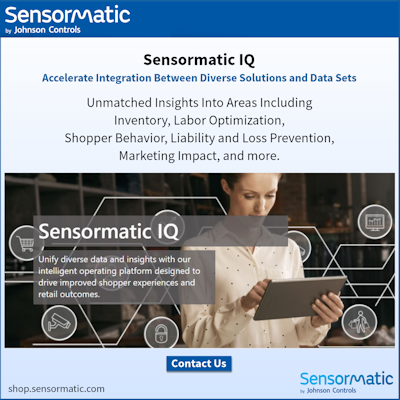 Europol Newsroom:
Darkmarket: World's largest illegal dark web marketplace taken down



DarkMarket, the world's largest illegal marketplace on the dark web, has been taken offline in an international operation involving Germany, Australia, Denmark, Moldova, Ukraine, the United Kingdom (the National Crime Agency), and the USA (DEA, FBI, and IRS). Europol supported the takedown with specialist operational analysis and coordinated the cross-border collaborative effort of the countries involved.

DarkMarket in figures:

● almost 500,000 users;
● more than 2,400 sellers;
● over 320,000 transactions;
● more than 4,650 bitcoin and 12,800 monero transferred.

At the current rate, this corresponds to a sum of more than 140 million Euro ($170.3M U.S.). The vendors on the marketplace mainly traded all kinds of drugs and sold counterfeit money, stolen or counterfeit credit card details, anonymous SIM cards and malware.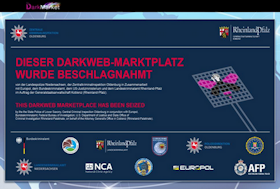 Germany takes the lead

The Central Criminal Investigation Department in the German city of Oldenburg arrested an Australian citizen who is the alleged operator of DarkMarket near the German-Danish border over the weekend. The investigation, which was led by the cybercrime unit of the Koblenz Public Prosecutor's Office, allowed officers to locate and close the marketplace, switch off the servers and seize the criminal infrastructure - more than 20 servers in Moldova and Ukraine supported by the German Federal Criminal Police office (BKA). The stored data will give investigators new leads to further investigate moderators, sellers, and buyers.

A shared commitment across the law enforcement community worldwide and a coordinated approach by law enforcement agencies have once again proved their effectiveness. The scale of the operation at Europol demonstrates the global commitment to tackling the use of the dark web as a means to commit crime. europa.eu

Poor Development Leads to Vulnerabilities
And Vulnerabilities Are Hacker Magnets

Overwhelmed supply chains and e-commerce systems
became prime targets for bad actors

Poor software quality cost organizations across all U.S. sectors $2.08 trillion in 2020

According to a report published Wednesday by the Consortium for Information & Software Quality (CISQ). The estimated incurred costs stem from unsuccessful IT and software projects, poor quality in legacy systems and operational software failures.

Cost estimates for operational software failures may fall short in the context of a surge in cybersecurity failures throughout 2020, the report warns. Overwhelmed supply chains and e-commerce systems became prime targets for actors looking to exploit software vulnerabilities.

An undetected software flaw can trigger critical system outages. And misconfiguration of cloud platforms have resulted in data breaches and ransomware attacks, such as the 2019 Capital One data breach.

"Software quality lags behind other objectives in most organizations," according to the report. All these costs are a result of inattention to quality.

Often caused by malicious actors who exploit software vulnerabilities, data breaches cost organizations an average of $3.9 million, according to a report from IBM and the Ponemon Institute.

CIOs troubled by the cost of poor software quality can start by assessing what that cost is for their organization. Once leaders understand the scope of the problem, executives can "start to identify where the large pockets" of vulnerabilities lie within their organization, and prepare a plan of attack to remedy them, said Krasner. ciodive.com

Third malware strain discovered in SolarWinds supply chain attack

CrowdStrike, one of the two security firms formally investigating the hack, sheds some light on how hackers compromised the SolarWinds Orion app build process.


Cyber-security firm CrowdStrike, one of the companies directly involved in investigating the SolarWinds supply chain attack, said today it identified a third malware strain directly involved in the recent hack.

Named Sunspot, this finding adds to the previously discovered Sunburst (Solorigate) and Teardrop malware strains.

But while Sunspot is the latest discovery in the SolarWinds hack, Crowdstrike said the malware was actually the first one used.

In a report published today, Crowdstrike said that Sunspot was deployed in September 2019, when hackers first breached SolarWinds' internal network. zdnet.com

Securing the Remote Workforce With More Endpoints
Cybersecurity teams are struggling with burnout, but the attacks keep coming
Coronavirus has forced many organisations to force security teams to work remotely - and that's making the job of securing whole businesses against threats much harder.

Cybersecurity teams are facing new challenges to how they work as the Covid-19 pandemic has forced many security operation centres (SOC) to work remotely while also having to deal with new threats - all of which is leading to higher workloads and an increase in burnout for staff.

Research by the Ponenon institute and Respond Software surveyed information security staff and found that the coronavirus pandemic is increasing hours and workloads of staff in a profession which often was already a high intensity environment for people to work in.

More than one third of SOC environments shifted to working remotely as a result of the pandemic and while this has understandably happened to protect people from the virus, over half of those now working remotely say it's had an impact on operations.

This has created additional challenges to securing endpoints when it was already challenging within a corporate environment - while security teams are also trying to balance work with the additional pressures of working from home.

Expanding Definitions of Business Continuity

"Regardless of if the SOC goes back to becoming an in-person entity or not, organizations have now learned that disaster and emergency plans need to go beyond just a physical disaster like a fire or a flood. We need to start thinking about situations like a pandemic where security analysts may be physically displaced and unable to safely be in the same room together at work," Triolo said. zdnet.com

Boston BEC Crew Busted
We're not seeing a lot of BEC suspects being prosecuted

Canton Woman Pleads Guilty to Role in BEC Scheme


Bintu Toure, 26, pleaded guilty to wire fraud and money laundering conspiracy. She's facing 20 years prison on each of the two accounts and $250k to $500K fines for each one.

Toure conspired with others to open numerous bank accounts in Massachusetts in the name of sham companies, as part of a BEC scheme.

Through the use of fraudulent invoices and spoofed email accounts, Toure conspired to trick the victims of the scheme into wiring hundreds of thousands of dollars to bank accounts under her control. Toure and her co-conspirators then transferred funds from the accounts on to others located overseas. justice.gov

Senior Job
Chief Security Officer job posted for International Flavors & Fragrances
in New York, NY
As a highly visible role critical to global business operations, the Chief Security Officer, reporting to the EVP and General Counsel, will frequently engage with and provide insight and advice to the CEO, Executive Committee (EC), business unit leaders and other global executives. It will be imperative that the Chief Security Officer is a strong leader with sound judgement and decisiveness in briefing management on important security issues both internally and externally. linkedin.com

Shootings & Deaths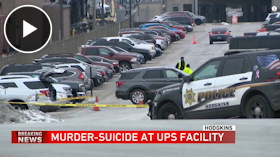 Hodgkins, IL: 2 found dead in employee parking lot of UPS facility in apparent murder-suicide
Two people were found dead outside the UPS facility in Hodgkins Monday in an apparent murder-suicide, police said. According to police, officers were called to reports of shots fired around 12:50 p.m. at the facility located at 1 UPS Way in Hodgkins. Upon arrival officers found two people unresponsive in the employee parking lot. Officers determined both people, a man and a woman, were dead. A firearm was located at the scene. wgntv.com

---

Robberies, Incidents & Thefts
Santa Ana, CA: Employee found unharmed after kidnapping, robbery at AutoZone
An employee of an auto parts store was briefly taken captive following a robbery in Santa Ana on Monday evening, Jan. 11. A male suspect entered the AutoZone in Santa Ana around 5:50 p.m., claimed he was armed and demanded cash, Santa Ana Police Sgt. Carol Salvatierra said. After he received an unspecified amount of cash, he abducted one employee and left the shop. The person who was kidnapped was later found unharmed, Salvatierra said. Police were searching for the person who took him captive as of 8:30 p.m. The suspect remained at large as of 10:20 p.m. There was no longer an active search for the suspect and the case was going to be handed off to detectives on Tuesday morning to begin building leads, police Commander Andy Alvarez said. ocregister.com

Greenwood, IN: Police looking for suspects in attempted robbery
at Von Maur in Greenwood Park Mall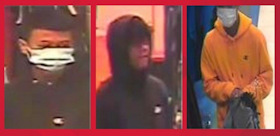 Greenwood police are asking for the public's help in identifying three men who attempted to rob a department store at the Greenwood Park Mall. Police were called to the Von Maur on Monday, Dec. 28 just after 8 p.m. on a report of shoplifting. Police obtained video footage that showed three Burmese men were kept in a room with three employees after attempting to steal from the department store. According to police, one of the men pulled out a black pistol and started waving it at one of the employees and then pointed it toward the other two employees. Police said the three men then ran out of the store, got into a car and left. wthr.com

Greenpoint, NY: Man Charged With Burglarizing/Shoplifting
8 Long Island Businesses, Assaulting Cop
Following an investigation, Mendoza was found to be involved in five separate burglaries of businesses in the Village of Greenport where he broke in and stole numerous items ranging from electronics, clothing, and food, police said. Mendoza was also charged with assault on a police officer after an officer sustained an injury to his hand while Mendoza was actively resisting arrest on other unrelated charges, police said. dailyvoice.com

Winn Dixie employee arrested for year long Meat theft
Roice Dean Brenay, 27, an employee at the Winn-Dixie store in Dunnellon was arrested Wednesday was charged with committing fraud to obtain property valued at under $20,000. Brenay admitted to putting false UPC codes on packages of meat and paying the lower prices at the self-checkout register. Brenay told the deputy he had been undervaluing meat products for about a year. He said he usually gets several packaged meats and places UPC labels containing fraudulent prices on them. Brenay said he would typically grab a box of gloves, weigh them on the pricing scale to create a lower value on the label, and then go to the self-checkout register and pay for the undervalued items. He said he would take the meat home and put it in his freezer for personal use, according to the report. ocala-news.com

Man pleads guilty to $14,000 ATM thefts
One of four Texas men accused in connection with the theft of more than $14,000 from two ATMs in Central Arkansas pleaded guilty Monday to federal charges of transporting stolen money and conspiring to transport stolen money before U.S. District Judge Brian S. Miller. arkansasonline.com

Featured Job Spotlights






Loss Prevention Auditor and Fraud Detection Analyst
Raleigh, NC - posted Dec. 14
As a Loss Prevention Auditor and Fraud Detection Analyst for Staples, you will conduct LP operational field audits remote, virtual and in person, within a base of 60 retail stores to ensure compliance to operational standards to drive operational excellence and preserve profitability...






Leader, Asset & Profit Protection
San Fran/Chicago/NY/West Palm Beach - posted Dec. 14
As the leader of the Data/Analytics & Investigations strategy, you should have strong analytical/investigation skills, the drive to innovate, and the ability to build strong partnerships to lead through the influence of others. They will be personable, open to learning, collaborating with others...






District Asset Protection Manager
Seattle, WA - posted Dec. 11
As the District Asset Protection Manager you will lead administration of Asset Protection programs and training for an assigned district in order to drive sales, profits, and a customer service culture...






Regional Manager LP, Audit & Firearms Compliance
IL, WI, MN, IA, ND, SD, NE, OK, MO & KS - posted Dec. 9
The Regional Loss Prevention Manager is responsible for the control and reduction of shrinkage at the stores in their Territory. Investigate and resolves all matters that jeopardize or cause a loss to the company's assets...






Customer Success Specialists
Multiple Locations - posted Oct. 9
The role of the Customer Success Specialist is to engage, empower, and excite our community. As a Customer Success Specialist, your primary responsibility is to ensure both retailers and law enforcement, who make up our community, have great experiences and achieve real crime reduction outcomes from using our platform. Apply Here






Sales Representatives
NuTech National - posted Oct. 13
NuTech National, an established and rapidly growing 40+ year electronic security company is expanding our National Sales Team. Seeking motivated, driven and successful sales reps to expand our national retail and governmental vertical markets. Top pay, benefits and signing bonus available. Please apply to melissa@nutechnational.com

Featured Jobs

To apply to any of today's Featured Jobs, Click Here