Report: Home Depot data breach class action suit begins Jan. 16
A class action lawsuit compiling more than 30 of the 44 lawsuits that have been filed against The Home Depot Inc. in relation to its 2014 data breach is scheduled to begin Friday, Jan. 16 in U.S. District Court for the Northern District of Georgia in Atlanta. According to the Atlanta Business Chronicle, Chief Judge Thomas W. Thrash Jr. is telling attorneys for both sides to pursue a "just, speedy and inexpensive" resolution. Costs for financial institutions are estimated to total at least $140 million, and Home Depot previously told investors costs related to the breach could be material to the company's consolidated financial condition, results of operations, or cash flows.The lawsuit accuses Home Depot of breach of contract for failing to comply with security standards and protect customer data. chainstoreage.com


NY AG to propose new bill to strengthen data security law New York Attorney General Eric Schneiderman will propose legislation on Thursday that he says would make the state's data security law the strongest in the country and require "unprecedented safeguards" for personal data. Schneiderman's proposal seeks to broaden the scope of information that employers and retailers would be responsible to protect and will require stronger technical and physical security measures for protecting the information. The proposal seeks to expand the definition of what constitutes "private information" to include email addresses and passwords, biometric information and health insurance details. Companies are currently not required to report a data breach if it is limited to the theft of email addresses and passwords. "It's long past time we updated our data security laws and expanded protections for consumers. We must also remind ourselves that companies can be victims, and that those who take responsible steps to protect customers should be rewarded," Schneiderman said. reuters.com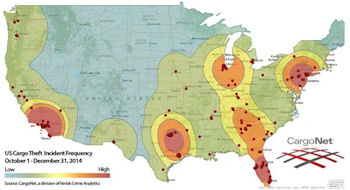 Cargo Thefts Total $18 Million in Final Quarter of Last Year More than $18 million of cargo was stolen in the United States in the fourth quarter of 2014, according to new figures from CargoNet. During the three-month period the cargo recovery service recorded 181 thefts, with 81 in October, 60 in November, and 40 in December. Fifty-five percent of the thefts occurred during Friday through Sunday. Food and beverage items were the most stolen commodity and accounted for 24% of cargo thefts. Alcoholic and nonalcoholic beverages were the chief targets in that commodity category, but cargo thieves frequently stole sensitive items such as produce, meat products, seafood, and frozen food. The end of the year brings increased demand for consumer electronics, said CargoNet, and not surprisingly, electronics constituted the bulk of the loss value. Although there were only 25 cargo thefts of electronic items, each theft averaged about $417,250. Televisions were the most targeted electronic theft. California had the most thefts of any state, 39, followed by Texas with 31, Florida had 26, Georgia recorded 14 and Illinois had 12, rounding out the top five. New Jersey was number six with 10 cargo thefts, followed closely with Pennsylvania with nine. truckinginfo.com

LinkedIn Scam Alert - Phishing attack seeks LinkedIn logins - Don't open suspicious email attachments Symantec has spotted an uptick in phishing emails over the last week that purport to come from LinkedIn support and attempt to steal users' account credentials. The emails warn potential victims of "irregular activities" on their account and say a compulsory security update is required. The emails include an HTML attachment that purports to be a form for performing the update. The HTML file is actually a copy of LinkedIn's website and login page, wrote Satnam Narang, senior security response manager with Symantec, in a blog post. But the website code in the file has been modified, so if a user logs in, their account credentials are sent to the attackers. "The most important technique used here is the HTML attachment," he wrote. "This method bypasses browser blacklists that often flag suspicious websites to help prevent users from being phished." csoonline.com

Mobile malware up 77 percent in 2014
Mobile users encountered malware 75% more often in 2014 compared to 2013, according to a new report from San Francisco-based mobile security firm Lookout, Inc. The mobile malware encounter rate was 7% last year, up from 4% in 2013, largely due to the proliferation of new ransomware campaigns such as ScarePakage. And the threats aren't just more common. They are also far more sophisticated and increasingly dangerous from an enterprise perspective, says Aaron Cockerill, the company's VP of enterprise products. "We've seen a significant increase in both the frequency and sophistication of attacks that would truly represent a concern for the enterprise, like exploits that would let the bad guys get access to corporate networks." For enterprises in particular, the top security threats associated with mobile devices are loss of sensitive data and illicit access to corporate networks. csoonline.com

RadioShack Prepares Bankruptcy Filing, according to report - Could File as Soon as Next Month RadioShack Corp. is preparing to file for bankruptcy protection as early as next month, people familiar with the matter said, following a sputtering turnaround effort that left the electronics chain short on cash. A filing could come in the first week of February, one of the people said. The Fort Worth, Texas, company has reached out to potential lenders who could help fund its operations during the process, another person said. Meanwhile, RadioShack is in talks with a private-equity firm that could buy its assets out of bankruptcy, the people said. They cautioned that the talks with the private-equity firm may not produce a deal and that the company may try instead for a more typical reduction of debt and restructuring of its operations in bankruptcy court. The retailer, which employed 24,000 people late last year, has made clear it is running dangerously low on cash after posting losses in each of the last 11 quarters. wsj.com

Dollar General expands LP team - announces 22 new LP jobs
Dollar General, one of America's fastest-growing retailers with nearly 12,000 locations across the country, announces 22 current vacancies within its Asset Protection and Loss Prevention department to support the company's strong growth and development. Positions are currently available in Middlebury, Vermont; Harrisburg, Pennsylvania; Wilkes-Barre, Pennsylvania; Raleigh, North Carolina; Springfield, Missouri; Wichita, Kansas; Minneapolis, Minnesota; Denver, Colorado; Tupelo, Mississippi; Little Rock, Arkansas; Nashville, Tennessee; San Antonio, Texas; El Paso, Texas; College Station, Texas and Laredo, Texas. Candidates interested in learning more about the positions and/or apply may visit the DG Careers website at www.dollargeneral.com/careers.

Dollar General sticks to store divestment count of 1,500 for Family Dollar deal
Dollar General Corp stuck to its estimate of divesting 1,500 stores to win approval for its bid to buy Family Dollar Corp and said it had held discussions with potential buyers. Family Dollar said on Monday that regulators would want many more than 1,500 stores divested by Dollar General and estimated the figure to be around 3,500-4,000. It also asked shareholders to vote for its agreement to be bought by Dollar Tree Inc. Dollar General said on Thursday it was working to gain "substantial compliance" with the FTC's request for further information by Feb. 10. reuters.com

Half Price Books Deploys POS Solution Chainwide
Half Price Books selected the Vision BeanStore POS system from PCMS for its stores nationwide. The solution was selected for its inventory management requirements around the buying and selling of new and used books, as well as other items. The retail is currently deploying the system across its 117 locations. risnews.com

Non-store sales grow twice as fast as store sales during the holiday season
Total retail sales growth of 4% in November and December made it the strongest holiday season in year-over-year growth since 2011, the National Retail Federation reported yesterday. The NRF data show that growth from non-store channels, including the web, was double that of bricks-and-mortar stores. ComScore previously has estimated that online sales grew 15% in November and December over 2013. U.S. retail sales increased 4% in November and December 2014 over the prior year, the strongest holiday season growth since 2011, the National Retail Federation reported today. NRF reported that non-store sales grew 6.8% to $101.9 billion in November and December while total sales grew 4% to $616.1 billion. While NRF did not estimate the growth in store sales, the non-store and total retail figures imply a growth of 3.46% to $514.2 billion in sales at bricks-and-mortar stores. internetretailer.com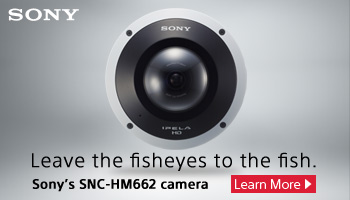 Uniqlo owner promises to clean up its factories Fast Retailing, Uniqlo's parent company, said it had found "several issues, including long working hours" at the suppliers. The inspection was prompted by an undercover investigation by Hong-Kong based watchdog Students & Scholars Against Corporate Misbehaviour, or SACOM. SACOM said in recent report that it had identified problems including high temperatures, open sewage and poor ventilation at the factories, and concluded that "workers' health and safety are not at the top priority." The report also said some workers received only one or two days off per month, working hundreds of hours in overtime to compensate for minimum-wage salaries. Fast Retailing said Thursday that it was taking immediate action to improve conditions on factory floors and limit overtime. cnn.com

Drivers Suffering As Delays Continue To Clog Ports
Drayage, the business of carrying cargo containers by truck from a port terminal to a distribution center, warehouse, or rail ramp, is in a god-awful mess right now at ports from California to New Jersey. The problems: Shortages of chassis and dislocations of chassis, meaning that chassis are in the wrong places at a port when truckers need to put a container on a chassis and move it to a distribution center. The chassis problems mean delays for truckers. Growing frustration among drayage drivers and shortages of drivers. Bigger ships bringing more containers when they arrive at a port. A labor dispute between the International Longshore & Warehouse Union and the Pacific Maritime Association, which represents terminal operators and shipping companies. "The current congestion issues that we're facing now are unprecedented, both nationally and in the San Pedro Bay port complex [the ports of Long Beach and Los Angeles]," said Alex Cherin, a former executive at the Port of Long Beach who is now senior vice president at Englander Knabe & Allen, a Los Angeles lobbying and public policy firm. Cherin spoke at the Transportation Research Board annual meeting in Washington Wednesday. "Although the current PMA/ILWU contract negotiations are a component of that congestion, they are not the only component. The congestion issues that we face... pre-dated the contract dispute between the PMA and the ILWU," he said. Part of the congestion problem is the PierPass program at the ports of Los Angeles and Long Beach, which incentivizes a shift of truck traffic from daytime to nighttime hours (by charging a premium for daytime service). Cherin said PierPass has caused truck backups to build right before 6 p.m. when the daytime premium ends. PierPass "needs to be re-structured," he said, suggesting tier pricing and other steps to thin out traffic. rollcall.com

Asia Maritime Piracy Attacks Now 75% of Global Total
Asia accounted for three-quarters of global maritime piracy last year after a surge in tanker hijackings helped to fuel a 22 percent jump in armed robbery and pirate attacks on ships in the region. There were 183 actual and attempted incidents of piracy and robbery of ships in Asian waters last year, compared to 150 in 2013, a intergovernmental anti-piracy group told shipping industry and law enforcement personnel on Wednesday. This put Asia's share of the total at 75 percent, after the International Maritime Bureau released its global report for 2014 showing there were 245 actual and attempted acts of piracy worldwide last year. In 2013, piracy in Asia accounted for less than 60 percent of the total. However, attacks in Asia are mainly low-level theft compared with kidnappings and more violent hijackings off West Africa and Somalia. The number of attacks in Asia last year is the highest since 2006, when the Regional Cooperation Agreement on Combating Piracy and Armed Robbery against Ships in Asia (ReCAAP), a co-coordinating body with 20 government members, started compiling incident reports. The rise in Asian piracy last year was due to the surge in tanker hijackings and better reporting by ship owners, ReCAAP deputy director Nicholas Teo told Reuters on Wednesday. irrawaddy.org

Best Buy same-store holiday sales up 2.6% - but predicting slump in first half '15

Gamestop sales down 6.7% over holidays - 30% drop in new hardware sales

Tom Ford plans to have 104 stores by end of year

10 Takeaways from the 2015 NRF Big Show


Target to pull out of Canada, close all 133 stores
In case you missed it, here's our Special Report on Target's announcement to discontinue its Canadian operations - with 133 store locations and 17,600 employees across the country.

All the News - One Place - One Source - One Time
The D&D Daily respects your time & doesn't filter retail's reality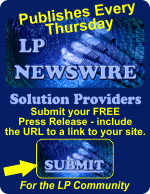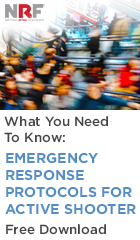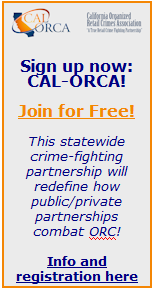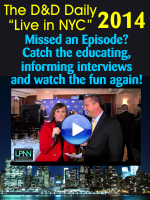 The D&D Daily
"Live in Ft. Lauderdale" at the NRF Show

Leading the way with higher education - Northern Michigan University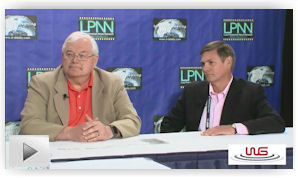 Dan Faketty, VP AP, Bi-Lo Holdings, & Professor Bob Hanson, LP Coordinator NMU
Sponsored By:




LPNN Quick Take 13


See all episodes here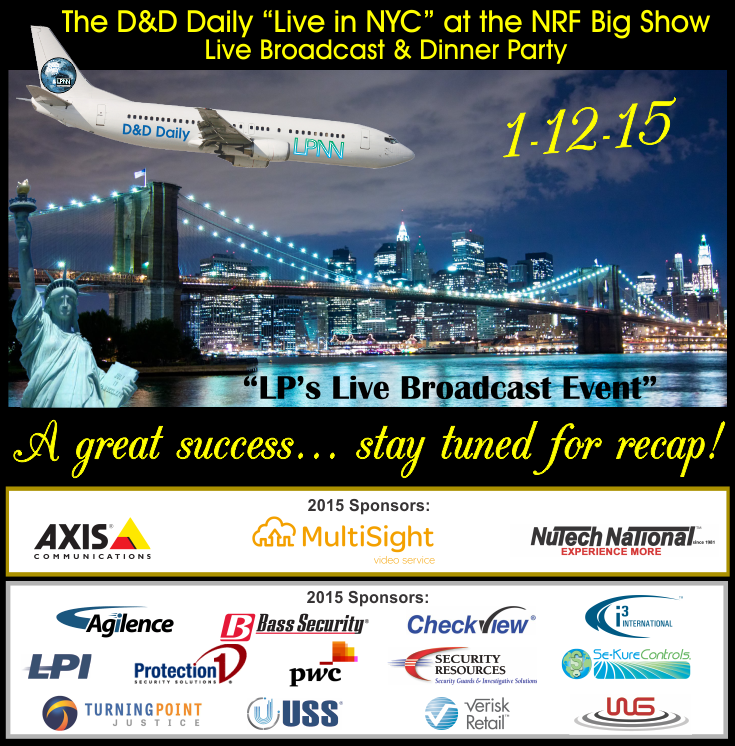 Cyber Security's Increasing Impact on Retail & the Role of Loss Prevention

Tom Litchford, VP, Retail Technologies for the NRF, joins LPNN to talk about the growing threat of cyber security in retail and how it has forced traditional LP programs to rethink its relationship with IT security. With our world becoming increasingly interconnected and data breaches seemingly imminent, omni-channel retailing introduces new levels of risk and unprecedented challenges for the LP industry. A subject matter expert in retail technologies, Tom tells us why the future LP executive must be more IT driven than ever before.

New episodes from our "Live in NYC" 2015 broadcast coming next week!
Solution Providers, have a video or commercial you want to publish? Contact us.

D&D Daily is proud to present:
THE 2014 GROUP LP TEAM PHOTO CHALLENGE PIZZA PARTY WINNERS!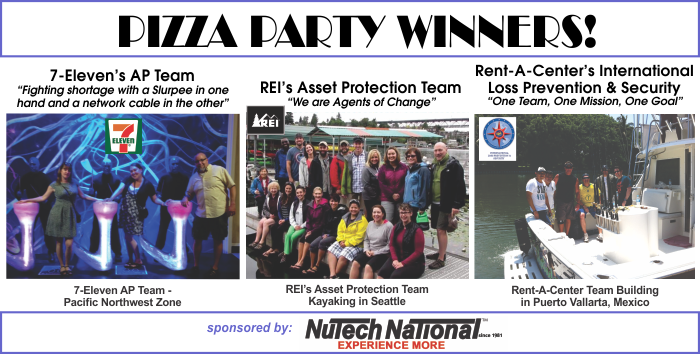 ---
2014 LP Team Group Selfie Review

Showcasing each team in order!
Be on the lookout for our new Get LP Social 2015.

Your Team - Your Pride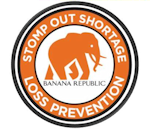 Banana Republic Loss Prevention Team at
Rockefeller Center in Manhattan
"Stomp Out Shortage"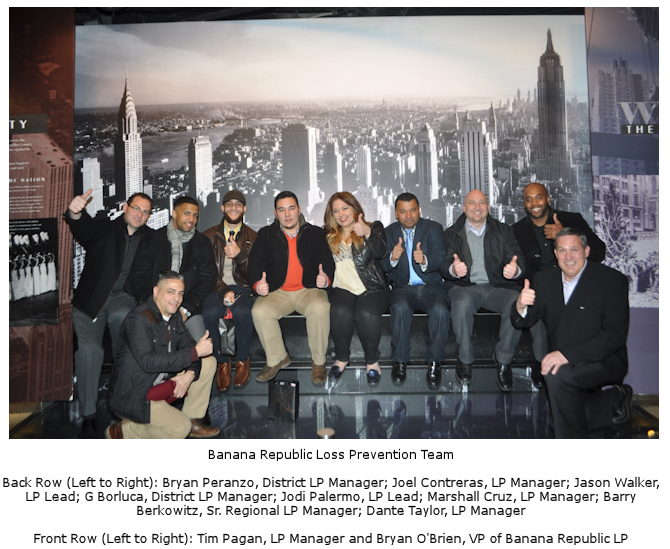 *Originally published on August 15, 2014
View all 2014 selfies here!


Retailers seek to link the mobile and in-store experience for consumers
Every day, retailers are attempting to figure out how they can react to the expectations and demands consumers place on them thanks to new technology. Technology in some ways creates higher, sometimes impossible-to-meet, consumer demand for services. The retail industry often struggles to keep pace, but it is now more important than ever for merchants to meet consumers where they frequently these days and that's usually with a smartphone. "Mobile devices enable us to bridge the gap between online and offline world and that's the key," Frank Zimmerman, CEO for IT provider arvato Systems North America, said during a panel discussion Monday at the NRF Big Show in New York City. "There are so many different ways to do it and we're just at the very beginning of this change." As more consumers are exposed and become accustomed to new ways to shop and pay, the more they will expect the ability to reach and interact with their favorite brands on their smart devices at any time. That creates a challenge (and opportunity) for retailers to better align their remote and physical operations. mobilepaymentstoday.com

Social networks deliver for retailers, but at a price
Data from Internet Retailer's newly released 2015 Social Media 500 show online merchants are stepping up their focus on social media marketing, and their efforts are paying off. That's despite the fact that it's harder to get free exposure on Facebook, by far the largest of the social networks. Retailers' followings on social networks are way up this year, the data reveal. The 500 merchants ranked in the Social Media 500 boosted their collective number of Facebook Likes 33% in 2014 to 915.7 million. They also grew their Twitter followings 26% to 88.6 million, increased their Pinterest followers 16% to 34.7 million and drove 78% more video views on YouTube for a total of 3.89 billion. That increased response from consumers helped drive more social traffic to e-retailers' sites: Social Media 500 retailers got an average of 5.77% of total site traffic from social networks in 2014, up from 5.36% in 2013. Moreover, those social-derived visitors are purchasing more once they arrive on a retailer's site. Total social commerce sales—purchases by consumers coming from social networks-reached $3.30 billion for the Social Media 500 last year, up 26.0% from $2.62 billion in 2013. That's a far greater increase than the overall 16.9% growth in e-commerce in the U.S. last year. internetretailer.com

E-commerce spending to top $300 billion in 2015

"Fraud is not a person - it is a dynamic grouping of statistics that deviate from the norm."
Stuart B. Levine, CFI, CFCI
CEO, The Zellman Group & Zellman Fraudnet


$6,700.00 Would-be Walmart Thieves foiled by alert Cambridge, OH Police Officer Two Jefferson County men accused of trying to steal more than $6,700 worth of merchandise from Walmart on Southgate Road were nabbed by Cambridge police early Wednesday thanks to the keen observations of a patrolman. Ptl. William Calvert was on routine patrol when he observed the two men acting suspiciously while pushing shopping carts filled with merchandise toward a vehicle in the Walmart parking lot. According to Cambridge police reports, Calvert was driving through the Walmart parking lot at approximately 2 a.m. when he observed the men exit the store with items that had not been placed inside Walmart bags in the carts they were pushing. As the officer approached the men, they appeared to be in a hurry to load the items into their vehicle. Calvert reported both men appeared to be nervous and one was having a hard time catching his breath. Calvert requested additional officers at his location and when police approached the vehicle, they observed what appeared to be stolen merchandise inside the vehicle. Several electronic items reportedly still had the electronic theft deterrent devices still attached. A search of the vehicle revealed more merchandise apparently stolen, including multiple duffle bags and suitcases filled with items believed to have been stolen from the Cambridge store. A search of the trunk revealed even more items suspected as stolen. Officers believe the suspects entered the store and filled the duffle bags and suitcases -- also allegedly stolen from Walmart -- with items over the course of several hours. The men allegedly made several trips, taking items to their vehicle in the parking lot and then returning to the store to steal more. daily-jeff.com

Man Arrested for Stealing nearly $5,000.00 of Shoes from Kohl's in New Braunfels TX New Braunfels Police say they have caught one of two men believed to be responsible for a string of shoe thefts at local and area department stores. Investigators believe a San Antonio man and an unknown accomplice are responsible for a series of shoe thefts at the local Kohl's store on Hwy 46 South over the last few days. It all started this past Saturday when employees realized that someone had removed 54 pairs of Nike-brand shoes from their boxes, then removed the security tags, and walked out of the store with the stolen goods, getting away with more than 32-hundred dollars worth of shoes. Later that same day, the same man returned to the same store and was able to get away with 9 more pairs of Nike shoes valued at $520. But now the store was wise to the scheme and store security was on the lookout. Then on Tuesday the same man apparently returned to the store and (under the eye of security cameras) tried to steal 13 more pairs of Nike shoes and a jacket worth a total of $850. His accomplice was apparently waiting outside and spotted police officers arriving at the scene and, using a cell phone, notified his partner inside the store. So the man dropped the shoes and ran out the front door, trying to outrun police and store security. But he didn't get far and was apprehended after a short foot chase through the parking lot. 36-year old James Saenz was arrested and booked at the Comal County Jail on Theft and Evading Arrest charges. radionb.com


I.D. theft, burglary, bank fraud, high speed car chase... Suspects from Florida just passing through Louisiana. A heads-up bank teller helps stop an accused band of traveling criminals cashing bad checks and breaking into cars. Jefferson Parish Sheriff Newell Normand says the five suspects from Florida jailed on an array of burglary, identify theft and bank fraud charges were just passing through, "And they began to engage in a series of smash and grab burglaries of vehicles." Normans says the crew drove rental cars with stolen license plates to hide they're identity and vandalized cars in places burglars typically target, like daycares, gyms and health clubs. Detectives know now 26-year-old Talena Stanford had successfully cashed a bad check for a thousand dollars at a Whitney Bank in Belle Chasse a half hour before trying again with a different drive-thru Whitney Bank in Marrero. "At this location she had tried to cash two checks. A thousand dollars each," says Normand. The check fraud scheme unraveled when an teller became suspicious, cross referencing the signature card on file that didn't match. When the teller took the I.D. away and demanded she come inside, Standford drove away. "Really heads up of them taking a cell phone and taking a picture of the license plate of the car," says Normand. But Deputy Danny Kerr spotted her getaway car in the back parking lot of a Marrero Ochsner Health Center where the rest of her accomplices were seen getting into a different car. The pursuit kicked off down a Lapalco and headed down to the Harvey Manhattan area where it subsequently ended with a crash," says Kerr. wgno.com

Bryan, TX man sentenced to 13 years for $1,500 Mall theft
A 39-year-old Bryan man was sentenced Wednesday to 13 years in prison for stealing designer boots from the Mule Barn at Post Oak Mall. Scott Diangelo Jones pled guilty on Monday to felony theft of less than $1,500 with two prior convictions. He was accused of stealing two pairs of boots, each worth almost $500, during two visits to the Mule Barn in late December 2013. Jones had previously been convicted of theft in 2006 and 2010, and served prison time in 2008 for tampering with evidence. theeagle.com




Albany, GA Police search for 3rd suspect in shoplifting case Police are searching for a third suspect in a Sylvester shoplifting case. Officers need your help finding Trominiki Cauley. She's pregnant and believed to be living in Albany. Authorities say Lamond and Daphne Seadrow have been arrested. The three are accused of felony shoplifting at Walmart last month. The three are facing felony shoplifting charges. walb.com

Springville, NY man goes to jail for refund theft at Walmart
A 22-year-old man is going to jail for obtaining a cash refund for merchandise he never purchased at Walmart in Cheektowaga, town police reported. Nathan D. Harrison of Springville, who pleaded guilty to a charge of petit larceny, was sentenced to six months in jail Wednesday by Town Justice Paul Piotrowski. Harrison was detained in July at the Walmart store at the Thruway Plaza, where he returned merchandise that he didn't buy at the store, police said. Harrison was arrested again in Cheektowaga on Oct. 28, when a hypodermic instrument was found in his possession during a car stop on Genesee Street, police said. buffalonews.com

Do you have an ORC case to share? Publishing it educates the LP & retail community,
which might fuel even more jobs and funding. Share your ORC news and help the industry grow!

Des Peres, MO Police Officer Shoots TJ Maxx Shoplifting Suspect in Arm, Pursuit ends near West County Mall A Des Peres police sergeant shot a shoplifting suspect in the arm Wednesday afternoon in an incident that ended near the West County Center mall. The suspect's injuries were not life-threatening. St. Louis County police are investigating the incident, which began with a theft at a T.J. Maxx farther east on Manchester Road. That store, at the Olympic Oaks Village strip mall, was also the scene of a similar shoplifting and pursuit last month. In Wednesday's incident, Des Peres police responded to a report of shoplifting about 1:40 p.m. Police tried to stop and block the suspects' black Dodge Charger, with a sergeant getting out of his vehicle to arrest the two suspects. The car went up over a curb and came at the sergeant, who was on a grass and sidewalk area, police said. The sergeant feared for his life, authorities said, and fired at the driver of the car, hitting him once in the left arm. The Charger continued on, narrowly missing the sergeant. stltoday.com


2 injured in shooting at Montgomery, AL Walmart where Officer was shot in Oct Customers at a Montgomery Walmart were sent running for cover Wednesday night after a heated dispute ended in gunfire at the busy store. The incident happened around 7 p.m. in the parking lot of the store on the Eastern Boulevard. Two people were injured. Investigators with the Montgomery Police Department are still searching for those involved. Montgomery Department of Public Safety spokeswoman Martha Earnhardt says the shooting happened after a dispute inside the store that involved several people. The fight was carried out into the parking lot where the shooting took place. Police say a man and woman were left with gunshot wounds. Stunned shoppers stood with their carts and bags as police cars filled the parking lot and a large crime scene area was roped off. For Anna Leonard, an expectant mother, her trip to pick up some groceries at the store Wednesday evening turned into a scary ordeal. wsfa.com


Police say robber slit clerk's throat at Renton, WA GameStop store; Suspect in Custody UPDATE: Police have arrested the man sought in the robbery and throat slashing of a Renton video game store clerk after a day-long manhunt. ORIGINAL STORY: Police are searching for a man suspected of stabbing a video game store clerk in Renton Wednesday morning. Renton police spokesperson Teri Vickers told KIRO Radio the stabbing happened around 10:45 a.m. at GameStop in the 200 block of South 2nd Street. Vickers says the suspect slit the throat of the female clerk forcing her to open the safe. The 23-year-old woman was rushed to Harborview Medical Center in Seattle. Her condition was not immediately known. "He already had the money when he slit her throat," Vickers says. komonews.com


Security Guard Foils Store Burglary at Verizon in Houston A Houston security guard is breathing a sigh of relief this morning, after a confrontation with some burglars. It happened at a Verizon Wireless store in Houston, where a group of guys were trying to break into the store by going through the wall. A security guard inside the store started yelling at the guys, telling them to back off. The scare tactic worked and the thieves ran away. kristv.com



Debit card skimmers found on Houston-area gas pumps There's warning for everyone using ATM cards in our area. Police in Texas City say debit card skimmers are being placed on gas pumps. Gas stations, ATMs -- where ever you use a debit card -- could be hit next. Right now, the trouble spot is along the coast. "We were notified by our credit union that there were some charges that did not look normal," said Jim Thompson, a victim of debit card skimming. That call uncovered $1,500 in illegal charges made Jim Thompson's debit card during the Christmas shopping season. abc13.com

Smith's Food and Drug in Santa Fe robbed at gunpoint
A man wearing a Halloween mask robbed a central Santa Fe grocery store at gunpoint Wednesday evening, Santa Fe police say. Lt. Andrea Dobyns, a spokeswoman for the Santa Fe Police Department, said no one was injured in the robbery at the Smith's Food and Drug, 2110 S. Pacheco St., but the suspect did get away with an undisclosed amount of cash. Dobyns said the robbery occurred at about 7:20 p.m. Wednesday. A man wearing what appeared to be a Halloween mask entered the grocery store and approached a register. Dobyns said the man verbally threatened a cashier and brandished a firearm. He only targeted one register before fleeing the store. santafenewmexican.com

Thieves steal multiple guns and ammo from store in Middletown, OH
A group of quick-acting burglars made a potentially deadly score at a local store. The thieves got away with guns and ammunition from a store in Middletown, then came back later for more. Police said that the thieves used a brick to bash out the glass to the front door. Once inside, the burglars pretty much helped themselves to guns and ammo. Investigators also say that they need help in not only finding the bad guys but their arsenal as well. Surveillance video shows three suspects entering the store and going right to the gun display cases. local12.com


San Bernardino County Sheriff's searching for retail burglary suspect San Bernardino County Sheriff's officials said Victorville deputies are searching for a man that has been linked to numerous commercial burglaries in the area. Authorities said the suspect has entered several retail stores in the city and security officers reported seeing him concealing items and exiting the store before he could be stopped. The suspect is described as a Hispanic man in his early-20s with short black hair. Sheriff's officials said he is roughly 5 feet 10 inches tall and weighs approximately 150 pounds. A scratch or scar can be seen on his right cheek. vvdailypress.com

New York Man Arrested For $1,200 Walgreens Theft in Newtown, CT
Following a foot pursuit midday on January 7, police caught and then arrested a New York City man who allegedly stole nearly $1,200 worth of merchandise. Police Sergeant Aaron Bahamonde said police received a call for help about 12:12 pm from Walgreens Pharmacy at 49 South Main Street, informing them that a shoplifting theft had occurred there. After the alarm sounded, the store manager confronted the man and the man ran away, the sergeant said. Police formed a security perimeter in the area near the drug store and then worked inward from its boundaries in seeking to apprehend the man. After about 30 minutes of searching the suspect was arrested. newtownbee.com

Bossier City , LA Police believe Old Navy burglars struck before
Bossier city police are asking for your help catching two suspects, Who they believe have robbed multiple local businesses. Two people broke into the old navy store on Beene Boulevard, by cutting the through the roof and then using a chop saw to open a safe and steal money. "These individuals apparently knew what they were doing. It appeared to be a planned out incident," said public information officer with the Bossier City Police Department, Mark Natalie. Bossier City detectives don't believe the suspects are rookies, a similar burglary happened at Topps Western World in Bossier just last month, and two others in Miller county, Arkansas. arklatexhomepage.com

Family Dollar heist in Apollo, PA added to robbery suspect's charges
A Plum man already accused of going on a robbery spree in Sharpsburg, Ross and Monroeville has been formally charged with robbing an Apollo discount store Dec. 30. Police allege that Demetryaiss L. Holyfield, 22, of Kinzua Road, robbed the Family Dollar store in Apollo that afternoon and went on to rob stores in Sharpsburg and Ross that night. Two days later, New Year's Day, they say Holyfield went on another robbery binge, robbing three stores in the Monroeville Mall in Monroeville. He was arrested shortly afterward. While Holyfield risked the potential sentences of years behind bars in each case, authorities say he only made off with between $200 and $500 in each holdup. triblive.com

Shoplifter urinates on a Kohl's Loss Prevention Officer
An accused shoplifter struggled with a loss-prevention officer and later urinated on him, police said. Tricia Stroup, 44, is facing charges of robbery and criminal trespass. According to a Little Rock Police Department report, a loss-prevention officer at the Kohl's tried to stop Stroup on the parking lot Wednesday night after she left the store with nearly $350 in merchandise she hadn't paid for. Stroup then "became combative, swinging her fists at the loss prevention officer" before attempting to flee, the report said. A brief struggle ensued before the officer "managed to control the subject," the report said, adding Stroup "then urinated on him." No injuries were reported. arkansasonline.com
---
● A7S Fuels - Sand Springs, OK - Armed Robbery
● Armando's Furniture - Victorville, CA - Burglary / Trailer Theft
● Blue Water - Charleston, SC - Burglary
● Circle K - Pittsburgh, PA - Armed Robbery/ Assault
● Dollar General - N. Knoxville, TN - Armed Robbery
● Family Dollar - Oklahoma City, OK - Armed Robbery
● GameStop - Renton, WA - Armed Robbery/ clerk stabbed - suspect in custody
● Jet Pawn - Houston, TX - Armed Robbery - 30 guns stolen
● LaMexicana - Tyler, TX -Armed Robbery
● Laxmi Foods - Jacksonville, FL - Armed Robbery/ homicide
● Old Navy - Bossier City, LA - Burglary - roof top
● Phillip 66 - Kansas City, MO - Armed Robbery
● Quik Save - Jefferson Co, CO - Armed Robbery
● Valley Fuel Get and Go - Visalia, CA - Armed Robbery
● 7-Eleven - Jefferson Co, CO - Armed Robbery



The Latest Shift: Zellman Fraudnet, now Zelligent stops fraud.
In the past decade there has been a rumbling in the distance, deep beneath the stockrooms of retailer's flagship stores. In the passing years these rumblings have grown stronger; however it is not the sound of increasing foot traffic on Black Friday, but the shifting of the shopping habits we all once knew. Very soon we will see a full tectonic shift in the world of retail. As foot traffic slows in brick and mortar shops, the world of eCommerce/mCommerce continues to grow. This shift requires retailers to take control of their ecommerce environments and the customer service that follows.

Another change on the horizon is the looming EMV mandate. Here we will see in-store credit card fraud virtually disappear. The bad news is fraudsters will gravitate to online retailers now. The ability to identify good customers from fraudsters will be imperative. Online retailers with weak or no fraud protection will be bombarded by fraudsters. The use of fraudulent credit cards will result in chargebacks, financial loss and the loss of product to be sold to their legitimate customer. If an online retailer chooses fraud protection that is too severe and lacks flexibility, then they run the risk of losing sales to good customers due to orders being declined.

The Zellman Group has felt this shift, and in mid 2013, announced our newest division - eCommerce Fraud Solutions. This division's mission is to support Omni-channel retailers with risk reduction in the Card Not Present environment via our customized fraud detection and prevention tool, Zellman Fraudnet.

Zellman Fraudnet, now operating under the new trade name Zelligent is powered by Kount, EMEA 2013 Payment Award winner for Anti-fraud/Security Solution of the Year Award. Additionally in October 2014, Kount was recognized again by the panel of payments industry experts for its leading fraud prevention and security offering, the Emerging Payments Awards and was selected as the Best Security/Anti-Fraud Program at their annual award ceremony.

What makes Zelligent different?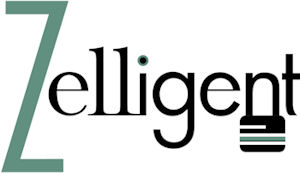 The technology behind Zelligent has 23 patented or patent pending applications related to cutting-edge fraud prevention and detection technologies including: device identification, proxy piercing, data collection, credential verification, fraud scoring, payment fraud control, chargeback prevention and risk analysis.

Zelligent has the ability to compare all data sets for continuity against your business and customer norms against their universe of client's information where our competitors may not have the ability to link this data.

Additionally, Zelligent has the flexibility to support any payment method and currency you choose, whether it is Bitcoin, Baht or Apple Pay.

Whether you're looking for a solution to monitor your transactions or to outsource the entire process, Zelligent is an unparalleled and innovative solution.

For more information please contact sales@zellmangroup.com



| | | | |
| --- | --- | --- | --- |
| Job Opening | Company | Location | Origination |
| Director of Corp. LP | Bed Bath & Beyond | Union, NJ | Bed Bath & Beyond |
| Director LP | Sephora | San Francisco, CA | LinkedIn |
| Director of Corp. Security | Gap Inc | San Francisco, CA | Gap Inc |
| VP of Sales | Checkview | Chanhassen, MN | Checkview |
| Sr. Director, Field LP | Ross Stores | Dublin, CA | Ross Stores |
| Director Market LP | Walgreens | Phoenix, AZ | Walgreens |
| Regional LP Mgr | Dollar General | Multiple Locations Nationwide | Dollar General |
| LP Manager | Bowlmor AMF | Chicago, IL | Bowlmor AMF |
| LP Manager | Bowlmor AMF | Denver, CO | Bowlmor AMF |
| Market AP Specialist | REI | Portland, OR | REI |
| National Account Executive | Checkview | Northeast Region | Checkview |
| National Account Executive | Checkview | United States | Checkview |
| National Account Manager | Vector Security, Inc | TBD | Vector Security, Inc |
| | Confidential | Northeast | Downing & Downing |
Limited Time Only - Post Your Multi-Unit LP jobs for FREE - Learn More Here




Today's Daily Job Postings from the Net - Appearing Today Only
View our Internet Jobs Archives here

| | | | |
| --- | --- | --- | --- |
| Job Opening | Company | Location | Origination |
| Retail AP Specialist | Cabela's | Wichita, KS | Cabela's |
| Area LP Leader | JC Penney | Newark, CA | JC Penney |
| District LP Manager | Kroger | Houston, TX | Kroger |
| LP Manager | NAPA | Houston, TX | NAPA |
| AP Manager | Sam's Club | Houston, TX | Wal-Mart |
| AP Manager | Sam's Club | Humble, TX | Wal-Mart |
| AP Manager in Training | Walmart | Huntsville, AL | Wal-Mart |
| AP Manager in Training | Walmart | Los Lunas, NM | Wal-Mart |
| AP Manager in Training | Walmart | Booneville, AR | Wal-Mart |
| AP Manager in Training | Walmart | Philadelphia, PA | Wal-Mart |
| AP Manager in Training | Walmart | Richlands, NC | Wal-Mart |
| LP Manager Hrly | Sears | Kennewick, WA | Sears Holdings Corp |
| LP Manager Hrly | Sears | Dalton, GA | Sears Holdings Corp |
| LP Manager | Kmart | Fajardo, PR | Sears Holdings Corp |
| AP Team Leader | Target | Albany, GA | Target |
| LP Lead | Sears Canada | Peterborough, ON, Canada | Workopolis |
| LP Specialist | Home Depot Canada | Ottawa, ON, Canada | Workopolis |
| District LP Manager | Walmart Canada | Sudbury, ON, Canada | Workopolis |
| LP Manager | Old Navy | Cleveland, OH | Gap Inc |
| LP Manager | Macy's | Louisville, KY | Macy's |
| | | | |