Tyco Can't Delay Eli Lilly $60M Drug Heist Suit, Judge Rules
A Florida federal judge refused Thursday to allow Tyco Integrated Security LLC to further delay an Eli Lilly insurer's suit blaming the company for a $60 million drug heist, claiming that Tyco's prolonged effort to obtain testimony from one of the burglars has brought the case to its "breaking point."

In his order denying Tyco's request, U.S. District Judge Beth Bloom said that previous continuances, combined with numerous discovery disputes, have already pushed the trial date to late March, more than a year behind schedule.

Tyco had argued that the drugmaker's insurer, National Union Fire Insurance Co., wouldn't be prejudiced by its attempt to get information from one of the heist's ringleaders, Amed Villa, but Judge Bloom disagreed.

National Union has claimed that Tyco, formerly ADT Security Services Inc., lost confidential information about an Eli Lilly distribution center in Illinois, which Tyco received while the parties negotiated a contract.

The insurer said that Tyco's security lapse allowed Amed Villa and his brother Amaury to pull off the 2010 burglary, which they purportedly committed by cutting a hole in the facility's roof and deactivating the alarm system before absconding with thousands of cases of drugs and fleeing in a tractor trailer.

Both brothers have pleaded guilty, and Amaury Villa admitted last July that he took part in the crime, but said that he and his accomplices did not use any confidential information from Tyco or its partners, claiming they figured out how to disable the alarm by practicing on their home security system.

Amed Villa has refused to testify until his sentencing in Connecticut federal court, which was scheduled for this month but had to be postponed after a third man involved in the burglary was apprehended, according to court filings.

National Union has urged Judge Bloom to get the show on the road, accusing Tyco in October of "belittling" the prejudice it has suffered, and arguing that there's no way of knowing when Amed Villa will be sentenced, a matter that's further complicated by his potential cooperation in another case in Kentucky federal court.

The judge agreed, and said Thursday that enough is enough. law360.com

Macy's Socked With Worker Suit Over Wages, Mandatory Security Bag Checks
A proposed worker class action brought by a former Macy's employee accusing the retailer of failing to pay a legal minimum wage and proper overtime for required work periods was bumped up to California federal court Thursday at the store's request.

Yulie Narez initially filed the complaint in San Benito County Court at the end of January, contending Macy's Stores West Inc. has "systemic illegal employment practices" in place in which the retailer intentionally failed to pay employees for mandatory security checks of their bags conducted before meal breaks and at the end of shifts. Macy's brought the case up to the federal level because the amount at issue in the suit could be in excess of $5 million, according to a notice.

The case is similar to one Macy's faced in 2011, when another California employee attempted to certify a class of 84,000 workers who had not been paid for mandatory bag checks as part of a companywide policy. That case was sent to mediation in 2014, according to court records. law360.com

Jewelers' Security Alliance Crime Prevention Tips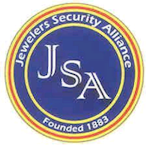 This series will describe the most frequent crime risks for jewelry firms, taken directly from the latest files of the Jewelers' Security Alliance (JSA), and will provide recommendations on the most effective loss-prevention measures. The crimes covered will include the whole range of violence and fraud that are committed all too frequently against jewelry firms in the United States: armed robberies, smash-and-grab robberies, safe burglaries and other burglaries, grab-and-run thefts, switches, distraction thefts, sneak thefts, credit card fraud, internal theft, and losses incurred by traveling salespersons or losses not on store premises. Practical recommendations will be offered on proper security procedures and best practices, as well as advice on necessary security equipment and current innovations in security technology.

JSA's crime stories and loss-prevention recommendations were developed from JSA's database of more than 10,000 crimes committed against the U.S. jewelry industry and from information received daily from the Federal Bureau of Investigation and countless police agencies throughout the United States.

The sponsor of the series is the Jewelers' Security Alliance, a nonprofit trade association founded in 1883, serving the diamond, jewelry, and watch industry, and with a membership of 20,000 jewelry locations.

Proper security is not only a matter of life and death for jewelers. The combined costs of security and insurance represent one of the most significant expenses in a jeweler's budget. This series can help keep jewelers safe as well as save them from major financial losses. jckonline.com

Walmart to open 200 academies across the country focused on improving customer service at stores
The students are Wal-Mart's department and assistant store managers who operate its 4,600 U.S. stores. The goal is for all of the academies to be open by the end of 2017 and for 140,000 employees to go through the program each year.

The program is part of Wal-Mart CEO Doug McMillon's plan to improve customer service by paying people more and offering them better training. Wal-Mart said last year, it's spending an additional $2.7 billion over two years on hourly raises, improved benefits and training.

Last week, Wal-Mart started a new training program for cashiers and their supervisors will be going through the academy too.

Department managers will go through two weeks of training and the assistant store managers that they report to, will complete a six-week course. All new department and assistant managers will continue to go through the training and Wal-Mart plans to keep the academies open indefinitely. dallasnews.com

Retailers Grapple With Wage Pressures as Unemployment Slides
Retailers, shaking off lackluster holiday sales and battling online competition, have a new problem to deal with. Many are facing wage pressure on their store payrolls as the labor market tightens and states and municipalities raise the minimum wage.

Fourteen states increased their minimum wage as of Jan.1, with more slated to do so this year, according to a Feb. 10 UBS research report. wsj.com

We aren't alone on job cuts - minimum wage increases & store closures
Rising UK retail wages to drive 900,000 job cuts
The retail sector, one of the UK's largest employers, is facing up to 900,000 job losses and the closure of thousands of shops in the next decade, according to a report by an industry body.

The British Retail Consortium (BRC) warns that rising costs due to the "national living wage" and the apprenticeship levy - both introduced by George Osborne in last year's budget - could increase the rate of job cuts.

The BRC, which represents retail companies, stated: "Both have sound intentions but could fail on implementation. Together these effects could mean there are as many as 900,000 fewer jobs in retail by 2025 but those that remain will be more productive and higher earning."

The retail sector employs about 3 million people - but of the 270,000 shops in the UK, up to 74,000 could shut. Nearly 30% of these could be in Wales and the north of England, the report says.

The national living wage will come into force in April, replacing the current minimum wage of 6.50 pounds ($9.03 U.S.) an hour with a rate of 7.20 pounds ($10.02 U.S.) for the over-25s. The BRC estimated that this will cost the industry up to 3bn pounds ($4.1B U.S.) a year. Editor's Note: Once again using the UK as a barometer for the U.S. theguardian.com

$50.8M settlement reached between Tween Brands and Ascena Retail Group, Inc. (Justice) in class action lawsuit
about whether Justice misled shoppers by marking items "40% off" when this price was in reality the regular price. Justice denies all of the claims and says it did nothing wrong. Those included have legal rights and options, such as submitting a claim for benefits or excluding themselves from or objecting to the settlement. Eligible claimants may receive a cash payment for $7, $13 or $20 or a Justice voucher for $10, $20 or $30 without documentation of their Justice purchases (Option 1). For claims with documentation of six or more purchases or documentation of a single purchase of $105 or more, claimants may receive a check for 14% or a Justice voucher for 20% of documented purchases (Option 2). To get a cash payment, you must submit a claim. justiceclassaction.com

Staples Wins Bid For Amazon Docs In $6.3B Office Depot Merger Fight with FTC
A District of Columbia federal judge on Friday ordered Amazon.com Inc. to give Staples Inc. access to certain internal business documents and sales forecasts as part of the office supplies company's defense of the Federal Trade Commission's attempt to block its $6.3 billion merger with Office Depot Inc.

"This type of information is likely relevant to Staples' defense in this case because the information appears to relate to how competitive Amazon Business will be with other competitors in the industry over the course of the next several years," Judge Sullivan said. "Nevertheless, out of an abundance of caution, the court will review the documents in camera before ordering that they be produced to Staples." law360.com

OSHA - homicide fourth-leading cause of fatal occupational injuries
4,679 fatal workplace injuries took place in 2014; 403 of those were workplace homicides. The U.S. Department of Labor's Occupational Safety and Health Administration is heading to Wichita to investigate the shooting at Excel Industries Inc. oshatoday.com

American Apparel Hit With Work Stoppage Friday at co's two plants protesting suspension of at least three factory workers
Union officials and some employees reported workers stepped away from their machines and stopped working at 9 a.m. in Los Angeles at the company's two manufacturing plants in the county. Jose Franco, a sewer at Sequoia who has been working with the company since 2008, was rallying with roughly 50 others Friday outside headquarters and reported a full stoppage by the first shift of workers - which by his estimation was about 500 people - who were subsequently sent home, according to Franco. The first shift is from 6 a.m. to 2:30 p.m. "All of the workers stopped working."

Complaints about pay, changes in the production process and lack of clarity on the business outlook from management appear to be some of the issues protesters have taken up along with calls to bring back founder and fired chief executive officer Dov Charney. wwd.com

Sarasota, FL: How does the Florida man who Patented the Magnetic Strip
Feel about the Chip Card?
Ron Klein had a role in creating one of finance's most influential innovations, one that changed the way Americans think about and spend their money. Klein, 80, of Sarasota, had a hand in inventing the magnetic strip on the back of credit cards. He recorded the idea in a patent application 50 years ago, in April 1966. Today's cards are packed with more data than Klein's prototypes, but the technology is more or less the same, long outliving the reel-to-reel tapes that inspired it. It was a very simple approach," Klein said. "You question yourself: How in the world did it - in this world of obsolescence - did it survive from 1966?" tampabay.com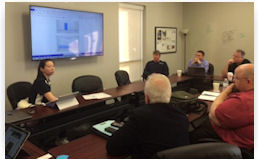 Verizon Visits the LPRC Innovation Lab
This week, the Loss Prevention Research Council was visited by several of the top executives for LP/AP for Verizon. The Verizon and LPRC teams were able to collaborate on industry-specific initiatives to help get momentum rolling. A special thank you to the Verizon team: Mike Currier, Dave Magersupp, Gabe Esposito, Tim Dunham, Bruno Pavlicek, and Ken Matheson!



Lumber Liquidators suffers huge Q4 losses over safety concerns of Chinese laminate products

Sources Indicate Two Senior LP jobs have been filled? - Pier 1 & Mattress Firm

Quarterly Same Store Sales Results
Signet Jewelers Q4 comp's up 4.9% with sales
Lumber Liquidators Q4 com's down 17.2% with total sales down 14%


Last week's #1 article --


Shoplifting Video Going Viral on YouTube today
Walmart customer who films shoplifter apprehension banned from store in Wilmington, N.C.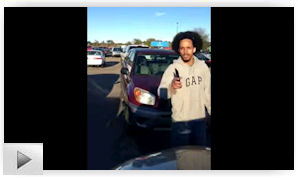 A North Carolina man recorded a shoplifter inside Walmart's Wilmington location, only to be verbally harassed, threatened with arrest and banned by a clueless employee of the SuperCenter last Friday afternoon.

Jon Andrade thought he was doing the retail giant a favor by using his cell phone to capture a petty theft, when Walmart employees turned on him and demanded that he leave or be arrested for criminal trespassing on private property ending the encounter by telling the man that he is "Banned." The minute and ten seconds long video below picks up when Andrade was nearly in the parking lot.

As John Andrade's wife wrote, he was just trying to be thoughtful. It's common knowledge that Walmart loses billions annually to "shrinkage" which is the retail industry's term for shoplifting: As Jon was exiting the store, he sees a woman who has shoplifted from Walmart. She had thrown down a large purse filled with items she had stolen and takes off, into the parking lot, out the front doors. My husband, who worked as a security officer for over 5 years, instantly is in the mindset to whip out his IPhone and record this woman and this incident happening, thinking maybe he could help out; Not to mention in this day and age, the majority of people who see a crazy incident at Walmart are going to instantly grab their smartphone and hit record.

A Walmart employee, ironically wearing a "GAP" sweatshirt asks him to, "Please stop recording." That's where the pleasantries ended.

The First Amendment protects photography as a pre-cursor to expressive speech - such as Joe Andrade's post which is going viral on YouTube today - and when in public, jurisprudence says that there is no expectation of privacy for anyone, police or otherwise.

This North Carolina associate has become YouTube famous for the wrong reasons, and now is going to learn (probably the hard way) when someone may or may not record video at a SuperCenter. Editor's Note: The verbal confrontation is too lengthy to post, but leave it to say it included expletives. photographyisnotacrime.com