How Amazon Shames Warehouse Workers for Alleged Theft
While waiting to clock in each morning, workers at some Amazon.com warehouses get a steady stream of company-provided reading: the stories of co-workers fired for theft.

In an effort to discourage stealing, Amazon has put up flatscreen TVs that display examples of alleged on-the-job theft, say 11 of the company's current and former warehouse workers and antitheft staff. The alleged offenders aren't identified by name. Each is represented by a black silhouette stamped with the word "terminated" and accompanied by details such as when they stole, what they stole, how much it was worth, and how they got caught-changing an outbound package's address, for example, or stuffing merchandise in their socks. Some of the silhouettes are marked "arrested."

Theft is a persistent concern for Amazon, with warehouses full of small but valuable items and a workforce with high turnover and low pay. The digital bulletin boards also occasionally display information about firings related to workplace violence. In some warehouses that don't have flatscreens, workers say, tales of firings are posted on sheets of paper tacked to bulletin boards or taped to the wall.

Former managers in Amazon's loss-prevention department say the use of theft stories was widespread during their tenure. Amazon didn't respond to requests for comment for this story.

Security experts say Amazon's anecdotal warnings are a natural extension of older corporate loss-prevention tactics, such as frisking employees as they leave a store. "There are people who will never steal. There's a certain percentage of people that will always steal," says Pat Murphy, the president of LPT Security Consulting. "You're always trying to influence that middle group by reminding them there is a high probability they will get caught, and if I get caught, these are the consequences."

Amazon's methods can be extreme. In 2010 several Pennsylvania warehouse employees required medical attention after having to stand outside for hours in freezing cold after a fire alarm went off. Workers wearing T-shirts and shorts because of the heat in the warehouse weren't allowed to go to their cars because, they said, the company was afraid the alarm had been pulled to cover a theft. Amazon said in a statement at the time that employee safety was a top priority and it had developed faster fire alarm procedures.

Antitheft tactics have advanced with technology, Murphy says. In the 1980s retailers tried embedding subliminal messages in the music played in their stores to deter customers from stealing. Today, break-room warning posters and anonymous hotlines are commonplace. "The types of methods used by warehouses and fulfillment centers are only limited by your imagination," Murphy says, "and whatever the law allows." bloomberg.com

Big Lots & Marshall's Fined $195k - Violated 'Ban the Box'
New York States Ban the Box Legal Aspects
"Ban-the-box policies are good for business, too"
Last month, national chain retailers Big Lots and Marshall's were fined a total of $195,000 for violating Buffalo's "ban the box" ordinance, which prohibits employers from asking job applicants to disclose criminal history on employment applications. New York has been at the forefront of creating such policies to protect job seekers; New York City enacted one last year.

The business community has many misperceptions about these policies, which are at times met with resistance by employers. However, the reality is that if New York businesses adopt ban-the-box policies and best practice standards on the use of criminal records in hiring decisions, they enhance employers' applicant pool and protection from legal liability.

Ban-the-box policies are good for business in that qualified applicants are not unnecessarily weeded out early on in the process.

There are also financial incentives. The Work Opportunity Tax Credit is a federal tax credit available to employers who hire applicants from specific populations, including those with past felony convictions, who have traditionally faced barriers securing employment. The amount of the tax credit is determined by the wages paid to and hours worked by the employee-ranging from $1,200 to $9,600. Further, businesses that are concerned about employee theft, fraud or embezzlement can also apply for a federal fidelity bond that, at the government's expense, covers the new employee for six months before the employer would apply for private coverage.

Businesses in New York are protected from civil legal liability through the state's Human Rights Law. Although this law may appear concerned only with the well-being of workers, compliance with this law and with New York's Article 23-A of the Corrections Law actually better positions employers to defend against possible negligent hiring, retention and supervision claims stemming from employees' criminal histories, New York state or city human-rights agency actions, or an enforcement action by the U.S. Equal Employment Opportunity Commission.

These initiatives also may help insulate employers from liability, contain financial incentives to make businesses stronger and help ensure that employers can conduct a hiring search that allows for meaningful consideration of the most qualified candidate for the job. A second chance for individuals with criminal records means a stronger future for businesses. crainsnewyork.com

Big Lots, Marshalls fined for 'Ban the Box' violations - Jan. 20, 2016
Big Lots and Marshalls have agreed to pay penalties totaling $195,000 for violating a Buffalo law that prohibits employers from asking job candidates about their criminal history on their initial employment applications.

The settlement with state Attorney General Eric Schneiderman also includes an agreement by the two retailers to remove any inquiries about an applicant's criminal record from the job applications that the companies use throughout New York. The attorney general's office said both Marshalls and Big Lots used standard applications that included inquiries about an applicant's criminal record at their stores in Buffalo, where a local law bans companies from including that type of inquiry on initial applications. buffalonews.com

Air Jordan's release causes 2 shootings and violence across the country this weekend
Madison Wisconsin Police say that they were called to West Towne Mall just before 10 a.m. on Saturday for a disturbance caused by shoppers clamoring for new "Air Jordan" sneakers. A crowd of more than 60 people gathered outside Finish Line Footwear before the store opened. There were reports of pushing, shoving, and foul language before the store opened. Mall security said they had difficulty controlling the crowd, and asked for city police to provide back-up. Madison police say there were no arrests made. wifc.com

Police were called to the Westroads Mall in Omaha to help control the crowd waiting to buy the girls Air Jordan. A disturbance was reported at The Finish Line around 5:20 a.m. Customers were waiting for the store to open at 7 a.m. Officers were advised by security that several people entered the mall early and were asked to leave. The Finish Line closed at 7:30 a.m. due to concerns about crowd size and stated it would not reopen until 10 a.m. Most chose to stay and wait, some were upset but stayed calm.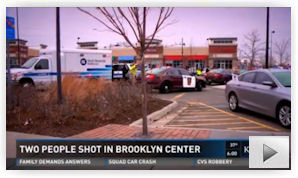 Two men were shot in a Brooklyn Center, Minnesota shopping area parking lot during an apparent argument over the Air Jordans. Witnesses tell KARE 11 that an argument inside the Foot Locker store on Shingle Creek Parkway spilled out into the parking lot and "several shots" were fired. That argument reportedly started over the new Nike Air Jordan shoes released Saturday. Shoppers ran or cover and witnesses outside the sports store say they heard at least six shots ring out. Both are expected to recover. wcnc.com

A fight broke out among those waiting at a mall in Madison, Wisconsin. wndu.com metro.co.uk

The Eastland Mall located in Harper Woods Michigan also shut down briefly Saturday morning after large crowds gathered for the release of new Nike Air Jordan's and became unruly.

In another shooting incident involving the Nike Air Jordan's, a teen was shot during confrontation over the sneakers in southwest Detroit.

Numerous other incidents were reported during the Saturday sale event including two stabbings and numerous fighting incidents that led to injuries and arrests.

FWI: Cargo theft skyrockets 73% in Mexico
Food & Drinks #1, MEX-57 highway, August to November
1,087 cargo thefts reported in '15, up 73% over 2014. Rose significantly in the northern region of Mexico. However, the central zone of the country was at the highest risk for cargo thefts, primarily in the states of Puebla, Guanajuato and the State of Mexico. Highest amount occurred from August through November. Food and drinks remained the most stolen product, accounting for 18%, followed by building and industrial (15%) and fuel (11%). The MEX-57 (MEX-QRO) highway, the main arrival and departure corridor for Mexico City, has more incidents of cargo theft than any other. americanshipper.com

The Anatomy of Skimming Gangs
Targeting Small Towns - Cops are Merely an Inconvenience
6 Gangs busted in last two weeks across the country
According to the FBI, skimming devices are the calling cards of Eurasian organized crime groups with associates born in or with family in Russia or Eastern Europe. The agency says it has dismantled sophisticated organizations in Miami, Atlanta, Chicago and New York.

In law enforcement circles, skimming investigations are known as "cop kryptonite" - they require a lot of technical know-how and time, often with little payoff. If perpetrators are brought to justice, the jail or prison time is usually insignificant, and skimmer-savvy crooks can be back on the street in little to no time.

Detective Eric Vitale, San Luis Obispo Police Department, where he heads the department's fraud investigations, said the groups using skimmer technology prefer to install the devices in smaller communities, where authorities are generally less versed in how to deal with them. The professional skimming groups, he said, can earn a lavish living through fraud and are usually well-represented legally.

Within the hierarchy of organized crime, all we (the police) are is an inconvenience to them. I'm just the cost of doing business," Vitale said. "I never get close enough to the top guys, unfortunately."

Vitale said the goal in investigating the crimes is not to solely arrest those who operate the skimmers, but to trace the operation to those at the top. Depending on how sophisticated the rings are, one crew may be tasked with installing skimmers, another with harvesting their information, one to develop clones, one to cash out and another to launder the money.

We can sit on a gas station for hours or days to find the guys hiding these things, but the key is you want to get to that hotel room, where (the clones) are being made," Vitale said.

They come here because they think it's Mayberry. Like we're not exposed to this and all we have are a bunch of hick cops," Vitale said. "But my job is to not just catch these guys, but to send a strong message: Don't come here." sanluisobispo.com

Staples Prepares Plan B as Merger Stalls, Sales Sink
Retailer planning changes to improve stand-alone performance - Closing 50
"We've been working on Plan B for several months at this point," CEO Ron Sargent said in a conference call with analysts Friday, though he didn't say how it might differ from Staples' existing plan to close stores and expand its customer base. He said the office-supplies retailer is planning specific changes to improve its stand-alone performance "despite the fact that we're focusing all our energies and efforts on getting this acquisition behind us."

In North America, the company closed 12 stores in the latest quarter, among 73 total closures last year. Staples said it expects to close about 50 North American stores in 2016.

This past January the retailer took steps to streamline its operation, changing its management team and reportedly laying off hundreds of employees at its headquarters. "It was a bloodbath," one employee tells Fortune, noting that the layoffs applied to both senior and junior employees. wsj.com fortune.com consumerist.com

Haggen Wants More Time To Come Up With Restructuring Plan
Grocery store chain Haggen asked a Delaware bankruptcy judge on Thursday for a 90-day extension of its exclusivity period to file a reorganizing plan in its Chapter 11 proceedings, saying that it has been too busy selling off some of its stores to focus on the plan. law360.com

Target & Walmart named 'Top Companies for Executive Women'
Cardinal Health, Target and Walmart were all selected as part of the 2016 National Association for Female Executives Top Companies for Executive Women, which recognizes American corporations that have moved women into top executive positions and created a culture that fosters the careers of talented women. drugstorenews.com

Home Depot posts SR MGR Asset Protection job in Atlanta Corp. office
- Reports to Director AP
Drive the cross-functional integration of Loss Prevention methodology and practices into Store Operations focusing on reducing shrink/theft/fraud and improving operational process accuracy through process improvement. Play a substantial role in the development of all Loss Prevention operational strategies across the enterprise. indeed.com

Director, Partner and Asset Protection - Seattle, WA - Starbucks posted today
This job contributes to Starbucks success by ensuring that partners and assets are protected to the best capabilities of the Company. Ensures the safety of all partners and customers and the security of all assets and the contribution of profit margins by reducing losses. Defines the security services and systems requirements for identified risks within the US business. Develops tactics consistent with global strategy to deter or eliminate identified risks. Investigates all crimes and threats to partners, assets and brand in order to mitigate litigation risk and preserve the Starbucks Brand. Supports the US business security response to manmade and natural crises that affect partners and assets. Models and acts in accordance with Starbucks guiding principles. Bachelor's Degree or equivalent experience required, Master's Degree/MBA Preferred starbucks.taleo.net

Assistant Vice President, Loss Prevention CARMAX Richmond, Va.
CarMax is looking for an Assistant Vice President, Loss Prevention to be located in our Home Office in Richmond, VA. This position will direct, plan, manage and oversee all processes, personnel, and vendors related to the Loss Prevention function for CarMax (including Field Loss Prevention, Background Screening, Home Office Support, and Security/Command Center). carmax.com

Director, Loss Prevention for Alex and Ani, LLC, New York, NY
The Loss Prevention Manager will develop and oversee Company loss prevention operations incorporating loss prevention reporting, detection and predictive modeling, conducting investigations, coordination with other Company departments, and education for home office, field, stores, and distribution center management.

Working diligently with distributors and sales agencies to develop relationships worldwide, ALEX AND ANI operates in 10 countries and 11 Caribbean islands. indeed.com

Macy's to open 42 Bluemercury stores - 24 freestanding, 18 in-store shops
Macy's Backstage to open 1 freestanding, 15 in-store locations

Kroger Division - Fry's Opening 7 New Arizona Stores This Year, 6 Are Marketplaces

Maryland looks to pass paid sick days - 1 hour for every 30

Osage Beach, MO, PD hosting monthly meetings for retail LP


Quarterly Same Store Sales Results
Pier 1 Q4 comp's flat with sales down 1.3%


Last week's #1 article --

Senior Vice President of Loss Prevention posted on Indeed
Luxury Retail Confidential Company - New York, NY
Responsibilities:
● Lead the Loss Prevention and Safety organization globally with locations throughout the US, Europe and Asia.
● Manage and drive all aspects of a Loss Prevention program globally.
● Develop and maintain a security plan for each location that will prevent crime and reduce loss.
● Lead the audit function for each location asset controls and other asset protection audits.
● Implement prosecution and restitution measures when necessary.
● Keep current with loss prevention advancements, technology and legal matters that could impact the methods and practices of Loss Prevention/ Safety globally.
Local candidates only: ● New York, NY indeed.com