Prosegur Security Launches New Portable Video Surveillance Solution
for Buildings and Parking Lots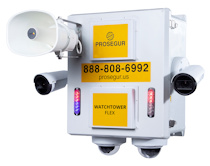 HERNDON, Va. (March 18, 2021) - Prosegur Security, a global leader in security technology, has launched a new rapid-deployment portable video surveillance solution dubbed Watchtower Flex. Combining four HD surveillance cameras, advanced video analytics, a loudspeaker, strobe lights and wireless connectivity in one all-inclusive unit, the new solution can be installed in under an hour, and can help protect interiors and exteriors of buildings, as well as parking lots, storage yards and other properties.

"Watchtower Flex is an advanced building protection solution applicable to all sectors including retail," said Tony D'Onofrio, CEO of Prosegur's global retail business unit. "Specifically, to retail, commerce is increasingly moving to parking lots with curbside and buy-on-line-pick-in-store (BOPIS) options. Consumers gave these services four out of five stars during the holidays and they are here to stay. Additionally, as reported in D&D Daily, of the 523 fatalities in retail in 2020, 48%, the largest category is in parking lots. Watchtower Flex protects both perimeters deterring crime and keeps an eye on parking lots." prosegur.us

---

Protests & Violence

Racially Motivated Extremists, Militias Pose Most Lethal Domestic Threat,
Report Finds

Expansive domestic terror threat described in report is expected to influence White House policy making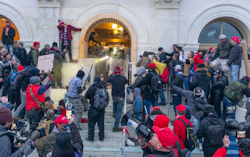 Domestic violent extremists pose a heightened security threat in 2021, U.S. intelligence agencies said in a report released Wednesday, adding that more violence is likely due to conspiracy theories surrounding the 2020 election, the Covid-19 pandemic and the January breach of the U.S. Capitol.

White supremacists and militia extremists pose the most lethal threat among domestic extremists, the report said, echoing findings from academic studies and testimony last year by Federal Bureau of Investigation Director Christopher Wray and Department of Homeland Security officials.

The new report, prepared by the Office of the Director of National Intelligence, said individuals or small cells are more likely to undertake violent acts than are organized extremist groups.

"[Domestic Violent Extremist] attackers often radicalize independently by consuming violent extremist material online and mobilize without direction from a violent extremist organization, making detection and disruption difficult," it said.

The four-page report released on Wednesday is an unclassified summary of a longer classified document that, an ODNI official said, was distributed to the White House and Congress.

The report found that racially motivated violent extremists and "militia violent extremists" pose the most lethal threats. Racially motivated extremists are the "most likely to conduct mass-casualty attacks against civilians," ODNI said. Militia extremists are more likely to target law enforcement and government officials and buildings, it said. wsj.com

Minneapolis police vow to restore safety at George Floyd Square

FBI will help monitor troubled Chicago at 38th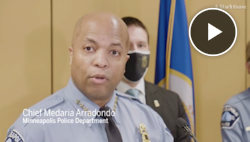 The Minneapolis police chief vowed Wednesday to restore safety in and around the closed-off intersection where protesters gather to memorialize George Floyd's death.

Police Chief Medaria Arradondo gave no timeline for the changes, though he said federal agents will help fight crime and monitor the area at 38th Street and Chicago Avenue, which has fallen under increased gun violence.

But violence disturbing the once-peaceful memorial has frustrated residents and business owners inside the square and surrounding it.

Arradondo said at a news conference that law enforcement will put an end to the criminal activity there. Arradondo said the best remedy is to reopen the intersection, but he did not specify when that would happen. startribune.com

Miami Beach adding extra police as city 'under siege' by spring breakers,
mayor says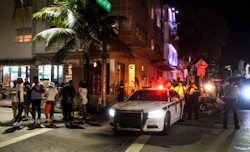 Miami Beach police are cracking down on rowdy spring breakers after days of out-of-control parties in the seaside city that have included violence and drunken debauchery.

Mayor Dan Gelber said tens of thousands of visitors have overrun the Miami Beach Entertainment District - and the city will step up police enforcement to curtail the behavior, according to WTVJ.

The city reportedly is bringing in officers from nearby Miami to help manage the situation.

"If you have 50 or 100,000 people coming there and just half of 1 percent are rowdy or drunk or high to the point where they need to be controlled, it becomes a situation which is truly chaotic and unmanageable," Gelber reportedly said in a virtual city commission meeting Wednesday.

About 150 partiers were arrested over the weekend, and a man was shot and killed on Monday, according to the South Florida NBC affiliate.

"It has felt at times like this city is under a level of siege simply from the volume of people that are coming," Gelber said, according to the station.

The mayor ripped the reckless revelers, telling USA Today they "seem to have forgotten that there's a pandemic."

Gelber claimed the city is flooded with visitors ignoring safety protocols, and worried that the maskless mayhem could lead to a spike in infections, just after they plateaued. nypost.com

---

COVID Update

113M Vaccinations Given
US: 30.3M Cases - 550.7K Dead - 22.4M Recovered
Worldwide: 122M Cases - 2.7M Dead - 98.3M Recovered

Former Senior Loss Prevention Executive
Know of any fallen LP exec? Let's remember & recognize.

Private Industry Security Guard Deaths: 279 Law Enforcement Officer Deaths: 269
*Red indicates change in total deaths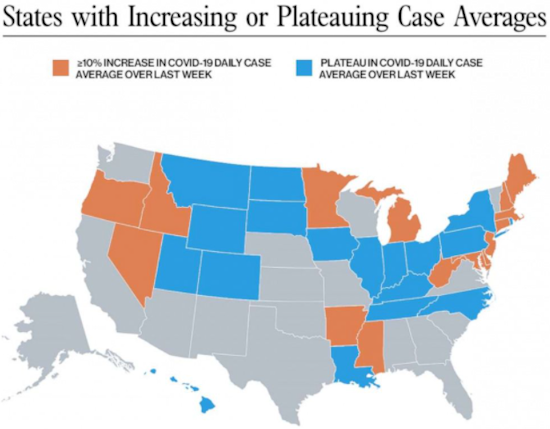 Mask Mandate is Most Polarizing Issue

H-E-B Increased Security at Many Locations
Texas Grocer H-E-B Is Caught in the Middle of Mask Divide
When Texas Gov. Greg Abbott said he would lift the statewide Covid-19 mask mandate, he left businesses in charge of setting and enforcing their own policies. H-E-B, a beloved Texas grocer and a stalwart during past crises in the state, waffled.

The company, which had experienced a string of altercations in its aisles over mask policy, initially said it would urge customers to wear masks, but require them of employees. A few days later, after some shoppers and workers criticized the grocer, the chain clarified its stance. It would leave up signs and keep making announcements stating that masks are required, and offer them to maskless shoppers. H-E-B also said it would continue its policy of not escalating situations in which a customer refuses to wear a mask.

The shift in H-E-B's message reflects the balancing act that many businesses in Texas now face after the state put them in charge of setting and enforcing mask policy. Since the mandate was lifted on March 10, some H-E-B employees and customers say they have noticed more maskless customers shopping the aisles.

After the chain's initial statement that it would urge customers to wear masks, H-E-B President Scott McClelland told the Houston Chronicle that the governor's move stripped stores of the "backstop" that the threat of a fine provided, which he said could lead to more people entering stores without masks. Mr. McClelland said he had to weigh the physical well-being of customers and employees, given the frequent disputes over masks in stores even when state mask rules were in effect.

"Of all the issues we have dealt with over the course of the last year, masks are the most polarizing," Mr. McClelland told the Chronicle. "In part, because they were used as a political weapon and in part because, frankly, people don't like wearing masks."

H-E-B said it expects shoppers to continue wearing masks in its stores and that it has increased security at many of its locations. "The ending of mask ordinances puts real pressure on retailers to enforce an emotional policy for many and we will not ask our Partners to put themselves in harm's way," the company said in a written statement.

Several H-E-B employees said they have noticed an uptick in the number of people not wearing masks since Mr. Abbott's announcement.

An H-E-B employee said he wished H-E-B would take a stronger stance in favor of masks, though he said he understood it would be difficult to implement. "They don't want chaos and fighting at their stores," he said. "I don't think it's an easy choice, by any means...but it's the right thing."

"I don't like people telling me what to do," said a male customer. "Let me make that decision."

Some of the biggest retail, theater, hotel and restaurant chains said they planned to continue requiring masks in Texas, Mississippi and other states that lifted restrictions. wsj.com

Attorneys anticipate EEOC vaccine incentive guidance 'soon'

The lack of federal guidance has resulted in a "gray area" for employers

Long before the first shots were administered, however, management-side labor and employment attorneys spoke about the potential need for employers to encourage vaccination and educate their workforces about the process. One particular area of interest is incentivization, particularly in the context of "health-contingent" wellness programs, according to attorneys who authored a February Epstein Becker Green blog post.

Most recently, EEOC sought to propose regs that would permit employers to implement a "de minimis" financial incentive for wellness program participation without violating the ADA. EEOC proposed the new regs in January but the incoming Biden administration froze the regs and withdrew them, per an EEOC statement.

To that end, employers who do offer incentives "should do their best to insulate themselves from potential claims under the Americans with Disabilities Act and Title VII," Dwyer said, "for example, by providing those who are disabled or have sincerely held religious beliefs that prevent vaccination with access to incentives through alternative means, such as taking part in vaccine education." hrdive.com

Pew Research: 69% Say They Will Get Vaccinated - Up From 60% in Nov.
COVID: Can Vaccinations Be Mandated? Law Needs Clarification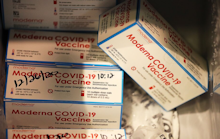 So far, the studies on the COVID-19 vaccines in use have been positive. They truly are effective at protecting the recipients from disease, and those who do get infected generally have much milder cases. They also appear to reduce the chances that vaccinated people will pass the virus along to someone else. The vaccines themselves have been safe with manageable, short-term side effects.

But if the vaccination number doesn't continue to improve, the population won't reach herd immunity. Worse, the level of contagion will remain high enough for new mutations to become established.

Businesses, schools, universities and other employers have more immediate reasons to push for employees and the adults they serve to be vaccinated: so that people can return to normal activity safely. Museums, malls, amusement parks, movie houses and stadiums might want to ensure that visitors are immunized to prevent business-deflating superspreader events.

But before society determines who, if anyone, must be vaccinated, we have to know whether such a mandate would even be legal. Continue Reading

This is a developing area of law
Does Workers' Comp Cover an Employee's Reaction to a COVID-19 Vaccine?
Employers that mandate or encourage employees to get a COVID-19 vaccine will likely partner with a health care provider or other authorized entity to administer the vaccine, but they may still be concerned about potential workers' compensation liability if an employee has an adverse reaction.

Employers that provide COVID-19 vaccines onsite through a third party have less risk of workers' compensation liability than employers that mandate vaccines. But this is a developing area of the law, and there are certain scenarios where workers' compensation for adverse reactions is possible.

If an employer arranges for a third party to administer a COVID-19 vaccine, vaccines are voluntary and an employee has an adverse reaction, workers' compensation probably will not cover any health care costs the employee incurs in seeking treatment, said Crystal McElrath, an attorney with Swift Currie in Atlanta.

However, Sonya Rosenberg, an attorney with Neal, Gerber & Eisenberg in Chicago, said employers may be liable in these cases.

If the vaccine benefits the employer and is administered in the course of work and the shot caused the adverse reaction, the injury arguably is work-related. "Indeed, certain states' workers' compensation statutes expressly state that injuries arising from vaccines administered as part of a government-sanctioned vaccination program are covered by workers' compensation," she said. shrm.org

39 States Status: 18 States Plateau - 21 States Cases Rising 10% to 25%
Experts urge caution as 15 states see uptick in COVID-19 infections
Even with the race to vaccinate as many Americans as possible accelerating, some experts are warning that if Americans don't also follow proper safety and mitigation measures the U.S. could see a COVID-19 resurgence.

Although the country's national daily case average continues to fall -- about 32.5% over the last month -- nearly a third of all states have seen their average number of cases rise at least 10%.


Those 15 states are: Alaska, Connecticut, Delaware, Idaho, Maine, Maryland, Massachusetts, Michigan, Minnesota, Mississippi, Nevada, New Hampshire, New Jersey, Oregon and West Virginia, according to an ABC News analysis of state data compiled by the Centers for Disease Control and Prevention.

Several states (6) -- Delaware, Idaho, Minnesota, Nevada, Oregon and West Virginia -- have seen their case averages increase by at least 25% in the last week.

There also are 18 states -- Colorado, Hawaii, Illinois, Indiana, Iowa, Kentucky, Louisiana, Montana, New York, North Carolina, North Dakota, Ohio, Pennsylvania, Rhode Island, South Dakota, Tennessee, Utah and Wyoming -- that are experiencing a plateau, not a decline, in daily case averages.

Metropolitan areas, in particular, continue to struggle with high case rates. For weeks, New York City has led the nation in cases per 100,000 residents, and last week.

The combination of rapid reopening, increasing mobility and spread of new COVID variants is likely driving the upward trend in cases in many parts of the country," said Dr. John Brownstein, chief innovation officer at Boston Children's Hospital and an ABC News contributor. "While we should feel optimistic with the vaccine rollout, the new surge, even if short-lived, will likely result in avoidable hospitalizations and deaths." yahoo.com

What's LP's Reopening Plan?
Back to the Workplace: How to Plan Your Reopening
Employers need a plan to bring people back to the workplace, while still supporting employees who continue to work from home. Here are some steps to follow to create your own back-to-the-workplace plan. shrm.org

Editor's Note: From an LP perspective, you've got hundreds if not thousands returning that haven't been seen or verified in over a year. With turnover, new hires, associates in progressive counseling, IP hardware-programs-software floating in and out. New office layouts with protective shields, masks distribution, hand sanitizer, conference room guidelines and a host of other measures that require monitoring and reporting. Some of which, if not many, may be delegated to the onsite security staff. Just some thoughts -Gus Downing

All of a Sudden We're All Back Together - Warning
This tech leader predicts drama when employees return to the office
Managers should expect arguments, conflict, and irrational behavior as offices reopen, says DoThings cofounder Matt Casey.

After months of being isolated in remote working arrangements, a return to the office could be a welcome change. But the honeymoon might be over quickly as employees adjust to the traditional nine-to-five workweek and loss of flexibility. In fact, managers should expect arguments, conflict, and irrational behavior, says Matt Casey, cofounder of the management software company DoThings and author of The Management Delusion: What if we're doing it all wrong?

Fatigue is one factor, but so is dealing with a variety of personalities. "People have spent a year not having to talk to coworkers all day," adds Casey. "All of sudden, they'll be forced back into situations dealing with others with whom they may have previously clashed."

Our coping mechanisms for getting along with people we find irritating are out of practice. When we're around people every day, we build up a tolerance and have ways to overlook things that irritate us, says Casey. fastcompany.com

McKinsey and Company
COVID-19: Implications for business
COVID-19: Briefing note #46, March 17, 2021
Our latest perspectives on the coronavirus outbreak, the twin threats to lives and livelihoods, and how organizations can prepare for the next normal.

In 2020, consumer goods and retail were shaken. What will it take to return to stirring performance?

In retail, our research with the Retail Industry Leaders Association finds that success in a post-COVID-19 world will require hastened progress on four long-standing imperatives and three new strategies that will be increasingly critical in coming years. Consider one of the older yet still fundamental challenges: the shift to omnichannel, led by digital shopping. Our survey reveals that 65 percent of retailers base decisions about their store network on brick-and-mortar performance, without considering how changes might affect omnichannel. In a world where consumers pick their retailers based on digital offerings, that's a recipe for irrelevance. mckinsey.com

3,795 Documented Attacks - Tensions Will be High for Most Asians
Asian Americans have been verbally and physically attacked, shunned during pandemic, study shows
The report by Stop AAPI Hate documents 3,795 racially motivated attacks against Asian Americans from March to February, noting that the number is likely a fraction of the attacks that occurred, because many were not reported to the group.

On Tuesday, eight people, including six Asian women, were shot to death at massage parlors in the Atlanta area. Authorities said Wednesday that the attacks "did not appear to be" motivated by race.

Most of the 3,795 incidents occurred at businesses or on public streets. More than two-thirds of the attacks in the study were reported by women. About 68% of the anti-Asian attacks documented in the study were verbal harassment, 21% were shunning and 11% were physical assaults. latimes.com

---

Jeffrey Epstein Ripple Effect
Leslie Wexner to Leave Board of L Brands

Longtime leader of Victoria's Secret and his wife won't stand for re-election after business struggles and controversy over Jeffrey Epstein connection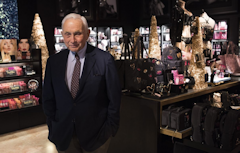 Leslie Wexner, the longtime leader of L Brands is leaving the company's board, after struggles at his retail empire and controversy over his relationship with Jeffrey Epstein prompted him to retire as chief executive last year.

Mr. Wexner, 83 years old, and his wife Abigail Wexner won't stand for re-election to the L Brands board in May, the Victoria's Secret parent said. He served as CEO from 1963 until early 2020. The couple are among the company's largest shareholders.

Mr. Epstein, who was indicted in 2019 on federal sex-trafficking charges stemming from an alleged scheme to exploit underage girls, was Mr. Wexner's money manager for more than two decades. The relationship extended into the billionaire's retail companies, charities and personal life, The Wall Street Journal reported. Mr. Epstein died in 2019 awaiting trial.

Mr. Wexner said he wasn't aware of his former money manager's alleged criminal behavior and that Mr. Epstein had misappropriated some of his fortune. "I have searched my soul...reflected...and regretted that my path ever crossed his," he wrote in a 2019 memo to employees. wsj.com

Canada's Epstein - Peter Nygard Still Awaiting His Fate
Only One Retail Magnate Left With Epstein Connections - Nygard in Canada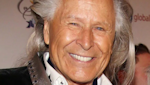 Sitting in jail awaiting a bail hearing for sex trafficking and other charges. With the Judge concerned about flight risk, Mr. Nygard may end up sitting in jail until his trial.

Nygard had built his own retail empire over forty years with stores, clothing lines, and with a fashion house in New York which the FBI was able to raid last year and find evidence.

Biden Changing EEOC Direction
Employers paid $439M to resolve EEOC discrimination claims in 2020
Retaliation claims constituted more than half of all charges filed with the agency last year, while disability-related claims and race-related claims accounted for approximately 36% and 33% of all charges, respectively.

In total, EEOC received 67,448 charges and resolved 70,804. 2020 marked the third straight fiscal year in which the agency both received and resolved fewer charges than it had the previous fiscal year. EEOC said in the statement that it reduced its inventory of pending charges by 3.7%.

Like other federal agencies, EEOC contended with the COVID-19 pandemic's impact on its enforcement activities, which led to some shuffling of agency procedures. For example, in March 2020, EEOC temporarily suspended issuing charge closure documents.

Under Biden, the EEOC is likely to pursue pay data collection in addition to other forms of data collection, formally concluding pilot programs initiated under the Trump administration that aimed to make changes to the EEOC's conciliation and mediation processes, tackling issues such as systemic racism, and the EEOC may focus on cases that are nationwide in scope. hrdive.com

'Buy Anywhere - Get Anywhere - From Anyone'
BOPIS: The Retail Revolution Changing the Way We Ship
In the new, never-normal world of retail fulfillment, the traditional binary model of product flow from the manufacturer to the distribution center to the store has been replaced by the "buy anywhere, get anywhere, from anyone" paradigm. While the pandemic accelerated the migration, the fundamental shift in consumer buying patterns was apparent long before "social distancing" became a household phrase.

The boom of the "buy online, pick up in store" (BOPIS) and closely associated "buy online, pick up at curbside" (BOPAC) models is not about to disappear. In 2020 BOPIS truly became a lifeline for retailers struggling to maintain relationships with customers who were suddenly wary to walk into stores. However, BOPIS is neither new nor novel. The buzz word five years ago was omnichannel; BOPIS is really a facet of this. That said, the speed at which surging e-commerce changed the game caught even seasoned professionals off-guard.

A BOPIS strategy fortifies a shipper's brand equity by consistently satisfying the retailer's replenishment needs. Retailers add a layer of customer convenience and gain additional sales from online shoppers who may buy more items once they arrive at the store. Last-mile delivery costs, which today account for up to 20% of a product's total shipping charges, are reduced because the customer is going to the product, not the other way around. An optimal experience, both in-store and online, builds brand loyalty and strengthens the bonds between shippers, retailers and the shared customers you serve.

When BOPIS Goes Wrong - When BOPIS Goes Right

The devil is in the execution. Delivering an elevated client experience relies on mastery of the many variables comprising a successful BOPIS program. Many moving parts must be considered. supplychainbrain.com

60% of Shoppers Had Bad Experience With BOPIS
Without RFID, Retailers Struggle to Deliver
While retailers are still evaluating their holiday 2020 performance, early research suggests that those companies that did not invest in radio frequency identification (RFID) technology to manage their inventory struggled to carry out ship-from-store or offer curbside or in-store pickup consistently. Research from a survey of more than 2,000 consumers across the United States, the United Kingdom, Belgium, the Netherlands and Luxembourg reveals that more than six in 10 shoppers report having had a "mixed or generally bad experience" when they used retailers' "buy online, pickup in store" (BOPIS) services.

The study was conducted for GreyOrange, a global software provider that leverages artificial intelligence and machine learning to optimize fulfillment operations. The survey showed that buyers shifted a majority of their 2020 purchases to online platforms due to COVID-19 conditions, but more than half plan to resume pre-pandemic buying patterns when possible. The primary reason: a mixed or generally bad experience with BOPIS, as well as challenges with returning items (see GreyOrange Research Reveals Key Retail Buying Decisions for Consumers in US, Europe).

Some retailers are hiding as much as 80 percent of their inventory because their IT systems show only two or three items in stock, and they lack confidence that those goods are actually in the store, according to research carried out by the Auburn University RFID Lab. rfidjournal.com

Forbes Contributor Walter Loeb:
Retail's Yoda

How RFID Helps Retail Companies Save Money
I recently read that a number of companies have adopted RFID as a way to control inventories. Leaders include Target, Macy's, Zara, H&M, Uniqlo, Nike, Adidas, Footlocker, Lululemon, Levi's, Ralph Lauren, Tommy Hilfiger, and Victoria's Secret. That is quite an array of stellar companies, and one has to ask why others have not adopted it.

Forbes Gets RFID

The world has been vastly changed by the pandemic, and companies have never relied more on RFID to survive than they do now. Don't take my word for it, though. Take Loeb's: "In these stressful times caused by COVID-19, such inventory control is most important. Merchandise on the shelf should be accounted for so that a customer's order can be filled. In times when extremely tight expense management is a high priority and leaner inventories are the rule of the day, every pierce of merchandise counts."

The implementation of an RFID solution can improve overall merchandise management, while accurate inventory tracking reduces losses, saves companies money, and can boost revenues. What matters most, Loeb writes, is that adopting RFID "can ensure more profitable performance since there is a more accurate accounting of the merchandise, wherever it is stored." With Forbes on board, maybe other mainstream news organizations will finally give the technology the credit it's due. forbes.com rfidjournal.com

The mafia trial of the century is going largely unnoticed on 'Zoom' in Italy
The Silent Trial of the Century

In southern Italy, a historical event is going unnoticed. That's partly by design.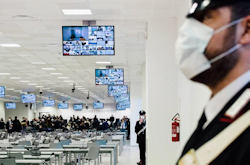 With 400 counts against 335 defendants, it's one of the largest criminal prosecutions in recent history. And there is shockingly little news coverage (partly by design)

In Lamezia Terme, an industrial city in Southern Italy overlooking the Tyrrhenian Sea, the first so-called "maxi trial" of the 'Ndrangheta, the Calabrian criminal organization, began on Jan. 13.

Expected to last at least two years, the trial is known as "Rinascita-Scott," or "Rebirth Scott." Nicola Gratteri, the prosecutor driving the case, explained that its name refers to a U.S. Drug Enforcement Administration agent who spent eight years in Italy fighting against narco-'ndranghetist organizations and died upon returning to the United States in a car accident. The trial is dedicated to his commitment. It's been called the trial of the century in some Italian newspapers, but curiously, no television news stations are reporting on it, it never ends up on the newspapers' front pages, and it's not even creating political controversy. Continue Reading

Everywhere You Look, the Global Supply Chain Is a Mess

Winter storms and crammed ports in the U.S. add to disruptions of production and supplies during the pandemic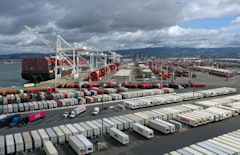 Supply chain woes mounted world-wide for makers of everything from cars and clothing to home siding and medical needle containers, as the extreme Texas weather and port backlogs compounded problems for manufacturers already beset by pandemic disruptions.

The disruptions underscore how several forces are coming together to squeeze the world's supply chains, from the pandemic-driven rise in consumer demand for tech goods to a backlog of imports at clogged California ports to U.S. factory outages caused by weather woes. They are creating cost increases and delays for numerous industries, company executives and analysts say, affecting profit margins and the prices that companies and consumers ultimately pay for many goods.

"It's not like the supply side will be unable to adapt to these things. It will-the market will clear. It just may take some time." wsj.com

Five Below plans 170 to 180 New Stores in 2021


Quarterly Results
Williams-Sonoma Q4 comp's up 25.7%, e-commerce comp's up 47.9%, FY 2020 comp brand sales up 17%
Williams Sonoma comp's up 26.2%, FY 2020 comp's up 23.8%
Pottery Barn comp's up 25.7%, FY 2020 comp's up 15.2%
Pottery Barn Kids and Teen comp's up 25.7%, FY 2020 comp's up 16.6%
West Elm cop's up 25.2%, FY 2020 comp's up 15.2%

Petco Q4 comp's up 17%, net sales up 16.5%, F 2020 comp's up 11%, net sales up 11%

Five Below Q4 comp's up 13.8%, net sales up 25%, FY 2020 comp's down 5.5%, net sales up 6.2%

Dollar General Q4 comp's up 12.7%, net sales up 17.6%, FY 2020 comp's up 16.3%, net sales up 21.6%