Wal-Mart Bribery Probe Limps to an End - With Scant China Findings
The U.S. Justice Department is wrapping up its four-year investigation into alleged corruption in Wal-Mart's international dealings, sources told Bloomberg. Interviews with former executives and others associated with Wal-Mart's China operations have yielded little information, sources said, in part because of a lack of evidence and byzantine disclosure rules in China.

Bloomberg reports that prosecutors will probably cite Wal-Mart for a lack of a sufficient system to control, detect and prevent violations of the Foreign Corrupt Practices Act, and that much of the fallout will include fines rather than any criminal penalties.

The China investigation is part of a wide-ranging investigation by U.S. officials into Wal-Mart's dealings in Brazil, Mexico and India. In late 2011, Wal-Mart disclosed possible violations in Mexico, and the following April, the New York Times reported company officials in Mexico had paid $24 million in alleged bribes and then halted an internal probe. retaildive.com bloomberg.com

Retailers Slow to Adopt EMV Despite Widespread Card Security Worries
As of January 2016, only 37% of merchants had implemented the standard even though an October 1, 2015 conversion deadline came and went. While liability for card present fraud shifted to the merchants if they were not EMV ready by that date, adoption has been slower than forecast. Some experts had predicted 50% adoption or more by spring. "The fact that more consumers are worried about credit and debit card security than their health shows that for many, handing over personal data to a merchant is a scary proposition," stated Jennifer Mazzanti, President, eMazzanti Technologies. "This is a problem that retailers can address by implementing EMV, and doing so can build trust, generate goodwill and create a competitive advantage for forward-looking merchants." virtual-strategy.com

New 2015 OSHA Reporting Rule - Shows 10,000 severe workplace injuries
Might be only half the problem
Shortly after a federal rule requiring employers to report severe work related injuries was implemented, Labor Department staffers in the Occupational Safety and Health Administration's (OSHA) Atlanta office noticed a disturbing and surprising trend - "numerous reports of fingertip amputations among workers using food slicers."

That's one finding in an OSHA document released Thursday about the 10,388 severe work-related injuries reported in 2015, the first full year of a federal reporting requirement. Injuries resulting in eye loss, amputation or hospitalization must be reported within 24 hours. Included were 2,644 amputations and 7,636 hospitalizations. Employers were already required to report fatalities within eight hours.

Until the severe injury reporting requirement, OSHA officials didn't have a full grasp of the situation. "Too often, we would investigate a fatal injury only to find a history of serious injuries at the same workplace," the report says. "Each of those injuries was a wake-up call for safety that went unheeded." "We think the actual number might be twice as high," Assistant Secretary of Labor David Michaels said by telephone. oshatoday.com

Study: Retailers vary and so should retail minimum wages
Should Walmart and Costco be required to pay employees the same minimum wage? The answer is no, at least that's the conclusion of a new study according to the National Center for Policy Analysis, a conservative think tank based in Dallas. The analysis warns that requiring the same minimum wage regardless of industry could be detrimental to the very workers "living wage" advocates are trying to help. In its comparison of Costco and Walmart, the first and least favorite retailers of "living wage" advocates, the study found that:

• Retail wages vary by type or store, ranging from an average of $11.19 paid to gas station clerks, to $22.12 paid to electronics and appliance store clerks.
• Profit margins for retail industries also vary, ranging from about 2 to 4%.
• Business models also differ between retailers. Thus, Costco caters to a higher income and small business shopper than Walmart, and they charge a membership fee.
• Productivity aside, raising wages often leads to price increases on basic goods, which hurts price-sensitive, low-wage workers.
"It is simply unrealistic to expect that one retailer is going to provide the same pay and benefits as another, particularly if they are targeting shoppers of different income levels," said Pam Villarreal, NCPA senior fellow and one of the authors of the study.

The study, entitled "Should Walmart Imitate Costco? The Variation in Retail Wages" can be downloaded here. retailingtoday.com

Sports Authority May Shape Future Of Retailer Ch. 11s
Sports Authority's bitter dispute with consignment sellers over proceeds has the potential to shape the role of vendors in retail Chapter 11s for years to come, and the results of the fight could send shocks to an already weak sector, bankruptcy experts say. The conflict, which has thus far dominated the two-week-old, $1 billion case, centers on the proceeds reaped from the about $85 million worth of consignment goods supplied by roughly 170 vendors.

The consignment vendors argue that the merchandise they've supplied, which accounts for 20 percent of the retail chain's business, is not property of Sports Authority's bankruptcy estate and that the portion of the proceeds they're due, based on their prepetition agreements with the debtor, should go back to them and not be used to satisfy lenders. But Sports Authority is challenging the vendors' rights to those proceeds, launching a campaign of more than 160 adversary actions to that effect.

U.S. Bankruptcy Judge Mary F. Walrath has urged the sides to come to some sort of settlement, but if she has to rule, bankruptcy experts say her decision is poised to have a resounding impact not only on how vendors deal with their protections in Chapter 11 cases but also on the future of retailers' financing options and relationships with suppliers. law360.com

Staples and Office Depot take another shot at FTC
The CEOs of Staples and Office Depot penned a letter to customers which reveals the extent of their deteriorated relations with the Federal Trade Commission ahead of a hearing that begins March 21 that will determine whether the retailers are allowed to merge. In the letter, Staples Chairman and CEO Ron Sargent and Office Depot Chairman and CEO Roland Smith stop short of actually calling the FTC stupid, but that is the inference from more diplomatically worded prose. "The FTC's actions to stop this transaction are based on a flawed analysis of the marketplace and a deep misunderstanding of the competitive landscape," Sargent and Smith state in the letter. "The FTC has cherry picked a few facts to fit its narrative and support its case. In making its case, the FTC refuses to even acknowledge the rise of new competitors, such as Amazon, and the disruptive effects of the digital economy." retailingtoday.com

American Apparel Asks Judge to Order Charney to Comply With Subpoena
Attorneys for American Apparel accused Dov Charney in court last week of helping to form the group that's aiming to unionize the company's factory workers. Documents filed in Central District court by attorneys at Paul Hastings LLP, on behalf of American Apparel, seek to have a judge enforce a subpoena that would compel Charney to produce any communications related to the General Brotherhood of Workers of American Apparel between himself and certain individuals, or any financial support of the group. The order would also force Charney to testify in hearings on the group's certification. wwd.com

Sears Strikes Deal Over Pension Protections
Sears said Friday it has finalized an agreement with a government agency that protects employees and retirees with private pensions as the struggling retailer looks to manage its domestic pension obligations, which have skyrocketed in recent years and will require $318 million in contributions in 2016. Sears Holdings Corp. said it has finalized a five-year pension plan protection and forbearance agreement with the Pension Benefit Guaranty Corporation. The deal, originally announced in September, preserves existing PBGC protections for approximately 200,000 Sears and Kmart employees who received benefits under the plan. law360.com

CarMax announces new sponsorship with The American Red Cross to support Disaster Responder Program
CarMax, Inc. has announced a new sponsorship with The American Red Cross to support disaster response work through the Disaster Responder Program. Disaster Responder Program member donations help the Red Cross ensure an immediate response to meet the needs of those affected by disasters of all sizes, at no cost and regardless of income. "When disasters occur in the communities where CarMax associates live and work, they often seek ways to provide support. In response to their interests, CarMax has pledged support to the American Red Cross as a Disaster Responder Member," said Craig Cronheim, vice president of human resources and loss prevention at CarMax. eprretailnews.com

Sherwin-Williams to Buy Valspar for $9.3 Billion

Home Depot, McDonald's to create nearly 3,000 jobs in Alberta, Canada

Oregon grapples with consequences of landmark minimum wage law

Analysis: Tween and teen retailers remain financially vulnerable


Quarterly Same Store Sales Results
Couche-Tard Q3 US comp's up 5.5% with total revenue up 2.5%
Gordmans Q4 comp's down 2.2% with net sales up 0.9%


Last week's #1 articles --
Credit card terminal goes from safe to compromised in less than three seconds
In a video released by Miami Beach Police, two men work as a team to install a credit card skimmer at a local gas station. In less than three seconds, the terminal goes from safe to fully compromised.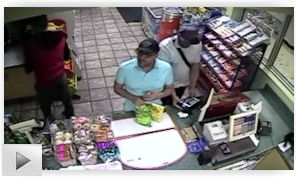 Distracted by one customer, the store clerk starts a conversation with a friendly gentleman who is asking for assistance, happy to wait his turn. Keeping a friendly tone, the man doing most of the talking is there to keep the attention off his companion - who is clearly aware that he's on camera.

Keeping his head low, and his face covered by a hat, the man waits until his friend has the clerk get something further down the counter and makes his move.
Did you see it? In less than three seconds, that payment card terminal has been compromised. He's attached a skimmer. Scams such as this are one of the reasons merchants are supposed to move to EMV terminals. If your bank or credit card company hasn't issued you one yet, you should call them and inquire as to why. csoonline.com