Debbie Maples, VP of Global LP and Corporate Security for Gap Inc., spoke on Capitol Hill Tuesday at a congressional hearing for the Working Group on Women in the 21st Century Workforce, discussing how the private sector is currently empowering women to overcome barriers to success.

Led by Chairwoman U.S. Representative Martha McSally (AZ-02), members heard testimony from policy experts, business leaders and CEOs on the effective practices they have implemented for their female employees, such as increasing workplace flexibility, providing caregiving options, or addressing residual bias.

Gap Inc. became the first Fortune 500 Company to announce that they pay female and male employees equally for equal work in 2014. Debbie Maples, VP of Global Loss Prevention & Corporate Security at Gap, stated, "Gap Inc.'s mission is to advance women in the workplace. We recognize that employees need flexibility to balance work and life responsibilities. Based on our experience with these efforts, the benefits of implementing flexible work programs are undeniable: production turnover dropped by 50%, employee engagement scores improved by 13%, and several hundred thousand dollars in savings were realized by reduced employee turnover costs. At Gap Inc., we know that our business succeeds when everyone has the chance to stand as equals and thrive." house.gov

Watch Debbie's testimony on Capitol Hill here.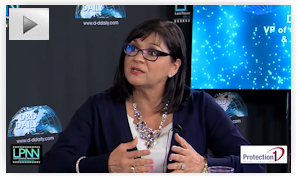 Watch Debbie's LPNN episode on Active Shooter Preparedness
Filmed at our "Live in Philly" at NRF Protect 2016 shoot, Debbie spoke about the unique challenges of active shooter events in retail, sharing the current thinking and best practices to ensure your organization and store teams are prepared.
2017 National Retail Security Survey sent to Senior LP Executives Wednesday
Did you get your survey? Help document the industry!
The 2017 NRSS was emailed to Senior LP executives yesterday, according to Dr. Richard Hollinger, who leads the survey at the University of Florida in partnership with the National Retail Federation. Year afer year, the report serves as the industry benchmark for calculating inventory shrink.


NRSS is an invaluable tool for the retail and vendor communities and law enforcement partners, as well as legislative efforts and media awareness campaigns.

If you received a survey, be sure to fill it out today and help document the industry! Stay tuned for a link to the survey in an upcoming Daily. Read last year's NRSS here.
Vector Security® Networks Introduces SiteConnect as the One Source Solution for Bandwidth and Security for North American Multi-Site Businesses
Vector Security Networks®, a division of Vector Security®, Inc., a top 5 integrator of physical security solutions, introduces SiteConnect, a proprietary multi-site commercial solution that combines broadband connectivity and physical security for North American multi-site businesses.

"By bringing together the best in IT and loss prevention services, SiteConnect offers reliability and efficiency in a scalable design...all delivered via a single source," said Michael T. Grady, Executive Vice President, Vector Security Networks. "We couple dependable broadband and LAN/WAN deployment with physical security, including video analytics, to support our customers' critical business applications and business operations." Read more in today's Vendor Spotlight column below.

8 Finalists Announced in RILA's 2017 (R)Tech Asset Protection
Innovation Awards
The Retail Industry Leaders Association (RILA), the trade association for the world's largest and most innovative retail companies, announced eight finalists for the 2017 (R)Tech Asset Protection: Innovation Awards. The Awards serve as a showcase for emerging, game-changing technologies that mitigate total retail loss, as defined in a groundbreaking research report published by RILA last year.



RILA received applications across AP business functions, including Business Intelligence and Analytics, Workplace Safety, Crimes Against Business, and more. Finalists will showcase their cutting-edge technology to a panel of top executives at RILA's 2017 Retail Asset Protection Conference, April 9-12 in New Orleans, where the winners will be announced. Conference attendees will have the chance to meet the finalists, experience their technology, and cast their vote for Retailers' Choice Award.

"The awards are an exciting opportunity to recognize visionary companies that are developing innovative technology to address the industry's biggest challenges," said Lisa LaBruno, RILA's senior vice president of retail operations. "Our retail panel of judges felt that these companies stood apart from the pack, and they should be proud of their designation as leaders in innovation. We're looking forward to crowning a winner in New Orleans."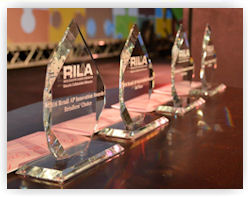 2017 (R)Tech Asset Protection: Innovation Awards finalists are:

● Checkpoint Systems, Inc.
● ClickIt Inc.
● Digital Safety USA
● Lassu, Inc.
● Lillii RNB Inc.
● LISNR
● Profitect
● Wal-Mart Stores, Inc. rila.org


FICO Reports a 70 Percent Rise in Debit Cards Compromised at U.S. ATMs and Merchants in 2016
Hacked Readers increased 30%
Increase follows sharp rise in 2015; consumers should take steps to protect themselves. The number of compromises recorded in 2016 set a new high.

The number of payment cards compromised at U.S. ATMs and merchants monitored by FICO rose 70 percent in 2016, Silicon Valley analytic software firm FICO reported today. The number of hacked card readers at U.S. ATMs, restaurants and merchants rose 30 percent in 2016.

FICO said compromises occurred most often at non-bank ATMs, such as those in convenience stores. About 60% of compromises were at non-bank ATMs, with the rest occurring at bank ATMs or point-of-sale devices, such as card payment machines at retailers. These figures cover only card fraud occurring at physical devices, not online card fraud.

Those non-bank ATMs may represent the majority of cases of compromised debit cards, but it is also clear from FICO's monitoring that card fraud still is happening frequently at retail point-of-sale.

While incidents of debit card fraud continue to increase, it is notable that, as FICO said, the average duration of a incident in which an ATM or POS device is compromise continues to fall, now averaging 11 days. The average number of cards compromised in a single incident also is declining. This could on one hand mean that fraudsters are using better technology that gets them in and out of systems more quickly, and that they are willing to settle for a smaller haul to avoid being detected. However, it also probably indicates that detection methods are improving, and that more retailers and banks are investing in state-of-the-art detection and prevention technologies. retaildive.com
prnewswire.com

Nine Sears Holdings A/P Associates Receive LP Foundation Scholarships
Sears Holdings, in partnership with the The Loss Prevention Foundation (LPF) today awarded 9 Sears Holdings Asset & Profit Protection Associates scholarships designed to support their career advancement and personal development while working at SHC. Sears Holdings takes great pleasure in every opportunity to invest in the development of their teams.

Scott Glenn, Vice President and CSO noted: "It is a tremendous honor to be able to invest in the future leaders of our industry. The Associates selected for these scholarships are the future of our organization and I am proud of each of them."

Congratulations to the following recipients of the LPCertified (LPC) Scholarships:

• Michelle Bernacki - Market Manager, APP
• Michael DeGrenier - Area Manager, APP
• Thomas Logan - Area Manager, APP
• Kev Mgrdichian - National Manager, APP Learning & Development
• Jennifer Ponicsan - Asset Protection Manager
• Karen Patituce - Market Manager, APP
• Frank Benesz - National Manager, APP Learning & Development
• Lucio Amicci - Zone Manager, APP
• Brandy Albano - Asset Protection Manager yourlpf.org

5 of the Worst Criminals in Food History
From maple syrup fraudsters to The Codfather
The details of one seafood kingpin's story are enough for an episode of The Sopranos: Federal agents disguised themselves as Russians and busted fisherman Carlos Rafael for a laundry list of crimes, including mislabeling his catch and selling thousands of pounds of fish under-the-table to a dealer in New York City.




For our latest episode of Bite, our food politics podcast, we talked to journalist Ben Goldfarb about his recent Mother Jones feature about this fish tycoon, known as "The Codfather." The interview with Goldfarb begins at 1:24.


Rafael currently faces 24 counts of fraud and is due in court May 30th. He joins a long line of food criminals, including: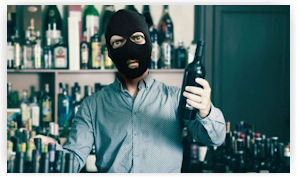 Sticky Fingers
At $1,300 a barrel, maple syrup was about 26 times more valuable than crude oil last year. In what became known as the Great Maple Syrup Robbery, 540,000 gallons of syrup-worth roughly $13.4 million-were stolen from the Federation of Quebec Maple Syrup Producers in 2012. According to prosecutors, writes Vanity Fair: "The gang would truck barrels out of the Reserve to a sugar shack where they would siphon the syrup in the way you siphon gasoline from a semi, feeding it, a cask at a time, into their own ramshackle barrels and then re-filling the originals with water." The heist was discovered when an inventory check revealed the water. Richard Vallières, one of the ringleaders, was found guilty in November of theft, fraud, and trafficking stolen goods; he reportedly claimed he was forced to commit the crime under a death threat. motherjones.com

Read full article here

Federal Judge Rules Can't Use I-9's for Criminal Prosecution for ID Theft or Forgery
Cutting Down on Workplace Raids Bolstered by I-9's
An Arizona federal judge has permanently barred the Maricopa County Sheriff's Office from using documents submitted by employees solely for use in I-9 employment authorization checks to conduct criminal prosecutions for identity theft or forgery under two state laws.

"Congress clearly and manifestly intended to prohibit the use of the Form I-9, documents attached to the Form I-9, and documents submitted as part of the I-9 employment verification process ... for state law enforcement purposes," the order said.

The ruling will be significant in cutting down on workplace raids that were bolstered by the I-9 paper trail. law360.com

Proposed Class Not Tailored In T.J. Maxx Wage Deal: Judge
A California federal judge refused Tuesday to give the first stamp of approval to a proposed $8.5 million deal resolving claims T.J. Maxx failed to give 83,000 workers meal breaks or pay them for time spent waiting for managers to close up shop, saying the settlement didn't outline a common class. "The Settlement does not distinguish between class members' positions." law360.com

Kohl's Accused Of Shorting Workers On Wages And OT
slapped with a putative class action in Los Angeles County Superior Court on Tuesday alleging that the department store's hourly workers in California are shorted on wages and overtime. law360.com

Chipotle defeats U.S. class action lawsuit on overtime pay
A federal judge on Wednesday granted a bid by Chipotle Mexican Grill Inc to undo a class action lawsuit by manager trainees in six states who say they were unlawfully denied overtime pay. U.S. District Judge Andrew Carter in Manhattan said the former Chipotle "apprentices" from New York, Illinois and four other states had varying duties depending on where they worked and could not show they were all eligible for overtime pay.

The plaintiffs in the 2012 lawsuit said that when they worked in the temporary, salaried positions training to manage new restaurants, they often performed basic tasks that could be assigned to hourly workers. That entitled them to overtime pay under state wage laws, the workers said. reuters.com

Gold's Gym LP Update: Hires Mike Nagyhazy, LP executive Consulting, LLC
And contributing writer for the Daily, to develop LP Program
As a consultant with Gold's Gym, Mike is working on building their LP dept. and program. They are, in fact, going with two Regional LP & Safety Directors that will oversee LP in the company's 150 corporate-operated gyms. Read Mike's Op/Ed Series "Roadmap for New LP Executives" here. lpexecutiveconsulting.com

Port of Mobile, AL: Walmart to invest $135M in Alabama Import Distribution Center

Bass Pro - Cabela's Merger May Be Saved by White Knight Bank

Ollie's Bargain Outlet to open 33 to 35 stores in 2017

Kroger is stealing Whole Foods customers hand over fist

Columbus, OH: IKEA Completes One of Ohio's Largest Rooftop Solar Arrays on Future IKEA Columbus, Opening Summer 2017 as 2nd in the State

RLPSA Releases 2017 Conference Agenda - Read Here


Quarterly Store Sales Results
lululemon Q4 comp's up 8%, net revenue up 12%, full yr comp's up 6%, net revenue up 14%
Ollie's Bargain Outlet Q4 comp's up 2%, net sales up 16.4%, full yr comp's up 3.2%, net sales up 16.8%
Deadline is Tomorrow!
Vector Security Networks Accepting Applications for 2017 LPF Scholarships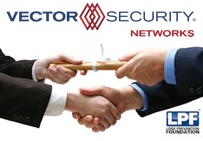 Each year, Vector Security grants a number of LPQ and LPC scholarships to the public. Worthy candidates for the scholarships have shown a dedication to a long-term career in North American retail loss prevention and a willingness to commit themselves to continuing their education.

The goal of the LPF Scholarship Program is to provide LPQ & LPC scholarships to well-deserving, loss prevention staff members and new entries to the retail LP industry. The scholarships fund the cost of course materials and exams related to obtaining certification from the LPF. Vector Security has awarded 184 scholarships totaling $189,345 since the program began. Detailed information can be found at https://www.vectorsecurity.com/loss-prevention-foundation-scholarship.

#6 - Security Guards - 84% probability of being replaced by robots
The 12 jobs most at risk of being replaced by robots
With #4 - Retail Salespersons with a 92% probability
Robots and "smart" computers could replace up to half the US workforce within the next decade or two, according to an Oxford University study from 2013.

Here are the jobs that are most at risk, based on the study. businessinsider.com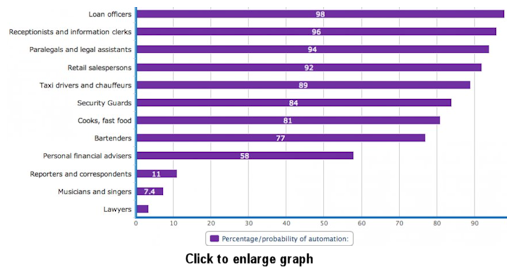 Target Consumers Say $10M Data Breach Deal Fair For All
Target Most Appoint High-Level CISO
A group of Target customers on Monday shot back at concerns the Eighth Circuit raised over the adequacy of a $10 million class action settlement that resolved claims over the retailer's 2013 data breach, telling a Minnesota federal court that the pact was fair to consumers who hadn't yet suffered losses.

The settlement, which drew just 11 objections out of approximately 61 million people given direct notice of the deal, allows consumers who can document their losses to be eligible for up to $10,000. Those consumers without documentation of their losses will be entitled to an equal amount of the remainder of the settlement fund after service payments to the lead plaintiffs and approved documentary support claims have been paid.

The pact also requires Target to provide security training to its employees and devote more effort to better safeguarding the customer data it possesses, by taking measures such as appointing a high-level executive as chief information security officer and maintaining a written information security program, as well as a process to monitor for information security events and to respond to any such events determined to present a threat. law360.com

The future of IoT: Taming security's wild west
How the Security Systems Industry Views IoT
A lot is being done when it comes to ensuring that IoT devices are cybersecure, integrated and valuable to end users. Five panelists at a TechSec Solutions session explored exactly what the industry is doing to rein in the technology.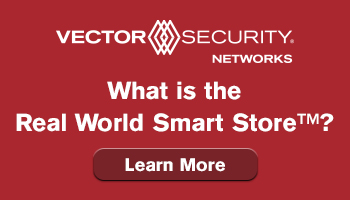 The Internet of Things is a broad [term]," Dorrier Coleman, co-founder and CTO of TEQ Charging, said. "The internet of things is any embedded device that wants to talk to something else, and that's going to become so broad that it'll almost be meaningless."

For Neil Lakomiak, director of business development and innovation with UL, "It's connecting components, connecting products, connecting systems together, sharing data-and it isn't new. It's been going on for quite a long time ... we're just seeing a lot more of it now." Aspects of IoT, such as computing power and memory, are more inexpensive and available, and it's becoming more scalable with the cloud.

Software is becoming more prominent in hardware, Lakomiak noted. "We evaluate products and systems for safety, performance and reliability. When software becomes the more predominant aspect of these products, it's something we're going to be paying much more attention to and setting our own standards and programs as a result." securitysystemsnews.com

Insider Threat Fear Greater Than Ever, Survey Shows
More than half of security pros say insider threat incidents have become more frequent in the past 12 months.

Despite continued spending on security measures for controlling and monitoring access to sensitive data, more organizations than ever feel vulnerable to breaches caused by insiders with legitimate access to enterprise systems. darkreading.com

To Gain Influence, CISOs Must Get Security's Human Element Right
It can be tempting for CISOs to look to the latest technology as a cure-all for securing their organizations.

CISOs should be careful not to overlook basic fundamentals around how their employees behave and interact with the organization's data and technology. The more access to sensitive data that an employee has, the easier it is for cybercriminals to obtain a company's critical assets, if they successfully target their credentials. CISOs need to cast a wider net around who they're protecting and tailor their security plans to the way the business operates. Although it's not a quick-fix, focusing on employees can have a significant impact on a CISO's success and help limited budgets go further.

Here are four recommendations for CISOs looking to increase their influence and direct security efforts where they have the greatest effect.

1. Protect employees who have the keys to the kingdom.

2. Be aware that others besides the senior leadership team have the keys to the kingdom.

3. Deepen your search for critical data that those with authority can access.

4. Leverage other stakeholders in your organization to be your advocates.

If CISOs don't know how their employees are using and abusing data, information, and technology, they won't be effective at protecting critical assets and high-value employees. darkreading.com

New York data breaches up 60% last year
New York reported a record high number of breaches last year, just after a new set of cybersecurity regulations went into effect in the state.

"In 2016, New Yorkers were the victims of one of the highest data exposure rates in our state's history," said Attorney General Eric Schneiderman in a statement released last week. "The total annual number of reported security breaches increased by 60% and the number of exposed personal records tripled."

According to the report, the stolen data consisted overwhelmingly of Social Security numbers and financial account information, and hacking was the leading cause of the breaches. The 1,300 breaches involved the private data of 1.6 million state residents, and 81 percent of the breaches involved the loss of Social Security numbers or financial information. csoonline.com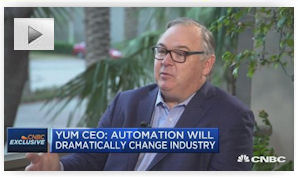 Robot Greets & Seats You at Pizza Hut
In a Decade, Many Fast-Food Restaurants Will Be Automated, Says Yum Brands CEO
AI, robots and automation could replace humans in the food services industry "by the mid [2020s]," Yum Brands CEO Greg Creed told CNBC on Tuesday. restaurantnews.com



Scammers scare iPhone users into paying to unlock not-really-locked Safari