Prop 47 Impacting California
Statewide Police Arrests Fall to 50-Year Low
L.A. Violent Crime Up 38% Over Last 2 Years - Property Crime Up 4%
In 2013, something changed on the streets of Los Angeles. Police officers began making fewer arrests. The following year, the Los Angeles Police Department's arrest numbers dipped even lower and continued to fall, dropping by 25% from 2013 to 2015. The Los Angeles County Sheriff's Department and the San Diego Police Department also saw significant drops in arrests during that period.

The statewide numbers are just as striking: Police recorded the lowest number of arrests in nearly 50 years, according to the California attorney general's office, with about 1.1 million arrests in 2015 compared with 1.5 million in 2006.

It is unclear why officers are making fewer arrests. Some in law enforcement cite diminished manpower and changes in deployment strategies. Others say officers have lost motivation in the face of increased scrutiny - from the public as well as their supervisors.

The picture is further complicated by Proposition 47, a November 2014 ballot measure that downgraded some drug and property felonies to misdemeanors. Many police officers say an arrest isn't worth the time it takes to process when the suspect will spend at most a few months in jail.

In Los Angeles, the drop in arrests comes amid a persistent increase in crime, which began in 2014. LAPD Chief Charlie Beck noted that arrests for the most serious crimes have risen along with the numbers of those offenses, while the decrease comes largely from narcotics arrests. Two other measures of police productivity, citations and field interviews, have also declined significantly.

Sheriff Jim McDonnell and Los Angeles Mayor Eric Garcetti are among local officials who have blamed Proposition 47, which took effect on Nov. 5, 2014, for a rise in crime, especially property offenses, in both the city of L.A. and the Sheriff's Department's territory. Critics of the measure say that with some drug and property felonies downgraded to misdemeanors, offenders spend less time in jail and have the opportunity to commit more crimes.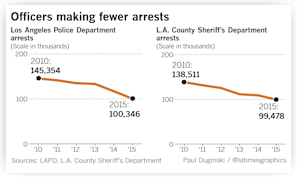 In 2016, violent crime in Los Angeles increased for the third straight year and was up 38% over the previous two years. Property crime jumped for the second consecutive year, with a 4% rise that was driven by double-digit increases in car-related thefts.

Still, the city remains far safer than a decade ago, when there were 40% more robberies than in 2016 and 480 homicides compared with 294 last year.

Proponents of Proposition 47, which was designed to funnel funds that would have been used to jail low-level offenders into creating treatment programs for those same people, say there is no evidence linking the legislation to crime increases. They say that criminal justice officials, including prosecutors and judges, need to change the way they do business.

But the measure has almost certainly contributed to the decline in felony arrests, since some drug and property crimes are no longer felonies. Moreover, some police officers and sheriff's deputies are less inclined to make a misdemeanor arrest for a Proposition 47 crime, saying it is not worth the hours it takes to book a person who could wind up back on the street soon after being placed in handcuffs.

Harris, the LAPD union director, said that Proposition 47, combined with the department's "inadequate" staffing levels, has altered the calculus for officers when deciding whether to engage with someone.

"Are you going to go and make an arrest that you know is only going to be a misdemeanor? You know your impact is not going to be very great," Harris said. "That guy is going to be right back out again." latimes.com

Story is making the rounds - Published in Minneapolis
Supermarket chain finds talent in ex-drug dealers
"Now it's not crack or dope. It's broccoli and ice cream," says former dealer
PHILADELPHIA - When Jeffrey Brown looks to promote employees within his 13-store supermarket chain, he looks for people with hustle, ability and commitment.

There's another unlikely attribute that has turned out to be a predictor of success at Brown's ShopRite and Fresh Grocer stores: drug dealing.

"What we realized is that a lot of the people we hired were in the drug trade," said Brown, founder and chief executive of Brown's Super Stores Inc. "We were surprised that some of the people we hired have fairly good business skills. The drug trade is a business. It's an illegal business. You are buying. You are selling. You have inventory. You have some of the common problems that any retailer has. A lot of them are accelerating into management."

Many experts say employment is key to keeping people from returning to prison. But what's in it for the employer? Isn't the company just hiring trouble? Brown's loss-prevention people thought so. "The loss-prevention side of the business, they were saying, 'They're criminals,'" Brown said.

But "We hired the first batch," he said. "And the first problems were not the problems we thought. They were conflict resolution, what's appropriate to say or not say."

These days, even the loss-prevention people are on board. Craig Gage, a relative newcomer at ShopRite, has a 30-year career in loss prevention. "I'm all for it," he said.

"It used to be you'd never want a criminal working for you, but the U.S. has one of the highest rates of incarceration," he said. So having a workforce without criminal records "is not sustainable anymore. There are not enough people to hire." startribune.com

"30% of Retail Chains Gone Within 3 Years"
The Shift is moving at Light Speed - With Brick & Mortar Like Snail Mail
Retail turmoil means stores must innovate faster
More than two decades after online giant Amazon made its debut, brick-and-mortar retailers are still trying to figure out how to integrate their core store business with the Internet, even as new technologies - drones, virtual reality, robots - continue to pop up. Companies like Target and Macy's, which have invested considerable time and treasure to reinvent themselves, are finding in-stores sales are declining faster than they can innovate and adapt.

"We all know the industry shift has begun to accelerate, and we believe that rate of acceleration will only continue to increase," Target CEO Brian Cornell told analysts during the earnings call.

Williams-Sonoma, the home goods chain based in San Francisco, probably comes the closest to mastering the blend of store and online retail. The 61-year-old brick-and-mortar chain has managed to generate an equal amount of sales at stores and through its e-commerce business without hurting profit or revenue growth.

Walmart, the nation's largest retailer, has also generally outpaced its rivals in embracing digital technology. For example, the company allowed customers to pick up online orders in stores beginning in 2007, far earlier than Target and Best Buy.

But even Walmart executives acknowledge that they need to pick up the pace.

But 47 percent of U.S. retailers are still trying to craft a strategy on how to use the Internet to drive sales, communicate with customers and more efficiently transport products.

The struggles are manifest in store closings and on balance sheets.

"All of the stuff retailers are doing is still wrong," said Brian Kilcourse, managing partner of the RSR Research consulting firm. He predicts that within three years, 30 percent of U.S. retail chains will be gone.

"Margins are so thin that it's hard for many retailers to find the money to make very proactive investments," said Chris Curran, a PricewaterhouseCoopers principal who wrote the report. "They do it on the cheap."

Retailers recognize they need to go digital, but they often feel overwhelmed by the number of new technologies hitting the market, he said.

The companies say they have support from CEOs, "and now we have to get going on executing the strategies," Curran said. "But they don't have a systematic approach to do it. They are bewildered by the technology. 'The more we know, the more we don't know.'" sfchronicle.com

Costco Receipt Suit Tossed - Can't Show Harm
Costco Wholesale Corp. beat a proposed consumer class action alleging the company printed too many digits of a customer's credit card number on a receipt when an Illinois federal judge ruled Thursday the customer hadn't shown she was harmed by the alleged action. law360.com

NY Restaurant Owner Faces Jail Time For Stiffing Employees
A restaurant owner has been sentenced to jail for not paying employees what they were legally entitled to for a couple of years. Attorney General Eric Schneiderman announced Tuesday that Elisa Parto, the owner of Elisa's Food & Plus Inc., in Port Chester, NY, was sentenced for failing to pay employees the required minimum wage and overtime. At her sentencing, Parto was ordered to pay the remaining amount of the total $47,000 in restitution she owed to six former employees. restaurantsnews.com

Report: Counterfeiting is the Biggest Transnational Crime
The global value of transnational crime is estimated at between $1.6 trillion and $2.2 trillion annually, according to a report from research and advocacy organization Global Financial Integrity. Counterfeiting was ranked the most valuable transnational crime, with an estimated annual value of between $923 billion to $1.3 trillion, followed by drug trafficking at between $426 billion and $652 billion. Such crimes are enabled by the global shadow financial system, the report found.

"The fight against transnational crime needs to be redirected to combatting the money the crimes generate," said Raymond Baker, president of GFI. "This means shutting down the global shadow financial system that facilitates the moving and secreting of illicitly generated funds. None of this is technically difficult. It is a matter of political will." wsj.com

UK: Shoplifting gangs recruit thieves as young as three
Children as young as three are being "used" to steal high-value items from stores because they cannot be prosecuted if caught by security staff, a retail lobby group has warned legislators.

Retail Excellence wants TDs and senators to introduce measures to thwart shoplifting and cyber-theft, including making parents liable for theft by children under the age of criminal responsibility.

Primary-school children, typically aged six or seven, are said to be pushing trolleys full of wine, steak and other costly goods past supermarket checkouts and being coached to steal expensive electrical items at stores such as Tesco, Woodies and Harvey Norman, the group has alleged. thetimes.co.uk

Court Rejects American Apparel Founder's Defamation Suit Against Hedge Fund
A Los Angeles appeals court shot down Dov Charney's $30 million lawsuit, which argued former partner Standard General had defamed him when he was fired from American Apparel, the company he founded, in the wake of sexual harassment allegations.

Charney accused hedge fund Standard General of defamation and interfering with his economic relations when it issued a press release in 2014 announcing his firing from the company "for cause" after an independent investigation into his business conduct. wwd.com

Smart & Final Slapped With Calif. Wage-Hour Class Action
A former employee hit Smart & Final Inc. with a proposed class action in California state court on Thursday, alleging managers at the budget-friendly grocery chain weren't able to take legally mandated meal and rest breaks and other labor law violations.

Named plaintiff Jessy Barahona Dubon says she worked for Smart & Final as a key carrier and closing shift manager from 2007 through February 2015, earning approximately $15 an hour. When she worked night shifts from 5 p.m. to 10 p.m., she was typically the only manager working and couldn't routinely take mandated meal or rest breaks, the complaint says.

The suit also brings allegations of minimum wage violations. Though Dubon was directed to clock out by 10 p.m., she would sometimes still have to work past that time, the complaint says. Other labor law violations claimed include failure to pay all and timely wages upon termination and failure to provide accurate wage statements. law360.com

Amazon Cash lets you shop without a bank card
The e-commerce giant on Monday announced the launch of Amazon Cash, a new service that allows customers to add funds to their online Amazon account by showing a barcode to a cashier at certain brick-and-mortar stores. To use the service, customers go to a participating retailer and show the cashier their personal barcode to scan. Then they pay the cashier the amount they want to add to their Amazon online balance -- between $15 and $500 in a single transaction -- and the funds appear in the account immediately. cnn.com

Blast on Russian subway kills 10, injures 50; 2nd bomb found

HHGregg to begin liquidation if no buyer emerges by week's end

Uniqlo chief: We'll close stores if US imposes border adjustment tax

Last week's #1 article --
Gander Mountain - Gordon Brothers & Hilco Bid on Assets
GAP Connect & Collaborate 2017

NA GAP hosted it's now 3rd "Connect and Collaborate Conference" on March 16th at the eBay campus in Draper, Utah. This year, we brought together 130 law enforcement and retailer partners from around the country to come together and "Connect & Collaborate" on the issues associated with organized retail crime (ORC) and trending Cybercrime topics. We had a nice mix of Law Enforcement and Retail in attendance, with representatives hailing from (but not limited to), the FBI, U.S. Marshalls, U.S. Postal Inspection Service as well as Microsoft, Macy's, Target, and Home Depot. The agenda was jam-packed with value content and presenters, including guest speakers on topics such as Triangle Fraud, Dark Web, Reshipping schemes, and Pawn Shop investigations. EBay was well represented in the agenda as well, with presenters from GCX Risk, Prohibited Items, & GAP educating our guests on our various policies, processes, and ways to best partner with us.

For further information on PROACT, email inquiries to PROACT@eBay.com.

WG Security Products, Inc. Recycle Source Tags (RST)
Helping retailers to reduce in-store labor costs
Campbell, CA - WG Security Products, Inc (www.wgspi.com), a leading global provider of retail security solutions sold through WG and authorized business partners worldwide, today announced it has signed a long term contract with Fallas to provide a Hard Tag Recycle solution, (RST).



WG's unique approach: Source tagging has emerged as one of the most cost-effective mechanisms for EAS tagging and is quickly catching on in the retail world. The elimination of in-store tagging labor costs and the expediency of merchandise being delivered to the floor carry obvious benefits to even most shrewd money people. Maintaining a uniform tagging policy at the point of manufacture also generates a smoother aesthetic on the store floor, leading to a better customer relations experience. Being the first in the market to offer a full source tag recirculation program offers an environmentally responsible initiative retailers can easily integrate into existing sustainability programs. Because of the cyclical nature of the tag use, retailers do not need to spend capital on the purchase of hard tags, but tags are leased from WG to be used for a pre-determined amount of time. Retailers no longer have to maintain a stockpile of tags or find a way to dispose of their tags once they have been used. Less waste and more green!

According to Chris Nichols, Executive Vice President of Operations Fallas, "With the challenges in labor costs, operating margins and inventory accuracy, retailers like ours require solutions that serve our customers better and more effectively. Recycled EAS Hard Tags deployments decrease costs and improve operational performance."



With over 20 years of Electronic Article Surveillance (EAS) excellence in the retail space, WG is a global leader in hard tag source tagging, providing worldwide protection across a wide range of theft-prone retailer product categories including: apparel, building supplies, computer products, grocery and health and beauty care. Our program benefits retailers due to tags being applied at the source include reduced in-store labor costs, enhanced customer focus, standardized tag compliance to improve merchandising, product to the selling floor, and improved sales.

"Our US and International presence and source tagging infrastructure enables WG to deliver cost effective and robust merchandise protection," said Graham Handyside, Executive Vice President of Global Operations WG Security Products, Inc. "More importantly, we are helping our customers to minimize shrink, improve sales and reduce in store labor costs."

About WG Security Products, Inc.
WG security Products, Inc is a leading global provider of security solutions, deployed throughout the world to top retailers. Customers range from single-store boutiques to international retail brands. Operating in more than 50 countries globally, WGSPI provides retailers with real-time visibility via our cloud based system.
Check out WG's Ninja Tag infographic - You might be surprised
McDonald's Canada says its jobs website has been hacked,
info of 95,000 applicants compromised
McDonald's Canada says the jobs section of its website has been hacked, compromising the personal information of about 95,000 applicants over the last three years.

The company said Friday the accessed information included names, addresses, phone numbers, employment histories and other standard job application information of those who applied online between March 2014 and March 2017.

The site doesn't collect social insurance numbers, banking information or health information, McDonald's said in a statement. financialpost.com

'Can You Hear Me?' Scam Hooks Victims With a Single Word - 'Yes'
Don't pick up the phone to answer calls from unknown numbers. Instead, let them go to voicemail. That's the operational security advice being promulgated to Americans by the U.S. Federal Communications Commission in response to an ongoing series of attacks designed to trick victims into uttering a single word.

The FCC says in a March 27 alert that the scam centers on tricking victims into saying the word "yes," which fraudsters record and later use to attempt to make fraudulent charges on a person's utility or credit card accounts. databreachtoday.com

Payment Card Industry Security Compliance: What You Need to Know
A quick refresher on all the different PCI SSC security standards that are relevant for organizations that accept electronic payments.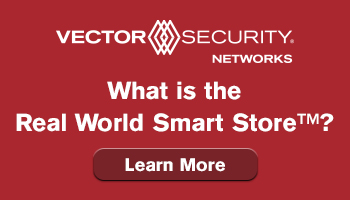 In the dynamic world of payments, transaction security is of paramount importance. When we speak with our customers and partners, the topic of payment security and Payment Card Industry (PCI) compliance always comes up. Although there is a lot of useful information about payment security available, the industry is also filled with many questions regarding PCI. So, with the latest PCI Data Security Standard update and the release of the latest security standards for payments terminals, now is a great time to provide a quick refresher on PCI compliance and the various security standards merchants need to know.

The PCI Council and its various Security Standards
The Payment Card Industry Security Standard Council (PCI SSC) is a global, open body created to develop, enhance, distribute, and assist with the understanding of security standards for payment security. The council also provides critical tools needed to implement various security standards. Below is a list of all the different security standards from PCI SSC that are relevant for organizations that accept electronic payments.

1. PCI DSS The Payment Card Industry Data Security Standard (PCI DSS) covers the security of the cardholder data environment, the IT systems that process, store, and transmit credit and debit card information.

2. PA DSS The Payment Application Data Security Standard (PA DSS) covers security for payment applications that access cardholder data.

3. PCI PTS The Payment Card Industry PIN Transaction Security (PCI PTS) standard is a set of technical and operational requirements for payment terminals focused on protecting cardholder data.

4. PCI P2PE The Payment Card Industry Point-to-Point Encryption (PCI P2PE) standard is a set of security requirements that cover all aspects of a P2PE solution, including the payment terminal, terminal application, deployment, key management, and decryption environment.

Who Needs to Be PCI Compliant? Accepting electronic payment involves handling of sensitive cardholder information, and keeping it secure needs to be a top priority for businesses that accept, process, or transmit credit card information.

Evolution of PCI Standards The technology to accept payment is constantly evolving, and so are the ways to protect sensitive customer information, such as credit card details, from cyberthreats. darkreading.com

AI, Machine Learning: Not Ready for Prime Time
Artificial intelligence (AI) and machine learning (ML) have been marketed as game-changing technologies amid the climbing number of breaches, increased prevalence of non-malware attacks and the waning efficacy of legacy antivirus (AV). Yet doubts still persist, especially when they're used in siloes. For now, it appears to be a fledgling space.

"AI technology can be useful in helping humans parse through significant amounts of data," the report noted. "What once took days or weeks can be done by AI in a matter of minutes or hours. That's certainly a good thing. A key element of AI to consider, though, is that it is programmed and trained by humans and, much like humans, can be defeated. AI-driven security will only work as well as it's been taught to...While AI is being used to effectively highlight nonobvious relationships in data sets, it still appears to be in its nascent stages."

As a result, only 13% of these researchers indicated they will look to implement AI-driven cybersecurity solutions at their organizations over the next three years. infosecurity-magazine.com

Report: Criminals find profit rates of up to 95 percent with DDoS attacks