FMI Asks for Delay on EMV Rollout - Wants October deadline pushed back to 2016 A trade group representing thousands of retail food stores and pharmacies is asking the payment-card industry to delay an October plan that puts merchants on the hook for fraudulent transactions if they don't have equipment in place to accept more secure credit and debit cards. In a letter sent to Visa Inc., MasterCard Inc., American Express Co. and Discover Financial Services, the Food Marketing Institute said that merchants won't be ready to meet an October deadline that will shift liability for fraudulent transactions from card-issuing banks to merchants. "Regardless of how strong the commitment or how many dollars invested, the reality is that the system will not be ready to meet the card networks' arbitrarily-set mandate for the liability shift in October 2015," according to the letter from Leslie Sarasin, president and chief executive of the trade group. The group asked for the deadline to be pushed back to 2016. Merchants are facing a 16-week delay for delivery of new equipment that can accept the new cards, according to the letter. The trade group also noted that the new cards, which are dipped into a reader instead of swiped, could add time to the checkout process as the industry moves into the holiday shopping season. Representatives of MasterCard and American Express said they have no plans to change the date. Representatives of Visa, and Discover didn't have an immediate comment on the request. wsj.com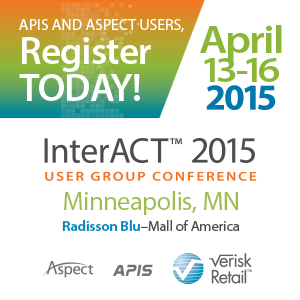 Wal-Mart exec calls 'Chip & Signature' upgrade a 'joke' Wal-Mart's executive in charge of payments thinks the United States' switch to chip-based credit cards is going to be a disappointment. The new "chip & signature" program is barely an improvement on security and fraud, said Mike Cook, Wal-Mart's assistant treasurer and a senior vice president, at this week's Electronic Transaction Association's Transact conference in San Francisco. Cook said Wal-Mart would have preferred a "chip and PIN" system that Europe and Africa have, since PINs would protect cards from being stolen. "The fact that we didn't go to PIN is such a joke," Cook told CNNMoney. "Signature is worthless as a form of authentication ... If you look at the Target and Home Depot breaches, not a single PIN debit card needed to be reissued in those breaches. The card number was worthless to the individual thief and fraudsters, because they didn't know the PIN." Wal-Mart started installing EMV-capable payment terminals at its stores eight years ago, and they're already active today. cbs4indy.com

Negotiating with Cybercriminals - 30% of Security Professionals Say They Would Pay for the Return of Their Data A survey of 250 security professionals at U.S.-based companies by ThreatTrack Security found 70% opposed to having their company negotiate with cybercriminals to get back stolen data or restore encrypted files, while 30% said they would pay. Two-thirds of respondents said they are concerned about negative reactions from employees and customers if the company was found to have negotiated with cybercriminals. Forty-four percent said the government should be notified immediately and given complete access to networks to investigate extortion attempts. threattracksecurity.com

Data collection for the 2015 National Retail Security Survey has begun
If you are a senior LP or AP executive for a major U.S. retail chain and have not yet received a link invitation to complete the on-line survey, please notify Dr. Richard Hollinger by email via rhollin@ufl.edu. As in previous years, the NRSS is both confidential and anonymous. The results will be presented in June at NRF Protect in Long Beach. However, this assumes a robust response rate from all major retail firms. Please make sure that your shrinkage data are included in this year's report by participating now.



RLPSA Hosts Metro Houston Crime Workshop - Free Event on April 28 The Restaurant Loss Prevention & Security Association (RLPSA) is hosting a free one day workshop focused on crime activity against QSR's, casual dining restaurants and other foodservice institutions, with an emphasis on activity in the greater Houston area April 28 from 8:30 a.m. until 5 p.m. at Dave & Buster's, 6010 Richmond Avenue, Houston, TX. The program is designed to bring awareness, open discussion and solutions, and to better prepare LP and Security teams, as well as law enforcement entities. Space is limited. Contact Jim Forlenza at jim.forlenza@rlspa.com to register.

McDonald's wage hike likely to spread to other chains
McDonald's rivals could be forced to match the raises that the chain is handing out as they compete harder for fast-food and retail workers. "As a matter of course, we routinely review restaurant employee compensation to ensure we remain competitive in the marketplace," Wendy's spokesman Bob Bertini said Thursday. Yum Brands, which owns KFC, Taco Bell and Pizza Hut, said in a statement, "We will remain competitive with our wages wherever we operate to attract and retain the best talent." McDonald's said it plans to increase pay at least $1 more than the local minimum wage on July 1 for the 90,000 employees at corporate-owned restaurants. It expects wages to rise to more than $10 an hour by the end of 2016. usatoday.com

Domino's is paying more to hire the right people: CEO
Domino's is having a tougher time finding workers to bake and deliver pizzas as the economy improves, President and CEO Patrick Doyle said on Monday. The chain may have to follow in the footsteps of Wal-Mart and McDonald's and raise wages. "The reality is the labor market is tightening up, and we've got to respond to that. It's getting harder to hire people," he told CNBC's "Squawk Box," adding, "We've got to do what the market demands to get the right people for our business." Like McDonald's, the vast majority of Domino's locations are franchised, so the decision to raise wages would come down to entrepreneurs. However, Doyle said Domino's needs to pay more to hire people right now at its company-owned stores. cnbc.com

Will Macy's take over Belk stores?
Just weeks after Macy's declared it's looking for a new way to grow revenues, a major North Carolina rival confirms it might be for sale. But analysts are skeptical the Cincinnati-based retailer wants to double-down on a traditional department store concept. Belk, based in Charlotte, North Carolina, operates 297 department stores throughout the Southeast from Maryland to Texas. Belk's nearest store to Cincinnati is in Ashland, Kentucky. Last week, Belk reported a $146.1 million profit on revenues of $4.1 billion, but disclosed it was reviewing its long-term strategic plan and hired investment banker Goldman Sachs to weigh its options. cincinnati.com

Party City expects to raise up to $372 million in IPO
Party City Holdco Inc, the largest U.S. party goods retailer, said it expects to raise up to $372 million in an initial public offering of its shares. The company, backed by buyout firm Thomas H. Lee Partners LP, said it expects the offering of 21.9 million shares to be priced at between $15 and $17 per share. Party City is valued at $1.97 billion at the high-end of the range. The company, which operates 900 party superstores in the United States and Canada, has grown through the acquisitions of Party City, Party America Corp, Factory Card & Party Outlet, Party Packagers and iParty Corp. reuters.com

Amazon's Drones Exiled to Canada, as FAA slows up CEO Jeff Bezos
Jeff Bezos is known for refusing to suffer fools. His reported put-downs include: "Why are you wasting my life?," "Are you lazy or just incompetent?" and "I'm sorry, did I take my stupid pills today?" Imagine someone as impatient as the Amazon CEO being forced to move at the speed of bureaucrats. This explains Amazon's decision to take on the Obama administration's Federal Aviation Authority. The FAA is years late in approving commercial use of drones and has violated numerous congressional deadlines. Mr. Bezos says regulatory inertia - not massive R&D - is blocking Amazon's futuristic plan to have low-flying vehicles deliver within 30 minutes the 85% of its packages weighing less than five pounds. The Guardian recently published an article by reporter Ed Pilkington, who was granted access to Amazon's secret testing facility at a location 2,000 feet across the border in Canada. The Guardian said Amazon is taking advantage of the "permissive culture on the Canadian side of the border," while taking the company's "quarrel with the federal government to a new level." Amazon is trying to shame U.S. regulators into action by publicizing what the Guardian calls "Amazon's Canadian airstrip-in-exile." wsj.com

Walmart Distribution Center Associate killed in fall - only 2nd week on the job
Jefferson County Sheriff Office says that man who died from an accident at the Wintersville, Ohio Walmart Distribution Center was 25-year-old Nick Desarro of Wellsville, Ohio. That accident happened 9:30 Friday morning. Desarro fell out of a forklift and suffered a fractured skull and jaw. Sheriff Fred Abdalla said it's unclear if Desarro had some sort of medical issue and that an autopsy will be conducted that would hopefully provide more answers. Desarro had been employed at the distribution center for only two weeks. wtov9.com

Brinks employee busted for stealing more than $350K from Bossier City casino
A Brinks, Inc., messenger has been charged in Shreveport with felony theft for depositing $354,000 in Horseshoe Casino cash and other financial instruments at his home, instead of the Brinks vault. Louisiana State Police said Saturday that its Police Gaming Operations Section was contacted by Horseshoe Casino in Bossier City on Wednesday in reference to a shortage from a deposit the casino made to Capital One Bank on March 23. Troopers immediately launched an investigation and casino representatives provided documentation which revealed that three bags of currency, markers, credit car receipts and personal checks were picked up from the casino by Brinks, Inc., armored courier service on Sunday, March 22. Troopers reviewed surveillance coverage and confirmed Brinks personnel did indeed retrieve three bags of currency from the casino. The bags were to be deposited the following Monday at Capital One Bank in Shreveport. Documentation of the manifest received from Capital One Bank revealed the bag, which contained $354,879.86, was never delivered to the bank for deposit. magnoliareporter.com

Former Dell exec named CEO of RadioShack, as former CEO steps down

NRF: Retailers add 23,100 jobs in March - YoY gains top 231,000

Dunkin' Donuts to open 7 new Illinois stores

Survey: 1/7 employees would sell their corporate password to an outsider

Camera app provides real-time license plate recognition for retailers


Last week's most popular news article --

OSHA fines Dollar General $83,000 for 'serious' violations - "blocked & locked exits" Dollar General stores across the nation have received more than 40 violations after 70 inspections since 2009. But the store in Carroll County is the one that recently received a hefty fine. Four violations, three repeat violations, one of them serious for a total of $83,050," said Christie Griffin. She says when one of her teams went inside the Bowdon, Georgia store, they found multiple, serious violations. Continually exposing their workers to the hazards, blocked exits, locked exits, blocked electrical panels have been found throughout their corporation nationwide. They seem to have not taken the message to all of their workers in protecting them," said Griffin. They are all violations that OSHA says are extremely dangerous for their employees and customers, especially when it comes to the emergency exits. "Dollar General is taking immediate actions to address and remedy cited violations at our store in Bowdon, Georgia and look forward to scheduled discussions in early April to review the citation with OSHA officials. Dollar General is further working with all store teams throughout the 43 states we serve to provide additional training on safety protocol measures to reinforce the company's safety policies and prevent any future violations." oshatoday.com