Financial Rewards of Being a 'Front Liner' on Risk
Companies that create risk management strategies that are agile enough to respond to and prepare for the changing nature of risks-and those that also are resilient enough to mitigate risks-are more likely to generate higher revenue and profits than those that don't, according to a study from PwC.

"To remain competitive in today's business climate, companies must pursue two parallel strategies: building agile and flexible risk management frameworks that can anticipate and prepare for the shifts that bring long-term success and building the resiliency that will enable those frameworks to mitigate risk events and keep the business moving toward its goals," stated the report.

PwC says these so-called front-line organizations are more likely than other groups to effectively manage risk across 12 key areas; these include financial; regulatory and compliance; reputational; strategic; environmental; cybersecurity; third party and culture.

The report spells out five ways organizations can build front-line risk-management programs. These include creating an organizational tone that emphasizes risk culture, starting with senior management and the board; aligning risk-management with strategy at the time decisions are being made; and setting up the three lines of risk management defense so the front-line business units own the decisions, the second line watches the first and the third line provides overall oversight. wsj.com

Prestigious Criminology Journal Publishes Newest UF Field Experiment
Three University of Florida (UF) scientists recently had a crime control experiment published in the peer-reviewed Journal of Experimental Criminology (JEC):

Testing the effectiveness of two retail theft control approaches: an experimental research design

The FBI and commercial organizations report theft, fraud and violence increasing over the last two years, creating an even greater need for scientific evidence-based solutions. To meet the need for shaping safer places, UF has a unique Crime Prevention Research Team housed in CLAS's Florida Survey Research Center. The researchers study large robbery, burglary, and theft crime event datasets for protective opportunities, then tests indicated protective treatments using criminal offender feedback interviews.

Making a Difference Using Science

Large samples of stores are then selected and randomly assigned to either receive the now precisely focused countermeasures, or to serve as comparison/control sites. This rigorous experimental approach to crime prevention is growing across the US and UK, and the UF team is at the forefront of this evidence-based approach, especially in commercial settings like stores and malls.

At this point, over 40 major US and Canadian retail chains participate in the initial testing and experimental process with University of Florida faculty members Dr. Read Hayes, a criminologist, Dr. Mike Scicchitano, the FSRC director, and Dr. Tracy Johns, also a criminologist. The UF team is prolific, having worked on over 200 projects over the last 17 years; with 40 more studies currently under way. The UF crew distributes the results of their work to two audiences, via scientific journals like JEC and academic conferences to fellow scientists and scholars, and to loss prevention or asset protection practitioners through report briefs, trade conference sessions, and working group webinars.



The university scientists frequently work with retail companies, law enforcement agencies, and security technology providers across North America through the industry group Loss Prevention Research Council (LPRC) which includes over 120 corporate members. In addition to his UF Research Scientist role, Dr. Hayes also directs the LPRC. More information on the current research article, or past and planed crime control research, can be located by contacting:

LPRC
Operations@lpresearch.org

Hallmark sues company - selling 8M Hallmark Brand Products - supposed to be recycled
When Hallmark Cards last year closed its Enfield, Conn., distribution center, it "entrusted significant quantities of greeting cards" and other Hallmark-brand products to a company that was supposed to recycle them "in unsalable condition." Somehow, perfectly good greeting cards found their way to market, spawning a lawsuit. Kansas City-based Hallmark Licensing LLC and Hallmark Marketing Co. LLC have brought suit against Dickens Inc., a reduced-price card distributor that isn't a Hallmark vendor.

Hallmark said in the case, filed in U.S. District Court in NY, that Dickens obtained "as many as 8 million or more Hallmark Brand Products ... which constitutes a significant threat" to the Hallmark trademark. Hallmark said it had a contract with NorthStar Pulp & Paper Co. "for the sole purpose of recycling those products." But Hallmark said it discovered in March that Dickens was selling its products to non-Hallmark retailers and on the Dickens website at discounted prices. The lawsuit made no further reference to NorthStar concerning the Enfield products. A Hallmark district sales manager in New York said a Dickens vice president told him that Dickens acquired 75 truckloads of Hallmark products by paying an unnamed third party 10 cents per card. kansascity.com

Multi-Billion Dollar Cannabis Industry Lacks Security Services
Published today on Private Officer International newsletter
A security services provider from California has decided to expand their business with a transportation service for the cannabis industry.

MPS International who has offices in California, Colorado, Maryland, Illinois, Nevada and Washington is one of the first to provide armored car services to transport both the cannabis product and the revenues from the sales of the cannabis.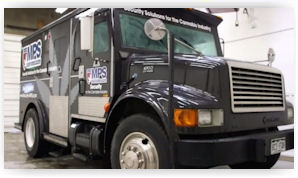 Most of the larger armored car services have stayed out of the business of transporting anything related to the industry because there are still questions on the legality of the sale of the product and the transportation of the cash derived from it.

Brink's, Dunbar Armored, Loomis - they all help traditional retailers securely haul bags of cash from Point A to Point B but they're still standing on the sidelines when it comes to the marijuana business.

In 2016, Colorado's legal cannabis industry brought in more than $1 billion in revenue. But due to federal regulation, the cannabis industry has limited (or no) access to traditional banking services.

Since growers and dispensaries can't process debit or credit card payments, they're forced to conduct the majority of their business in cash.

So at the end of the day, more than 450 dispensaries in Denver are sitting on large piles of cash making them targets for robberies and thefts.

Since recreational marijuana was legalized three years ago, there have been nearly 600 reports of dispensary robberies in Denver.

MPS International says that they now hire the enforcement officers that were once trained to crack down on cannabis smugglers. security-mpsi.com

Beavercreek, OH: City spends $430K to defend Police Officers in Walmart shooting
An Ohio city has spent over $430,000 defending two officers in connection with the fatal police shooting of a man at a Walmart who was carrying an air rifle from a store shelf.

The Dayton Daily News reports the cost to Beavercreek includes about $210,000 paid to two law firms. The city's law director says outside counsel was necessary. Crawford family attorney Michael Wright says the money could have gone toward a settlement for the family. An officer fatally shot John Crawford III in 2014 after a 911 call about someone waving a rifle at the Walmart. Police say he didn't obey commands to drop what later turned out to be an air rifle. A federal probe for any possible civil rights violations is continuing. nbc4i.com

Custom Suit Maker Sues Former Employee - Stealing Trade Secrets To Work at Competitor
A Chicago custom suit maker sued a former employee on Friday, alleging the former employee stole trade secrets on his way out the door to a new job at the company's direct competitor in Chicago. Daniel George Ltd., which calls itself "Chicago's premier bespoke and custom suit maker," filed the suit against former employee Grant McNamara, who allegedly breached his employment agreement in taking confidential information to competing suit maker ESQ Clothing Inc. The case, filed in Cook County Court, lists both McNamara and ESQ as defendants. law360.com

7 States That Are Battling Skimming
Chances are a skimming device is being installed right now at one of the 765,000 fuel dispensers in the United States. According to NACS, just one of these devices can capture data from 30 to 100 cards each day.

Louisiana, Indiana, Colorado, Wisconsin, Florida, Utah and New Mexico have all reported increased activity beyond the national trend. cspdailynews.com

Layoffs Require Communication, Compassion and Compliance
Conducting layoffs is one of the most difficult things that HR may be tasked with. We've all heard chaotic and stressful accounts of employees being shocked with the news they've been let go; stories of security guards escorting workers off the premises; tales of workplaces where rumors spread like wildfire in a vacuum of information; and allegations of supervisors protecting their favorite employees instead of high performers.

A downsizing is a significant blow to the morale of the organization, but it may be necessary to keep a company afloat and can be done in a thoughtful way-that is, strategically, with compassion and in compliance with all relevant laws.

When position eliminations and job consolidations are being considered, it is important for the process to be objective and focused on making the business more effective. The best practice is to conduct a work analysis followed by a people assessment. shrm.org

Office Depot took the wraps off its "store of the future" concept
To Have 100 Future Stores & Closing 75 More
So far, Office Depot has remodeled 25 stores with the new layout, which includes larger signage and more areas to try products out before making a purchase. The new stores offer tech support services similar to those found at electronics retailers.

The company is also adding new services to the print and copy centers in the remodeled stores.

The Boca Raton, Fla-based company is revamping 75 stores in its 1,400-unit chain with the new layout this year. It has also announced plans to close 75 stores, down from the 123 it closed last year. startribune.com

Chief Security Officer for Amazon Corporate, LLC in Seattle, WA posted today
Amazon is looking for a Director, On-Road Security, World-Wide AMZL, who will act as the Chief On-Road Security Officer for the World Wide network operated Amazon Logistics (AMZL). Amazon Logistics is responsible for providing the best in class customer experience by building a global final mile transportation network.

Operations are at the heart of Amazon's customer experience and to meet and exceed expectations, the global AMZL network relies on thousands of delivery providers who play a critical role in the delivery of shipments to Amazon retail customers. In this role as the Chief On-Road Security Officer, you will provide the vision and drive innovation in ensuring that we provide secure and safe services through our large network of delivery providers and in general build big ideas in developing the footprint of AMZL's network security by leveraging digital technology. You will provide the thought leadership in the development of next-generation technology systems and process mechanisms in enabling sophisticated automation, digital identification of potential risks to the driver and customers, provide network risk/vulnerability metrics and investigative expertise and develop advanced response and risk mitigation systems.

This is a unique opportunity to be a senior leader for one of the fastest growing Amazon operations, AMZL. This role will give you single threaded ownership of the AMZL on-road network security and give you a platform to deliver the next generation of security processes and technology products. This role is responsible for growing and leading an exceptionally talented organization. The ideal candidate has a proven track record of building and leading large teams, is a creative thinker, problem solver, teacher, learner, and a fantastic manager of people. Disruptive ideas are catalysts for your inventions and others follow you because they want to build. us-amazon.icims.com

National Loss Prevention Manager Toys R Us, Concord, Ontario, Canada
There is a full time opportunity for a National Loss Prevention Manager reporting to the Director, Retail Operations. The role focuses on the protection of all team members, customers, visitors and assets of Toys"R"Us as it relates to loss prevention, asset management, reduction of shrink, security, product recall and fire prevention. The National Loss Prevention Manager is accountable for taking a proactive approach in developing loss prevention strategies that protect the assets of the Company by directing, establishing, implementing and monitoring programs for the retail business to prevent and reduce merchandise loss using procedures and systems designed to safeguard assets. This role has accountability for company level shrink in collaboration with Director Logistics and Controller cross functionally.

Toys"R"Us, Canada operates 81 full-sized stores across the country, as well as Express locations. Toys"R"Us, Inc. is the world's leading dedicated toy and baby products retailer, offering a differentiated shopping experience through its family of brands. Merchandise is sold in 893 Toys"R"Us and Babies"R"Us stores in the United States, Puerto Rico and Guam, and in more than 735 international stores and over 210 licensed stores in 36 countries and jurisdictions. toysrus.ca

Cabela's sells Banking Assets and Lowers Price for Bass Pro Acquisition


Quarterly Same Store Sales Results

Kate Spade Q1 comp's down 2%, net sales down 1%
GNC Q1 domestic company owned stores comp's down 3.9%, U.S. franchise comp's down 4.6%, revenue down 3.7%
Hot Off The D&D Daily Presses
Stay Tuned for Our Exclusive Reports Coming Soon
● Q1 Retail Violent Death Report - Coming Thursday, April 20
● Q1 ORC Report - Coming Tuesday, April 25
● 2016 ORC Report - Coming Soon
Stay tuned for more release dates!

RFID Journal LIVE! 2017 to Feature Exhibitors
from a Record 25 Countries
RFID Journal announced that its 15th annual RFID Journal LIVE! 2017 conference and exhibition has attracted exhibitors from a record 25 countries. The event, which will be held on May 9-11, at Arizona's Phoenix Convention Center, has already attracted preregistered attendees from 49 countries.

"RFID Journal LIVE! has truly become the global RFID event," said Mark Roberti, RFID Journal's founder and editor. "It's the only place where companies can meet the world's top RFID solution providers and negotiate the best deals under one roof."

In addition to the United States, exhibitors that have committed to the event hail from the following countries:
Australia
Austria
Canada
China
Czech Republic
Denmark
Finland
France
Germany
Hong Kong
India
Israel

Italy
Japan
New Zealand
Poland
Russia
Slovakia
South Korea
Spain
Switzerland
Taiwan
Turkey
United Kingdom
LIVE! 2017 will feature four industry-specific and four technical conference tracks, as well as eight in-depth preconference seminars and workshops, four post-conference seminars, fast-track training provided by RFID4U, and RFID Professional Institute certification. The event will be hosted alongside the IEEE RFID 2017 event and the 2017 RFID Journal Awards. What's more, the event will offer exhibits and demonstrations conducted by the industry's leading technology firms. For more information, visit www.rfidjournalevents.com/live.
Profitect Adds Tania Stockbridge to Executive Team
as Vice President of Marketing
to Support Rapid Double-Digit Growth
Leading Provider of Prescriptive Analytics for Retail & CPG Continues to Advance Senior Management with the Strategic New Hire of Marketing Leader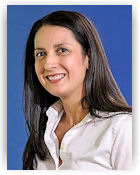 WALTHAM, MA - Profitect Inc., the leading prescriptive analytics provider for the retail/CPG industry, today announced the appointment of Tania Stockbridge as Vice President of Marketing. Stockbridge joins the Profitect team with proven experience in marketing, branding, communications, and growth strategies, as well as a deep background in guiding programs within the retail and technology landscape. She will work closely with the Profitect leadership team to drive revenue, increase brand awareness and success, while educating the market on the critical need for prescriptive analytics.

"From the moment I met with Tania, I knew she was the right fit for this role," said Guy Yehiav, CEO of Profitect. "Tania's unmatched skill set and proven track record in both retail and technology stood out, but it was her commitment to driving results that solidified our decision to bring her on board. Profitect is coming off our most successful year to date and I'm confident Tania is the leader we need to help elevate our profile and support our strategic growth initiatives. We are very excited to have her as part of the team."

In her role as Vice President of Marketing at Profitect, Stockbridge will lead the marketing team in creating demand generation programs that drive new revenue opportunities, while overseeing both internal and external communications. She will also drive all Profitect branding initiatives, product marketing, graphic design, advertising, and multimedia productions.



"I have been in the marketing industry for more than 15 years and what excites me most is the opportunity to work with innovative companies, helping them reach their full brand potential," said Stockbridge. "I am thrilled to join such a collaborative and intelligent team and I'm optimistic that together, we'll bring the marketing efforts to new levels. Profitect is in a unique position to showcase results and return on investment for its retail/CPG customers, and I'm looking forward to telling this story."

Read more here.