America's LP Teams

From the D&D Daily 2016 GLPS's - Helping Build Team Pride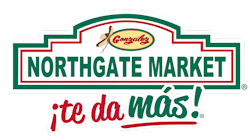 Northgate Markets Asset Protection Department

"Te da mas!"
Front Row (left to right): Idmelda Perez - Sr. Asset Protection Auditor, Melissa Martinez - Asset Protection Analytics Coordinator

Second Row (left to right): Victor Romero, Sam Safai - DC Security Services Mgr, Edward Gonzalez - District Asset Protection Manager, Jennifer Ortiz - Asset Protection Auditor, Carlos Ocegueda - Asset Protection Physical Security Supervisor, Pedro Becerra - Labor Management Mgr, Rosalba Trujillo - Service Desk Manager

Third Row (left to right): Saul Ramirez - Regional Asset Protection Supervisor, David Torres, Jose Prado - District Asset Protection Manager, Heriberto Hernandez - Asset Protection Auditor, Robert Esparza - Security Operations Manager, Mike Bowers - Sr. Director of Asset Protection

Not Pictured: Jose Limon - Asset Protection Regional Manager, David Careaga - Asset Protection Auditor, Irma Salcido - Director of Safety
Paris, France: Police Officer Killed, 2nd Wounded in Paris Shooting;
ISIS Claims Responsibility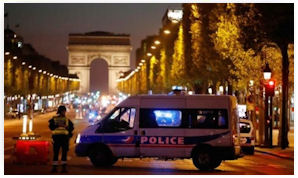 One policeman has been killed and two others wounded in a shooting incident in central Paris on Thursday night, police and the interior ministry said. The police officer who was killed in central Paris was shot while in a car stopped at a red light by attacker driving by, a police union said on Twitter. A witness said that one man got out of a car at the scene and began shooting with a machine gun.

One of the two assailants who fired on police is reported to have been killed. Police have issued an arrest warrant for a second suspect in the shooting, according to a document obtained by Reuters. The warrant said the man had arrived in France by train from Belgium. French prosecutors have also opened a terrorism investigation into the attack. irishtimes.com

York, PA: York County, Springettsbury settle lawsuit in fatal Kmart police shooting
Springettsbury Township and York County have settled a civil lawsuit brought by the family of Todd William Shultz, who was fatally shot outside the Springetts Kmart by township police in 2012. Shultz's family will be paid $285,000, according to the two-page settlement. Springettsbury Township will pay $275,000 of that amount, and York County will pay the remaining $10,000, he said. "The parties have reached a settlement whereby no admission of guilt has been offered," Smith said. Shultz was killed after police said he resisted multiple attempts to arrest him outside the store in December 2012. Shultz was armed with a knife and scissors, prompting officers to hit him with batons and a stun gun before shooting him. The original lawsuit sought $8 million. But Jacob said Shultz's family was less concerned about money than they were about trying to ensure something like this didn't happen again. yorkdispatch.com

Walmart Releases Global Ethics and Compliance Program Update
& 2017 Annual Report, Proxy Statement, Global Responsibility Report
Editor's Note: Over the last five years, Walmart has probably built the most thorough, expansive and most expensive Global Ethics and Compliance Program of any retailer on the face of the planet. Fueled by the alleged Mexican bribery scandal first reported in 2012, this report is now the blueprint for every retailer and will inevitably be used in academia as the textbook response.

A great read for every retailer and especially those involved in these processes.

Global Ethics and Compliance Update
Five years ago, Walmart began a multi-year process to reorganize, unify and professionalize its ethics and compliance program. The company's fourth report on ethics and compliance looks back at the program's growth over the past five years into a leading, world-class organization, and efforts to continue to prioritize and enhance ethics and compliance training, anti-corruption policies and procedures and digitization of compliance processes and systems. The detailed report is available here.



Walmart's company ethics and compliance function, consolidated into one global group, supporting but operating independently of local business management, with chief ethics and compliance officers and anti-corruption directors within each of their retail markets and organized into one global organization, is probably the largest of its kind on the planet.

Walmart's dedicated ethics and compliance staff now number over 2,300 associates, including over 500 in the United States and over 1,800 in their international markets and offices. They've invested over $141 million in global ethics and compliance systems, deployed electronic systems to implement anti-corruption policies, obtained and monitored licenses and permits, enhanced food safety, tracked donations to the community, provided training to associates, and complied with anti-money-laundering obligations, among other functions.

Being required to apply for more than 56,000 licenses to operate in their facilities outside the U.S., Walmart created licensing teams in each international market, numbering more than 300 associates in total. These dedicated teams developed processes to monitor and track licenses and permits in each market, using a centralized licensing system that the company created and deployed over the last four years.

Stepping up their efforts to educate associates about their Open Door policy allowing associates to communicate with management without fear of retaliation and about the other resources for associates to confidentially or anonymously communicate with the Ethics & Compliance team, the contacts increased 67% between 2013 and 2016. Read the full report here. businesswire.com

Supply Chains - Logistics - Fulfillment Centers - Delivery - Taking Center Stage
What used to be considered the step child of retail is now not only taking center stage but it's leading the entire retail industry in both growth and jobs and that includes LP/AP as well.

Interestingly it's also leading in the RFID development, robotics, security robots - drone technology, and even more importantly in real estate development. As that's one of the keys to our industry's and nation's future economic development. Especially when taking into consideration the thousands of empty stores and quickly sinking 33% of America's malls.

As we'll see over the next five years a significant number of these malls converted to fulfillment centers and, as we reported just last week, we'll see once disguarded urban centers revitalized across the nation adding jobs and economic growth to areas quite frankly that are in need of it. Which when extended out impacts the tax base and improves the educational quality of those areas. Something this nation has been needing to do for decades.

So this economic shift which is also being fueled by the big box retailers rolling out smaller urban size stores in some regards represents a population contraction so to speak. Where once we saw paths out to suburbia we're now starting to see the beginning stages of it contracting back into the cities.

With all of this said, we at the Daily will be focusing more on Supply Chain information and news to hopefully help keep you informed.

ISCPO Executive Roundtable Interview Series: Aaron Henderson - Part Two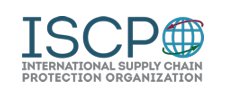 As part of our Executive Roundtable Interview Series, we recently sat down with industry thought-leader Aaron Henderson to get his point of view on the challenges, trends, and developments facing the LP / AP industry. We had the privilege to have Aaron on the ISCPO Exploratory Board, where he helped to shape our organization and drive best practices across the supply chain. Aaron is presently Director Loss Prevention at Penske Logistics & Brigade Command Sergeant Major (CSM)/MP Retired.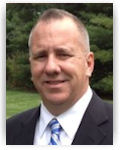 ISCPO: What is THE biggest challenge to supply chain protection & security, from a holistic industry level?

Speed. Everyone is trying to beat the competition with getting product to the store/customer in the fastest, most cost-effective way possible. Customers today order online and want the product that day. The speed of LP needs to be faster, not merely keeping up with the speed of the business. We need to anticipate and be one step ahead of the next link in the supply chain. Any weak links slow down the chain and increase risk which could impact shrink. Part 3 Coming Monday iscpo.org

CVS, Walgreens and Walmart named in opioid suit
Cherokee Nation sues drug firms, retailers for flooding communities with painkillers
Lawyers for the Cherokee Nation opened a new line of attack against the pharmaceutical industry Thursday, filing a lawsuit in tribal court that accuses the nation's six top drug distributors and pharmacies of flooding communities in Oklahoma with hundreds of millions of highly addictive pain pills.

The suit alleges that the companies violated sovereign Cherokee laws by failing to prevent the diversion of pain pills to the black market, profiting from the growing opioid epidemic and decimating communities across the nation's 14 counties in the state.

By filing the suit in tribal court, lawyers for the Cherokee Nation said they hope to gain quicker access to internal corporate records that could show what the companies knew about the diversion of pain pills on Indian lands in northeastern Oklahoma. It is the first time an Indian nation has filed suit against companies for the damage done by powerful pain pills such as oxycodone and hydrocodone.

The suit names the three largest drug distributors in the United States: McKesson, Cardinal Health and AmerisourceBergen, which together control roughly 85 percent of prescription drug distribution in the country. Also named in the suit are some of the biggest names in the retail drug business: CVS, Walgreens and Walmart. washingtonpost.com

Proposed Florida Law Takes Aim at Credit-Card Skimming Devices
With credit-card skimming thieves eluding law enforcement, state lawmakers are targeting the devices themselves. Two bills before the Florida Legislature this session, SB 766 and HB 343, would make it a third-degree felony to possess or sell credit-card skimming devices in Florida.

"These devices are designed to specifically collect and steal consumer data," said the sponsor of the Senate bill, state Sen. Jose Rodriguez, D-Miami. "There is no other place in the market where you need a device like this."

Rodriguez said Thursday much of the work behind the legislation was focused on tightening the definition of the skimmer itself so it would not impede the needs of retailers and anyone else involved in credit-card transactions. mypalmbeachpost.com

Macy's Faces Legal Action Over 'Unreasonable' Non-compete Contract
A legal fight over Macy's use of non-competes with higher-ups is brewing. Kristen Cox, until recently a regional executive vice president of stores for Macy's based in Chicago, urged a New York federal court late last week to find a non-compete she signed upon leaving the company in early April cannot be used to keep her from accepting a position with Burlington Stores.

In doing so, Cox took the retailer to task for requiring in 2012 that she sign the non-compete in order to receive a severance package upon leaving the company, characterizing it as an "unreasonable and unlawful" contract that "does not serve to protect any legitimate business interest of Macy's."

Non-competes are generally used to protect any trade secrets or goodwill that an employee may obtain from the company. While Cox claims she's not been exposed to any relevant trade secrets, Macy's has allegedly said it intends to enforce the non-compete if she goes to work for Burlington. wwd.com

McDonald's Loses Calif. OT Fight, Queuing Up Damages Trial
A California state judge ruled Thursday that McDonald's violated state labor law and shorted a class of thousands of workers on overtime through its handling of overnight shifts at its company-run stores, leaving only the matter of damages for next month's scheduled trial. Judge Jones wrote that McDonald's practice of assigning all hours in an overnight shift to the day in which the shift started meant workers who had an overnight shift followed by a daytime shift often worked over eight hours in a 24-hour period but received no overtime pay. law360.com

FYE Parent Co. Accused Of Stiffing Store Managers On OT
The parent company of F.Y.E. music store was hit Thursday with a putative class action in New Jersey federal court alleging it violated state and federal labor laws by failing to pay overtime to certain employees who worked more than 40 hours per week. The lawsuit alleges the retailer mistakenly classified store managers and senior assistant store managers as exempt from the overtime rate, while unlawfully using a fluctuating work week formula to calculate overtime wages specifically for senior assistant store managers. law360.com

Lowe's posts LP & Ops Support Director position - based in Franklin, TN
The principle purpose of the LP & Ops Support Director is to provide leadership and oversight of the development, administration and maintenance of Lowe's loss prevention, safety and operations programs. This includes directing the day-to-day functions of the LP & Ops Support Manager and working closely with Regional, Market and Store leaders to establish and achieve safety, shrink, training, and operational objectives that enhance margin and profitability while limiting expenses and liability.

Lowe's Companies, Inc. is a FORTUNE 50 home improvement company serving more than 17 million customers a week in the United States, Canada and Mexico. With fiscal year 2016 sales of $65.0 billion, Lowe's and its related businesses operate or service 2,365 home improvement and hardware stores and employ over 290,000 people. lowes.com

DFC Global Corp. reposts Dir. of Security, LP & Safety job - based in Malvern, PA
Responsible for all aspects of Financial Crime prevention which includes internal and external fraud. Responsible for all aspects of Loss Prevention, Physical Security Equipment and OSHA strategy throughout 1NA's retail stores and office (non-trading) locations. The Director of Security, Loss Prevention and Safety 1NA is responsible for developing strategies to identify and remedy vulnerabilities that lead, or could lead, to financial loss throughout the NA operation, both in the field and office locations.

Dollar Financial Group Global Corporation (DFG) is a US-based financial services group with over 1000 locations in seven countries. It focuses on low-income or bad-credit consumers, providing short term loans (payday loans), pawnbroking and gold buying services. DFG's brands include Money Mart (Canada), The Money Shop (UK and Ireland), Loan Mart, Insta-Cheques, and We The People. smartrecruiters.com

Vector Security Networks looking to hire a Senior Account Liaison in Grand Rapids, MI

Clothing retailer Bebe announces closure of all 175 of its stores

Britain's largest sporting-good retailer Sports Direct breaks into US market

Post-bankruptcy, City Sports resurrects website, plans new stores

RadioShack Defends Plan For $1.4M In Executive Bonuses

Subway's store count shrinks for first time in company's history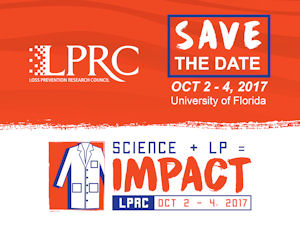 LPRC IMPACT Conference
October 2-4
Gainesville, FL
Make sure to save the date and budget now for this year's IMPACT Conference! LPRC will be hosting IMPACT October 2-4, 2017 at The University of Florida. We are hard at work planning for this year's conference, and we can't wait to see you there!

Learn more about IMPACT today: http://lpresearch.org/impact/
Profitect Wins Retailers' Choice Award at RILA Retail AP Conference 2017 for Second Consecutive Year
Profitect's New Predictive Shrink Technology Also Honored for Innovation at Awards Ceremony
WALTHAM, MA - April 19, 2017 - Profitect Inc., the leading prescriptive analytics provider for the retail industry, today announced its second consecutive win of the Retailers' Choice Award at the 2017 RILA Retail AP Conference. The recognition, which came alongside a second place win for the company's new shrink prediction capabilities at the 2017 (R)Tech Asset Protection: Innovation Awards, confirms Profitect's ability to provide retailers and CPG companies the intelligent solutions needed to minimize loss and compliance issues and maximize results with ease.

"Each year, we ask companies to bring us their game-changing technologies and each year, they deliver and exceed expectations. This year in New Orleans was no different," said Lisa LaBruno, RILA's senior vice president of retail operations. "Recognizing innovations across the industry and learning more about how we can implement them to improve the field of asset protection are what the Awards are all about."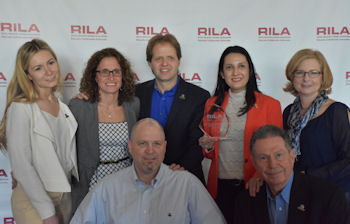 The (R)Tech Innovation Awards recognized Profitect as the Retailers' Choice overall. Additionally, the company's new shrink prediction capabilities - which leverage machine learning to cluster stores based on historical data and behaviors to provide an accurate view of current and future shrink - was awarded second place. The solution identifies high-risk trending stores before they reach the point of critical mass - recommending appropriate, easy-to-understand actions for store managers and associates to take to prevent problems before they arise.

"The enthusiasm for prescriptive analytics was everywhere at this year's RILA conference," said Guy Yehiav, CEO of Profitect. "Between our presentation with ascena retail group on uncovering the ugly truths lurking in data, Walgreens also presenting on prescriptive analytics and our VP of Industry Solutions being featured on a panel discussion on BI & analytics - it was a prominent theme throughout the show. When we were recognized twice by the RILA Awards Committee for Innovation and Retailers' Choice, it was a phenomenal way to cap off the conference. One of our greatest achievements has been our relationship with our customers and we are proud that our work with them has been recognized for delivering real results quickly."

Recipients were announced during the RILA awards ceremony on April 11, 2017 in New Orleans, LA. To learn more about Profitect and the company's award-winning prescriptive analytics solutions please visit www.profitect.com or follow the company on Twitter and LinkedIn.
Q&A: Assessing Cybersecurity Risks in the Supply Chain
How should a company think about what constitutes its cyber supply chain?
Mr. Tiao: One of the things we always do when it comes to risk management is to identify the nature of the risk in different parts of the company, prioritize those risks and evaluate what are the best ways for mitigating those risks. Significantly sized companies are going to have hundreds of third-party vendors and part of the challenge to the company is getting its arms around the nature of the risks associated with its supply chain. It's something companies have really begun to focus on, at least with respect to cybersecurity. The only way to fight that is to conduct a comprehensive review of your vendors and what sort of access they have to sensitive information. Make sure that access is required and minimize whatever access they have and don't give any more access than they need.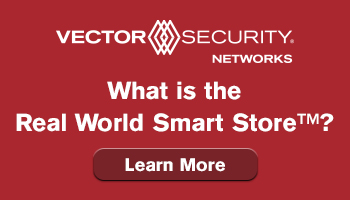 How would you describe the state of preparedness for cyberattacks?
Mr. Tiao: If specifically we are talking about the supply chain, preparedness is weak. Companies are better at managing risks associated with cyberthreats in other aspects of their business than they are with their supply chain. Supply chain is a particularly vexing challenge; the government is struggling with it, the private sector is struggling with it, the government is trying to figure out how to get the private sector to do it more effectively. It's hard enough to ensure your own security protocols and systems are reasonable and good, but to try to ensure your suppliers have the appropriate levels of security, that's another level of difficult. It's one of the areas where we are weakest.

Mr. Geyer: Part of the challenge, when thinking about it as a customer, is you are trying to protect your own company. You go to one of your third-party suppliers and you say, 'Here are my protocols if you want to be my supplier.' For example, with large cloud providers, the vendor typically resists agreeing to the customer's protocols. They say they have their own policies and procedures and can't agree to each customer's specific and tailored procedures. So it becomes a risk point. You may have your own ship in order, but once you are allowing another vessel in, the likelihood of getting them to agree to all of your procedures is going to be difficult. Sometimes you are a big enough company where you can force a particular vendor to agree to your specific protocols, but that is probably not the norm. What typically happens is you need to ask the vendor what are its procedures, protocols and standards, and you need to review those so you understand the gaps between what you require and what the vendor provides. Part 2 Coming Monday. wsj.com

Cybercriminals Mostly Prefer Skype Messaging
But cybercrime gangs worldwide are increasingly using encrypted peer-to-peer chat platforms for their communications outside online underground forums, new study finds.

When cybercriminals take their conversations outside their underground forums, their favorite mode of communication is Skype, according to a study of global cybercriminal operations.

Skype, which does not encrypt messaging end-to-end like some of the newer-generation messaging apps but the researchers theorize that it's because the well-known messaging application now bundled with most Microsoft software is the most readily available and convenient way to communicate.

Cybercriminals around the world also tend to follow and emulate what Russian-speaking cybercrime groups do. Russian-speaking cybercrime is considered the most sophisticated, and Flashpoint noted that there's a large adoption of the nonencrypted ICQ messaging platform around the world. ICQ traditionally has been heavily used by Russian cybercriminals, although Skype has bumped it from the number one slot in those groups. darkreading.com

Users Overshare Sensitive Enterprise Data
Survey finds nearly half of the employees trained to protect sensitive data engage in risky security practices.

When it comes to keeping confidential data locked down, it turns out that even employees trained in cybersecurity best practices still don't always know how to protect sensitive information, according to the Dell End-User Security Survey 2017 released today.

While employees don't want their companies to fall victim to a security breach, they also prefer to avoid security policies that limit their workplace productivity and daily activities, the survey found. darkreading.com

UPS uses beacons to quell shipping errors
UPS is taking steps to improve order accuracy. A new program called Preload Smart Scan notifies workers if they have placed an item in the wrong delivery vehicle. Historically, these snafus forced drivers to travel miles out of their way to correct the mistakes. UPS beacons will be in 301 U.S. locations this year, reaching a total of 28% of U.S. facilities, and 47% of U.S. package cars. chainstoreage.com