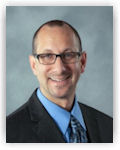 Kevin Morrison, CFI, LPC named Director of Loss Prevention for Helzberg Diamonds
Kevin was previously the Director of Field Investigations for Lowe's and had held several leadership and senior level positions for the retailer since 2001, including Director of Corporate Investigations, Director of Fraud & ORC, Manager Corporate Investigations and ORC and Manager of LP Operations. He also worked in the assets protection department at Target. Kevin earned his Bachelor of Science degree in Security and Loss Prevention from Eastern Kentucky University. Congratulations Kevin!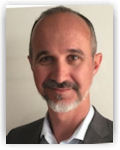 Rui Rodrigues named National Director, Asset Protection for Holt Renfrow
Rui was previously the Senior Director of Operations for ASAP Secured Inc. since last July. He's also held a variety of senior level leadership positions for Canadian retailers in their loss prevention departments including National Director of Loss Prevention for Staples, Senior National Manager of Loss Prevention for Best Buy Canada and National Loss Prevention Manager for ICI Canada Inc. He's also been the District LP Manager for Future Shop and a Regional Special Projects Manager for Hudson's Bay Company. Congratulations Rui!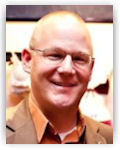 Brian Quast, CFI named National Manager Loss Prevention for Ace Hardware
Brian previously held the position of National Manager Asset and Profit Protection Learning and Development for Sears Holdings Corporation for over a year before taking this new role. Brian has held other loss prevention and investigations managerial roles such as Regional LP Manager for L Brands, Division Manager Internal Investigations for Saks Inc., and Regional Investigations Manager for Carson Pirie Scott. Congratulations Brian!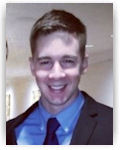 Kyle Mellusi promoted to Manager - Fraud Analysis & Investigations for The Children's Place
Kyle was previously the Associate Manager Systems & Investigations for the retailer and has been a part of their team since 2013, when he started as a Security Coordinator. Just a year later, he was promoted to Fraud Analyst. Kyle earned his Bachelor of Arts degree in Criminal Justice with a concentration in Psychology from Kean University. Congratulations Kyle!


Chris Roberts from Walmart Stores named POS Sales Executive for Digital Safety

Chris brings over 10 years experience from Walmart and was the Sr. Project Manager on the Walmart team that implemented the PoSA solution into Walmart POS terminals at all Walmart Stores. Chris understands the process to get additional retailers engaged in the PoSA solution, how to integrate into POS and gain internal buy-in.

Point-of-Sale Activation (PoSA) is defined as a new digital solution that allows Products to be digitally locked during the manufacturing process, and the products remained locked while in the supply chain and on store shelves. The unique activation code is revealed at the Point-of-Sale (POS) after payment and printed onto the consumer's receipt. During first use, the consumer will use the one-time activation code to unlock the product. The PoSA solution also protects against return fraud as all transactions are data-warehoused and DiSa instantly tells the retailer during return if the unit was rightfully purchased or not purchased - complete product protection.

Chris will be tasked with implementing additional retailers into the PoSA process and assisting retailers in project management. Congratulations Chris!

ISCPO Executive Roundtable Interview Series: Aaron Henderson - Part Three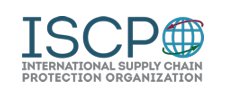 As part of our Executive Roundtable Interview Series, we recently sat down with industry thought-leader Aaron Henderson to get his point of view on the challenges, trends, and developments facing the LP / AP industry. We had the privilege to have Aaron on the ISCPO Exploratory Board, where he helped to shape our organization and drive best practices across the supply chain. Aaron is presently Director Loss Prevention at Penske Logistics & Brigade Command Sergeant Major (CSM)/MP Retired.

ISCPO: How has the industry evolved since you started out?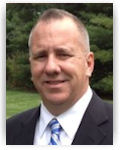 When I first started out, most people, including myself, started on the retail side of the business. Reacting to retail theft was the main part of my job but I quickly got exposed to supply chain management, taking on added responsibilities regarding safety and protection - from developing standards that secure cargo/distribution and maintaining supply chain protection, to dealing with employee safety and workplace violence. Companies now recognize the importance of maintaining security and protection processes, both internally and externally as it affects all areas of the organization.Two areas that I've seen change immensely are:

TECHNOLOGY - Everyone will tell you that tech continues to grow and evolve over time; something new today is outdated in 12 months or sooner with the next best thing. For example, monitoring has come a long way. VHS tape analog cameras evolved into digital video recorders and now CCTV cameras have the capability to record digital footage thru IP so we can look at an area via a mobile device in real-time, anywhere. Biometrics is starting to become standard process with swipe cards being replaced with thumbprint technology, which cuts down on fraud or enables a lock down in an instant.

The big challenge is balancing ROI and staying up to date. I've found that it helps to look at technology from an organizational standpoint and how it can improve processes within other areas of the business. For example, a camera system obviously is a must-have from a security standpoint; but, it also can be used by marketing to analyze end-consumer foot traffic or by management to monitor staff productivity or safety.

C-SUITE SUPPORT - Another area I've seen a shift is at the C-Suite level. I have seen over the years that the C-Suite now understands the value that a LP /AP team brings to the table. Security touches so many aspects of the business today that we didn't see 10 to 15 years ago. A dedicated LP/AP team can save a company money in the long run. And, leaders are taking external factors very seriously. For example, protection of staff is a priority. There need to be programs in place for every contingency such as active shooter protocols or dealing with situations within the community, like protests, that can disrupt your supply chain. iscpo.org

Brooklyn CVS LP Agent Accused of Sexually Assaulting Several Women: Police Sources
A LP agent at a Brooklyn CVS used his position to sexually assault women, police say.

Jose Ramos, 29 is accused of confronting a woman he suspected of shoplifting on March 15 and ordering her to a back office. Once inside, he allegedly coerced her to let him take nude photos of her and touch her genitals so he wouldn't call police.

Ramos allegedly made the woman sign a document that said "if she went to police about the incident, he could sue her and have her arrested," a law enforcement source said.

The woman filed a police report the next day, prompting an investigation.

The suspect turned himself into Brooklyn Special Victims detectives Monday and allegedly admitted to the incident.
After the interrogation, investigators found three additional written statements by women who were also coerced by Ramos.

investigators were searching for information about the women late Monday, sources said.

Ramos is charged with forcible touching, coercion and sex abuse and is expected to be arraigned in criminal court on Tuesday.

CVS released the following statement:

"The alleged actions of Mr. Ramos are a gross violation of our policies and wholly contrary to our values. CVS Pharmacy sincerely apologizes to the victims in this matter and we are cooperating fully with NYPD's Special Victims Division in their investigation.

We have stringent policies and procedures to ensure that suspected shoplifters are treated lawfully and with respect. Employees are not permitted to detain suspects unless they are accompanied by another colleague of the same gender as the suspect.

"Mr. Ramos has been suspended from his employment at CVS Pharmacy and is prohibited from our premises while this matter is being investigated." pix11.com

Counterfeit market could reach $2.3 to $4 trillion
The global economic value of counterfeiting and piracy could reach US$2.3 trillion by 2022, with China remaining the biggest source of counterfeit products such as alcohol, according to a new report. The International Trademark Association (INTA) and the International Chamber of Commerce commissioned the International Hologram Manufacturers Association (IHMA) to compile the report, which claims the "wider social, investment and criminal enforcement costs could push the figure even higher", taking the total to more than US$4 trillion with millions of legitimate jobs "at risk". IHMA states that the "rapid globalisation of trade" has spurred the counterfeit market, in addition to "industrialisation, advanced printing and reproduction technologies, the impact of the internet, vulnerable supply chains, consumer power, weak or ineffectual regional law enforcement and lenient criminal penalties". thespiritsbusiness.com

MillerCoors Secretary Seeks Probation For $8.6M Kick Back Scheme
A fraudulent secretary who pled guilty to her role in an $8.6 million scheme to help a former MillerCoors LLC executive submit phony invoices for nonexistent beer marketing events asked an Illinois federal judge on Friday for a sentence of probation, saying she faces extenuating circumstances.

The scheme resulted in 200 false bills coming from 15 fraudulent vendors over a five-year period ending in 2013, according to Colletti's plea agreement. In total, MillerCoors paid out $8,658,302.

Rozenberg was MillerCoors Vice President David Colletti's longtime secretary at MillerCoors until 2008, when the two hatched a plan to fraudulently bill the beer maker for events, according to prosecutors. Through that company, Rozenberg was paid more than $95,000.

The 59-year-old has completely cooperated, testified, paid restitution, is virtually destitute and has recently suffered great personal losses, the death of her son and divorce. The prosecutors are seeking 15 to 21 months. law360.com

Feds Want 9 Years For Head Of Counterfeit 5-Hour Energy Plot
A wholesale distribution company owner who pled guilty to running a scheme to sell counterfeit 5-Hour Energy drinks should serve nine years in prison and pay more than half a million dollars in restitution to the drink's maker, Innovation Ventures LLC, California federal prosecutors said.

Prosecutors indicted 10 people in the scheme in 2015, including Jamil and other Midwest owners and principals Raid Jamil and Justin Shayota. Innovation Ventures also sued, winning $20 million from Midwest and two other companies. law360.com

Retailers pushed for more disclosure on supply chains as Bangladesh garment factory disaster anniversary nears
Toronto-based labour rights group Maquila Solidarity Network was one of many authors of a report last Thursday that looked at 72 major retailers from around their world, to see what improvements they have made in both improving their supply chains and disclosing as much as they can about it.

The report, Follow The Thread, found that 17 major clothiers had agreed to sign the group's "transparency pledge" to disclose information identifying the factories that produce their goods, along with other information such as the number of workers and list of products. And many more have made improvements in recent years, even if they fell short of formally signing the pledge but more work is needed, a major report says.

The pledge makes it easier for watchdogs to follow up and monitor conditions on the ground in places like Dhaka, Bangladesh, the site of the Rana Plaza factory that collapsed on April 24, 2013, killing more than 1,100 workers. cbc.ca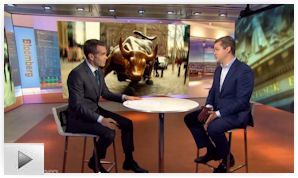 Retail's A Mess - A Forever Trend
50 Retailers Could Go Bankrupt This Year
Here's the deepest look at the retail industry we've seen yet - A must watch video

What we're going through is not cyclical it's a "forever" - the Amazon effect. In twenty years are the kids of today going to be shopping more or less online? What's your answer. bloomberg.com


U.S. On Pace to Close More Stores Than in 2008 Great Recession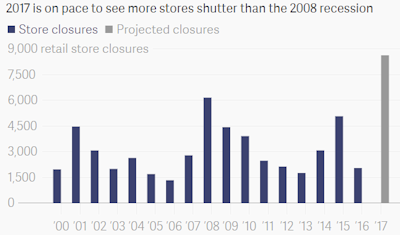 "Payless Sucks"
Retailers Face Growing Hostility From Suppliers
When a group of disgruntled shoe manufacturers assembled in China earlier this year, they put up signs with messages in English, hoping they would be seen by Americans 7,000 miles away: "Payless Sucks."

The footwear suppliers had lost patience with the soon-to-be-bankrupt Payless Inc. chain, which they said owed them hundreds of millions of dollars. In frustration, they held the meeting to assess their options: enlist the Chinese government to push for payment, try to block shipments from Payless's Xiamen warehouse to the U.S., or sue Payless in American courts.

Hostility between vendors and the ailing U.S. retail industry is growing more broadly. Suppliers are becoming increasingly concerned they won't be paid for the goods they ship, and they're taking more aggressive steps to protect themselves. "Vendors are getting extraordinarily nervous."

Strained relations with vendors also can hurt companies trying to bounce back from a bankruptcy. Supplier networks aren't easily rebuilt and are "the lifeblood of the company and its future." Empty shelves mean fewer sales, turning an attempt to revive a bankrupt company into a liquidation.

Struggling companies often suspend or delay payments to their vendors as a quick way to conserve cash. But vendors' wariness creates a painful cycle, and may continue to push retailers into Chapter 11, Hart said.

Retail suppliers are stuck between a rock and a hard place as they can neither afford to accept mounting debt due to missed payments from their buyers, nor to cut off a relationship with a years- or decades-long partner. Such is the difficulty of dependency and relationship businesses; but trust and faith can only go so far.

"Lack of faith -- and canceled shipments -- from vendors and factors has precipitated numerous retail bankruptcies."

The future remains uncertain, but past lessons are clear for retail suppliers: A new age of risk has arrived, requiring a different approach to the terms of business. bloomberg.com retaildive.com

Canada's LP Senior Job Market is Hot
With three of the biggest opened in the last month alone
Canadian Tire just took their senior LP job off their website job board, now we have Toys R Us and Shoppers both looking for top LP leaders. It's a rarity to see such activity. The Shoppers job is one of the best in Canada quite frankly.

Director, Loss Prevention, Shoppers Drug Mart Company Location Toronto, CA
Reporting directly to the Vice President of National Operations, the incumbent develops, directs and implements all loss prevention initiatives nationally to protect all company assets while complying with corporate standards, policies and procedures. The incumbent directs, guides and monitors all loss prevention personnel across the country and is responsible for achieving national total loss goals, managing to the national outside and inside security budgets and managing the national loss prevention capex budgets. The role will lead best practices in loss prevention, work with internal and external stakeholders to lead and implement new solutions to minimize loss.

Canada's number one drug store chain owned by Loblaw Companies Limited. Shoppers Drug is a national network of more than 1,200 Shoppers Drug Mart/Pharmaprix stores across Canada. shoppersdrugmart.ca

J. Crew Reorganizes cuts 250 jobs primarily at HQ

Albertsons Considering Whole Foods Market Buy

Bankrupt RadioShack Gets OK To Pay Up To $3.4M In Bonuses

Sears Holdings to close 92 'underperforming' Kmart pharmacies

J.C. Penney to open 70 more Sephora Stores & Expand 32 More - 650 Total

Sportsman's Warehouse Bidding On Gander Mountain


Quarterly Same Store Sales Results
McDonald's Q1 U.S. comp's up 1.7%, Globally comp's up 4%, revenue down 3.9% (sold company stores)
Canada's Metro Grocery stores Q2 comp's up 0.3%, sales up 0.7%
Brinker International Q3 Chili's company stores comp's down 2.3%, Maggiano's comp's down 1.6%, sales down 1.7%
Rite Aid Q4 comp's down 3%, front-end down 0.3%, pharmacy down 4.3%, revenue up 3.3%
Rite Aid Full yr. comp's down 2.2%, front-end down 0.2%, pharmacy down 3.2%, revenue up 6.9%
SUPERVALU Q4 comp's down 5.8%, net sales up 0.6%

Labor Crisis Forces First Ever Country Wide Roll-Out of RFID
7-Eleven Japan & Japanese Rivals Join Forces on Rolling Out RFID
The nation's employee shortage is now too acute to waste pricey labor on routine tasks -- like scanning low-value merchandise -- that have proven frustratingly expensive to automate. Forcing the entire c-store industry to join forces to introduce RFID, precluding the need for manual bar-code scanning. Nikkei reported last week, adding that by 2025 all Japanese convenience stores would have fully automated checkouts.

RFID tags are already widely used by retailers in anti-shoplifting devices. Turning them into price tags would enable customers to walk out of stores without having to scan items at checkout counters. Exit gates would open when mobile or card payments have been received. It's rumored that the drug stores and supermarkets may follow suit.

Needing a checkout clerk to sell a soda at 7-Eleven is just too expensive a luxury -- both for Japanese society and for shareholders of Seven & i. bloomberg.com

Appearing This Week: The Five Profiles on the Insider Threat
Profiling The Insider Threat - Breaking Down a Complex Security Term - Part Two
From a disgruntled employee looking to destroy IP, or an opportunist looking to make money by selling data, all the way to a security-naïve worker that might unwittingly let criminals into your network without knowing it, there are dozens of factors that can influence the kind of insider threat you may well face.

Understanding the threat is one of the most difficult parts of managing and mitigating the risk, so I've identified five insider threat profiles to show the complexity of the problem.

Sandra the spy

Sandra is just not making enough money in her current job. Confiding in some friends one night in the pub, Sandra is approached by a competitor, who offers her a substantial reward if she can obtain some crucial data about the project that she is about to launch. One night, she downloads the necessary data onto a memory stick, goes back to the pub, and delivers the data to the competitor.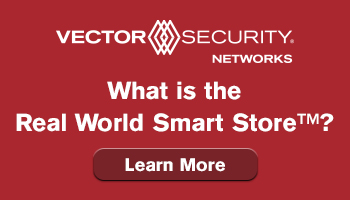 Employees not being happy with the money that they are making is a fact of working life. All it takes is a competitor with fewer morals to offer them a deal that is impossible to resist - or in some scenarios, to plant the spy at a much earlier date within your organization.

Corporate espionage is not an easy thing to detect; the whole point of a spy is to remain under the radar. In order to uncover this kind of behavior, you'll need technical controls - the more advanced the better. Endpoint monitoring means that if a user connects a USB drive to the network, you will know about it and be able to determine the data which has been removed or copied. Most of these solutions will include some sort of USB prevention.

Depending on your line of work, Sandra's actions could be a policy violation, criminal misconduct or even treason (in the case of government officials). Therefore, you'll need robust cybersecurity to be in place, human resources to gather information and run proceedings, and may even need a legal team and law enforcement on standby. If industrial espionage has indeed taken place, forensic analysis of the systems could provide vital information as to what exactly has happened.

Part Three Tomorrow: Careless Caroline infosecurity-magazine.com

Kill Chain & the Internet of Things
IoT "things" such as security cameras, smart thermostats and wearables are particularly easy targets for kill chain intruders, but a layered approach to security can help thwart an attack.

The "kill chain" originated from the military, but computer scientists at Lockheed-Martin Corporation were the first to use this term in the field of cybersecurity, lays out the stages of a cyber-attack, starting from early reconnaissance to completion of the attack with the goal of data theft and enabling more attacks. These stages are:

1. Reconnaissance - The intruder selects its target device, researches it, and searches for vulnerabilities

2. Weaponization - Intruder uses a remote access malware weapon, such as a virus or worm, addressing a vulnerability

3. Delivery - Intruder transmits weapon to the target device, whether through e-mail attachments, websites, USB drives, etc.

4. Exploitation - Malware weapons program code to triggers the attack. This then takes action on target network to exploit vulnerability.

5. Installation - Malware weapon installs access points for the intruder to use.

6. Command and Control - Malware then enables intruder to have "hands on the keyboard" persistent access to the target network, also enabling future attacks.

IoT devices, particularly items like security cameras, smart thermostats, wearables, and even coffee makers, are easy targets for kill chain intruders. They often have little or no security system, making step #2 of the kill chain rather easy.

Don't Break the Kill Chain! Prevent it

The best way to prevent a kill chain from infiltrating enterprise IoT security is to invest in a layered approach. There are four steps to this approach:

1. Assessment: Start with a network discovery process of all the existing IoT devices, including managed and partially managed devices.

2. Segmentation: IoT devices should not be in the same network segment as other devices, or within reach of the organization's mission critical systems and data. Deploy firewalls between these segments to prevent "things" from reaching the "crown jewels" of your network.

3. Detection: Regularly analyze your network behavior to detect every IoT device which joins the network, and carefully examine if it behaves similarly to other typical devices. A compromised device or a fake device might look the same but behave differently.

4. Response: Because manual alerts can take hours or even days to process, the best practice should involve some type of backup plan that will block or limit the access of a specific device within seconds.
This layered approach is designed to both prevent the likelihood of a kill chain attack, and also to break a live attack if one does occur. darkreading.com

The Road Less Traveled: Building a Career in Cyberthreat Intelligence
It's hard to become a threat intelligence pro, but there are three primary ways of going about it.

The cybersecurity skills shortage is nothing new, and as the demand for cybersecurity experts continues to grow - an expected 53% through 2018, according to the Bureau of Labor Statistics - organizations and government entities will continue to fall victim to large-scale breaches. Although the need for these experts is clear, a defined career road map for information security experts is not.

Thinking about a new career but staying in security? You might want to read this one. darkreading.com

Fla. House Bill Adds Bitcoin To Anti-Money Laundering Law