Baltimore police hand report on Gray death to prosecutor - When will they release findings?
Baltimore police have completed their investigation into the death of Freddie Gray and turned over their findings to prosecutors - one day earlier than the department's self-imposed deadline, the commissioner said Thursday morning. Authorities have said the state's attorney's office will review the information, consider charges and decide how to move forward.
Editor's Note: When the results are made public a response will come. Let's keep them all safe out there.
yahoo.com
Hundreds rally last night - 60 arrested - in Manhattan's Union Square protesting death of Freddie Gray
Several hundred protesters began gathering in Manhattan's Union Square Wednesday night, chanting "no justice, no peace" and "hands up, don't shoot" as police officers watched. Later, a group of protesters spilled into the street disrupting traffic. The police moved in and began making arrests. Officers with batons had to push the crowd back onto the sidewalk. Another group of protesters marched north to Times Square where they held a "die in" by lying on the ground.
crainsnewyork.com
Empty Streets New Threat to Businesses in Baltimore - retail is getting killed with 1 week curfew
For many local business owners, the worst hit from this week's unrest is still to come. For restaurants, bars, taxicabs and others that rely on nighttime customers, it is a potential economic disaster. "Thursday, Friday, Saturday; those are the nights when we're usually the busiest." This is hitting during the worst month of the year," he said, citing annual April scourges like taxes, license renewals and city inspections.
nytimes.com
Baltimore Riots and Corporate Risk
Civil unrest in your city absolutely needs to be on your agenda in terms of risks to consider. The possibility that protests might spread contagiously from city to city means that no company can ignore the risk, even if its operations not located in the area most directly affected now. "You can't assume that if you are in a smaller town or less than a larger city you are somehow immune to the potential for this." Businesses need to plan how they will protect their employees and their businesses if they find themselves in the eye of a storm. They should keep in mind that business interruption and loss of sales as customers subsequently avoid areas they may consider unsafe are likelier to have greater impacts than direct physical damage, she said.
Reputation risk also rises when civil unrest strikes
, and companies need to consider afresh how actions taken in the normal course of business might affect all stakeholders, and how they might be perceived.
"It can't be business as usual now,"
she said.
wsj.com
Wal-Mart opens doors to its emergency operation center
The Walmart Emergency Operations Center is located deep inside their home office in Bentonville, Arkansas. The EOC has its origins in the company's response following the terrorist attacks of September 11, 2001. Over the years it has been activated for numerous disasters, some natural and some man-made.
EOC Senior Manager, Lucas McDonald is a trained meteorologist so he is keenly aware of what Mother Nature can dish-out. "We bring together resources here to make sure we have the proper response for our associates, operations and communities," says McDonald.
Walmart was widely praised for their response to Hurricane Katrina in 2005 which included coordinating and distributing 1500 truckloads of free merchandise and food.
Before, during and after an event, the EOC not only coordinates with their local stores. They also monitor social media very closely to see what their customers are talking about the things they may want or need. Based on what they see, they can make quick adjustments to what products they ship into a disaster zone.
fox2now.com
DOJ Releases Cybersecurity Guidance for Breach Victims
The U.S. Department of Justice, as part of a broader roll out of its engagement with the corporate sector on cyber issues, released guidance containing what it sees as best practice for victims - and potential victims - of data breaches. U.S. officials have spent recent days fanning across the country to try and get the private sector to report more about the cyberattacks they face. The 15-page document, which top U.S. Justice Department officials said would be updated as challenges and solutions change over time, has a step-by-step guide for how to prepare for a potential breach, how to respond during a breach and what to do after a breach occurs. The guidance was drafted for smaller organizations that may not have the resources to invest in cybersecurity, but its lessons are also useful for large organizations, the document said. It drew upon departmental experience investigating cybercrime, as well as input from the private sector as it handled cyber incidents, the document said.
wsj.com
C-level technology executives would and should be the ones held responsible for data breaches
The question of corporate liability has been front and center. It turns out that many security-industry folks believe that C-level technology executives would and should be the ones held responsible for compromises, new research has revealed. According to a survey by Tripwire of 250 attendees at RSA Conference USA 2015 and BSidesSF 2015 in San Francisco last week, technology leaders within firms are the ones who should be on the hook for security, in spite of pervasive vulnerabilities being present on many fronts that are leading to devastating cyber-attacks across a broad range of industries.
infosecurity-magazine.com
What Walmart Learned From the Target Data Breach
Walmart CIO Karenann Terrell offers provocative comments about retail security and what the Target data breach taught the industry. "What Target taught the entire industry was that you can't have any single point of failure," Terrell said. The ability to protect against every single potential breach vector is zero; that's why layered security with a hard, crusty exterior protection layer is needed on each individual component, including infrastructure, data and applications, Terrell said. As part of a layered approach to security, analytics and data that tracks what is happening on a network from a threat-vector perspective is needed, she said, adding that it's also important to watch the movement of data across an organization to see what happens. "What we learned is we have to have white-hat testing capability on staff for continual testing," Terrell said.
In the post-Target breach era, Terrell has also focused on
the malicious insider threat, which she sees as a real threat
(though the Target breach was not caused by a malicious insider).
Malicious insiders are extremely difficult to identify today, and that's where data analytics can play a big role,
she said.
eweek.com
U.S. won't adopt chip and PIN until 2020
While most observers agree there will not be widespread adoption of technology to accept payments from EMV-compliant payment cards in the U.S. by the October 2015 fraud liability shift deadline, Forrester Research is less optimistic than most. In a research note, Forrester said retailer concerns about the ROI of spending on chip and PIN technology, as well the development of new secure payment methods, will delay
widespread adoption of hardware and software needed to accept chip and PIN payment in the U.S., until 2020.
chainstoreage.com
Dollar Financial, Money Mart stores, eliminates Vice President LP position after merger with Lone Star Capital
Dollar Financial which operates Money Mart stores in North America was purchased by Lone Star Capital six months ago and they recently eliminated the VP of LP position at Dollar Financial. With over 800 locations Lone Star has a North American LP Director and a U.S. LP Director along with regional LPM's scattered across North America. Editor's Note:
Mergers virtually always means job cuts.
Regretfully our industry loses a vice president level position and the executive who had been with them for 18 years now finds himself looking for his next opportunity in a tight market.
PetSmart Digs Up $3.8M To End Worker OT Collective Action
PetSmart Inc. has agreed to pay $3.8 million to end a collective action alleging the retail chain misclassified operations managers as exempt from the Fair Labor Standards Act's overtime requirements, according to a Wednesday filing in Delaware federal court. The money would be distributed to more than 330 operations managers nationwide who opted in to the suit.
law360.com
Tommy Bahama selected March Networks' retail solution to gain faster, more robust loss prevention capabilities
And to improve recovery and apprehension rates with higher-quality video evidence and better safeguard customers and employees at 130 stores worldwide.
magnetmail.net
Smartvue gets $15m for IoTV play - Internet of Things already impacting cloud video surveillance providers
Cloud video surveillance provider Smartvue announced this week that it secured $15 million in financing from Fortress Investment Group, a $67 billion firm. Fortress likes Smartvue's vision of being "a major cloud platform in the video surveillance services business," Renkis said. "[Fortress] saw what we saw, which is that [the Internet of Things] is going to be gigantic and
someone is going to be the leader driving video surveillance services using the cloud,"
he said. Renkis and others believe that many of the "things" that will be connected to the Internet-cars and televisions for example-will have cameras or will "be video-enabled somehow."
securitysystemsnews.com
Retailers Are Spending Big on New Businesses to Spur Growth - If you want to know where retail is going this is the article - It may not be the answer but it shows that the nation's CEO's are grappling with - Who are we tomorrow?
Mall traffic is down, online sales are taking market share and shoppers are more interested in the latest gadget than the latest look. The result? Retailers are no longer relying just on organic growth. They're getting out their checkbooks and plunking down hundreds of millions of dollars to buy new businesses and quickly learn new skills or gain footholds in new areas. "It's all about supercharging the access to the consumer," Singer said.
"You'll probably see some department stores trying to go own these specialty chains. You could see big acquisitions between the likes of the big specialty stores and the major [department store] retailers
because they can complement each other, not only with their infrastructure and their cross-channel base, but also their customer base. There's a lot of opportunity to this." Editor's Note: This one article, too long to publish here, is well worth the read for the true retailer as it shows how the retailers are looking for non-traditional answers, deals, and other companies to grow their businesses. And it includes all the big names trying to reinvent themselves as quickly as possible.
wwd.com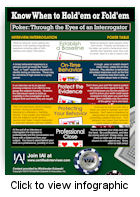 RILA Conference 2015: IAI Teaches Interviewers How to Win at Poker
The International Association of Interviewers (IAI) teaches interviewers how to win at poker with a free infographic at this year's Retail Asset Protection conference, May 3-6, hosted by the Retail Industry Leaders Association (RILA). The infographic, "Know When to Hold'em or Fold'em," shows how interview experts can take their expertise in interviewing and apply it to reading the behavior of opponents sitting around the poker table. IAI has teamed up with valuable partners at the RILA conference in Orlando to help its members achieve professional success. "Dynamic industry leaders form an elite group that currently participate in our sponsorship program," says IAI Executive Director Wayne Hoover, CFI.
Visit IAI sponsor booths for a free infographic
on using interviewing skills in poker as well as the chance to win CFI scholarships, Elite Training Day registrations and IAI memberships
(Checkview, an Iverify company, booth 505 - InstaKey, booth 130 - LP Innovations (LPI), booth 524 - General Dynamics Information Technology (GDIT), booth 317 - Security Resources, booth 527).
d-ddaily.com
Kroger to build 11 new stores, 16 gas stations, training center in Indiana
20% of Millennials prefer not to interact with cashiers during checkout
J.C. Penney expands Sephora - 25 new stores inside Penney - 500 full-service stores now
Big 5 Sporting Goods plans 10 new stores
Rite Aid April same store sales up 3% with total sales up 2.4%
Loblaws, Canada's first major retailer to install automatic external defibrillators in stores -
It's already saved one life! How about your retailer?