CONNECT with Law Enforcement & Restaurant Practitioners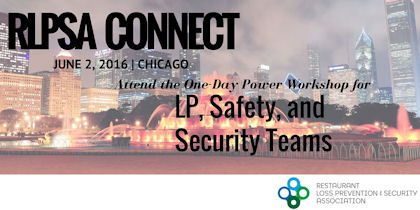 RLPSA CONNECT is a one-day power workshop on June 2nd for LP, Security & Safety teams focused on crime activity against Quick Service Restaurants (QSR), casual dining restaurants and other food service providers. RLPSA CONNECT Chicago is a FREE event for our RLPSA members.

Attend RLPSA's FREE one-day workshop June 2 using this code: RLPSAdaily. Check out the list of speakers and value-packed agenda covering labor, crime, terrorism and more here: http://www.rlpsaannualconference.com/rlpsa-connect/
Seating is limited, register today.

Limited seating (75 available seats) so register today by emailing your name, title, company and email address to Executive Director, Amber Bradley, at amber.bradley@rlpsa.com.

Twelve Senior LP jobs eliminated in eleven months
With Barnes & Noble eliminating two senior LP roles yesterday, with one remaining, that makes it twelve in the last eleven months. One a month regretfully.

This includes Saks Fifth Ave, Vitamin Shoppe, Talbot's, three Divisional Directors at Lowe's, one Director at 7-Eleven, one Director position at Compass Group, The Bon Ton, Cracker Barrel, and now two at Barnes & Noble.

Priceline Proves Value of Anonymous Employee Hot Line
President Loses $13 million From Tip Line Call
The news last week that Priceline Group Inc. Chief Executive Darren Huston was forced to resign after an internal company investigation instigated by a whistleblower tip showed he was having an improper sexual relationship with an employee proves the value of companies having ways for workers to report unethical behavior in an anonymous way, said an executive at a company that provides such hotlines to businesses. Mr. Huston, a married man, won't receive any severance payments and agreed to forfeit $13 million in equity awards as part of his dismissal.

An anonymous hotline, as far as we're concerned, is the epitome of best practices for protecting a company against fraud," said Kenneth H. Springer, executive vice president of Corporate Resolutions. "It sets the tone for the [company] culture; if something is going on, employees are encouraged to say something. Anonymity is the key."

Companies with hotlines or other anonymous ways of reporting potential bad behavior, such as online portals, are much more likely to detect fraud through employee tips (47.3%) versus those that don't have these reporting mechanisms (28.2%), according to a survey earlier this year from the Association of Certified Fraud Examiners.

Related story last week and the Daily's #1 article last week - Priceline C.E.O. Resigns Over Relationship With Employee wsj.com

AlliedBarton Security Services and Universal Services of America to Merge to Create Leading Security Company in North America
Named AlliedUniversal, Will Provide Localized Response & National Support With Approx. 140,000 Security Officers
CONSHOHOCKEN, PA and SANTA ANA, CA--(Marketwired - May 3, 2016) - AlliedBarton Security Services and Universal Services of America today announced that they have agreed to merge, creating the leading security company in North America.

The combined company, which will operate under the AlliedUniversal brand following the close of the transaction, will offer its clients localized response and national support with industry-leading technology solutions and approximately 140,000 highly-trained officers. It is expected to have total annual revenues of approximately $4.5 billion. The transaction is expected to close in the third quarter of 2016, subject to customary regulatory approvals. marketwired.com

E-commerce is Chipping Away at Brick and Mortar Sales
Earnings has declined by up to 25% due to shift from in-store to online sales
The finding was revealed today as part of Karabus' latest retail industry study, which found that operating earnings as a percent of sales has declined by up to 25% due to a shift from in-store to online sales, combined with e-commerce and omni-channel investments and the high cost of fulfilling e-commerce transactions.

"Retailers haven't yet figured out how to grow and maintain brick and mortar profitability while trying to keep up with the likes of Amazon in today's increasingly digital environment." businesswire.com

New Metrics for a New Retail Industry
Thought Leader Says Same Store Sales # is Old School
Lets Go Omni With Our Numbers Too
Sales and sales growth have been and will remain key metrics in retail, but only within a context of cash flow and market capitalization. And, not entirely surprising, it might be time to cut same store sales loose as a key performance metric. You get what you measure, and attributing sales to particular channels only drives channel conflict. It also has nothing to do with an omnichannel shopper experience.

Sales-per-shopper is the most salient selling metric, and it's available across all channels. Plus, while average transaction value (ATV) is still useful, sales per customer across all channels is more reflective of omnichannel effectiveness.

Other key operational metrics include customer acquisition costs and lifetime customer value calculations, and shopper experience requires analysis into shopper engagement and shoppers' transitions through their often widely varying purchase cycles. It's about brand awareness, recognition, retention and loyalty. And, for retailers, it's about maximizing each and every opportunity to connect with, interact, listen and engage.

Editor's Note: The customer who's been shopping at your local store buys online - and store doesn't get credit. But didn't they help develop that customer and aren't they your bill board. If we're truly moving to an Omni experience and influence then its time to rethink our metrics. After all having the stores separate from online only facilitates an internal us them culture. therobinreport.com

Measurement Must Change As Retail Change Continues
In today's e-commerce, services-driven retail environment, sales per square foot simply isn't a relevant metric anymore. Editor's Note: Two articles on this in one day means there's a move afoot and the "C's" must be looking at it. wsj.com

Protecting employees against workplace violence
How can employees protect themselves, particularly in situations where the perpetrator is another employee? The OSHA suggests that employees learn how to recognize, avoid, or diffuse potentially violent situations by attending personal safety training programs. Supervisors should also be alerted to any concerns about safety or security and report all incidents immediately in writing. If the employer does not respond to a complaint, the employee should document and log all incidents and threats of workplace violence.

Victims have the right to come forward and report incidents of harassment or abuse. Unfortunately, many victims may choose to remain silent in order not to "rock the boat" or because of fear that the perpetrator will retaliate and they would lose their jobs. oshatoday.com

Aeropostale Preparing to File for Bankruptcy This Week
Plans to close more than 100 stores
New York-based Aéropostale plans to seek chapter 11 protection in the next few days before May rent payments are due, the people said. The retailer would close more than 100 of its roughly 800 stores soon after filing and potentially more later, the people said.

Clothing manufacturer MGF Sourcing started demanding payment upfront for merchandise, and is owned by Aéropostale lender Sycamore Partners, a private-equity firm that focuses on retail and consumer investments. Aeropostale signed a loan deal with Sycamore for $150M in 2014. Sycamore owns Talbots, Belk, Dollar Express (which is looking for their first Dir. of LP positon), Hot Topic, and a number of others.

Some 55% of U.S. retailers that filed for bankruptcy since 2005 ended up going out of business, versus 5% in other industries, according to an October study by consulting firm AlixPartners LLP. wsj.com

Catching a Flight? Budget Hours, Not Minutes, for Security This Summer
Public Service Announcement
Security lines at airports are getting longer - much longer - and wait times could reach epidemic levels when air travel peaks this summer, according to airlines, airports and federal officials.

A combination of fewer Transportation Security Administration screeners, tighter budgets, new checkpoint procedures and growing numbers of passengers is already creating a mess at airports around the country. While federal security officials say they are hiring and training hundreds of additional screening officers, matters are not expected to improve anytime soon.

"This is going to be a rough summer; there is no doubt about it," said Gary Rasicot, T.S.A.'s chief of operations. nytimes.com

With David Yurman filled, that opens up Gucci - stay tuned

Build-A-Bear Workshop exploring strategic alternatives

Sheetz, 500 convenience stores, to hire 8,000 employees companywide

Party City begins 80 store expansion - in Mexico

Grocer Fairway Group Files For Bankruptcy


Quarterly Same Store Sales Results
Texas Roadhouse Q1 co.-owned comp's up 4.6%, sales up 12%
CVS Health Q1 comp's up 4.2%, pharmacy comp's up 5.5%, front-end comp's up 0.7%, net sales up 18.9 Del Taco Restaurants Q1 comp's up 3.2%, sales up 3.2%
West Marine Q1 comp's up 2.7%, sales up 2.6%, online sales up 31.4% - 11.9% of total sales
Build-A-Bear Q1 comp's up 2.2%, sales up 2.6%