LPNN's Top Episodes of ALL Time Starts Monday
The Countdown Begins - Who Got the Most Views?
Live's 8th Season & Five years of Filming Leaders
Filming literally hundreds of episodes with industry leaders and leading solution providers over the last five years and in our 8th 'Live' season the D&D Daily's video division, the Loss Prevention News Network - LPNN - is proud to release the TOP episodes of all time over the next four weeks.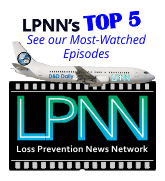 'Top 5' Solution Providers - Week 1

'Top 5' 2016 - Week 2

'Top 5' - 'Live in NYC at NRF Big Show 2017' - Week 3

'TOP 5' of All time - Week 4

Who do you think got the most views?

Take a look at www.lpnn.net - drive some numbers up!

One thing is for sure - It'll show you the Hot Topics and Top Leaders!

LPNN column at the Top of the Daily Throughout the 'Top Series'. So Don't Miss the next four weeks!

Want to get in on this next year?
Let's Film Your Episode at our Upcoming
8th Season of 'Live in D.C. at NRF Protect' event


Ocala, FL: Man charged with plotting to Bomb Target stores in effort
to drive stock price down
A grand jury has charged a Florida man with plotting to set off explosions in Target stores so that he could gain financially from a plunge in the company's stock price. An indictment filed Wednesday in federal court in Ocala charges 49-year-old Mark Barnett with five counts of attempted arson, possession of a destructive device and unlawful possession of a weapon. A criminal complaint says the convicted felon offered a friend $10,000 to place packages of food filled with explosives at Target stores along the East Coast in February. The friend instead went to authorities. Authorities say Barnett hoped to buy Minnesota-based Target stock after the price plunged. Barnett was being held at the Marion County Jail and couldn't be reached for comment. Online court records showed no attorney listed for him. In another recent bomb plot linked to financial gain, German prosecutors say a 28-year-old man schemed to net millions by betting against a prominent soccer team and then bombing the team's bus. The officials said last month that the German-Russian citizen, identified only as Sergej W. in line with German privacy laws, took out a five-figure loan to bet that Borussia Dortmund shares would drop, then bombed the team's bus April 11 when it left the team hotel in an attack he tried to disguise as Islamic terrorism. abcnews.go.com

Three Rulings in One Week on Walmart's Mexico Bribery Case
Wal-Mart CEO Can Be Deposed In Mexico Bribery Case
An Arkansas federal judge rejected Wal-Mart Stores Inc.'s request to prevent its CEO Doug McMillon from being deposed in a securities class action over the company's alleged Mexican bribery scheme, saying in a ruling on Thursday that he is one of a small handful of people with highly relevant information.

The class of investors, which is led the city of Pontiac General Employees' Retirement System, or PGERS, seeks damages from Wal-Mart related to a drop in its stock price that followed a 2012 New York Times report saying the company had turned a blind eye to large-scale bribery at Wal-Mart de Mexico. The plaintiffs have accused Wal-Mart of using sweeping assertions of privilege to encumber discovery, and U.S. District Judge Susan Hickey's ruling marks their second win on evidence issues in one week.

McMillon, who didn't show up at a previous deposition, was the head of Wal-Mart's international division before he became CEO in 2014 and "was one of the highest ranking decision-makers" in the retailer's effort to figure out its response to the Times report, Judge Hickey wrote. She said that Wal-Mart's "general and conclusory assertion" that he did not need to be deposed didn't cut it.

"Given McMillon's direct and personal involvement in the acts and issues in this case, it appears to the court that McMillon has unique knowledge of relevant issues in this litigation that only he can explain," the judge wrote. "There is no basis on which the court can conclude that plaintiff is attempting to harass McMillon or inflate discovery costs."

The decision comes shortly after Wal-Mart was ordered to turn over investigative documents and the plaintiffs were given permission to take another crack at interviewing Ron Halter, a former FBI agent whom the company reportedly turned to for its initial probe into the Mexican bribery scandal.

The Halter decision turned on issues of attorney-client privilege and whether the reports he filed with the company constituted pre-litigation "work product" that is broadly exempt from disclosure, but Judge Hickey's decision on McMillon's deposition turned on the apex doctrine, which is meant to focus discovery on lower level staff with knowledge of a legal dispute and protect busy executives at an organization's highest levels from being dragged into proceedings. law360.com

Mastercard & Visa Say EMV Has NOT Caused Spikes in CNP
Common knowledge was wrong: EMV didn't cause web fraud to spike
Card Brands Defend Signature vs. PIN
"It's true that fraud dollars from CNP are growing, but it's not increasing as a percent of total sales," said Stephanie Ericksen, vice president of risk products at Visa, in a panel discussion at SourceMedia's Card Form this week in Austin.

Melanie Gluck, Mastercard's vice president of mobile and e-commerce, agreed with Visa's conclusion. "We're watching trends closely but we haven't seen many spikes in CNP fraud," she said.

Gluck noted that tools to prevent CNP fraud are rapidly improving, allowing merchants to fight back against any e-commerce fraud they see, regardless of the cause.

"We're seeing the emergence of new tools to prevent online fraud, including 3-D Secure 2.0, due out later this year, and different risk-scoring methods, and these are all going to be very important for merchants using a multilayered approach to preventing fraud," Gluck said.

Visa's Ericksen acknowledged there are "pain points" in the system for all parties, but urged merchants to do more to prevent fraud in all environments.

For example, in the wake of the EMV liability shift, the percent of fraud from "fallback" transactions-where the EMV transaction failed, prompting the merchant to authorize the payment using the magnetic stripe on the card-has gone up, according to Ericksen.

"Fallback fraud is only 2.6% of fraud, but it's rising, and we're advising merchants to be vigilant and watch for gaps where fraudsters are coming into the store and doing (fraudulent) fallback transactions five or six times in a row," she said.

But Mark Horwedel, CEO of the Merchant Advisory Group (MAG), was unconvinced that there was no connection between EMV and online fraud.

"CNP fraud is rising, partly because the (e-commerce) channel has grown but it's also because CNP fraud is the low-hanging fruit for fraudsters," he said. "We've been through a period with a lot of data breaches, and we'll emerge from all this with a less-than-adequate response." paymentssource.com

Credit, Debit card fraud alerts up 15% since 2015
Credit and debit card fraud alerts are up 15% from two years ago, according to a new CreditCards.com report. 31% of U.S. adults have received a fraud alert regarding a credit card and 25% have received one concerning a debit card. Click here for more information: http://www.creditcards.com/credit-card-news/credit-card-fraud-alert-poll.php

37% who have been contacted about potentially fraudulent transactions say all of the transactions were entirely legitimate purchases. Another 15% say most were legitimate. cuinsight.com

Former President George W. Bush set to open 63rd ASIS Conference
as lead Keynote
ASIS International, the world's leading association for security management professionals, has announced its lineup of keynote speakers for its 63rd Seminar and Exhibits to be held September 25-28 at the Kay Bailey Hutchison Convention Center in Dallas, Texas, with former United States President George W. Bush addressing attendees at the event opening. The four-day event, which will draw 22,000 security professionals from across the globe, also features keynotes from Scott Klososky, technology visionary and founder of Future Point of View, and Richard DesLauriers and Ed Davis, lead investigators into the Boston Marathon bombing. President Bush will open the conference on Monday, September 25. The 43rd President of the United States and author of the bestselling memoir Decision Points (2010)-a candid account of the defining decisions in his presidency and personal life-will share insights on his eight years in the White House, his experiences with world leaders, the nature of public leadership and decision making, and his perspective on current domestic and international issues. securityinfowatch.com

Hudson River Cafe - "Once NYPD's Favored Hang Out"
Cafe Owner Cops To $12M Fraud Days Before Trial
Faces Separate Charges with NYPD Top Officials
Former liquor wholesaler and restaurant owner Hamlet Peralta pled guilty to wire fraud Thursday, admitting to taking investor dollars and using the money to renovate his Harlem cafe and repay other investors in what federal prosecutors called a $12 million Ponzi scheme.

Peralta's plea before U.S. District Judge Katherine B. Forrest came four days before he was scheduled to go before a Manhattan federal jury in a trial with ties to two pending corruption cases targeting New York City law enforcement. With charges against NYPD Deputy Chief Michael Harrington and NYPD Deputy Inspector James Grant; and against Norman Seabrook, the former head of the New York City correction officers union.

The defendant admitted to using investor dollars to renovate his Hudson River Cafe, once said to have been a favored NYPD hangout, and to repay earlier investors. As well as for personal expenses, large cash payouts, and payments to investors to keep it going.

As part of his plea agreement, Peralta agreed to make $3.9 million in restitution. He faces a suggested prison term of between 51 and 63 months at his scheduled Sept. 8 sentencing, per his plea agreement. law360.com

Selling Black Market Drugs to Pharmacies Across the Country
Drug Wholesaler Gets 5 Years In $100M Prescription Meds Fraud
A New York federal judge on Thursday sentenced the owner of a wholesale drug distribution company to five years in prison for selling more than $100 million of black-market prescription drugs, for which he earned more than $13 million in just over two years.

Crowell, the owner and operator of Utah-based Green Valley Medical Distributors LLC, had defrauded private insurers as well as Medicaid and other government programs out of hundreds of millions of dollars by purchasing contraband drugs at deeply discounted prices and reselling them to pharmacies across the country as legitimately sourced medications, according to the government. law360.com

Island Nation Responds to Skimming & Credit Card Scams
Cayman Islands Black List Romanians & Bulgarians - Now Need Travel Visas
One legislator Arden McLean called for much tougher action, saying Romanians should be banned from the country as a result of credit card fraud by some of its citizens. "If we see the Romanians are the ones doing it, put them on the prohibited country list. Let them stay over there," he said.

In March 2016, five individuals, three from Romania, one from the U.S., and one from the U.K., pleaded guilty to conspiracy to defraud by using cloned credit cards in ATM machines in the Cayman Islands. In March 2015, three Romanian nationals admitted similar offenses.

Editor's Note: Long known for off-shore bank accounts for U.S. citizens looking to hide money, untouched and untaxed by the U.S. It looks like they've had enough of this worldwide epidemic themselves. caymancompass.com

2,000 MORE Department Store Closings Needed?
Department Store Woes Show No Sign of Letting Up
At the beginning of each semester, Mark Cohen, a professor at Columbia Business School, asks his about 200 students if they shop at department stores.

"Very few raise their hands," said Cohen, a 32-year retail industry veteran and a former executive at retailers from former parent of Macy's to Sears. "They look at me as if I'm nuts."

But it's a different story when it comes to his question about their favorite store.

"I've had students this past year talking about their favorite store being TJ Maxx or Marshalls or Nordstrom Rack or Amazon as opposed to Bloomingdale's, Macy's or Nordstrom," Cohen, who is also the school's Director of Retail Studies, said in an interview. "The outlook is grim for the sector."

In all, the department store group is expected to see a comparable sales drop of 4.5%, one of the worst-performing retail segments, and lose money as a group, according to Retail Metrics. Five of the nine department store companies it tracks -- Penney, Sears as well as Saks and Lord & Taylor parent Hudson's Bay Co. -- are all expected to be in the red.

Despite the struggles in the department store and apparel sectors, consumers are still buying discretionary items, but just at fast fashion retailers or off-price retailers including TJ Maxx and Marshalls parent TJX Cos., Burlington Coat Factory's Burlington Stores and Ross Stores. In fact, all three retailers are expected to post sales gain in contrast to declines at department stores and both adult and teen apparel retailers, Retail Metrics data showed.

While there's not one magical formula to rescue the sector from its troubles, one thing many in the industry agree on is that the store closings announced by Macy's, Sears, Penney and others are not enough. As many as 2,000 stores combined may still need to be closed, Cowen & Co. said in a study released in April, adding Macy's and Penney may need to accelerate their store-closing targets. emarketer.com

Thursday, Macy's CEO Jeff Gennette acknowledged Macy's might not be done closing stores in the near term
"I'm not going to say we're not going to close more stores," Gennette said. "We do have to stabilize our brick-and-mortar business... That's where a majority of our business is still done."

"The contraction puts more pressure on some of our mall-based stores, where we have already seen a slowdown in traffic," Gennette said. "It will take some time to see how [consolidations, closures, and bankruptcies] will impact us."

"We don't have our head in the sand, as for the significant challenges we face in trying to get the business growing again," Gennette said. "These challenges are secular and not cyclical." aol.com

This Keeps Walmart Up At Nights
Aldi raises stakes in U.S. price war with Wal-Mart
Already with 1,600 U.S. stores, Aldi's internal studies show its prices are 21 percent lower than its lowest-priced rivals, including Wal-Mart Stores Inc (WMT.N), according to Chief Executive Jason Hart. He plans to maintain that gap going forward.

Hart's plan calls for spending $1.6 billion to expand and remodel 1,300 U.S. stores, and open 400 new stores mainly in Florida, Texas and on both coasts by end of 2018. He also pledged Aldi will be willing to change prices more frequently to respond to rivals if needed.

Editor's Note: And now with Lidl opening stores up and down the East Coast, these to German retailers have the whole grocery industry worried about pricing. reuters.com

ASIS International Positive Policing Award presented to Brookhaven, GA Police Department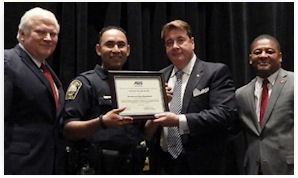 The Greater Atlanta ASIS Chapter of ASIS International presented the Brookhaven Police Department with their "Positive Policing Award" during a Tuesday ceremony in downtown Atlanta. On behalf of the Brookhaven Police, Officer Carlos Nino accepted the award. The award was given to the department in response to the dedication exhibited by their officers to the Brookhaven Community," says the release. "Programs such as Shop with a Badge, Coffee with a Cop, and the Hispanic Citizen's Police Academy highlight the department's commitment to community outreach and public engagement." brookhavenpost.co


Fog Machine Security?
Gun-store owners take drastic measures with robberies, burglaries up nationwide
An uptick in burglaries and robberies of gun dealers nationwide and in Texas has led Houston store owners to take drastic, and often expensive, measures in recent years to keep their merchandise out of the wrong hands. One shop has even installed a high-tech fog machine to thwart burglars.

Almost a quarter of missing firearms in Texas turn up in Houston, prompting the Bureau of Alcohol, Tobacco, Firearms and Explosives in April to dedicate an expanding group of employees to focus solely on thefts of firearms from licensed dealers in this region - the first of its kind nationwide. It aims to prevent gun store burglaries and robberies and better track organized crews stealing the weapons, Strong added.

Thefts at firearm dealers are up across the United States. In 2016, there were 58 burglaries and robberies of gun dealers in Texas, up 35 percent from 2015. The burglaries and robberies last year resulted in 790 stolen firearms, also an increase of 35 percent from 2015, according to ATF. Texas outstripped every state during 2016 in the total number of stolen firearms reported to ATF.

In November 2015, Thom Bolsch opened his 33,000-square-foot Saddle River Range Firearms and Archery, which includes retail and firing and archery ranges. About 5,000 square feet houses his guns for sale. Should a burglar break in, a motion detector would trigger a dense fog to pour out of the ceiling. Within 45 seconds, it fills the portion of the store where the guns are sold "to the point you can't even see your hand in front of your face," Bolsch said.

"The premise behind that is, if you can't see the guns, you can't steal the guns, and you can't find your way out," he said. houstonchronicle.com

Register for Agilence's May 16th Webinar:
Improving Pharmacy Operations with 20/20 Rx


Join Agilence for "Improving Pharmacy Operations with 20/20 Rx." During this webinar, they'll be unveiling 20/20 Rx - a new product specifically designed to support the needs of retail pharmacies and grocers with pharmacy departments.

Learn how Agilence and one of the largest drugstore chain's in the U.S. partnered to develop a data analytics solution designed to ensure regulatory compliance, identify & prevent drug diversion and reduce labor, chargebacks, and fines. Register here!

The Limited Stores Co. Asks For More Time To File Ch. 11 Plan

Europe's Fashion Brands Expand in U.S. Even as American Stores Close Doors
H&M, Zara, Primark and Reiss push deeper into the American market

U.S. retail sales rose 0.4% in April

NRF: Retailers' Radio Ads Call on Congress to Preserve $40B Debit Card Reform Law


Quarterly Same Store Sales Results
Weis Markets Q1 comp's up 1.1%, sales up 15.4%
Canada's Second Cup Q1 comp's down 0.2%,
Nordstrom Q1 comp's down 0.8%, net sales up 2.7%
HBC Q1 consolidated comp's down 2.9%
DSG (Hudson's Bay, Lord & Taylor & Home Outfitters) comp's down 2.4%
Saks Fifth Ave. comp's down 4.8%
HBC Off Price (Saks OFF 5TH and GILT) comp's down 6.8%
HBC Europe (Galeria Kaufhof, Galeria INNO and Sportarena) comp's flat
Albertson's Q4 comp's down 3.3%, full yr comp's down 0.4%, sales up 1.6%
J.C. Penney Q1 comp's down 3.5%, sales down 3.7%

RFID Journal LIVE! News Roundup
Tyco Retail Solutions Offers IoT-enabled RFID Inventory-Visibility Systems
- Part 2


Tyco Retail Solutions showcased its portfolio of Internet of Things-enabled RFID solutions, designed to provide real-time in-store visibility and inventory insights. The company's RFID products are intended to help retailers transform store operations with real-time visibility into available inventory throughout the store and across the supply chain.

RFID Cycle Counting functionality allows rapid and frequent cycle-counting activity and analytics to drive inventory accuracy and efficiencies through a mobile sled with iOS and Android devices. Regular RFID cycle counts can help retailers minimize out-of-stocks and overstock conditions, the company reports, as well as maintain a consistent level of inventory accuracy of up to 95 to 99 percent.

Sensormatic Synergy Loss Prevention functionality connects multiple technologies in a single storefront system. This intelligent, interconnected and modular detection system helps companies manage store shrinkage. Synergy leverages RAIN RFID technology to provide real-time shrinkage visibility, in order to capture and link actionable data across key operational areas, thereby helping to optimize store performance and profitability. rfidjournal.com

Many Retailers Unprepared for Cyberattacks
Only one-third of employees ready to handle threats
PCI compliance has been an increased focus for retailers in recent years, in an era where cyberattacks are at an all-time high. But a new report from Bothell, Wash.-based security awareness trainer MediaPro has found that despite this, retail remains the most-attacked industry sector, with companies in this arena suffering 43 percent of all phishing attacks during the last six months of 2016.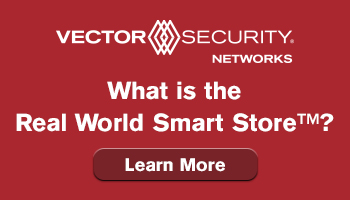 Just under one-third (29 percent) of retail employees actually are well prepared to deal with cyber threats, while the rest exhibit behaviors that put their organizations at risk of a privacy or security incident, according to "Beyond PCI Compliance: 2017 Privacy and Security Awareness in Retail." This should be cause for concern for grocers, as 84 percent of shoppers would change their shopping habits if their favorite store were hit by a data breach, and nearly half (49 percent) said they would be unlikely ot continue business with a retailer if a breach of compromised personal information occurred.

Neglect for cybersecurity is displayed in numerous areas: 17 percent of retail employees took risks when it came to storing sensitive company information, such as inappropriately sending company data using their personal e-mail or saving it via personal cloud-based storage. Further, 34 percent exhibited risky behavior when asked about best practices for remote and mobile computing.

Malware also is a concern, as one-quarter (25 percent) of employees failed to report a sluggish computer as a potential clue that their system might be infected. Meanwhile, 12 percent couldn't identify the warning signs that malware had infected their computer. progressivegrocer.com

Trump's cybersecurity executive order met with mixed reviews
President Trump has signed a long-delayed executive order, which sets up a number of cybersecurity reviews across the federal government, but does not make any immediate sweeping changes to US policy.

The order instructs agency and department heads to use cybersecurity best practices from the private sector to further secure their departmental systems, ahead of a wider effort to modernize cybersecurity across government. zdnet.com

Extreme Makeover: AI & Network Cybersecurity
In the future, artificial intelligence will constantly adapt to the growing attack surface. Today, we are still connecting the dots.

Security strategies need to undergo a radical evolution. Tomorrow's security devices will need to see and interoperate with each other to recognize changes in the networked environment, anticipate new risks and automatically update and enforce policies. The devices must be able to monitor and share critical information and synchronize responses to detected threats. darkreading.com

SLocker Ransomware Variants Surge
New variants of an Android ransomware family have surged over the past six months to some 600 unique versions. darkreading.com

RFID - The Game has Finally Changed
PervasID launches a 'world first' near-100%-detection RFID ceiling tile reader that delivers hugely reduced cost to deploy wide area, real time inventory monitoring for retailers, healthcare and security. This game changing solution delivers the world's first near-100 per cent accurate wide-area passive RFID detection in real time. The result is that now retailers, hospitals and other industries are able to see the stock that they have throughout a store or building in real time. prweb.com

Biometric Mobile Payments Set To Explode In 2017
Mobile payments using biometrics to authenticate the user is forecasted to reach close to $2 billion in 2017, up from $600 million last year, according to new data from Juniper Research. At the same time that fingerprint payments are expected to rise, so are payments via selfies.

With so much buzz surrounding biometric authentication, it should come as no surprise that several companies looked to increase and improve the biometric options they offered over the past few months. pymnts.com

Certain HP laptops are found recording users' keystrokes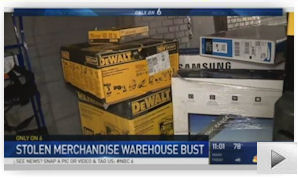 West Park, FL: More Than $80K in Merchandise Seized in Warehouse Raid, 4 Detained in Credit Card Fraud
Dozens of high-end appliances were seized from a warehouse in West Park Wednesday after police uncovered an alleged scheme, in which merchandise was fraudulently purchased and resold. Broward Sheriff's Office said more than $80,000 in TV's, refrigerators and A/C units were seized in the raid. Detectives said employees of Santiago Cargo Express used stolen credit card information from across United States to purchase the merchandise online, totaling close to $100,000. "They would have them shipped to wherever their respective address was, whether it was in Wisconsin, California, etc., but then last minute they would change the shipping address to the location where we're standing," said Sgt. Christopher De Giovanni. Deputies and Home Depot investigators spent hours Wednesday categorizing the appliances. It appears the bulk of the allegedly stolen items are from Home Depot. nbcmiami.com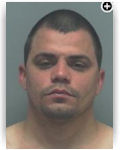 Cape Coral, FL: Credit Card counterfeiter arrested 127 victims, $10,000 in gift cards seized
Counterfeit credit card making equipment and a thumb drive containing 127 credit card numbers of unsuspecting victims led Lee County deputies to arrest a Cape Coral man. Luis Rodriguez-Lorenzo, 29, was arrested and charged. A search of his home, Deputies found 108 gift cards valued at around $10,000, 10 more counterfeit credit cards, a counterfeit Ohio driver's license, and seven money orders totaling just shy of $1,500. nbc-2.com




Willoughby, OH: Police arrest 3 in credit card fraud; $3,800 in gift cards seized
Willoughby Police received a call from Papa John's that a man walked in and requested to purchase all of their gift cards. After the restaurant denied the purchase, officers located the man leaving the Pizza Hut. Officers began searching all of the restaurants in the area and found that there were multiple people attempting to purchase hundreds of dollars worth of gift cards with fraudulent prepaid credit cards. Attempts and purchases were made at Pizza Hut, IHOP, Burger King, Steak-n-Shake, Honey Baked Ham and Dairy Queen. Police arrested three suspects (all from Detroit, MI) a forth suspect is still at large. news-herald.com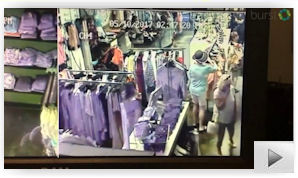 Gulf Breeze, FL: Gulf Breeze authorities are searching for two women they say robbed a boutique Wednesday afternoon
According to the Gibson Girl store owner, two women walked into the store around 2:45 p.m. and stole $511 worth of merchandise. weartv.com

Shootings & Deaths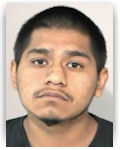 Houston, TX: Man sentenced to life in 2014 Stafford Walmart shooting death
A man was sentenced Friday to life in prison after he was convicted of murdering a man at a Stafford Walmart in December 2014. Officials said Cristhian Cardozo, 35, was in his vehicle in the parking lot of the store around 7 p.m. on Dec. 10 as his family, his wife, 9 yr old daughter and 14 yr old son, was shopping when two men approached his wife and children and an argument ensued. The Cardozo family attempted to distance themselves from the two men and called the father, who was still in the parking lot, to help escort them to their vehicle. The two men and another individual approached the family and attempted to attack Cardozo's 14-year-old son, officials said. Witnesses reported that a fistfight began, Cardozo was knocked to the ground, and Jason Lara, 18, pulled out a gun and fired four shots at Cardozo, striking him three times. Lara was found guilty by a jury in Fort Bend County and sentenced to life in prison. click2houston.com

Sacramento, CA: Deputies investigate double homicide outside Furniture store in broad daylight

Robberies & Thefts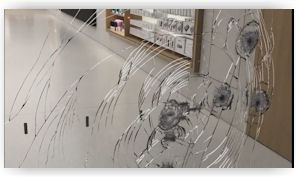 Alpharetta, GA: Thieves Failed to Shatter Apple store's $30K glass with sledgehammer
An attempted smash-and-grab was foiled when would-be thieves couldn't crack a pricey glass at an Apple store at the Avalon in Alpharetta last week. Few details were available about the suspects except that several men exited 2 cars about 2:30 a.m. on May 4. The men got away and made off with nothing, but not before firing three .45-caliber silver bullets into the store's $30,000 wall window panes. The store manager told police the panes were custom made in Germany. No arrests have been made and the Police investigation continues. ajc.com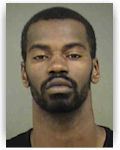 Charlotte, NC: Serial robbery suspect arrested;
tied to two CVS Armed Robberies
Police have arrested Darnell Simms, 30, in connection to four reported robberies in the area. He was taken into custody on Thursday, May 11. The charges are in connection with robberies that occurred at the CVS on Mallard Creek Rd., Busters on Old Concord Rd, the CVS on N. Sharon Amity and the Friendly Pharmacy on Little Rock Road. fox46charlotte.com


San Diego, CA: Armed Robber jumps counter at CVS to steal Cough syrup;
2nd time this week
A masked man hopped over the pharmacy counter at the CVS store on Mira Mesa Boulevard near Camino Ruiz around 1:10 a.m. and grabbed eight to 10 bottles of cough syrup, San Diego police Officer John Buttle said. He fled in a waiting vehicle. Shortly after 1:30 a.m. Sunday, a similar robbery took place at the CVS on University Avenue in North Park. In that case, the suspect showed the handle of a gun to the store's employees before he fled, according to San Diego police. timesofsandiego.com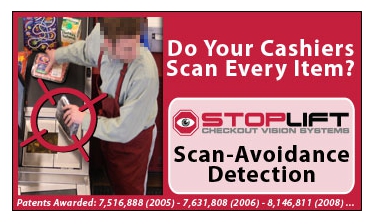 Charleston, SC: Man arrested after restaurant Burglary sent to jail for 7th time in 2017
A 26-year-old man is in jail for the seventh time this year after a burglary at the La Carreta Restaurant. It's also the second time he's been charged for a burglary at the restaurant. Justin Sawyer was booked Wednesday. Sawyer was out of jail after paying $10,000 in bond on a safecracking charge. Prior to that, he was released from jail after paying $32,000 in bond on charges of burglary, card fraud and violation of lottery regulations. His total bond amount on two new charges of burglary second degree is $70,000. Sawyer had 12 prior arrests in South Carolina, charges included safecracking, receiving stolen goods, lottery ticket fraud, burglary, credit card fraud, petty larceny, shoplifting and trespassing. abcnews4.com

Confessions of a Phoenix shoplifter: 'I stole just to take away the anxiety'

Tacoma, WA: Thieves were able to cash in stolen scratch tickets despite security; of $3,000 stolen, $750 were redeemed

Piercing Pagoda in the Arizona Mills Mall, Tempe, AZ reported a Grab & Run on 5/7, items valued at $679

Credit Card Fraud

Grapevine, TX: More than 100 credit card numbers seized, 5 suspects arrested
Five people face an assortment of charges after police confiscated from hotel rooms more than 100 stolen credit card numbers and equipment to make fraudulent cards. Several grams of methamphetamine also were seized from a hotel room where suspects had been staying. "None of the stolen credit card numbers were local," according to Police news release. "All were linked to businesses or people who live out of this area, most in other states." star-telegram.com

St. Clair County, MI: Sheriff's Office seeking to ID suspects in credit card theft ring; Pair captured on video at Nursing Home
Two suspects dressed in hospital scrubs stole credit cards from the employee' s office and quickly used them at several area retailers. Police believe the suspects may also be involved in other similar thefts at nursing homes in Okemos and Howell. voicenews.com

Sauk County, WI: Credit card thieves arrested; merchandise found in car