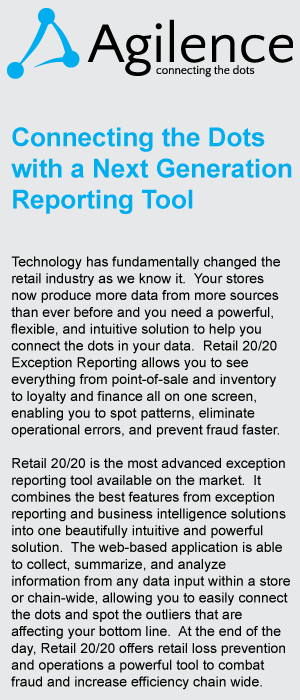 PwC's Loss Prevention Strategy & Analytics Team
A client-specific advanced risk/analytical model

A thorough and transformative approach to LP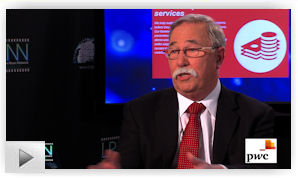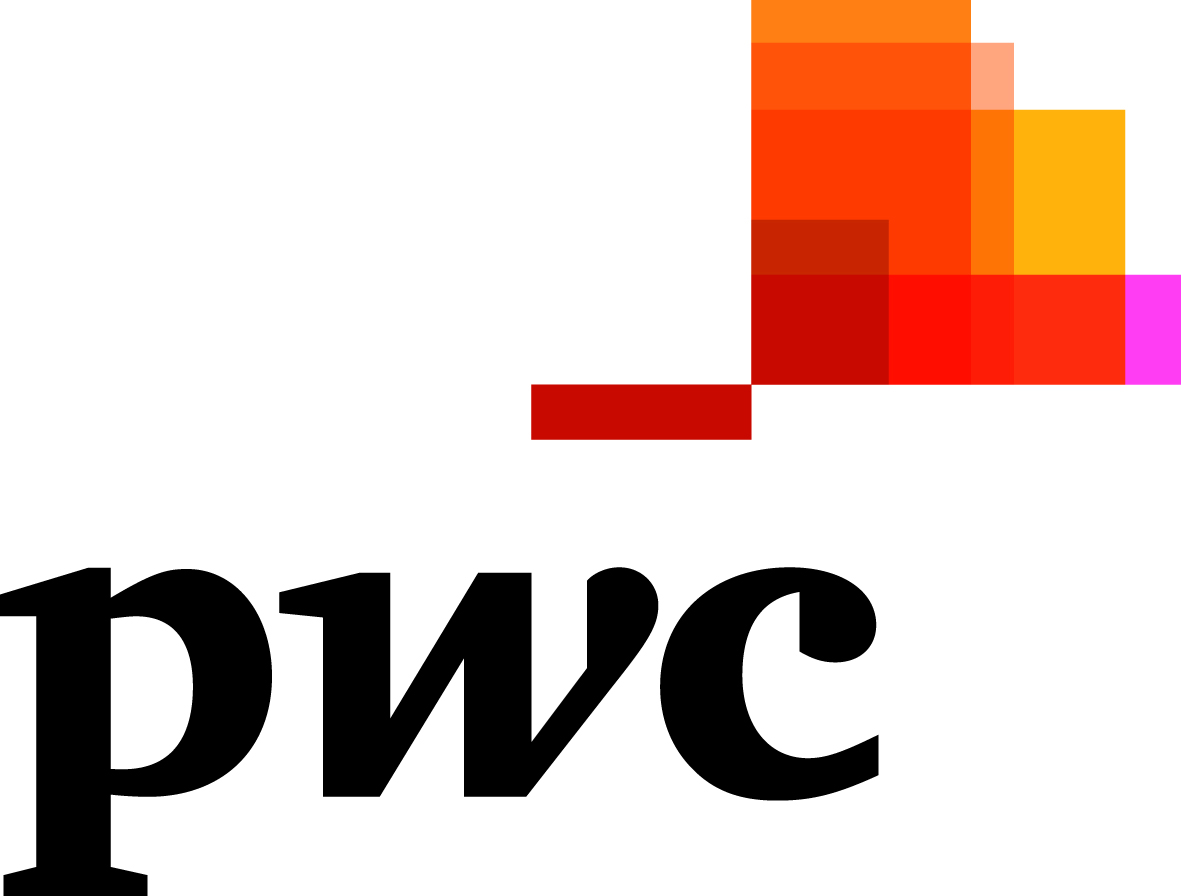 PwC's Loss Prevention Strategy and Analytics (LPSA) team helps organizations understand where their loss prevention function is today and how to move closer towards the goal of continuous improvement by performing a cross functional analysis of the processes that impact loss or operational performance. Bill Titus, Managing Director, PwC, talks about the evolution of the LPSA program in this LPNN interview. Working with 80% of the Fortune 1000 retail and consumer businesses and over 20,000 partners and staff dedicated to the retail and consumer practice, PwC can offer a wealth of resources to any LP or AP team.

---
In this LPNN Quick Take, Amber shares some staggering stats on cybersecurity and Joe shares his strong point of view on the subject.


Solution Providers, have a video or commercial you want to publish? Contact us.

2015's Let's Get LP Social
We still want your Group LP Selfies - So keep them coming retail LP teams!

Submit a group selfie of you and your LP team and you could get a plaque. Please submit a high resolution photo (300 dpi) and logo at 5" wide for your printed plaque, and if you have a tagline or slogan either from your team or from the company, please send it to us as well for inclusion on the plaques and here on the Daily. Click here for more details.
New to the D&D Daily, "My LP Selfie"!
Got a Smartphone, webcam or camera? Snap a picture of yourself and send it in to the Daily! Let's see what all our LP folks are up to!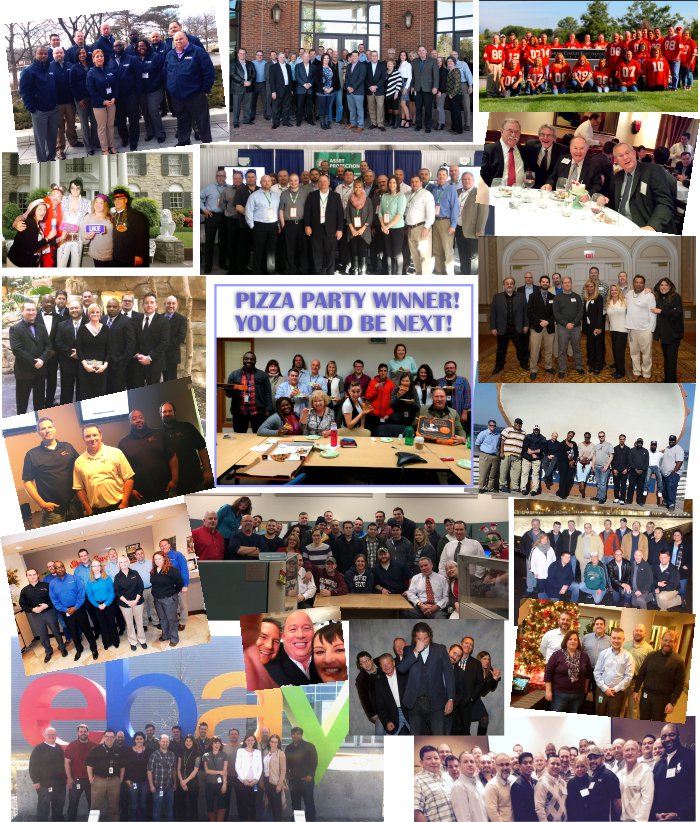 View all the selfies here!


Canadian Outlet Malls - are booming
Being a rather new retail sector for Canada with two new ones opened in Ontario over the last year, the retailers are booming. And Canadians are flocking to these locations. Four-in-10 (41%) of Canadians surveyed prefer to shop at Canadian factory outlet malls versus those in the US, with more than half (57%) having shopped at a Canadian factory outlet mall in the past 12 months alone. chainstoreage.com

Canadians slowing down on cross-border shopping
Deterred by higher US exchange rates, Canadians are less willing to make the drive, despite the wider product selections available stateside. Despite 44% agreeing that Canadian factory outlet malls are not as price competitive as those in the US, despite the exchange rate, shopping at Canadian outlet malls continues to rise. chainstoreage.com

Canadian consumers send wake-up call to retailers as 76% of Canadians households head online Of that percentage, about a quarter of Canadians have become "frequent" shoppers, which means they're buying on the Internet four to 10 times per year, the data says. Consumers are dipping their toe into e-commerce, testing the waters, and becoming very quickly converted," said Danielle Doiron, director of parcels and e-commerce market development at Canada Post. The report also found that shoppers will buy products online they wouldn't have just a few years ago. thechronicleherald.ca

Ikea to test two new 'pick-up-point' store formats in London, Ontario and Quebec City as part of global pilot The two locations, slated to open in late 2015, will allow customers who have shopped online or at an Ikea store some distance away to pick up their products closer to where they live. Customers will also be able to buy services to support their purchases, sit at a computer station to browse the retailer's web site, and also select among 99 of the company's top-selling products available for immediate takeaway. chainstoreage.com

Bullied B.C. grocery store employee wins $16,000 in discrimination case
A Vancouver-area man has been awarded almost $16,000 by the B.C. Human Rights Tribunal for a series of threats and slurs he endured from his boss' sons. The tribunal ruled that Kyle Garneau was discriminated against while working at Buy-Rite Foods in Surrey, B.C., where the owner's sons repeatedly physically and verbally harassed him. Garneau is gay, and has a brain abnormality that affects him physically and mentally, including his appearance and weight. In a decision released earlier this month, tribunal member Parnesh Sharma wrote that owner Shingara Sumal failed to ensure his store was a safe work environment, free from harassment. canadiangrocer.com




Canadian Security's Focus On Retail Security one-day seminar A valuable opportunity for anyone interested in learning more about the latest techniques to combat retail crime. You can expect to hear more about: ● Organized Retail Crime ● Restorative Justice ● Online Fraud For full agenda and registration details visit: www.focusonseries.ca



Here's our list of top 20 most productive Canadian malls by sales per square foot, annually

| | |
| --- | --- |
| 1. | Pacific Centre, Vancouver, BC: $1,498 |
| 2. | Toronto Eaton Centre, Toronto, ON: $1,420 |
| 3. | Oakridge Shopping Centre, Vancouver, BC: $1,395 |
| 4. | Yorkdale Shopping Centre, Toronto, ON: $1,356 |
| 5. | Southgate Shopping Centre, Edmonton, AB: $1,157 |
| 6. | Chinook Centre, Calgary, AB: $1,125 |
| 7. | Rideau Centre, Ottawa, ON: $1,008 |
| 8. | Holt Renfrew Centre, Toronto, ON: "over $1,000" says landlord. |
| 9. | Market Mall, Calgary, AB: $942 |
| 10. | Sherway Gardens, Toronto, ON: $935 |
| 11. | Square One, Mississauga, ON: $910 |
| 12 | Metropolis at Metrotown, Burnaby, BC: $886 |
| 13. | Polo Park, Winnipeg, MB: $873 |
| 14. | Peter Pond Mall, Ft. McMurray, AB: $870 |
| 15. | Le Carrefour Laval, Laval, QC: $865 |
| 16. | Fairview Mall, Toronto, ON: $843 |
| 17. | Richmond Centre, Richmond, BC: $833 |
| 18. | Royal Bank Plaza, Toronto ON: $820 |
| 19. | Toronto Dominion Centre, Toronto, ON: $818 |
| 20. | Bayview Village, Toronto, ON: $810 retail-insider.com |
Indigo to Overhaul 6 Flagships - Open 4 American Girl Stores

Rona plays down suggested Lowe's merger

Suspect Sought in Kelowna Mac's Store Armed Robbery

Calgary Police recover $1.9 million in stolen vehicles

Woman suspected of shoplifting critically hurt on Coquitlam, BC, highway

Cigarettes stolen during Yellowknife grocery store break and enter

Alleged shoplifter attacks employee at Peterborough Sobey's

Oakville businesses rocked by series of smash-and-grab break-ins



Ottawa Police hunt two after April cellphone store robbery Ottawa police are looking for two masked men who robbed a cellular phone outlet that police won't name a month ago. The robbery occurred April 13, at approximately 8:45 pm. Two men walked into a cellphone store somewhere in the 1500 block of Merivale Road. Both had their faces covered, and one showed employees that he had a handgun tucked in his waistband. They made off with more than 40 smartphones in a variety of types. No one was hurt. ottawacitizen.com

Alberni Mounties Dismantle Island Wide Theft Ring
The Port Alberni RCMP has arrested 2 men at the core of an extensive property crime scheme that victimized owners from across Vancouver Island. Both suspects have extensive histories of property theft, and are well known to police in the Island region. Over the past 2 weeks this criminal group is alleged to have committed truck thefts, break-ins, vandalism, and possessed stolen property in multiple Island jurisdictions including Port Alberni, Parksville, Qualicum Beach, Campbell River, Nanaimo, and Victoria. While the tally is climbing as the investigation unfolds, investigators indicate that the total loss and damage resulting from these incidents is currently estimated at over $400,000. albernivalleynews.com

'Threatening' cougar shot and killed near West Vancouver mall
The popular trails around Capilano River in West Vancouver were closed for several hours as a conservation officer tracked and killed a cougar believed to be a threat to the community. Multiple cougar sightings have been reported in recent weeks along the Capilano River near Park Royal Mall, but the cougar had become bolder in recent days. The big cat was seen jumping on people's balconies in a townhouse complex in British Properties Wednesday. Officials say things came to a head Thursday morning when the cougar approached someone walking their dogs on a trail. "Fortunately the dogs were big enough and loud enough to scare it," said Conservation Officer Simon Gravel. The dog walkers contacted West Vancouver Police, who secured the area until Gravel arrived. The cougar hadn't moved from the area, Gravel said, adding that it showed no fear whatsoever of humans. He shot and killed the big cat. ctvnews.ca

Retail Fast Facts: April 2015
Highlights:
● Total monthly retail sales changed by 2.0 per cent over the comparable month last year.
● Total sales excluding food, automotive and gasoline changed by 5.7 per cent over the comparable month last year. Read more




What You Don't Know About Chargebacks...Can Hurt You
Are you experiencing higher than normal chargeback rates? You might be getting hit by fraudsters and not knowing it. That's because it can take 60 - 90 days or more for chargebacks to be reported to you, making timely fraud detection nearly impossible. This eBook, we describe six warning signs of fraud and how chargeback lag distorts your profit and loss reporting. Discover the key capabilities your fraud prevention solution needs to detect and shut down fraudulent chargebacks immediately - before they overwhelm you. must fill out form - internetretailer.com

Why Bitcoin Could Be Much More Than a Currency
Boosters of Bitcoin commonly call the digital currency the future of money. But even if it doesn't turn out to be, a growing group of investors and entrepreneurs is convinced that the idea at the center of Bitcoin could revolutionize industries that rely on digital record keeping. It might replace conventional methods of keeping track of valuable information like contracts, intellectual-property rights, and even online voting results. Bitcoin's real promise, they say, is not the currency. It's the underlying technology, in which thousands of computers in a distributed network use cryptographic techniques to create a permanent, public record of every single Bitcoin transaction that has ever occurred. Investors are betting that this record-keeping system, called the blockchain, will be valuable for many other things besides tracking payments. technologyreview.com

Distinction between online, offline blurs for shoppers, but not retailers: report
Mobile's influence on bricks-and-mortar sales rose to 28 percent in 2014, up from 19 percent the prior year, but the divide is growing between the digital functionality retailers provide and the experience consumers want, with mobile particularly affected, according to a new report from Deloitte. A key takeaway from the report is that mobile use by shoppers continues to become more sophisticated, as evidence by a drop in the use of mobile for price checking, suggesting shoppers are using mobile more for inspiration. However, retailers continue to focus on mobile conversions at the expense of enhancing the mobile experience. While consumers are busily embracing mobile to enhance their shopping experiences, retailers' ability to deliver on consumer expectations are not keeping pace, according to Deloitte. The reason why is that retailers often focus on ecommerce sales to indicate whether their digital strategy is working. Because this number is typically much smaller than a measurement of digitally influenced sales, retailers are underestimating the importance of digital strategies and underinvesting. mobilecommercedaily.com

Credit card safeguards: MasterCard replies

E-commerce can attract $25 billion in six years: study

Fraud prevention market to reach USD 22,000 mln by 2019

Mobile accounts for more than half of online sales at QVC

U.S. Auto Parts grows web sales 13.5% in Q1
"Fraud is not a person - it is a dynamic grouping of statistics that deviate from the norm."
Stuart B. Levine, CFI, CFCI
CEO, The Zellman Group & Zelligent




Two Men Plead Guilty in Manhattan Federal Court in Connection with Violent Daytime Robberies of Jewelry and Watch Stores Across Four States Preet Bharara, the United States Attorney for the Southern District of New York, announced today that Sean Robinson and Kenddal Thompson pled guilty in connection with a robbery conspiracy operating across New York, New Jersey, Virginia, and Connecticut in which members committed daytime robberies of high-end jewelry and watch stores, including Cartier in Manhattan, using violence, including firearms, and resulting in serious injury to victims and the theft of more than one million dollars in watches and other goods. THOMPSON pled guilty today before United States District Judge Loretta A. Preska, and ROBINSON pled guilty on May 7, 2015, before Judge Preska. To date, eight members of the crew have been apprehended and pled guilty. Two defendants, Jamal Dehoyos and Courtney Hardin, remain wanted by the Federal Bureau of Investigation ("FBI") and are considered armed and dangerous. fbi.gov


Phoenix Police arrest 4 stealing $72,000 of Merchandise per Year to support drug habits Four suspects caught in a police surveillance operation admitted they had been shoplifting on average seven days a week for three years to support a drug habit, officers said. Phoenix police arrested Lester Kilpatrick, 44, and his two daughters, Amanda, 22, and Jordan, 21. Officers also took Brandon Muchow, 20, into custody. Tuesday's arrests came after detectives with the Phoenix Police Business and Economic Stability Team worked with local stores to identify the suspects and conduct surveillance on them. Detectives said they observed Lester Kilpatrick and his daughter Amanda steal from various stores in the Phoenix metro area and then return the stolen
items for a refund. Police said on one occasion, a refund was placed on a gift card which the suspects sold at a nearby gift card reseller. The suspects would then use the cash to buy heroin, Phoenix police Officer James Holmes said. In another incident, the suspects went to a local department store, shoplifted several large bags full of clothing, sorted through the goods and separately returned more than $200 in merchandise to the retailer, Holmes said. All four suspects were arrested following the fraudulent return. Under police questioning, the suspects admitted they shoplifted to feed a $40 a day drug habit for each of them or they would become ill with withdrawals, Holmes said. A fifth person was identified but not detained in connection with the shoplifting ring. Holmes said the group had to steal more than $72,000 a year to satisfy their drug habits. abc15.com
9 Minnesota Men Indicted In $3.8M Stolen Cell Phone Ring
A 30-year-old Golden Valley man is accused of leading a stolen cell phone ring that trafficked at least $3.8 million worth of devices between Hong Kong and the United States. Eight Twin Cities co-conspirators also face charges. Zibo Li was indicted on Thursday in U.S. District Court in Minneapolis. The indictment says Li and others entered used identity theft to fraudulently enter service contracts in the U.S. at the reduced rates that come with long-term contracts. They would then break the contracts with the mobile service carriers and sell the phones in Hong Kong. "These defendants stole the identifying information of nearly 60 known individuals and 20 known businesses," said Assistant United States Attorney Manda M. Sertich in a statement. "They exploited vulnerable members of our society, including people residing in homeless shelters, to steal cell phones and turn a profit." The case is a result of an investigation conducted by the U.S. Secret Service, the St. Paul Police Department, the Minnesota Bureau of Criminal Apprehension, the Minnesota Financial Crimes Task Force, the University of Minnesota Police Department and the Plymouth Police Department. cbslocal.com

Lebanon, PA Judge sends Career Criminal/ Wal-Mart shoplifter to prison
A 35-year-old former Lebanon man with a lengthy criminal record was sentenced to state prison Thursday for shoplifting at Wal-Mart. Judge John C. Tylwalk sentenced Aaron T. Wolfe to eight months to two years in state prison and ordered him to pay a $500 fine. Wolfe, currently an inmate at the State Correctional Institution at Chester, Delaware County, appeared at the hearing by way of a video hookup. He was sentenced for stealing more than $425 worth of merchandise from the North Londonderry Township store on July 1 last year. He took two electric razors, an electric toothbrush and a plastic tote, according to court records. Tylwalk ordered Wolfe to serve the sentence concurrently with a state prison sentence he is serving for a Lancaster County retail theft. Wolfe was sentenced in Lancaster County on Jan. 8 to one to three years for retail theft and conspiracy. ldnews.com

Chinese thieves get five years for $517,000 Monaco ring scam
A French court on Wednesday handed three Chinese thieves five-year jail terms for stealing a ring worth nearly half a million euros from a Monaco jewellery store and replacing it with a fake. The theft took place in January 2014. Two men entered the Fred jewellery store and asked to be shown two rings, while a third man waited outside. Setting their sights on a model with a 453,000-euro ($500,000) price tag the pair paid a deposit of 500 euros and said they would be back by closing time with the balance. They never returned. Instead, the next day, on opening the gift-wrapped box that the saleswoman had prepared, the manager discovered that the ring in the case had been replaced with a cheap replica. The thieves had, it turned out, taken advantage of the saleswoman's back being turned to pocket the original. The ring was never found. Two days later, the trio were detained in Paris after being seen poring over rings worth 300,000 euros and more at the city's glitzy Galeries Lafayette department store. yahoo.com
New York Retailers and Law Enforcement Professionals
Address Statewide Organized Retail Crime Challenge
Written by Joe LaRocca, Vice President & Senior Advisor, Loss Prevention for RetaiLPartners

Albany, New York, April 23, 2015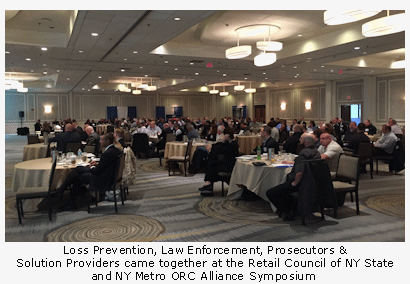 Last month, approximately 200 Loss Prevention, Law Enforcement, Prosecutors and solution providers met in Albany (New York) to share ideas and learn about the latest trends in combating Organized Retail Crime. The event was hosted by the Retail Council of New York State in collaboration with the New York Metro Organized Retail Crime Alliance (NYMORCA).

During the opening remarks, Retail Council President Ted Potrikus, shared the importance of bringing a broad group of attendees together to continue the successful programs to combat ORC, discuss major crime groups targeting retailers and further the important legislative efforts in Albany.

The day was packed with featured sessions by:

Kevin Harrington, Deputy Chief & Commanding Officer, Grand Larceny Division, NYPD
Scott Rappaport, Detective, Wayne Township Police Department
Kenny Fingerman, Agent Development Manager, Sephora
TJ Flynn, Sr. Manager Market Investigations, JCPenney
David Hill, Manager of External Investigations, Hudson's Bay Inc.
Gary Weisbecker, Northeast Investigations Supervisor, Walgreens
Tarik Sheppard, Lieutenant, Grand Larceny Analytical Unit, NYPD
Edward Goldberg, SVP of External Affairs, Macy's

To start the day, I was able to share some of the latest industry statistics, trends and where many leaders in the public and private sector are focused when it comes to ORC and technology programs.

This was a fantastic meeting and I strongly encourage retailers and law enforcement partners with interest in New York, to get involved with the Retail Council (http://retailcouncilnys.com) and the New York Metro Organized Retail Crime Alliance (http://www.nymorca.org).
Do you have an ORC case to share? Publishing it educates the LP & retail community
which might fuel even more jobs and funding.
Share your ORC news and help the industry grow


Man shot in Colorado Springs Hobby Lobby was on a 'death mission' A fugitive who was shot multiple times inside a Colorado Springs Hobby Lobby last week told authorities he was on a "death mission" before he began attacking sheriff's deputies, armed with a knife. A fugitive who was shot multiple times inside a Colorado Springs Hobby Lobby last week told authorities he was on a "death mission" before he began attacking sheriff's deputies, armed with a knife. Brian Lowe, 48, who walked away from a community corrections facility last month, resisted arrest at the store and later charged at a deputy with a knife and grabbed a deputy's stun gun, according to Lowe's arrest affidavit. At one point, Lowe had "the taser in one hand and the knife in the other hand" before he was shot, the affidavit says. El Paso County Sheriff's Office deputies Robert Mitchell and Keith Duda approached Lowe in the store at 525 8th St. just before 6 p.m. Friday, the affidavit says. Lowe refused to be handcuffed and placed his hands in his waistband area, the affidavit says. Lowe said he was "tased" in the chest before he gained control of the stun gun, according to the affidavit, but Duda said, "Brian Lowe broke away and it was not successful." While the deputies tried to take him into custody, Lowe threw a punch at Mitchell and swung his knife "within a few inches" of Mitchell's head, the affidavit says. He also tried to "jab" Duda with the knife, and the deputy and Lowe began struggling over the knife, the affidavit says. Mitchell pushed Lowe, who saw Mitchell draw a stun gun and said, "I hope you brought something bigger than that (expletive)," according to the affidavit. gazette.com

Orem, UT Concealed weapon carrier involved in Macey's Grocery store shooting will not be charged The man who shot and killed an alleged carjacker during an altercation on May 2 will not face criminal charges, the Utah County Attorney's Office announced Thursday. Orem police say the man, whose name has not been released by county prosecutors, shot Taulagi Matafeo once in the chest while trying to prevent Matafeo from taking a woman's car by force at a Macey's grocery store parking lot in Orem. Matafeo, 26, died at a nearby hospital from his injuries. The woman and the shooter were not injured. The man who came to the woman's aid "acted within the purview of Utah law, and no criminal charges will be filed," the Utah County Attorneys Office said in a prepared statement. ksl.com


16 men accused in violent robbery ring in Philadelphia, Pa The U.S. Attorney in Philadelphia has announced indictments against 16 people in connection with a sophisticated crime operation that allegedly included robbery and torture. They're accused of stealing jewelry, cars, electronics and drugs from their victims in years-long crime spree that stretched from Philadelphia to Hatfield to Ambler. On July 15th, 2013, two men posing as police waved around semiautomatic guns inside Platinum Jewelers at 12th and Market streets. Federal prosecutors say one of these men was Khalil Smith - the other was one of many accomplices in a violent robbery ring operating from 2012 until last month around the region. At the jewelry store, prosecutors say the other members of the ring posed as customers and others stood watch, monitoring police radios. They left with nothing once the real police were on the way. A 17 count indictment alleges that the 16 men used violent tactics in home invasions targeting victims they thought had drugs or money from drugs. "The torture included waterboarding, beating, threatened sexual assault, scalding with boiling water and being shot," said Kelly D. Brady, ATF. 6abc.com


Unexpected apology and Admission of guilt in 15 Armed Robberies in Lexington, KY "I am guilty, and I have accepted my accountability for my actions," said Edward Hale, from behind bars in the Fayette County Detention Center. He said he admits that Lexington Police have arrested the right man. "I apologize from my heart for committing these 15 robberies," said Hale. It's an unexpected apology, however Hale said he's ready to take responsibility, and most of all make amends. "I am truly sorry for running into their stores, and you know, petrifying them," said Hale. Since January Lexington Police said he's robbed more than a dozen businesses, including a Waffle House, Dollar General, Speedway and Game stop. For months Hale said he was on the run. On Wednesday Hale was finally arrested. Investigators said he pulled off nine of the robberies with Darnell Thomas, including one at the Tobacco Zone. Police said during that crime Thomas was shot after a struggle with the clerk. lex18.com


Burglars smash and grab thousands in merchandise from Valor Exchange in Arvada, CO An Arvada business is releasing surveillance video hoping it will help lead police catch three people responsible for a spike in thefts. The owners of the Vapor Exchange reported losing thousands of dollars worth of merchandise after a burglary early Thursday morning. The thieves are also suspected of several other thefts at electronic cigarette stores in recent weeks. Arvada police has not released a description of the suspects or confirmed if the robberies are related. In Thursday's incident, the thieves used a baseball bat to break through a front door. kdvr.com


Diamond Switch thieves hit Belk for $7,500 in Spartanburg, SC On May 04, 2015 at 7:30pm, suspects pictured below distracted the clerk and swapped a diamond out of a pair of 1.5 carat yellow gold diamond earring studs valued at $7500 from Belk (Westgate Mall - Spartanburg, SC). The clerk stated that the male gave the name of "Mike" and the female gave the name of "Melinda" or "Miranda." Suspects later attempted to pawn several pieces of jewelry at pawn shops in the Lavonia (GA) area and were driving a dark blue or black newer Lexus car. Contact: Jason Tapp JTAPP@CITYOFSPARTANBURG.ORG Spartanburg Police Department



Henderson, NV Police seek suspect in Gordon's Jewelers Robbery



2 Innocent Bystanders Wounded In Bronx Grocery store Shooting

Lake Wales, FL Rural King Theft Suspect Arrested



JPMorgan staffer in White Plains, NY gets six years jail time for ID theft scam




---

● AT&T - Watchung, NJ - Robbery
● Dollar General - Palmetto, FL - Armed Robbery
● Eddy and Betty's - Valdosta, GA - Armed Robbery
● Grand Central Station - Green Bay, WI - Armed Robbery
● Hess - Nedrow, NY - Armed Robbery / Shooting
● Kwik Stop - Mesquite, TX - Armed Robbery
● Lee's Food Market - Campbell Co, TN - Armed Robbery - 12yr old shot
● Londo Mondo - Chicago, IL - Armed Robbery
● My iPhone Store - Petaluma, CA - Burglary
● Runyan Lake Food - Tyrone Twp. MI - Armed Robbery
● Texaco - Fairburn, GA - Armed Robbery/ Assault
● Walgreens- Carbondale, IL - Armed Robbery
● Walgreens - Tulsa, OK - Armed Robbery
● 7-Eleven - Manatee Co, FL - Armed Robbery
● 7-Eleven - Miami, FL - Shooting




To apply to today's Featured Jobs, Click Here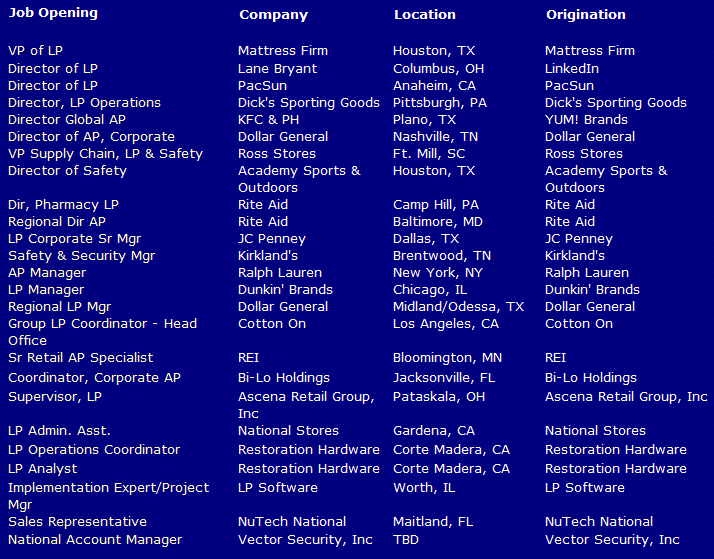 Limited Time Only - Post Your Multi-Unit LP jobs for FREE - Learn More Here





Today's Daily Job Postings from the Net - Appearing Today Only

To apply to today's Internet Jobs, Click Here



Cristian Consuegra was named Area Asset Protection Manager for Pep Boys.


9 Tests Every Leader Must Pass
The question still stands: Are leaders born or made? After much research and published studies, the answer is "yes." Leadership behavior may come more natural to some, but everyone can learn ways to be a more effective leader. The learning process starts with a full self-examination. If you can pass these questions, you're a great leader! How's your attitude?

5 Things Real Leaders Do Every Day, According to Henry Ford With summer right around the corner, it's a great time to push hard and develop your team and your own leadership skills just like Henry Ford did in the summer of 1899 as he went on to focus on automobile production. Here are some great leadership lessons inspired by Ford's quotes. High expectations


How Springtime Can Make Us Better Leaders As spring arrives it's been noticed that leaders often focus with new energy on helping their teams grow and thrive. It's our automatic response to want to start fresh when spring comes around, but it takes time for people to grow, just like it takes time for your plants to bloom. Here are some tips you may use in your own gardening that can apply to leadership. Just be patient

Just WHO Do You Think You Are?
Who do you think you are? This question is extremely important because how you define yourself will impact how successful you are and how happy you will be. Becoming aware of your identity also helps you become a better leader because it allows you to perfect some areas and grow in others. Who do you want to be?

Surveys show that happiness at work significantly improves performance and productivity. It translates into higher energy levels, better reviews, faster promotions, higher wages, better health and overall a better environment. While it shouldn't be surprising it often times needs to be remembered. When fellow executives are unhappy for long periods or with their co-workers it needs to be addressed because productivity and overall team health will suffer. Attitudes are contagious and happier teams produce more and have better results. Is your team happy?

Just a Thought,
Gus Downing




Post Your Tip or Advice! Click Here

Please make sure to add d-ddaily@downing-downing.com to your contact list, address book, trusted sender list,
and/or company white list to ensure you receive our newsletter.
FEEDBACK / www.downing-downing.com / ADVERTISE WITH THE DAILY