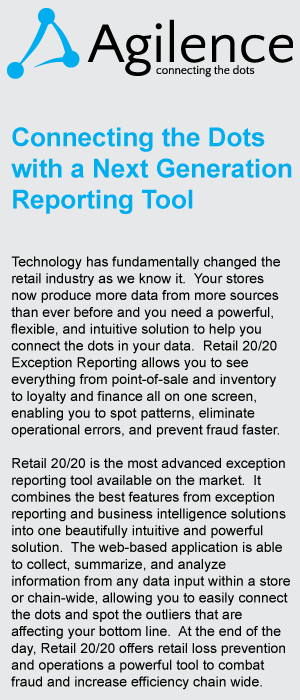 Cyber Security & LP's
Role in the Effort
The NRF's Threat Alert System &
RILA's Development of R-CISC
How LP Fits In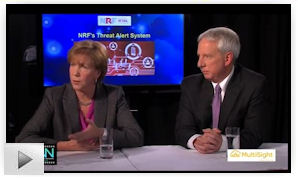 Both NRF and RILA have been tirelessly working together and separately over the past year to establish efforts to help fight the cybercrime crime wave impacting retailers nationwide. Leaders from both industry groups sit down together with LPNN for an in-depth look at the NRF's Threat Alert System and RILA's Retail Cyber Intelligence Sharing Center. Tom Litchford, VP, Retail Technologies for the NRF, and Suzie Squier, Sr. VP, Member Services for RILA, discuss the latest in cybersecurity, what the two leading retail associations are doing about it, and what role LP executives can play in the fight against this unprecedented threat.
---
LPNN Quick Take #20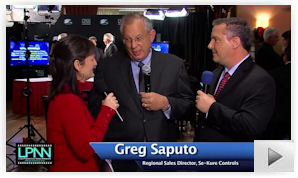 Greg Saputo

, Regional Sales Director, Se-Kure Controls, joins Joe and Amber for an LPNN Quick Take. Learn what Greg's one regret was after he made the switch from retailer to solution provider after 34 years in the LP industry.



Solution Providers, have a video or commercial you want to publish? Contact us.

2014 LP Team Group Selfie Review
Showcasing each team in order!
Your Team - Your Pride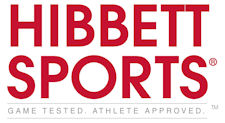 Hibbett Sports Asset Protection Team
"Great Company...Great People...Great Team!"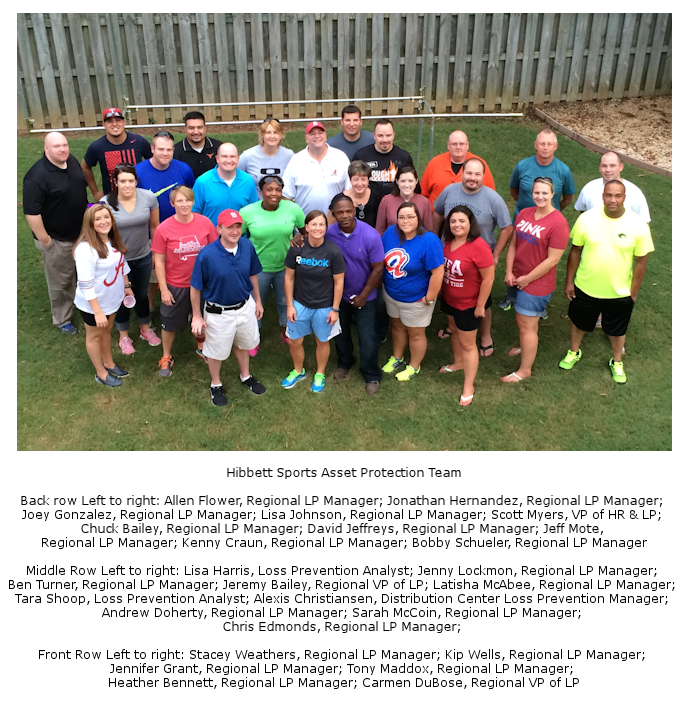 *Published on November 3, 2014

View all the selfies here!

---
2015's Let's Get LP Social
We still want your Group LP Selfies - So keep them coming retail LP teams!

Submit a group selfie of you and your LP team and you could get a plaque. Please submit a high resolution photo (300 dpi) and logo at 5" wide for your printed plaque, and if you have a tagline or slogan either from your team or from the company, please send it to us as well for inclusion on the plaques and here on the Daily. Click here for more details.
New to the D&D Daily, "My LP Selfie"!
Got a Smartphone, webcam or camera? Snap a picture of yourself and send it in to the Daily! Let's see what all our LP folks are up to!


Best and worst countries at preventing e-commerce fraud
Online shopping is borderless, but it matters where your online retailer is based if you want to avoid fraud. Forter, which makes fraud prevention software, found that countries where e-commerce fraud is more likely tend to have poor economies but accessible Internet infrastructure. They are also countries where the chances of being pursued by law enforcement and being extradited are lower, said Noam Inbar, vice of business development at Forter. "Weak economic conditions drive more people to crime and decent Internet infrastructure makes online fraud easier," Inbar said. The company analyzed more than 1 million e-commerce transactions among a variety of online retailers in consumer goods, luxury, travel and financial services. Then it calculated the e-commerce fraud rates for each country based on complaints from merchants and consumers, looking at fraud committed by retailers and by consumers. Forter's analysis also found that fraud rates of transactions using smart phones with Google's Android operating system were twice as high those using Apple's iPhones. The openness of Android systems makes them a bigger target for fraudsters, Inbar said. Here are the five worst-and the five best-countries at preventing e-commerce fraud, according to Forter.

Denmark, best country for e-commerce
New Zealand, 2nd-best country for e-commerce
Finland, 3rd-best country for e-commerce
Norway, 4th-best country for e-commerce
Switzerland, 5th-best country for e-commerce
Romania, 5th-worst country for e-commerce
Brazil, 4th-worst country for e-commerce
South Africa, 3rd-worst country for e-commerce
Venezuela, 2nd-worst country for e-commerce
Indonesia, worst country for e-commerce cnbc.com
Why Nordstrom is the Amazon of department stores
The upscale department store's overall revenue rose 9.8% to $3.12 billion for the quarter ending May 2. Comparable sales, which excludes newly opened or closed stores, rose 4.4% from the year-ago period, the strongest among the company's peers. Yet Nordstrom's profit fell to $128 million from $140 million while its return on invested capital fell just over one percentage point to 12.2%. Nordstrom has been pumping hundreds of millions of dollars into building up its digital sales, expanding into Canada and planning a beachhead in Manhattan. It's doubling the size of its Rack outlet chain and acquired e-commerce sites like Trunk Club, as it looks to keep up with shoppers' quickly changing behavior and avoid the doldrums afflicting many brick-and-mortar retailers. It seems to be working with Nordstrom now getting 20% of sales from e-commerce. Two years ago, Nordstrom only got 13% of sales online. fortune.com

How distributors must adapt to the changing online marketplace

Report: Google will take on Amazon, eBay with 'buy' button

Hhgregg e-commerce up 47% in Q4
Target e-commerce up 37.8% in Q1
Dick's Sporting Goods e-commerce up 32% in Q1
Nordstrom e-commerce up 25% in Q1
Wal-Mart's e-commerce up 17% in Q1
Ralph Lauren's e-commerce up 16% in Q4

"Fraud is not a person - it is a dynamic grouping of statistics that deviate from the norm."
Stuart B. Levine, CFI, CFCI
CEO, The Zellman Group & Zelligent



List of 34 Organized Retail Crime Associations
throughout the U.S.
The number of Organized Retail Crime Associations has grown steadily in recent years, demonstrating an increased effort on the part of retailers and law enforcement to share information at the local and regional levels, as well as an acknowledgement of the scope and severity of organized retail crime. For your investigative purposes, we've compiled a list of current ORCA's throughout the United States should you need assistance in any specific locality or wish to join their group.

If you have another group or groups to add to the list, let us know! Help raise awareness about the resources available to LP practitioners and investigators throughout the country - as we, as an industry, continue to strengthen our collaboration in the fight against this national epidemic.



The Daily - Driving the ORC Effort Nationwide
Coming soon: Over the next few months, we'll be publishing articles on individual ORC associations around the country, detailing the history, the growth and the people behind these major efforts nationwide. The Daily will help share their stories, their successes and their models in order to better educate the industry and help build the ORC effort for the future.

Westchester Co, NY $450,000 Identity Thieves Re-Arrested in Orange County on Additional Charges The ringleader of an elaborate identity theft gang, and the former bank teller who stole customer data, were re-arrested on new charges in Orange County, Attorney General Eric Schneiderman announced today. Tyrone "Reece" Lee, the leader, and former bank teller Nadia Figueroa, were charged on a 50-count indictment, accused of running an identity-theft ring that stole over $457,000 from customers of Wachovia Bank (now Wells Fargo). Both pleaded guilty earlier this year to operating a similar identity-theft scheme in Westchester County, for which Figueroa last week was sentenced to two to six years in prison. patch.com


2 arrested on identity theft, credit card fraud warrants out of Stamford, CT A man and woman have been arrested at their Bronx home on outstanding warrants Stamford police issued for identity theft and credit card fraud. Officers say they seized numerous fake Florida licenses, blank credit cards, and forged credit cards from Ferne and Phillip Deans' home. They also say they found commercial equipment used to manufacture credit cards, a card reader/writer, and a laptop with links to a site known for selling stolen card information. The Deans are being held in New York as fugitives from justice and await extradition to Stamford to be formally arrested on their warrants. Both suspects are charged with with multiple counts of felony forgery, criminal possession of a forgery device, and criminal possession of a forged instrument. wtnh.com

Two Phoenix men were arrested May 15 on suspicion of trafficking in stolen property, organized retail theft and shoplifting at a Target, according to a police report The first man was seen on surveillance removing two bottles of cologne from the sales shelf, according to the report. A security officer then saw the man begin to walk down the aisle and place the items in his pants pocket, police said. That man was then seen walking out toward the front entrance without paying for the items, police reported. The officer saw the man hand the bottles to the other man outside the store, according to the report. The other man immediately entered the store and went directly to the customer service counter to conduct a non-receipt return for the two bottles of cologne, according to the report. A gift card worth $119.65 was issued to him, police said. The first man denied stealing any items but the second man admitted to the theft, police said. He said the plan was to split the proceeds of the gift card, according to the report. Both men were transported to Tempe City Jail where they were booked and held to see a judge. statepress.com


Shoplifting team hits Stop & Shop in Norwalk, CT; claiming bad App Three Norwalk women were arrested for larceny after they allegedly coordinated an effort to walk some $700 in goods out the door of the Stop & Shop on Old King's Highway, according to police. It happened Monday night, May 11, a little before 9:30. Store personnel were watching three individuals as they moved around the store, according to the police report, and one of the three shoppers then went out to the parking lot "and appeared to be a lookout." Meanwhile, the other two shoppers wheeled out of the store with the shopping carts they'd been filling, but store personnel stopped them and called the police. The carts contained a total of nearly $730 in stolen items, police reported - although there were no further details on what was taken, only that the carts' contents were photographed. All three of the suspects denied they were doing anything wrong, police said. The trio claimed they'd been trying to use a Stop & Shop application to pay for items, and the app hadn't worked properly, but the employees told police the store doesn't use such an app. darientimes.com


Three wanted in retail theft in Silver Spring Twp, PA Police are looking for three people they say were involved in a retail theft on Monday. Silver Spring Township Police said the incident occurred at Kohl's, 6444 Carlisle Pike, Mechanicsburg, when the three suspects entered the store, stole items and left in a silver vehicle, possibly a Hyundai Tiburon. cumberlink.com

Do you have an ORC case to share? Publishing it educates the LP & retail community
which might fuel even more jobs and funding.
Share your ORC news and help the industry grow


Man cuts woman's throat during robbery at H-E-B store in South Austin, TX
Police are looking for a man they say cut a woman's throat while trying to rob her early Wednesday morning outside a South Austin H-E-B store. The woman left the H-E-B store around 1:30 a.m. and was walking to her pickup when the man approached her and cut her throat, police said. Police say the man struggled with the woman to get her purse before leaving the scene on foot. The woman ran back to the store where an H-E-B security guard used his reflective vest to put pressure on the woman's neck until medics arrived, police said. The woman, whose age and identity were not released. Police said they don't believe the two knew each other and that the attack was random. An H-E-B spokeswoman declined to comment on the investigation but said counseling services will be available to the security guard who helped the woman, as well as store employees. statesman.com

C-Store Clerk killed in Armed Robbery in St Augustine, FL
A store clerk's shooting death in St. Augustine Tuesday afternoon sparked a high-speed chase that ended in Green Cove Springs, authorities said. The chase -- which authorities say exceeded 100 miles per hour -- ended at the Governor's Creek Bridge in Green Cove Springs before 4 p.m., according to the Florida Highway Patrol. Two suspects, both believed to be 16 years old, found inside a black Jeep Grand Cherokee reported stolen out of another county are confirmed to be suspects in the St. Augustine shooting, according to the Clay County Sheriff's Office. Both were taken into custody without incident. Neither was hurt. Mark Samson, spokesperson for the St. Augustine Police Department, told First Coast News investigators are responding to reports of shots fired at the Tobacco Beverage Express store, about 2 p.m. Tuesday afternoon. The clerk was shot in the head, police said. firstcoastnews.com

Details scarce in Homeland Security shooting at furniture store parking lot in West Palm Beach, FL The investigation of a shooting involving Homeland Security agents near El Dorado furniture along Okeechobee Boulevard in West Palm Beach continues. A spokesman with the U.S. Department of Homeland Security says agents were trying to make an arrest when the suspect accelerated toward agents and they fired their weapons. The suspect is suffering from non-life threatening injuries at an area hospital. wptv.com


Stores around Twin Peaks in Waco, TX remain closed, part of crime scene Sunday's bloody shootout involving rival motorcycle gangs and law enforcement officers has cast a pall over business at Central Texas Marketplace, with a handful of stores still forcibly closed because of their proximity to the Twin Peaks crime scene and managers of other establishments reporting small crowds and nervous shoppers. Still, most store officials said they do not think the marketplace at West Loop 340 and Interstate 35 now bears a stigma that will stifle traffic over the long haul. Cabela's Outpost and the Best Buy electronics store at Central Texas Marketplace and the businesses between them remained closed Tuesday, with police determining they represent part of the crime scene due to their proximity to Twin Peaks. The Don Carlos Mexican restaurant next door to Twin Peaks also had not reopened. Retailers affected include the new Cavender's Boot City superstore, World Market, Bed Bath & Beyond, JoAnn Fabric & Crafts and Five Below. "I think it's safe to say if these retailers remain closed for a week, the cumulative loss will top millions of dollars," said Kelli Hollinger, director and lecturer at the Mays Center for Retailing Studies at Texas A&M University, who said she has seen "unfortunate" photos of the crime scene that included images of the stores. wacotrib.com

True Religion Employees maced during Cincinnati outlet mall robbery
Monroe police are investigating a robbery Tuesday morning at Cincinnati Premium Outlets that resulted in some employees being doused with pepper spray. At about 10:40 a.m., two men and a woman entered True Religion store and apparently tried to get away with merchandise, according to Monroe Lt. Brian Curlis. There was a confrontation and some employees were sprayed with pepper spray. Emergency squads assisted the employees at the scene, but no one was transported to a hospital. The suspects fled through the mall and got into a car, described as light blue or silver possibly with Missouri license plates, and were last seen heading toward Interstate 75.

journal-news.com


Man who videotaped Brooklyn McDonald's brawl charged with Inciting Riot The man who videotaped a brawl at a McDonalds in Brooklyn last week has been charged with egging on the increasingly violent attackers. 24 year old Amir McCants was arrested after he shot video of last week's assault at the Flatbush Avenue Extension McDonald's. He was charged with inciting a riot. During the assault, police say McCants repeatedly urged the attack by yelling "kill him...kill him right now." The fight started as a brawl between two teens. But when 43-year-old Iver Whittingham tried to pull the two apart, the teen group turned on him, and McCants allegedly continued to egg on that attack. "I think if you heard the audio, it's pretty clear what he was doing. Inciting a riot," said NYPD Chief of Detectives Robert Boyce. "New York state penal law that means you have to have four people to incite a riot. We have three in custody now, we are looking for a fourth one." Whittingham and the teen originally attacked were treated and released from the hospital. yahoo.com

Box-toting masked gunmen rob Gretna, LA pharmacy
Masked gunmen carrying boxes on their shoulders held up a Gretna pharmacy, making off with cash and prescription drugs. No one was injured in the robbery, which occurred Friday evening in the 500 block of Lafayette Street, said Gretna Police Deputy Chief Anthony Christiana. Two men walked into the store about 5:34 p.m., approached the employees at the counter and demanded money and drugs. The men specifically asked for the painkillers hydrocodone and oxycodone, Christiana said. The robbers had the employees put the drugs and an undisclosed amount of cash into the boxes. They then forced all of the employees into a bathroom, Christiana said. nola.com

Phony credit cards dupe a dozen Denver businesses
A new credit card scam is hitting Colorado and it already has duped dozens of small-business owners. The thieves are buying real credit card numbers from underground websites, and creating their own fake cards. Scott Taylor, owner of Salvagetti Bike shop in Denver is one of several victims. A security camera captured one of the thieves as he was leaving the store. "This is a $2,700 bike that he's walking out with," Taylor said. The thief, later identified as Osmar Reinoso, used a fake card with a real number to steal more than $45,000 worth of high end bikes from Taylor's shop. Taylor is not alone. The FOX31 Problem Solvers have learned Reinoso was working with two other criminals, Raymel Martinez and Dasnel Jiminez. According to court records, the trio traveled to Colorado and went on a shopping spree, using a dozen fake cards to steal hundreds of thousands of dollars of merchandise from Paul's TV stores and bike shops all along the I-25 corridor. kdvr.com



Woman arrested after shoplifting at Kohl's in Columbia, MO, hitting Loss Prevention with car A south Columbia woman is still in jail in Boone County after allegedly shop lifting and hitting an officer with her car. Kohls employees claimed Alaina Nickens Hill walked out of a dressing room Monday carrying some of their items. The witness said she threw her young children in the car without car seats. The store's loss prevention officer was hit while standing behind her vehicle to get her license plate number. Police said Nickens Hill also ran away from officers outside her home. abc17news.com

Easton, PA man charged with stealing $800 of electronics from Lower Nazareth Wal-Mart A 33-year-old Easton man who failed May 9 in an effort to steal electronics from the Wal-Mart at Northampton Crossings in Lower Nazareth Township was arrested Tuesday morning in Easton, court papers say. Justin Drarmoe Edwards, of the 100 block of Jackson Street, along with another man had a camera kit, a camera, four LED light bulbs and a sound bar - total value $799.09. lehighvalleylive.com


Miami-Dade Police Officer arrested in Gas Theft scheme A veteran Miami-Dade Police officer is facing fraud charges after he filled up his personal car with county fuel, authorities said. Sgt. Emil Van Lugo was arrested Friday on one count of organized fraud of $20,000 or less and five counts of petty theft, the Miami-Dade State Attorney's Office said Monday. His bond was set at $10,000 and it was unknown if he has an attorney. Authorities said Van Lugo, a 16-year veteran, was fueling his car at a station rarely used by other officers between January and March. The amount of fuel consumed appeared to exceed the miles driven, authorities said. According to the investigation, Van Lugo was caught pumping gas on 55 different occasions into a red gas can. He would then head home, put a funnel into his wife's BMW and top it off. Records show Van Lugo made $130,000 last year. nbcmiami.com




Jewelry Distraction Theft - TN/KY/NC/SC/AL/MS/GA/AR/MO/IL/IN On 5/16/2015, at approximately 1:00 PM, the subjects, committed a distraction theft at a Zales store in Goodlettsville, TN; And on 5/16/2015, at approximately 2:45 PM, the same subjects visited a Zales store in Franklin, TN. Four bridal sets were taken, valued at $24,939.96.



RCMP in Calgary investigating after $6,500 ring stolen from Red Deer jewelry store Investigators are searching for a male suspect after a diamond ring worth about $6,500 was stolen from a Red Deer jewelry store last week. RCMP officers were called to the Peoples Jewellers in Parkland Mall 2:40 p.m. Friday, after a Vera Wang engagement ring was taken. Police say a man walked into the store and asked to take a closer look at two rings. He gave the rings back and left, only to return about five to 10 minutes later. He once again asked to take a look at the same rings, then took off with one of them, RCMP added. calgaryherald.com



27 skimmers found in Central Florida gas pumps in statewide inspection





Target employee catches woman charging $1,000 to fake credit card in Indian River Co, FL





Thieves steal 30 handguns from Powhatan, VA pawn shop and gun store



Clemson Football Player Ebenezer Ogundeko dismissed following arrest for credit card fraud



Fort Myers, FL Police investigates attempted store robbery with shots fired








To apply to today's Featured Jobs, Click Here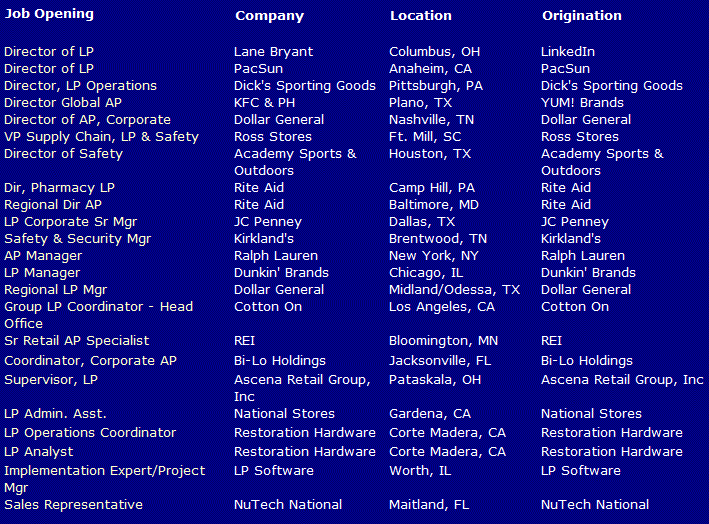 Limited Time Only - Post Your Multi-Unit LP jobs for FREE - Learn More Here




Today's Daily Job Postings from the Net - Appearing Today Only

To apply to today's Internet Jobs, Click Here



Gina Guardamondo, CFI was promoted to Senior Director of Loss Prevention for Finish Line.
Bobby Templet was named Sr. National Account Manager for Stanley Security Solutions.
Mike Cross was named Loss Prevention Manager for Sears Canada.


5 Tips to Get a Grip on All that Stress
Life is never predictable and extremely overwhelming at times especially when you factor in all the stress we feel. Finding balance in your life is the most important thing you can learn to do to help, and here are some tips to do so. Seek advice

Thinking on Your Feet: 6 Tips to Thrive Under Pressure We feel this immediate sense of stress and anxiety when we are put on the spot. Suddenly, it's up to us to come up with a grand idea, or solution to a vexing problem, but you just can't think. There are ways to improve your quick thinking skills. Here are a few of the top ones you can use. Turn off your devices

Managing your career upwards is a difficult task because it requires absolute commitment in every situation and environment. You have to stay focused on what's in front of you and make sure your attitude matches your actions. And remember always be West Point. There's a reason every single U.S. citizen respects graduates of West Point. It's almost a universal code so to speak. Clean, crisp, sharp, alert, intelligent, and always a gentleman or gentlewoman.

Just a Thought,
Gus Downing




Post Your Tip or Advice! Click Here

Please make sure to add d-ddaily@downing-downing.com to your contact list, address book, trusted sender list,
and/or company white list to ensure you receive our newsletter.
FEEDBACK / www.downing-downing.com / ADVERTISE WITH THE DAILY