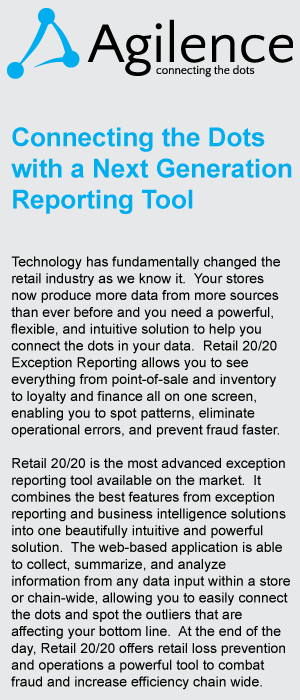 Cyber Security & LP's
Role in the Effort
The NRF's Threat Alert System &
RILA's Development of R-CISC
How LP Fits In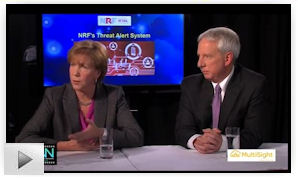 Both NRF and RILA have been tirelessly working together and separately over the past year to establish efforts to help fight the cybercrime crime wave impacting retailers nationwide. Leaders from both industry groups sit down together with LPNN for an in-depth look at the NRF's Threat Alert System and RILA's Retail Cyber Intelligence Sharing Center. Tom Litchford, VP, Retail Technologies for the NRF, and Suzie Squier, Sr. VP, Member Services for RILA, discuss the latest in cybersecurity, what the two leading retail associations are doing about it, and what role LP executives can play in the fight against this unprecedented threat.
---
LPNN Quick Take #20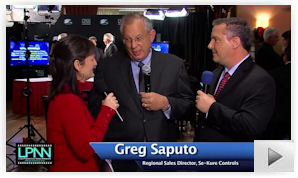 Greg Saputo

, Regional Sales Director, Se-Kure Controls, joins Joe and Amber for an LPNN Quick Take. Learn what Greg's one regret was after he made the switch from retailer to solution provider after 34 years in the LP industry.



Solution Providers, have a video or commercial you want to publish? Contact us.

2014 LP Team Group Selfie Review
Showcasing each team in order!
Your Team - Your Pride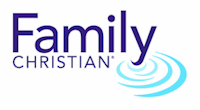 Family Christian Loss Prevention Team
"Protecting the Family Christian Mission to Serve Orphans and Widows"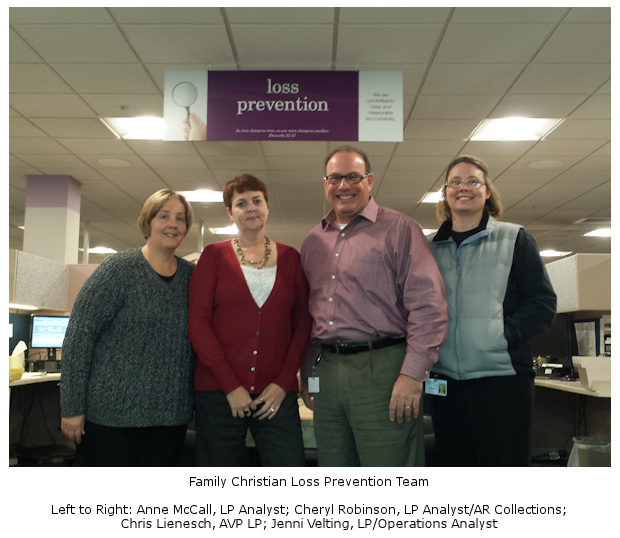 *Published on November 4, 2014

View all the selfies here!

---
2015's Let's Get LP Social
We still want your Group LP Selfies - So keep them coming retail LP teams!

Submit a group selfie of you and your LP team and you could get a plaque. Please submit a high resolution photo (300 dpi) and logo at 5" wide for your printed plaque, and if you have a tagline or slogan either from your team or from the company, please send it to us as well for inclusion on the plaques and here on the Daily. Click here for more details.
New to the D&D Daily, "My LP Selfie"!
Got a Smartphone, webcam or camera? Snap a picture of yourself and send it in to the Daily! Let's see what all our LP folks are up to!


Half Of Retail, Healthcare Sites 'Always Vulnerable'
According to WhiteHat's Website Security Statistics Report 55 percent of retail/trade sites were always vulnerable (vulnerable every day of the year). darkreading.com

More cyberattacks registered on computers and mobile devices in 2015
About 2.2 billion malicious attacks were registered on computers and mobile devices in Q1 2015. According to a report conducted by Kaspersky Lab, mobile threats are declining but are still dangerous. During the quarter, 103,072 new malicious mobile device programs were discovered, which represents a 6.6% decline from Q1 of 2014. However, mobile malware seems to be evolving toward monetization as malware writers design SMS Trojans, banker Trojans and ransomware Trojans capable of stealing or extorting money and users' financial data. This category of malware accounted for 23.2% of new mobile threats in Q1 2015. Kaspersky also detected 1,527 new mobile banking Trojans, 29% more than in Q1 2014. thepaypers.com

Denial-of-service attacks hit more than a dozen retail sites in Q1
The number of DDoS attacks in the first quarter of 2015 jumped 116.5% compared with the same period in 2014. In its most recent "State of the Internet" report, the firm uncovered approximately 613 DDoS attacks in the first quarter of 2015. A DDoS attack occurs when malefactors attempt to knock a site offline by sending an overwhelming volume of traffic to it. The report does not mention exactly who was hit. But of the 613 only 14 were retailers. internetretailer.com

Visa Checkout adds Dunkin' Donuts; partners with Pinterest

Target's e-commerce Q1 up 37%
The Buckle Q1 e-commerce up 12.9%
Williams-Sonoma Q1 up 8.4% - Generating 52% of total company revenue

"Fraud is not a person - it is a dynamic grouping of statistics that deviate from the norm."
Stuart B. Levine, CFI, CFCI
CEO, The Zellman Group & Zelligent



Adding Five More ORC Associations takes Total to 39 Nationwide
After publishing the list of the Organized Retail Crime Associations in the U.S. yesterday, we received five more organizations to add to that list.

Area Law Enforcement and Retail Team (ALERT) - Memphis, TN

Northwest Organized Retail Crime Alliance

Oklahoma Organized Retail Crime Association

Los Angeles Area Organized Retail Crimes Association

Philadelphia Organized Retail Crime Alliance

Organized Retail Crime is growing, and so are the groups helping to mitigate this threat. Thank you Kevin Thompson, Rich Whidden, Norm Smaligo, Joe LaRocca and Eric Mizner for providing us with these associations to add to our growing list. Are we missing any? Let us know! Stay tuned for 'The History of ORC in North America.' Get involved and help the effort to get Federal Legislation!

Fencing Operation Busted in San Antonio - $30,000 in cash and tens of thousands of dollars' worth of stolen property recovered San Antonio police have busted up a four-person theft ring that authorities believe are responsible for at least 10-12 retail thefts of high-end clothing and merchandise totaling tens of thousands of dollars. Police arrested three men and a woman Wednesday afternoon, said Sgt. Javier Salazar, a police spokesman. He said they are suspected of having committed retail thefts at stores from San Antonio to New Braunfels. Over several weeks, three male suspects worked together over a series of days to target one store," Salazar said. He said the men are suspected of doing "snatch-and-grabs" and also at times removing security tags from clothing and returning the next day to the store to take those items.

Salazar said detectives conducting the surveillance observed the suspects meet with an employee of a restaurant located in the 2500 block of West Avenue. "Detectives were able to get into the residence of the employee of the restaurant and recover $30,000 in cash and tens of thousands of dollars' worth of stolen property," Salazar said. Once authorities were in the home, they found high-end clothing, tennis shoes and handbags, Salazar said, "just about anything that wasn't nailed down that they could grab," was taken, he said. San Antonio worked with police departments in Selma and New Braunfels. mysanantonio.com
ORC Trio busted stealing TV's from Walmart to support heroin addiction in Mahoning Township, PA The shoplifting last month of a $420 television from the Walmart in Mahoning Township has led to the thieves responsible for stealing $3,500 in merchandise over three weeks, police said. The thefts were carried out April 3, 4, 6, 10 and 24, Mahoning police said. Kraynak took part in four of the thefts; and Carter in two, police said. Hollie Carsia, 28, helped Kraynak in three; and an unnamed person helped Carter in one, police said. mcall.com

Heroin is driving ORC in Reno, NV. & Heroin is making a comeback
Reno police are seeing more boosters hitting apparel stores to make their money to buy heroin. They claim the nation has done a good job at combating the prescription pill epidemic, but what that has done is made pills more expensive," the officer said. "It is easier now for these younger generations of kids to buy heroin." One retail store was a target among addicts. "Like clothing stores they can chase you outside and they can tackle you themselves," the woman in custody told me. "Walmart, they can't. The greeter at the door yells at you and that's about it," says one inmate and heroin addict. kolotv.com

Six people busted for using fraudulent credit cards at Target stores in South Charleston, W.Va. - Suspects arrested multiple times since Jan. Six people from New Jersey are facing charges out of Kanawha County, after police say they were using fraudulent credit cards at Target stores. Itrue Brunner, 20, Angel Chapman, 20, Garry Gaston, 20, Jerome Hilton, 20, Edward Rios, 20, and Dejon Williams, 26, are charged with one count of Fraud In Connection with Access Devices. Officers with the South Charleston Police Department were called to the Target store on RHL Boulevard about 5:30 p.m. Tuesday, because of suspects using stolen credit cards in the store. Earlier in the week, Target sent out a company-wide alert, with photos of the suspects in the South Charleston, Wheeling, and Morgantown stores. A description of a van they were in was also sent in the alert. South Charleston Police pulled over the van and saw several cards in the vehicle's door panels and cup holders, as well as in the wallet of the driver, Garry Gaston. Detectives believe the suspects used stolen credit card information and re-encoded them onto gift cards and prepaid credit cards. This is still an open investigation. We have a large amount of cards with a lot of data on them.

Itrue Brunner and Angel Chapman were both arrested in January in New Jersey for the use of fraudulent credit cards. Chapman was arrested again in February for using stolen credit card information encoded onto other cards. She apparently told police she had 100 stolen credit cards when she was arrested in February. wsaz.com


U.S. Secret Service Joins Investigation In Multistate Credit Card Fraud In Kanawha County, WV; 6 arrested hitting Target stores The U.S. Secret Service is getting involved in credit-card fraud case believed to be spanning multiple states after six suspects were arrested in Kanawha County. Edward Rios, Dejon Williams, Garry Gatson, Angel Chapman, Itrue Brunner and Jerome Hilton, all of New Jersey, are each charged with one count of credit card fraud. But Detective C.A. Cook with the South Charleston Police Department said as the investigation continues, more charges will likely be filed. South Charleston police said it happened after the South Charleston Target said several people were using stolen credit cards at their store on Tuesday. Police stopped a vehicle matching the description of the Target suspects' vehicle traveling north on Route 601/Jefferson Road. Police said they found credit cards and prepaid cards in one of the suspect's wallet, the cup holder, the center console, and in the door panel of the van. Police said they called the Secret Service after they found the large amount of stolen credit cards with information that didn't match the bank information and had been re-encoded onto gift cards and prepaid credit cards. Right now, police were only able to confirm the bank account information with one bank, that's why each person is only facing one count. More charges are pending as the investigation continues. Police also said one of the suspects, Angel Chapman, is facing similar charges in New Jersey. Police said Chapman told them she had 100 stolen credit cards when she was arrested in that case in February. wchstv.com

Jurors find Akron, OH man Guilty of Stealing more than $1 Million in Food Stamp Scam An Akron storekeeper was convicted Wednesday of engaging in a pattern of corrupt activity and all other felony charges for pocketing more than $1 million in a food-stamp scam. Johnnie Byrd III, 45, was taken into custody by sheriff's deputies immediately after the verdicts were read and Common Pleas Judge Amy Corrigall Jones revoked his bond. Sentencing was scheduled for 9 a.m. May 28. Prosecutors said Byrd faces a maximum penalty of 24 years in prison along with sizable fines. The verdicts were announced at 4:15 p.m. following about four hours of deliberations. Byrd, seated at the defense table in a dark suit and open-collar shirt, had no visible reaction to the decision. Once he was led out of the courtroom, however, the lead state investigator, Jacqueline Largent of the Ohio Department of Public Safety, exchanged a high-five with Sheriff's Detective Anne Manuel, who played an extensive role in the investigation. "A lot of hard work," Manuel said afterward. Largent and Manuel then shook hands with Summit Assistant Prosecutor Colleen Sims, the government's lead attorney in the case. In addition to Byrd's conviction under the state's racketeering law, he was found guilty of grand theft, money laundering, telecommunications fraud and illegal use of food stamps. ohio.com


Thieves hit Walmart in Columbia and Baker Counties for $46,000 in cellphones The Lake City Police Department is searching for four people after nearly $50,000 worth of cellphones were stolen from Walmarts in Columbia and Baker Counties in the same day. Investigators said they arrived in what appears to be a silver GMC Terrain SUV, possibly a rental vehicle. Police said they used a shopping cart and grabbed a black rolling luggage bag and headed to the electronics section. On May 11 around 6:30 a.m., the male suspect crawled behind the electronics counter and forcibly opened the storage cabinets, according to police. At the same time, one of the female suspects kept watch and the other two distracted nearby Walmart associates, police said. news4jax.com

Lawton, TX Woman Charged with $30,000 Credit Card Abuse at Academy Sports and Harbor Freight A Lawton woman was arrested after police say she was using credit cards that had been altered. Wichita Falls police say the incident happened back on August 8th of last year, when 34-year-old Keli Elizabeth Ghoulson told officers she was trying to buy items at Academy Sports. Ghoulson said the card was denied, but according to the arrest affidavit, the Mastercard appeared to be altered and the original name and card number had been scratched off. The back magnetic strip also appeared scratched, making it unusable. Officers searched Ghoulson's vehicle and found two notebooks containing more than 100 16 digit numbers, black embossing letters and sales receipts from Academy Sports in Wichita Falls, Texas and in Edmond, Oklahoma. Records indicate that there were 81 compromised credit cards and more than $30,000 dollars in fraud loss. A second arrest affidavit on Ghoulson states that a Harbor Freight receipt in the amount of just over $1,400 dollars was found in Ghoulson's possession, and that new items from that store were in the trunk of her vehicle. Ghoulson told police she used a Green Dot card to make the purchases, but police say she used an altered credit/debit card. newschannel6now.com

Multi-State crime spree ends at Sapulpa Walmart: suspected in 27 C-Store robberies A man wanted in a two-state crime spree is behind bars now at the Creek County Jail. Officials said Bobby Blankenship, 28, is wanted in more than two dozen robberies and several more crimes. FOX23 learned Wednesday that Blankenship's crimes stretched from Drumright all the way to Fort Smith. The crime that ended it all was stealing a DVD from a Sapulpa Walmart. LeFlore County Sheriff's Investigators told FOX23 that Blankenship could be connected to as many as 27 convenience store robberies in LeFlore, Sequioa, Sebastian and Polk counties. He's also wanted in Haskell and McIntosh counties. Sapulpa police said Blankenship's crime spree ended when he was caught by Walmart loss prevention officers. fox23.com

Do you have an ORC case to share? Publishing it educates the LP & retail community
which might fuel even more jobs and funding.
Share your ORC news and help the industry grow


1 Dead, 1 Injured in Shooting Outside Waldorf, MD. McDonald's
A man injured in a double shooting in the parking lot of a McDonald's has died, the Charles County Sheriff's Office announced Thursday. Deputies were called to the 11000 block of Mall Circle in Waldorf Wednesday night for a report of a shooting. Both victims, a man and woman, were taken to an area hospital, where the 25-year-old man died overnight. The female victim is in serious condition. Investigators say a suspect was taken into custody Wednesday. The suspect and victims knew each other. nbcwashington.com

Arrests made in Pageland, SC store robbery, shooting to 'shock the town'
Four people were arrested in a Pageland store robbery and shooting that sent the clerk to the hospital late Sunday night. Pageland Police Chief Larry Brown says the arrests will "shock the town." Maria Aguilar, 30, was shot in the neck while working at La Tienda Mexicana Store on West McGregor Street in the downtown area. Thursday morning, Brown said the main suspect had been arrested and three others were arrested as accessories after the fact. A witness told investigators Aguilar handed the suspect money and was shot after she reached for a phone. Aguilar was rushed to the Pageland airport and then airlifted to the hospital. Arturo Martinez, the husband of the victim, said Tuesday morning's surgery went well and that his wife is now recovering. wbtv.com

2 Romanians busted with ATM skimming devices in Orem, CA - other suspects still at large A day after police said they were looking for a group with skimming devices at ATMs, a pair is in custody. Orem police were involved in the capture while working with the FBI Cyber Crime Task Force. Other suspects still at large. myinforms.com

Statewide Sweep Finds 103 Skimmers in Florida
A statewide sweep of 7,571 gas stations in the Sunshine State revealed 103 skimmer devices, according to Florida's Department of Agriculture. At least one skimmer was found in 29 Florida counties, reported The Associated Press. Miami-Dade County had the most with 16 skimmers, followed by Palm Beach County with 11 and Broward County with nine. csnews.com


Citi Gear in Houston the victim of a Smash and Grab; 3 arrested following chase Smash-and-grab suspects led police on a chase, but were arrested after crashing their getaway van into a family's fence in West University. According to police, the suspects were involved in a smash-and-grab at a Citi Gear store in southwest Houston and got away with $10,000 worth of clothes Thursday morning. Though a witness called in the crime, surveillance video showed the suspects breaking into the store and stealing piles of clothes in less than 60 seconds, according to the store manager. The Houston Police Department and West University police partnered together to catch the suspects as they were led on a high-speed chase starting on Highway 59 North. The chase ended shortly after when the suspects crashed the van at Weslayan and Bissonet Street. No one in the home was hurt as the van narrowly missed hitting the house. click2houston.com


Thousands in Jewelry Stolen From Tulsa, OK Kmart Store Police are looking for two men who broke into the Kmart store at 51st and Harvard early Thursday and stole jewelry. Officers got the alarm at about 3:30 a.m., but by the time they arrived the pair were already gone. Police said the men cut a hole in the lawn and garden fence and pried open two sets of doors, heading straight to the jewelry counter. Officers said surveillance video shows the men breaking a glass case and stealing a large amount of jewelry. Police said the two men were in the store for less than two minutes. Police haven't said how much jewelry was taken, but some of the rings were worth around $1,000 a piece. The Kmart store is scheduled to close by mid-July. newson6.com

2 men sentenced in Kidnapping, Jewelry store Burglary in Greece, NY
Two men are heading to prison in the kidnapping of a western New York couple as part of a plan to rob the jewelry store where the couple worked. Authorities say 29-year-old Thomas Pryor was sentenced to 18 years in prison Wednesday and 28-year-old Qzay Clark, who pleaded guilty to attempted burglary, received three years in prison. Authorities say the men bound the couple and their adult son with duct tape and held the family hostage for a night in their Greece apartment outside Rochester last year. They hit the father in the head with a gun. The next day, Pryor and Alexander Kates took the father's car and robbed the jewelry store using the couple's keys and passcode. Kates is expected to be sentenced in June. sfgate.com


Burglars hit 3 Fresno, CA Pharmacies, Owner says there's no stopping break-ins After a high speed chase Wednesday morning police arrested the suspects charged with breaking into a pharmacy near First and Nees in Fresno. Pharmacy owners in town say they're happy about the arrests, but they don't believe it will stop the ruthless attacks on their businesses. Pharmacy store owners in Fresno say there is no stopping the constant break-ins at their stores. Wednesday morning in the span of an hour three pharmacies were broken into. The break-ins happened at pharmacies on Gettysburg, Nees, and Marks at around four o'clock in the morning. In Fresno security bars are welded to the front windows of a pharmacy. The steel is designed to provide relief from an onslaught of break-ins, but the thieves are relentless. "The last two break-ins we had bars up. (and that didn't stop them?) No. Not at all," said Bob Zingarelli Medicine Shoppe Pharmacy Owner. Before the sun came up Wednesday morning three different Fresno pharmacies became targets. "The police do a great job it's just endless," said Zingarelli. Two of the break-ins were caught on surveillance camera. yourcentralvalley.com

Olean, N.Y., pair charged with theft from Walmart
Jessica Lynn Pinkard, 21, was arraigned on Tuesday on one charge of retail theft, a first-degree misdemeanor, court records stated. Additionally, Matthew John Brucker, 22, of Olean, has been arraigned on charges of retail theft, a second-degree misdemeanor; and defiant trespassing, a third-degree misdemeanor, court records stated. Court records said on the afternoon of April 18, Pinkard put nine DVDs worth a total of $212.64 in her purse while she was shopping there. Police were initially called to the store because she was shopping with Brucker, who was not allowed to be on the property, court records indicated. bradfordera.com


UK: Tesco customer service worker plundered over $200,000 from her store in a 10-year refund scam Tesco customer service worker has been jailed after she plundered $207,000 from her store in a 10-year refund scam. Julie Last, 51, certainly took the supermarket giant's slogan of Every Little Helps to heart as she helped herself to the till and used stolen gift cards to purchase items. Last, of Ipswich, Suffolk, was locked up for 28 months at the town's crown court yesterday. The mother-of-three admitted three counts of theft by employee and a money laundering charge of converting criminal property. Ian James, prosecuting, said Last was caught on November 22, 2013. Searches of lockers, her home, and a trawl of her seven bank accounts discovered 68 Tesco gift cards and money she had stolen dating back to 2004. The court was told that even while on police bail, Last used another stolen gift card to purchase an item. mirror.co.uk

UK: Residents concerned about amount of money left overnight in Chesterton Tesco BURGLARS stole hundreds of dollars from a Tesco store in a smash and grab raid which took less than a minute. The three criminals hit the Tesco in Chesterton Lane, Cirencester during the dead of night - striking at about 3.20am on Monday. They smashed the windows of the front doors, leaned over the till and stole cash thought to be worth upwards of several hundred pounds. Following the raid, the store was closed until 3pm on Monday while repair work was carried out. People who live near the shop have raised concerns over so much cash being left in the store overnight. wiltsglosstandard.co.uk



York, PA man Plead Not Guilty to Felony Shoplifting, Conspiracy and Aiding and Abetting



Hobart, IN Police seek to identify 2 credit card fraud suspects

Romeoville, IL Woman Accused of Stealing $335 of Cosmetics from Sephora in Orland Square



Man sentenced to 8 years in $100,000 Diamond store Robbery in Frederick, MD








To apply to today's Featured Jobs, Click Here


Limited Time Only - Post Your Multi-Unit LP jobs for FREE - Learn More Here




Today's Daily Job Postings from the Net - Appearing Today Only

To apply to today's Internet Jobs, Click Here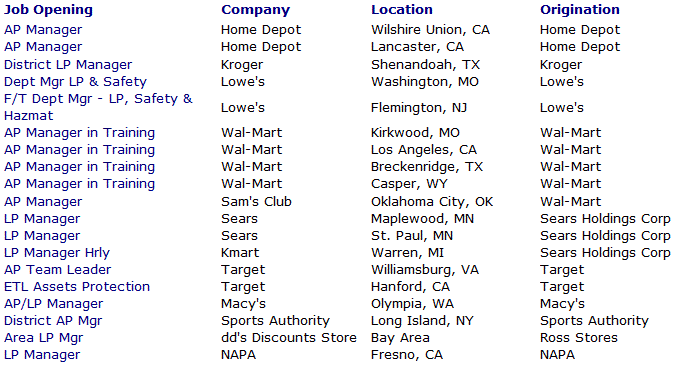 The 4 Enduring Qualities of Accomplished Leaders While the need for grit is essential for leaders to inspire their team, it can sometimes come at the expense of other critical behaviors. To get lasting results, you need GRIT - generosity, respect, integrity and truth. With these four principles, everyone will thrive. Enjoy work

4 Ways to Reignite the Flame with Burned Out Employees Sometimes, especially if employees have been with an organization for quite a while, the enthusiasm fades. Maybe they get a little too comfortable in their position. The key for employers is to reignite that flame, and here are some ways to do just that. Get them involved


How You Support Others Starkly Shows How You Lead Great leaders are always looking for ways to help those around them, because by doing so, and helping others complete their tasks, everyone wins. Not only do you feel good from providing others with opportunities to develop their talents and reach their goals, but this mutuality mindset builds bonds. Be a shepherd

Your Employees' Emotions Are Clues to What Motivates Them If you can better understand those around you, you can develop ways to better understand what it is that keeps them going, gets them motivated. Emotions can reveal information about a person that we don't hear directly. Here are some motivations you can read from your employees' emotions. Success

Sometimes you have to lose in order to win long term. Picking your battles is an art that many never acquire, but those that do are usually two steps ahead of you. So while the loss may seem to set you back, regroup and focus two steps ahead because that's where the winner of the last battle is. And remember always lose with dignity and win with humility.

Just a Thought,
Gus Downing




Post Your Tip or Advice! Click Here

Please make sure to add d-ddaily@downing-downing.com to your contact list, address book, trusted sender list,
and/or company white list to ensure you receive our newsletter.
FEEDBACK / www.downing-downing.com / ADVERTISE WITH THE DAILY