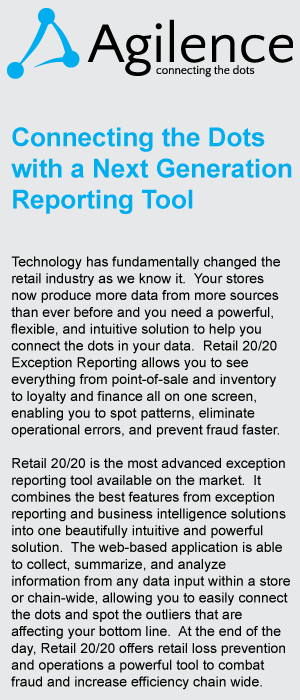 Kenya's West Gate Mall Massacre - Could it happen here?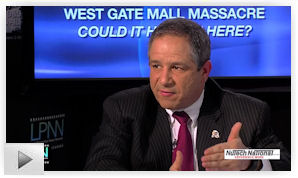 In September 2013, armed gunmen attacked the Westgate shopping mall in Nairobi, Kenya, resulting in 61 civilian deaths, six dead security officers and over 175 injured. Special Agent In-Charge Richard Frankel of the FBI deployed to Kenya with a Rapid Deployment Team and assisted the Kenyans in the forensic and intelligence investigation related to the terrorist attack. In this LPNN interview, Mr. Frankel talks about this high-profile investigation, the odds of a similar attack occurring in the U.S., and the importance of active-shooter programs for retailers. With the ultimate responsibility of protecting your employees and customers, learn what LP executives can do to prepare for and prevent such a catastrophic event.
---
"Live in NYC" Event Closing


LPNN Quick Take #21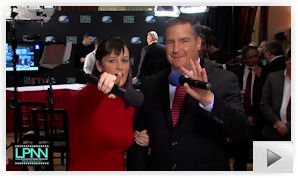 After a jam-packed day full of LP leaders, retailers, solution providers - and all the valuable information and fun in between - MCs Joe LaRocca and Amber Bradley sign off from the D&D Daily's "Live in NYC" at the NRF Big Show 2015. Re-live all the great moments here. Thanks for watching and we'll see you in Long Beach!


Solution Providers, have a video or commercial you want to publish? Contact us.


7 Tips to Protect Your Company from a Cyber-attack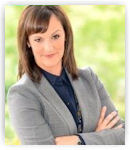 By Amber Bradley, Calibration Marketing

Cyber security is a growing concern. In 2014 Apple, Sony, Neiman Marcus, and Target were high profile victims of cyber theft. But for every big company that has fallen prey to a cyber-attack, there are hundreds of small businesses which have also been targeted. The potential for a cyber-attack is real for all companies, big and small, from cutting edge, high-tech corporations to traditional institutions. Phone companies, credit card services, department stores, hospitals, social media sites, and even government offices are possible targets. The scale of cybercrime is growing and no company is safe. It seems the bad guys are forging ahead in this race. It is important for you to understand: Cyber security is your problem.

Many companies resort to hoping that a cyber-attack doesn't happen to them and fail to prepare for one. Ernst & Young, in its "Get Ahead of Cybercrime" report, says that companies "lack awareness, budget and skills to prevent a cyber-attack."

The challenge is how do you manage risk, reduce the threat of cyber-attack, and implement sufficient security while budgets for these activities remain static? How do you allocate resources and staff to address the growing concerns of cyber-attack while conducting everyday business? Where can you find trained cyber security specialists to help you begin to build your defenses against cyber-attacks? If you do experience a cyber-attack, how can you minimize the damage it could cause?

Here are some tips for protecting your company and preventing or reducing loss:

| | |
| --- | --- |
| 1. | Educate your employees through cybersecurity awareness and training. Educated employees reduce breach costs by 76 percent! |
| 2. | Be aware of what data is vulnerable to a cyber-attack. This allows you to focus on the areas of your business that need the most protection. |
| 3. | Work to install multi-factor authentication systems rather than using a single password. Making it difficult for cyber hackers to break through the security wall may deter them from their nefarious tasks. |
| 4. | Be vigilant. Early detection is vital. Notifying your company's security team and law enforcement in the earliest stage of a cybercrime may significantly limit your losses. |
| 5. | Act quickly. Fast action may hamper the efforts of your cyber-attackers to access or use your information. |
| 6. | Make an effort to secure your data with workable solutions such as setting up segmented networks, deleting unneeded information, or using encryption. |
| 7. | Keep informed about the latest equipment and security systems as they become available. This may require an investment of funds, but managing risk and protecting your company is worth the cost. |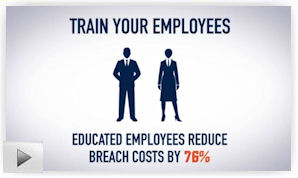 Cybercrime is a real threat. "Heartbleed" bugs, "Shellshocks," and "Sandworms" can penetrate your company's computers, databashtbreach in security can undermine your daily operations, destroy consumer trust, and leave you wondering what to do next. Though it is impossible to protect your company from every threat, there are things you can do and steps you can take to thwart cyber attackers. Is your company protected from cyber-attack?

Check out a cybersecurity stat video we created in collaboration with our partner, Fortalice Solutions. We partner with Founder and CEO of Fortalice, Theresa Payton, to create dynamic and inspiring cybersecurity awareness solutions for all types of businesses. Payton is the former CIO of the White House in the Bush Administration.


2014 LP Team Group Selfie Review
Showcasing each team in order!
Your Team - Your Pride
Sears Hometown and Outlet Stores Loss Prevention Team

"Taking a business approach to Loss Prevention Issues"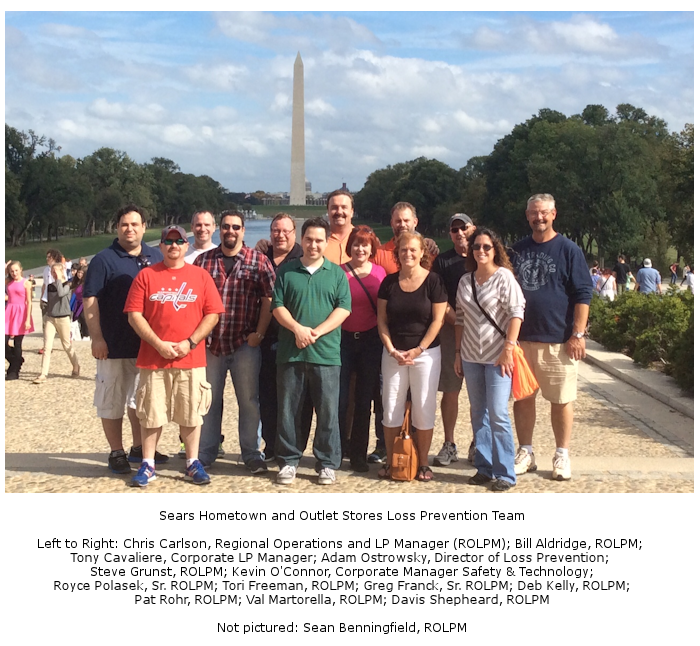 *Published on November 5, 2014

View all the selfies here!

---
2015's Let's Get LP Social
We still want your Group LP Selfies - So keep them coming retail LP teams!

Submit a group selfie of you and your LP team and you could get a plaque. Please submit a high resolution photo (300 dpi) and logo at 5" wide for your printed plaque, and if you have a tagline or slogan either from your team or from the company, please send it to us as well for inclusion on the plaques and here on the Daily. Click here for more details.
New to the D&D Daily, "My LP Selfie"!
Got a Smartphone, webcam or camera? Snap a picture of yourself and send it in to the Daily! Let's see what all our LP folks are up to!

Alibaba takes first steps over fake brand listings
Alibaba has been quietly piloting a scheme to try to curb fakes at source. In the coastal city of Putian, in Fujian province, Alibaba is working with 17 shoe manufacturers to cultivate home-grown brands online, revitalise a flagging industry and offer would-be counterfeiters an alternative source of livelihood. Critics say the scheme is misguided and Alibaba should instead focus on scrubbing its online marketplaces of widespread listings of fakes. But the 'Made in China' plan speaks to what proponents say is one of the reasons why there's been only limited progress in the battle against fake goods in China: a lack of attractive alternatives for those making and hawking goods that infringe on others' intellectual property rights. "You can crack down forever and never see an end to it." Ni Liang, Alibaba's senior director of internet security, says the scheme is a key anti-counterfeit initiative this year. gulfnews.com

Web sales top $1 billion for Home Depot in Q1 - 5% of total sales - up 30%
Home Depot, No. 10 in the Internet Retailer 2015 Top 500 Guide is finding better ways to use stores, social media and mobile commerce to connect with its shoppers. "We not only offered more spring season product online, but also leveraged digital media channels to highlight local in-store assortments and create footsteps to our stores. In the store, our mobile app helped customers identify product locations with our enhanced product locator. internetretailer.com

FTD, Classmates Inc., reach $11M settlement over fraudulent advertising and billing 21 states leveled accusations against the companies that "focused on the companies' relationships with third-parties that used negative option marketing practices to sell membership programs to consumers doing business online with Classmates and FTD. Those third-party marketers offered programs, including discount buying clubs and travel rewards, immediately after a consumer bought something from Classmates or FTD. Without telling customers, FTD and Classmates would share the consumers' personal information so the marketer could bill the buyers for the offers if they didn't cancel, Kane said. pennlive.com

Forever 21 turns Instagram into shopping tool

Mobile Payments Without The Merchant Fuss

Ashley Furniture to open e-commerce headquarters in Tampa

Amazon offers quick deliveries from stores in New York

Foot Locker Q1 domestic online sales up 50% - 12.3% of total sales
Best Buy Q1 domestic online sales up 5.3%

"Fraud is not a person - it is a dynamic grouping of statistics that deviate from the norm."
Stuart B. Levine, CFI, CFCI
CEO, The Zellman Group & Zelligent



3 men arrested in $70,000 Sprint cellphone heist in Pittsburgh Mills Mall Three men have been charged by Frazer police in the theft of $70,000 worth of cellphones from Pittsburgh Mills mall. Police Chief Terry Kuhns said they are responsible for two burglaries at a Sprint store in the mall, one in March and another Monday night. In addition, Kuhns said Penn Hills police are expected to file charges against the trio for a May 4 burglary at a Radio Shack store in Penn Hills. Kuhns said those arrested are Alan Walls, 23, and Decarlos Smith, 19, and Dominique Walls, 22. Eleven cellphones worth about $9,000 were taken in the first Sprint burglary March 18. On Monday, the burglars made off with about 90 cellphones worth about $61,500. "All were high-end cellphones like Galaxies," Kuhns said." They had big duffle bags and just loaded them up. "The first one, they entered through the front security gate," he said. "Alan Walls is a former Sprint employee and he had an access key." Kuhns said the burglary on Monday involved Alan Walls prying open a rear entry door to the Sprint Store. Alan Walls had been a suspect in the first burglary because he was a former employee and had not turned in his access key, Kuhns said. triblive.com

Thieves roll away with $40,000 worth of tires in Manatee Co, FL; possible ties to statewide $175,000 investigation The Manatee County Sheriff's Office is investigating a lucrative truck tire theft operation that could be connected to several other similar heists statewide. Sunday night around 11 p.m., two men stole two rental box trucks from All U Can Storage then used those trucks to load up and steal $40,000 worth of truck tires from GCR Tires, Manatee officials said. That same store was hit in December much in the same way. In January, Ocala Police investigated a similar heist where $48,000 worth of tires was stolen from a Goodyear store using a stolen box truck. The Lee County Sheriff's Office has an open case into $75,000 worth of tires taken from a store in September, and the Hillsborough County Sheriff's Office opened a case in Tampa where $12,000 worth of tires was ripped off from a Tampa store in August 2013. myfoxtampabay.com

Victoria's Secret theft ring targeting Lexington, Louisville, and Southern Indiana The Lexington police crime of the week highlights a team targeting Victoria's Secret stores in Lexington, Louisville and southern Indiana. During each theft, as shown here, between two and four females enter the stores carrying large bags in which they load thousands of dollars worth of merchandise in under a minute before fleeing. kentucky.com


Thieves break into Victoria's Secret store in San Antonio, TX Thousands of dollars of merchandise was stolen from a Victoria's Secret store located on the Northwest Side. Police say two women broke into the Huebner Oaks store at about 12a.m. on Wednesday. A Victoria's Secret loss prevention employee said the break-in was monitored from another store, apparently through some type of surveillance system. The two women could be seen making several trips with the stolen items to their car. About $8,000 worth of merchandise was taken. The same store was hit by burglars last week. Another $8,000 worth of items were taken in that burglary as well. foxsanantonio.com

Peoria, AZ Thieves target high-end hair care products at valley salons
Three separate salons have been targeted by thieves over the past year. In all three robberies the crooks targeted very specific, and very expensive items. And early Tuesday morning, a fourth salon was broken into. The robbers again took high priced products, making off with tens of thousands of dollars in merchandise. The owner believes her shop was the latest target in this salon crime spree. The crooks and the methods in this latest smash and grab incident have a lot in common with at least three other robberies in the past year. The two thieves with covered faces, two garbage bins, left with tens of thousands of Aveda Hair Products vanished within a matter of minutes. It's the same MO as three other robberies at salons in the valley that carry Aveda products. fox10phoenix.com

Clarkstown, NY Police Department arrests $3,700 Best Buy ID theft suspect
On May 24, 2015 at approximately 1:20 p.m. the Clarkstown Police Department responded to a report of possible fraud at the Best Buy Store, located at the Palisades Mall in West Nyack. Police say Akuudo Petrie, 25, of Brooklyn, NY attempted to purchase merchandise by opening a credit card account using a South Carolina driver's license from another person. The amount of her purchase was $3,700. After a brief investigation it was determined that Petrie had a fraudulent driver's license as well as a fraudulent credit card. rocklandtimes.com

Do you have an ORC case to share? Publishing it educates the LP & retail community
which might fuel even more jobs and funding.
Share your ORC news and help the industry grow


One person injured from a shooting at Auburn, Alabama
Police responded to a report of shots fired at the Auburn Mall on Tuesday evening, May 26. The Fire Division and EMTs responded to a call of one person injured. According to police, officers responded to a report of a shooting in the mall's parking lot around 6 p.m. Upon arriving, they found a 57-year-old man suffering from an apparent gunshot wound. The victim was taken to East Alabama Medical Center in Opelika with non-life threatening injuries, police said. No arrests have been made as authorities continue to look for the suspect. A motive hasn't been determined. theplainsman.com


Serial armed robber accused of killing Rio Rancho, NM Police Officer has history littered with violent crimes, killed man in '05 Andrew Romero, the suspect in the shooting death of Rio Rancho Police Officer Gregg "Nigel" Benner, has an extensive criminal past, including a conviction on manslaughter charges and a string of armed robberies that occurred over the past several months. When he allegedly shot and killed Officer Benner Monday during a traffic stop, it was the third time Romero has been involved in the death of a person. In 2005, he shot a 24-year-old man to death during a fight at a party in Albuquerque's South Valley. Romero pleaded down to manslaughter charges after originally being charged with an open count of murder. While in prison, a cousin of his victim nearly beat and strangled Romero to death and left him in a broom closet. Romero was sentenced in 2006 to 3.5 years in prison and five years of probation to follow for the incident, though he violated parole less than a month after his October 2008 release. In January 2010, he and his girlfriend were caught using her children to try and shoplift from Walmart. While detained by a security guard, Romero tried to escape and the security guard had a heart attack and died. Romero faced child abuse charges in that case. Most recently, Romero allegedly went on an armed robbery spree at local gas stations, Walgreens and CVS pharmacies. He is accused of robbing a Walgreens on March 25, another Walgreens two days later, a different Walgreens on March 29, then a CVS on April 6. He robbed another Walgreens April 8 at gunpoint. Then, in the early morning hours of May 22, he hit a Phillips 66 at gunpoint, a Giant less than two hours later and a Family Dollar - all in the span of three hours. kob.com

Staples general manager accused of $10,000 store refund scheme
The general manager of the Staples office supply store in Prescott, AZ., was arrested May 19 after he admitted that he had fraudulently kept $10,000 cash for returns he made to the store, according to a police report. McDonald, a three-year employee of Staples, has been at the Sheldon store for nine months, according to reports, and he gave a written statement to the loss prevention manager, detailing his activities. dcourier.com

Two men hit Target, Best Buy, Sears and Home Depot in shoplifting spree in Leominster, MA Scott Brooks, 23, of 149 Prospect St., was the more cooperative of the two, according to police, while Nickolas Dahl, 22, of 1031 Silverlake St., earned himself an intimidating-a-witness charge when he yelled to Brooks from the cruiser: "Shut up! Don't talk to them! Ask for a lawyer!" sentinelandenterprise.com

San Bernardino man arrested for possessing 'thousands' of people's credit card information A San Bernardino man accused of possessing "thousands" of people's credit card information on his computers posted bail a day after his arrest. San Bernardino County Sheriff's deputies arrested Serob Frenkyan at his San Bernardino home on Thursday on suspicion of identity theft, credit card fraud and being a felon in possession of a gun, booking records show. He did not have any charges filed against him Tuesday, according to court records. Deputies confirmed Frenkyan was a suspect in an ongoing credit card fraud investigation and, pulled up to his home but he ran inside one he saw authorities. Authorities said Frenkyan refused to come outside of the home and a detective got a search warrant for the home. Deputies found three firearms, including a stolen handgun and an assault rifle, several computers and equipment to produce fraudulent credit cards and California driver licenses, authorities said. Thousands of credit card account numbers were allegedly found in the computers seized from Frenkyan. Authorities said Frenkyan has prior convictions for credit card fraud. vvdailypress.com

Phoenix FBI task force seeks serial armed robber
The Phoenix FBI Bank Robbery Task Force is seeking an armed robber that targeted seven convenience stores and banks in a 12-hour period. Police say the same man conducted five armed robberies and made two attempts at businesses across the Valley on Sunday. azcentral.com

Ponte Vedra, FL robbery suspect scouted out AT&T store
He scouted the scene and then came back and robbed a Ponte Vedra store at gunpoint. St. Johns County Sheriff's Deputies are searching for a man that made off with a bag of new cell phones from the AT&T Store on A1A North Sunday afternoon. Authorities stated he locked the clerk in the store room before fleeing on foot. wokv.com

Best Buy theft in Muncie, turns to Robbery as Store Detective is cut with a knife Two suspects were quickly apprehended Tuesday after a bid to shoplift a video game system turned into a robbery at Muncie's Best Buy store, city police said. Vincent James Michael, 20, was being held, preliminarily charged with robbery. Muncie police Sgt. Seth Stanley said a struggle ensued at Best Buy, when Michael tried to leave the store without paying for a PlayStation unit about 12:50 p.m. The Muncie man allegedly produced a knife and a store employee suffered what was described as a minor cut. thestarpress.com

Walmart shoplifter's dog leads to discovery of additional stolen merchandise in Danvers, MA A pair of alleged shoplifters caught trying to steal electronics from Wal-Mart in Danvers Sunday afternoon were slapped with more charges after police went to their car to get their dog and found hundreds of dollars worth of clothing from Giblee's. Robert Parczewski Klos, 31, and Sandra Kikosicka, 22, both of Chicago, pleaded not guilty to charges of felony larceny and receiving stolen property during their arraignments Tuesday in Salem District Court. Police were called to the Wal-Mart off Route 114 on Brooksby Village Drive at around 3 p.m. for two shoplifters being held by store security. As the officer arrived, Kikosicka began to reach into the large dress she was wearing. The officer stopped her, then, after handcuffing her, allowed her to remove the items, electronics worth a total of $773. The pair then told police they had left their dog in the car. An animal control officer and police went to get the dog and also spotted a pile of clothing with tags from Giblee's, just up the road on Route 114, inside the vehicle. salemnews.com

Second man arrested in Birks jewelry store heist in Saskatoon, CN
A second man wanted in connection with the armed robbery of a downtown Saskatoon jewelry store has been arrested nearly 16 months after the brazen, daytime heist. Rida Niam, 25, was wanted on a Canada-wide warrant for charges of armed robbery, wearing a disguise during the commission of an offence, and conspiracy to commit arson following the Feb. 1, 2014 incident. Police said four men entered Birks jewelry store on Third Avenue South brandishing crowbars. The four were wearing construction-style jackets and black balaclavas. They smashed display cases and stole a large quantity of jewelry, including Rolex watches. Niam was arrested by Montreal police and transported Tuesday to Saskatoon. He is also charged with armed robbery, conspiracy to commit arson, and wearing a disguise during the robbery. ctvnews.ca



UK: Poundland Store Manager strangled and beaten by woman shoplifter attempting to steal $35 of chocolate



North Arlington, NJ Police post images of thief who stole over $100,000 in ATM skimming

Car crashes into Queens, NY supermarket; at least 5 hurt

Cash America in Memphis, TN the victim of a Smash and Grab: $4,000 in jewelry gone in seconds

Immanuel Jewelry in Lauderhill, FL hit with a Smash and Grab; estimated loss of over $200,000



Zales Outlet store in Princeton, NJ. hit by a 2 person Grab and Run: merchandise valued at $3,175








To apply to today's Featured Jobs, Click Here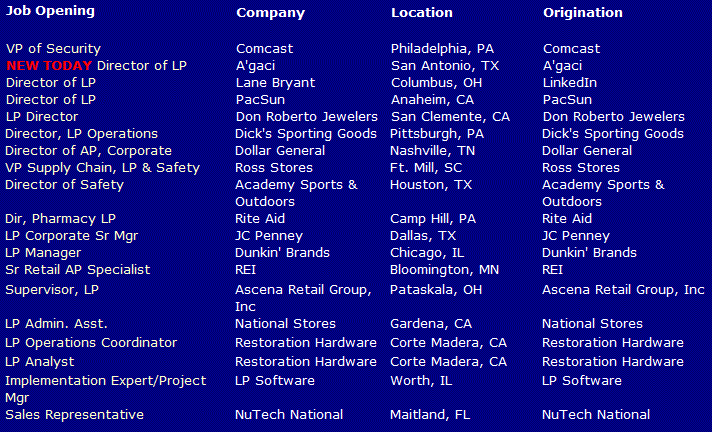 Limited Time Only - Post Your Multi-Unit LP jobs for FREE - Learn More Here




Today's Daily Job Postings from the Net - Appearing Today Only

To apply to today's Internet Jobs, Click Here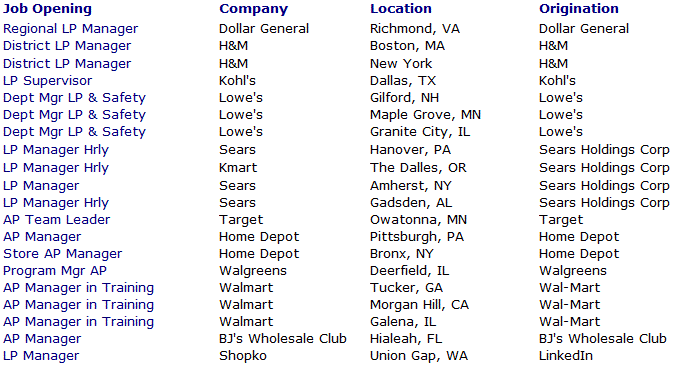 Ryan Collins was named District Asset Protection Manager for Stage Stores.
Jerry Volpe was named Executive Team Leader - Asset Protection for Target.
Craig Smith, CFI was promoted to Area Asset Protection Manager for Stein Mart.


Why What You Say as a Leader Does Not Matter As a leader, sometimes actions speak louder than words. The best way to instill in your team a sense of passion and respect is to show those behaviors first. Your employees will quickly adopt your behavior when it serves them best, whether those be good or bad actions. Follow the 3 R's

8 Powerful Habits to Establish Credibility as a Leader Research shows that only 49 percent of employees trust their senior management and only 28 percent believe CEOs are a credible source of information. Proving yourself as a trustworthy and credible leader is essential. It will require patience and time but it's worth it. Honest Abe


How to Prove Yourself as a Young Leader Proving yourself and what you are capable of accomplishing is a hard enough feat, then you add age on top of it and it becomes more difficult. Young leaders face these difficulties and knowing how to get through them can make all the difference. Just remember: you won't be able to please everyone

5 Things Smart Leaders Never Tell Their Staff There are certain things leaders should just keep to themselves. By saying the wrong thing you can destroy confidence and tear down the wall of trust. Good leaders establish trust and confidence in their team members, so don't destroy that with these phrases. "I'm having a bad day"

Flexibility and molding to the environment you're in is the first step towards integration and inclusion. In order to be absolutely effective, an executive must first become one with their surroundings and mold to what it is as opposed to expecting them to mold to you. Seeing and hearing those subtle differences is the key and changing to it becomes the objective. Once modified, you then have the freedom to influence change and make a difference.

Just a Thought,
Gus Downing




Post Your Tip or Advice! Click Here

Please make sure to add d-ddaily@downing-downing.com to your contact list, address book, trusted sender list,
and/or company white list to ensure you receive our newsletter.
FEEDBACK / www.downing-downing.com / ADVERTISE WITH THE DAILY