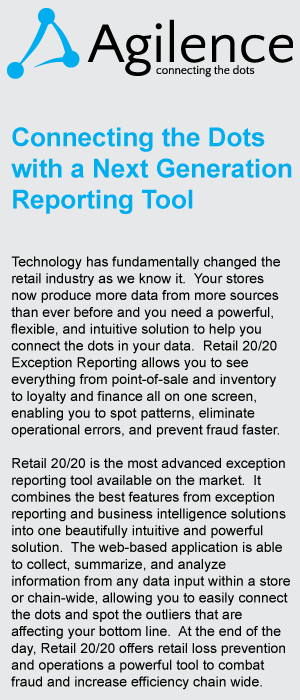 Kenya's West Gate Mall Massacre - Could it happen here?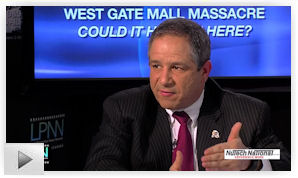 In September 2013, armed gunmen attacked the Westgate shopping mall in Nairobi, Kenya, resulting in 61 civilian deaths, six dead security officers and over 175 injured. Special Agent In-Charge Richard Frankel of the FBI deployed to Kenya with a Rapid Deployment Team and assisted the Kenyans in the forensic and intelligence investigation related to the terrorist attack. In this LPNN interview, Mr. Frankel talks about this high-profile investigation, the odds of a similar attack occurring in the U.S., and the importance of active-shooter programs for retailers. With the ultimate responsibility of protecting your employees and customers, learn what LP executives can do to prepare for and prevent such a catastrophic event.
---
"Live in NYC" Event Closing


LPNN Quick Take #21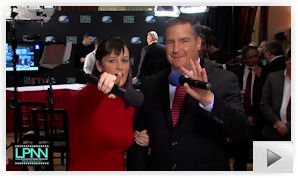 After a jam-packed day full of LP leaders, retailers, solution providers - and all the valuable information and fun in between - MCs Joe LaRocca and Amber Bradley sign off from the D&D Daily's "Live in NYC" at the NRF Big Show 2015. Re-live all the great moments here. Thanks for watching and we'll see you in Long Beach!


Solution Providers, have a video or commercial you want to publish? Contact us.

Lowe's expansion in Canada helped by Target's absence - Doubling store count over next three years - More LP Jobs! Last week Lowe's reported its eighth consecutive quarter of double-digit same-store sales in Canada. The hardware chain's growth is due in large part to successfully implementing ideas from Canadian consumers, something that Target failed to do north of the United States. fierceretail.com

Canada ripe for dollar store invasion - the one US growth sector who's been silent during the Canadian Push - but Family Dollar is coming and you can expect Dollar General might not to be far behind - LP Jobs! A slowing economy and stretched shopper are setting the stage for a spell of softer sales at malls, plazas and big-box stores across the country, a pair of new reports predicted this week. Dollarama, the country's biggest dollar chain, continues to fan out across Canada, while U.S. bargain retailers are now sizing up a bigger push across the border. On Thursday, the head of one of the biggest dollar chains in the United States, Family Dollar, said he liked what he sees in Canada, strongly suggesting more stores could open here. Dollar Tree operates about 220 Canadian locations already, compared with Dollarama's 955 stores. Both have ambitions of opening hundreds of additional locations in the coming years. Sasser said the Family Dollar banner might expand north, as well. "We have significant growth potential in Canada," the exec said on a conference call. "I think the Canadian market would respond very well to another multi-price point value retailer like Family Dollar." globalnews.ca

Two of Nordstrom's 6 Flagships to be in Canada - Vancouver's Pacific Centre & Toronto's Eaton Center In keeping with the trend of global flagships being magnets for tourists, the Seattle-based retailer is in the process of creating six downtown showpieces. Of the six flagship Nordstrom locations, three are existing and are currently being renovated, while three are currently under construction. Jamie Nordstrom, revealed that the company is inspired by flagships such as Galeries Lafayette in Paris and Selfridges in London, and that the company is spending a fortune to renovate its own stores to reflect international flagship standards. The Vancouver flagship, located at Pacific Centre, will open on September 18 of this year. The Toronto Eaton Centre flagship will open in the fall of 2016. The Vancouver store will span about 230,000 square feet, while the Toronto flagship will measure about 213,000 square feet. retail-insider.com

Montreal approves 24/7 retail shopping - Will it help retailers? It certainly will create LP issues Mayor Denis Coderre, apparently after consultation, has decided to let store owners remain open 24/7 in the downtown core along with other locations. Is this the solution to Montreal's economic woes? With all the For Rent signs littering the landscape, it will take much more than extended hours for shoppers who have little left after taxes to spend at 3 a.m. montrealgazette.com

Ottawa buildings unprepared for active shooter, report finds - If you have retail stores in the area, be on alert and help get prepared The City of Ottawa has adopted a new policy to prepare for armed attackers after an internal Ottawa police report found that office buildings need better security measures in the wake of the Oct. 22 shootings. The police report, which will be finished in June, was undertaken after Cpl. Nathan Cirillo was gunned down at the National War Memorial and shooter Michael Zehaf-Bibeau stormed Parliament Hill's Centre Block. CBC News learned the report, which will not be released to the public, revealed the large-scale police response contributed to mass confusion around downtown Ottawa. The report also indicated most office buildings in Ottawa are prepared for a fire or bomb threat, but not for active gunmen. "Not everyone has a policy or procedure in the event of an active shooter in the building, or a threat in environment around your building," said Insp. Mark Ford, a member of the Ottawa police emergency operations directorate. cbc.ca

Ikea to fuel Canada expansion with massive DC in Ontario

Police launch 'positive ticketing' campaign in partnership with Mac's C-Store LP

Retail Fast Facts: April 2015
Highlights:
● Total monthly retail sales changed by 2.0 per cent over the comparable month last year.
● Total sales excluding food, automotive and gasoline changed by 5.7 per cent over the comparable month last year. Read more


Calgary Police charge 3 in multi-million dollar fraud investigation
Three people have been charged in a fraud investigation involving an elderly victim losing more than $8 million. The investigation also led to a search warrant that resulted in $65,000 worth of gold as well as silver and jewels seized from the suspected fraudsters. "The offender reached out and was introduced to the elderly victim and established a strong friendship for a number of years," said Calgary Police Staff Sergeant Kristie Verheul. "From there...the trust built in that relationship was used to convince that high-yield investment." The main suspect allegedly used false charities as a front to convince the victim to invest large sums of money between December 2014 and May 2015, police said. "I'm going to liken it to Pandora's Box," said Staff Sgt. Verheul. "We came in with a very small scope: one victim with $8 million, and from what our investigation has revealed right now, the search warrant yesterday seized three cube vans full of documents and evidence." Police believe the following fraudulent charities-which are not registered with the Canada Revenue Agency-were used to fool the victim: Humanitarian Foundation of Canada, World Job and Food Bank, Canadian Organization for International, Development Strategies Foundation, Lepidoptera Inc., Antennae Inc. Calgary Community Outreach Services Society. "The money donated by this victim is believed to have been funneled through the charities to international accounts," said police in a Thursday release. Police searched two residences and one business on Wednesday in the city's southwest. Evidence and property seized during the searches include: Forged bank and government documents, Fraudulent documents for investment accounts, Pyramid scheme accounts, $65,000 worth of gold, 10 computers, Banking records and account ledgers, Safe deposit box keys. globalnews.ca
Man with rifle arrested at White Oaks Mall in London, Ontario
Police arrested a suspect after a man was spotted with a rifle outside White Oaks mall last Saturday evening. Officers responded to reports of a man in the Wellington Rd. mall's south parking lot armed with a rifle shortly after 6 p.m. "Police attended and a foot pursuit was initiated with the suspect, and there was a round discharged. No one was injured though," said Staff Sgt Jeff Dunham. The man was apprehended by police in the backyard of a home near the mall. Charges are pending. An officer accidentally fired a round into the ground, said Dunham. lfpress.com

Jewelry store robbed at gunpoint in central Mississauga
Heavily-armed tactical officers have descended on a central Mississauga plaza Wednesday afternoon after a jewelry store was robbed at gunpoint. The heist occurred just before 5 p.m. near the Royal Stones Jewellery store in the Mississauga Marketplace plaza, located at Hurontario Street and Eglinton Avenue. The male culprit wearing a hoodie, used a gun to intimidate employees and then fled the scene on foot with a quantity of jewelry. There were no reported injuries, according to Peel Regional Police. Police dogs and tactical officers are on scene searching for the suspect. mississauga.com

Armed robbery at Homesense was 'staged,' Saskatoon police allege
Saskatoon city police arrested two people following what the police are describing as a "staged" armed robbery at Homesense in Stonebridge. Saskatoon police charged a 20-year-old employee of the store and a 25-year-old man after investigators determined the armed robbery was a "staged event." Police initially said a suspect walked into a business in the 3000 block of Clarence Avenue South and handed over a note to the cashier demanding cash. According to police at the time, the suspect had what appeared to be a handgun in the waistband of his pants. The employee handed over the cash and the robber fled. In court Tuesday, the Crown said the employee failed to mention to police that she knew the person accused of robbing her. thestarphoenix.com

Superstore employee finds another nail in potatoes
Police say the discovery was made at an Atlantic Superstore on Quinpool Road in Halifax. The employee turned over the potato, nail and remaining bag of potatoes to police. The potatoes had been recalled after consumers found other spuds with metal in them in Nova Scotia, New Brunswick and Prince Edward Island. The Canadian Food Inspection Agency announced the recall on some potatoes sold in Atlantic Canada on Saturday after police received multiple complaints. canadiangrocer.com

Thieves steal 500 comics in Calgary smash and grab

Male female duo busted using fraudulent ID's to apply for credit card in Edmonton, Canada

Barrie man gets nine years for fake prescriptions

York Regional Police seek suspect following Holland Landing Convenience Store robbery
Free Fraud Seminar in Toronto on June 11:
A Half Day That Could Save Your Company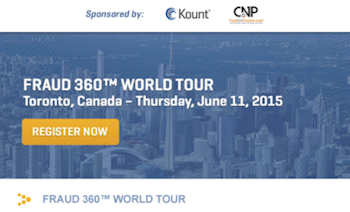 Criminal fraudsters continue to make news headlines breaching millions of consumer credit cards and private data files. Meanwhile, mobile payment systems are evolving with new technology and capturing consumer spending habits. Join us for this live event to discuss the most pressing issues in payment and fraud today. Seating is limited! Register here.

Location: Hyatt Regency Toronto
Date: Thursday, June 11, 2015
Time: 8:30 am - 1:30 pm
Cost: Complimentary

Breakfast and Lunch will be provided




Retailers are not yet balancing the risks and opportunities of mobile
More retailers are enjoying the benefits of mobile commerce - but many are not yet doing enough to counteract the fraud risks that come with this opportunity, a new study suggests. The third-annual Mobile Payments & Fraud: 2015 Report, commissioned by Kount, The Fraud Practice and CardNotPresent.com, found that the number of retailers actively supporting mobile commerce, continued to climb, with 68.7% ( compared to 63.6% last year) of all retailers now supporting mobile commerce and a further 20.5% (compared to 24.7% last year) planning to support it from this year. The biggest obstacle to mobile adoption, said 27.8% of the nearly 1,500 respondents to the study, which questioned fraud and payment professionals representing retailers, fraud and ecommerce service providers, card issuers and card associations, was making it easier for consumers to transact. Working out how to address the fraud risk was a challenge for 11.3%, down from 20.1% last year. But while addressing fraud risks has become less of a priority, fewer than 40% (39.4%) of merchants said they were tracking fraud by channel, while 34.2% were uncertain whether they were. Merchants with annual revenues of at least $50m were more likely to track fraud attempts and losses by channel than those with lower revenues. Meanwhile, most respondents (61.0%) were uncertain whether fraud was increasing in their mobile channel; 4.8% said it was decreasing, and 13.2% said they were increasing. kount.com

Why stores still matter in an e-commerce world
Reports of the death of brick-and-mortar stores have been greatly exaggerated. How else to explain the throngs of shoppers still crowding physical stores in the major shopping districts of the U.S., especially over the weekend at H&M's grand opening in New York? Walking into H&M's newest store in the buzzing Herald Square section of Manhattan, for example, a shopper's first thought might be: How could shopping online ever feel as good as being right here, right now? For many consumers, shopping is an emotional experience. And there is a different kind of emotion involved in clicking the "checkout" button on the Internet. It felt thrilling and exhilarating to be surrounded by the glittering sights, deep sounds and perfumed smells of a new retail store. And H&M wasn't the only store that was mobbed with shoppers in Herald Square. Macy's, Old Navy and Forever 21 were all jam-packed. Judging by the sense of excitement among shoppers at H&M, physical stores still matter. As long as retailers realize that the experience in the store and the associates are the key differentiators that attract customers and keep them coming back. chainstoreage.com

Ulta Q1 e-commerce up 49.8%

"Fraud is not a person - it is a dynamic grouping of statistics that deviate from the norm."
Stuart B. Levine, CFI, CFCI
CEO, The Zellman Group & Zelligent



McCracken Co, KY Sheriff's Department arrest man on Theft and Drug charges; stealing from retailers for last 2 years According to a McCracken County Sheriff's Department report, MCSD arrested a Lone Oak man after seizing approximately $10,000 worth of stolen property and items of drug paraphernalia from his Lone Oak residence during the execution of a search warrant. The report said on May 27, 2015 detectives with the McCracken County Sheriff's Department were contacted by the Monroe County Sheriff's Department in Key West, Fla., regarding a parcel that was intercepted by law enforcement and found to contain marijuana in excess of 8 ounces. During a search of the residence, detectives located items that had been used in the cultivation of marijuana, evidence of marijuana trafficking and approximately $10,000 worth of merchandise which was believed to have been stolen from an area business. During the following investigation, it was determined that Gold had been stealing from the local business at least once a month for the past two years and that he had profited over $10,000 from the resale of the stolen merchandise. Detectives also learned that Gold had been delivering his homegrown marijuana through the mail for several years. surfky.com

Atlanta ORC gang of four busted hitting Children's Place at Canton Marketplace
Three women and one man were arrested: Laquanda Allen, 27, Deonte Almond, 18, Veonia Hixson, 22, and Cedriona Johnson, 18. Officers found stolen items worth several thousands of dollars, discovered a firearm in one of the suspects' book bags and found what appeared to be marijuana in one of the other suspect's belongings, the press release stated. cherokeetribune.com

Three men charged in connection to $3,300 retail theft from Bloomingdale's in Boca Raton, FL Three men were arrested in connection to the attempted theft of more than $3,300 of merchandise from a Bloomingdale's in the Town Center Mall at Boca Raton on Tuesday evening, according to an arrest report. Gendis Garcia, 47, of Miami, Lazaro Guzman-Bango, 24, of Hialeah, and Lazaro Hernandez-Remon, 25, of Miami all face one count of organized retail theft. A loss prevention officer at the store found them in the fitting rooms tampering with anti-theft devices on some merchandise from the store, the report said. When Boca Raton police arrived they found the men in a Mercedes with additional items from the store, the report said. A fourth, unidentified man was involved in the theft but he left before police arrived. palmbeachpost.com

Two Bunnell, FL women charged with shoplifting 140 items from Walmart
A pair of Bunnell women are accused of trying to steal 140 items totaling nearly $1,300 in value from a Palm Coast Walmart late Wednesday afternoon. According to the Flagler County Sheriff's Office, security agents at the shopping center, 174 Cypress Pointe Parkway, spotted the two women selecting items and tossing them into a laundry hamper in their shopping cart. When the pair finished shopping, they scanned seven of the items at a self-checkout register and walked to another register without paying. news-journalonline.com


Parolee busted for shoplifting at Rainbow Clothing leads to Police chase in Turlock, CA A report of three women stealing clothes at a Turlock store turned into a two-county pursuit that ended with the capture of four suspects, one of whom was a parolee at large. Shortly before 5:30 p.m. Saturday the Turlock Police Department received a report of a larceny in progress happening at Rainbow Clothing. The caller stated three women were stealing clothing from the store. The officers responding to the call saw a vehicle matching the description from the theft enter onto Highway 99 headed south. Officers followed and attempted to pull the vehicle over, but the driver refused to stop and sped off. The driver, a man later identified as John Martini, 34, ran from the vehicle while three women stayed behind. Martini was arrested for a parole violation, resisting arrest, and felony evading. He also was taken into custody on several warrants, including one for evading. The three women in the car were all issued citations for petty theft. Inside the vehicle officers found more than 20 items of clothing stolen from the Turlock store. turlockjournal.com

Do you have an ORC case to share? Publishing it educates the LP & retail community
which might fuel even more jobs and funding.
Share your ORC news and help the industry grow


Former Wal-Mart employee accused of shooting co-worker in Conway Wal-Mart unfit to stand trial for capital murder Myron Lamar Terrell, who allegedly shot Lori Martin multiple times on Feb. 1, 2014, after finishing his shift at Wal-Mart on Skyline Drive, underwent forensic evaluations at Arkansas State Hospital in May. The evaluations showed that Terrell has a diagnosis of schizophrenia but "currently possesses an adequate rational and factual understanding of the proceeding against him, as well as the ability to rationally assist in his own defense." However, at the time of the offense, he was "not capable of conforming his actions to the law." According to witness statements, a black male approached Martin in the checkout line and fired multiple shots into her abdomen and arm. Investigators arrested Terrell at his Conway residence after security footage led them to his vehicle. Court documents showed that during an interview with investigators, Terrell admitted to shooting Martin six times because he "felt threatened by Mrs. Martin and she has been harassing him all of his life." Martin recently filed a lawsuit against Wal-Mart Stores, Inc. of Bentonville, saying that Wal-Mart was negligent in continuing to employ Terrell while having knowledge that he posed potential danger. The lawsuit alleges that Terrell stalked Martin prior to the shooting and that Wal-Mart security employees were "negligent in either failing to monitor the video cameras or in failing to recognize she was being stalked." thecabin.net

Atlanta Police investigating the death of a Dick's Sporting Goods Distribution Center Employee The Atlanta Police Department is looking into whether the death of a Dick's Sporting Goods warehouse employee is tied to several firings at the center over theft. Antavious Kurtz was killed when he was shot inside his truck in the early morning hours of Feb. 11 outside his home, on Bunker Hill Drive. He has just gotten home from his job at the Dick's Sporting Goods warehouse in East Point, where he worked as a supervisor. Investigators said Kurtz was one of several people who provided information to police about a theft ring that cost several people their jobs at the warehouse. "He wasn't robbed. He had his valuables on him," said Detective Cedric Smith, with Atlanta police. "This guy was squeaky clean." Smith says he hasn't been able to make a link yet, but a possible connection is his leading theory behind the shooting. "Dick's is cooperating fully. I've been in contact with their investigators there, so we're working back and forth, hand in hand," Smith said. wsbtv.com

One dead in Officer-involved shooting at a Furniture/ Appliance store in Lancaster, SC Officers from the South Carolina State Law Enforcement Division are investigating an officer-involved shooting at a store on Highway 521 in Lancaster. The sheriff told Channel 9 the initial call to the store appears to have been domestic related. A man was armed inside the store with other people inside of it, the sheriff said. Law enforcement responded and at least one deputy fired shots and struck the man, the sheriff said. Other sources confirmed to Channel 9 that the man died. Officers responded to the Carolina Corner store. wsoctv.com


Clerk shot outside Family Dollar in Louisville, KY, suspect at large Police are searching for a woman accused of shooting a clerk in a store parking lot. According to MetroSafe, the shooting happened around 3 p.m. Thursday at the Family Dollar on Wilson Avenue. Police said the suspect tried to walk out of the store with merchandise when the clerk chased after her. The two women got into an altercation in the parking lot and the suspect fired a shot at the clerk hitting her near her ear, then fled. Officers are searching for the suspect who is described as a woman in her 40s with heavy build. The clerk is expected to make a full recovery. A store employee said the woman had just started working there a few weeks ago. Every store has a different policy when it comes to what their employees are supposed to do during an attempted theft, but police say it's never a good idea to follow a suspected thief. wave3.com

Charleston, WV Police question suspect in mall shooting
Charleston Police have a suspect in a daylight shooting in the parking garage of the Charleston Town Center Mall. "We have developed a suspect based on some evidence we recovered," said Lieutenant Steve Cooper. "Nobody has been charged, but we are questioning a suspect." Cooper, speaking on MetroNews Talkline, would not reveal the identity of the suspect. Initially police were looking for three men who may have been tied to the shooting around 2:30 p.m. Wednesday at the Lee Street garage of the Town Center. The victim, Tevon Spencer, 22, of New York City was shot at least once while driving his car through the mall. It marked the second time in four months Spencer had been shot. Cooper said Spencer was wounded in a hail of gunfire on a home on Delaware Street in Charleston. Police say they also found both new and older bullet holes in his car when he fled to St. Francis hospital. wvmetronews.com

Investigation into the ShopKo Pharmacy Armed Robbery in Torrington, WY leads to an arrest; multi-state pharmacy robberies Multiple cases of armed robberies at area pharmacies are cracking wide open with the arrest of a 25 year old Gering man. Richard Trapp now faces charges in Wyoming and Nebraska following his arrest Wednesday after an armed robbery for narcotics at the Torrington ShopKo. Trapp is currently in police custody while receiving medical attention at Regional West. Trapp is wanted on a Goshen County warrant for aggravated robbery. A release from the Scottsbluff Police Department says following interviews with Trapp and multiple searches of his home, he now faces charges for the armed robberies at the Scottsbluff Walgreens in February and October of last year. In Nebraska, Trapp faces two counts of robbery, two counts of using a firearm during a felony and three counts of possession of a controlled substance. More than a thousand oxycodone pills were discovered during the searches. Some 14-hundred pills were taken during the Torrington robbery. Investigators continue their work to determine if Trapp is also responsible for pharmacy robberies in Alliance and Sterling, Colorado. kotatv.com



Trio stealing debit cards buying gift cards in self-checkouts in Toledo, OH "It appears these three individuals are targeting local chain stores. They will go in they will pick up an item, go to the self-checkout, they will buy the item and then they'll buy a gift card on the stolen debit cards," said Kozak. One chain store has reported around $5,000 in gift cards purchased with stolen debit cards. "We feel they will continue doing this until they get caught," said Kozak. toledonewsnow.com

Two Kennedy Airport warehouse workers busted stealing $90,000 in electronics
Two Brooklyn men, workers in a cargo warehouse at Kennedy Airport, face grand larceny charges after swiping more than $90,000 worth of electronic tablets, cameras, memory cards and other devices, Queens prosecutors said Friday. newsday.com

Ocala, FL Police looking for eyeglass thieves
At least two eyeglass stores in Ocala were burglarized this month. The latest being early this morning where more than $16,000 worth of designer glasses stolen. On May 5th thieves broke into Lens Crafters just a few doors down from where they struck this morning. They stole $11,000 worth of frames and sunglasses... And police say the two burglaries might be connected. wcjb.com

Two charged in Verizon store Robberies in South NJ and Pennsylvania
Two Philadelphia men are accused of stealing phones worth $19,500 from a Verizon store in Deptford. Darryl Alston, 39, and Chamir Isaiah Lewis, 21, allegedly brandished a gun during a Jan. 27 holdup at the store on Clements Bridge Road, according to the U.S. Attorney's Office in Philadelphia. The two men, along with 34-year-old Rynell Bennett of Philadelphia, were indicted Thursday on charges of robbing the South Jersey store and four Verizon outlets in Pennsylvania. courierpostonline.com


Charges filed against couple accused of 'skimming' data from Utah ATMs A man and woman accused of defrauding Utah banking customers with a hidden electronic device were indicted by a federal grand jury Wednesday. Alexandru and Ionela Stefan each could be sentenced up to 15 years in prison and ordered to pay a fine of up to $250,000 if convicted. Both are scheduled for a preliminary hearing at 10 a.m. Thursday before U.S. District Judge Dustin Pead. The duo was arrested May 14 after being identified by the FBI Cyber Task Force in connection with fraud at ATMs in Orem and Sandy. ksl.com


UK: Pair jailed for 69-second luxury handbag heist worth $113,000 in Mayfair Dean Dinan, 20, and Jason Furtado, 18, received 28 and 19-month sentences, respectively, for conspiracy to commit burglary. Both Dinan, from Croydon, and Furtado, from Islington, were sentenced on May 22 at Blackfriars Crown Court to a young offenders institute after pleading guilty at the same court on April 24, police said in a statement. The break-in happened at the Loewe store, in Mount Street, just before 1am on December 11 last year. A gang of nine men on six stolen motorbikes approached the shop and rammed the front door open before storming in and grabbing luxury handbags from the shelves, police said. The gang stole 57 handbags - with a total value of $113,000 - during the 69-second spree. They escaped on the motorcycles through Oxford Street. getwestlondon.co.uk


Case Closed: $42,600 A Day Eiffel Tower Gypsy Pickpocket Gang Busted Ten members of the "Gypsy community" were arrested in Paris this week, after police blew open a major pickpocket operation around France's best known tourist destinations. French police report the gang had been employing sophisticated tactics to rob tourists for two years, with the 10 members of the gang netting a remarkable 4,000 euros a day each during tourist season. French newspaper Le Figaro outlines the police report into the methods employed by the gang, which specifically targeted Asian tourists, for being perceived as liable to carry large amounts of cash. The gang spent over $100,000 a year on living in quality hotels, and travelled everywhere by taxi - but sent the bulk of the money home to their masters in Romania, where it was used to invest in property. breitbart.com



Arkansas State Police Nab Cargo Theft Suspect



South Philadelphia Burglar Climbs Wall To Get To Cash Register

El Paso Co, Colorado Sheriff's Office looking for Lowe's Credit Card Fraud suspects



Three arrested at Naperville, IL Apple Store charged with ID Theft



---

• County Mart Pharmacy - Harrison, MO - Burglary
• CVS - Lafayette, IN - Robbery - 4 Arrested
• Dollar General - Hedgesville, WV - Armed Robbery
• Dollar General - Shreveport, LA - Armed Robbery
• Dollar General - Farmington Hills, MI - Armed Robbery
• Domino's - East Naples, FL - Armed Robbery
• Family Dollar - Louisville, KY - Armed Robbery/ Clerk shot
• Family Dollar - Fort Smith, AR - Armed Robbery
• GameStop - Portage, WI - Armed Robbery
• Jack's Vapor - Santa Rose, CA - Burglary
• Public Pawn - Davie, FL - Armed Robbery
• Randy Colle Bicycles - Bridgeton, NJ - Burglary
• Xtra-Mart - Seymour, CT - Armed Robbery
• 7-Eleven - Lubbock, TX - Armed Robbery
• 7-Eleven - Newport News, VA - Armed Robbery
• 7-Eleven - Orange Co, FL - Robbery
• 7-Eleven - Dundalk, MD - Robbery/ False Statement





To apply to today's Featured Jobs, Click Here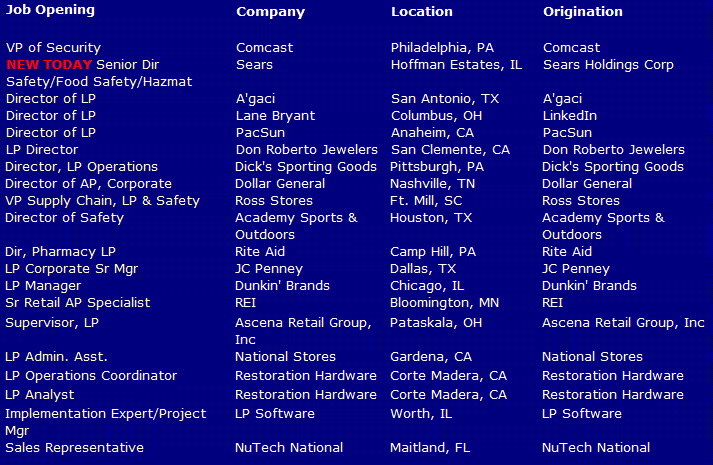 Limited Time Only - Post Your Multi-Unit LP jobs for FREE - Learn More Here




Today's Daily Job Postings from the Net - Appearing Today Only

To apply to today's Internet Jobs, Click Here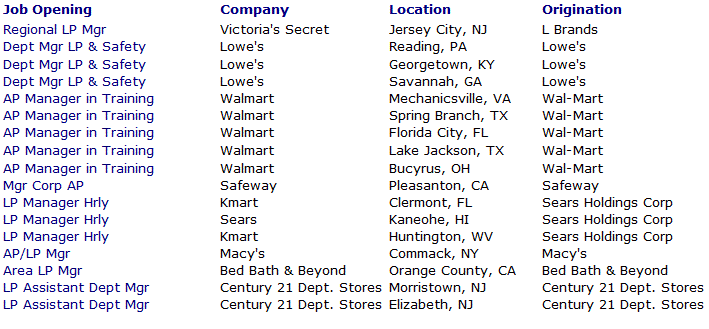 Tarik Sheppard was promoted to Lieutenant for the NYPD.
Rodney Wetmore was promoted to Asset and Profit Protection Manager for Kmart Corporation.
Benjamin Landau was promoted to Area Loss Prevention Manager for Victoria's Secret.



No matter how smart a person is or how good a product or service is, your success always boils down to your attitude - your demeanor - how well you connect with those you're working with. Making that connection - working on that relationship - and approaching your internal and external customers as just that - customers - is critical if you expect to be successful. Remembering one key point all the time may help - they don't have to buy anything you're saying or selling regardless if you're a vendor or an LP executive. Because at the end of the day, there's always someone else close by that can offer the same thing you're offering.


Just a Thought,
Gus Downing




Post Your Tip or Advice! Click Here

Please make sure to add d-ddaily@downing-downing.com to your contact list, address book, trusted sender list,
and/or company white list to ensure you receive our newsletter.
FEEDBACK / www.downing-downing.com / ADVERTISE WITH THE DAILY