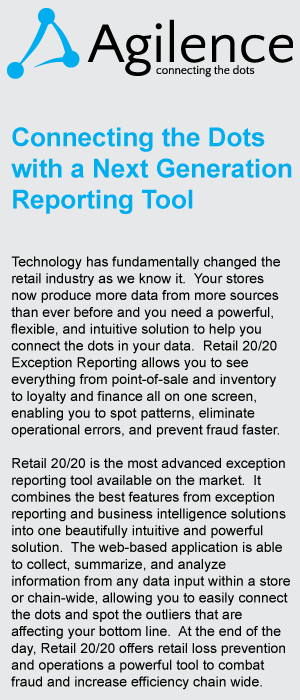 'Live in Ft. Lauderdale'
Opening Comments - Why We're Here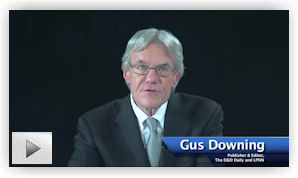 Gus Downing, Publisher and Editor of the D&D Daily, leads off the "Live in Ft. Lauderdale at the NRF LP Conference" broadcast with an introduction of all 18 episodes filmed live at last year's NRF Show. An NRF & LP industry first, the full slate of interviews takes you in-depth with the leaders of the LP industry. Gus explains why we're here, why we did it and how the proceeding episodes can help add value to you and your career.

---
The NRF's Senior Leadership Supporting the LP Industry
The History - The Impact - The Meaning & the New VP of LP

Vicki Cantrell and Robert Moraca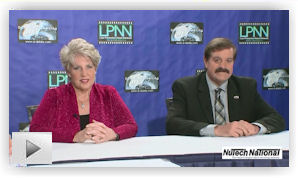 In this episode, Vicki Cantrell, SVP Communities and Executive Director Shop.org at NRF, and Robert Moraca, the new Vice President of Loss Prevention for the NRF, take us behind the curtains of the biggest LP conference in North America. Vicki discusses the expansion of LP's role and the renaming of the conference to "NRF Protect." While Robert shares with us plans for his new leadership position at the NRF, highlighting the importance of IT and law enforcement partnerships with retail Loss Prevention going forward.
Solution Providers, have a video or commercial you want to publish? Contact us.



The Real Reason E-Commerce Merchants are Opening Stores - today, pure-play e-commerce is so last decade - online retailers coming When asked why he robs banks, the notorious Willy Sutton answered: "Because that's where the money is." Though they tout them as an invaluable way to showcase their brands and engage with consumers, it turns out these shops might also be an unavoidable route to reaching their financial potential. E-commerce merchants realize that without that high-touch interaction with the consumer allowing a full experience of the brand proposition, online shopping sites remain unsatisfyingly two-dimensional, and face serious limits to upside growth. "The consumer likes physical and online stores," says Michael Dart, a partner at consulting firm A.T. Kearney and co-author, with Robin Lewis, of the recently revised '"The New Rules of Retail." "If you can make the bricks and mortar work economically because of what you have built online, the growth opportunity is enormous." therobinreport.com

Merchant Tips: Securing Against 'Fast Fraud'
Americans are making more digital purchases than ever, with sales of items like e-books, gift cards, and event tickets on the rise.

This has led to an increase in card not present (CNP) sales, and a decrease in the time retailers have to verify information, leaving weaknesses in the online payment system.

These weaknesses have created fast fraud, where fraudsters steal digital goods to re-sell them on the secondary market. With the country migrating to EMV to protect in-store point of sale systems in the coming months, online fast fraud cases are likely to increase unless measures are taken to prevent them.

When shopping for fast fraud solutions, here are some tips:

1. Don't go it alone outsource your in-house fraud solution.
2. Look for guaranteed payments or vendors that take responsibility for all payments made for their products.
3. Watch for red flags like vendors that over-promise their capabilities.
4. Choose expertise not novelty as experienced vendors are more likely to catch cases of fast fraud than new startups.
5. Keep the customer experience in mind to reduce dissatisfied customers and abandoned sales.

The best fraud solutions will combine fraud prevention, payment processing and guaranteed payments allowing retailers to sell digital goods with minimal risk. paymentweek.com

How the EMV shift could impact online retailers
After the EMV migration rolls through the US this October, the payments industry expects to see a significant reduction of fraudulent activity within the card-present (CP) environment. As it stands now in pre-EMV America, the most prevalent type of fraud results from counterfeit, lost or stolen magnetic-stripe based cards, which have become easy marks for hackers looking to break into retail POS systems. But the EMV migration also carries with it a less

"Fraud is not a person - it is a dynamic grouping of statistics that deviate from the norm."
Stuart B. Levine, CFI, CFCI
CEO, The Zellman Group & Zelligent



The Arizona Organized Retail Crime Alliance (AzORCA), statewide organized retail crime alliance launches Sahuarita/Pima County ORCA group Pat Marshall of Walgreens was among representatives from nine retailers in Sahuarita and Green Valley attending a meeting last Wednesday with Sahuarita police and a Pima County Sheriff's detective. Signs of organized crime locally in Sahuarita, AZ., are becoming more apparent. "I felt we needed to jump on this and be pro-active," Sahuarita Police Officer James Oviedo said. "I spoke to Pat (Marshall) and Carlos (Estrada, of Circle K) about it, who enthusiastically agreed. Once I set the date and time, she communicated with her organization and other network and supported our launch."

With forces combined, authorities hope to develop enough evidence to jail thieves and nail theft-ring kingpins up the chain. The Sahuarita/Pima County ORCA group next meets June 24, and all local retailers/representatives and law enforcement are invited, Oviedo said. Anyone interested may contact him at joviedo@sahuaritaaz.gov

"We could not do (this) without professionals in the retail industry who have worked diligently for years identifying, disrupting and apprehending organized retail criminals and their rings," he said. Five attendees representing three retail chains in Sahuarita-Green Valley know talking is worthwhile where nabbing organized shoplifters is concerned, and are willing to talk about their experiences in hopes of nailing thieves and discouraging others from trying. They spoke frankly in the meeting of the new local arm of the Arizona Organized Retail Crime Alliance (AzORCA). sahuaritasun.com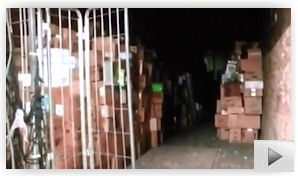 Dollar General Asset Protection Busts Rural ORC Operation in Miss. - $230K in Stolen Merchandise Recovered The Dollar General Asset Protection team recovered more than $230,000 in stolen merchandise and equipment from a welding shop and various storage units in Duncan, Mississippi in cooperation with local and federal law enforcement. According to a video report from a local MS news station, items recovered included food, cleaning supplies, clothing items and more. After diligent investigation originating from a hotline tip, the Dollar General team assisted law enforcement with the interview and eventual arrest of the property's owner. This individual has been charged with felony possession of stolen property. Investigators say the operation was more than likely a collaborative effort with a number of individuals involved. More arrests are expected.

Demopolis, AL Police seek 2 women in high-value theft from Walmart
Demopolis police are searching for a woman they say stole high-valued merchandise from Walmart earlier this month. The Demopolis, AL Police Department was seeking two suspects after releasing surveillance photos of the May 19 theft to the media. The photos appear to show the women pushing a cart containing a television out of the store in Demopolis. One woman was identified and will be charged with second- degree theft, Chief Tommie Reese said. The second woman, who police identified as Allison Henry Busbee, is believed to have fled from Marengo County to avoid arrest, he said. tuscaloosanews.com

Bridgestone Tire Company offers $6000 reward after break-in at Bradenton, FL store The parent company of a Bradenton tire store is offering up to $6,000 in reward for information about who broke into the business and other stores in Florida. About 11 p.m. May 24, two people stole three rental trucks from All U Can Storage, and then used them to steal approximately $40,000 worth of tires from the nearby GCR Tire store, 2964 63rd Ave. E., Bradenton, according to the Manatee County Sheriff's Office. "Recently, five Bridgestone-owned GCR Tires & Service locations across Florida were targeted by thieves who stole numerous commercial truck tires. We continue to cooperate with local authorities as they investigate these thefts. In cooperation with Manatee County Crime Stoppers, we are offering up to a $6,000 reward for information that directly leads to the arrest of the parties involved," Nashville, Tenn.,-based Bridgestone Americas said in a news release. bradenton.com

Macon, GA Wal-Mart theft suspect claims she couldn't afford prom tux for son; then story changed A woman authorities say was caught trying to steal $300 worth of merchandise from the Wal-Mart on May 15 begged not to be taken to jail. The woman, 35, sobbed and pleaded with a Bibb County sheriff's deputy. According to the deputy's write-up of the episode, the woman said she was "trying to help get clothes for her son's prom" that evening. She said she didn't have "enough money to pay for a tuxedo, ... so she decided to come to Wal-Mart to take some merchandise to help her son dress for the occasion," the deputy's report noted. Then her story changed. The woman had recently been banned from all Wal-Marts after a shoplifting arrest at another Macon Wal-Mart. The deputy asked the woman why she'd gone to Wal-Mart anyway. She said she had problems with drugs and alcohol and that stealing was "a way for her to support her habits," the report said. A store security officer disguised as a shopper said the woman had been in the store "a couple of hours" and was loading men's, women's and children's clothing into 16-gallon containers in a shopping cart. macon.com

Third time no charm for alleged Sears serial shoplifter in Vineland, NJ
An alleged serial shoplifter pulled the same scam three times at a city department store before getting caught, police said. Michael Morales, 46, of North East Avenue, was arrested Tuesday morning and charged with shoplifting at Sears on Landis Avenue. Police said Morales three times stuffed more than $800 in clothing into bags he carried into the store. Store security witnessed the man hide the clothing each time, but failed to nab him until the third incident, according to a police report. thedailyjournal.com



Greenville, SC Police seek Toys "R" Us shoplifting suspects Greenville police have asked for the public's help identifying two women who are accused of shoplifting at Toys "R" Us on Woodruff Road. Police said the shoplifting incident happened May 21. Officers said the women fled the store with approximately $1,000 worth of merchandise. Both women left in a green sedan that was parked in the store's parking lot. foxcarolina.com





Memphis Police search for people responsible for Ulta shoplifting Memphis police responded to a shoplifting call at the Ulta Beauty Store located in the 2200 block of North Germantown. Officers were told that the suspects took several bottles of perfume worth $1,200 and left the store. wmcactionnews5.com

Do you have an ORC case to share? Publishing it educates the LP & retail community
which might fuel even more jobs and funding.
Share your ORC news and help the industry grow


Skimming operation busted at Seatac parking lots near Seattle airport for over $600,000 in fraud - targeting thousands of customers Authorities say they've caught the leader of a prolific credit card skimming operation in Seatac, but not before he targeted thousands of people at parking lots near the airport. Employee at Doug Fox Parking and another at Shuttle Park 2 were paid by a guy they knew as 'Big Homie' to skim more than 17,000 credit card numbers from people who parked in their lots between November of 2013 and April of 2014. An undercover sting, and ultimately the arrest of the employees at both parking lots who detectives say were using the skimming device and then turning the stolen credit card numbers over to 'Big Homie' in exchange for cash. Detectives say they caught Hulbale on surveillance video in several nearby stores in Seatac, buying thousands of dollars in gift cards. They estimate this one man is responsible for more than $600,000 in fraudulent charges. king5.com

Walmart Beer Theft ends with Thief Pulling a Gun on Police; suspect Shot and Killed by Palestine, TX Police May 31st, 2015, shortly before midnight, Officers from the Palestine Police Department responded to Wal-Mart Supercenter, located in the 2200 Block of S. Loop 256, in reference to a Theft that had just occurred. Officers were advised that a white male, wearing tan shorts and a black shirt, had stolen beer from the store, and had exited the premises, heading toward Applebee's Restaurant. Officers searched the area, and eventually located the suspect, who had been hiding in the men's restroom within the restaurant. "The subject was escorted out of the restaurant, where officers attempted to identify him. The subject then displayed a black pistol, and pointed it at Officers. Officers attempted to gain control of the subject, but he pulled away and again pointed the weapon at officers, at which time both officers drew their weapons and fired upon the suspect, striking him multiple times", said Palestine PD Chief of Police Mike Alexander. cbs19.tv

Metro Nashville Police Officer kills suspect who took hostage at Easy Cash Solutions An officer fatally shot a suspect after a cash loan center employee he had taken hostage wrestled the gun away from him, police said. Multiple news outlets report 39-year-old Alexander Tirado Rivera was fatally shot Saturday after police say he took the woman hostage during a robbery attempt at the Easy Cash Solutions Loan Center. Metro Nashville Police spokesman Don Aaron says Rivera demanded money from the woman and then took her outside and put a gun to her head. When the employee wrestled control of the gun away from the man, the officer, Sgt. Scott Carter, shot and killed him. washingtontimes.com

Lenox Mall shooting in Atlanta, dispute over a woman
A man shot outside Lenox Square mall Sunday night told Atlanta police that the shooting happened during a dispute over a woman he had met on social media. In an incident report, Atlanta police Sgt. A. Lofton-Mitchell said the victim, Christopher Merriweather, told him that he "got into a verbal argument with the suspect over a female he met off of Instagram." The gunman pulled a pistol and fired several shots, striking Merriweather in the left leg in a parking lot outside Macy's, according to police. "Mr. Merriweather stated that he pulled out his firearm, but was unable to fire any rounds," Lofton-Mitchell wrote in the report. Merriweather was taken to Grady Memorial Hospital for treatment. His condition was not immediately available. Two vehicles in the parking lot were damaged by the gunfire, according to the report. ajc.com

Fight in Parking lot leads to Shooting at Hamilton Place Mall in Chattanooga, TN Chattanooga Police have identified 18-year-old Jeremy Wynn the suspect who fired a gun outside Hamilton Place Mall Saturday evening. The police department's Street Crimes Unit has placed warrants on file for his arrest. Wynn has outstanding warrants on file for felony reckless endangerment, disorderly conduct and possession of a firearm with intent to go armed. CPD tells Channel 3 several people were arguing inside the mall, which then carried out into the parking lot. Three to four individuals separated and began walking to their vehicle when a black male fired a single round in their direction and ran inside the mall. By 5:30 p.m. CPD arrived and searched the mall for the suspect. Police soon realized the suspect fled from Hamilton Place. wrcbtv.com


Woman Accused Of Trying To Rob Dollar General, in Bellevue, PA Stabs Employee A woman is behind bars, accused of trying to rob a Dollar General store and stabbing the manager in the process. Donna Turner, 49, was arrested late Saturday night in Bellevue. According to the criminal complaint, Turner told officers she needed to rob the store because she needed rent money. Police say Turner wrapped two pieces of wood inside a black shirt so it would like a gun. She was also carrying a large knife. They say she hid inside a storage room until the store closed. She then waited for the employees to go back to the manager's office to count the money. Police say Turner charged at the employees and yelled to give her the money. She stabbed one of the employees in the his left forearm. The injured employee wrestled with Turner and was able to hold her down until police arrived. cbslocal.com

Louisville, KY Police arrest a woman in the Family Dollar Robbery/ shooting
Police arrested a 53-year-old woman Friday in connection with Thursday's robbery and shooting at a Family Dollar store on Wilson Avenue. Catherine Stephens is facing multiple charges including attempted murder and robbery. Police said Stephens put several items in a shopping bag inside the Park DuValle neighborhood store and walked out without paying. When confronted in the parking lot by store employees, police said Stephens hit an employee in the face then pulled out a small gun and pulled the trigger. courier-journal.com

Family Dollar Employee Carjacked at Gunpoint, forced to reopen store for robbery in Binghamton, NY A Family Dollar employee who had just left work Saturday night was confronted by an armed man who forced her to re-open the store so he could rob it, state police said. The robbery happened around 10 p.m. Saturday at the Family Dollar store, at 68 W. Front St., Hancock, about 40 miles southeast of Binghamton, troopers said. "The suspect carjacked a Family Dollar employee at gunpoint after the store closed and had her re-open the store where an undisclosed amount of money was taken from the safe," state police said in a news release. After the man robbed the store, he then forced the employee to drive him "outside of town, where he fled in a small late-model, dark colored vehicle," state police said. syracuse.com


Two in custody for Mayors Jewelers Armed Robbery at the Gallery Mall in Ft Lauderdale, FL Masked thieves smashed jewelry cases with hammers, sending shoppers who mistook the noise for gunshots scurrying for safety at Fort Lauderdale's Galleria mall Sunday. The hammer-wielding robbers smashed their way through the glass display cases at Mayors Jewelers about 3:30 p.m. Cellphone video provided by a Local 10 News viewer shows one of the robbers riffling through a display case at the jewelry store. Seconds later, the crooks are seen running through the mall as a Fort Lauderdale police officer chases them with his gun drawn. "(The robbers) just came in demanding, yelling, telling everybody to get down and just started smashing all the glass," Fort Lauderdale police Detective Tracy Figone said. Meanwhile, the busy mall erupted in chaos. Figone said the men got into a waiting vehicle and took off. "They then bailed out of that vehicle around the 1300 block of North Federal Highway (and) jumped into another vehicle," Figone said. That vehicle, which police pursued south along Interstate 95. Police were able to catch two of the suspects in the area. They also found the car and some of the stolen jewelry. Police are still searching for at least three others who got away. local10.com

Hialeah, FL jewelry store robbed at gunpoint; 3 at large
Police are searching for three men who, they said, robbed a jewelry store in Hialeah at gunpoint Saturday morning. According to Hialeah Police, the masked subjects entered Luany Jewelers, located on West 49th Street and Seventh Court, around 10 a.m. They said two female employees inside the store gave the suspects merchandise and money. Investigators said the men took off with several thousand dollars in jewelry and cash. They said there is no surveillance video of the robbery. No one was injured. wsvn.com

Rigged Pick-up Truck drives into store causing $1M damage in Burford, ON, CN
A local store sustained more than $1 million in damage early Sunday when a pickup truck with a brick on its accelerator was deliberately driven through the front doors and starting a fire. The new Triggers and Bows store on Bishopsgate Road and run by the Landsborough family in this rural community 8 km west of Brantford sells guns, archery equipment and hunting clothing and accessories. A family spokesman said nothing was stolen. "This was strictly vandalism," said the spokesman, who declined to give his name but estimated damage at more than $1 million. torontosun.com

UK: Oliver Twist-type gangs are operating on British streets; Children slaves forced to shoplift and pick-pocket Children are being used by adults to pickpocket, shoplift and beg in Oliver Twist-type scenarios, according to the anti-slavery commissioner. Kevin Hyland said youngsters were being used for criminal operations in UK cities when they should be at school. The former Metropolitan Police detective, who was appointed in November, said the number of convictions for slavery offences was 'nowhere near good enough'. Slavery can involve sexual exploitation, forced labour, domestic servitude or forced criminality. There have been reports of Roma children being used as thieves by 'Fagin'-style masters. There were 151 convictions for slavery-related offences in 2014. dailymail.co.uk



Thief fights Target Loss Prevention over toothbrushes in Cleveland





Woman charged with theft after receiving free items from Andersen Air Force Base Exchange



Former NBA player Chris Gatling arrested for credit card fraud in Scottsdale, AZ

California man arrested for ID Theft: attempting to purchase $26,000 in jewelry








To apply to today's Featured Jobs, Click Here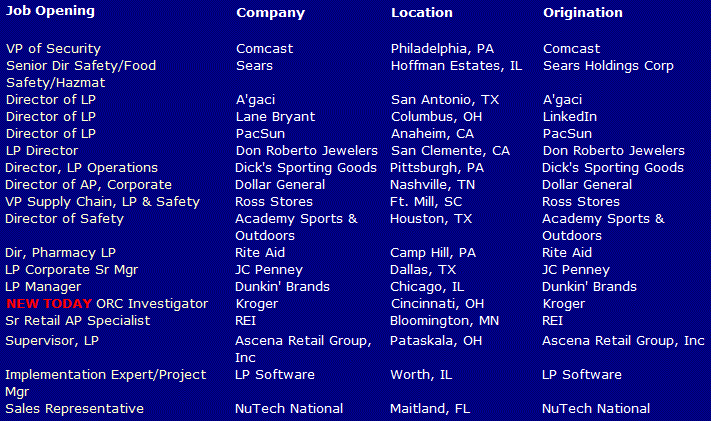 Limited Time Only - Post Your Multi-Unit LP jobs for FREE - Learn More Here




Today's Daily Job Postings from the Net - Appearing Today Only

To apply to today's Internet Jobs, Click Here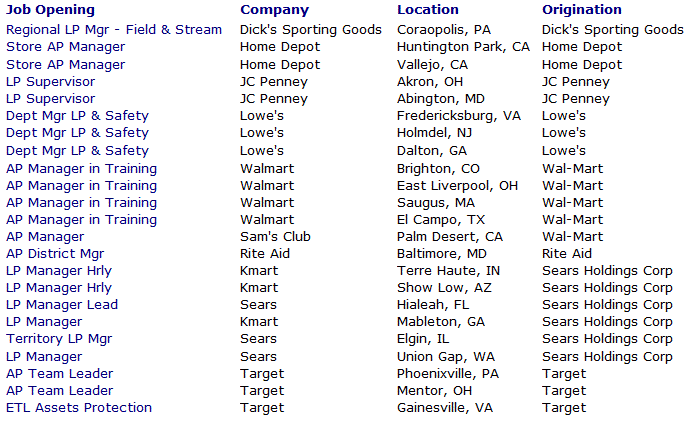 Mark Sens was named Safety Director for Delhaize America.
Ken Velasquez was named District Loss Prevention Manager for Office Depot.
Lou Francavilla was named Regional Loss Prevention Manager for Best Buy Canada.
Brandon Monroe was named Regional Manager of Loss Prevention, Audit and Firearms Compliance - Southern Territory for Dunham's Sports.
Duncan Reed was promoted to Area Loss Prevention Manager for Lowe's Canada.
Israel Herrara was named ORC Investigator for Macy's.
Brandon Stuart, CFI was named ORC Investigator for TJX Companies.



Are you going beyond your job appraisal? Every year, executives face that one moment in time when corporate America tells you how you've done and most live within its boundaries all year long. Exceeding at your job is, by definition, going beyond it and the only way to move up is by doing just that. With increased job scopes and responsibilities, it may seem almost impossible to do except for those who believe anything is possible. Are you going beyond?


Just a Thought,
Gus Downing




Post Your Tip or Advice! Click Here

Please make sure to add d-ddaily@downing-downing.com to your contact list, address book, trusted sender list,
and/or company white list to ensure you receive our newsletter.
FEEDBACK / www.downing-downing.com / ADVERTISE WITH THE DAILY