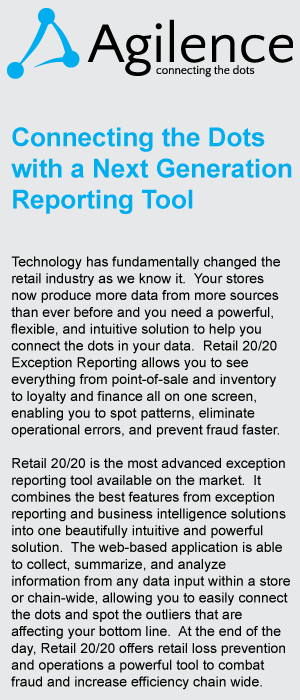 The NRF's Senior Leadership Supporting the LP Industry
The History - The Impact - The Meaning & the New VP of LP

Vicki Cantrell and Robert Moraca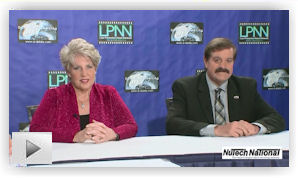 In this episode, Vicki Cantrell, SVP Communities and Executive Director Shop.org at NRF, and Robert Moraca, the new Vice President of Loss Prevention for the NRF, take us behind the curtains of the biggest LP conference in North America. Vicki discusses the expansion of LP's role and the renaming of the conference to "NRF Protect." While Robert shares with us plans for his new leadership position at the NRF, highlighting the importance of IT and law enforcement partnerships with retail Loss Prevention going forward.
---
In this LPNN Quick Take, MCs Amber Bradley, Brand Strategist, Calibration, LLC and Joe LaRocca, VP & Senior Advisor, Loss Prevention, RetaiLPartners welcome us to the "Live in Ft. Lauderdale" event. They provide some history of the event and discuss the day's agenda.
Solution Providers, have a video or commercial you want to publish? Contact us.


Credit card chargebacks register boost, become a growing concern
According to research, 86% of chargebacks may be fraudulent in cases where cardholders fail to contact the merchant before turning to their banks for resolution. Visa has estimated that chargeback fraud also known as "friendly fraud" is growing by about 41% each year. The report unveils that the majority of fraudulent chargebacks are typically associated with five specific chargeback reason codes. Because of this, the company maintains that banks should perform due diligence and investigate claims filed under these codes rather than automatically penalizing online retailers with chargebacks and fees. The five chargeback reasons most commonly associated with friendly fraud are: services not provided or merchandise not received, merchandise defective or not as described Transaction not recognized, fraud (card not present)/no cardholder authorization. thepaypers.com

Bitcoin app issues critical update after rare bug leads to total crypto breakdown
Bitcoin wallet application Blockchain has rushed to release an update after a critical bug left multiple users unaware that they were sharing a bitcoin wallet, leaving their cryptocurrency completely unsecured. The bug affected users running Blockchain's app on Android version 4.1 or older, the company says, and it "resulted in one specific address being generated multiple times, leading to a loss of funds for a handful of users." Blockchain advises users who fear they were affected to update their app, create a new bitcoin address, and transfer their funds out of the affected wallet. theguardian.com

How Netflix Manages Security in the Age of DevOps

Costco plans e-commerce expansion

NFC Mobile Payments: An Industry Snapshot

UK e-commerce delivery volume increases 11% in April

Express Inc. Q1 e-commerce sales up 12.5%
Abercrombie & Fitch Q1 e-commerce sales down 5.5%

"Fraud is not a person - it is a dynamic grouping of statistics that deviate from the norm."
Stuart B. Levine, CFI, CFCI
CEO, The Zellman Group & Zelligent



Fencing Operation: Zip Trip in Hutchinson, KS busted for selling stolen merchandise The owner of Zip Trip Food & Fuel sold cases of Red Bull, Tide and cigarettes believing they were stolen, prosecutors said in charges filed after last week's arrest. Chetankumar Patel, 42, known as Chris Patel, waived his first appearance in court Monday. Patel was officially charged May 27 on possession of a synthetic cannabinoid with intent to sell within 1,000 feet of a school. Police identified the synthetic cannabinoid as 162 grams of suspected K2. Patel was also charged with possession of stolen property and possession of marijuana when police found 14 grams of the drug in his home and other stolen goods during a search warrant. According to the criminal complaint, the state claims that between April 6 and May 12, Patel sold 47 cases of Red Bull, 16 containers of Tide and two cartons of Marlboro after knowing the goods were stolen. Police previously said Patel purchased what he thought to be stolen goods from a member of Kroger's organized retail crime unit. Investigators also then say the stolen goods, some of which were food items, were placed on the store's shelves for retail sale. hutchnews.com

Madison, WI man pulls knife on Walmart Loss Prevention: Police believe man, woman were tampering with price tags Two people were arrested Friday night after one of them pulled a knife on a security guard at the Walmart on Nakoosa Trail, Madison police said. Walmart staff members watched two shoppers for almost two hours around 6 p.m. Friday because they appeared to be tampering with price tags, according to a release. Police said at one point Nicholas N. Natale, 22, of Sauk City, left the store, and a loss prevention expert followed him outside to a car. Police said the employee was trying to get a picture of the car's license plate when Natale saw the employee, pulled out a knife and said "What are you doing, bro?" Natale ran back into the store to get his alleged accomplice, Annastasia N. Evans, 19, of Sun Prairie, and the couple fled as police were arriving, officials said. Police searched the car, which was being driven by another man, and found numerous cellphones, electronics and drug paraphernalia, according to the release. Investigators are working to determine who owns the items. channel3000.com


Tennessee man pleads guilty to stealing $40,000 of electronics from upstate NY Walmarts A Tennessee man will face prison for his guilty plea Monday in St. Lawrence County Court for the theft of electronics equipment valued at more than $3,000 from a Massena Walmart. Travynn L. Ippolito, 27, of Clarksville, pleaded guilty to a reduced count of attempted third-degree grand larceny, a class-E felony, in a plea deal with the district attorney's office. The count was reduced from a charge of third-degree grand larceny. The plea deal satisfied a criminal mischief charge pending in Canton Town Court and a third-degree grand larceny charge for alleged thefts of electronics from a Potsdam Walmart. Mr. Ippolito told County Court Judge Jerome J. Richards that on Jan. 27, 2014, he unlocked a case in the Massena store containing iPads, iPad minis, and iPod Shuffles valued at more than $3,000 and stole them. Mr. Ippolito worked with two women in the thefts and was charged with stealing more than $40,000 in similar electronics from Walmart stores in Potsdam, Massena and Malone. watertowndailytimes.com

Nordstrom employee in Boca Raton, FL accused of $17,000 credit card fraud Nordstrom employee was arrested Saturday for his involvement in a plot to allow customers to use numbers from store credit cards without having the actual cards, police said. Boca Raton police said Kevin Daniels, 28, worked a cashier at the department store. A friend would feed people he knew Nordstrom credit card numbers, and the people would then visit Daniels with their purchases. They would hand him a slip of paper with the credit card number on it, police said, then would make a return later. Daniels and his friend would pocket the money and split it 50/50, according to the arrest report. In total, they made about $17,000. Police said Daniels began working at Nordstrom, at the Boca Town Center mall, in January. Shortly after he began working, he told officers a friend of his approached him and said he had access to Nordstrom account holders' information. sun-sentinel.com

TJ Maxx in North Cornwall, PA busts $3,000 Refunder
Elena Craciun, 40, Reading, PA was charged with making multiple returns to TJ Maxx, 1141 Quentin Road, using counterfeit merchandise and receiving $3,237.98 for the returns on March 31, police said. Craciun was also charged with trademark counterfeiting, police said. ldnews.com

Do you have an ORC case to share? Publishing it educates the LP & retail community
which might fuel even more jobs and funding.
Share your ORC news and help the industry grow


Man Shot and Killed Following Altercation With Officer in Mall at Greece Ridge Parking Lot in Greece, N.Y.



Police investigating double stabbing at Bangor Mall that happened today at 11:35 a.m. and 11:58 a.m. - Active Investigation According to Lt. Bob Bishop, Bangor police are investigating a double stabbing where a female suspect stabbed two individuals at two separate locations. Police say one happened at 11:35 a.m. and the other at 11:58 a.m. Tuesday. Officials are still on scene actively searching for the suspect. Bangor police say the mall and all the stores inside are closed, no one can enter and no one can leave. wcsh6.com

Woman fatally shot at Target store parking lot in Germantown, MD
Montgomery County police say a woman has died after a domestic-related shooting in the parking lot outside of a Target store at a Germantown shopping center. Police say the shooting happened Monday evening. A 24-year-old woman was taken to a local hospital, but later died from her injuries. Police say a 27-year-old suspect fled the parking lot in a white Ford Ranger pickup truck before officers arrived. Witnesses described the vehicle to authorities and an officer located the suspect's truck and began a pursuit of the vehicle. The suspect was arrested after he was involved in a single-vehicle collision. Authorities say the suspect was taken to the hospital with non-life-threatening injuries from the crash and a handgun was found. Police say the suspect and victim were in a relationship. washingtontimes.com

Police / FBI shooting outside CVS near Boston; suspect is killed
A man under surveillance by terrorism investigators has been shot and killed by a Boston police officer. Police Commissioner William Evans confirmed from the scene that the man shot at about 7 a.m. at a pharmacy in the city's Roslindale neighborhood has died. Evans said the man was under surveillance by the Joint Terrorism task Force. His name was not made public. Evans says when a city officer and FBI agent approached the man to talk to him he pulled a military-style knife and lunged at them. The suspect was taken to a hospital where he died. Evans says the officer and agent were also taken to the hospital for evaluations. The shooting is under investigation. No other information was immediately available. whdh.com


Teen girl says she was kidnapped at Spartanburg, SC mall A 17-year-old girl tells Spartanburg Police she was kidnapped and robbed at the Westgate Mall in Spartanburg over the weekend. The teen says she bought a phone from a friend who then wanted to buy the phone back. As the victim was leaving work, she and the friend walked back to the friend's car. When they got into the car, an unknown man wearing a bandanna over his face and armed with a gun came to the car and got inside as well. The teen tells police he made the friend drive to Bellew Carver Rd. where the gunman took both their phones and made her get out of the car. She says once she got out of the car, her friend told the gunman that the victim had another phone. He pointed the gun at her again and demanded she give him the other phone. He then got back into the car and her friend drove off. wbtw.com

Wal-Mart adds extra security at both Grand Forks stores
In light of the recent shooting at the Wal-Mart on 32nd Avenue, there is now extra security at both store locations in Grand Forks. Wal-Mart officials have confirmed that there is temporarily extra security at both stores. The business hired extra security after the shooting that took place in the early hours of May 26 at the 32nd Avenue location. Officials from Pro Dog Security said they are patrolling both Wal-Mart locations in Grand Forks. "We're hired by the corporate offices as extra security after the incident," said Sgt. Duane Sullivan, Pro Dog Security. The Grand Forks Police Department is also patrolling the store on 32nd Avenue. Police said while they don't have formal patrol times set up with Wal-Mart, officials said they want to help put to rest any concerns people may have at the 32nd Avenue location. grandforksherald.com

Two skimmers plead guilty in federal court - found with 32 Walmart gift cards, $140,000 in cash, 15+ counterfeit access devices A couple of accused credit card skimmers plea deal and take responsibility for having 32 Walmart gift cards with debit card numbers encoded on the cards after a traffic stop. They were traveling from Chicago on their way home to California. In November 2013, the men were stopped by the Douglas County Sheriff's Office on Interstate 80 near 50th Street. They found credit card skimming equipment, a bunch of gift cards, and more than $140,000 in cash. scrippsmedia.com


Chicago's Lincoln Park store Robbed at Knifepoint, weeks after robbery at nearby shop A knife-wielding robber hit a Lincoln Park clothing store Monday afternoon, less than a month after another store just a block away was also robbed at knifepoint, police said. About 2:40 p.m. Monday, a man entered the Blues Jean Bar in the 2200 block of North Halsted Street and appeared to be shopping. The man then approached the counter, pulled a knife on the clerk and fled the store with cash from the register, police said. Another store a block south was robbed around the same time of day last month. As of early Tuesday morning, police would not say if they believed any of the robberies were related. chicagotribune.com

Union Parish, LA Deputies Continue Search for Walmart electronics Theft Suspect, 1 Arrested A manhunt is continuing today for a shoplifter who led Union Parish deputies on a high-speed chase in the eastern part of the parish. The Farmerville Police Department and Sheriff's Office received a complaint from the Farmerville Wal-Mart store about a shoplifting that occurred shortly after 12 p.m. Monday about the theft of some electronic equipment. myarklamiss.com

Doña Ana Co, New Mexico Clerk's office arrests tied to alleged check fraud scam Sheriff's deputies swept into the Doña Ana County Clerk's Office on Monday morning to detain three workers in an alleged identity theft and check cashing scheme - after an accused local ringleader was arrested days earlier. In all, seven people have been arrested in the alleged scheme, which entailed notarizing documents to help cash federal tax refund checks obtained using stolen identities. Authorities said the local arrests play into a broader investigation by the U.S. Treasury Department. lcsun-news.com

Victoria's Secret Employee busted for stealing $19,000 in merchandise over 4 months A Victoria's Secret employee was arrested and is accused of stealing several thousand dollars' worth of merchandise. Alexia Murrell is facing felony theft charges. She worked at the Victoria's Secret store in Mall St. Matthews. Police said she stole $19,000 worth of merchandise over the past four months. The store said it has surveillance video of the thefts. Police said Murrell has now admitted to the crime. whas11.com

Three Tampa, FL Residents Charged with Trafficking in Counterfeit Credit Cards The Sarasota County Sheriff's Office Tactical Unit was conducting surveillance on the 4200 Block of Bee Ridge Road in Sarasota when they noticed three occupants of a black SUV behaving suspiciously prior to entering the Winn-Dixie. After the three people exited the store, the TAC Unit learned there was indeed cause for their strange behavior which was consistent with credit card fraud. Upon stopping the SUV for a traffic violation, the TAC Unit was given permission to search the vehicle and found 88 cloned credit cards. Detective Friday explains that hotel room keys, gift cards or old credit cards can be used as a new credit card once information from a legitimate card has been skimmed. snntv.com


Video shows Armed Burglar hit Great Clips in Santa Fe four times An armed burglar has been hitting hair cutting businesses for easy money over and over again, and it's all been caught on camera. Surveillance video shows the serial burglar using a hammer to break in then steal the entire cash drawers from a couple Santa Fe Great Clips businesses. Since May 3, Santa Fe Police believe the same burglary has hit a couple different Great Clips locations for a total of four burglaries. "Destroyed the computer, taken a computer, taken cash, really caused a lot of damage to the business," said Lt. Andrea Dobyns, a spokeswoman for Santa Fe Police. Each time, police say the burglar used a hammer to smash the bottom of the window to get in. Video shows the burglary dressed in black running in and quickly grabbing the cash drawer. Police believe the burglar was also carrying a pellet gun, saying other video shows the man firing the gun at the door but no glass shattering. krqe.com

North Nashville market padlocked as 'public nuisance'
The Metro Nashville Police Department arrested two workers and padlocked a Nashville discount store for being a public nuisance. CJ's Market at 3700 Buena Vista Pike was reportedly selling marijuana, according to Metro police. Police said during an April traffic stop, officers spotted marijuana in the vehicle. The driver said it came from CJ's Market. Police used that tip to launch an undercover investigation. They said at least five times during the month of May, undercover officers bought felony amounts of marijuana from a worker at the store. In another incident, police said a worker sold beer to a minor. An undercover officer also purchased counterfeit NFL merchandise at the market. wmcactionnews5.com



Hickory, N.C., Rite Aid employee allegedly stole customer's credit card





Five restaurants in Clay Co, FL hit with Smash and Grabs in a last few weeks



Lubbock, TX woman indicted for Theft and Assault on LP at JC Penney

$3 Theft Ends In Felony Arrest in Moundsville, WV; 3rd strike rule

Boise Police arrest man accused of dressing room videos

Car thief drives BMW out SF dealership window



Santa Monica, CA Police Arrest Burglary Suspect Thanks To Fingerprint Left At Jewelry Store





UK: Fraudsters run up $585,000 bill on Australia's Defense Department fuel card








To apply to today's Featured Jobs, Click Here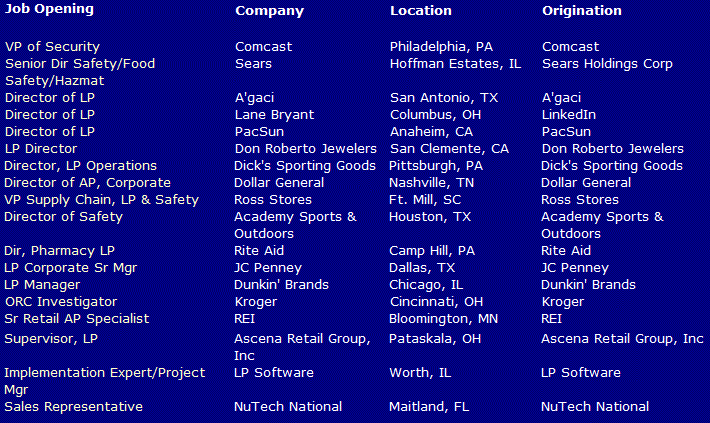 Limited Time Only - Post Your Multi-Unit LP jobs for FREE - Learn More Here




Today's Daily Job Postings from the Net - Appearing Today Only

To apply to today's Internet Jobs, Click Here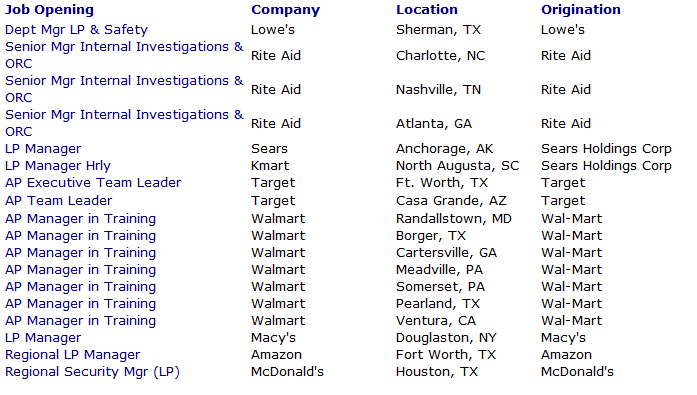 Harjot Sahota was named District Loss Prevention Manager for TJX Canada.
Evan Howarth was named Safety and Loss Prevention Manager for Domino's.
Tim Larson, CFI was named Department Manager - Loss Prevention & Safety for Lowe's.
Nelly Elias was named Area Loss Prevention Manager for Ross Stores, Inc.
Amy Spiehs-Hicks, CFI was named Regional Loss Prevention Manager for CVS Health.
Luz Evelyn Zepeda was named Regional Loss Prevention Investigator for National Stores, Inc.


One Quality that Makes a Leader Truly Great There are certain qualities that make leaders stand out above the rest, traits that they need to have in order to spark inspiration in their employees and be trusted to lead everyone to success. All leaders should have this one quality, that can help move mountains and earn respect. Have courage

How the Navy SEALS Train for Leadership Excellence Every organization that wants to become high performing needs to take training and education seriously. The Navy SEALS go above and beyond. Here is some insight as to what works and what doesn't when it comes to training to be the best. Go for excellence


4 Reasons Managers Should Spend More Time on Coaching Managers who use coaching skills to develop their employees' talents definitely stand out. They truly believe in the power it can have on employees and organizations' success. Here are some reasons coaching is a key component of being a leader. They are genuinely curious

Everyday Leadership Starts with 'Hello'
What is your morning routine as soon as you get into the office? Do you go right to your desk and check your emails? Do you stop and talk to your team members to see how everyone is doing? As a leader, you have a responsibility to create a positive connection with your team. Just say hello


Finding the right network into a company is critical if one expects to truly be able to compete in this job market. Going beyond the HR executives and finding the hiring managers and other decision makers and being able to communicate with them or have your network of colleagues communicate with them is important. Managing those communications is no easy task and ensuring that the information is handled correctly and expediently can be delicate.

Just a Thought,
Gus Downing




Post Your Tip or Advice! Click Here

Please make sure to add d-ddaily@downing-downing.com to your contact list, address book, trusted sender list,
and/or company white list to ensure you receive our newsletter.
FEEDBACK / www.downing-downing.com / ADVERTISE WITH THE DAILY