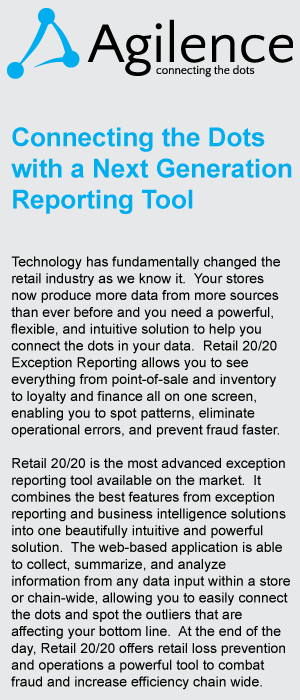 Greg DeTardo, President, NuTech National, and Tony Mancino, National Account Manager, give us an update on where NuTech is, what the organization's primary focus is on and how they continue to drive value for their clients. Embracing technological change, Greg and Tony discuss NuTech's "Retail Interactive" business, including NuTech Live Connect - a complete software solution that brings retailers a data connection for all components of alarm data.

---
In this LPNN Quick Take, Joe and Amber continue discussing the upcoming agenda for the day. They also express their gratitude to the sponsors that helped make "Live in Ft. Lauderdale" possible.

Solution Providers, have a video or commercial you want to publish? Contact us.


Domain name theft joins growing list of retail cyber threats
the outright theft of domain names, in which online merchants lose control of their websites as shoppers find their e-mails bounced back or are unwittingly redirected to another site, typically operated by offshore entities. The site hijackers may be looking to operate a bogus look-alike site to obtain purchasers' credit card information or they may be holding the site hostage in order to make the site's legitimate owners pay ransom for its return. Whatever the motivation, execution involves determining how a retailer's domain name server is secured and then how it can be exploited for penetration, says Ken Westin, a senior security analyst with security and compliance software provider Tripwire. "That's an easy attack vector," he says. Depending upon how the security is configured, even a moderately experienced hacker can access e-mails, go through all the e-mail accounts and probe the entire infrastructure, he says. nrf.com

Tokenization and EMV Can Cure the 'Age of Fraud'
Attacks on data have become more sophisticated. Merchant PCI-DSS compliance isn't close to where it should be, especially for mid-size and smaller merchants. EMV has proven to be successful in defeating counterfeiting in the markets where it has been deployed. The bad news is that the "side effects" of EMV success have been consistent in the markets where it's been deployed: card not present fraud increases. Enter tokenization. Tokenization is enabling the faster adoption of mobile payments by replacing a card's primary account number with a random numerical sequence unique to a specific device, merchant, transaction type or channel. For merchants, tokenization is easier and cheaper since it's a software issue only (no new hardware is required), which is promising news since merchants have the most to gain from preventing card not present fraud from tokenization adoption. paymentssource.com

Amazon launches free shipping on small items

The most important metric in e-commerce

PayPal iPhone app adds Touch ID authentication

Why Android Pay Will Succeed Where Google Wallet Failed

Canada's Reitmans Q1 e-commerce sales up 97.7%

"Fraud is not a person - it is a dynamic grouping of statistics that deviate from the norm."
Stuart B. Levine, CFI, CFCI
CEO, The Zellman Group & Zelligent



Amazon Fulfillment Center employee in Moreno Valley, CA accused of stealing $250,000 in merchandise An employee at the Amazon Fulfillment Center in Moreno Valley was in custody Tuesday, suspected of stealing hundreds of thousands of dollars in jewelry and other items intended for online shoppers. Miguel Angel Verdin, 40, of Moreno Valley was being held on $250,000 bail, after the San Bernardino County sheriff's
burglary suppression team and loss prevention employees from the distribution center determined that he stole merchandise on numerous occasions, dating back to 2014, sheriff's Sgt. Aaron Kent said. Verdin was taken into custody at about 4 p.m. Monday at the distribution center in the 24000 block of San Michele Road. He is scheduled to make his first court appearance on Wednesday. A search of Verdin's car and his home in the 13000 block of Black Elm Court turned up a stash of stolen property, including diamond rings, watches and other merchandise valued more than $250,000, Kent said. cbslocal.com


Denver, CO Couple sold $60,000 in baby formula shoplifted from Albertsons - Safeway supermarkets A couple has been arrested in connection with a shoplifting ring that "boosted" more than $60,000 in baby formula from Albertsons-Safeway stores in the metro Denver area, police said Tuesday. The Denver District Attorney's office has charged Donald Dowling, 39, and Danielle Smith, 33, with felony theft by receiving. The Arvada couple is accused of buying the stolen baby formula - along with stolen baby bottles and health and beauty products - from shoplifters and reselling it on Amazon.com and Craigslist.org. Dowling was also charged with felony manufacturing of marijuana concentrate after Denver police said officers executing a search warrant at his home realized there was also a make-shift hash oil manufacturing lab on the back porch. The investigation started on April 23, when an investigator for the Albertsons-Safeway Organized Retail Crime team learned that security officers had caught a shoplifter stealing $465 worth of baby formula from a Safeway store in Wheat Ridge, the affidavit states. The shoplifter was willing to give up information about a theft ring stealing baby formula from the supermarket chain's metro area stores and selling it to an Arvada couple. The Albertsons-Safeway investigator told Denver police that, during a six-month span, more than $40,000 in baby formula had been stolen from their stores in Denver and more than $60,000 from stores across the metro area. Albertsons-Safeway investigators went undercover with the shoplifter-turned-informant. thedenverchannel.com

Philadelphia woman found guilty of stealing $35K in cellphones from Verizon NJ stores A Philadelphia woman was found guilty Tuesday of stealing more than $35,000 in cellphones from two stores, the Gloucester County Prosecutor's Office announced. A jury convicted Fatima M. Aviles, 27, on four counts of third-degree burglary and three counts of theft in connection with the thefts from Verizon stores in Glassboro and Washington Township in 2013. Aviles entered the stores while they were closed on four occasions using a key issued to employees that would open various stores in New Jersey and Pennsylvania, prosecutor's explained. Two Verizon employees who viewed surveillance camera video of the burglar stuffing phones into a duffel bag and backpack identified Aviles as the intruder, prosecutor Dianna Reed-Rolando said. Both also testified that Aviles was friends with a woman who previously worked at a Verizon store in Pennsylvania. That employee had left her job without returning her store key. The former employee could not be located during the investigation, according to the prosecutor's office, but has not been charged in the case. The phones were never recovered. nj.com

3rd Jacksonville, FL man Pleads Guilty in Counterfeit Scheme Involving $32,600
A third Jacksonville man has pleaded guilty in a counterfeit scheme involving $32,600 of bogus bills in Florida and Georgia, according to the U.S. Attorney's Office. Timothy Larry Malden, 44, faces 20 years in federal prison for aiding and abetting the passing of counterfeit Federal Reserve notes. Malden and 35-year-old William Brinkley Jr. drove counterfeiter Christopher Jon Kirkland, 41, to local businesses to attempt to pass fake $20s and $100s by purchasing merchandise and reloadable gift cards. The scheme persisted from August 2013 to December 2013, according to the U.S. Attorney's Office. Both Brinkley and Kirkland have also pleaded guilty in the scheme. jacksonville.com

$599 in merchandise taken from Market Common Victoria's Secret store in Myrtle Beach, SC Officers were called about 3 p.m. Tuesday to the Victoria's Secret store at the Market Common shopping center where a 35-year-old woman reported the incident. The victim told police that she saw the suspect lingering at the front of the store near a shirt display with a large bag. The victim said she heard the bag rustling and went to investigate when the suspect ran out of the store, police said. The victim then noticed that about 12 Pink-brand t-shirts, valued at $599, were missing. No arrests had been made in connection with the theft as of Wednesday morning. myrtlebeachonline.com


The Cook County State's Attorney's Office Regional Organized Crime 2015 Training and Conference
September 10th and 11th, 2015

Hamburger University at McDonald's Campus

Oak Brook, Illinois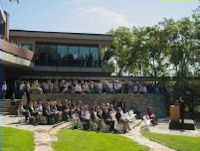 Speakers for this year's conference include Anita Alverez, Cook County State's Attorney; Bill Kurtis, CBS News, Cold Case Files, Investigative Reports; Leo Schmitz, Director, Illinois State Police; and Mark Kirk, US Senator as well as others from the FBI, Chicago Police Department, Wal-Mart, Department of Homeland Security and Royal Bank of Scotland.

Topics to be discussed include Active Shooter, Cell Phone Tracking, Cyber-Crime Investigations, ORC and Bank Crimes 101 and 102 and many others! View the full list of topics and

Registration fee of only $80 includes beverages, breakfast, lunch and snacks for two days, parking, and all speakers and networking opportunities.

If you have any questions contact David Williams

See the full conference flyer and register for the event here

CALL FOR SPONSORS: Interested in sponsorship opportunities? Contact David Williams
Do you have an ORC case to share? Publishing it educates the LP & retail community
which might fuel even more jobs and funding.
Share your ORC news and help the industry grow


Autopsy shows Gunman in North Dakota Wal-Mart Fatal Shooting Was Drunk Preliminary autopsy results indicate that a U.S. airman was drunk when he opened fire in a Grand Forks Wal-Mart store, killing one worker and injuring a second employee before killing himself. Marcell Willis, 21, had a blood-alcohol level of 0.19, more than double North Dakota's legal limit for driving of 0.08, police said Wednesday. The number will be double-checked and might be revised slightly in the final autopsy report but there is no doubt Willis was legally drunk when he pulled the trigger, police Lt. Derik Zimmel said. What Willis had been drinking and for how long before the shooting are details of the investigation that aren't being publicly released, Zimmel said. He also declined to say whether the two people who were with Willis before the shooting indicated to police that he had been drinking. Those two people are being treated as witnesses, not suspects. Willis was a senior airman stationed at Grand Forks Air Force Base. Police say he walked into the store about 1 a.m. on May 26 and shot and killed cashier Gregory Weiland, 70. Willis then shot and wounded overnight grocery general manager Lisa Braun, 47, who was released from a hospital over the weekend. abcnews.go.com

NYPD Officer Uses Dead Man's Credit Card To Buy Diamond Ring
Diamonds may be a girl's best friend, but they can also land you in jail. An NYPD Officer has been charged with using a dead man's credit card to buy diamond jewelry, Manhattan District Attorney Cyrus R. Vance, Jr., said Tuesday. On July 14, 2014, Officer Ymmacula Pierre went to an apartment in Greenwich Village for a wellness check, according to court documents. Once inside the 12 East 14th Street apartment, Pierre, 30, found the resident dead, Vance said. Pierre used the 65-year-old man's cell phone to call a relative, Vance said. She then documented some of the man's belongings, including a Citibank MasterCard, as per standard procedure. Two days later, however, Pierre allegedly used the credit card information to purchase a diamond ring valued at more than $3,200 from Zales, Vance said. The dead man's relative was notified by Zales of the possible credit card fraud, and alerted the vendor before the jewelry was delivered to the address allegedly specified by Pierre. Pierre was charged with criminal possession of stolen property, identity theft, attempted grand larceny and official misconduct. cbslocal.com

Quizno's owner shot during robbery in San Dimas, CA
A 63-year-old man who was shot during a robbery of a Quizno's store has died. Witnesses told deputies a man approached the cashier's counter, brandished a semi-automatic handgun and demanded money from the business owner, who handed the suspect a bag containing U.S. currency. The victim confronted the suspect outside of the business and the two were involved in a brief struggle. The suspect shot the victim one time in the torso area and fled the scene on foot. sgvtribune.com




Orange Co, FL Sheriff's Office releases Composite sketch of Home Depot robber who stabbed LP employee Orange County deputies said a man who robbed a Home Depot and stabbed an employee is on the run. Deputies have created a composite sketch and said the man stole some items at the store on South Orange Blossom Trail. Investigators said a loss prevention officer approached the man, who then stabbed the officer in the arm. wfftv.com


Warehouse employee steals $3M in art from Dale Chihuly warehouse in Tacoma
Prosecutors say Christopher R. Kaul worked at the warehouse for three years until he was fired in 2013 for addiction to pain killers. The alleged theft started about a year earlier, investigators added, when Kaul began stealing art from the warehouse that he thought would go unnoticed. The 38-year old Tacoma father then sold the art to dealers, pocketing the money to feed his drug habit, according to police. Investigators said Kaul was able to exploit "horrible" organization and "lax" inventory control at the warehouse to steal the art, later selling it at a fraction of their value. Kaul reportedly told dealers he acquired the pieces using an employee discount. komonews.com

Lord and Taylor employee arrested for $1,100 theft of jewelry in Wilkes-Barre, PA An employee at Lord and Taylor was arrested Saturday after he was allegedly caught on camera placing merchandise in his pockets. Security officers at the store on Highland Park Boulevard said they witnessed Sayyvone Williamson, 21, of Edwardsville, placing jewelry into his pockets on a closed circuit television, police said. He was detained and discovered to be in possession of $1,160 in jewelry and other merchandise. Williamson will be charged with theft, police said. citizensvoice.com

Bon-Ton employee in Richland, PA busted on Refund Fraud and theft totaling nearly $5,000 Daphane Irons, 20, of Hilltown, was charged with felony retail theft on May 25 after police said she generated fraudulent returns totaling $1,523 as well as taking $3,140 worth of merchandise from Bon-Ton while she worked at the store. theintell.com

Man robs Advance America loan store in St. Ann, MO maces clerk
Surveillance video has been released of a suspect who took a clerk into a bathroom to mace her while robbing a payday loan store in St. Ann. Authorities told News 4 the suspect walked into an Advance America store on St. Charles Rock Road, began to demand money and forced the clerk to open the register and safe. "He has her open the cash drawer, he robbed her, she opens the drawer and then he takes her to a restroom," said Elliott Miller with St. Ann Police. "He has her go into the restroom where he actually maced her, shuts the door, and on his way out of the store, stops back at the safe," Miller said. The suspect left the store with a metal case full of cash, police said. kmov.com



Palm Beach Sheriff's searching for suspect in Advance Auto Parts store robberies in West Palm, Lake Worth, FL Local authorities are searching for a man wanted in two robberies of auto parts stores in our area. West Palm Beach Police are looking for the man in connection to the robbery of an Advance Auto Parts store at 334 Belvedere Road on May 17. palmbeachpost.com



'Picky' thief breaks into Grocery Outlet in Auburn, WA, takes $4,000 worth of meat, Hot Pockets Police are hoping someone can help identify a man who broke into a grocery store in the middle of the night and stole thousands of dollars' worth of fresh meat and health and beauty items. The thief took about $4,000 worth of high-value groceries, including over-the-counter medication, chicken, steak, and ground beef. He spent close to 30 minutes in the warehouse. Noski says it's frustrating to watch him on the surveillance video. "He shopped, he spent his time, he looked, he was picky. There was so much back there for him to take, and he only took what he wanted." q13fox.com

Corpus Christi, TX Police need help catching Sunglass Burglar
Cops and a frustrated store owner need help catching a burglar. More than 40 pairs of Costa sunglasses were recently stolen from Ocean Treasures on the Island. The family owned business has been burglarized 3 times in the last year. kztv10.com



2,000 debit cards skimmed at Virginia Credit Union





Starbucks Burglar Hits Palo Alto, CA Police Car, Leads Officers On Peninsula Highway Chase Before Arrest



Las Vegas Drone store broken into for 4th time in year

Woman Accused of using Fake $100s At Orland Square Mall in Chicago



Suspects Wiggling Through Security Bars to Pawn Shop in Dayton, OH





Zales Outlet store in Southlake, TX hit with a Grab and Run, merchandise valued at $2,780








To apply to today's Featured Jobs, Click Here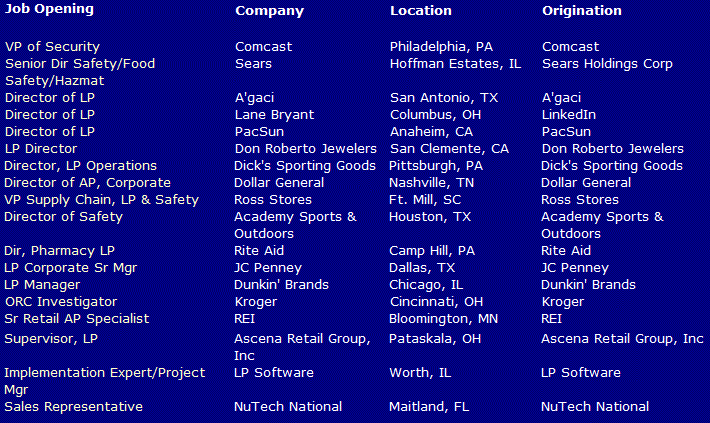 Limited Time Only - Post Your Multi-Unit LP jobs for FREE - Learn More Here




Today's Daily Job Postings from the Net - Appearing Today Only

To apply to today's Internet Jobs, Click Here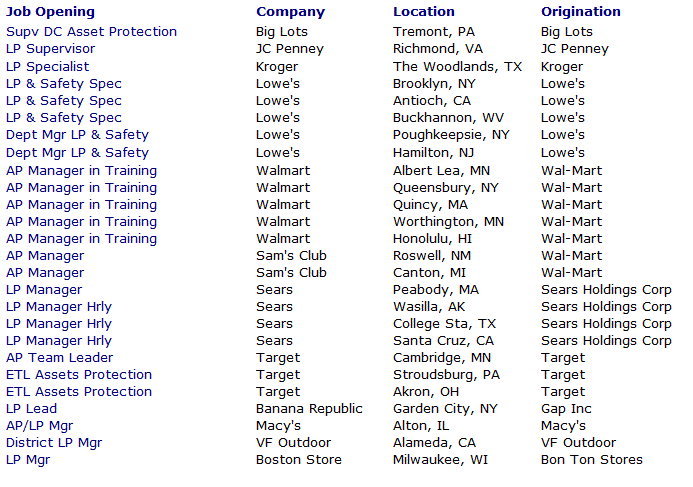 Robert Bull was named Vice President - CCI, a division of Protection 1.
Pat O'Leary was named Vice President and General Manager of Nedap Retail in North America.


How to Get the Feedback You Need
While we may not enjoy receiving constructive criticism, it is essential if we are going to grow and develop our talents. Really, we need feedback more than just once a year. Here are some tips on how you can ask for feedback to get ahead. Ask in real time

Three Simple Steps to More Honest Performance Feedback We all know that "honesty is the best policy" but why doesn't that stick with giving feedback? Managers may give generalizations and employees may avoid saying anything to the boss. Here are some suggestions that are worth a try to giving and receiving honest feedback. It takes practice


4 Ways to Get Truly Honest Feedback from Employees Just as your employees need to know what they could improve upon, so do leaders. Employers need to hear the good, the bad, and the ugly in order to improve. It can be tough to get honest feedback from employees, so here are some ways to lessen the stress. Just ask

The One Thing that Pushes People to Succeed How bad do you want it? It's a question we are often asked when reaching for our goals or success, but it's also one we need to ask ourselves daily. No matter what kind of feedback you receive from people, whether it be good or bad, allow it to drive you towards your goal. Prove them wrong and give it everything you've got. Get hungry

Managing your career upwards requires a vision of where you want to go and how you're going to get there. Other than personal performance, one of the primary factors is who you know and how you develop those relationships. Everything you read talks about managing relationships around you in your current role, but the real key is the relationships you have outside your role or your company and not just in the LP community but with successful operators outside your current scope. If you expect to truly excel in your career, you've got to expand your contacts and develop them as you would the operator beside you. Obviously, this can be difficult and slow to progress. But give it some thought for the new year and set some goals of meeting new executives and expanding your circle. Because one person, one contact, can make a difference and you never know who that might be.

Just a Thought,
Gus Downing




Post Your Tip or Advice! Click Here

Please make sure to add d-ddaily@downing-downing.com to your contact list, address book, trusted sender list,
and/or company white list to ensure you receive our newsletter.
FEEDBACK / www.downing-downing.com / ADVERTISE WITH THE DAILY