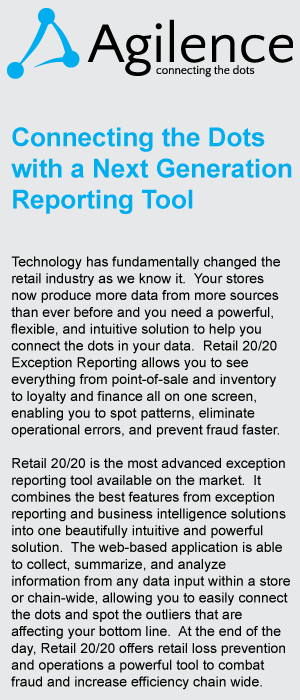 Planning content for the LP industry's biggest event
Steve Ippolito and Gary Johnson


Steve Ippolito, Dir. of LP at Talbots and Chair of the NRF LP Content Planning Committee, and Gary Johnson, VP of LP for The Vitamin Shoppe and former Chair of the NRF LP Advisory Council, talk about the year-long process that goes into planning the NRF LP Conference & Expo. The show has evolved over the years to address the educational needs and increased scope of the LP profession. Steve and Gary tell us how the NRF conference reflects the direction and future profile of the successful senior LP executive.
---
In this LPNN Quick Take, Joe LaRocca and Rex Gillette, VP National Accounts Retail for Protection 1, meet up with Barry Vaughn, Area Investigator with Old Navy. Barry was awarded the LP Case of the Year Award from the National Retail Federation. Listen as Barry discusses the case valued at upwards of $800K.

Solution Providers, have a video or commercial you want to publish? Contact us.


Alibaba Revamps Fake-Goods Procedures
New rules offer some global brands faster responses, dedicated representatives. Under the new rules, global brands that have been highly accurate in flagging fake goods on Alibaba's Tmall and Taobao will have their complaints reviewed in one to three working days, compared with five to seven days previously. Brands that sign up for the program will also have a dedicated representative to deal with their complaints, according to the Chinese company. Alibaba hasn't disclosed how many brands have enrolled in its "good-faith takedown" program, which took effect April 1st. Alibaba said its new procedures show that it is "constantly enhancing and refining our anticounterfeiting operations." wsj.com

Mobile-Driven Consumers Driving Retail's Fate
A new study released by UPS shows that the engaged customer, who are often driven by mobile technology, play a key role in the future of the retail industry. As online shoppers become savvier, the study also reveals that retailers must do more to stay competitive. This includes investing in mobile features, flexible shipping options and hassle-free returns. The study also showed that consumers research more when it comes to purchasing decisions and are increasingly influenced by social media, and free shipping continues to drive purchasing decisions. "The future of retail is driven by ever increasingly sophisticated and savvy shoppers who research at home and in a store, but more are turning to mobile as capabilities improve for online product display and promotion," said Alan Gershenhorn, UPS executive vice president and chief commercial officer. "They also want more flexibility and alternate delivery options."

Some key points from the study that indicate what consumers want out of their commerce experience include:

● Online shoppers often change retail channels for: better prices (57 percent) and selection (49 percent). 48 percent of online shoppers have used ship to store in the past year; 45 percent of those have made an additional purchase when picking up their online purchase.

● Even when consumers shop online, they often return in store. 39 percent of consumers make returns prefer to ship the product back, but 61percent said they prefer to return in store. In-store returns often lead to more purchases, as 70 percent of consumers purchase more when they return online; only 42 percent who return online make a purchase during that process. pymnts.com

Loblaw's online ordering service helps to keep shelves full

Biometrics to become main banking authorization method by 2020

Digital Coupon Users Outspend the National Average by 114 Percent

Office Depot pushes mcommerce's buttons with Apple Watch app

Jo-Ann Fabric among first retailers to partner with Pinterest's new Buyable Pins

"Fraud is not a person - it is a dynamic grouping of statistics that deviate from the norm."
Stuart B. Levine, CFI, CFCI
CEO, The Zellman Group & Zelligent



FENCING OPERATION: Lorain County, OH business owners arrested, charged with received stolen property A simultaneous execution of search warrants at two Lorain businesses June 3, netted the arrests of two store owners and caused what police say is a hopeful ripple in a systemic burglary and drug epidemic plaguing the area. At 1:30 p.m., the Lorain Police Department's property crimes division and the Ohio Department of Public Safety (ODPS) Investigative Unit's Cleveland division served warrants at 611 Market, 1550 Colorado Ave., and Rudy's 2 Market, 523 W. 23rd St. During their investigation, the 2 Store Owners were taken into custody and charged with misdemeanor receiving stolen property. Additional charges may follow pending the completion of the investigation, said Lorain property crimes Detective Jacob Morris. Morris said items seized from both locations must be inventoried, determined if they are stolen goods and then given a valuation. Once complete, charges against both men could be adjusted, he said. During their "months-long" investigation into the stores' activities, police allege the men were purchasing stolen items from customers, and in turn re-selling them in their establishments. Officers from both agencies were seen bagging evidence, including large quantities of power tools, lawn and gardening equipment, gaming systems, phones, bicycles, cash and an alleged substance Morris believes is "spice" - a synthetic form of cannabis - which he said will be sent for laboratory testing. morningjournal.com


2 charged with embezzling $50,000 of merchandise from AAFES in Newport News Two employees of an Army and Air Force Exchange Services company in Newport News were charged with stealing from the exchange for almost a year. According to their arrest warrants, 23-year-old Cazzion McCarthy and 37-year-old Kelvin Cowan stole more than $50,000 worth of property from the AAFES Dan Daniel Distribution Center. "We expect all associates to be mindful of the exchange mission," said Judd Anstey, senior public relations manager for the Army & Air Force Exchange Service. Police said, this past February they were called to the distribution center for a report of missing merchandise. Investigators said the missing tablet-style computers were stolen between July 2014 and February 2015. Both Cazzion and Cowan were charged with one count of embezzlement. Officials said both men had been working at the distribution center for three years, but no longer work there. wavy.com

Winn Dixie Employee in Tallahassee, FL Accused of Stealing $37,000 in Steak & Seafood A Tallahassee man is accused of stealing tens of thousands of dollars worth of steaks and seafood. Arrest papers say the former Winn Dixie employee devised a scheme to transfer the items among stores in Leon, Gadsden and Wakulla Counties. James Hollar, who court papers say is a former market manager for Winn Dixie is now accused of stealing more than $37,000 dollars worth of steak and seafood in less than a month. James Hollar is facing felony charges of grand theft and fraud stemming from incidents in September and October 2014. Tallahassee Police reports say they have store surveillance video of Hollar picking up meat from Winn Dixie stores on Tharpe Street, South Magnolia, North Monroe Street and Paul Russell Road. wctv.tv

CA Man sentenced in Portland, Maine to 13 months for fake credit, gift card scheme; $18,000 in restitution California man was sentenced Tuesday in U.S. District Court to 13 months in federal prison for his role in a scheme to use nearly 40 fake or altered credit, debit and gift cards to buy merchandise in southern Maine in 2013 and 2014. In addition to prison time, Jervis A. Hillaire, 26, of Menifee, California, was sentenced to three years of supervised release, according to the U.S. attorney's office. Hillaire also was ordered to pay nearly $18,000 in restitution. bangordailynews.com

Sears in Barboursville, WV busts 2 Repeat Offenders stealing Power tools
Jamie Berea Johnson, 37, and Denny Dorsey Roberts Jr., 55, both of Huntington, were arrested for third offense shoplifting May 27 after two men were caught stealing a Craftsman drill from Sears, worth $140. The two removed the drill from the packaging in a fitting room and attempted to leave. They were stopped by loss prevention officers. Johnson was found to be on probation for felony third offense shoplifting. herald-dispatch.com

Do you have an ORC case to share? Publishing it educates the LP & retail community
which might fuel even more jobs and funding.
Share your ORC news and help the industry grow


Women charged with creating a false public alarm and terroristic threats after a call warning of a bomb at the Ocean County Mall last week Showander Descarte, 24, of Ridgeway Road, is accused of calling in a threat on Saturday evening, authorities said. Though a search was done, the mall was not evacuated during the Saturday incident, they said. Descarte was arrested Tuesday night and is being held in the Ocean County Jail in lieu of $10,000 bail in the case.

There have been numerous hoax threats and swatting incidents in recent weeks, including back-to-back threats to Freehold Raceway Mall and Monmouth Mall in Eatontown on Monday.

patch.com


Armed Walmart shoplifter in custody in Greenwood Village, Colorado, standoff with SWAT ends after nearly 20 Hours An armed Walmart shoplifter is in custody after firing shots at police and barricading himself inside a Greenwood Village home in an hours-long standoff. The standoff continues into Thursday. Police are negotiating with the man who illegally entered a house. Police say a 9-year-old boy was home at the time the suspect entered, but the boy was able to safely escape to his mother who was waiting outside. The man fired shots at officers through the home's garage doors. No one was hurt. Early Thursday morning, police entered the home and the suspect once again fired shots at police. Officers did not fire back. Seven homes have been evacuated in the area. Several loud explosions have been heard in the neighborhood. Greenwood Village Police say they did open up part of the house for a better vantage point. The standoff began as a shoplifting call around noon at the Aurora, CO Walmart. Witnesses told police the man, whose name has not been released, was seen leaving the store in a silver Lexus, which was later found abandoned. 9news.com westword.com

Austin, TX Police make Arrest in H-E-B parking lot slashing
An arrest has been made following last month's attack in the parking lot of the H-E-B store at 2400 South Congress Avenue. Police announced the arrest Wednesday evening saying they would hold a news conference with more information at 9 a.m. Thursday. A woman's throat was slashed during an apparent robbery as she left the H-E-B store just after 1:30 a.m. May 20th. As she was walking to her pickup truck, which was parked beside the far back corner of the building, a man attacked her with what police describe as an "edged weapon." They say he cut her throat, they struggled, and he took her purse. The woman walked back toward the store, trying to get help. A security guard heard her and used his orange security vest to put pressure on her wounds until EMS arrived. Detectives believe the attack was random. kxan.com

Second Suspect arrested in Armed Robbery/ Deadly shooting at Family Dollar in Orange Mound, TN A second suspect has been arrested in the shooting and robbery of a man last month outside of the Family Dollar store in Orange Mound that left another suspect dead after he was shot by the victim. Nicholas Ivy, 27, has been charged with attempted first-degree murder and especially aggravated robbery. Ivy is one of two suspects arrested in the robbery that occurred May 11 in the parking lot of the Family Dollar. Last month, Sierra Grant, 28, who police said set up the victim, was also arrested in connection with the robbery. A third suspect, Thomas Odom, 25, was shot and killed by the victim during the robbery. Police said Ivy and Odom attempted to rob Calvert Evans, 31, as he left the store. The suspects pulled guns on the victim, made him lie down in the parking lot and take off his clothes, then threatened to kill him if he moved. Evans' pistol fell out of his holster as he took off his clothes. He laid on top of the gun and as the suspects went through his car, Evans opened fire, shooting and killing Odom who died on the scene. commercialappeal.com

Police Officer Dragged By Robbery Suspect In Elizabeth Township, PA
Allegheny County Police detectives are investigating after an officer was dragged by a robbery suspect early Thursday morning in Elizabeth Township. Around 2 a.m., an officer was called to the P&W mini-mart on Scenery Drive for a robbery in progress. When the officer arrived, the suspect took off running around the back of the store. The suspect hopped into a pickup truck and tried to speed off. The officer was able to hang on to the hitch of the truck for a while, before falling off. cbslocal.com

Armed Robber shot and killed by fellow suspects, C-Store clerk in critical condition in Antioch, TN One person was killed and another left in critical condition after a shooting in Antioch, TN. Officers on the scene said the incident happened at The Express Market off of Antioch Pike and Blue Hole Road late Wednesday night. Three suspects entered the store, according to reports, and as one suspect attempted to crawl under the counter, another suspect's gun accidentally went off, killing the suspect under the counter. Two of the suspects then allegedly grabbed the store clerk, dragging him through the store. Police said the clerk fell and that's when one of the suspects shot him in the head. The clerk was rushed to Vanderbilt Medical Center. scrippsmedia.com


Thieves break through wall to Steal $500K in Jewels From Stafford, VA Store The safe inside Princess Jewelry in North Stafford, Virginia was made of metal and three inches of concrete -- but it wasn't tough enough to ward off jewel thieves. In an elaborate heist, thieves recently stole more than $500,000 worth of jewelry from the store's safe, breaking through a wall the business shares with a vacant storefront. The thieves cut through a fence, broke into the neighboring business and then cut holes in strategic spots of a wall Princess shares with the space next door. The intruders disabled the phone line, Internet and security system, worked their way into the safe and disappeared with a huge haul. Two similar burglaries are being investigated in nearby Fairfax County. nbcwashington.com

NYPD chase in Flushing, NY ends with crash into 2 cars and home, 5 minor injuries: cellphone store robbery It all started around 7:48 p.m. when police responded to 191-30 Northern Blvd. in regards to a robbery at a cell phone store. Three suspects entered the store, simulated having a gun and announced a robbery. They got away with nothing. One suspect ran away on foot while two others got away in a van. The vehicle led the officers on a chase and that's when they crashed into the parked cars and a house. 7online.com

Rite Aid says personal information, prescriptions stolen in Baltimore looting
As looted prescription drugs flood Baltimore streets, fueling a surge in violence, pharmacy chain Rite Aid warned customers Wednesday that their personal medical information could be on the streets, too. Store officials said the labels on prescriptions stolen during the late April riots included patient names, addresses and the names of medication, but not other sensitive data such as Social Security numbers or credit card numbers. The alert nonetheless raised concern among privacy advocates who said the information could be used for fraud. Rite Aid has hired a risk management firm to help protect customers from identity theft. baltimoresun.com

ARSON: Hermitage, PA Police seek suspects who set fire in Walmart shoe department Hermitage Police are looking for suspects who set fire to shoes on display at the Hermitage Road Walmart Tuesday afternoon. Store security reports that one of two young males went to the shoe department and placed a smoke bomb in one of the shoes. A fire broke out in the shoe and spread to the surrounding area. The fire was extinguished by store personnel. No one was injured. wfmj.com

Cargo Theft: Four JFK Airport Workers Nabbed in Two Separate Theft Schemes
Four alleged thieves, two schemes, hundreds of thousands of dollars in stolen merchandise, one airport, and two words: inside jobs. According to Queens District Attorney Richard Brown, four John F. Kennedy International Airport workers last week were busted in two separate incidents allegedly involving goods being stolen from the transportation hub. In the first scheme, Brown said, two Brooklyn men who work in a JFK cargo warehouse allegedly swiped tens of thousands of dollars' worth of electronic tablets, cameras, memory cards and more during the busy Memorial Day weekend. In the other incident, two Queens men allegedly poached a carton containing 12 pairs of Oklahoma City Thunder forward Kevin Durant's new "KD8" basketball sneakers that were en route from the factory in Taiwan to Ontario, Canada, via JFK. According to the criminal complaints, after the carton went missing, numerous photos of the unreleased KD8 sneakers-including one showing the factory box and serial number-were posted for sale on Instagram sales account @SNKR_BASE, claiming that "they are the real deal" and "dropping July." The first posting advertising the sneakers for sale allegedly was on May 10, the day after they arrived at the airport. theforumnewsgroup.com



Sears Loss Prevention officer accused of shoplifting merchandise over $500 at Moorestown Mall





Federal charges for 5 Business Owners for selling Counterfeit Goods in Cambria County, PA



1 killed, 1 injured in drive-by shooting at Exxon station in Houston, TX

Batesburg-Leesville, SC Police investigating Tidwell Jewelers burglary

Jackson, TN Police search for man suspected of Jewelry store theft

Kay Jewelers in Kernersville, NC the victim of an Armed Robbery

Jared "The Galleria of Jewelry" in the International Drive Value Center, Orlando, Florida hit with a $9,600 Diamond Switch

Australia: 2.02 caret Diamond worth at least $20,000 stolen from Adelaide store, Police release suspect's image

Topeka, KS Man Arrested In Hoyt Burglary, Suspected Of Identity Theft

Milwaukee man accused of defrauding Whitewater lumber company out of $24,500



TV Reporter discovers Safe stolen during Furniture Fair burglary








To apply to today's Featured Jobs, Click Here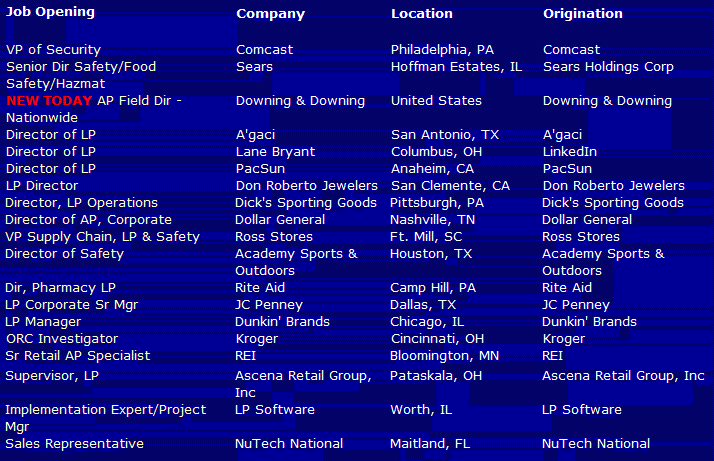 Limited Time Only - Post Your Multi-Unit LP jobs for FREE - Learn More Here




Today's Daily Job Postings from the Net - Appearing Today Only

To apply to today's Internet Jobs, Click Here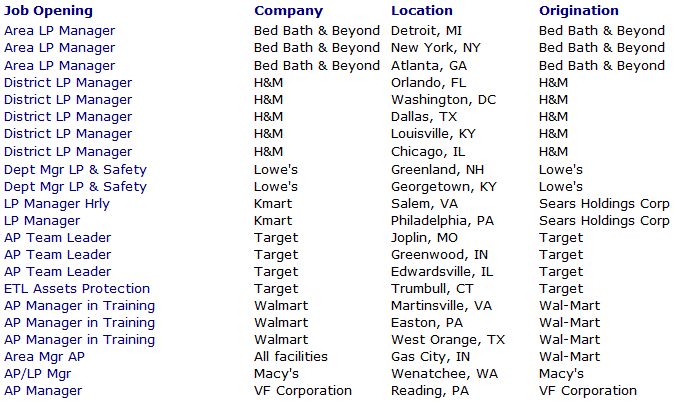 Steven Sherod, CFI was promoted to Director of Loss Prevention - Stores for Tractor Supply Company.



Transitioning to a new position, a new job, a new market is a great opportunity to reinvent yourself and your brand so to speak. It gives you the perfect chance to look at yourself and say how can I improve and be truly what I want to be. It erases your blackboard and allows you the chance to write something new, something you've always wanted to be. A move, often times referred to as a geographical cure, can be just the medicine to help start a new you.

Just a Thought,
Gus Downing




Post Your Tip or Advice! Click Here

Please make sure to add d-ddaily@downing-downing.com to your contact list, address book, trusted sender list,
and/or company white list to ensure you receive our newsletter.
FEEDBACK / www.downing-downing.com / ADVERTISE WITH THE DAILY