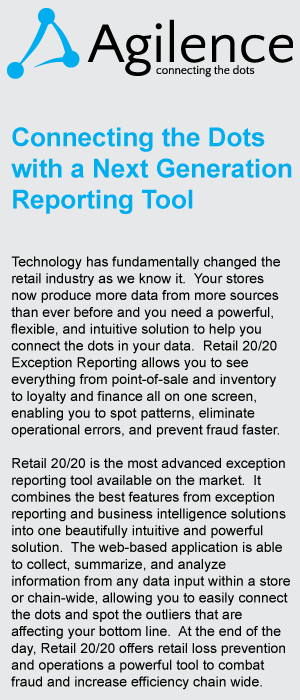 Graham Handyside, EVP of Worldwide Operations for WG, and Ed Wolfe, VP of Business Development, tell us about the Seal Tag, the Ninja Tag and other new, innovative solutions offered by WG Security Products. Controlling the entire process of their business - from design to manufacture to distribution to service - WG has the ability to create a unique solution for a retailer and bring it to market in a matter of weeks. Graham and Ed tell us what makes WG a technological leader in retail security.

---
In this LPNN Quick Take, Joe and Amber continue discussing the balance of the day's agenda at "Live in Ft. Lauderdale at the NRF."

Solution Providers, have a video or commercial you want to publish? Contact us.


2014 LP Team Group Selfie Review


Showcasing each team in order!


Your Team - Your Pride



Ahold USA Asset Protection Investigations Team

"Getting Better Every Day"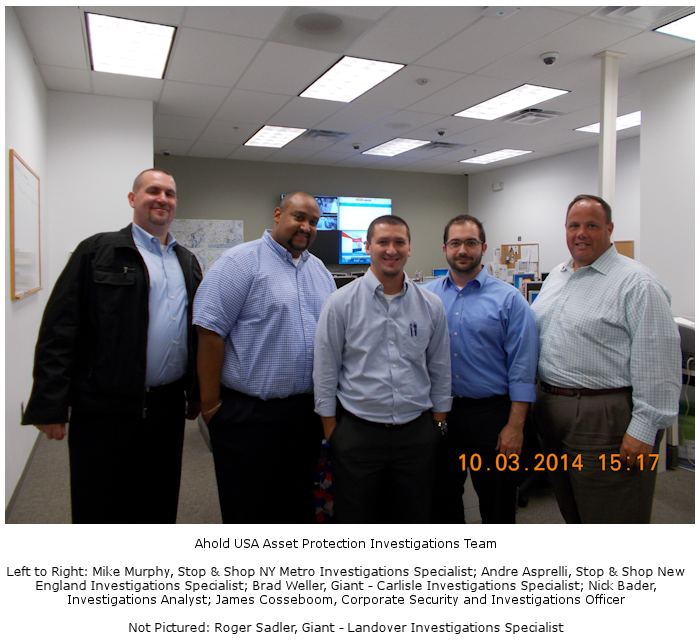 *Published on November 6, 2014

View all the selfies here!



---
We still want your Group LP Selfies - So keep them coming retail LP teams!


World's largest e-commerce markets to double in size by 2018, says report
The world's largest ecommerce markets - the US, China, the UK and Germany - are expected to double in size by 2018, according to a new study from OC&C Strategy Consultants, PayPal and Google. According to OC&C, the research not only identified the pull factors for shopping overseas, but also the biggest barriers. For customers who already shop cross-border, data security, trust in the retailer and ease of returns are particularly important. The smartphone is seen as a vital element of this e-commerce growth. postandparcel.info

Mobile shopping accounts for a larger share of online sales
M-commerce has upped its share of digital commerce sales in recent months, accounting for 15.4% in the first quarter, comScore said at IRCE15. Lipsman noted that in the fourth quarter of 2014, mobile accounted for 13.0% of digital sales, up from 11.1% in the prior quarter, and then continued to increase to a share of 15.4% in the first quarter of 2015. internetretailer.com

Law Enforcement Creating Physical Safe Havens To Complete Online Transactions Motivated by the strings of crimes powered by Craigslist and other similar sites - robberies, scams and killings have all popped up over the last few years - police and sheriff's departments nationwide are carving out areas of their stations to act as commerce completion zones. From Florida to Texas, at least 70 departments nationwide have created such areas - usually in their lobbies and parking lots - that act as a deterrent to criminals. As of yet, law-enforcement officials said they can not determine whether the zones are reducing crime, but some contend initial results are promising. In Coral Springs, Florida, where a Craigslist sale resulted in a murder last year - police have had no robberies or incidents related to online marketplaces since February, when the local department made its parking lot available for transactions. pymnts.com

Exclusive: In 'year of Apple Pay', many top retailers remain skeptical

Online retailer Blue Nile to open first brick-and-mortar store at Roosevelt Field Mall

Men's Wearhouse founder takes tailoring online in new venture, zTailors

"Fraud is not a person - it is a dynamic grouping of statistics that deviate from the norm."
Stuart B. Levine, CFI, CFCI
CEO, The Zellman Group & Zelligent



FBI: Three More Defendants Sentenced to Prison Terms in $2.7 Million Theft of Mucinex and Similac Three additional Miami-area residents were recently sentenced to prison terms in connection with violations of the Safe Doses Act, pursuant to provisions under Title 18, United States Code, Section 670, which prohibit theft of "pre-retail" medical products. A total of eight defendants have been convicted in connection with a cargo theft scheme. Wifredo A Ferrer, United States Attorney for the Southern District of Florida, George L Piro, Special Agent in Charge, FBI, Miami Field Office, and David W Bourne, Special Agent in Charge, Food and Drug Administration, Office of Criminal Investigation (FDA-OCI), Miami Field Office, made the announcement. Jorge Nimer Rolo, 48, Lazaro Martinez, a/k/a "Fat Laz," 45, and Antonio Ramirez, a/k/a "Tony Bodega," 54, were recently sentenced to prison terms in connection with a scheme to steal pre-retail medical products, including more than $2.2 million worth of Mucinex cough medicine and $550,000 worth of Similac baby formula, as well as other merchandise. According to the indictment and documents filed in court, as part of an organized theft ring, 44 pallets of Similac were stolen by the defendants and their co-conspirators from a distribution site in Fort Worth, Texas, and more than 18,000 cases of Mucinex were pilfered from a tractor-trailer truck in Richland, Mississippi. 7thspace.com


ID theft ring of 7 preyed on NorCal Target stores - 2,200 victims Thousands of people across Northern California have been victimized by a Sacramento-based identity theft ring that preyed on Target stores, according to a criminal complaint by the U.S. Attorney's Office representing the Eastern District of California. The criminal complaint details how the seven defendants from Sacramento were part of a conspiracy to purchase televisions, iPads and other big-ticket items using fraudulent accounts. Federal investigators also uncovered "at least 500 counterfeit or unauthorized access devices," Yelovich said. "Target REDcard accounts, which are credit/debit cards that are proprietary to Target and issued to customers of Target, were used in an unauthorized manner by members of the conspiracy. The identity theft ring allegedly procured stolen mail from cluster mailboxes, allowing easy access to victims' names and banking accounts - adding up to thousands of victims so far - in an ongoing investigation. kcra.com

Attempted theft charged against Brooklyn Park man
36-year-old Brooklyn Park man, Mason Michael White, faces charges of possession of shoplifting gear, attempted theft of over $1,000 and a controlled substance crime in the fifth degree, possession, following a May 20 incident at a Hastings store. According to the criminal complaint, Hastings police were called about 5 a.m. that day to the store on the report of a shoplifting in progress. When they arrived, officers spoke with the loss prevention employee. The employee said he observed the male suspect cutting "spider wire" anti-theft devices on many items. The officers and the employee observed surveillance which showed the suspect select a large box containing a child's toy. He cut the box open and set the toy aside. Then he walked through the store selecting toys and shavers, removing the anti-theft devices and placing the items in the large box. hastingsstargazette.com


Albertsons/ Safeway ORC teams with Denver Police to bust a Baby Formula Fencing Operation Two people arrested in a baby formula fencing operation have been accused of taking stolen merchandise and selling some of it online. "Over the course of a few months our stores lost roughly between $60,000 and $100,000 worth of product," said Safeway spokeswoman Kris Staaf. Police arrested Donald Dowling, 39, and Danielle Smith, 33, after executing a search warrant related to a fencing operation on a home in Arvada. "They had a ring going where it was coming out of the store as a theft, then going to a fence who was buying it for a lower rate and then selling it online at a lower rate for the consumer," said Denver Police spokesman Sonny Jackson. The investigation started with the Albertsons/Safeway Organized Retail Crime Investigators before it was turned over to Denver police. The stores provided investigators with information on a group of pattern shoplifters that were stealing baby formula from Safeway stores in Denver and selling the items to a couple in Arvada. According to court documents, Safeway's team went with a confidential informant to Dowling's home in Arvada and sold him $1,000 worth of marked baby formula for $400. The same team then purchased the items from an online site. cbslocal.com

2 men try to steal over $2,000 in vacuums from Target in Orange, CT
Two men were arrested for attempting to steal over $2,000 worth of vacuum cleaners from the Target store in Orange last week. Police say they responded to the Target at 25 Boston Post Road around 11 p.m. Friday to the report of shoplifting. There, officers learned that 50-year-old David Adams, of Bronx, New York, and 54-year-old Arthur Richardson, of an unknown address, had filled their two shopping cars with vacuum cleaners. The men had ripped off the security tags and attempted to remove the vacuums from the store without paying, before they were stopped by store security and detained for police. The two shopping carts full of vacuum cleaners totaled $2607.35. wtnh.com

South Charleston, SC Police arrest another Out-of-State Group using "fake" credit cards Police say another group of out-of-towners was found using fake credit cards at stores on Corridor G and arrested Friday. On May 19, six people from New Jersey were arrested with stacks of magnetic-stripe cards re-encoded with stolen credit card numbers. In Friday's incident it was a group of four from Chicago. South Charleston police were dispatched to the Wal-Mart on Corridor G in response to a complaint about four women using stolen or altered credit cards inside the store. Once all four women were back in the Jeep, they began tearing off tags and throwing them out the window and onto the ground, the complaint stated. The police moved in and detained the women. The police found numerous pieces of clothing and merchandise tags laying around and under the vehicle. Matthew Chiders, a Target loss-prevention associate, later notified the police that each of the four women had used four fake cards at that store earlier, including photographic evidence of the women. There were 75 fake credit cards in the three stacks found in the center console, according to a later count by the Secret Service, who were contacted by the police. charlestondailymail.com

One shoplifting call leads to even more arrests at Colorado Springs Kmart
While police officers were investigating a shoplifting incident at a Colorado Springs Kmart on Sunday night, they caught two more people allegedly stealing items from the store. Colorado Springs police were called in just after 7 p.m. Sunday to the Kmart on the 3000 block of North Nevada Avenue to investigate a shoplifting suspect, who turned out to have a felony warrant for dangerous drugs, according to a police statement. While talking to a Kmart loss prevention officer, officers spotted "two additional unrelated subjects" on the surveillance cameras allegedly shoplifting, police said. The suspects "had several outstanding felony and misdemeanor warrants and both possessed a small amount of suspected methamphetamine," police said in their report. "One of the subjects was identified as a criminal street gang member and had items believed to be utilized to combat security devices applied to high-value merchandise," the police statement said. Several IDs and credit cards believed to be stolen were found on the shoplifting suspects. gazette.com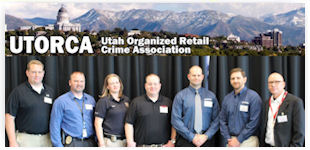 ORC Associations, send us your Group LP Selfies - Show off your partnership to the industry! Last week, the Utah Organized Retail Crime Association sent us a picture of their Board of Directors at a recent organization meeting. UTORCA's 'Group Selfie' features individuals from both the law enforcement and retail communities who have been working together to fight retail crime in Utah. We at the D&D Daily liked the picture so much that we are now inviting all ORCAs throughout the country to submit their own team photo. Get in on the fun! Show off your team pride to the industry! Submit your group selfie here.

Do you have an ORC case to share? Publishing it educates the LP & retail community
which might fuel even more jobs and funding.
Share your ORC news and help the industry grow


Active Shooter feared at Eufaula, AL Walmart, Police have 1 suspect in Custody - No shots FIRED Law enforcement officials in Eufaula are searching for a person suspected of stealing a car. The Walmart in Eufuala was evacuated Tuesday morning, and Wallace Community College's Sparks campus was placed on a lockdown because of a suspected active shooter situation inside the store. One of the suspects was at the car and detained by Eufaula Police. The other suspect was inside and believed to have a weapon. Officers are still searching for this suspect. At this time, there has been no gunfire. The stolen vehicle was repossessed in Georgia Monday. Officials say the suspects went and took their vehicle back. The Sparks campus is no longer on lockdown. myfoxal.com wtvy.com

UPDATE: Eufaula Police Department believes Armed suspect may be still inside the store Eufaula Walmart employees and patrons were asked to evacuate the facility this morning. Lt. Larry Hubbard reports the Eufaula Police Department responded to a stolen vehicle sighted in the parking lot. Upon investigation, a passenger of the vehicle reported the driver was inside the Walmart changing clothes and is armed. Police have evacuated in preparation of searching for the suspect. It's not confirmed if the suspect is still inside but he has outstanding warrants from Georgia. The passenger of the stolen vehicle has been detained. dothaneagle.com

Thieves steal crates of perfume from Paris airport freight warehouse
Police say that about five people broke into a freight warehouse for Charles de Gaulle airport outside Paris and stole crates of perfume, packing them into a truck and fleeing. A Paris region police official said Tuesday that no one was injured in the theft late Monday, which occurred during a delivery. The suspects are still at large. foxnews.com


Indianapolis Police say Pursuit of Shoplifter ended 4 minutes before Fatal Crash Officers with both Indianapolis and Beech Grove police departments say a pursuit involving a shoplifting suspect was called off four minutes before the suspect was involved in a fatal crash that killed a 63-year old grandmother and seriously injured three others. What's unclear is whether the suspect, 21-year old Matthew Edmonds, knew he was no longer being pursued by police. The crash occurred around 8:19 a.m. Monday at the intersection of State and Prospect streets in the Fountain Square neighborhood. The pursuit began at 8:11 a.m. - six miles away at a Walmart on South Emerson Avenue. IMPD Lt. Richard Riddle says Beech Grove police were responding to the store after Loss Prevention managers reported a shoplifter. A minute after arriving on scene, Beech Grove police began chasing Edmonds, Riddle said. Three minutes later - at 8:14 a.m. - Beech Grove police cancelled the chase after noticing that Edmonds was driving westbound in the eastbound lanes. A minute after that at 8:15 a.m., IMPD supervisors notified its officers to cancel its pursuit, Riddle said. Lt. Riddle said Edmonds continued to flee and never stopped as officers attempted to pull him over. wishtv.com

2 men charged with murder in death of Woodstock smoke shop clerk
Two men accused of killing a Cherokee County smoke shop clerk during a robbery were arrested in Louisiana, Woodstock police said Monday afternoon. Both Justin Clay White, 25, of College Park, and Dominique Rashad Stevens, 22, of Atlanta, are charged with murder in the death of store clerk Enrique "E.J." Delos-Reyes, Jr. at Smoke 911, Woodstock police Chief Calvin Moss said. U.S. Marshals Friday arrested White and Stevens in Jefferson Parish, La. They are expected to be extradited to Cherokee County, Moss said. About 11:45 p.m. May 20, two men entered the store in the Shoppes of Woodstock on Ga. 92 and shot the 20-year-old clerk in the chest, according to police. ajc.com

Canada: Durham Regional Police investigate after gunshots fired at mall in Pickering Durham Regional Police are looking for a man after shots were fired in the parking lot of the Pickering Town Centre on Sunday. On Sunday, June 7 at about 12:30 a.m., police said they responded to a restaurant at the corner of Kingston and Glenanna roads. Witnesses told police they heard numerous gunshots in the parking lot and saw a white car speeding away from the scene. A parked car nearby was damaged by a bullet, but nobody reported suffering any injuries. cp24.com

Video released of Boston terror suspect's fatal shooting outside CVS
Surveillance video showing terror investigators fatally shooting a man they said had "malicious intent" to kill officers doesn't show him brandishing a weapon or approaching officers aggressively as police have maintained, his family said Monday. Usaama Rahim's family said in a statement that the blurry video shows that the 26-year-old security guard was not the initial aggressor and that he did not appear to be breaking any laws as he walked toward a bus stop on his way to work on June 2. They suggested many unanswered questions remain, including whether deadly force was necessary and whether the decision to approach Rahim with a team of armed police officers "in a military-like formation, without benefit of a warrant, constituted an attempted illegal arrest." mtstandard.com


GameStop burglars stopped, flee into woods in Lake City, FL Police are currently searching for three men wanted in an early morning burglary of a GameStop store off U.S.-90 in Lake City. On a routine check of local businesses early Monday morning, Lake City police noticed a white Dodge Grand Caravan pull out of the parking lot of a shopping center and take off down U.S. 90. Police followed the van, which immediately pulled into the parking lot of Pizza Hut and parked at the back of the lot where the three men then got out of the car, and ran off into the woods. Police went back to the shopping plaza and found two large holes smashed through the wall into the back of a GameStop, a sledgehammer and water spraying from a broken pipe. According to officials, the three men got away but police were able to recover the van, three X-Box One gaming systems, six X-Box One Kinect gaming systems, nine X-Box One Halo Edition gaming systems and five PlayStation four gaming systems. All together police said the men had grabbed $10,550 worth of electronics. news4jax.com

100 phones stolen in Cricket Wireless Robbery in Des Plaines, IA
Des Plaines police are looking for two men who stole 100 cellphones valued at more than $13,000 and cash during the robbery of a Cricket Wireless store last week. The suspects entered the business, located at 1184 Lee St., at 12:23 p.m. last Thursday, telling a store employee to "just be calm and don't do anything stupid or we will shoot you," though neither displayed a weapon, according to a police report released Monday. They placed the phones, worth an estimated $13,829, into a lime green duffle bag, along with $2,134 in cash, police said. dailyherald.com


Fight at Beech Grove, IN Wal-Mart caught on video Charges have not been filed in a fight between two women at a Beech Grove Wal-Mart that was captured on cellphone video. The video shows two women fighting while a 6-year-old child watches nearby and is even encouraged to get involved. The video was uploaded to YouTube and had already been watched more than 1.5 million times by Tuesday morning. Officers with the Beech Grove Police Department said they were called to the store minutes after the fight broke out last Thursday just after 10 p.m. The incident appears to start with a verbal argument that quickly escalates into a physical altercation. Police said one woman was bickering with a store employee about the aisle's presentation when the second woman got involved. theindychannel.com

Man sentenced to 11 months for installing a credit card skimmer on a gas pumps in Idaho Falls, ID A California man was sentenced Monday to more than 11 months in prison for installing credit card skimming devices in gas pumps in Caldwell and Idaho Falls. Vachik Babayan, 42, of Tujunga, California was sentenced for access device fraud for possession of 15 or more unauthorized credit card account numbers, according to the U.S. Attorney's Office. He traveled to Idaho on two separate occasions to install the devices, which divert credit card information and record names and account numbers. idahopress.com

Nassau, CO NY Police streamline shoplifter arrests to cut overtime
Nassau police are releasing accused shoplifters after their arrests at two of the region's largest shopping centers instead of driving them in handcuffs to precincts in a new initiative designed to streamline arrest processing -- and cut the department's overtime costs. newsday.com

Macy's LP Agent injured in struggle with shoplifter at Capital Mall in Olympia, WA

Two jailed after assaulting Raley's Grocery store LP agents in Carson City, CA

Man suspected in knife attack on Walmart employee in Orange, CA, bitten by police dog

Moscow Security Guard under investigation over Stun-Gunning 7yo Boy 'for steeling ice cream'

Santa Clarita Valley Deputies Seek Suspects For Questioning In $1,200 Target Theft

Charge Filed Against Former Worker Accused Of Burglarizing $8,000 from OKC Mathis Brothers Furniture

2 Abilene, TX Gun Shop workers injured in accidental shooting

Kay Jewelers in the Polaris Fashion Square, Columbus, OH hit with a Distraction Theft of a Diamond Ring valued at $6,499






To apply to today's Featured Jobs, Click Here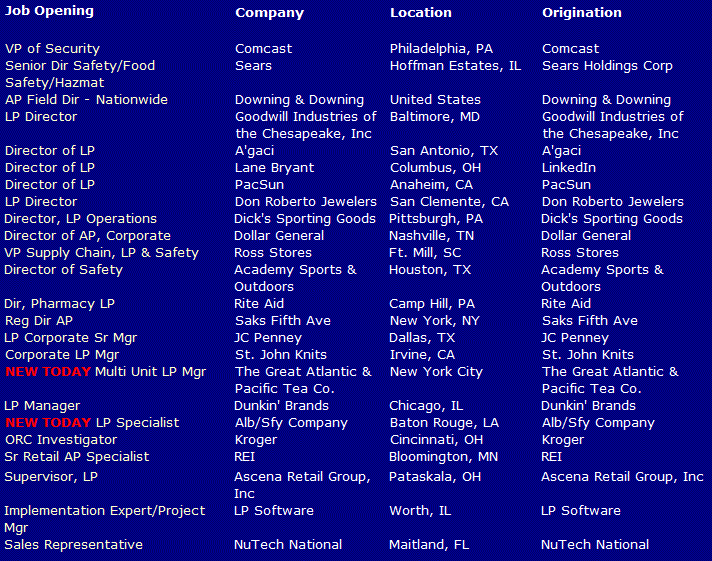 Limited Time Only - Post Your Multi-Unit LP jobs for FREE - Learn More Here




Today's Daily Job Postings from the Net - Appearing Today Only

To apply to today's Internet Jobs, Click Here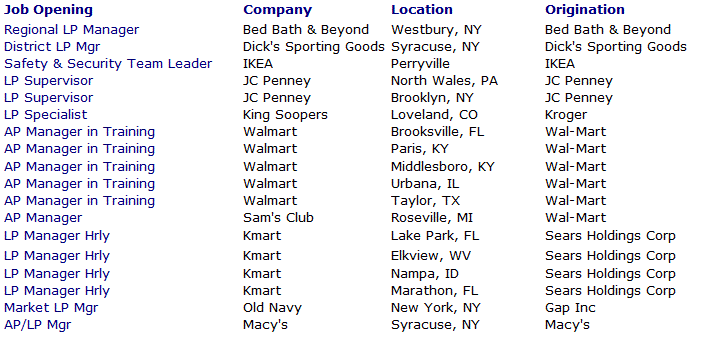 Troy Porteus was named National Director of Loss Prevention for Town Shoes of Canada.
Ty Haynie was named Corporate Loss Prevention Manager for Kroger.
Katherine Jurkas was promoted to Regional Director of Asset Protection for Rite Aid.
Steve Hamilton was named Regional Director of Asset Protection for Rite Aid.
Erin Walker-DeCastro was promoted to Sr. Manager Internal Investigations and ORC for Rite Aid.


8 Tips to Help First-Time Managers Thrive Effective management is an important aspect for any organization. Managers help others perfect their skills as well as motivate everyone to move towards the common goal. First-time managers may find the beginning transition to be stressful but here are some tips to start strong. Set the example

3 Ways Improve Helps You Lead More Effectively Comedians often have to think on their feet, especially when performing an improvisational act. Try using improv in your leadership training as well, it allows for adaptability when change occurs and it could be the key to unlocking some answers. Say 'Yes, and...'


Four Daily Habits of a Good Boss
There are many different factors that go into making someone an effective leader, but these three habits help set the foundation to becoming a strong and great leader. Though they may seem silly, these habits help establish regularity and can help get leaders in the right state of mind. Don't forget breakfast

If You Want to Be a Leader, Get Comfortable With Doubt You won't have all the answers and sometimes you may be unsure that you made the right decision; in leadership, doubt is something everyone faces. Rather than letting it cause you worry and stress, get comfortable with it and use it as a learning tool. Doubt is your guide

Social media can be a fantastic platform for every company and executive, but it can also be a nightmare. Mixing personal with professional oftentimes sends the wrong messages and can absolutely destroy the image a professional needs to maintain in the public arena. Maintaining boundaries and separating the two can oftentimes be difficult to accomplish as corporate America searches for every piece of information they can find on executives and companies. And regardless of what anyone says, your professional image should always take precedence over your personal image in the social media world.

Just a Thought,
Gus Downing




Post Your Tip or Advice! Click Here

Please make sure to add d-ddaily@downing-downing.com to your contact list, address book, trusted sender list,
and/or company white list to ensure you receive our newsletter.
FEEDBACK / www.downing-downing.com / ADVERTISE WITH THE DAILY