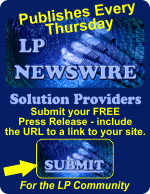 Bomb Explodes in Target Women's Bathroom
Transgender Policy? - Police Deny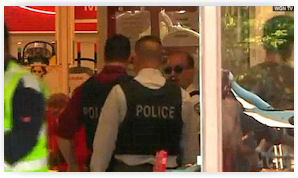 Evanston, IL - A 44-year-old woman described as a person of interest was taken into custody in connection with a small bomb explosion in the women's bathroom at a Target store in Evanston, Illinois, police said Thursday. Despite early speculation the incident was possibly connected to Target's recent change to its bathroom policy allowing customers "to use the restroom or fitting room facility that corresponds with their gender identity," police dismissed that notion Thursday. "The detectives are not currently looking for any known additional suspects and as this point there is no indication that the incident is related to any policies that the Target store has in place," police said in a news release issued Thursday.

The explosion occurred Wednesday shortly after 4 p.m. at the store. No one was inside the bathroom when the small explosion happened, Commander Joe Dugan said. It caused minor damage and no one was injured. Early indications are that a plastic bottle was used but no projectiles like nails or tacks were inside it. Investigators are gathering evidence, including examining store security camera video. fox13now.com

OSHA Fines Ashely Furniture $1.75 Million
New VP Safety Job Coming!
OSHA and Ashley Furniture, the nation's largest retailer of home furnishings, have entered into a corporate-wide settlement agreement that the agency believes provides an effective framework for protecting workers from machine hazards. The agreement also resolves all pending OSHA citations at the company's plants in Arcadia and Whitehall, Wisconsin, and in Ecru and Ripley, Mississippi.

According to the terms of the agreement, Ashley will demonstrate its corporate commitment to safety by retaining a vice president for safety, who will be responsible for managing a corporate-wide program to identify and evaluate prevention and control of machine hazards. The comprehensive settlement emphasizes employee involvement and management commitment to the implementation of the machine safety program.

The settlement agreement with Ashley resolves numerous violations that OSHA issued to several Ashley workplaces. OSHA conducted inspections at several Ashley workplaces after learning of injuries at the Arcadia, Wisonsin facility, and realizing that similar hazardous conditions could exist at the other workplaces. To resolve all citations, the company will correct all cited violations and will pay penalties of $1.75 million. ehstoday.com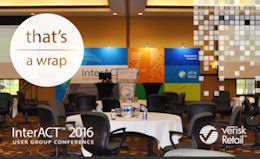 Verisk Retail Wraps Up InterACT 2016 Experience
Verisk Retail's "Up North" InterACT 2016 experience, at the historic Grand View Resort in Nisswa, Minnesota, has once again been acclaimed by its customers as one of the year's most essential events for growth and advancement of loss prevention practitioners. Over 70 retail professionals, representing more than 40 retail brands, gathered to share insights in maximizing their use of the Aspect EliteLP POS-analysis and APIS case management systems, as well as to gain cutting-edge loss prevention knowledge. InterACT's robust agenda, once again, qualified attendees for Continuing Education Credits toward widely-recognized industry certifications, including LPC, LPQ and CFI. Read more here.

Best Security Industries (BSI) Unveils New Series of Intelligent Solutions to Combat ORC and Other Crimes Against Retailers
Best Security Industries (BSI), a premiere provider of certified, pre-owned and private label electronic article surveillance (EAS) systems and engineered IP video solutions, today announced that it has expanded its BSI Connect series with the introduction of BSI Notify Connect and BSI Tracking Connect. These new solutions are specifically designed to help retailers address the growing problem of organized retail crimes (ORC) and other forms of shoplifting. BSI will showcase these new solutions at NRF Protect, June 14-16, 2016 in Philadelphia. Stop by Booth #1401 at the Pennsylvania Convention Center to learn more. d-ddaily.com

Tyco Security Products Introduces VideoEdge Facial Biometrics
With Face Detection analytics, operators can be proactively notified that the surveillance system has detected a person of interest, for example known criminals, ex-employees, VIPs or other persons of importance. This technology can be useful in protecting stock and assets by alerting security to potential risks much sooner than normal, to increasing customer retention by alerting the store manager to greet an important customer entering the store. securitymiddleeast.com

Keeping Cargo Theft at Bay:
Goods Tracking Market to Swell to $5.6B - 2021
Goods tracking technologies are on the rise, as companies find them to be increasingly essential in effectively tracking and monitoring transported goods to cut down on cargo theft. ABI Research estimates that the market, which was worth $3.6 billion in 2016, will swell to $5.6 billion by 2021. abiresearch.com

Office Depot Allowed to Sue AIG for $30M
Claims Bad Faith in Covering Whistleblower Suit
Office Depot Inc. can continue to pursue its suit alleging AIG Specialty Insurance Co. failed to pay for the company's losses from a whistleblower suit after a California federal judge on Tuesday ruled state law precluded the payment but let the company proceed with a bad-faith claim against the insurer. Judge Stephen V. Wilson dismissed Office Depot's breach of contract claims against AIG, finding the state insurance code barred the insurer from paying on a $30 million claim Office Depot made after settling a California False Claims Act lawsuit. But Judge Wilson ruled that the office supply giant could go forward with its claim that AIG acted in bad faith in handling the claim. law360.com

SEC Issues $17 Million Whistleblower Award
The SEC said the person's "detailed tip substantially advanced the agency's investigation," and subsequent enforcement action. The SEC, citing federal law, did not identify the tipster or their former employer. The largest award issued in the program was $30 million awarded in September 2014. Its second-largest since launching the whistleblower program five years ago.

The SEC's whistleblower program was established under a provision of the Dodd-Frank Act; it has awarded $85 million to 32 tipsters since its inception in 2011, the SEC said. Mr. Ceresney noted that five whistleblowers in the past month have collected more than $26 million in awards. Whistleblowers who provide unique and useful information to the SEC can collect 10% to 30% of a penalty when it exceeds $1 million, the SEC said. wsj.com

Hudson's Bay Co. Widens Loss, Plans More Cost-Cutting Moves
Hudson's Bay Co. parent company of Saks Fifth Avenue department stores, reported a wider loss for the first quarter, hurt by weakness at a couple key brands. The company also said it plans more cost-cutting moves, including a voluntary restructuring of its European merchandising operations. In addition to the European restructuring, Hudson's Bay said it outsourced information-technology systems positions in its North America business. wsj.com

Signs point toward FTC approving Walgreens-Rite Aid merger
The deal, if approved, would come with conditions, sources said. Meanwhile, Walgreen's within a few days is expected to announce the beginning of a process to divest stores in regions where the chains may have too much overlap, a source close to the situation said. nypost.com

99 Cents Only Stores posts Field Director, Asset Protection job online
As a Field Director, Asset Protection, you will manage all aspects of the company's field asset protection, safety, security and compliance. You will direct, and support field management in the design, development, monitoring and implementation of activities related to the protection of company assets.

With more than 350 stores in four western states and two distribution centers in California and Texas, 99 Cents Only Stores is a premier deep-discount retailer that primarily carries name-brand consumable and general merchandise. 99only.silkroad.com

It's not a Fourth Amendment search if a cop swipes your credit card, court finds

Riverside County, CA: Chemical spill inside a Starkist Foods Distribution Center injures 16, including firefighter


Quarterly Same Store Sales Results
Christopher & Banks Q1 comp's up 6%, net sales up 9.2%
Francesca's Q1 comp's up 2%, net sales up 12%
99 Cents Only Stores Q1 comp's flat, net sales up 1.3%
Hudson's Bay Company Q1 comp's down 1%
DSG comp's up 2.3%
HBC Europe comp's up 0.7%
HBC Off Price comp's down 4.1%
Saks Fifth Avenue comp's down 5.7%
Mattress Firm Q1 comp's down 1.1%, net sales up 49.2%


All the News - One Place - One Source - One Time
The D&D Daily respects your time
& doesn't filter retail's reality




Chief Security Officer May Be The Job Of The Future That No One Wants
Some might characterize the last few years as a "gold rush" for security professionals. It's becoming increasingly clear that hackers are going to continue hacking, and businesses are scrambling to bring in the leaders they need to fend off these increasing attacks.
A recent report from Cisco puts it bluntly,
"cybersecurity skills are in high demand, yet in short supply."
With this, large organizations are scrambling to figure out how best to implement a proper security strategy all the while struggling to find the best people to execute the tasks. More than half of the organizations surveyed in the Cisco report sought security consulting, indicating that there's a continual gap of internal knowledge.
The big issue is understanding how to position the problem. For years, security was something of an operational issue - a decision made and implemented by middle management. Top decision-makers didn't really understand the inner workings of IT, so they likely didn't have much stake in a company's security posture.
But
as targets become more widespread, it's now a leadership issue. And titles like CISO (Chief Information Security Officer) and CSO (Chief Security Officer) are becoming C-level staples.
fastcompany.com
There's the Beef
- Wendy's Admits Number of Locations Impacted in Data Breach 'Significantly Higher' than the 300 Initially Reported
When
news broke last month
that the credit card breach at fast food chain Wendy's impacted fewer than 300 out of the company's 5,800 locations, the response from many readers was, "Where's the Breach?" Today, Wendy's said the number of stores impacted by the breach is "significantly higher" and that the intrusion may not yet be contained.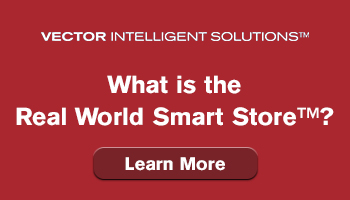 Wendy's acknowledged in a statement that the breach is now expected to be "considerably higher than the 300 restaurants already implicated." Company spokesman Bob Bertini declined to be more specific about the number of stores involved, citing an ongoing investigation. Bertini also declined to say whether the company is confident that the breach has been contained. "Wherever we are finding it we've taken action," he said. "But we can't rule out that there aren't others."
Bertini said part of the problem was that
the breach happened in two waves
. He said the
outside forensics investigators that were assigned to the case by the credit card associations initially found 300 locations that had malware on the point-of-sale devices, but that the company's own investigators later discovered a different strain of the malware at some locations.
Bertini declined to provide additional details about either of the malware strains found in the intrusions.
The company also emphasized that all of the breached stores were franchised - not company-run - entities.
krebsonsecurity.com
Read Wendy's statement on the 'Unusual Credit Card Activity' here
Survey: Data Breaches Send Customers Fleeing
The effects of the bad publicity can be far-ranging: A study commissioned by Centrify found that
66% of adults in the US are at least somewhat likely to stop doing business with a company that has suffered a cyber-breach.
That number is even higher in the UK, where 75% said they are somewhat likely to stop doing business after a hack. And a fifth (21%) of US consumers say they are very likely to stop transacting with a business that has been hacked. The people most likely to take their business elsewhere include those who have had their personal information compromised in a hack, those who are tech savvy and those who are frequent online shoppers.
"The
study
clearly points to the need for organizations to dramatically bolster their security systems and do everything in their power to protect consumer information and prevent a breach."
infosecurity-magazine.com
Securing the IoT is the Next Big Challenge
"The Internet of Things (IoT) is our next big security challenge and I think it's the way we are going to be colliding with the real world in interesting ways."
"It's one big inter-connected system of systems with threats, attackers, effects; the IoT is everything we've seen now, just turned up to 11 and in a way we can't turn it off."
"Governments are going to get involved because the risks are too great. When people start dying and property starts getting destroyed, governments are going to have to do something."
infosecurity-magazine.com