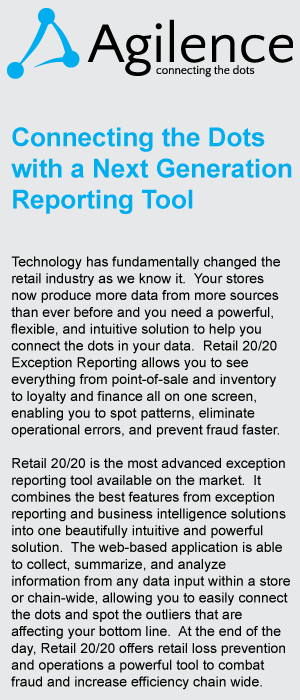 NRF's LP Awards &
Recognition Committee
Melissa Mitchell, CFI, Dir of LP and Inventory Control, LifeWay Christian Stores, and Chair, NRF LP Awards & Recognition Committee
Melissa Mitchell, CFI, Director of LP and Inventory Control for LifeWay Christian Stores, discusses the NRF's LP Awards Program, which honors loss prevention professionals and law enforcement officers who have positively impacted the LP community each year. As chair of the NRF's Awards & Recognition Committee, Melissa talks about the importance of acknowledging excellent performance among your ranks. Learn how you can get involved in next year's nomination process!
---
In this LPNN Quick Take, hear from Joe LaRocca, Hedgie Bartol of Axis Communications, and Professor Bob Hanson of Northern Michigan University. Hedgie discusses what he aims to get out of these types of conferences and what he tries to learn. While Professor Hanson tells us what he takes back to the university and students from the conference. The three discuss how Loss Prevention as a profession has changed over the last 20 years.

Solution Providers, have a video or commercial you want to publish? Contact us.


Canada's Online Retailers Gaining Strength, Study Finds - Retail Canada's Biggest weakness - e-commerce "Canadian online retailers are relatively young and are still starting up their businesses." Indeed, 25 percent of the businesses surveyed were less than one year old, while 48 percent had an established e-commerce presence for four years or more. As well, the majority, or 63 percent, of the survey's participants were headquartered in Ontario, while 13 percent were based in Quebec and 11 percent in British Columbia. "It's important to note that more than half of the surveyed retailers grew their business by double digits in fiscal year 2014 over 2013." wwd.com

E-Commerce in Canada in a Sorry State
Canadians are spending online, but not with Canadian retailers. Remarkably, online sales in Canada are forecasted to almost double between 2014 and 2015. According to Virtual Logistics Inc., Canadians are purchasing from multinationals such as Amazon, Costco and Walmart, with most of the remainder from out-of-country retailers. Canadian businesses are doing "very little" to combat this according to Virtual Logistics, as they are not mobile-friendly, few have websites, and some lack any web presence whatsoever. retail-insider.com

New law to impose strict rules on police record checks in Ontario
Civil liberties advocates have long complained that non-conviction records such as mental health information and acquittals have been inappropriately disclosed. There is currently no provincewide standard on what type of information can be disclosed but the Liberal government intends to create those standards with the Police Record. Community Safety Minister Yasir Naqvi says Ontarians have lost their jobs or have lost out on volunteer opportunities because of disclosed mental health records or simply because they witnessed a crime.

Under the act, non-convocation records such as withdrawn charges, acquittals and findings of not criminally responsible by reason of mental disorder could only be disclosed through some vulnerable sector checks. Police interactions known as carding and mental health interactions such as suicide attempts could not be disclosed under this legislation. canadiansecuritymag.com


Target Canada's Ill-Fated Adventure - The Biggest Misstep in Retail History - The story in detail Target's misadventure in Canada holds many lessons for all retailers, including the very simple lesson that catastrophe invariably comes close on the heels of a retailer's failure to offer consumers products they want at the price they're willing to pay. Editor's note: For those looking for the detailed accounting and Target sunk here it is. Not that we haven't told you in the past. But certainly not in the detail and way this article does. For the retail student here's the real story. Like we've said before this will be studied for years in universities across the world. therobinreport.com

Web sales are growing fast but Canadian retailers face challenges
Online sales in Canada are expected to grow at a compound annual rate of 12.3%, according to Forrester Research Inc., but merchants in Canada should take steps to claim those sales as their own. U.S.-based retailers take the largest share of e-retail sales in Canada. Amazon.com Inc., eBay Inc. and Apple Inc. as the top three e-commerce sites by revenue in Canada. Those three companies account for 31% of Canadian online sales. internetretailer.com

Dollarama to install mobile cash registers to reduce seasonal lineups
It expects to have a couple of handheld devices available in most stores by next year. Some outlets will be getting the units later this year after WiFi networks are installed, mainly to simplify inventory counting by employees, the company said. theglobeandmail.com

Amazon.ca launches clothing, shoe stores

Blacks Photography falls victim to digital industry - Closing all 59 stores

$15 minimum wage worries retailers, restaurants, small businesses in Alberta

Acklands-Grainger Celebrates the Opening of New Toronto Distribution Centre

Retail Fast Facts: May 2015

Highlights:
● Total monthly retail sales changed by 2.6 per cent over the comparable month last year.
● Total sales excluding food, automotive and gasoline changed by 6.2 per cent over the comparable month last year. Read more retailcouncil.org


Security Guard Slashed Trying to Stop Store Robbery in Winnipeg
A security guard was sent to hospital in unstable condition on Wednesday afternoon trying to stop a store robbery. Two men entered a food store in the 800 block of Main Street at around 2:30 p.m. when one of them allegedly attempted to steal merchandise. He was caught by a store employee and a security guard escorted them out of the business. A physical altercation began between the men and the security guard, resulting in him being assaulted and slashed in the upper body. Winnipeg police and members of the tactical support team eventually located the suspects. Gregory Keshane, 30, of Winnipeg and Joshua Goosehead, 25, of Winnipeg. chrisd.ca

Crown wants three years for bat assault on a Canadian Tire Loss Prevention Officer in Regina Turning around in a Regina courtroom to face the Loss Prevention officer he seriously hurt two years ago, an emotional Alan Boyd Pasap offered an apology. Pasap, 37, is now waiting to find out whether he will serve additional time for the aggravated assault or whether, as requested by defense lawyer Bob Hrycan, he will be granted a time-served sentence for time spent on remand and electronic monitoring. In asking for the prison term, Crown prosecutor James Fitz-Gerald reminded the court of the seriousness of the offence, which involved Pasap striking Sass in the arm with a baseball bat while the plainclothes Canadian Tire loss prevention officer was dealing with Pasap's common-law wife, whom he suspected of shoplifting on Sept. 17, 2013. Sass suffered a badly broken arm that required surgery and continues to cause him problems to this day. leaderpost.com

2 Yellowknife men charged with theft of guns from Canadian Tire
Yellowknife RCMP have laid charges against two men arrested Tuesday in connection with a theft of firearms from Canadian Tire. Two rifles were stolen from Canadian Tire on May 25. Police arrested two suspects Tuesday night in connection with the thefts. Todd Vatcher, 23, and Beau Desire-Tesar, 28, of Yellowknife have each been charged with theft under $5,000 and unauthorized possession of a firearm. Vatcher also faces a charge of failing to comply with a probation order. Desire-Tesar faces a charge of failing to comply with a recognizance. The two men remain in custody and will appear in court on Friday. yahoo.com

Real Canadian Superstore Loss Prevention Team and Brookville Police apprehend 3 on credit card fraud offences Three males from the Montreal area face multiple charges after being arrested in a commercial area in the north end of Brockville on Saturday afternoon. Three suspicious-looking subjects were observed by a worker at Real Canadian Superstore; she recognized one of the individuals for having been in the store two days earlier trying to purchase a large number of gift cards. The worker notified her loss prevention department; city police were then contacted. Two of the suspects left the store and ran towards a vehicle parked in a nearby lot; they were apprehended by police. The third suspect was being watched by loss prevention, who pointed him out to police; he was apprehended a short time later. Police located numerous fraudulent credit cards as well as two laptops and a skimming device used to produce cards; the investigation revealed that the suspects had visited stores in the Parkedale Avenue corridor. insidebrockville.com

Fortune woman jailed for shoplifting spree in Marystown
On Tuesday, Burin Peninsula RCMP responded to a call of shoplifting from a store in the Peninsula Mall at Marystown. The investigation resulted in the arrest of a 38-year-old woman from Fortune and the recovery of 25 items shoplifted from five different stores in Marystown. The RCMP said the total value of the items seized was approximately $650. The woman was held for court and charged with a total of 15 offences. thetelegram.com

Calls made for 'pay before pump' law after gas station worker injured during theft

Two Quebec men charged in theft of more than $1.5 million in exhaust systems



Brand reputation, safe payment matter most in online shopping
Brand reputation, secure and convenient payment facilities are essential to keep online shoppers coming back for more, MasterCard's Online Shopping Survey shows. Majority 76 (percent) of respondents say that they tend to return to a website if they have browsed or purchased from them before. Besides website reputation (86 percent), top e-commerce considerations by Singapore respondents include payment security (88 percent), payment convenience (88 percent) and low shipping cost (88 percent). Mobile shopping is also growing, with slightly more people having made a purchase though their mobile phone in 2014 (37 percent) compared to 2013 (31 percent). Top reasons cited for shopping online via a mobile phone include convenience (51 percent) and the ability to do it on the go (44 percent).The factors that draw people to online shopping include the wider range of online goods (65 percent) and lower prices for goods bought online (65 percent) than offline shops. In a strong sign of digital convergence and how mainstream online shopping has become, the survey shows that 32 percent feel that online shopping is the same as shopping in physical stores with 50 percent revealing that shopping online is "essential". enterpriseinnovation.net

Ecommerce traffic being hijacked by client side malware
According to new research 15 to 30 percent of eCommerce site visitors are infected with Client Side Injected Malware (CSIM) that causes them to view injected ads, malicious links and fraudulent spyware on otherwise legitimate sites. Consumers may unknowingly download CSIM via bundled apps or extensions and most commonly experience injected ads -- fake advertisements that look native to an authentic site, but actually lead consumers away from the website to make their final purchases elsewhere. Injected ads made up an estimated $7 billion market in 2014, and the culprits behind the industry can range from lone developers in emerging markets to large public companies operating in the gray area of the law while siphoning off millions in eCommerce traffic and revenue from unsuspecting brands. betanews.com

Survey: e-commerce growth up 18% in first quarter
Mobile phone orders increased 59% in the first quarter 2015 and now account for 18% of all orders. Additionally, the Shopping Index revealed that mobile accounts for 35% of all traffic, up 38% year over year. chainstoreage.com

Web sales grow 37% for Hudson's Bay Co. in Q1 - including Saks.com, TheBay.com and LordandTaylor.com

Apple Pay Hits 1 Million U.S. Locations, Eyes July Launch in Europe


"Fraud is not a person - it is a dynamic grouping of statistics that deviate from the norm."
Stuart B. Levine, CFI, CFCI
CEO, The Zellman Group & Zelligent



Kroger's ORC Team Goes Above & Beyond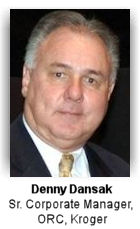 Denny Dansak, Sr. Corporate Manager, Organized Retail Crime, Kroger and the entire Kroger ORC Team have been instrumental in breaking major felony fencing cases throughout the United States. According to Denny, the commitment for his ORC unit began with the vision of Karl Langhorst, Corporate Director, Loss Prevention, Kroger. Karl wanted to have an impact on ORC in all of Kroger's 2,600+ stores in 34 states, and to do this required a dedicated team of investigators to get the job done. Five years ago, Karl hired Denny, who had no Retail Loss Prevention experience at the time. Denny brought a strong background in Law Enforcement/Investigations, an unwavering passion and a "can do" attitude that helped him successfully build one of the strongest ORC programs in the country. Denny has assembled a team that includes other leaders from the Law Enforcement community. Each of his ORC Investigators also currently sits on ORC Boards throughout the country.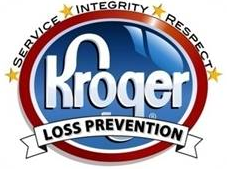 In regards to Kroger's most recent case in Knox County, TN - reported in today's Daily below - Denny said building a relationship with local law enforcement was key. Kroger ORC Investigators work as closely as possible with Law Enforcement in all their investigations. They don't just hand over a case file and expect results. The Knox County Sheriff's Department understood the impact of their specific ORC investigation, and how the activities could be driving other crimes, such as fencing, money laundering, narcotics, robbery, burglary and even a possible health hazard to the community from out-dated or contaminated baby formula. This most recent bust is just one more in a long series of successful investigations for the Kroger ORC Team.
We at the Daily would like to thank Denny and the rest of Kroger's ORC Investigators
for all their hard work. And we wish them the best of luck!
Kroger ORC Team and Knox County Sheriff's bust Knoxville businesses fencing stolen baby formula A six month investigation by the Knox County Sheriff's Office on stolen baby formula has resulted in the raid of three children's consignment stores Thursday morning. A Knox County Grand Jury indicted the owners of the stores for attempted theft. As the investigation continues, more charges are likely. Charged are the owners of Wee Care: Fathi Husain, 52 and his wife, Rebecca Husain, 53; The owner of Rugrats: Brandi Oliver 36, and her associate Pamela Monday, 45; and the owner of Penny's New and Used Baby Stuff, Kenneth Harris, 71. They are accused of knowingly buying stolen baby formula. Rugrats and Penny's had several hundred cans of formula, while Wee Care had the largest number. Officers expect to be on the scene all day hauling out hundreds of cases of formula. Many different kinds of formula were found inside the store and placed all over the packed store. The investigation is a joint effort between the KCSO and Kroger, Homeland Security Investigations, and the Department of Revenue. These three stores were targeted because interviews with convicted shoplifters pointed to these establishments. knoxsheriff.org knoxnews.com wkrn.com

Ex-con scamming major retailers with Refund Frauds in Tucson, AZ
A convicted con artist is using the name of well known non-profit organizations to scam major retailers. Tucson police detectives say 62-year-old Cedric Pierce has been going all over Tucson saying he's with a non-profit organization and wants to return merchandise without a receipt. His name and picture came up at the monthly Retail Theft meetings held at Operations Division West. "He always comes to the business empty handed, and selects items from the shelves and goes and does an exchange without a receipt," said Detective Olga Ramirez. "Most of the time, he would receive a gift card. He would in turn exchange the gift card for cash at another location." She added, Pierce would always call the store first, tell them he was representing the nonprofit organization and give them the name of the manager saying he had already spoken to them about the issue. Police said the 62-year-old Pierce also used his girlfriend 32-year-old Cathi Magallanes in the scam. Detective Ramirez said his crime spree goes back to August. She's documented 15 stores he conned out of thousands of dollars. kvoa.com

Meijer Loss Prevention bust 2 men running vacuum-stealing racket in Bay Co, MI Two Hampton Township men are facing criminal charges for allegedly running a vacuum-stealing racket. Police on Thursday, May 30, responded to the Meijer store in Hampton Township for the attempted theft of two vacuum cleaners. Loss prevention staff told police that they observed two men enter the store with one trying to leave with two Dyson vacuums in his shopping cart. The vacuums were valued at $499.99 each. When Meijer employees approached the man, he left the cart behind, got in a black Lincoln, and drove away. The employees provided police with the Lincoln's license plate, which did not match the car it was affixed to. The employees also told police they had three Dyson vacuums stolen in recent weeks for a total loss of $1,899.97. One of those vacuums, stolen on May 18, ended up on eBay and was then pawned at Bay City Discount by 28-year-old Shaundra M. Militello, court records show. mlive.com

Natick, MA Police search for Macy's sunglass shoplifting suspects
Police are searching for at least three people, including a man in a wheelchair, who stole about $1,000 worth of sunglasses from a Natick Mall store on Wednesday. The trio stole two pairs of Versace sunglasses, a pair of Michael Kors and one pair of Ray-Bans from Macy's around 5:41 p.m. According to police, officers went to the Natick Mall after a report of man in a wheelchair possibly being robbed. Instead, police said, store security personnel were chasing the man after the theft. The suspects fled the store. Police tried to catch a man in a blue wheelchair, but he was able to get away. wickedlocal.com

Do you have an ORC case to share? Publishing it educates the LP & retail community
which might fuel even more jobs and funding.
Share your ORC news and help the industry grow


Oceanside, CA Target Shoplifter Fired Shots When Stopped Thursday at 1:10 p.m. Oceanside Police dispatchers began receiving many 911 phone calls reporting shots fired inside the Target Store at 2255 Vista Way. First arriving units were advised the suspects fled in a newer model BMW. Officers entered and cleared the store and checked for any injured people. The investigation revealed Target loss prevention had contacted a shoplifter and they were escorting him to their office. Near the front of the store, the suspect began to fight with loss prevention and pulled a handgun. He fired the handgun multiple times at the loss prevention member. Neither the loss prevention member nor any customers were injured. The suspect and a female accomplice then fled from the store and to a black BMW. nbcsandiego.com


Second person charged in Officer Involved Shooting at a Shopping center in Upper Marlboro, MD A second person has been charged in connection to an officer involved shooting outside a shopping center in Upper Marlboro. Derrick Simmons, 42, of the 8900 block of Town Center Circle in Upper Marlboro was charged with felony theft and handgun related charges, Prince George's County police said. Simmons and fellow suspect Clyde Peterson, 44, were shot by a Prince George's County police officer outside the Marlboro Crossroads Shopping Center on the 5700 block of Crain Highway. The two men were in a car that had been reported stolen by Baltimore police. wusa9.com


Suspects wanted in smash-and-grab robbery at Jared Vault jewelry store in Texas City, TX Texas City police are searching for three suspects wanted in a smash-and-grab robbery at a jewelry store. On Thursday, a suspect wearing a red shirt entered Jared Vault jewelry store at the Tanger Outlet Mall alone asking an employee to look at a piece of jewelry, according to police. Shortly after he left, two more men entered the jewelry store and headed for the display of Rolex watches. One of the men then used a hammer hidden in his waistband to break the glass and grab all of the watches before fleeing the scene. Police believe all three men, and a fourth accomplice who was seen holding a door, were all involved in the theft. click2houston.com

Suspects in Charleston, SC Jewelry Store heist indicted on Federal Charges
Three men accused of stealing Rolex watches valued at $700,000 from a King Street jeweler have been indicted on federal charges, U.S. Attorney Bill Nettles' office announced Thursday. An FBI probe resulted in charges of conspiracy, robbery and possession of a firearm against the men, identified as Aquabeus Moore, 34; Charles Eloys Johnson, 35; and Jerry Harbin, 29 a news release stated. The charges stem from a March 4 heist at Demetre Jewelers in Charleston and a similar robbery Feb. 19 at Sylvan Jewelers in Columbia. Peter Demetre, the Charleston store's owner, was in the back of the business when he heard someone come inside. He walked toward the front to see two men in masks. One of them held a gun on him while the other broke a display case with a hammer and stole 60 Rolex watches, the owner reported. The conspiracy and robbery charges carry penalties of up to 20 years in prison, the release said. The weapons charge carries a mandatory five-year sentence. postandcourier.com

Luxottica employee charged with $189K theft; using a Corporate Credit Card
A Forest Park woman who stole nearly $190,000 from her Mason employer will spend the next two years in prison. A Warren County judge sentenced Kennyetta Louis, 34, Wednesday - more than a month after she pleaded guilty in April to felony charges of identity fraud and aggravated theft. Louis used her role as manager of Luxottica Retail's corporate credit division to make $189,652 in unauthorized purchases on a company credit card between July 22 and Nov. 15, 2014. Louis admitted to having a corporate credit card issued and mailed to her home where she used it to purchase purses, clothes, shoes, jewelry, airline tickets, hotel rooms, meals, concert tickets, dental braces for her daughter, kitchen appliances and windows for her home. Other items seized in police search warrants include several computers and tablets, a 55-inch television, an iPhone and other cell phones, drugs intended for weight loss, a fur coat, designer watches, jewelry from Tiffany & Co., and bedroom furniture. cincinnati.com

New Albany, MS Police investigating possible Nation-wide ID theft ring
New Albany police are working on a case that may involve a national identity theft ring. Chief Chris Robertson said local involvement began about 1 p.m. this past Thursday when police received a call from Lowe's Home Improvement saying someone was attempting to use a stolen credit card. "At the same time, a uniformed MHP officer walked in the store to pick up something and the clerk alerted the officer," Robertson said. The suspects hurriedly left the store when they saw the officer but he was able to get them stopped. "They've apparently been hitting Lowe's and Wal-Marts and similar stores between New York and here," the chief said. In fact, the suspects had used cards later determined to be stolen at the Lowe's in Tupelo. "That's probably what got them caught, the cards being reported stolen in Tupelo." The suspects' routine has been to use credit cards that are legitimate on the face side but have a digital number of a stolen card on the back, Robertson said. The suspects will use the fake cards to buy gift cards that can then be converted into untraceable cash and then discard the fake cards. Robertson said they recovered about 50 different credit cards from the suspects and a few thousand dollars in cash. The suspects had obtained $3,800 worth of real gift cards from the Tupelo store and were trying to get $2,400 more at the New Albany store. The chief said the suspects may have had a handler in a separate car who kept the larger amounts of cash, but who was able to flee when these suspects were stopped. newalbanygazette.com

Two men charged in with Stuffing a Cricket Wireless Employee in Storage Box; Accused of Theft Two Illinois men were charged on Thursday in central Wisconsin with stuffing their employee into a storage box and leaving him there for five hours after accusing him of stealing from their cell phone store. Firas Yasin and Eyad Abdel-Jalil were charged in Dane County Circuit Court with attacking a 21-year-old employee on Sunday after accusing him of theft at their Cricket Wireless store in Madison, WI. The men then stuffed him in a small storage box, forcing him to remain in a fetal position, letting him out periodically over the course of five hours, police said. The employee escaped after realizing the box was unlocked. The employee suffered bumps and bruises. The pair were charged with felony kidnapping, robbery, misdemeanor battery and other charges. They could be sentenced to up to 60 years in prison if they are convicted. businessinsider.com


UK: London Police hunt glamorous high-class shopper accused of $465,000 credit card fraud Police have released a photo of a woman suspected of racking up $465,000 on a fraudulent credit card. The glamorous-looking woman is alleged to have spent $40,000 on ten 100g gold bars and $40,000 on two Rolex watches. The rest was spent on rings, necklaces, designer clothing, handbags, make-up, a large quantity of car tires and alloy wheels, police claim. Some high-value plumbing equipment was among the purchases. Police said the retail binge took place in Manchester across just four days. A CCTV image of the woman has been released by City of London police - which investigates frauds - after efforts to find the woman, believed to be in her mid-20s were unsuccessful. The force's dedicated card and payment crime unit launched an investigation after a bank account was compromised in July last year and a debit card linked with the account was misused a month later. The woman - who had a penchant for Gucci products - was caught on CCTV in the luxury handbag section of a department store. mirror.co.uk



Police shut down Mega Mike's in Walton Co, GA; Owner stole over $2M in sales tax funds



2 jailed for skimming ATM info at Lower Moreland, Upper Southampton, PA banks

Man gets 25 years for robbery of cell phones from Radio Shack in Naperville, IL

Circle K Employee in Pekin, IL busted for stealing $1,500 in cash

Robbers Drive Truck Through Dallas CVS in Failed Attempt to Steal ATM

Zales Outlet in Cedar Hills, TX the victim of a Grab and Run, merchandise to over $9,000

---

• Blue Moose - Oshkosh, WI - Robbery
• Burchmart - Mechanicsville, MD - Robbery
• CVS - Deerfield Beach, FL - Armed Robbery
• CVS - Dallas, TX - Burglary/ ATM theft
• CVS - Fort Wayne, IN - Robbery
• CVS - Poway, CA - Robbery
• Dollar General - Mechanicsville, MD - Robbery
• Dunkin Donuts - Fairfield Twp, NJ - Armed Robbery
• Express Market - Antioch, TN - Armed Robbery
• Exxon - Oak Cliff, TX- Armed Robbery
• Family Dollar - Baytown, TX - Armed Robbery
• Family Dollar - Murfreesboro, TN - Armed Robbery
• Fred's - Metter, GA - Burglary
• Gaz-Bah - Richland Co, SC - Armed Robbery
• Healthmax Pharmacy - Smyrna, TN - Robbery
• Lids - Chicago, IL - Burglary
• Lure Chaussures - Chicago, IL - Burglary
• Mac's - Redmond, WA - Armed Robbery
• Marathon - Lexington, KY - Armed Robbery
• M & H Gas - Williston, ND - Armed Robbery
• Rite Aid - Newport, ME - Robbery
• Shell - San Francisco, CA - Armed Robbery
• Spalitto's Pharmacy - Kansas City, MO - Armed Robbery
• Subway - Minneapolis, MN - Armed Robbery
• Walgreens - Evansville, IN - Armed Robbery





To apply to today's Featured Jobs, Click Here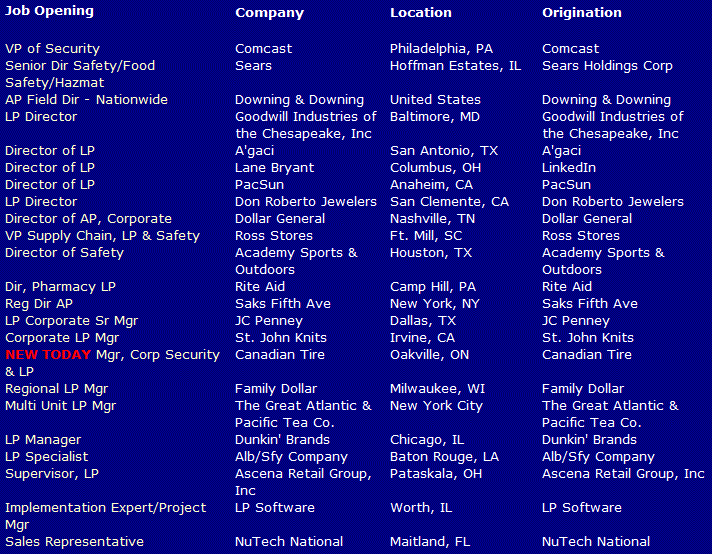 Limited Time Only - Post Your Multi-Unit LP jobs for FREE - Learn More Here




Today's Daily Job Postings from the Net - Appearing Today Only

To apply to today's Internet Jobs, Click Here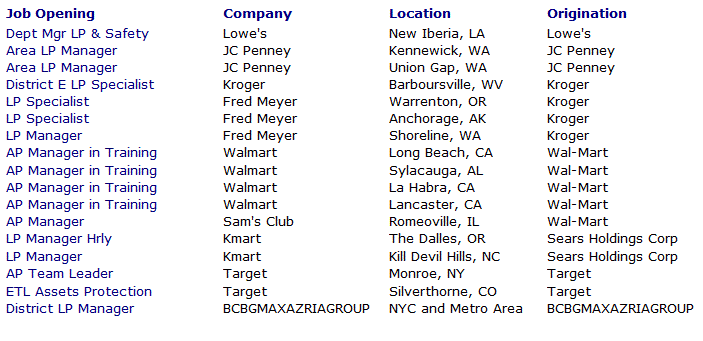 Improve Your Ability to Learn
Your ability to learn, and even adapt to what you have learned, is critical to finding success in the professional world. Your ability to stay flexible, grow and develop from mistakes and rise to the challenge are what makes up you "learning agility." Here is why it's so important. Stay relevant

Strategies for Working Smoothly with Your Peers Sometimes working alongside our peers can make us feel less confident. There seems to be a natural competitiveness between people who are at the same level and expertise, but if this turns into a negative relationship, it can lead to destruction. Here are some ways to boost your confidence and comfort. No winners or losers


7 Ways to Increase Your Charisma
What happens when you leave a positive and long-lasting impression on someone? The world just opens up to you, and the possibilities are endless. This talent is defined as "charisma" and it can be quite easy to learn and develop, and there lies great power in having this trait. Be alert

Four Steps to Effectively Leverage Your Strengths at Work There's a lot of focus in professional settings on what could be done better, and not so much on the strengths individuals have already. By working on and improving the things you are already good at, it makes you more engaged and committed. Here are strategies to help. Get others' opinions

Competition is a good thing because it's what has made America so strong. Whether it's competition between companies or between executives, it has a tendency to bring out the best in most people and in most organizations. It leads to innovation, invention, growth and it instills a sense of competition in everything we do that tends to motivate and challenge people to reach beyond their own self-definitions of what they can do or can't do. Without it, progress, which is slow to begin with, would be stifled but, with it, you have inspiration and purpose. The whole key is how you compete in the open market, whether as a company or as an executive, reflecting professional standards and a code of ethics is critical even when your competition isn't. The #1 rule should always be never speak ill of the competition because in actuality it's more of a reflection of who you are and not who they are.

Just a Thought,
Gus Downing




Post Your Tip or Advice! Click Here

Please make sure to add d-ddaily@downing-downing.com to your contact list, address book, trusted sender list,
and/or company white list to ensure you receive our newsletter.
FEEDBACK / www.downing-downing.com / ADVERTISE WITH THE DAILY