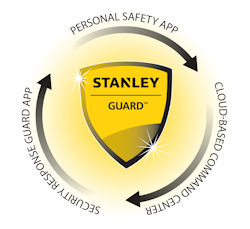 STANLEY Security Announces Monitoring of STANLEY Guard Personal Safety Solution
STANLEY Security, a leading global integrator of comprehensive security solutions for a wide range of industries, is announcing a new feature of its STANLEY Guard Personal Safety Solution, allowing customers to operate a company-wide personal safety solution without the need for dedicated internal monitoring staff.

STANLEY Guard is a cloud-hosted personal safety solution comprised of a hosted Command Center portal that can send and receive information from a Personal Safety mobile app providing omni-present oversight, and a Security Response mobile app to dispatch emergency responders directly to the individual in need. This solution allows users (students, lone workers, employees, or executives) to send duress alerts, including audio/video, GPS location, and user profile, directly to a security command center for immediate incident response. Read more here.

To see STANLEY Guard in action visit NRF Booth 413 in Washington DC, June 26-27. Schedule a demo.

Self-Checkouts Increase Customer Theft, Data Shows
How a Human Presence Encourages Good Behavior
There is reason to believe that rates of theft are higher on self-service machines than regular checkouts. A study of 1 million transactions in the United Kingdom found losses incurred through self-service technology payment systems totalled 3.97% of stock, compared to just 1.47% otherwise. Research shows that one of the drivers of this discrepancy is that everyday customers - those who would not normally steal by any other means - disproportionately steal at self checkouts.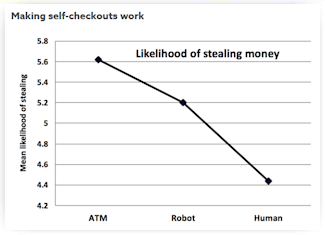 Studies also show that having a human presence around - in this case employees in the self-checkout area - increases the perceived risk of being caught, which reduces "consumer deviance". This is why retailers have been adding staff to monitor customers, absorbing the additional losses, or passing them on to customers in an "honesty tax".

As you can see in this graph, preliminary work by researchers Kate Letheren and Paula Dootson suggests people are less likely to steal from a human employee than an inanimate object. Not only because they will get caught, but because they feel bad about it.

On the other hand, consumers have plenty of justifications to excuse self-checkout theft, which is leading to its normalisation.

To combat this, researcher Paula Dootson is trying to use design to combat deviance. One of the ways is through extreme-personalisation of service to reduce customer anonymity. Other ideas are to include moral reminders prior to the opportunity to lie or steal (such as simply reminding people to be honest), and to humanise the machines by encoding human characteristics to trigger empathy.

While self-service technologies will continue to be adopted by businesses broadly, and particularly within the retail sector, it will be important for retailers to take a holistic approach to implementation and loss prevention. smartcompany.com

Update: FBI now Investigating Illinois Based Monterrey Security Company
Multiple sources have told 5 EYEWITNESS NEWS that the FBI is investigating the security company hired to protect U.S. Bank Stadium.

Sources said the FBI investigation focuses on a complaint alleging fraud within Monterrey Security Company. The federal government became involved because the company is based in Chicago, and the allegations of fraud would cross state lines.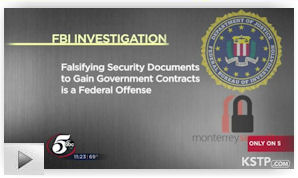 KSTP first reported last week that the Minnesota Private Detective and Protective Agent Services Board is conducting an investigation into allegations that Monterrey falsified government documents, hired people with serious criminal convictions and that some of those employees have felony records but did not receive proper security clearance.

One source said the fraud investigation includes the review of "hundreds of employees."

Sources said the FBI is also investigating multiple allegations of falsifying security documents to reflect required security training for employees, despite the fact some of those employees did not complete their training.

A spokesperson for Monterrey denied the allegations in a written statement that said, in part, "Monterrey has no knowledge of anything other than an anonymous complaint being filed with a state agency.
Monterrey Security can say, in the strongest terms possible, that it has never provided false information to any state agency for any facility it serves. That's simply not true. We can say with full confidence that the hundreds of Minnesota residents currently employed by Monterrey Security have cleared all required background checks and work in positions they are qualified to work in."

Monterrey Security was founded in 1999, employs over 1,600, and clients include professional sports franchises, major corporations, retailers, entertainment venues and other institutions, providing services across the Midwest and around the globe.

The Minnesota Sports Facilities Authority and the Minnesota Vikings said it is unaware of an FBI investigation but is aware of the state investigation and takes the allegations "very seriously." The MSFA said it will reserve any further comment until the investigation is finished. kstp.com

Kount's Mobile Payments and Fraud 2017 Report
Merchants who actively support the mobile channel have increased from 54% to 78% over the last five years. Gain access to over 60 charts showing trends in mobile payments and fraud. All in one incredibly valuable report.

Download this report to reveal critical findings related to the mobile channel. It's the only place where you can get five consecutive years worth of trends about:

• The riskiness of browser-based vs. app-based mobile commerce
• Is mobile fraud accelerating, decelerating, or staying the same?
• Market segments that are leading the way in mobile
• How your strategies compare to the industry standard kount.com

Retailers' Safety & Compliance Teams are Doing a Good Job
Report Detailing Nationwide OSHA Investigation Trends in the Retail Industry
Worker Complaints Mostly Spur OSHA Retailer Probes
Haynes and Boone, LLP has released its second Retail Industry OSHA Monitor, which surveys Occupational Safety and Health Administration investigations and citations of retail establishments throughout the nation. The report offers keen insight into government enforcement trends in the retail industry.

"Our report provides a window into the investigative priorities of state and federal OSHA regulators, which can help guide retailers about how to allocate resources towards compliance," said Matthew Deffebach, head of Haynes and Boone's OSHA and Workplace Disasters Practice Group.

The OSHA Monitor, a free publication that will be periodically updated, examines inspection data and citation data for certain types of alleged violations that are particular to retail companies. Haynes and Boone surveyed state and federal OSHA data from June 16, 2015 through December 15, 2015 - a time frame selected to ensure that the survey was limited to citation information that was final and not subject to an open investigation.

The survey reveals several interesting trends, such as:

• OSHA citations and inspections are concentrated in certain states, led by California, Oregon and Pennsylvania;
• Retailers have faced a relatively low percentage of citations alleging serious violations of OSHA regulations;
• Investigations against retailers are more commonly triggered by employee complaints, rather than workplace fatalities or the sort of persistent, repeat alleged offenses than can give rise to serious citations.

"The data shows that retailers' safety and compliance teams are doing a good job at avoiding serious violations," said Deffebach. haynesboone.com

Washington's Inaction Causing CFOs to Delay Spending
The second-quarter Duke University/CFO Magazine Global Business Outlook survey found that uncertainty about U.S. regulatory and trade policies is putting some business expansion and new projects on hold.

However so far, the stagnation in Washington is not souring CFOs on the overall economic outlook. cfo.com

Biometric Time Clock Challenged
Kroger Unit Fired Contaminated-Test Whistleblower, Suit Says
Claims Fingerprint Scanning Violates Privacy Laws
A former pharmacist at a Kroger Co. subsidiary has filed a complaint alleging that the grocer fired him after he blew the whistle on its alleged use of contaminated glucose testing meters during a store promotion, and that the company violates privacy laws by forcing employees to clock in through a fingerprint scanning machine.

The former employee, Thomas Doporcyk alleges in a putative class action that he was fired from his job as a pharmacy manager at a Mariano's - a division of Roundy's Supermarkets Inc., which is a wholly owned subsidiary of Kroger - after alerting the manager of clinical care that the pharmacy was operating without a proper waiver and reusing glucose testing meters without disinfecting them after conducting blood tests. Doporcyk also alleges that the pharmacy violates the employees' rights by requiring employees to clock in and out with a fingerprint scanning system that collects data and transmits it to a third party, Kronos Inc.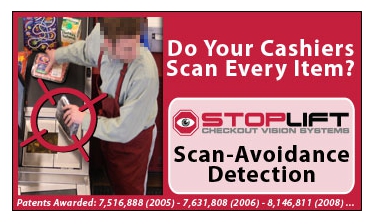 In addition to the alleged violations of pharmaceutical protocol, Doporcyk alleges that Mariano's has an illegal practice of forcing new employees to register their fingerprints in a database, which is run and violates the Biometric Information Privacy Act.

The BIPA legislation was put in place to stop the collection of such data by third parties and created a bill of rights for employees that states they must be given the terms of their collection process and there must be a process of destroying records within three years of the employee's last contact with the employer. law360.com

Tenured Retail CEO Terminated For Lying About Degree
Verify Degrees and Protect the Company from Resume Fraud
85% Uncover a Lie or Misrepresentation - Up From 66% Five Years Ago
Candidates, even at the most senior levels, are regularly embellishing their resumes, according to a new report from background screening firm HireRight, based in Irvine, Calif. Yet only half of employers verify candidates' education credentials, the report noted, despite the many recent headlines involving falsified degrees.

The verification of educational credentials is an important part of an employer's decision-making process in hiring," said Les Rosen, an attorney and the CEO of Employment Screening Resources. "Educational achievement tells an employer a great deal about an applicant's ability, qualifications and motivation. Many employers feel that educational qualifications are a critical factor in predicting success on the job."

And the risks to an organization that doesn't verify education are potentially many, from a loss of internal and external credibility to fraudulent behavior manifesting in job performance.

"Education fraud tends to be the highest percentage of discrepancies we see," said Daniel Yanisse, CEO of Checkr, a San Francisco-based background screening firm. "From a liability perspective, employers face exposure if they don't screen executives and that person causes harm of any kind to customers or employees. Worse is when said executive has a previous track record of that behavior."

"Executives may not be as thoroughly vetted in the hiring process as other employees, potentially leading to bad hires at the top of the company, lawsuits and scandal."

Editor's Note: A few years ago we were aware of a very successful tenured retail CEO who was terminated by the board after someone found out he had lied about his degree and had been in that role for years. The footnote here is that the senior Loss Prevention executive is the one who terminated the CEO and is most likely reading this Daily today. This happens more often than one would think. shrm.org

UK: 3D facial recognition technology on brink of commercial breakthrough

NRF: Retail sales flat in May

NRF Condemns Plan to Phase In Border Adjustment Tax Over 5 Years

Rural Georgia Pharmacy Owner Pays $2.1M To Resolve Fraudulently Charging Medicare for Drugs Never Dispensed

McDonald's to hire 250,000 in more than 14,000 U.S. restaurants

eMarketer forecast retail back-to-school shopping to grow 4%, E-Commerce 14.8%

Neiman Marcus Abandons Effort to Sell Itself


Quarterly Same Store Sales Results
Toys R Us Q1 consolidated comp's down 4.1%, U.S. comp's down 6.2%, International comp's down 0.6%, net sales down 4.9%

The Rising Tide of Crimeware-as-a-Service
Malware, botnets, phishing and backdoors are all offered on the cheap as subscription. These days even crime is in the cloud.

Today's successful malware writers are remarkable in their ability to adjust not only their technical capabilities to evade the latest security technologies, but also their business practices to meet the needs of money-motivated criminals across the globe.

So it's no surprise that so many cybercriminal ventures today have adjusted both their technology stacks and their revenue models to service clients with crimeware in the same way that your average software vendor does. Crimeware, stolen data, and other salable items on the Dark Web are increasingly sold as a service.

Here are some facts and figures that show how pervasive the SaaS mentality has become in the cybercriminal underground.

Shadow Broker Service

WannaCry was one of the best marketing vehicles that the crooks behind the Shadow Broker threat actor group could possibly have hoped for. The ransomware outbreak was spread through a special exploit stolen by Shadow Broker from the NSA. Last week it announced it was launching a new monthly data dump service for customers to access exploits, zero-days, and hacking tools stolen from the U.S. government. The asking price: $23,000 per month.

Services Costs Meet Market Demands

It's gotten to the point now where the typical exploit kit is completely offered up on a SaaS basis. Interestingly, the subscription prices for these kits follow a number of market trends - including one unique to the cyber black market: takedowns and mysterious disappearances of criminal competition that drives prices skyrocketing.

IoT Botnet Rental

Botnet rentals are getting even more interesting now that Mirai-style IoT DDoS attacks are upping the stakes. Following massive attacks against a number of high-proifle targets including DNS provider Dyn, news on the street was that a number of Mirai botnet subscription services were advertising their wares. One of the largest claimed to offer up 400,000 devices for rent. Pricing ranges anywhere from $3,000 for a two week campaign with 50,000 compromised devices to $7,500 for a 100,000-bot service.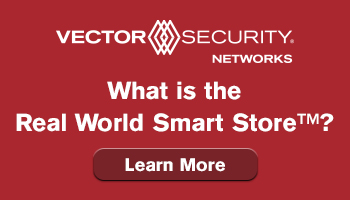 Modularized Malware Services

Just as legitimate services provide a la carte selections and add-ons to mix and match to buyers' needs, so to do crimeware services. Last month Terbium Labs and CheckPoint researchers detailed a modular botnet service called DiamondFox that offers up a ton of different options, fronted with a highly professional and user-friendly management panel. Starting prices for the services were at around $300, with plug-ins offered for $150.

Ransomware-as-a-service

The incipient rise of ransomware has occurred in lockstep with the increasing occurrence of ransomware-as-a-service. With profit-sharing being lucrative for everyone involved because malware writers have significantly upped their vig. According to reports last summer, Cerber authors were charging a 40% cut in ransoms paid to users of their services.

Phishing-as-a-Service

Phishing is a numbers game, so it follows that it is one of the most affordable cybercriminal services out there. One platform discovered by Fortinet offered VIP subscriptions to a marketplace for phished credentials for as little as $3.50 per month, with average credentials on the platform costing anywhere between $0.15 to $15.39 each.

Backdoor-as-a-Service

Whether known as JSocket, jRAT, AlienSpy, or Adwind, one of the most popular Java-based backdoor services gives criminals cheap access to the advanced capabilities of a remote access trojan (RAT) with very little need for upfront capital. Most recently researchers found the service available for $45 per month. darkreading.com

TSA tests fingerprint screening for flight check-in

The 15 worst data security breaches of the 21st Century

Businesses Spend 1,156 Hours Per Week on Endpoint Security

Canada dry? LCBO strike on horizon ahead of Canada Day
Deadline for new collective bargaining agreement is June 26. The danger of a possible strike bleeding into Canada Day long weekend and disrupting the plans of many Ontarians, is growing. The union that represents 7,500 employees working for the Crown corporation, said it will be in a position to legally strike as of 12:01 a.m. on June 26.

At the heart of the negotiations is what OPSEU President Warren "Smokey" Thomas said is a more fair wage system for LCBO casual retail employees. One fellow who's worked 90 days in a row, four hour days... There's got to be a way you can make eight hour shifts, even if it's part time."

Thomas estimates 84 per cent of the LCBO's workforce consists of part-time employees, with 80 per cent of those employees being female. He suggests that the wait for a deal could continue until the 11th hour. cbc.ca

HBC's job cuts driven by slow death of malls: analyst
"People just aren't going to malls anymore"
Hudson's Bay Company is cutting 2,000 positions in North America as quarterly losses mount and brick-and-mortar stores come under increasing threat from online competitors.

The job losses announced Thursday by the Toronto-based retailer, which also owns the luxury department store chain Saks Fifth Avenue, amounts to about three per cent of its global workforce.

The job cuts come on the heels of HBC's first-quarter earnings, which showed a net loss of $221 million, more than twice the $97 million loss it had in the same period last year.

Like many legacy department store brands, HBC is suffering from decreased mall traffic and weaker sales to tourists in the U.S. market due to the strong U.S. dollar. ctvnews.ca

Canada's fight against $20 billion counterfeit market is 'a joke beyond belief,' lawyer says
Nine hundred fake iPhones, 28,000 fake NBA jerseys, 1,100 pairs of fake Oakley sunglasses and 12 pairs of fake Calvin Klein boxers - they are among the items detained by the Canada Border Services Agency since 2015 under a new law that aimed to crack down on counterfeit goods flowing into the country.

The knock-offs are contained in some of the 36 counterfeit shipments have been detained since the law was passed. But that number is "a joke beyond belief," says a Toronto lawyer who specializes in anti-counterfeiting.

Lorne Lipkus said the value of Canada's counterfeit market is likely $20 billion to $30 billion, but the country's record on fighting fake goods is among the worst in the world.

"We bang our heads against the wall," he said. "Nobody can believe Canada does so little."

There are currently 169 companies that have filed requests with the CBSA. But those requests have yielded only three dozen results, which Lipkus called "embarrassing." nationalpost.com

Sears Canada Mulls Sale As Financial Woes Intensify

Alimentation Couche-Tard keen on selling cannabis in Quebec convenience stores

Dollarama with 1,108 stores plans 70 new ones this year

Canada's Trader Joe's reseller Pirate Joe's shuts down for good

Edmonton, AB: Man dies after 'gun battle' outside 7-Eleven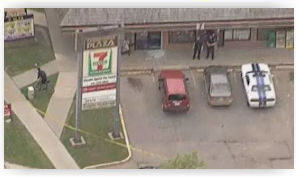 A 22-year-old man was taken to hospital after shots were fired outside a 7-Eleven in the area of 118 Street and 145 Avenue at around 4:45 p.m.

Police said shots rang out after a fight between a group of people. A man who works in the strip mall told Global News a man got out of an SUV and approached another man who was in the parking lot. He said a waitress from a nearby pub was outside having a cigarette as seven to 10 shots were fired.

The witness said several people were inside the SUV as the suspect got back in the vehicle. The SUV then left the scene. globalnews.ca edmontonsun.com

Langley, BC: 1 dead, 1 in hospital after 'targeted' restaurant shooting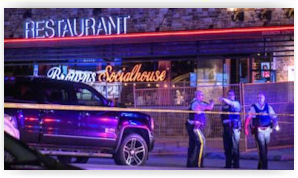 The Integrated Homicide Investigation Team is looking into what it calls a targeted shooting outside a Langley restaurant that left one man dead and another in hospital. The attack happened outside the Browns Socialhouse restaurant near Willowbrook Mall just before midnight Friday.

"We showed up and found a body beside the black Dodge truck, lying face down, head wound, deceased at the scene," said Mike Connaghan, who ran to the area from a nearby Tim Hortons.

When police arrived, they found one of the men dead on the ground and the other man with gunshot wounds. That man was taken to hospital, and IHIT says he is expected to survive.

Investigators know the identity of the deceased man but are not releasing his name pending notification of next of kin. No suspects have been identified at this time. cbc.ca

Wood Buffalo, AB: RCMP looking for suspects in $20,000 jewellery store theft Suspects attempted to sell the merchandise
Wood Buffalo RCMP are looking for three suspects involved in a jewellery store robbery at Peter Pond Mall Friday night.

A male suspect entered the unnamed store in the mall asking to look at two necklaces. At around 6 p.m., he fled the mall with the merchandise. The necklaces are 10kt gold and valued at approximately $20,000. Shortly after the theft, two other suspects attempted to sell the jewellery at a separate location.

Cpl. Ronald Bumbry with the RCMP could not name the store in which the theft took place nor where the suspects attempted to sell the items. fortmcmurraytoday.com

Toronto, ON: Male shot behind shopping mall

Etobicoke, ON: Suspects armed with knives wanted for string of ATM robberies

Bracebridge, ON: Woman gets jail time for stealing more than $2,000 in Walmart merchandise; She was previously banned from all Canada Walmart stores

Update: Toronto, ON: Eaton Centre shooter seeks new trial over jury-selection process

Update: Windsor, ON: Arrest made in Shepherd Street convenience store robbery

Robberies & Burglaries
• Alley's Corner Variety Store - Thunder Bay, ON - Armed Robbery
• Mac's Convenience Store - Barrie, ON - Robbery
• Mac's Convenience Store - Barrie, ON - Armed Robbery
• Mac's Convenience Store - Kelowna, BC - Armed Robbery
• Neighborhood Drug Store - Windsor, ON - Armed robbery
• Undisclosed convenience store - Windsor, ON - Robbery
• Undisclosed store - Ottawa, ON - Armed Robbery
• 7-Eleven - Winnipeg, MB - Armed Robbery