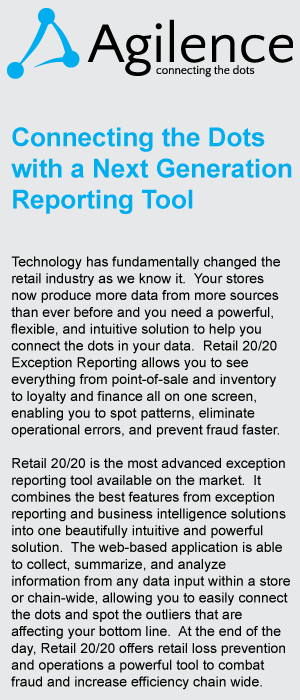 NRF's LP Legislative Committee:
A National Update


Jeff Fulmer, VP of LP for Barnes & Noble and Chair of the NRF's Legislative Committee, and Jon Gold, VP, Supply Chain & Customs Policy at the NRF, provide a national update on the NRF's legislative efforts, including where federal ORC legislation stands and what retailers and LP professionals can do to aid the legislative effort. Jeff and Jon also talk about where the retail industry is going when it comes to cybersecurity and privacy, two hot-button issues also being looked at in Congress right now.
---
In this LPNN Quick Take, hear from Joe LaRocca, Greg DeTardo, President at NuTech National, and Kathy Grannis, Senior Director, Media Relations at the NRF. Kathy talks about some of the highlights from the NRF's ORC Survey. While Greg discusses what's new with NuTech and where they are headed. They also discuss the opportunity as an industry for developing partnerships with retailers and law enforcement to combat ORC.

Solution Providers, have a video or commercial you want to publish? Contact us.



Shutterfly Hit With Privacy Suit Over Facial Recognition
In the wake of similar allegations against Facebook Inc., a putative class action filed in Illinois federal court Wednesday accuses Shutterfly Inc. of using facial recognition technology to create and store millions of face templates without permission, in violation of a state law protecting residents' control over their biometric data. Plaintiff Brian Norberg, an Illinois resident, alleges in the suit that online image publisher Shutterfly and its subsidiary ThisLife LLC violated the state's Biometric Information Privacy Act by collecting facial recognition data from user-uploaded photos without first notifying individuals and receiving their written consent, and by failing to inform them how long the information will be stored and how it will be used. law360.com

Wal-Mart Canada on Mcommerce and Responsive Design
Wal-Mart Canada was one of the first retailers in the world to offer a fully responsive mobile site. Simon Rodrigue, senior vice president of ecommerce at Wal-Mart Canada, spoke with eMarketer's Lisa Barron about how the site has helped boost ecommerce sales. "For Wal-Mart Canada, digital sales are a significant part of our future. We don't report out ecommerce sales in Canada, but we've seen very strong growth year over year. So it's a key part of our strategy going forward. We don't actually see mobile as a separate channel-it is a way of giving customers access to Wal-Mart whenever and however they want. What digital does for them is it allows them to access Wal-Mart when they're at work, when they're at home, when they're mobile, and allows them to get products delivered to their house or to a pickup location. For us, it's all about offering different ways of accessing the Wal-Mart brand." emarketer.com

Mobile Wallets Open Revenue Doors for Retailers'
According to a study, 30 percent of all shoppers now use mobile wallets to pay for their purchases. This includes both in-store and online purchases, such as Apple Pay's NFC and in-app transaction capability. Retailers need to make sure they have this facility as 64 percent of mobile wallet users prefer shopping at a retailer who offers this payment option. This provides retailers with excellent opportunities including a chance to increase productivity with a seamless, secure payment service option. This means that mobile wallets are especially sticky among consumers, and they're more likely to show loyalty to retailers who offer mobile payments acceptance. On the flip side, the study also shows that 62 percent of shoppers are not using a mobile wallet for their purchases. However, if consumer trends are anything to go by, the mobile wallet is here to stay. Millennials make up the largest mobile market users, with 58 percent of them using this technology. paymentweek.com

Pier 1 Imports Q1 online sales account for 17% of total sales

Starbucks Mobile Order & Pay Expands To 21 More States

Study: Product recommendations aid in e-commerce conversion

"Fraud is not a person - it is a dynamic grouping of statistics that deviate from the norm."
Stuart B. Levine, CFI, CFCI
CEO, The Zellman Group & Zelligent



Two Vancouver residents suspected in Safeway $15,000 ORC thefts
Two Vancouver residents accused of stealing more than $15,000 from local Safeway stores since February made first appearances in Clark County Superior Court on Wednesday. Alicia F. Brown, 26, and Jacob A. Beatty, 33, face allegations of first-degree organized retail theft, 10 counts of trafficking in known stolen property, first-degree theft and first-degree possession of stolen property. According to a probable cause affidavit filed in Superior Court, investigators with the Northwest Organized Retail Crime Alliance met in February after noticing a large amount of Similac infant formula and personal care items being sold for prices substantially lower than retail value through online store fronts, such as OfferUp. Private investigator Christopher Frazier found a posting for the formula and shaving razors on OfferUp being sold by an individual who went by the name Alicia. This pattern of stealing merchandise from Safeway stores across Clark County and then selling the merchandise to Frazier went on until about June 7, the affidavit says. In total, Brown allegedly stole $7,935.52 worth of merchandise from Safeway. Beatty allegedly stole $7,358.73 worth of merchandise. columbian.com

Violin worth $200,000 stolen from Lilburn shop in purported instrument 'theft ring' Dressed to the nines in a sharp suit, a man with jet black, curly hair strolled into a Lilburn violin shop earlier this month and began to browse. It was a busy Saturday at Ronald Sachs Violins on Pleasant Hill Road, recalled Cody Sisk, an instrument maker at the business. Sisk said the man had his eye on one item in particular, a "gorgeous" violin made in 1781 by the renowned Italian craftsman Carlo Ferdinando Landolfi. "He picked it up and asked one of our employees, How much is this?" Sisk said Wednesday. #The answer: $200,000. Taken aback, the man put the violin down, and the employee went about his work, leaving the man to himself. Ronald Sachs Violins wouldn't see the prized instrument until a week later. Police found it in a room at a Roswell extended stay hotel in a bust that shook up what some in the niche violin community are calling a "theft ring" in Georgia, Tennessee and North Carolina. Along with the violin from Lilburn, police say they found five instruments from Atlanta Violins in Roswell, as well as several other instruments. The Roswell store owner realized the violins were gone after a shop owner in Raleigh, N.C. called to say they had the instruments, police said. gwinnettdailypost.com


Multnomah County, OR Sheriff's arrest 2 in $6,000 Electronics theft from Walmart Two people are accused of being part of an organized retail theft operation that resulted in the loss of more than $6,000 from Walmart. Aurora Hinkley and Jason David Wigley have been indicted by a Multnomah County grand jury with one count each of organized retail theft and first-degree theft. Court records show that on or about Sep. 5, 2013, they unlawfully and knowingly, while acting in concert, took property from Walmart that, within a 90-day period, that exceeded more than $5,000. Lt. Steve Alexander, a spokesperson with the Multnomah County Sheriff's Office, said in January 2015, Wigley and Hinkley were stealing electronics. He said Detective Rian Hakala was working and the case and could not provide additional details. Officials said there are pending investigations against Wigley and Hinkley in Washington and Idaho. koin.com

Georgia Woman stole 131 pairs of underwear from Walmart
A Georgia woman was arrested after stealing 131 pairs of underwear from a Walmart store, police said. Julia Marie Jones, 22, tried hiding the garments in her purse, a handbag and grocery bags, according to a Huffington Post report citing police. The underwear was worth about $750, the HuffPo story said. Jones was charged with felony theft by shoplifting and released on $5,000 bond. ozarksfirst.com

Do you have an ORC case to share? Publishing it educates the LP & retail community
which might fuel even more jobs and funding.
Share your ORC news and help the industry grow


Shoplifting suspect dies after he is detained by grocery store LP officer at Super 1 Foods in Coeur d'Alene, Idaho A shoplifting suspect died Wednesday night in Coeur d'Alene after he was detained and held on the ground by a loss prevention officer from a nearby grocery store, police said. The 35-year-old man was pronounced dead at 11:13 p.m. at Kootenai Health. The Coeur d'Alene Police Department has not released his name, pending notification of next of kin. According to a police news release, officers responded to U.S. Highway 95 and Kathleen Avenue at 10:35 p.m. for an initial report of two men fighting. Police were advised that the loss prevention officer from Super 1 Foods had detained a male shoplifter, and they found the suspect unresponsive on the ground.

The security officer told police the suspect came into the store with a woman and shop-lifted items. He said he attempted to detain the man once he was outside the store, and that the suspect fled on foot. The security officer said he chased the suspect and caught him in the area of Sunset Motors, where he attempted to hold onto him. Witnesses said the suspect began to fight to get away. Preliminary information indicates the loss prevention officer held onto him and put him on the ground, police said. The suspect asked to be let up and the security officer did so. Once up the suspect tried to fight again, and the officer put him back on the ground, where the suspect became lethargic while police responded to the scene.

Preliminary information from witnesses who observed the incident said the loss prevention officer did not apply excessive physical force while trying to detain the man. Information obtained from the woman accompanying the suspect is that he was under the influence of illegal drugs at the time. spokesman.com

Standoff with Armed man at Canadian Tire in Timmins, Ontario, CN ends, suspect vanishes A man who was armed with at least one long gun inside a Canadian Tire store in Timmins, Ont. on Wednesday appeared to have escaped a police dragnet. City police Insp. Mike McGinn had said the store's alarm went off around 4 a.m. Wednesday and employees found an intruder in the building when they arrived. The employees left and called police, who arrived within minutes, McGinn said. "The target of the break-in was firearms and there are firearms that have been removed," McGinn said. "Anything that would be within line of sight of a high-powered weapon we have evacuated." Several other stores and nearby roads were shut down as Ontario Provincial Police set up a perimeter and took control of the scene. McGinn said investigators security video showed the man was armed with a "long gun", but police had not identified him. Police declared the standoff over late Wednesday evening but no suspect was found. ottawacitizen.com

Four Walmart employees arrested in theft case - More arrests expected in Suisun, CA Four Suisun City Walmart employees were arrested as suspects in an internal theft investigation on Monday. Investigators are currently completing additional investigations which are expected to yield additional arrests. The Suisun City Police Department has worked closely with Walmart management and the Loss Prevention Department to address theft-related incidents within the retail store, Police Chief Tim Mattos said in a statement. thereporter.com

Five men arrested for stealing Boost Mobile store safe in Houston, TX
Police arrested five men they say stole a safe from a Boost Mobile cellphone store. Neighbors called police around 4:00am after hearing a lot of loud noise coming from a home in the 7200 block of Saint Louis at Darien. Residents thought it was a burglary, but when police arrived, they found five men in a garage trying to open a safe. The safe was stolen earlier from the cellphone store. The safe was full of cell phones. Police also found a stolen Ford F-250 pickup truck in the driveway. All five men will likely face multiple charges. abc13.com


Windsor, CT Man Tried to Kidnap Girl at Merrimack Premium Outlet Mall in New Hampshire A Windsor man was held on $100,000 cash bail after allegedly attempting to kidnap a girl near the food court area of the Merrimack Premium Outlet Mall in New Hampshire. Desmond Mighty, 25, was arrested on June 17 and charged with attempted kidnapping, criminal restraint, and second-degree assault, all felonies, as well as false imprisonment, criminal threatening, simple assault, two counts of possession of a concealed firearm, and possession with intent to distribute (marijuana). According to police, at around 4:15 p.m., officers were called to the mall for a reported assault. A girl reportedly was exiting the restroom in the food court area when she was grabbed by a male, thrown to the ground, and pinned so the she could not move, according to Police. "The male made threatening remarks to the juvenile placing her in fear for her life," she noted. "It was reported that the juvenile did not know the male perpetrator." The girl began screaming and was able to gain attention of a bystander who approached the restrooms and saw the incident occurring. The man then fled the area, according to the report. patch.com

5 15-year-olds charged in burglary of Minot, ND Grocery store
Five 15-year-old boys have been arrested in connection to a burglary at a Minot grocery store. The Minot Police Department said in a news release Wednesday that the suspects are being charged in juvenile court. One is charged with burglary, while the other four are charged with criminal conspiracy to commit burglary. wahpetondailynews.com

US, French Customs Seize Over $500k in Personal Care Products
Counterfeit condoms and other personal care items worth more than half a million dollars were seized by French and US customs agents, the US Customs and Border Protection (CBP) agency said in a statement. 'The joint operation, conducted from April 8 through May 4, resulted in the seizure of 76 shipments of more than 31,000 counterfeit items for a combined manufacturer's suggested retail price of $541,000," the statement said Thursday. The items were seized as part of an operation dubbed "Bathe and Beaute," which included seizing counterfeit condoms, make-up, contact lenses, skin care products, hair curlers and straighteners. The CBP stated a portion of the items may have contained dangerous chemicals and bacteria. sputniknews.com

2 charged in Twin Cities Credit Card Cloning scam in Minnesota
Two people are charged in Dakota County with using dozens of "cloned" credit cards to make thousands of dollars worth of fraudulent purchases across the Twin Cities metro area. Emile Rey, 35, and Sade Robinson, 21, are accused of buying stolen information and using it to create cloned credit cards. They then used the fake credit cards to purchase gift cards at various stores in more than a dozen metro communities over the past four months, the station reports. According to the criminal complaint, Rey used the credit card number of a resident of Savage, Minn., for the first time on February 27, when he purchased a gift card at the Target store in Eagan. The victim was still in possession of the credit card. Over the next four weeks, Rey made a total of 21 fraudulent transactions at that Target, using several different cloned card. bringmethenews.com

Dover, DE Police seek help locating credit card thieves
According to a Dover Police Department press release, police are looking for five unknown suspects who they believe are obtaining credit card information and creating duplicate cards from area Seacoast residents in both Maine and New Hampshire. Police believe the suspects use the duplicate cards to purchase Visa and MasterCard gift cards. Pettingill said the crimes have occurred at Shaw's, Hannaford, Rite Aid, and Walgreens - all in Dover. fosters.com

Sears L.P Agent assaulted stopping leaf blower thief in Fredrick, MD
A Frederick man who bit and punched a store employee after stealing a $300 leaf blower early Tuesday faces theft and assault charges, according to documents filed in Frederick County District Court. Mark Edward Permenter, 51, dropped the power tool and punched and bit the employee, who tried to defend himself. A woman sitting in a nearby black Chevy Impala, who was later identified as Rhonda McGlaughlin-Camplair, exited the vehicle and also assaulted the employee, the documents state. The Sears employee, who had scratches and bites on his neck and chest, told sheriff's deputies that McGlaughlin-Camplair, 57, appeared to be driving Permenter's getaway vehicle. Permenter then jumped into the Chevy and began spinning the car in circles, squealing the tires, and threatening to run over the employee. Soon after, Permenter exited the vehicle and began biting and punching the employee again, according to charging. fredericknewspost.com

Suspect nailed in nail gun theft: at Lowe's in West Hazelton, PA; posts his apology on Facebook A man nailed by police for allegedly stealing a nail gun from Lowe's posted an apology on the Facebook post announcing his arrest. West Hazleton police were summoned to Lowe's Home Improvement store on May 23 after an asset protection manager reported stolen retail items. Police learned a male entered Lowe's around 6:30 p.m. on May 22 and concealed an electric nailing gun valued at $300.99 inside a hooded sweatshirt he was wearing. The male left the store with the item, failing to pay for it. A police investigation led to identification of the suspect as Chris Planutis, 35, of West Hazleton. On May 23, around 3:57 p.m., borough police received information that Planutis was again at Lowe's. Planutis allegedly tried to avoid police apprehension by fleeing the area in a vehicle at a high rate of speed, but officers were able to take him into custody a short time later. During the incident, officers located numerous items of drug paraphernalia inside Planutis's vehicle, police said. timesleader.com

Tiny Scottish Island Experiences First Crime in 50 Years With Six Wooly Hats Stolen The burglary happened at one of the island's 20 buildings. A recently-opened cosmetics store on the tiny Scottish island of Canna was robbed last Friday night, with thieves breaking in and stealing cash, several beauty products and six wooly hats. The theft is the first instance of crime on the island in over half a century; the last theft in the 1960s was of a wooden plate, Scottish broadcaster STV News reported. "The thieves cleared the shelves of sweets, chocolate bars, coffee, biscuits, batteries and more," said a spokeswoman for the Canna Community Trust, which runs the store. "Most upsetting for [manager] Julie was they stole six of her hand-knitted Canna wool hats which were in the shop on a sale or return basis." The spokeswoman added that they might have to employ drastic new security measures to prevent further thefts on the island, which has a population of less than 30. time.com

Swimming Shoplifter arrested in Minneapolis
A suspect in a Mall of America shoplifting case didn't want to give up easily. The 21-year-old Coon Rapids man had to be fished out of a Minneapolis lake in order to be arrested in connection with the theft of denim jeans from the Mall of America Macy's store. The suspect fled the store and ran into a silver minivan waiting outside the store's main floor entrance. When officers conducted a traffic in Minneapolis the suspect fled, running toward Lake Nokomis. Two women inside the van remained inside. Officers chased the suspect as he ran through a marshy area. He eventually reached the lake, where he began to swim away from shore. He swam approximately 30 feet from shore when he started to return, although he refused officer commands to exit the lake. As the man waded through the lake an officer entered the lake, reaching the man and pulling him to shore. mnsun.com



FDA cracks down on over 1000 illegal online medicine sellers



Kay Jewelers in the Northtown Mall in Coon Rapids, MN hit with a Grab & Run, merchandise valued at $21,700



Man arrested after Victoria's Secret burglary at Crossroads Center Mall, St Cloud, MN



Milwaukee man charged in armed robbery and shooting at Bouchards Clothing Store

UK: Thief leaves court and immediately goes on shoplifting spree at Mark & Spencer






To apply to today's Featured Jobs, Click Here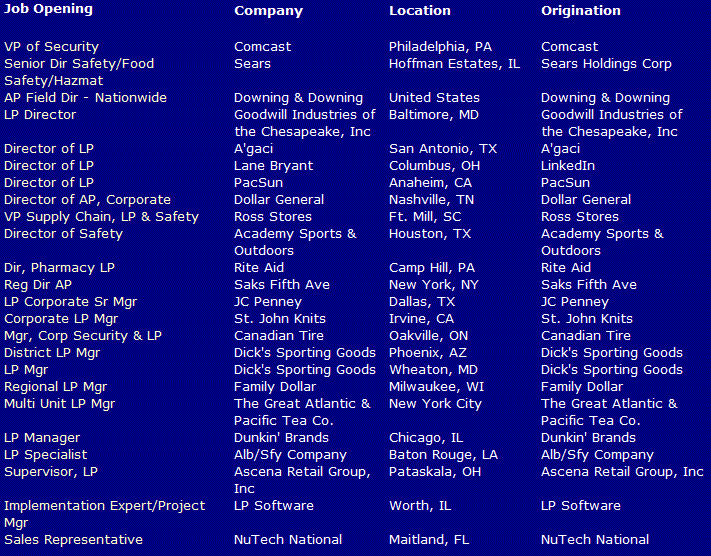 Limited Time Only - Post Your Multi-Unit LP jobs for FREE - Learn More Here




Today's Daily Job Postings from the Net - Appearing Today Only

To apply to today's Internet Jobs, Click Here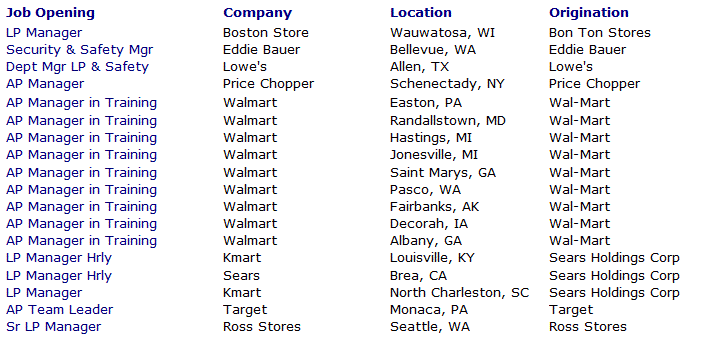 Allison Jonas was named National Manager Learning & Development for Sears Holdings Corporation.
Paul McGinley was named Global Senior Manager, Security for Connolly iHealth, LLC.
Bryan Hillman was promoted to Director of Field Loss Prevention and Safety for PetSmart.
Paul Trickett was named Sr. Regional Loss Prevention & Safety Manager Canada for PetSmart.
Andrew Schneider was named Regional Asset Protection Manager for Regis Corp.
Jamie Van Dusen was promoted to District Director of Asset Protection for Macy's.
Karen Patituce was promoted to Market Asset and Profit Protection Manager - Sears Holdings Corporation.
Gordon Bourne was named Regional Asset Protection Manager for Dollar Tree Stores.
Danielle Foley was named LP Analyst for Claire's Inc.
Deanna Lawton was named Sr. Market Asset Protection for REI.


16 Productivity Hacks for Leaders
Just as leaders need to develop their skills over a period of time, it's the same with maintaining productivity and work performance. By using these productivity tips you can learn how to work more effectively and create a work routine that is simplified and easier to manage. Reboot your brain with a power nap

4 Things that Kill Sleep and Productivity
Getting a good night's rest is incredibly important to boosting your energy levels and, essentially, your ability to get more done. However, how often do we actually get eight hours of sleep? Sleep deprivation can really hurt your working life, so be sure to get rid of these sleep killers. Watch what you eat

Being a mentor can be an extremely worthwhile experience and sometimes the mentee brings mentoring to the relationship as well because we all learn from each other no matter what role we play. And while you may be reluctant or just feel time-strapped, try giving it a chance even for a short time and see what happens. As the old expression goes, one person can make a difference and you could help a fellow LP executive grow beyond their own expectations and, in having helped the number of people we've helped in our mere search role, I for one can say there is no better feeling in the world than helping someone reach beyond! That's what has actually kept me doing what I do for all these years!

Just a Thought,
Gus Downing




Post Your Tip or Advice! Click Here

Please make sure to add d-ddaily@downing-downing.com to your contact list, address book, trusted sender list,
and/or company white list to ensure you receive our newsletter.
FEEDBACK / www.downing-downing.com / ADVERTISE WITH THE DAILY