Tune in tomorrow for "Live in Long Beach"
at the NRF Protect Show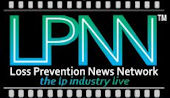 Live from Long Beach, it's the D&D Daily! Join the Daily and LPNN for a value-packed broadcast full of informative, impactful and entertaining interviews with LP leaders, retailers and solution providers at this year's NRF Protect Show in Long Beach, California. With MCs Joe LaRocca and Amber Bradley, and interviews moderated by Gus Downing, we'll be filming tomorrow from 11 a.m. - 5 p.m. PDT. Tune in for the LP industry's one and only LIVE digital fast-break webcast.

If you're at NRF Protect, join us tomorrow in Room 201B.

Or click here to watch our live webcast online!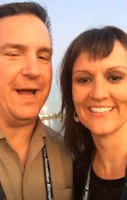 Amber and Joe can't wait for "Live in Long Beach!"


Check out Joe and Amber prepping for LPNN LIVE aboard the USS Iowa! Watch their video here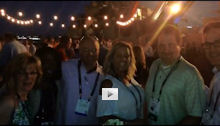 NRF Protect Attendees Step Aboard the CRAZE

by Amber Bradley

With nearly 300 attendees, The CRAZE was THE must attend event for the opening night of the NRF Protect conference in Long Beach, CA this week. Sponsors of the event, i3 International, Iverify, Checkview, Protos Security, Cash Master International, Palmer Reifler & Associates, Checkpoint/Alpha, LP Software and Agilence, hosted attendees aboard the USS Iowa which included tours of the battleship, swing dancing entertainment, a live band, barbeque and cocktails.

The CRAZE sponsors are known for throwing unique events that dazzle attendees and create memorable experiences. Check out some of the candid photos and amateur video from the event.

NRF Protect kicks off today with a keynote session from Alec Ross, author, global thinking and innovation advisor. He'll be covering the shifting global landscape, emerging technologies and the driving force behind transformative change in the public and private sectors. Other topics covered on day one include incident response planning, professional development, data security, reading body language and supply chain security.

Can't attend the conference? Be here without being here by following @DandDDaily for live coverage of what's happening at NRF Protect. And of course log in to http://livestream.com/accounts/11826764/lpnn to watch coverage LIVE from LPNN Thursday, June 25 starting at 11 a.m.

Steve Ippolito, Dir. LP/Operations, Talbots; Randy Warnke, Regional LP Manager, Talbots; David Blackorby, VP Global Security Operations, Walmart and Guest Speaker,
Stella Bray

Joe LaRocca, VP & Senior Advisor Loss Prevention, RetaiLPartners; Kathleen Smith, VP Asset Protection, Albertsons-Safeway and Rhett Asher, VP Asset Protection, Data Security & Crisis Mgmt, FMI





Band playing at The Craze

Ahold, Delhaize Agree on $29 Billion Merger
European grocery chains Royal Ahold and Delhaize Group DEG -6.56 % have agreed to a merger, creating one of the largest supermarket operators in the U.S. The combined company would be valued at 26.07 billion euros ($29.11 billion) based on their closing share prices Tuesday. Despite being based in Europe, both companies generate about 60% of their sales in the U.S., primarily along the East Coast. Netherlands-based Ahold operates the Stop & Shop and Giant chains, as well as online grocery store Peapod, while Belgium's Delhaize owns the Food Lion and Hannaford banners. Under the deal, Delhaize shareholders will receive 4.75 Ahold ordinary shares for each share held. Ahold shareholders will own 61% of the combined company's equity and Delhaize shareholders will own the rest. The merger is expected to generate annual savings of 500 million euros to be realized in the third year after completion, the companies said. wsj.com

Retailers Estimate Shoplifting, Incidents of Fraud Cost $44 Billion in 2014


A new study being released from NRF PROTECT, the industry's largest retail loss prevention event, finds that retailers lose billions of dollars to shoplifting, employee and vendor theft and administrative error - collectively known as inventory shrink. According to the National Retail Federation/University of Florida National Retail Security Survey, retailers say inventory shrink averaged 1.38 percent of retail sales, or $44 billion, in 2014.* The report was sponsored by The Retail Equation.

Specifically, retailers surveyed estimate that shoplifting accounted for the largest part of reported shrink in 2014 - 38 percent, followed by employee/internal theft (34.5%), administrative and paperwork errors (16.5), vendor fraud or error (6.8%) and unknown loss (6.1%).

"A common misperception about shoplifting is that retailers can 'afford' the loss of a candy bar or a pair of jeans, but the truth is that the industry loses billions of dollars each year at the hands of callous criminals that could be put towards human capital, promotions and other necessary business operations," said NRF Vice President of Loss Prevention Bob Moraca. "Though we are encouraged by the partnerships forged with law enforcement over the years and advances in technology that will help deter a crime before it happens, criminals continue to thwart much of the progress retailers have made thus far."



When it comes to loss prevention budgets, 39.4 percent of those surveyed say their budget for 2015 increased over last year; just over one-third (36.6%) said their budgets would be similar to what they were last year - leaving 23.9 percent of respondents with decreased resources. Dr. Richard Hollinger, criminology professor at the University of Florida and lead author of the NRSS for the past 24 years, notes this year's shrink percentage is the lowest seen in the survey's history. nrf.com

Walmart, Amazon, Sears, eBay to stop selling Confederate flag merchandise
Walmart, Amazon, eBay and Sears all announced bans on the sale of Confederate flag merchandise, amid an intensifying national debate over the use of the controversial flag.The announcements are the latest indication that the flag, a symbol of the slave-holding South, has become toxic in the aftermath of a shooting last week at a historic African-American church in Charleston, South Carolina. Gov. Nikki Haley announced in a Monday afternoon news conference that she supports removing the Confederate flag from the state capitol grounds. cnn.com

Jury Awards $40 Million In Suit Over TGI Friday's Killing
A Southern California jury awarded $40 million to the parents of a man who was stabbed to death in a TGI Friday's restaurant. The panel found Thursday that the restaurant's operator was 55 percent responsible for the January 2009 death at a TGI Friday's in Riverside. Orlando Jordan, 33, of Riverside, was dating the mother of Michael Castillo, who disapproved. He was stabbed during an argument with Castillo, who entered the restaurant with a friend. Castillo and Louis Martinez pleaded guilty to assault with a deadly weapon. Castillo was sentenced to three years in state prison, and Martinez was sentenced to four years. Castillo was 20 at the time of the killing, making him under the legal drinking age. Jordan's parents, Rey and Carmen Jordan, argued that employees deliberately failed to check Castillo's identification before serving him and continued to give him alcohol despite his intoxication. The lawsuit also cited a pattern of assaults at the restaurant and a lack of security cameras. cbslocal.com

U.S. Retail Sales Fall in 1st Three Weeks of June From May - Redbook
National chain-store sales fell 1.6% in the first three weeks of June from the comparable period in May, according to Redbook Research's latest indicator, released Tuesday. The Johnson Redbook Sales Index also showed seasonally adjusted sales for the period improved 1.3% from a year earlier, compared with a target for an increase of 1.6%. In the third week of June, sales rose 1.6% from a year earlier. nasdaq.com

Mitigating Mistakes
Even with the most sophisticated planning, allocation and inventory management tools, mistakes happen. How retailers recover from merchandise missteps can be nearly as important as the selling process.

STORES recently spoke with James M. Rallo, president of retail supply chain group Liquidity Services, to gain an understanding of three key options merchants can use to recover value on overstock, unsold, out-of-season and returned inventory.

● Return to vendor: "Optimizing the RTV process can be achieved by working with a single service provider to reconcile, store, ship, refurbish, recycle and resell surplus inventory. Engaging a vendor that handles all services in-house allows retailers and manufacturers to remove costly 'touches' in their supply chain, freeing up distribution center space and speeding access to recovery."

● Re-commerce: Another alternative calls for "using multiple channels into the secondary market to maximize recovery while adhering to strategic business goals, including access to new markets and cycle time. Through the B2B auction marketplace, Liquidation.com, we access small businesses interested in purchasing pallet shipments. We also provide B2C options via our branded marketplace, Secondipity.com, our Amazon and eBay stores, and branded and white label marketplaces custom-built for clients."

● Recycle: "The reverse supply chain can also reinforce a retailer's sustainability efforts by keeping previously used items out of landfills and either in market circulation or disposed of responsibly." nrf.com

Cargo Theft Up by 40% On Holiday Weekends
According to Freightwatch International: "Holiday weekends are of notoriously high risk for manufacturers and logistics-related organizations. Organized cargo theft rings will be extremely active in the coming days, as more shipments are left unattended for extended periods of time due to the long holiday weekend." The best solution is to try to ensure that you don't have any cargo resting anywhere. Since I'm betting that isn't very practical for your organization, try to make it as hard as possible for would-be thieves to pick you as a target. Try to make sure that you match delivery times as closely as possible to avoid having to keep the cargo on a truck over the weekend. If you have to leave a truck and trailer unattended, try to find the most secure place that you can to park. Beware of any unsecured parking lots! Be sure to utilize good physical security measures on both the tractor and the trailer. Have any of your security or janitorial vendors installed any new equipment recently? I've heard of cameras being covertly hidden in trash cans and placed near the front door of a terminal locations in an attempt to read key codes being punched in by unknowing employees. You should be suspicious of weekend loads already, but use extra caution this week is absolutely necessary! Without extreme caution, nobody will know that the load is missing for 3 to 4 days. That's a great deal of time to steal a load and help it disappear. linkedin.com

B.C. leads Canada in first-quarter sales growth, Apple most productive retailer: Colliers B.C. retailers are off to a strong start in 2015, leading the country in year-over-year sales growth, according to a new report by Colliers International Consulting, which also named Weston Group as Canada's largest retailer and Apple as the most productive. B.C.'s first-quarter sales growth was nearly 8 per cent, according to Colliers' spring 2015 National Retail Report. That comes on the heels of a strong 2014 for B.C. retailers, which rang up more than $66.4 billion in retail sales last year, a number that exceeded Collier's own projections by 0.3 per cent. The report also named Weston Group - parent company to Loblaw, President's Choice and Shoppers Drug Mart - as Canada's largest retailer in terms of overall size and sales, based on 2013 stats. Since Loblaw's purchase of Shoppers Drug Mart in 2013, the conglomerate's footprint, comprising 22 chains, ballooned to 66.4 million square feet, with total sales of $43.3 billion. The report also highlighted Apple as the nation's most productive retailer. Occupying 203,000 sq. ft. at 29 stores across Canada, Apple's 2013 gross sales of $1.47 billion give it an average sales productivity rate of over $7,200 per square foot. vancouversun.com

Darden plans to place 430 stores in REIT

NRF: Back-to-school spending on upswing

Study: Disney, Ralph Lauren most patriotic retailers

Nordstrom Rack coming to Hawaii development

Meijer opens first two Wisconsin supercenters

Sam's Club launches a 'shocking' way to save - first wholesale retailer to offer online daily deal program



RILA's 2015 AP Summer Webinar Series
Can't get enough of the 2015 Retail Asset Protection Conference?! Neither can we. This summer, we're showcasing three top rated breakout sessions from the conference in a series of free webinars.

Click here to sign up for the first webinar on Tuesday, June 30 at 3:00 pm EST.

Webinar #1:
Using Real Time Data to Drive Safe Work Practices
Date & Time:
June 30, 2015 3:00 PM EST
Speakers:
Bryce Bennett, Director, Environmental, Health & Safety, The Home Depot
Dominick Zackeo, Vice President, ARCADIS U.S.
Description:
Retailers are constantly looking for ways to create a culture of safety in their stores. The Home Depot recently rolled-out a mobile metrics dashboard that arms regional leadership with real time safety data that empowers associates to influence the safety culture in their stores. This exception based safety management tool enables store management teams to quickly and effectively identify opportunities and to address unsafe work practices before they become a trend. The outcome? Fewer incidents, healthy associates, and increased productivity.