'Live in Long Beach' interview with Dr. Richard Hollinger
Debuting next week on the Daily!
| | |
| --- | --- |
| Stay tuned to the D&D Daily next week as we debut our LPNN interview with Dr. Richard Hollinger, criminology professor at the University of Florida and lead author of the National Retail Security Survey for the past 24 years. Dr. Hollinger joined us for our "Live in Long Beach" at the NRF Protect broadcast last Thursday to discuss the newly released NRSS study, its key takeaways, as well as a few other surprising insights. Don't miss this high-impact episode! | |
Apollo Affiliated Funds Complete Simultaneous Acquisitions of Protection 1 and ASG Security Protection 1, a leading, premier full-service business and home security company in the United States, today announced the close of its acquisition by funds managed by affiliates of Apollo Global Management, LLC (together with its consolidated subsidiaries, "Apollo"). The transaction includes the simultaneous acquisition of Maryland-based ASG Security. The resulting combined entity advances to a new position in the alarm services industry with a larger share of the $46 billion market and significant potential to scale. The combined entity will operate under the Protection 1 umbrella. p1newsroom.com

PayPal acquires money transfer firm Xoom for $890 million
The online payments service is buying an emerging player in international remittances. PayPal has acquired money transfer company Xoom for $890 million to expand its digital payments business in prelude to splitting from parent, eBay. Xoom, founded in 2001, lets people send money, pay bills and reload mobile phones from the United States to 37 countries. It is used widely by immigrants who send some of their earnings to family members back home. PayPal's president Dan Schulman said in a release that acquiring Xoom allows PayPal to offer a larger range of services, in overseas markets. Xoom has a particularly big presence in Mexico, India, the Philippines, China and Brazil. Xoom will operate as a separate service within PayPal. fortune.com

Blackstone to Sell AlliedBarton Security Services to Wendel for $1.67 Billion
French buyout firm Wendel said on Tuesday it was buying U.S. firm AlliedBarton from Blackstone for $1.67 billion. Wendel said in a statement that it was making an equity investment of about $670 million in the company for 96 percent stake with its management owning the rest. The deal is expected to close later this year. Wendel said Credit Suisse acted as exclusive financial advisor for the deal. pehub.com

$48M Lawsuit Against Tyco Moves Forward - Pharma company claims ADT/Tyco inadequately protected sensitive information that led to the 'Biggest Prescription Drug Theft in American History' A civil lawsuit arising out of what is believed to be the biggest prescription drug theft in American history is set to move forward to trial, after a federal judge in Florida denied summary judgment motions of defendant Tyco Integrated Security, formerly known as ADT, the nation's leading security provider. The case, which seeks to recover $48 million from Tyco, could set precedent impacting the responsibilities of companies that provide security or cyber-security or have access to any sensitive customer data, such as network support companies, and could have wide-ranging implications across the insurance and real estate as well as security industries. Trial is set for July 20. The lawsuit alleges that ADT / Tyco inadequately protected sensitive information, leading to the 2010 burglary of an Enfield, CT warehouse utilized by pharmaceutical company Eli Lilly. The 2010 burglary of the warehouse resulted in over $78 million of calculable losses to Lilly and was one of several large thefts connected by the FBI to a Florida-based Cuban burglary ring operating nationwide. In denying the summary judgment motions of ADT / Tyco, the court cites evidence that a former employee of ADT / Tyco and relative of one of the burglars had access to confidential information long after his employment was terminated.

The complaint by Lilly also points to a number of other similar thefts at ADT / Tyco- secured sites as evidence of an alleged pattern of inadequate protection of its clients' confidential information by ADT / Tyco. The burglars were able, in each case, to identify exactly where to cut entry holes, and avoid or disable all security provided by ADT / Tyco. The lawsuit specifically alleges that as part of an effort to sell Lilly on more security equipment, ADT / Tyco provided a report for Eli Lilly, called a Confidential System proposal, weeks before the crime. The report highlighted faults and blind spots in the security system and detailed the "actual coordinates of every motion detector, beam, roof hatch, intercom, overhead door contact, fixed camera, panic button, card recorder, glass break sensor, control panel and keypad," the court filings allege. The thieves burglarized the facility before Eli Lilly had a chance to act on the advice.

In carrying out the Lilly theft, "Defendants Amaury Villa and Amed Villa crossed the entire length of the roof of the distribution warehouse to arrive at a small area comprising less than 1% of the total surface area of the roof," the complaint states. "This location was identified on the 2010 ADT/TYCO Confidential System Proposal as above an area unmonitored by the existing security equipment and adjacent to the MCC room which was identified in the 2010 ADT/TYCO Confidential System Proposal by "x" and "y" coordinates as requiring additional intrusion detection devices and cameras." pharmpro.com

Confederate Flags, Instagram Pics & Donald Trump - Retailers Reacting Quickly to Social Media Storms Retailers aren't wasting any time reacting pulling a brand from their shelves when it gets caught up in a social media firestorm and threatens to put them on the wrong side of an important issue. "They've learned to react quickly because they are all doing Twitter, so it's real-time," said Jan Kniffen, owner of J. Rogers Kniffen Worldwide Enterprises LLC, a retail consultant. Last month, certain retailers stopped selling goods bearing the Confederate flag after the divisive symbol from the Civil War featured prominently in online pictures of Dylann Roof, who is accused of killing nine people in a racially charged shooting in Charleston, S.C., on Friday, June 19. J CREW reportedly fired its vice president of men's merchandising, Alejandro Rhett, after a series of Instagram posts appeared on his account showing him celebrating with fellow employees immediately after 175 members of staff were dismissed from the troubled fashion company. And just yesterday, Macy's announced it would end its business relationship with Presidential candidate Donald Trump after he offended many by saying Mexican immigrants were bringing drugs and crime to the U.S. Kniffen pointed out that retailers want a relationship with their customers and especially the Millennial customer. They don't want to be on the wrong side of an issue. "Whether it's gay marriage or the flag, when the polls move to the popular side, that's where [retailers] will go." wwd.com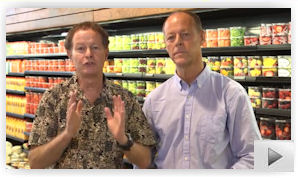 Whole Foods CEOs admit to charging customers too much Whole Foods' two top executives have apologized for overcharging customers. "Straight up, we made some mistakes and we want to own that," Whole Foods co-CEO Walter Robb said in a two-minute video apology alongside John Mackey, the chain's co-founder. Whole Foods came under fire last week after a New York City investigation revealed that several stores were mislabeling packaged foods and selling them for more than they were worth. City inspectors claimed it was the "worst case of overcharging" that they had ever seen, according to the Daily News. In the apology video, Robb and Mackey said the overcharges were unintentional and that they mainly occur with packaged fresh foods like sandwiches and juices. businessinsider.com

Wal-Mart's Made In the USA Program Attracts Scrutiny
Wal-Mart Stores Inc.'s high-profile commitment to buy products made in the U.S. has garnered headlines since the world's largest retailer revealed in January 2013 that it would invest $250 billion over 10 years on additional Made in the USA goods that support American jobs. Truth in Advertising, an organization that monitors the veracity of ad claims, investigated the retail giant's Web site and said Tuesday that it found more than 100 instances of false and deceptive Made in the USA representations. "The investigation revealed products labeled 'Made in the U.S.,' although packaging indicated they were made in China," the organization said. wwd.com

Webinar: Are You Ready for EMV - and What Follows?
The current wave of data breaches has accelerated EMV adoption in the US. But it's not a smooth path and retailers are in varying stages of this migration. Moreover, while EMV will reduce credit card fraud, it's not a full answer to getting ahead of rapidly evolving cyber-attacks. Fraud patterns will likely shift to e-commerce. If data breaches and shifts in fraud liability have got you rethinking payments security investments and architecture, don't miss the webinar - "Are You Ready for EMV - and What Follows?" - hosted by Chain Store Age and sponsored by HP Security Voltage, on Tuesday, July 7 at 2 p.m. ET. Click here to register. chainstoreage.com

UL introduces standard for managed video
UL announced a new standard for managed video services, UL-827 b. "[We're] trying to establish a baseline of requirements for the industry, while the [managed video] industry is still fairly young, emerging and growing," Steve Schmit, UL engineer manager, told Security Systems News. Schmit says that UL-827 b, like its name implies, is firmly based on the existing standard for certifying a central station. Common ground between the two certifications are standards for the building, power and fire protection, Schmit said. The standard also pays more attention to bandwidth and storage capacity, Schmit said. "Video means you're going to be sending a lot of data, and if you start a business with insufficient bandwidth you won't be able to service your accounts." securitysystemsnews.com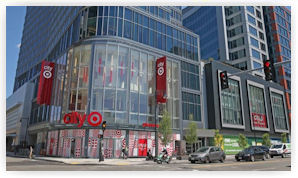 Inside the first CityTarget on the East Coast
The first CityTarget on the East Coast - bigger than many full-sized suburban Targets - opened its doors for a preview Tuesday in advance of its July 26 grand opening. The word "City" and chain's big red bull's-eye logo looms over Boylston Street, near Fenway Park, but the word "Target" appears nowhere inside or outside the building, nor on the ads on display inside Fenway. Eight CityTargets have opened since 2012 in Chicago, Seattle, Los Angeles, San Francisco, and Portland, Ore. Merchandise in the store is similar to other full-size stores, but in smaller, easier-to-handle-on-the-T sizes. There are some 50-pound bags of dog food, for example, but more options are available in five- and 10-pound sizes. "We're tailoring the store to Fenway Park," said Don Aldridge, the store's general manager. As such, several original Fenway Park seats, dating back to the 1950s, are installed in the ground floor entryway, at the corner of Boylston and Kilmarnock streets. The entryway leads to escalators and a bank of elevators that take customers to the 160,000-square-foot shopping areas on the second and third floors. bostonglobe.com

Retailers Added 22,900 Jobs in June
The retail industry added 22,900 jobs in June, continuing an impressive trend that puts retailers on a three-month moving average of 21,000 new jobs a month. Jobs gains were seen in all key business categories except building materials and sporting goods. Total retail employment increased by 212,000 jobs on a year-over-year basis, according to NRF, which excludes auto dealers, gas stations and restaurants from its calculations. The Bureau of Labor and Statistics today announced that the private sector added 223,000 jobs in June overall. nrf.com

European grocery giant Lidl to bring regional HQ to North Carolina

Best Buy rolling out 200 Samsung store-within-a-store spaces

Merger costs take toll on Family Dollar Q3 profits

Banks: Card Breach at Trump Hotel Properties

DEA agent pleads guilty to accepting Silk Road funds

Southeastern Grocers to donate all July 4th store profits to Wounded Warrior Project


In observance of Independence Day, the Daily will not be publishing Friday.

Have a safe and fun Fourth of July!