WWD Apparel & Retail CEO Summit: Marvin Ellison Retooling J.C. Penney
Marvin Ellison is stepping into a new role as CEO of J.C. Penney next month, and all eyes are watching to see what this master of retail turnaround has in store for the iconic American brand. During his 12 years at Home Depot, Mr. Ellison made massive changes by capitalizing on technology and social trends, focusing on customer experience, and building loyalty among consumers and employees-nearly tripling the company's stock and cementing it as an industry leader. Now, in the face of a rapidly changing retail environment, learn about Mr. Ellison's goals for JCP, his plans to position the company to compete online and on Main Street, and how he believes this transformation will pay off for shoppers, suppliers, associates, and shareholders. For more information and a full list of speakers for the WWD Apparel & Retail CEO Summit click here. Register now to reserve your seat before this exclusive event sells out. wwd.com


Target centralizes security efforts
Target Corp. is taking a centralized approach to security to help ensure that data breaches such as the one which inflicted serious financial and branding damage in late 2013 do not happen again. Target has opened a Cyber Fusion Center (CFC) that brings Target's key information security teams together.

The center features a large open space designed to enable collaboration. Teams sit in an open format, arranged based on the logical flow of information.

Launched in late 2014, the center houses security teams including a Cyber Threat Intelligence team that monitors and analyzes trends and patterns in cyberspace, a Cyber Security Incident Response team that watches systems and networks, and Security Testing Services that evaluates new and existing technology to identify areas of concern.

In addition, The Red Team simulates real-world attacks on Target's environment to uncover defensive control weaknesses, and a group of Continuous Improvement experts documents the teams' learnings, captures metrics and reporting, and prioritizes team efforts. These teams share the CFC space with other information security experts involved in the same investigations.

"Data security is a top priority at Target," said Brian Cornell, chairman and CEO, in a blog post. "So we continue to invest heavily in top talent, as well as technology, and focus on continually evaluating and evolving our processes as the landscape changes. It's an important part of the $1 billion Target plans to invest in technology and supply chain this year." chainstoreage.com

Wal-Mart's Mexican Profits Rise, Will Spend $800 Million in Bribery Case - Launched 14-step Compliance Program The U.S. Securities and Exchange Commission and Department of Justice are leading an inquiry into whether the alleged Mexican payouts violated the Foreign Corrupt Practices Act. Wal-Mart is also investigating its subsidiaries in Brazil, India and China and has launched a 14-step global compliance program to ensure the Mexican ordeal is never repeated. They have invested $600 million since the case began and will invest another $160 million to $180 million for FCPA and other compliance-related activities for the ongoing inquiry," said the source, who requested anonymity, adding that no fines have been assessed so far.

Wal-Mart has not revealed investment by division but has "done a bunch of things in Mexico" to help pursue the investigation, the source added. They include spending on lawyers and anticorruption officers in a country with one of the world's worst corruption profiles, analysts said. A Wal-Mart spokesman said "the investigation is ongoing and it's inappropriate to comment further on specific allegations." He said, however, that the firm invested $173 million for the probe last year. wwd.com

Retail Design to Deter Shoplifters
Talk of retail design generally revolves around ways to draw customers into stores to generate sales. Good design, however, can go beyond that, preventing retail loss (shrinkage) attributed to the behaviour of the not-so-welcome store guest - the shoplifter. While RFID technology is proving to be beneficial when it comes to retail security, technology shouldn't be the only method relied on. Interior design doesn't usually receive as much attention as the built environment when it comes to retail security plans, but it can offer considerable theft-deterrent strategies.

Two researchers from Lancaster University Centre for Doctoral Training have suggested a preventative "natural surveillance" approach to shoplifters to save people from going to prison. The strategy they propose involves leading potential shoplifters to areas where they are placed in the spotlight and where other shoppers are involved in deterring them. The researchers, Dhruv Sharma and Myles Kilgallon Scott, wrote the recent paper Nudge: Don't Judge: Using Nudge Theory to Deter Shoplifters, with Sharma deciding to conduct the research after taking on a pre-Christmas job in a department store.

Sharma and Scott delved into Nudge Theory, which suggests that "some people make decisions unconsciously, non-rationally and are influenced by contextual cues which means their behaviour can be manipulated." "We are not suggesting we should make it harder for people to interact with products," Sharma said. "Instead we simply propose 'nudging' people to act as observers, thereby enhancing surveillance." Sharma and Scott cited examples on the website The Conversation, stating that all buildings imply at least some form of social activity prompted by the arrangement of wall partitions, doors and other furniture.

Pattern Language Methodology is another strategy to fighting shoplifting. Last year, researcher Adrin Mehdizadeh, California State University wrote a paper that studied the re-design of a clothing store in downtown Los Angeles. Due to recent market losses (that included a major security problem), the owner wanted to remodel the store. The design team was made up of the store owner, two employees and two interior designers experienced in pattern language methodology.

When assessing the store design, blockades were highlighted as a hindrance limiting lines of sight between employees and shoplifters. The team then applied Crime Prevention through Environmental Design (CPTED) Principles. "Returns and store safety were recorded to have increased tremendously upon employment of natural surveillance," Mehdizadeh wrote of the application of CPTED. Editor's Note: Great article to read fully and has a number of study's it refers to that helps elevate your conversation with store planning, buyers, and operations. sourceable.net

Thorough employee screening is an essential - and extensive - process
Almost all retail employers perform background checks, according to NRF survey data, looking at everything from criminal and address history to employment and education verification. 52 percent of HR directors that used background checks did so to reduce legal liability for negligent hiring, while 49 percent did so to provide a safe work environment. Forty-five percent of employers used credit checks to reduce or prevent theft. 96 percent of respondents said they would not make a job offer to a convicted violent felon; 74 percent said they would not make a job offer to a non-violent felon. While theft is a top concern for retailers, it's not always identifiable on a background check unless the person has been convicted of a crime. nrf.com

Class Cert. Upheld For 200,000 Employees By Calif. Court In Safeway Wage Action A California state appeals court on Wednesday upheld class certification of a group of Safeway Inc. employees accusing the grocery chain of not paying them for missed meal breaks in violation of California's Unfair Competition Law, saying the lower court did not abuse its discretion. The trial court certified a class of about 200,000 Safeway and Vons Companies Inc. employees who claim Safeway had a practice of never paying premium wages for missed meal breaks as required by law. law360.com

Amazon's momentum in North America will spur further retail industry consolidation mergers and acquisitions and bricks-and-mortar store closures While Nike, Under Armour and other global brands should benefit, 'middle of the mall' retailers are at most risk near-term, with longer-term risks to department stores and broadlines," the report cautioned. "We see non-differentiated retailers at greatest risk," it added, referring to retail companies selling a broad swath of merchandise in multiple categories - Wal-Mart Stores Inc. and Target Corp. in particular. The firm cites its proprietary survey data as an indicator that Amazon's apparel sales are growing dramatically as it increases its selection of top brands and improves fulfilment capabilities. financialpost.com

Vindicated: Muslim woman wins $25K from Abercrombie for hijab discrimination case & Abercrombie's "look policy" Abercrombie & Fitch on Tuesday agreed to pay $25,000 to settle a lawsuit brought against the company for refusing to hire a woman because she wore a hijab. The settlement comes less than two months after the US Supreme Court ruled Abercrombie & Fitch violated the civil rights of the job applicant. In addition to paying $25,670 in damages to Elauf, Abercrombie must pay $18,983 in court costs.

Abercrombie & Fitch has since changed its "look policy" to allow headgear, including hijabs. The company has previously paid settlements in discrimination suits, including a $50 million payment in 2005 to Hispanic, African-American and Asian job applicants in a lawsuit alleging a lack of diversity. albawaba.com



The D&D Daily 'Retail Crime' Reporting Leads to Arrest of Nationwide Armed Robber
Making the Retail Crime & ORC Columns
Pay Off in Your Investigations
We've heard from a number of retailers over the past 2 or 3 years telling us they've started incorporating the D&D Daily's reporting of ORC and Retail Crime into their own LP investigative processes. We at the Daily take great pride and responsibility in our daily efforts to gather and present such information to the industry, so it's always rewarding when we hear from executives in the field or corporate offices saying that we've helped in some small way.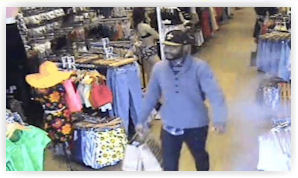 In a recent conversation with Jim Mires, VP of Loss Prevention for DSW, we learned that an article posting in the Daily's Retail Crime column on March 7, 2014 helped DSW investigators identify and track down a suspect who had committed a string of multi-state armed robberies, including one at their own store. After an armed robbery occurred at a DSW in Littleton, CO, on Feb. 3, 2014, RLPM Dave Holt and Investigator Greg Dolcich did their due diligence in sharing information with other retailers, posting BOLO alerts and checking Denver-area camera systems. They learned of a similar robbery occurring at another retailer in San Francisco, with the suspect wearing the same clothing and carrying out the robbery in the same way. He would shop around a store for about two hours before going to the register and taking out a handgun.



The investigation went quiet until Jordan Rivchun, Sr. Manager of Investigations for DSW, came across a D&D Daily posting about an armed robbery at an American Apparel in New Orleans, which included a picture of the same suspect getting away with cash and merchandise. "This sounds like our guy, looks like our guy," Mires recalls Rivchun telling the DSW team. They contacted the detective in New Orleans and issued a multi-state bulletin for what was now a federal case. This led to the arrest of 29-year-old Steven Joseph Rodney, who was picked up in Las Vegas on March 14th following a robbery at Walmart.

Mires credits the solving of the case to great pictures and video, partnering with other retailers, and his team reading the D&D Daily every day - which he says ultimately helped them make the connection. Like many others in the industry, Jim knows how powerful a tool information sharing can be, and this is just one more case that proves it.

We would like to thank Jim for sharing this story with us, and allowing us to share it with a wider audience. It's stories like this one that truly affirm the Daily's ongoing mission of informing, educating and instilling a sense of community for the retail LP industry!
Are the 'Retail Crime' & 'ORC' Columns Part of Your Investigative Processes?


Money Gram post VP Retail Risk Management position in Frisco, TX

Apple Retail Stores - 265 U.S. stores - with sales running at about $5,009 per sq. ft.

Tractor Supply plans 110-115 new stores - That means LP Jobs

Wal-Mart Is Ending Overnight Hours at Some Stores

Quarterly Same Store Sales Results
Tractor Supply Co. Q2 comp's up 5.6% with net sales up 12%
Smart & Final Stores Q2 comp's up 3.5% with net sales up 9%
McDonald's Q2 comp's down 0.7% with revenue down 10% (increase of 1% in constant currencies)
Cabela's Q2 comp's down 0.9% with revenue up 10%