2014's GLPS's - Group LP Selfie's


Your Team - Your Pride - Our Industry

One Selfie at a Time

GameStop West Market LP & HR Team

"People. Passion. Prevention."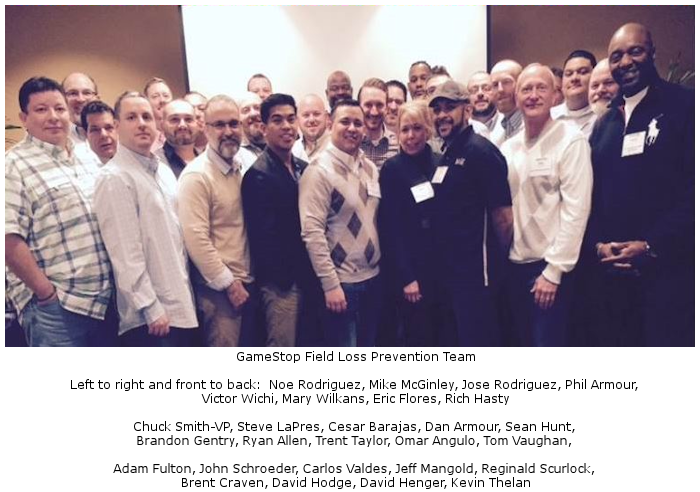 *Published on November 13, 2014

Show Your Industry Your Group LP Selfie

Building the LP/AP Industry One Selfie at a Time
---
View all the selfies here. Send us your Group LP Selfie!





Where have all the comp store sales gone - Retail E-Commerce Sales Seen Growing 25% in 2015 Global retail e-commerce sales - spurred by big gains in China and other Asia-Pacific economies - are forecast to expand this year to $1.67 trillion, up nearly 25% from 2014, and account for a 7.3 percent share of the total retail market worldwide, research company eMarketer predicts. Between now and 2019, retail e-commerce sales growth "will continue to outpace brick-and-mortar sales growth by a more than 3-to-1 margin," the research firm said.

As a result, eMarketer estimates e-commerce sales will grow to $3.5 trillion by 2019 and account for a 12.4 percent share of total retail sales worldwide of $28.8 trillion, with the Asia-Pacific the dominant growth market.

In North America and Western Europe, spending on retail e-commerce purchases is forecast to increase by 14.4 percent to nearly $376 billion, and by 12.7 percent to $313 billion, respectively, and with growth expected to come from "expanding online categories and increased order values."

In the U.S., e-commerce sales will increase by 14.2 percent to reach $349 billion, or a 7.2 percent share of total retail sales. The study added that "though brick-and-mortar sales still command a vast majority of the market, e-commerce sales are increasing at a much faster rate." The study projects that by 2019, U.S. retail e-commerce sales will grow 57 percent to reach $548.2 billion. wwd.com

Why Apple Pay will cure NFC security headache
Mobile NFC could solve the security flaws of contactless card payments, according to experts reacting to the findings from a recent Which? report. According to Paul Hampton mobile solutions such as Apple Pay offer "much greater security". "Contactless payments made with mobile phones typically don't use real card details and usually need the user to supply either a PIN number or fingerprint in order for the phone to transmit the payment information, this prevents a fraudster with the appropriate wireless equipment from being able to capture any information," said Hampton. "The payment industry always planned that the risks associated with exposing information over wireless connections would be mitigated by stronger controls put around card not present transactions made over the telephone or Internet, however, as Which have highlighted, often these controls are relaxed by merchants as the inconvenience of additional security can drive customers away from completing purchases." cbronline.com

Top 3 Factors Disrupting Online Retail in 2015
Like a tornado ripping through an empty cornfield, online retail has gathered enormous strength. Consumers love it for its convenience, and there are fewer barriers to entry for retailers. Every year it seems that eCommerce gets stronger and develops even more innovative practices that have a lasting impact on the industry.

Many companies have drawn up ways to improve eCommerce in 2015. These ideas can completely change the way online sellers compete with one another. Retailers are beginning to switch gears to accommodate their business strategies according to these changes. tamebay.com

UPS delivers expanded e-commerce options

Next On The Vegas Strip - The Mike Tyson Bitcoin ATM?

Snapchat reportedly working on 'special' ecommerce product with Hearst


"Fraud is not a person - it is a dynamic grouping of statistics that deviate from the norm."
Stuart B. Levine, CFI, CFCI
CEO, The Zellman Group & Zelligent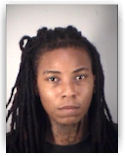 ORC Ring - Female admits to being part of ring operating in Leesburg, Fla. - Hitting Walmart - Are they hitting your stores? A 26-year-old Leesburg woman, arrested for shoplifting at least a half-dozen times, let slip to police she is part of retail theft ring, an arrest affidavit states. Brionna Bender was taken into custody Monday for allegedly taking three sets of bedroom sheets from bedding department at Wal-Mart, placing them in a Wal-Mart shopping bag and trying to get a $40.41 refund from the service desk. While waiting on the history to come back, Ms. Bender made spontaneous statements (about) how there were several arrests for theft because she was part of a group who were going around doing these thefts at several other stores in the area," the arresting officer said. Bender made no additional comments. dailycommercial.com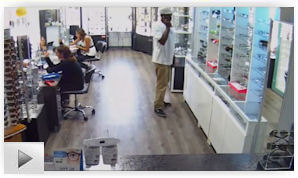 Man steals thousands from sunglass store in Jacksonville, FL A Yulee business owner is on edge over the theft of thousands of dollars in merchandise stolen right in front of his employees, again. The heist was caught on surveillance video. He grabs a pair of expensive sunglasses and puts it in his pocket... over ... and over again. He even pretends to try on the shades - while already sporting a pair - before stuffing his pockets. "This guy was a professional, my staff members were two feet away from him - literally." "The thief walked around the store - talking on his cell phone to keep employees away - grabbed 8 designer glasses worth about $3,000 and the owner is hoping surveillance video will help get this guy caught. news4jax.com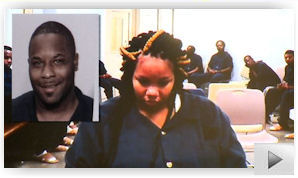 Serial shoplifters steal $10K in merchandise in South Jackson, TN Thousands of dollars in merchandise is stolen from a Jackson Walmart in what police are calling an elaborate shoplifting scheme. Officers say they stole more than $10,000 worth of merchandise and may be connected to similar thefts in Jackson and West Tennessee. But this dynamic duo's shoplifting scheme came to an end Monday night. In the video, Noonan can be seen opening a box filled with new merchandise and emptying it. Seconds later, she can be seen filling the box with dozens of other items, trying to conceal them. Investigators said Noonan and Hayes were known for using a getaway car and that it was easier to track them because they used the same one almost every time. wbbjtv.com

Macy and Sears Jewel Thief plead Guilty in San Mateo County, CA
A Hayward man facing multiple burglary and theft charges in connection with a series of attempted jewelry and cigarette thefts in San Mateo and Redwood City took a plea deal on Monday just as his trial began. Dale Lionel Mark, 55, pleaded no contest to one count of burglary and one count of grand theft and admitted to nine prior convictions. On Dec. 1, 2014, Mark was seen entering the Macy's at the Hillsdale Shopping Center in San Mateo and using a tool to cut a security cord on a jewelry case before leaving the store. An accomplice was allegedly waiting to pick up the case, which contained $31,000 in jewelry. On Dec. 22, 2014, Mark allegedly returned to the same shopping center, entered the Sears store, took a pair of wire cutters from the hardware department and again cut a cord on a jewelry case in the store. He allegedly picked up the jewelry case himself, which contained $13,000 in jewelry, and placed it in a shopping cart before walking out of the store with it. smdailyjournal.com

Jeans Thieves Sought After Violent Shoplifting Incident at Dillard's in Waco, TX Police have released surveillance images of a man and woman wanted in connection with the theft of a number of pairs of jeans from the Waco Dillard's store, where an employee was hurt while trying to detain the pair. The injury the female employee suffered means the two are facing robbery charges, police said. kwtx.com

Do you have an ORC case to share? Publishing it educates the LP & retail community
which might fuel even more jobs and funding.
Share your ORC news and help the industry grow


Update: Use of force under investigation after NYC Target arrest caught on camera The NYPD is investigating the use of force used by officers during an arrest at a Target store in Brooklyn that was caught on camera. The video shows several punches being thrown, including two by a male officer and two by a female officer, as a crowd instantly gathers around the officers from the 70th Precinct who are attempting to arrest Alando Brissett.

"That's when people actually responded," City Councilman Jumaane Williams said. "That's when the crowd got animated. It didn't seem to be the arrest or whatever happened before. It seemed to be the punches....There are a good few seconds there where they're just kind of wailing on him."

The video was shot by a Target shopper on Flatbush Avenue in Midwood just after 7:30 p.m. Saturday. Police say after Brisset dropped off some bottles for recycling, he asked for a receipt. And when he was told the store doesn't provide them, Brissett refused to leave. Williams spoke with Target employees, who said Brisset was there the day before, and his behavior then was alarming.

"We want to make sure that people understand that something happened before the video," Williams said. "Because it starts off with the arrest, you don't know what's going on before that. But even within that context, we still need to find out what the protocol is when someone is not complying." Authorities say that not only did Brisset refused to leave, he also refused to give them his name. He was charged with trespassing and disorderly conduct. The incident is now under internal review to determine any misconduct. 7online.com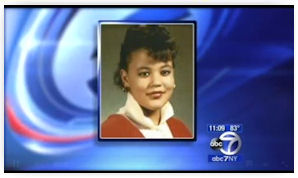 Woman Arrested on Shoplifting charge found dead in Holding Cell in Mount Vernon, NY Authorities are investigating the holding-cell death of a woman who waited two days for arraignment on a shoplifting arrest in Mount Vernon. Mount Vernon Mayor Earnest Davis said 43-year-old Raynetta Turner had been arrested Saturday on a shoplifting charge for the third time recently. She was found unresponsive and lying on her side on a wooden bench in her holding cell Monday afternoon. According to Davis, Turner reported various medical issues at the time of her arrest, and she was taken to Montefiore-Mount Vernon Hospital. She was then released back to police custody Sunday evening. Raynette Turner was accused of stealing from Restaurant Depot, a local food wholesaler. Sunday morning she said she felt sick. Police say she was treated at the hospital for hypertension and then brought back for her court appearance. Police say no foul play is suspected. An autopsy is being done. 7online.com

Judge Overturns Shoplifter's Walmart Ban, But Store is Still Off-Limits
Two weeks after a municipal court judge handed down a sentence of banishment for life from any Walmart store in America to a shoplifter, the verdict has been vacated. But the shoplifter, Johanna Cassimore, of Hopatcong, still won't be allowed inside the retail chain's buildings. That's because, according to nj.com, Cassimore had previously signed an agreement with the Walmart company stating she would never enter the stores again prior to her guilty verdict in Mt. Olive Township earlier this month. The vacated ruling, made Monday, showed Judge Brian Levine meant to acknowledge the agreement between Cassimore and Walmart, not that he was imposing the ban himself, the report said. patch.com

Man, 71, shot to death outside Family Dollar store in Atlanta
Police are investigating the shooting death of a 71-year-old man in the parking lot of a Family Dollar store in northwest Atlanta. The shooting happened at the store on Joseph E. Boone Drive early Wednesday morning. Atlanta police Lt. Charles Hampton tells WSB-TV that investigators were not sure about the circumstances that led to the shooting. He said they planned to canvas the area to see whether there were any witnesses. wsbtv.com

Family Dollar security video helped identify suspect in Egg Harbor City store beating Police are still seeking the female suspect in the beating of a woman at the Family Dollar store here Monday afternoon. Sgt. Dylan Hutton said Wednesday that a security camera caught the alleged attack, and a woman has been charged after a judge found probable cause in the case. A warrant has been issued for her arrest. Hutton said there were children in the store at the time of the incident, but he is not sure if they were with either of the women involved. pressofatlanticcity.com

Game Stop roof top Burglary in Stillwater, OK end with Police Chase and crash Police arrested a 19-year-old early Tuesday morning, suspected of cutting a hole into the roof of a Stillwater Game Stop. He and another burglar crashed; the second person remains hospitalized. One man woke up behind bars and another in the hospital after allegedly burglarizing a Stillwater business. Police arrested 19-year-old Markez Thompson, from Nebraska, for second degree burglary, possession of burglary tools and attempting to elude officers. He and another person are suspected of cutting a hole into the roof of a Game Stop. Thompson ran on foot and was caught, while a second suspect drove from the Game Stop down Hall of Fame Avenue, chased by police. He crashed in a backyard, injuring himself seriously. kfor.com

Kay Jewelers employee in Center Valley, PA tries to re-sell a $7,999 stolen diamond ring A Kay Jewelers employee stole a 2-carat Neil Lane engagement ring from The Promenade Shops. Travis Michael Ketchen of Nazareth, reportedly tried to sell the $7,999.99 ring on July 25 to another jewelry store where it was recognized as belonging to Kay Jewelers. The jeweler did not purchase the ring and provided surveillance video footage of Ketchen. The Neil Lane ring was reported missing from the Center Valley store safe on July 13. wfmz.com

DNA hit and a Punch in the nose brings arrest for Walgreens robbery In Urbana, IL A Champaign man's DNA left behind at an Urbana drug store late last year has led to his arrest for robbery. Urbana police investigator Dave Smysor said he learned recently from the Illinois State Crime Lab that blood left at Walgreen's was found to contain DNA that matched that of Levester Pettigrew. Smysor said that in the early morning hours of Dec. 13, 2014, a man came in the Walgreen's and asked a clerk for change. When the male clerk opened the register, the man reached across the counter and snatched a handful of $20 bills. Smysor said the clerk then jumped over the counter and got into a fight with the robber, bloodying his nose in the process. news-gazette.com

Search continues for suspect in Under Armour Armed Robbery in the Tanger Outlet in Bluffton, SC The search for the armed man, who robbed some employees at a popular shopping center in Bluffton, continues. Two employees of the Under Armour store at Tanger Outlet One were robbed at gunpoint, as they opened the store around 8 a.m. on Tuesday. Investigators say the man, dressed in black clothes, with a black mask, approached the two, entered the store, demanded money, and ran. The Beaufort County Sheriff's Office has been looking for him ever since. Deputies canvassed the area of Fording Island Road with assistance from Bluffton Police, for hours. There were feet on the ground, and eyes from the sky as the chopper flew above. They did find what they believe to be the suspect's handgun. wmbfnews.com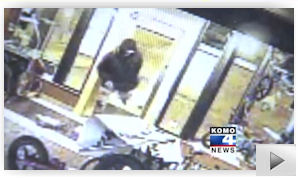 Thieves smash window, spend hours looting Tacoma, WA business Surveillance cameras caught a smash-and-grab looting that went on for hours inside a local business. Aside from being upset by the thefts, the owner is also frustrated about all the bystanders who never raised the alarm. "They threw a large piece of concrete right through the front window," said Josh Norris, who's been gearing up for the grand opening of Sluggo Brewing on 6th Avenue. From there, the hooded thief then snatched a mountain bike off the rack and walked out. komonews.com

Polk County FL Sheriff's Department busts suspects with 85 Counterfeit Credit Cards Texas man called the Polk County Sheriff's Office earlier this year to say his debit card was being used in Davenport, FL. He said he'd never been to Davenport and didn't lose the card, yet somehow someone had used it to take money out of a CenterState Bank ATM there. Deputies pulled surveillance video from the bank and said it showed 29-year-old Harvey Jackson Jr. using the card. They then got a warrant to search his Davenport home. When they went to the house on Sunset View Drive on Tuesday, deputies said they found Jackson, his 34-year-old girlfriend and her mother. They also found a credit card re-encoder. Deputies said Jackson had about 85 counterfeit cards made from information he got from the internet. storyclash.com

Tampa, FL Man Sentenced to 4 years in Prison for Credit Card Fraud and Identity Theft United States District Judge James D. Whittemore has sentenced Dariel Sardinas Lopez (22, Tampa) to four years in federal prison for credit card fraud and identity theft. He pleaded guilty on April 22, 2015. According to court documents, Sardinas Lopez produced and trafficked in counterfeit credit cards. These fraudulent credit cards were encoded with the numbers and information of victims whose cards had been "skimmed" at local gas stations. justice.gov

Dallas County deputy arrested for shoplifting in uniform
A Dallas County sheriff's deputy was arrested by Garland police Tuesday for allegedly shoplifting from a Tom Thumb grocery store eight times. Darrell Markeith Moore, 49, was charged with one count of theft between $50 and $500, a Class B misdemeanor, after the eight incidents over the course of a month were combined for one charge. wfaa.com

Police use Taser to subdue hammer-wielding man at Wal-Mart

Bizarre bistate police chase began over underwear

Two Middleburg, FL women charged with carjacking and false imprisonment after Kohl's shoplifting incident

Walmart Shoplifting suspect sought by North Augusta, GA Police

Dubai gang steals millions from villas, buries loot in desert



---

● Capeview Food - Norfolk, VA - Burglary
● Cashland - North College Hill, OH - Armed Robbery
● Casey's General - Great Bend, KS - Robbery
● Chevron - San Antonio, TX - Armed Robbery
● CVS - Haddonfield, NJ - Armed Robbery
● Dunkin Donuts - Woodstown, NJ - Burglary
● Family Dollar - Atlanta, GA - Shooting/ 1 man killed
● GameStop - Glassboro, NJ - Theft
● Hy-Vee - Jefferson City, MO - Robbery/ Shooting
● Kum & Go - Owasso, OK - Shooting
● Las Palmas Grocery - Corpus Christi, TX - Armed Robbery
● Metro PCS - San Bernardino, CA - Burglary
● Mobile - Mansfield, CT - Armed Robbery/ employee charged
● Rabba Foods - Brampton, ON - Armed Robbery
● Rite Aid - Haddonfield, NJ - Robbery
● Southern Food - Suffolk, VA - Armed Robbery
● Stars and Stripes Flag Store - Rochester, NY - Robbery
● Under Armour - Armed Robbery
● Verizon - Lexington, KY - Armed Robbery





To apply to today's Featured Jobs, Click Here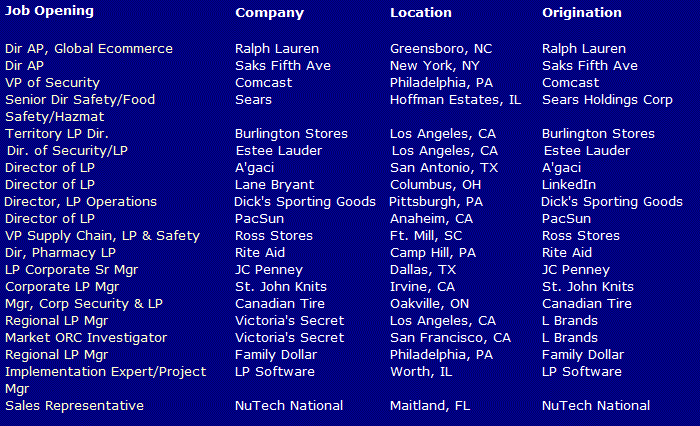 Limited Time Only - Post Your Multi-Unit LP jobs for FREE - Learn More Here




Today's Daily Job Postings from the Net - Appearing Today Only

To apply to today's Internet Jobs, Click Here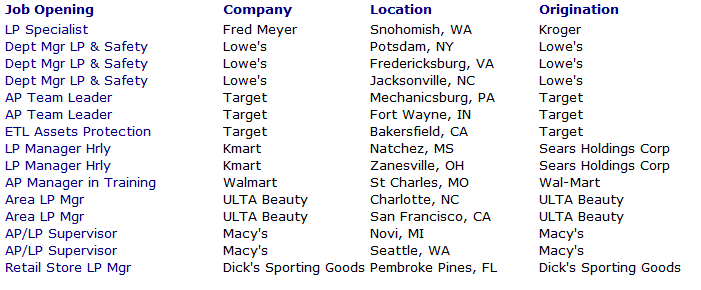 Tony Sweeney was promoted to Regional Loss Prevention Manager for Guitar Center.



Seems like the longer a process goes, the harder it is for everyone to stay focused on the initial purpose and maintain the enthusiasm as when it began. Time and difficulty have their impact, but maintaining the passion and enthusiasm is up to each person. With the last step seemingly the easiest, it is usually the most critical step of all and many tend to approach it as if it is a mere formality when, in reality, that last step can be the biggest and, if you do not watch out, it could be a step right off the cliff.

Just a Thought,
Gus Downing




Post Your Tip or Advice! Click Here

Please make sure to add d-ddaily@downing-downing.com to your contact list, address book, trusted sender list,
and/or company white list to ensure you receive our newsletter.
FEEDBACK / www.downing-downing.com / ADVERTISE WITH THE DAILY