2014's GLPS's - Group LP Selfie's


Your Team - Your Pride - Our Industry

One Selfie at a Time



Burlington Stores, Inc. Houston, Texas
Loss Prevention Team

"Burlington - Brag About It!"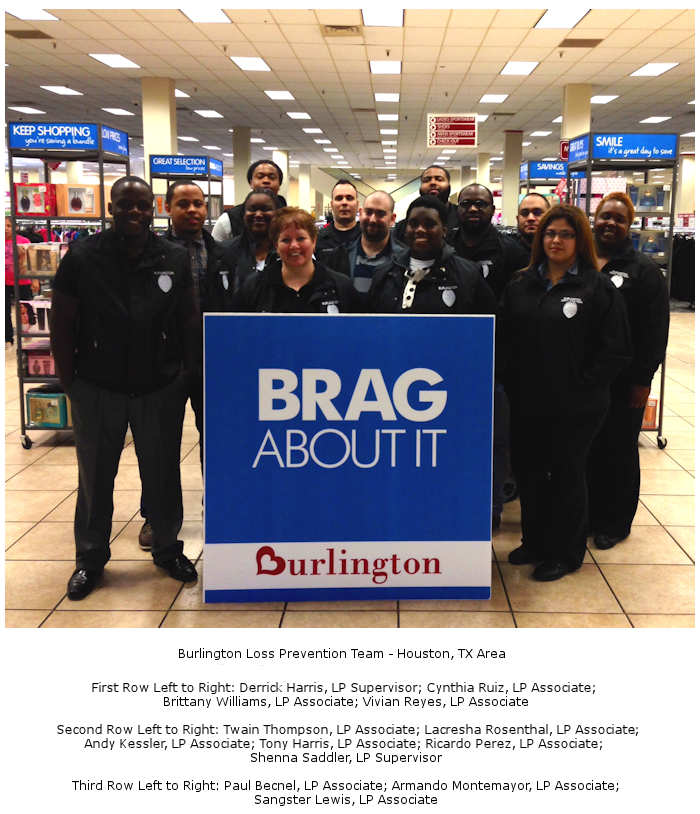 *Published on November 14, 2014

Show Your Industry Your Group LP Selfie

Building the LP/AP Industry One Selfie at a Time
---
View all the selfies here. Send us your Group LP Selfie!





American Apparel & Footwear Association issues open letter of complaint to Alibaba over counterfeit fight The letter released Friday by the American Apparel & Footwear Association, an Arlington, Va., group representing more than 1,000 clothing and shoe brands, marked the latest sign of frustration from some brand-owners over what they call the rampant selling of knockoffs on Alibaba's platforms. The letter, which is addressed to Mr. Ma, Alibaba's co-founder and chairman, and signed by the association's chief executive, Juanita Duggan, said that despite years of discussions, no "meaningful" outcome has been achieved.

In particular, the group criticized Alibaba's procedures for handling complaints from brand owners as overly onerous and opaque. The group urged the company to create a process under which Alibaba takes down listings of counterfeit products more quickly when brands request it. wsj.com

Wearables to account for 20pc of mobile proximity payments by 2020: report

Brick-and-mortar retailers rush to expand online


"Fraud is not a person - it is a dynamic grouping of statistics that deviate from the norm."
Stuart B. Levine, CFI, CFCI
CEO, The Zellman Group & Zelligent




ORC male suspect busted after hitting Walmart stores across Georgia A serial shoplifter is behind bars after investigators say he hit several Walmarts across Georgia and was caught in the act on surveillance cameras. Rincon Police showed WTOC the video that revealed Justin Graham of Jacksonville loading his cart full of hard drives before stealing them from the Rincon Walmart. Investigators say he hit stores in Effingham, Camden, Crisp and Henry Counties, but was finally caught and arrested in Tift County. Police are saying it was how he was shoplifting that made him hard to catch. In April, he was caught on camera inside the Walmart in Rincon. Investigators say you can see him filling up his cart with hard drives and then covering them up, but what you don't see, is him taking a printer out of a box and replacing it with all the hard drives.

In fact, during a routine traffic stop in South Carolina, investigators found four car seat boxes full of Walmart merchandise in Graham's car, but at the time, investigators couldn't prove they had been stolen. Prior to being caught, police believe he had stolen thousands of dollars worth of goods that he would then cash in. wtoc.com


Miami women use phony IDs to open $20,000 credit line, send stolen goods home Two Miami women accused of credit card fraud in Sarasota County are facing additional charges after they shipped about $20,000 worth of stolen merchandise to South Florida via UPS, deputies said Wednesday. Jennifer Izquierdo and Gladys Perez face numerous counts of grand theft and criminal use of personal identification. The Sarasota County Sheriff's Office said the women were arrested after providing false information to open credit lines and spend more than $10,000 at area stores. Security at Saks Fifth Avenue contacted deputies Thursday to report that two women used fraudulent driver's licenses to open credit lines at the store. Deputies said security alerted them again after the women returned the next day and were trying to use the phony credit lines again. Deputies said the women spent more than $10,000 at Saks, GameStop and Dillard's. During their investigation, detectives found UPS tracking information and learned the women sent more merchandise to Miami. local10.com

Two New Yorkers Arrested At Santa Monica Apple Store; Suspected Of Buying $90K With Fraudulent Cards When the Police arrived they spoke with loss prevention agents at the store who told them that two suspects had been making very large purchases with fraudulent credit cards. They said that one of the suspects had made a purchase of $7,000 worth of Apple products and had left the store while the other suspect was in the process of attempting to make a second purchase. The agents added that at that time a loss prevention agent had recognized the suspects as being individuals who were wanted in regard to ongoing fraud activity that had been taking place within the previous two days at other area Apple Stores. The total estimate of goods obtained by fraud was said to have been in the area of $90,000. The agent then pointed out the suspect who was outside the store to officers while other officers detained the second suspect inside the store. smmirror.com


Two arrested in Cargo Theft of $130,000 of Pepperidge Farm Cookies, sold at Flea markets and C-stores "Investigators from South Carolina ran across a gentleman selling the same products at a flea market in large quantities. The items were not out of date and the billing labels came back to stolen property out of Ohio," said Chief Lytle of Old Fort NC Police Department. Grant had allegedly picked up the Pepperidge Farm shipment in Ohio through his employment with the trucking company and was supposed to be en route to Atlanta for delivery. Lytle said that Grant and Carson apparently masterminded a scheme to sell the snack items at local flea markets and businesses and in South Carolina. "Carson then profited over $20,000 by up-selling the product in South Carolina. Officers have recovered around 500 cartons of the 1,885 cartons stolen. mcdowellnews.com



Titusville, FL Police arrest man connected to thefts Walmart, Ace Hardware and Tractor Supply Titusville police arrested 47-year-old Paul Meeh of Cocoa after linking him to multiple retail thefts across the county on Saturday. Police believe Meeh to be responsible for stealing items from, two Wal-Marts, Ace Hardware and the Tractor Supply Company. Officers responded to the Titusville Wal-Mart where they arrested Meeh after interviewing him. floridatoday.com


Charleston, WV Police Arrest Two in Connection with Cabela's Theft Ring
Fitzgerald Ingram and Quinn Collins were arrested Wednesday evening. Ingram is charged with wanton endangerment and being a person prohibited from possessing a firearm. Investigators say they received a report about shots fired on the West Side earlier in the day. Officers were on foot when they saw a car take off. The shots were fired at a garbage dumpster in the area. The car was later found with a gun inside. Police also found another gun outside the car that they believe may have been thrown from it. Investigators say they were working on a theft ring that happened at Cabela's where several rounds of ammunition were apparently stolen from the store. wsaz.com

Theft of Pepsi, Nabisco trucks, sale of stolen goods put 2 men behind bars
A pair of Portland-area business owners were sentenced to time behind bars this week for their role in a scheme that involved stolen trucks loaded with cargo that included Oreos, Pepsi and paper products. The thefts were linked to a theft ring run by Randy Steven Coenen Jr., a career criminal and meth addict, and an associate Matthew Belmont. oregonlive.com


Do you have an ORC case to share? Publishing it educates the LP & retail community
which might fuel even more jobs and funding.
Share your ORC news and help the industry grow


Feds: Oakland, MI., County - Romanian 'Pirate' Skipped Country - Part of interstate cargo theft ring "operating like a band of pirates" A manhunt is underway by Department of Homeland Security to find an Oakland County fugitive who admitted he was part of an interstate theft ring where he was paid to transport stolen merchandise during daring larcenies, then buried and hid treasures. Raids found over $1M worth of stolen property. Stereos, electronics, equipment, jewelry, designer clothing and two pallets of baby food. The cargo theft happened at truck stops along Interstate 40 corridor through Arizona, New Mexico, Texas, and Oklahoma. GPS tracked Bose stereo's back to a Grand River storage unit in Michigan. The suspect is on the run. patch.com

Thieves swipe $150K in handbags from Chanel store in NYC
Four thieves walked into the Chanel store on Madison Avenue and bolted with 11 handbags that retail for a combined $150,000. The men entered the Upper East Side location between East 64th and 65th streets around 1:15 p.m. Tuesday and snatched the purses, which range in price from $2,000 to $45,000. After shoving a Security Guard out of the way, they ran outside and down the street before hopping into a four-door red sedan and making their getaway. nypost.com

Neiman Marcus employee busted for $97,000 refund/ gift card fraud at Short Hills Mall, NJ Police were called to the Neiman Marcus store at The Mall at Short Hills July 22 to investigate a report of an employee being detained for fraud. Neiman Marcus personnel alleged the employee, Todd Heibel, 39, of New York City, made 26 fraudulent returns to credit and gift cards totaling $97,781. Police arrested Heibel and charged him with theft by deception. northjersey.com


2-State Police chase began over Warrant for Stolen Underwear The dramatic 2 hour chase ended Monday night when authorities clipped the suspect's van, flipping the vehicle over. Robert Ritter of Blackwood, New Jersey is named as a suspect in two separate incidents in the past month or so. On July 9, Ritter allegedly pushed and shoved a loss prevention officer while trying to shoplift $21 worth of underwear and T-shirts from the ShopRite in Brooklawn, New Jersey. Ritter fled, but loss prevention caught the license plate number of the man's white van. The pursuit ended in Philadelphia when a police auto bumped the van, causing it to flip over. The driver escaped with his hands up and he was arrested. No police officers were injured in the two-hour chase. The police had discovered that there was a warrant out for the driver of Mr Ritter's van following an armed robbery involving a shotgun. nbcphiladelphia.com

Cargo Theft: Three men charged with trying to steal semi full of toilet paper; valued at $70,000 The trio - ages 36, 42 and 51 years old - were arrested early Sunday after Sikeston and Missouri state police saw them drive off with the trailer from a Sikeston trucking company. Officers at the time were monitoring the company after other thefts from it had been reported. The semi tractor used in Sunday's alleged theft had been stolen that night from a trucking company in Memphis. kspr.com

Zales Outlet Employee accused of stealing $15,000 of jewelry in Troutdale, OR
A 29-year-old woman is accused of stealing $15,000 worth of jewelry from her employer, Zales Outlet, in Troutdale, OR and selling the rings and necklaces on Craigslist. Christie Lynn Boyd admitted to officers that she stole nine pieces of jewelry over a three-week period and sold the items online to people she didn't know, according to a probable cause affidavit. Boyd said she received $800 for the stolen jewelry and used the money to pay her bills, the affidavit said. oregonlive.com




Jared Smash and Grab Robbery in Lexington, KY, focus of Crime Stoppers At 8 p.m. June 19, three men entered the Jared jewelry store. One of the men, wearing an "Enemy of the State" sweatshirt, stood guard by the door as the other two smashed glass cases with a hammer. They stole about 50 diamonds. Bluegrass Crime Stoppers is offering a $1,000 cash reward for information about this crime. kentucky.com



Grasso Jewelry in the Sorrento Mall, Lodi, NJ the victim of a Burglary
An unknown person entered the store and two other businesses in the mall between 1:30 and 2:30 a.m. on July 15. The suspect(s) removed several items from a safe in the jewelry store and fled. "There was nothing taken from the other stores. They went into those stores to get into the jewelry store. It's a strip mall, so all of those stores are attached," said Lt. Robert Salerno. northjersey.com

Casey's General employee gets a DUI when she shows up for Cash Shortage Interview A Huntingburg, IN woman was arrested for DUI and several outstanding warrants during a theft investigation. Police were called to Casey's General Store on Wednesday morning. Officers say Casey's managers told them that Alicia A. Higgs (an employee) stole money from the cash register. A records check indicated that Higgs was wanted for Aggravated Assault, Probation Violation, and Family Strong-Arm. Police waited for Higgs to arrive at work to serve the warrant. When Higgs arrived, officers say they smelled a strong odor of alcohol. She was transported to the Jasper Police Department for a chemical test. Police say her blood alcohol content was .113. Higgs was arrested; the cash shortage investigation continues. 14news.com

Subcontractor charged with copper wire theft at Burlington Coat Factory warehouse

Suspect in fatal shooting at Owasso, OK Kum & Go store turns self in; two others sought

Texas TV Reporter confronts woman accused of stealing his identity

Elgin, IL man suspected in retail thefts at Target and Meijer

Dover, DE Police alert Retailers of increased Fraudulent Returns

Austin, TX shoplifting suspect allegedly hit Family Thrift employee with car

Aspen Marijuana Shop robbed by man with Hammer; $11,000 of product stolen

Tampa man sentenced for credit card 'skimming' fraud

Skimming scam uncovered at Scottsburg, IN gas station



---

● Advanced Auto - Winston-Salem, NC - Armed Robbery
● Aim and Defend - Charlotte, NC - Burglary
● Alta Convenience - Pueblo, CO - Armed Robbery
● AM/PM - San Bernardino, CA - Armed Robbery
● Avondale - St Catharines, ON, CN - Armed Robbery
● CVS - Central Falls, RI - Robbery
● Dollar General - Mullins, SC - Armed Robbery / Manager shot
● Dollar General - Albany, GA - Armed Robbery
● Family Dollar - Detroit, MI - Shooting
● Family Dollar - Las Cruces, NM - Shooting/ suspect killed
● Hola Mobile - Fresno, CA - Burglary
● Mario's - Lansing, MI - Armed Robbery
● Rush - Rogersville, PA - Robbery
● Southern CA Bible Store - Hemet, CA - Robbery
● Tesco - Humberside, UK - Armed Robbery
● Unique Gifts - Glasgow, KY - Distraction Theft
● 7-Eleven - Chicago, IL - Robbery





To apply to today's Featured Jobs, Click Here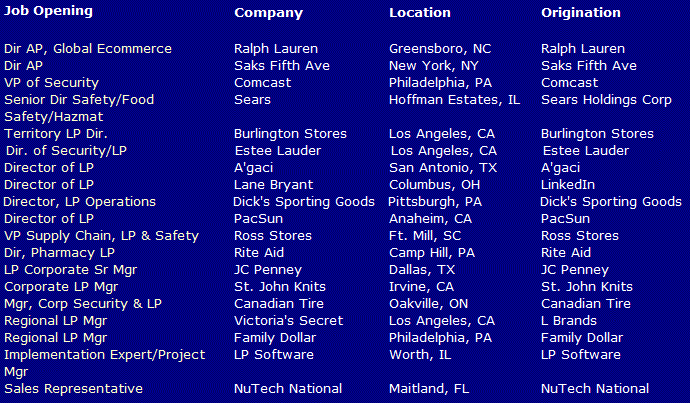 Limited Time Only - Post Your Multi-Unit LP jobs for FREE - Learn More Here




Today's Daily Job Postings from the Net - Appearing Today Only

To apply to today's Internet Jobs, Click Here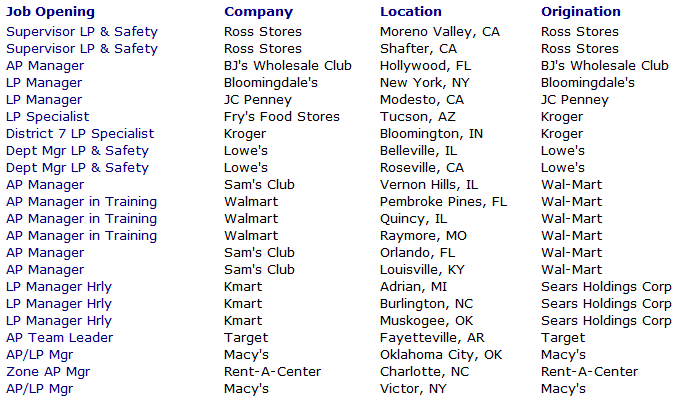 | | |
| --- | --- |
| | Jim Nelson was named Director of Safety for CVS Health. |
| | JJ Marowski was named District Loss Prevention Manager for TJX Companies. |
| | Patrick Burkeen was promoted to Sr. Manager Environmental Health and Safety MET for The Home Depot. |

The Difference Between Success and Failure Success is in the eye of the beholder. You may have all the money and influence in the world, yet still feel unsuccessful. There are some people who don't have either of those and feel completely fulfilled. The key to being successful, is how you view the end results. Balance fear with excitement

How Successful People Beat Stress
It's easy to be happy and think we have the bull by the horns when times are good and falling into our favor. But as soon as the other shoe drops, and we start to lose control, our anxiety starts to take over. Those who stay successful are the ones who use this anxiety to fuel their drive. Here's how they do it. Expect and Prepare

Sometimes it's not what you say that's important as much as it's what they feel six months after the conversation. Being a good wordsmith is a skill, but ensuring that what you say leaves the right impression long term is a true art and one that is only reached by reflection and intention.

Just a Thought,
Gus Downing




Post Your Tip or Advice! Click Here

Please make sure to add d-ddaily@downing-downing.com to your contact list, address book, trusted sender list,
and/or company white list to ensure you receive our newsletter.
FEEDBACK / www.downing-downing.com / ADVERTISE WITH THE DAILY