Corporate, Regional and District LP Teams

Your Team - Your Pride - Our Industry

One Team at a Time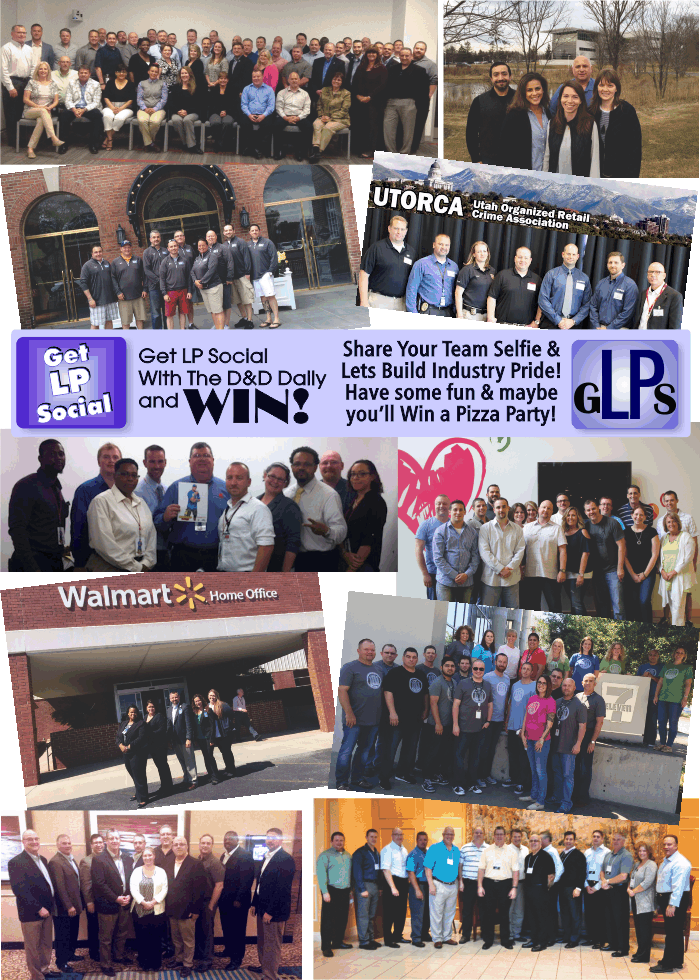 Show Your Industry Your Group LP Selfie

Building the LP/AP Industry One Selfie at a Time
---
View all the selfies here. Send us your Group LP Selfie!







Cyber security is keeping Canada's top CEOs awake at night - Get the strategies you need to tackle cyber threats at RCC's LP conference Last week the Canadian government announced new funding to help both government agencies and private companies prevent cyber attacks. How can your business stay ahead of cyber crime? Register today for RCC's LP Conference. Our program is chock full of experts and security professionals dealing with cyber risk in the retail space on a daily basis.

Canada 6th most attractive location in the world for retailers to operate
Canada scored particularly high in the index's 'ease of operating' ranking, and scored strongly overall. The Arcadis Retail Operation Index ranks 50 international markets according to five key factors that retailers consider when selecting retail locations. These include the following, with Canada's rankings: 1. Infrastructure quality: Canada: 10 2.Ease of establishing a business and getting it 'up-and-running': Canada: 9 3. Market demand: Canada: 9 4. Economic environment: Canada: 10 5. Ease of operating: Canada: 3.

The ten most favourable markets for retailers, according to the Arcadis Retail Operation Index, include:

1. Hong Kong
2. Singapore
3. United States
4. Japan
5. United Kingdom
6. Canada
7. Germany
8. United Arab Emirates
9. The Netherlands
10. Sweden retail-insider.com

Violent crime rate down for 8th year in a row as crime falls to 1969 levels
Violent crime in Canada fell for the eighth straight year - despite a slight increase in homicides - with Saskatoon becoming the country's most crime-ridden city. Doob said violent crime appears to have been decreasing across western countries for ages - with a still unexplained upward blip in the 1960s and 1970s. What's clear, he said, is that politics and government anti-crime legislation have little to do with it. canadiansecuritymag.com

Food inspectors' union concerned about food safety in Canada - "Particularly worrisome in the Toronto area" The union representing federal food inspectors says they're worried budget and staffing cuts may impact food safety in Canada. Public Service Alliance of Canada spokesman Bob Kingston says there are not enough inspectors working in meat and poultry slaughter facilities in Ontario to make sure companies are adhering to all safety requirements. The problem is particularly worrisome in the Toronto area where a union survey indicates inspector staffing is as much as 39% below what is required by the Canadian Food Inspection Agency.

Kingston says he is concerned that the 2015-16 CFIA Report on Plans and Priorities indicates the meat and poultry inspection program will lose almost $35 million in funding and 273 jobs by 2018.

A spokesman for Health Minister Rona Ambrose said Tuesday in an email that 200 frontline food safety inspectors are to be hired and the government has provided the CFIA with the highest funding levels in Canadian history. canadiangrocer.com

Lowe's Canada to add 14 stores
In addition to completing the acquisition of 12 former Target sites, the company also plans to open two more locations in Ontario, which will bring its total store count to 54 from 40. chainstoreage.com

Deputy Director, Asset Protection for Holt Renfrew- Canada's Ultimate High End Retailer - The #2 spot in AP located in Toronto Corp. Support Center Working with the Director, Asset Protection, the Deputy Director, Asset Protection proactively defines, develops, implements and monitors the appropriate company-wide asset protection strategies for all channels of business at Holt Renfrew to ensure the protection of assets, employees and customers within a luxury shopping experience. Editor's Note: Holt Renfrew for years had the market cornered in Canada as the #1 high-ender in Canada. Now with Saks Fifth Ave and Nordstrom invading the market they will have competition. Over the last year Holt has made some significant announcements about opening another smaller format store and remodeling a few locations. They've got a great reputation and the stores are a Canadian staple for luxury shoppers. But they'll have their challenges with especially Saks Fifth Ave opening up across the country. This would be a great job to look at in the AP community. taleo.net

Hudson's Bay Company - HBC - post 21 Asset Protection positions on LinkedIn in last 10 days Staffing positions in both Hudson's Bay stores and Saks Canada stores the two divisions are staffing up in AP. From Investigators to Managers HBC is getting ready for the fourth quarter holiday season obviously and the new Saks stores. linkedin.com

Jones New York 35 stores & e-commerce bought by Grafton, Tip Top Tailors, will remain open and even expand

Canada Nine West Operator Gets US Bankruptcy Recognition - Thus protecting their license agreements

Canadian e-commerce to hit $30B in sales & some online sites opening retail stores

Retail Fast Facts: July 2015

Highlights:
● Total monthly retail sales changed by 1.2 per cent over the comparable month last year.
● Total sales excluding food, automotive and gasoline changed by 3.8 per cent over the comparable month last year. Read more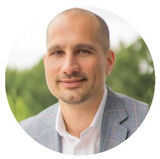 In response to multiple data breaches over the past few years, several retailers decided to hire Chief Information Security Officers to oversee information security, data protection and vulnerability management, reporting directly to the CIO.

In this opening keynote session, learn how Jamil Farshchi, Chief Information Security Officer, The Home Depot, successfully protected some of the world's most sensitive information assets, including nuclear weapons, financial systems and networks, and complex technologies such as the space shuttle, Hubble Telescope, and Mars Rover.

RCMP Adopts Gentler Grilling of Suspects
Canada's national police force is taking a gentler, less accusatory approach to suspect interrogations amid growing criticism that certain interview tactics used widely by law enforcement agencies can lead to false confessions. Under the RCMP's new approach, quietly adopted in December, investigators are encouraged to keep an open mind, resist presuming guilt, and focus more on gathering information than on getting a confession, Sgt. Darren Carr, who led the development of the new interview model, told the National Post. "When I'm training people, I always say, 'Less Kojak and more Dr. Phil,' " he said, comparing the gruff 1970s fictional TV detective to the more easygoing style of the popular TV host/psychologist. Like most North American police agencies, the RCMP's traditional interviewing methods were heavily shaped by the Reid Technique. Pioneered in the U.S. in the 1950s, and named after Chicago polygraph expert John E. Reid. thestarphoenix.com

Rexall Pharmacy employee faces theft, trafficking charges in Arnprior, ON
OPP issued a news release Tuesday about an arrest at Rexall Pharmacy earlier this month. It is alleged a female employee was stealing narcotics from the Daniel Street store "over a period of several months." The employee faces theft and trafficking charges. Pharmacy manager Maleeha Jahanzeb declined comment, saying someone from the corporation's head office in Mississauga will answer questions. Charged with two counts of theft under $5,000 and four counts of trafficking in a schedule 1 drug is Brittany Hulan, 30, of Perth. insideottawavalley.com


Car crash helped Toronto police solve string of Armed Robberies across city A crash involving the getaway car in a Scarborough gas station robbery May 28 helped police solve a rash of armed holdups throughout the city. Staff Insp. Mike Earl said the suspects lost control of the vehicle due to their "haste and excitement" of receiving cash. The car, which wasn't stolen and didn't belong to one of the suspects, slammed into a tree in Durham Region. The suspects fled. The vehicle led police to suspects involved in 12 armed robberies, including five at TTC collector booths at the Castle Frank, Chester, Donlands, Greenwood and Rosedale subway stations. Some suspects, police allege, were selling TTC tickets online. insidetoronto.com

Toronto man arrested following identity theft investigation
After a two-month investigation, Halton police have charged a 48-year-old Toronto man with making identity information available for a fraudulent purpose. Moussa Kante, a former employee of GM Financial, was allegedly providing customers' identity information to counterfeiters. citynews.ca

Chilliwack RCMP look for leads following a pair of armed robberies

Nanaimo suspect arrested after crime spree on Vancouver Island




Seven Ways to Fight E-commerce Fraud
LexisNexis reports that in 2014, large e-commerce merchants - those most able to pay for sophisticated fraud prevention systems - lost 0.85% of revenue to fraud, well above the 0.68% average. Online merchants paid $2.62 per dollar of online fraud and $3.34 per dollar of mobile fraud. By one estimate, U.S. Card Not Present fraud losses will surge from $3.1 billion in 2015, to $6.4 billion in 2018.

1. Is it too good to be true? If you typically sell one widget per customer and someone orders 100 in one order, pump the brakes.
2. Can you validate the order? If an order seems suspicious, validate it.
3. Duck test You've probably heard the expression, "If it looks like a duck, swims like a duck, and quacks like a duck, then it probably is a duck."
4. Create a blacklist Record a blacklist of fraudulent credit cards, email addresses and shipping address so you automatically decline them in the future.
5. Track the performance of fraud rules Whether your use a fraud tool or monitor transactions manually, create rules for preventing fraud.
6. Update your rules Review declined transactions frequently so you understand what forms of fraud are most prevalent and adapt your rules.
7. Identify your targets Fraudsters often target products that will be easiest to resell. chainstoreage.com

Banks Brace for Fraud Migration
Big banks are bulking up their IT security budgets as they brace for fraud to migrate to the online and mobile channels in the wake of the U.S. implementation of EMV chip technology for payments. "Banks expect to see an increase in all types of fraud," Conroy says in an interview with Information Security Media Group. "We're in the process of migrating to chip cards in the U.S. market, and as we've seen in other markets, that has resulted in fraud migration. And one of the places that fraud goes to is online and mobile account takeover." Banks are making bigger investments in online and mobile fraud prevention even though fraud in these arenas is currently low, Conroy explains. "The majority of banks that I interviewed either said that their losses are flat or are down. But nobody expects this happy state to continue." bankinfosecurity.com

Amazon Prime has 44 million U.S. customers and they're increasingly loyal

32% of retailers plan to spend more on online marketplaces this year

Will Mobile Wallets Completely Replace Physical Wallets?


"Fraud is not a person - it is a dynamic grouping of statistics that deviate from the norm."
Stuart B. Levine, CFI, CFCI
CEO, The Zellman Group & Zelligent




Mainland ORC gangs targeting high-end Oahu stores with counterfeit credit cards Honolulu police are trying to crackdown on mainland gangs who are sending people to Hawaii to make high-end purchases with counterfeit credit cards, putting them up in expensive hotels while they charge expensive merchandise to unsuspecting credit customers across the country, sources said. Police arrested Bo Fu, 25, from Pomona, Calif., July 20 at Nordstrom Ala Moana, and charged him with four felony counts including ID theft and theft.Fu is accused of using a counterfeit credit card to purchase a handbag worth about $500 from the Bulgari store at Ala Moana a few days before. He's suspected of being a member of a gang from Southern California.

Law enforcement sources said on any given weekend, people from gangs around the country are in Honolulu making similar fraudulent, high-end purchases.

"It is increasing more and more and I think that's something that the public should know about, because it also poses a safety hazard to the public, to employees of the store," said Sheri Sakamoto, president of the Retail Merchants of Hawaii, representing 3,500 storefronts across the state.

Sources said law enforcement in Honolulu has tracked many of the fraudulent credit card purchases at fancy stores here back to organized retail theft gangs who bought legit credit card numbers from Russians obtained through various data breaches in this country. hawaiinewsnow.com

ORC male suspect busted in thefts from Target and Meijer stores in three counties in IL Gilberto Feliciano, 49, of the 1200 block of Forest Drive, Elgin, was charged with five Class 3 and nine Class 4 felony counts of retail theft as well as a misdemeanor count of resisting a police officer. He was arrested July 21 at Meijer in Elgin. An Elgin officer worked with loss prevention officers to identify Feliciano, police said. He was found to have five previous retail theft convictions in DuPage, McHenry and Kane counties. In the incidents Feliciano is believed to have taken $3,675 in merchandise from the stores, including liquor, TVs, video and digital cameras, headphones, speakers, and DVD players, police said. chicagotribune.com


Indian River Co, FL Police arrest 2 shoppers with 112 fake credit cards Two men from Miami-Dade County were arrested Tuesday after one of them was caught making purchases at Target in Indian River County with a fraudulent credit card. Police recovered two bags containing a total of 112 fake credit cards left on the side of the road with the same name, "Raul Mena," printed on the fake credit card used at Target. Anibal Tanoue, said he was approached by Federico Wouterlood in Miami. The two men had a system in which Wouterlood would drive Tanoue to various stores between Vero Beach and Miami. Tanoue would make a purchase, Wouterlood would then keep the purchased merchandise and give Tanoue a share of profits. veronews.com




Sherman, TX Police looking for Academy Sports theft suspect Sherman Police need your help identifying a thief they say has hit a local sporting goods store several times. They say the man has stolen merchandise for the Academy in Sherman at least 4 times totaling a loss of about $4,000 dollars to the store. They say he prefers to steel knives and fishing reels. kten.com



ORC Trio hits Walmart store for cart load of electronics in Union


Do you have an ORC case to share? Publishing it educates the LP & retail community
which might fuel even more jobs and funding.
Share your ORC news and help the industry grow


'Pack Style' robbers hit Bloomingdales & Macy's pepper spraying Loss Prevention in Montgomery County Police have released surveillance camera images of several suspects believed to have robbed Bloomingdale's and Macy's recently, using pepper spray on guards in both cases. Two pack style robberies that occurred inside department stores in Chevy Chase and Bethesda. The two have not been connected yet. The first July 3rd at Bloomingdales in Chevy Chase say numerous males and females entered the store, concealed merchandise and tried to leave without paying. LP officers were pepper sprayed and assaulted by the suspects outside the store.

On July 23rd two suspects reportedly stole merchandise from Macy's in Bethesda and once again the LP officers were pepper sprayed when they tried to stop them. patch.com

Papa John's delivery employee killed in an ambush in Columbus, OH
A pizza delivery driver was shot and killed late Thursday night after police say he was lured out of his store with a fake order. Investigators said the home was vacant and that it is likely that he was set up for a robbery. Investigators believe there was more than one robber and say they got away with two pizzas and a small amount of cash. nbc4i.com

Theft Victims Lost Nearly $80M in Cash, Valuables in 2014: California Department of Justice Burglars and thieves stole nearly $80 million in cash and goods from people in San Jose last year, according to data NBC Bay Area has obtained from the California Department of Justice. Experts point to low staffing levels at the police department and more brazen crooks as part of the reason crime is costing residents so much in San Jose. The high cost of crime in San Jose has been rising in the past few years. In 2013, victims lost more than $76 million. And in 2010, victims lost more than $47 million, according to the California Department of Justice. Last year, stolen vehicles accounted for nearly $36 million worth of items stolen. Jewelry accounted for nearly $14 million of what was stolen, and office equipment, like computers and laptops, accounted for $5 million worth of items stolen. nbcbayarea.com

Thieves target 'Cash Cow' ATMs; steal $500K in Slidell, LA
A gang of thieves treated the Cash Cow check-cashing company as their own cash cow, making off with more than $500,000 from ATMs over the past year, police said Thursday. Two of the thieves were caught fleeing early Sunday from a Cash Cow office in Slidell, Sgt. Daniel Seuzeneau said Thursday. The ring has struck nearly 100 times in and around New Orleans over the past year, frequently targeting the Cash Cow company and sometimes returning several times to the same location. The thieves would first trigger the alarm system and watch police respond, Seuzeneau said. They would break in later, using power tools to steal ATMs or open safes, sometimes even stealing surveillance cameras. elkharttruth.com

Cargo Theft: Tons of beef stolen in truck-stop theft outside Toledo, OH
The driver stopped to repair his air conditioner on his 900 mile trip, only down for a few hours. That's all it took for someone to steal his 40,000 pounds of beef. At least one thief late Saturday evening stole the trailer and its tons of beef trim from the lot at Petro Stopping Center off I-280. He went inside for about four hours and returned to find his trailer missing. Beef trim is "kind of garbage meat" and costs about $1 per pound, said Arnold Berg, owner of the trucking company. "I'm sure the people were disappointed when they found out it was just trim meat," said Mr. Berg, 81. The vehicle and cargo are insured, but total deductibles will likely exceed $15,000. toledoblade.com

UK: London Gang Jailed Over string of Luxury store Smash and Grab Raids
A gang of armed robbers including, the Essex ringleader, have been jailed for a total of 64 years for a string of smash and grab raids on luxury stores across London. The thieves targeted designer shops and jewellers including Selfridges department store, Jimmy Choo and Prada in Old Bond Street. In one raid the gang armed themselves with axes and sledgehammers, smashed into display cabinets and escaped with around $468,000 worth of Rolex watches. Ringleader, 31 year-old Reece Dunford from Waltham Abbey, took part in all the robberies and recruited the members of the gang. He sold the stolen watches to Hatton Garden jeweller Yair Cohen, 71. Dunford was jailed alongside six of his accomplices at Kingston Crown Court. He was arrested after organizing his final raid on Mappin and Webb in the City of London. mirror.co.uk

$150,000 bag of cash left on the curb by ATM workers in Mahwah, NJ, guy who finds it buys a $45,000 truck and gets arrested Police said the two men had been driving on that street Monday morning looking for discarded tires, with the intention of selling them in poor areas, when they came upon the bag, which was filled with $10 and $20 bills. The ATM workers, who realized their mistake about 15 minutes after driving off without the bag, are not considered suspects in the case, police said. wvnstv.com

Deputies to increase presence at Tanger Outlet in Bluffton, SC after robbery Shoppers at the Tanger Outlet Centers in greater Bluffton should see more deputies on patrol in response to an armed robbery at a store there earlier this week, according to a spokesman for the Beaufort County Sheriff's Office. The Sheriff's Office does not have dedicated patrols inside the two centers, but Bluffton-based deputies will conduct extra sweeps through the area while the search continues for the suspect who robbed Under Armour in Tanger 1, Capt. Bob Bromage said Thursday. The outlets have 24-hour security personnel, but general manager Ashley Doepp did not respond to questions Thursday on whether Tanger security would also be increased in the wake of Tuesday's robbery. islandpacket.com


Two Suspects Identified in $54,000 DeSoto, TX Jewelry Store Smash-and-Grab DeSoto police are asking for help tracking down two people wanted in connection with a smash-and-grab robbery at jewelry store last week. Arrest warrants for felony theft have been issued for 24-year-old Lloyd Clemons and 22-year-old D'Quailynn Baskin after three people entered Caves Jewelry on July 22, smashed a glass case and ran off with $54,000 in Rolex watches. Investigators said one of the three, identified by police as Haley Washington, was arrested at the scene after being startled when the store's owner, Jerry Caves, exited a side door and pointed a gun in their direction as they ran past him. Washington surrendered at gunpoint. nbcdfw.com


Meet the Thieves in This Multi-Million Dollar Cross-Country Jewel Heist Ring It was a crime spree that stretched over eight states and more than two dozen jewelry stores across the country. With a high level of sophistication and planning, a team of thieves were able to steal millions of dollars' worth in diamond jewelry over an 18-month period, starting in December 2009 until May 2011. But thanks to social media and the crew's unquenchable thirst for cold, hard cash, police were able to track down and nab the thieves. Watch the full story on ABC News' "20/20" on Friday, July 31 at 10 p.m. ET. abcnews.go.com

Lafayette, LA Police confirm Northgate Mall parking lot shooting was suicide

NYC man's Credit card fraud leads to 4 year state prison sentence

Four Men Stole 11 Chanel Handbags in NYC Worth Over $150,000 Combined

Kansas City, Grandview police investigate 5 overnight Armed Robberies

2 Fargo Car Dealership employees steal over a half of Million dollars from employer

JC Penney employee pays off $5,000 in restitution in North Platt, NE

Police warn of credit card skimming in southern Indiana

5 Cell Phone Thieves hit Merrick, NY AT&T Store

Roseville, CA Considering Fines For False Alarms From Security Systems; 3000 responses, only a handful of actual crimes


---

● AT&T - Merrick, NY - Burglary
● AT&T Seagoville, TX - Robbery
● C store - Baton Rouge, LA - Armed Robbery
● Corner Market -West Bridgewater, MA - Burglary
● CVS - Glen Burnie, MD - Armed Robbery
● Dollar General - Decatur, AL - Armed Robbery
● Dollar General - Asheville, NC - Robbery
● Dollar General - St Augustine, FL - Robbery
● Express Mart - Geneva, NY - Armed Robbery
● Fast Stop - Kansas City, MO - Armed Robbery
● Getty - Boston, MA - Armed Robbery
● Hometown Pharmacy - Russellville, AL - Burglary
● Kwik Shop - Ohama, NE - Shooting
● Kwik Mart - Chicopee, MA - Armed Robbery
● L&B Pit Stop - Wyoming Co, KY - Burglary
● Milano Boutique - Honolulu, HI - Armed Robbery
● Rose's - Henrico Co, VA - Armed Robbery
● Safeway - Modesto, CA - Theft/ Robbery
● Sav-A-Stop - Jefferson Co, KY -Armed Robbery
● T-Mobile - Redford, MI - Theft
● Walgreens - Placentia, CA - Armed Robbery
● 7-Eleven - Kansas City, MO - Armed Robbery
● 7-Eleven - Glen Burnie, MD - Armed Robbery





To apply to today's Featured Jobs, Click Here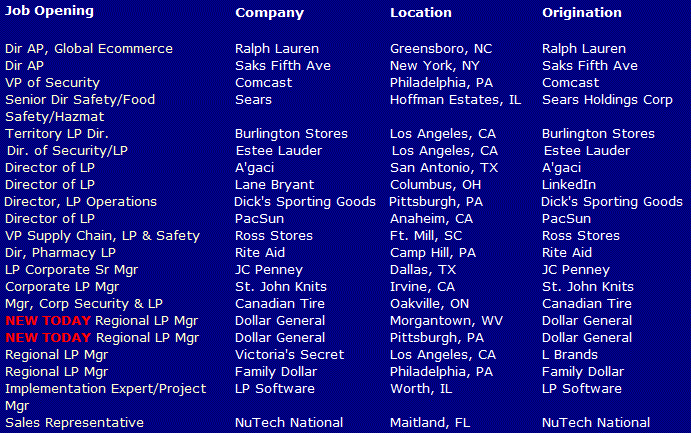 Limited Time Only - Post Your Multi-Unit LP jobs for FREE - Learn More Here




Today's Daily Job Postings from the Net - Appearing Today Only

To apply to today's Internet Jobs, Click Here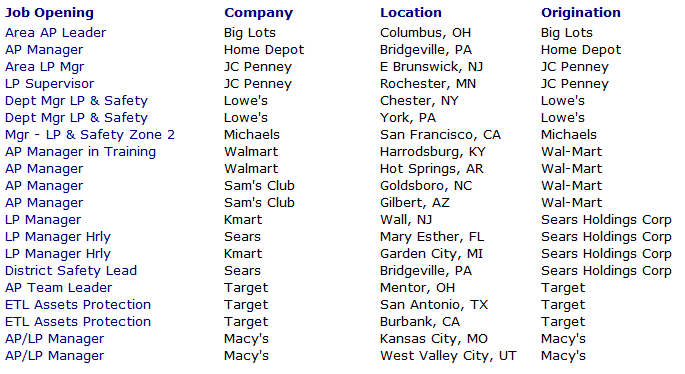 Getting advice from trusted friends, family members, co-workers and former bosses is always a great thing to do and, quite frankly, it can help you to see more clearly. But remember, at the end of the day it's your decision to make and it's your decision that you have to live with. Your friends, co-workers, and former bosses won't be living with the consequences, but your family will be. So you've got to be more sensitive to their advice. Advice is easy to give, hard to follow and almost impossible to live up to. And everyone has a lot of advice to give; it's the easiest thing to give. Just remember, at 5 a.m. after all the advice has been given, the mirror may be where the answer lies.

Just a Thought,
Gus Downing




Post Your Tip or Advice! Click Here

Please make sure to add d-ddaily@downing-downing.com to your contact list, address book, trusted sender list,
and/or company white list to ensure you receive our newsletter.
FEEDBACK / www.downing-downing.com / ADVERTISE WITH THE DAILY