2014's GLPS's - Group LP Selfie's

Your Team - Your Pride - Our Industry

One Selfie at a Time



Family Dollar Loss Prevention Team

"Work Hard. Have Fun. Make a Difference"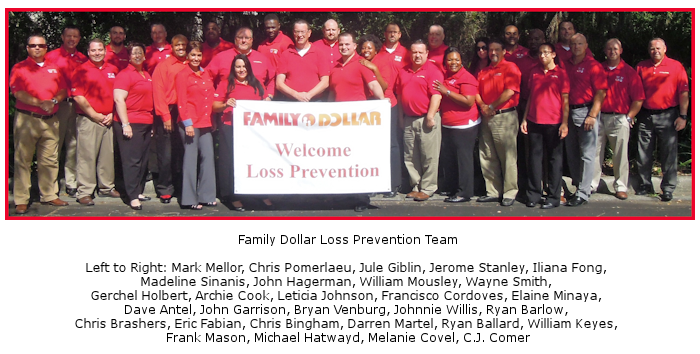 *Published on November 17, 2014

Show Your Industry Your Group LP Selfie

Building the LP/AP Industry One Selfie at a Time
---
View all the selfies here. Send us your Group LP Selfie!





Report shows shoppers want retail everywhere
"Consumers have shifted their buying patterns to mobile commerce faster than many retailers realize. We're now seeing merchandise traditionally purchased in-store, such as home furnishings, are increasingly being purchased online from smartphones. And, shoppers are seeking out their favorite brick-and-mortar brands online and expecting their websites to work on any device," said Ken Burke, founder and CEO of MarketLive, Inc. "We're calling this trend 'Commerce Anywhere the Customer wants it,' and the more agile retailers and category leaders are outpacing their competitors by constantly adapting to--and embracing--a retail landscape where technology, consumers and markets are evolving at breakneck speed."

Some interesting findings from the MarketLive Q2 2015 Performance Index include:

● Smartphone purchases increased 335% between Q2 2014 and Q2 2015
● Brick & Mortar revenues outpaced the overall retail index by 43%
● Revenue from smartphone shoppers increased 374% in the Catalog category and 207% in Brick & Mortar
● Total revenue increased 1% for Q2 while total visits increased 18% bizreport.com

Online sales tax: Lots of talk, little action
With e-commerce growing into a $304.91 billion market, the debate about whether to collect sales tax from online purchases has once again heated up in Congress. Two bills, the Remote Transactions Parity Act (RTPA) and the Marketplace Fairness Act (MFA), have been introduced this year. If passed, states could not begin to require tax collection for a year after the effective date of the bill becoming law, and could not start requiring remote sellers to collect sales tax during the peak holiday season the first calendar year after enactment. That means that, in the unlikely event Congress quickly passes the MFA, 2017 would be the first holiday season it could take effect. internetretailer.com

Alibaba nets wide-ranging deal with Kobe Bryant

EMV Adoption May Benefit Mobile Payment


"Fraud is not a person - it is a dynamic grouping of statistics that deviate from the norm."
Stuart B. Levine, CFI, CFCI
CEO, The Zellman Group & Zelligent




Eight Arrested so far in Organized Theft Ring targeting The Home Depot and Gander Mountain in Ocala, FL Ocala Police Department detectives say they have broken up a theft ring that targeted at least two businesses within the last month. Four men and four women who live in Ocala and Anthony have been taken into custody within the last week, and detectives said the investigation is ongoing and they're looking for more people. OPD detectives say all eight admitted that the items stolen generators, camping gear and compound bows, for instance were divided among themselves and later pawned at different pawn shops. The proceeds were then used by them to support their pill addiction problems, police say. OPD detectives said the loss to the businesses was valued in the thousands of dollars. In the case of Gander Mountain, detectives said 38 items were pawned by the individuals for the month of July. ocala.com

Out-of-state criminals bring cloned credit card schemes to Twin Cities
Criminals willing to travel thousands of miles are ensnaring hundreds of victims as they bring credit and debit card cloning schemes to the Twin Cities in Minnesota. It's evidence, police and cyber security consultants said, of the ongoing fallout from major retail data breaches. Suburban police are alerting residents to a rise in such cases while businesses and law enforcement alike try to figure out why the area has seen so many unwelcome visitors lately - and how to stop them. startribune.com

St. Louis woman charged after allegedly stealing $800 worth of clothing
A St. Louis woman was apprehended after stealing nearly $800 worth of clothing from the Lemay Ferry Road Old Navy in May. According to police, 24-year-old, Kristin Boykin-Briggs and Lakesha Williams stole items throughout the store and concealed them in mesh bags. After stealing the clothes both women walked out of the Old Navy and placed their bags in the trunk of a silver Chevrolet Malibu and drove away from the scene. St. Louis County police stopped the vehicle on northbound Interstate 55. kmov.com

Newark, MD woman arrested for month-long Shoplifting Scheme at Walmart
On July 31, a Sheriff's Deputy responded to the Wal-Mart in Berlin for reports of a shoplifter. According to police, Wal-Mart had stopped a woman leaving the store with a cart full of merchandise valued at $166.63. Police said the shoplifting suspect was identified as Donna Romero, 55, of Newark, Md. According to police, further investigation revealed that Romero had allegedly been involved with a shoplifting scheme over the month of July, with thefts totaling $332.19. wboc.com

Ontario County Sheriff's deputies charged two Rochester, NY women with Burglary and Criminal Tools Ontario County Sheriff's deputies charged two Rochester residents who allegedly stole merchandise from stores at Eastview Mall. Deputies said one person had tools aimed at outsmarting security systems. Deputies charged Monet M. Day, 22, and Najee J. Manor, 22, on Saturday, Aug. 1, at 1 p.m. at Eastview Mall following an investigation of a larceny that began at The Gap store in the mall. According to deputies, Manor stole $69.90 worth of merchandise from The Gap and also had property that Hollister had stolen from The Gap worth $157.50, along with goods from New York & Company valued at $186.85. penfieldpost.com


Do you have an ORC case to share? Publishing it educates the LP & retail community
which might fuel even more jobs and funding.
Share your ORC news and help the industry grow


9 shell casings found after shots fired outside Safeway in Seattle, WA
Seattle Police are searching for a man who fired off shots from a gun in a Dunlap neighborhood grocery store parking lot Sunday. Police say witnesses called 911 just after 6:30 pm Sunday to report a man firing a gun in the 9200 block of Rainier Ave. South. Witnesses said the shooter pulled out a handgun and began firing shots as he exited a grocery store and then ran away in an unknown direction. They described the suspect as a black male in his late teens, wearing a white shirt and rolled up white pants. Officers searched the area and found nine shell casings, as well as a gas station window and a fourth floor apartment window shattered by bullets. seattletimes.com

Security officer fires gunshot after suspect ran with ring at Mondawmin Mall in Baltimore A private security officer for a jewelry store at Mondawmin Mall fired at least one gunshot in the parking lot Sunday afternoon as he chased a man who allegedly stole a ring from the store, police said. The suspect walked into RK & Co. Jewelers in the lower level of the mall and asked to see the ring, which he put on his finger, police said. After a brief conversation with a sales clerk, he took off running, police said. The store security guard chased the man into the parking lot, where the man climbed into a waiting getaway car, police said. The security guard grabbed the door of the car, then saw the man reaching out of sight, possibly for a weapon, and fired at the vehicle as it drove away, police said. The car got away, no injuries were reported. baltimoresun.com

Dallas, TX Police arrest 2 In June Subway Restaurant Employee Murder
Nearly two months after the June shooting death of a Subway restaurant worker, Dallas Police arrested two of the men who investigators said are responsible. The third suspect, who acted as a lookout, remains at-large. In June, Leonard Ortega and another employee were closing the Subway store, located at 655 West Illinois Street, in the Wynnewood Shopping Center, when two masked men walked into the store demanding cash. According to police, the men cleaned out the register and one of robbers got into a struggle with Ortega before fatally shooting him. cbslocal.com


Bloomingdale's Loss Prevention Takedowns under question when incident Is Caught on Tape in San Francisco On Thursday, customer Danny Scher was in the San Francisco store when he saw the scuffle. He thought he walked into a "gang fight" but then realized it was four loss prevention officers tackling a suspect. "I pulled out my camera because it just didn't seem right," Scher told KGO. "They seemed to be awfully aggressive-there was blood on the floor, on the tile." The video shows four plainclothes security guards tackling a man on the floor, with his face very bloody. One of the guards tries to keep Scher from recording. The tackled man appears to be dazed from the pain as the guards tries to keep him from moving too much. He was taken to the hospital with non-life threatening injuries. According to SFPD, the man on the ground in the video has been charged twice before with shoplifting from that Bloomingdales. He was being asked to leave before the altercation occurred, and was not armed. He was not charged in this particular incident, nor has he filed charges against the guards. abc7news.com

'Shirt Mask Bandit' behind Northern Kentucky Armed Robberies
A serial robber who has been described as "aggressive," armed and dangerous now has a nickname: The Shirt Mask Bandit." "We have nicknamed the robber the Shirt Mask Bandit since he always uses a white shirt to disguise his appearance," Erlanger Police Detective Tom Loos said. The current tally of armed robberies in Northern Kentucky's communities along the I-71/I-75 corridor numbers seven, Loos said. A robbery at Dollar General Store in Erlanger on Tuesday is linked with six others, he said. cincinnati.com


6 Suspects being sought in Indianapolis Gun Store Smash and Grab Six would-be thieves remain on the run after using a car to break into a gun shop Saturday morning. The men were caught on surveillance cameras after the white station wagon broke through the store's walls at Washington & Post. They were also seen running away - without a single gun. Two of the men were armed with hammers as though they planned to break glass displays and steal weapons, but never actually did. None of the suspects ever went for the cash drawers, ammunition or holsters. "They didn't steal anything because of the additional internal security devices that we've designed and built into the building." wthr.com

Springfield, OR Police searching for mother suspected of burglarizing Target stores with son According to police, two male subjects gained access to the Target on Gateway Street after hours, damaged property and stole various pieces of merchandise. A couple days later, Eugene Police responded to another burglary after hours at the Target store on W. 11th Avenue. This time, two males and a female were involved. Through surveillance footage, police learned that the same two male suspects were involved in both incidents. Further investigation revealed the mother of one of the boys is the female suspect in the burglaries. kmtr.com


Employee steals $40,000 from Bealls in Abilene, TX An Abilene store is missing $40,000 worth of merchandise after the store said a former employee was stealing while on the job. According to a police report, Beall's on Catclaw Drive in Abilene recently found out an employee was stealing from the store. The report did not say how long the employee worked at the store but Beall's believes the employee had been stealing for over a year. The store would not comment on the stolen items but said they will be pressing charges against the former employee. ktxs.com

Shoplifter caught on camera stuffing statues down his pants
A store owner is looking for a man who stole two bronze statues last Sunday afternoon by stuffing them down his pants. Surveillance video taken from the Ann-Tiques store in Riverside, California shows the man scanning the store. When he realizes no one is looking, he proceeds to stuff both of the pricey items into his pants. The two bronze antique sculptures are worth about $350 each. abc13.com

IKEA evacuated after bomb threat in Stoughton, MA

Man Accused Of Placing Skimming Devices On ATMs In Philadelphia

Armed robbery in Walmart parking lot foiled with a shove in Brown Deer, WI

Man stole CO2 gun from Walmart, tried to resell in Ephrata, WA

South Africa: CCTV Footage of Metro Cop Shooting Shows Possible 'Inside Job'; Armed Robbery at Pick n Pay

Man charged with stealing more than $90,000 worth of cancer patient wigs from Chicago O'Hare airport

Kay Jewelers in the Anderson Mall, Anderson, SC reported a Grab and Run; merchandise valued at $3,148

Gordon's in Coral Springs. Fl the victim of a Distraction Theft; merchandise valued at $21,296

Kays Outlet in the Oklahoma Factory Store, OKC, OK reported a Grab and Run; merchandise valued at $1098



---

● Arco - Fremont, CA - Robbery
● AT&T - Newington, CT - Burglary
● Chevron - Alexander City, AL - Burglary
● Clean Fuels - Lacey's Springs, AL - Burglary
● CVS - Greenwood, IN - Robbery
● Dollar General - Erlanger, NY - Armed Robbery
● Dollar General - Little Rock, AR - Armed Robbery
● Family Indoor Guns - Indianapolis, IN - Burglary
● Horseshoe Pike Gun Shop - Campbelltown, PA - Burglary /Police Shooting
● Maverik -Salt Lake, UT- Shooting
● Ocee Food - Houston, TX - Burglary/ ATM Stolen
● Payless Shoe - Spokane WA - Armed Robbery
● Pizza Hut - Edgewood, FL - Armed Robbery/ employees assaulted





To apply to today's Featured Jobs, Click Here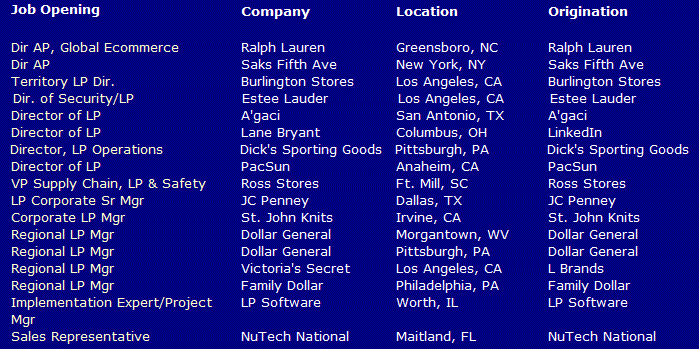 Limited Time Only - Post Your Multi-Unit LP jobs for FREE - Learn More Here




Today's Daily Job Postings from the Net - Appearing Today Only

To apply to today's Internet Jobs, Click Here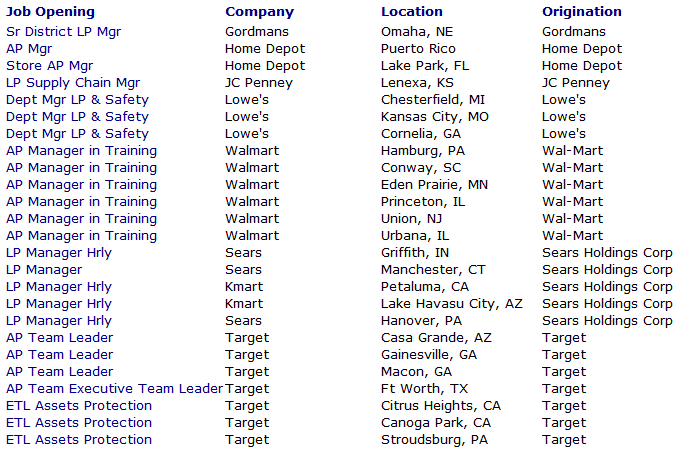 Brandan Mehaffie was promoted to Director Pharmacy Asset Protection for Rite Aid.
Mark Mansfield was named Regional Loss Prevention Manager for The Children's Place.
Ryan Mason was named Asset Protection Analyst for Big Lots.



Asking for advice is a great thing and we all need it from time to time merely because as the old adage goes we're too close to the trees to see the forest. However, the key is who you ask for it and what are their agendas, because we all have them and even well-intentioned advice can be swayed by an individual's need or desire to accomplish their objectives. Advice is the easiest thing to give and the hardest thing to practice. But getting a second opinion is always good. You've just got to realize that we're all just humans and even the best advice givers and mentors are influenced by their own needs.

Just a Thought,
Gus Downing




Post Your Tip or Advice! Click Here

Please make sure to add d-ddaily@downing-downing.com to your contact list, address book, trusted sender list,
and/or company white list to ensure you receive our newsletter.
FEEDBACK / www.downing-downing.com / ADVERTISE WITH THE DAILY