RLPSA: 5 Things Hotter than the Desert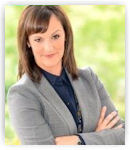 By Amber Bradley,
Calibration Marketing
A desert can get hot, like 120 degrees hot. The Vegas desert can get even hotter...especially when the Restaurant Loss Prevention and Security Association (RLPSA) trade show kicked off its 36th Annual Conference there yesterday at the M Resort and Casino.
Here's the five things hotter than the desert this week:
Number 5:
The largest RLPSA conference including a completely sold out exhibition hall and more attendees than ever before.
Number 4: The content of RLPSA day one including keynote speaker Dolf Berle, president and COO of Dave and Buster's Inc.

Berle defined modern courage and how it supports building a culture of inclusive communication. Berle helped the audience consider a new mindset of security and risk management by working the "whole system" as a security and LP leader by knowing the players and implementing the strategy, monitor execution and close communication loops.

One of the most popular sessions was, "Engaging Senior Leadership in Your Crisis Management Program" from Grace Burley, managing director of Strategic Crisis Advisors. Burley walked attendees through each department's key roles in crisis for an organization. Search #RLPSA2015 to review her summary.

| | | |
| --- | --- | --- |
| | | |
| Keynote speaker Dolf Berle (Dave and Buster's) and Jim Forlenza (RLPSA) | | Panel speakers for the "Evolution of the Restaurant LP/Security Professional" session. |
Number 3: Heavy hitters in the restaurant industry taking the stage for an "Evolution of the Restaurant LP/Security Professional" panel by Van Carney, National Director, Safety & LP, Domino's; Rob Holm, Senior Director, US Safety & Security, US Operations, McDonald's USA; Mike Keller, Manager, LP, Panera Bread. Panelists gave varying perspectives on how attendees can evolve their role by tackling professional development, new technology initiatives and how to mentor franchisees.

Number 2: Solution provider and attendee interaction: the completely sold out exhibit hall was bustling with a life of its own.

Number 1: Breaking news in the desert: The new President of RLPSA was announced as Rob Holm, Senior Director, US Safety & Security, US Operations, McDonald's USA. Congratulations, Rob!

Congratulations to the new board members announced as:

Rocco Prate, Regional Loss Prevention Manager at Wendy's Arby's Group
Dave Johnston, Senior Director, Loss Prevention & Corporate Security, Dunkin' Brands
Van Carney, National Director, Safety & Loss Prevention, Domino's
Vendor Liaison: Scott Elkins, President of UAS
Stay tuned to the D&D for tomorrow's recap and @DandDDaily.
Search #RLPSA2015 for more detailed information on the speakers and sessions.

Attendees enjoying the RLPSA Conference in Las Vegas.




2014's GLPS's - Group LP Selfie's

Your Team - Your Pride - Our Industry

One Selfie at a Time


Penske Logistics Loss Prevention Team

"Dedication at Every Turn"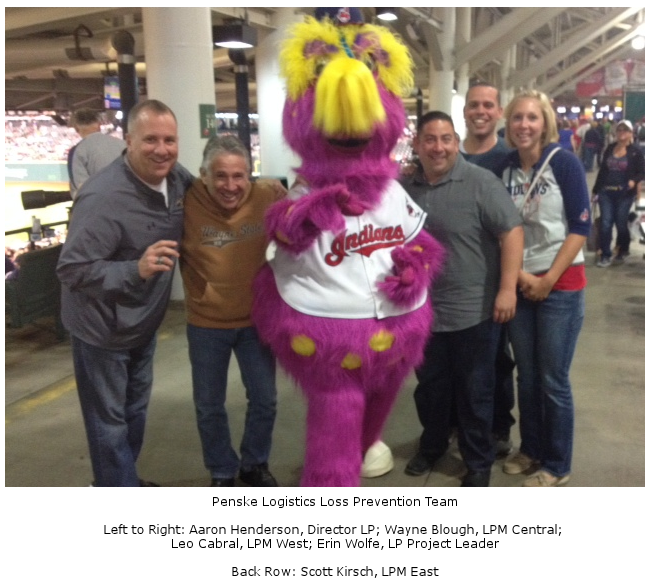 *Published on November 18, 2014

Show Your Industry Your Group LP Selfie

Building the LP/AP Industry One Selfie at a Time
---
View all the selfies here. Send us your Group LP Selfie!





Webification and retail IT - Taking ecommerce to the shop floor
So how else should retailers be looking to implement webification? The shop floor tablets used by The Entertainer are a great starting point. For example, they can be used to enable easy review of a store's entire inventory, the traditional in-store equivalent of which would be incredibly laborious, even with the help of a shop assistant. By arming assistants with a tablet computer, retailers can provide the shopper with an 'endless aisle' experience similar to that of ecommerce. Moreover, these devices can also allow assistants to process payments anywhere in-store, and even provide personalised recommendations. The mass adoption of smartphones and the advent of low cost tracking tools also provide retailers with great opportunities to market within the 'webified' store. Facebook, for instance, has recently started offering businesses free Place Tips beacon devices, allowing retailers to detect when a user is nearby and initiate an appropriate response. It's an unavoidable fact that the ease and convenience of online shopping has led to sky-high consumer expectations; expectations that can only be matched if brands find ways to integrate ecommerce functions customers love with bricks and mortar retail environments. itproportal.com

Fraud Rate on Mobile Passes Online & In-Store
Mobile fraud is on the rise. Somewhat ironically, the fraud rate on transactions not involving a phone have decreased significantly, as more transactions become mobilized, based on a new study. The study comprised an analysis of Kount data from more than 100 million transactions across various devices from thousands of merchants over the last four years. The industries include retail, digital goods, multi-channel, online games, travel and telecommunications. While the fraud rate for non-mobile transactions decreased by 50% over the last four years, the fraud rate for mobile increased by 81%. This is the first time that fraud on mobile devices has passed online and in-store fraud, according to Kount. And of the mobile fraud, more is happening on Android than iOS devices. The mobile fraud picture has changed over time. In 2011, fraud on iOS devices was 45% greater than on Android. But only two years later, the fraud rate on Android was higher than iOS by 17%, which grew to 44% last year, which is where it stands today. mediapost.com

Mobile POS to quadruple reach as it grows beyond micro merchants: report

Instagram commerce is about to explode


"Fraud is not a person - it is a dynamic grouping of statistics that deviate from the norm."
Stuart B. Levine, CFI, CFCI
CEO, The Zellman Group & Zelligent



7 Indicted in Organized Retail Theft Ring hitting over 20 times for Over $800,000 in Jewelry Attorney General John J. Hoffman announced that seven people have been indicted on charges that they were part of an organized retail theft ring that allegedly stole over $800,000 in jewelry in New Jersey and five other states. The defendants were charged as a result of "Operation Pandora," an investigation by the New Jersey State Police and Division of Criminal Justice that began in May 2014, after the ring allegedly stole $219,000 in silver beads by breaking into a vehicle at the Clara Barton service area on the New Jersey Turnpike in Salem County. Several of the defendants allegedly had followed the two victims, who stopped at the service area after a jewelry trade show in Mt. Laurel, N.J. The indictment charges the four men and three women with eight thefts in New Jersey, including two additional thefts of jewelry with a total value of more than $150,000, as well as retail thefts of cameras and a $5,700 bicycle. The defendants were linked to more than a dozen other thefts in New York, Pennsylvania, Illinois, Virginia and Rhode Island, including jewelry thefts in all of those states involving more than $430,000 in jewelry. gloucestercitynews.net

Third suspect Arrested in $100,000 Pepperidge Farm cookie caper
A third suspect in a retail theft ring has been arrested and charged, Old Fort police said Monday. Franklin "Todd" Wayne Bradley, 53, was charged with one count each of felony obtaining property by false pretense and receiving stolen goods. Bradley is the third suspect allegedly involved in the theft of 53-foot trailer full of Pepperidge Farm products, including cookies, goldfish crackers, pretzels and more. Carlton Carson, 49, and Michael Lee Grant, 52, were arrested last week in connection with the cookie heist. The stolen shipment of goods was worth more than $100,000. mcdowellnews.com


6 women arrested in Baton Rouge, LA Organized Retail Theft investigation Six women were arrested this weekend after an investigation into thefts at multiple stores in Baton Rouge. Deputies with the East Baton Rouge Sheriff's Office were called to a theft complaint Friday, July 31 at Toys R Us on N. Mall Drive. The complainant said a van pulled up to the front of the store and two females got out of the vehicle carrying three large bags of merchandise. The females went to the customer service counter where they exchanged the merchandise, without a receipt, for gift cards and candy. After the exchange, the females went to the children's department, loaded up a shopping cart full of merchandise and exited the store without paying. A nearby deputy was able to stop the vehicle in the Sam's Club parking lot. The deputy discovered six females inside the van along with items from several merchants including Charming Charlie's, Toys R Us, Walmart and Target. fox8live.com

Couple busted at Burlington Coat in Laredo, TX; purses and watches
Police say a couple was caught red handed, trying to steal from a department store on Sunday. Rene Rodriguez and Patricia Vela were arrested at Burlington Coat Factory around seven in the evening. According to the store employees, they were trying to steal purses and watches as well as changing the prices on items. Rodriguez and Vela had prior arrests. They were both charged with fraud. kgns.tv

Merrillville, IN Police investigating 2 in Macy's Grab and Run at Southlake Mall Within minutes of posting surveillance images of two local theft suspects, Hobart police received tips on the possible identity of the man and woman pictured, Detective Sgt. Steve Houck said. The two were captured on surveillance video as they allegedly stole purses and clothing from Macy's. Houck said at 7:19 p.m. July 18, the pair allegedly entered Macy's at 2210 Southlake Mall, grabbed numerous purses and articles of clothing and ran out. nwitimes.com

Woman Tips Off Partner on Bluetooth During Shoplifting Spree at Kohl's in Lemont, IL

Do you have an ORC case to share? Publishing it educates the LP & retail community
which might fuel even more jobs and funding.
Share your ORC news and help the industry grow


Traveling Skimming gang of 6 Florida residents busted in Jefferson Parish, LA. - Part of a larger operation Six residents of Florida caught seeking to retrieve two so-called credit card skimming devices attached to a gasoline station's pumps near Harahan made dozens of counterfeit gasoline, credit and gift cards before Jefferson Parish Sheriff's Office deputies arrested them over the weekend, authorities said Monday.

"It could be an organized crime thing where it's not just the six people. It's not just the two locations where they found the card skimmers. They could have painted the city and put it into a lot of other places," C2 Cyber Securities CEO Nam Nguyen said. After the alleged crime ring was advised of their rights, several of the suspect refused to cooperate. msnewsnow.com theneworleansadvocatre.com
Fatal police shooting in Columbus Wal-Mart under review 1 year later
Federal officials' review of the fatal shooting of a 22-year-old black man by a white police officer has he carried an air rifle in an Ohio Wal-Mart remains unfinished as his relatives plan a rally and vigil to mark one year since his death. Crawford's family contends he was shot without a chance to respond. The family has sued Beavercreek police and Wal-Mart Stores Inc., alleging negligence and violation of Crawford's civil rights. The city and Wal-Mart denied the allegations. dailyherald.com

Security officer fires gunshot after suspect ran with ring at Mondawmin Mall
A private security officer for a jewelry store at Mondawmin Mall fired at least one gunshot in the parking lot Sunday afternoon as he chased a man who allegedly stole a ring from the store, police said.. The suspect walked into RK & Co. Jewelers in the lower level of the mall and asked to see the ring, which he put on his finger, police said. After a brief conversation with a sales clerk, he took off running, police said. The store security guard chased the man into the parking lot, where the man climbed into a waiting getaway car, police said. The security guard grabbed the door of the car, then saw the man reaching out of sight, possibly for a weapon, and fired at the vehicle as it drove away, police said. The car got away, and no nearby hospitals reported any walk-in shooting victims matching the suspect's description, police said. No injuries were reported, police said. baltimoresun.com

Three arrested for $52K warehouse burglary in Albany, GA
Police say Nichols and Marshall tried to sell the property through social media sites, and at the Superior Creek Lodge, and at Target. An undercover "buy" was set up and made in the parking lot of Target, where Nichols was taken into custody, and a large quantity of additional property was recovered. wtoc.com


$50,000 Smash-And-Grab Robbery Reported At Edward George Jewelers in Woodland Hills, CA The Los Angeles Police Department says the incident happened about 2:50 p.m. Monday at Edward George Jewelers at the Westfield Topanga mall. The store's owner George Dekermanji says one of the suspects took out a sledgehammer before jumping onto a counter and waving his bottle of pepper spray in the air. Dekermanji says the incident marks the second time the store has been robbed in the past eight months. cbslocal.com

Victoria's Secret in Houston's Rice Village the victim of a Smash and Grab Burglary Houston police are looking for thieves who broke into a Victoria's Secret store in Rice Village early this morning. The "Pink" store located on the 2400 block of University Boulevard and was the latest business to be hit by smash and grab thieves in Houston. The incident happened around 3:45am. abc13.com

Police link 4 suspects to PA and NJ CVS Store Robberies
Authorities in Delaware, Bucks and Montgomery counties, as well as Burlington County, New Jersey, are eying a possible link among suspects in four CVS Pharmacy robberies in the span of about a month. delcotimes.com

15 hurt after pepper spray released inside JCPenney in Clearwater, FL
Fifteen people were treated for injuries after someone released pepper spray inside or near the elevator shaft of the JCPenney at the Westfield Countryside shopping mall in Clearwater. The Clearwater Fire Department treated 15 people at the scene. Four people were transported to a local hospital. The store was briefly evacuated, but it closed at 9 p.m. The area of the store was being ventilated by the fire department. baynews9.com

Motorist on LSD rams head-on into Deputy's cruiser in a Mall parking lot in Worcester, MD A deputy parked in a rear lot at the West Ocean City mall said Hayward drove head on into his Tahoe patrol vehicle. The suspect was "acting irrationally and was yelling at the deputy," the report also said. The deputy called for assistance and additional resources from the Sheriff's Office, and a unit of the Maryland Natural Resources. delmarvanow.com

Long-term Employee stole $80,000 from N. Attleboro, MA Appliance Store
A former longtime saleswoman at a local appliance store was arraigned today in Attleboro District Court on charges she took part in embezzling upwards of $80,000 from the company. Kathryn A. Glynn, 31, pleaded innocent to larceny by a single scheme and credit card fraud. Glynn, who was a saleswoman for Lambco Appliance for 13 years before the alleged embezzlement came to light. thesunchronicle.com

New Orleans judge to reduce $1 million bond for New York credit card scheme 'kingpin' A New Orleans district judge said Friday (July 31) he will reduce a $1 million bond for a New York man charged in a racketeering case involving an alleged stolen credit card scheme. The judge didn't say what the new bond amount will be. A Grand Jury charged him and nine others in a racketeering case. He's accused of being the kingpin in a credit card fraud scheme, in which he allegedly manufactured credit cards using stolen numbers, and then giving those cards to mules who'd go to casinos in New Orleans, New York, New Jersey and Ohio to get cash advances. nola.com

Miami Cake Maker Pleads Guilty to Stealing Thousands of Credit Card Numbers
In April 2013, according to a federal grand jury indictment, Pardo was nabbed utilizing a fake bank credit card at a North Miami Pep Boys. It would certainly get hold of even worse from there. A couple of months later, federal authorities, executing a search warrant, searched the trunk of Pardo's vehicle and found an enormous one-woman counterfeit operation: dozens of fake driver's licenses, debit cards, credit cards, social security cards, tax information, and notebooks complete of scrawled information. atjehtech.com

Arrested 34 times, Jersey City felon now socked with credit card fraud charges Credit card fraud has been added to the charges against a 48-year-old Jersey City felon with 34 prior arrests. Jade Milton has been behind bars since June, the credit card fraud charges are related to the robbery charge. Milton has 10 disorderly persons convictions and criminal convictions for robbery, theft, shoplifting, two counts of drug possession and two counts of drug possession within 1,000 feet of school property. He is currently on probation for another count of shoplifting. nj.com

Arrest warrant issued for notorious jewel thief; 84 year old Doris Payne is wanted in North Carolina for allegedly stealing a $33,000 ring An arrest warrant has been issued for known jewel thief Doris Payne, who's accused of stealing a ring in Charlotte, North Carolina. Payne is currently on probation after being convicted of stealing a multi-thousand dollar diamond ring from a jewelry shop on El Paseo in Palm Desert in 2013. According to the Mecklenburg County Sheriff's Department, the 84-year-old has an arrest warrant for felony larceny. The theft happened on July 11th in North Carolina. Reports suggested the Payne may have taken a $33,000 engagement ring from a jewelry store. kesq.com

Kim Richards, Former Star Of 'Real Housewives Of Beverly Hills,' Arrested On Shoplifting Charges According to CBS Los Angeles, the former "Real Housewives of Beverly Hills" star spent the night in jail after she was arrested for allegedly shoplifting at a Southern California Target store. Richards, 50, had about $600 worth of items in her cart when store security apprehended her on Sunday. huffingtonpost.com

Arson suspected at Discount Tire overnight in Louisville, KY
Fire crews were called to Discount Tire and Auto Service on West Market Street at about 1:45 a.m. on Tuesday. They found two semi trucks on fire behind the building. The semis were used to store old tires and wheels. wave3.com

Burlington, ON arrests lead to discovery of an Identity Theft Ring
Police said during the course of the investigation they discovered nine different counterfeit identities, which were allegedly being used to open bank accounts and secure lines of credit. The Halton Police Fraud Unit initiated a new investigation into the source of the victim information in the seized documents. The probe ultimately led them to Toronto and a former employee at the office of GM (General Motors) Financial. insidehalton.com

UK: Thatcham serial shoplifter banned from entering 9 supermarkets and pharmacies A 50-year-old prolific shoplifter has been banned from a range of supermarkets and pharmacies in Thatcham. The order lasts for two years and is as a result of Lewis' persistent stealing from local shops. getreading.co.uk

Caught on camera: Houston, TX Robbery suspects flee with $1700 stroller

Chicago Police looking for three-time Kmart thief

Three Florida Men Arrested on Credit Card Fraud Charges

Credit Card Fraudsters snatch puppies worth $4K from Daphne, AL pet store

Probation for Newton Woman Involved in $1,300 Walmart theft in Knoxville, TN

Halifax, NS Police Taser man armed with knife leaving Needs store after robbery



---

● A&G Auto - Kittanning, PA - Burglary
● Ameci Pizza - Saugus, CA - Armed Robbery
● AT&T - Newington, CT - Burglary
● Beef Mart - Valparaiso, IN - Burglary
● Big 5 - Woodburn, OR - Armed Robbery
● Boost Mobile - Gulfport, MS - Armed Robbery
● Country Club Liquors - Palm Desert, CA - Armed Robbery
● CVS - Lexington, KY - Armed Robbery
● CVS - Lorton, VA - Burglary
● CVS - Greenwood, IN - Armed Robbery - 2nd in 6 weeks
● Family Dollar - Yavapai Co, AZ - Armed Robbery
● Family Drug Mart - Dartmouth, NS - Robbery
● House of Shoes - Orlando, FL - Robbery
● Metro PCS - Newhall, CA- Armed Robbery
● Quick Mart - Muskogee, OK - Robbery
● Royal Farms - Salisbury, MD - Armed Robbery
● RS Discount - Lehigh Acres, FL - Burglary- $30,000 in lottery tickets
● Walgreens - Abingdon, MD - Armed Robbery
● Walgreens - Placenta, CA - Armed Robbery
● Walmart - Woodburn, OR - Armed Robbery-15 yr old w/gun
● 7-Eleven - Rochester, NY - Armed Robbery





To apply to today's Featured Jobs, Click Here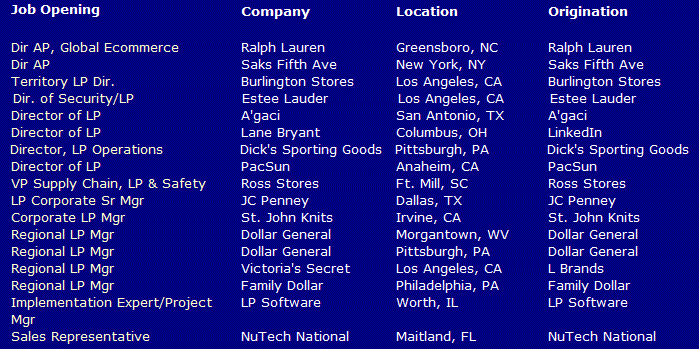 Limited Time Only - Post Your Multi-Unit LP jobs for FREE - Learn More Here




Today's Daily Job Postings from the Net - Appearing Today Only

To apply to today's Internet Jobs, Click Here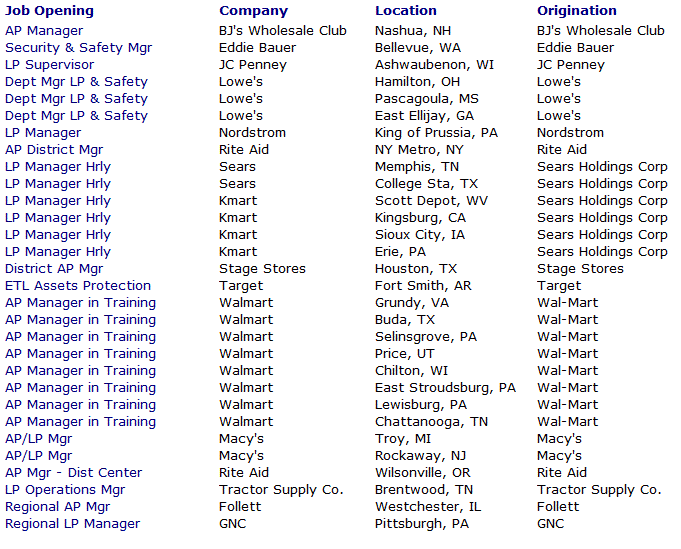 Ron Smith was named Director, Global Physical Security & Compliance for Mattel, Inc.
Amelia Kennedy was promoted to Director - Corporate Asset Protection for Dollar General.


7 Habits to Work Proactively, Not Reactively Our days are filled with phone calls, responding to emails and attending meetings, how do we get anything high-priority done at work? The key is to work proactively, not reactively. It requires time planning and being precise in what we choose to do. Here are some ways you can start working proactively. Start on Monday

6 Remarkable Productivity Tips Musicians Can Teach You Without proper planning, we start to become afraid of failing. However, just as musicians have had to learn to face challenges head on, so can we. Here are some tips from famous musicians on how to stay focused and productive. Listen to your body


5 Powerful Stress Relievers You Can Do at Your Desk Stress is in our every day lives. We feel its effects at work, at home, even on vacation. It can wreck havoc on our mental and physical health if we don't take steps to fight it off. Here are some workplace stress relievers you can do at your desk on those rough days! Just laugh it off

13 Ways You Can Immediately Be Productive in Your New Job Starting a new job is stressful: you have names and faces to learn, unfamiliar tasks and you're still getting used to a whole new environment. Make your new job transition easier by using these tips to help you through the challenges. Don't start right away

Making it new every day and getting energized - pumped up can be difficult at times. But it's important to try to find that spark each and every day to make sure you're adding value, getting things done and motivating the people around you. It's always great to drive home and think - where did the day go because you were so busy and had so many things to get done, which usually means you were pumped up and energized. But it's a terrible feeling when you can't get out of first gear and the day drags on forever. Just remember, oftentimes it's merely mind over matter. You make your own day and, quite frankly, you're also making the day for a lot of people around you. They're looking to you to set the pace.

Just a Thought,
Gus Downing




Post Your Tip or Advice! Click Here

Please make sure to add d-ddaily@downing-downing.com to your contact list, address book, trusted sender list,
and/or company white list to ensure you receive our newsletter.
FEEDBACK / www.downing-downing.com / ADVERTISE WITH THE DAILY