RLPSA: Cures for the Vegas "Flu," Cement Shoes and the Winner is...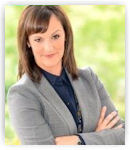 By Amber Bradley,
Calibration Marketing
Nothing cures a case of the Vegas "flu" like an outstanding keynote address and Eric Boles, president of the The Game Changers, didn't disappoint during the Restaurant Loss Prevention Security Association's (RLPSA) day two of its annual conference in Las Vegas this week.
Boles' session, "Leading Change in the New Reality," was more about lighting a fire in attendees' hearts to reevaluate their own perspectives, than just your typical "motivational" speech. Boles brought a passion and energy to the stage that was contagious.
In Boles' presentation, he listed four things that get in our way of progress:
1. Thinking we're ok the way we are.
2. The fear of the unknown.
3. The fear of failure.
4. The fear of rejection.
He also raised questions that made attendees think, such as:
- "When is the last time you had butterflies? If you can't remember, it's been too long! What are you doing to improve your life?"
- "How do you define failure? Reevaluate how you define "trying" by replacing "trying" with "training." Training means it's not always going to work out and it's ok! Training means you're perfecting something as a skill and it's ok to keep working on it."
Boles gave the audience an immediate takeaway about how to adapt to new realities by implementing an "Informal Frequent Feedback" method of asking people how you're doing on a specific task on a scale of 1 to 10. The key is not to debate the answer, but to ask a new question: What would it take to get it to 10?
Day 2 Keynote Speaker Eric Boles, President of The Game Changers, inspires attendees with his session "Leading Change in the New Reality."

Keynote Speaker Eric Boles with
Jim Forlenza, Executive Director, RLPSA.

Step Right Up for Your Ticket to Safety
With RLPSA's evolving focus on safety content, day two's general session, "Ticket to Safety - What you Need to Know About Your Safety Programs" by Linda Zaziski, Safety Director National Operations, Little Caesar's Enterprises, and Mike Keeler, Head of Safety, Bloomin' Brands, included some shocking methods of training associates about safety as well as helpful resources for those tackling safety in their organizations. For details on their suggestions, search Twitter for #RLPSA2015.

Day two rounded out with sessions covering:
- The Investigative Interviewing Method from Gene Ferraro, Chief Ethics Officer, Convercent, Inc.
- Restaurant Risk Management: Workers Comp from Lynn MacGill, Senior VP, Marsh Risk Consulting
- Conceal Carry Laws - How to Develop a National Approach by Stacy Fulco and Nicole Milos, Attorneys from Cremer Spina LLC

A popular and valuable breakout session was the law enforcement panel discussion featuring Captain Lori Bender, Houston Police Department, Robbery division; Monetta Dardanis, Detective, Las Vegas Metropolitan Police Department, RAPP; James Christie, Supervisory Special Agent, FBI; and John Gregg, Regional Director, Safety & Loss Prevention for Domino's.

Cement Shoes
RLPSA's main event transported attendees to a time when cement shoes and sleeping with the fish were common place at the dinner event sponsored by FireKing at the Las Vegas Mob Museum. Attendees took a self-guided tour of the museum and enjoyed a relaxed dinner, while dining with flapper ladies and local mob bosses.

The highlight of the event was the much-anticipated announcement of RLPSA's brand new Salute to Excellence Award winner. The committee had a difficult decision among these finalists:

| | |
| --- | --- |
| ● | Team Domino's |
| ● | Mike Keller, Panera Bread |
| ● | Chalak Mitra, Mitra QSR |
| ● | Jennifer Schaefer, McDonald's |
And the winner is...
It was RLPSA's honor and privilege to award the first ever Salute to Excellence award to Jennifer Schaefer, Regional Security Manager, McDonald's Corporation.

Schaefer has had an exceptional career within the restaurant industry thus far including notable accomplishments:

| | |
| --- | --- |
| ● | Playing a critical role in driving US Security's Rebranding strategy including coordination of system-wide messaging and communications. |
| ● | Designed, tested and launched a US Security Screensaver for all company computers aligned with October's National Crime Prevention Month. |
| ● | Redesigned and launched the US Security Website as a "one-stop-shop" to obtain information related to the protection of McD restaurants, business, and Brand with over 4,000 hits in Q4. |
Schaefer was also a 2014 recipient of the McDonald's Presidents Award (top 1% in the company), Midwest Region's Director's Leadership Award, Exceptional Woman of Ohio Award, and US Operations STAR Award. In her spare time Schaefer volunteers at the Ronald McDonald House.

Congratulations, Jennifer!

We look forward to seeing you all next year at the 37th Annual RLPSA Conference July 24 - 27, 2016 in San Antonio, Texas at the La Cantera Hills Resort! Visit www.rlpsa.com for more information and to subscribe to our new blog!

RLPSA "Salute to Excellence" award winner
Jennifer Schaefer, Regional Security Mgr,
McDonald's Corp. (center), with Rob Holm (left)
and Jim Forlenza (right).


Rob Holm, Senior Director, US Safety & Security, US Operations, McDonald's USA, - and newly named President of RLPSA - photo bombing some mobsters.



2014's GLPS's - Group LP Selfie's

Your Team - Your Pride - Our Industry

One Selfie at a Time

Super Kmart #4059 Loss Prevention Team - Taylor, MI

"Building a culture, through safety and shrink"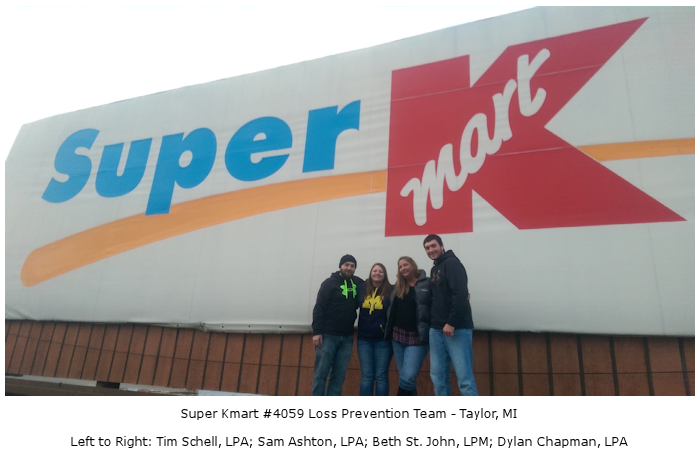 *Published on November 19, 2014

Show Your Industry Your Group LP Selfie

Building the LP/AP Industry One Selfie at a Time
---
View all the selfies here. Send us your Group LP Selfie!





6 Ways Retailers Can Prepare Now for Increased Holiday Ecommerce Fraud
During the heightened holiday shopping season, retailers do not have the time to manually review transactions for fraud. They also do not want to risk incorrectly labeling trusted customers as fraudulent and either reject their transaction add additional steps to the transaction, which will turn customers away due to inconvenience. There are several holiday shopping trends ecommerce merchants should be aware of to ensure fraudsters don't disrupt customers' holiday cheer. These include:

Increase in mobile usage
During the 2014 Cyber Week, from Thanksgiving Day through Cyber Monday, mobile accounted for 39 percent of all transactions. For the 2015 holiday season, it's predicted that this number will surpass 50 percent. Consumers are far more comfortable shopping on mobile devices than they were even a year ago and often overlook security risks, and that trust will continue to grow.

Major shopping holidays prior to Black Friday
Generally, as ecommerce merchants prepare for the holiday season, they tend to put off ramping up fraud prevention until it's too close to the holidays. However, given the new (and early) shopping days, new cybersecurity strategies should be put in place in July or August to be prepared as soon as possible and work out any kinks in fraud prevention systems.

Profile existing customer base
Retailers should consider how well they know their customers and their associated behavior. In doing so, they can identify good transactions as opposed to bad ones so risks can be recognized and mitigated as they arise.

Review 2014 holiday season
Holiday shopping in 2014 saw an uptick in ecommerce sales and with that the greater potential for fraud. Retailers should understand that initial reviews and recommended security strategies from last year don't necessarily get taken into account right away.

Create a custom holiday strategy
During the holiday season, transactions will be significantly higher than the rest of the year (as will cybercrime attempts), so ecommerce merchants should make their fraud analysis as close to real-time as possible, rather than reviewing a few times a day or week.

Tighten up existing security
Retailers should proactively identify new cybersecurity functionalities released in the past twelve months that can be added to existing portfolios. This might include new types of functionality or new rules that can be built upon to improve performance and prevent fraud. multichannelmerchant.com

China to Plant Internet Police in Major Internet Firms, Websites
China is planning to set up "network security offices" in major Internet companies and for websites so authorities can move more quickly against illegal online behaviour, the Ministry of Public Security said in a statement. China's control over the Internet is set to expand. In a bid to better police local websites, the country's security forces are establishing offices at the biggest online firms in the country. csoonline.com

Shutterfly Asks ILL. Fed. Judge To Nix Facial Recognition template Class Action - Biometric Information Privacy Act


"Fraud is not a person - it is a dynamic grouping of statistics that deviate from the norm."
Stuart B. Levine, CFI, CFCI
CEO, The Zellman Group & Zelligent



UK: Shoplifter used de-tagging magnet to steal 1,000 designer bags including Lulu Guinness then sold them on eBay for $375,000 A woman made more than $375,000 by selling stolen designer handbags online over a period of 4 years. Anna Hindmarsh, 40, used a de-tagging device to remove magnetic security tags from more than 1,000 handbags from high-end brands including Lulu Guinness and Radley. Hindmarsh, from Chipping Norton, Oxfordshire, was ordered to pay back more than $223,600 after being convicted of theft and fraud at Manchester's Minshull Street Crown Court. A search of her home uncovered information relating to eBay accounts in her name, which revealed the paper trail of hundreds of illicit sales. dailymail.co.uk

Women accused of stealing $14K in iPhones from Titusville Walmart
Two women broke the display case and put 20 iPhones into a purse and left the stores in Titusville, Fla. Police are searching for the suspects. wftv.com

Shoplifting glasses nationwide problem
Gainesville Police want you to keep an eye out for two women seen in surveillance video swiping thousands of dollars' worth of eyeglass frames. One woman is seen in the video putting several pairs of glasses up her shirt before walking out of a store at Lakeshore Mall. Back in April, Gainesville had a similar theft. In that case, a man and woman were seen stealing eyeglasses. Other local jurisdictions have had their share of people shoplifting eyeglasses. Police said it's happening nationwide all because of the latest fad. It's stylish these days to wear glasses, even if you have perfect vision. "It's the new fad and what we see, with school starting back, people are going out and looking for these items," said Sgt. Kevin Holbrook with Gainesville Police. myfoxatlanta.com


Shoplifter dressed as Wal-Mart employee, Conway, SC Police ask for help On Friday July 31 Conway Police responded to a report of shoplifting that occurred at Wal-Mart on July 29th and 31. Walmart reported that on both dates a store employee found the fire exit door alarm was activated in a back room. She went to check it out and discovered an unsecured door with a shopping cart just outside of the door. The surveillance footage was reviewed and the suspect is a man and was dressed as a Wal-Mart employee. The unknown suspect grabbed a shopping cart, a plastic tote, and then walked to the electronics department and places several items in the cart and exits the business thru the fire exit door. wbtw.com

Three Huntsville, TX men indicted for Organized Retail Theft
According to police reports, two men were observed stealing two PlayStation 4 video game consoles valued at more than $800 from Target in the 200 block of Interstate 45 South on Jan. 22. The suspects were caught on video running out of the store with two large boxes. Officers with the Huntsville Police Department recognized two of the suspects from the video. itemonline.com

Do you have an ORC case to share? Publishing it educates the LP & retail community
which might fuel even more jobs and funding.
Share your ORC news and help the industry grow


Police Investigate Armed Robbery at North Reno Home Depot; shots fired Police are investigating an armed robbery that occurred late Tuesday afternoon at a Home Depot in north Reno. Police say the unidentified suspect walked into the Northtowne Lane store around 4 p.m., and was stopped by security after he allegedly shoplifted some unknown items. Police say the suspect fired three shots from his revolver while scuffling with security, before he was taken into custody by police. No one was hurt during the incident. The store was temporarily closed, but is now back open to customers. ktvn.com


$240 Walmart Shoplifter now facing Attempted Murder of a Police Officer in Knox County, KY Barbourville, KY Police responded to a shoplifting complaint at Walmart Saturday. Officials say Jennifer Wheat, 30, tried to leave the store with two car batteries worth about $240. Officers say she pushed past the store manager and drove off. Police say she kept driving when officers tried to pull her over, reaching speeds of over 100 mph. Police say during the chase, Wheat crashed into two patrol cars, hitting one of them head on. Officers finally stopped Wheat using a pit maneuver and took her into custody. One police officer was taken to the hospital for treatment of injuries. lex18.com

7 SuperTarget Employees under investigation for theft in Victorville, CA; charges dropped on 4 of 7 An alleged seven-employee theft conspiracy at the Hesperia SuperTarget was resolved this week, with charges ultimately dismissed against four of the workers. The dismissals signaled the end of a case filed in January 2014, the culmination of a two-month internal investigation. The probe began in October 2013 after Asset Protection staff at SuperTarget "discovered a multi-employee theft conspiracy while conducting an investigation on an unrelated incident," authorities said. The investigation determined thousands of dollars worth of merchandise was stolen, and San Bernardino County Sheriff's detectives were contacted to assist in the probe. Surveillance video, inventory analysis and employee interviews helped officials identify seven employees who were alleged to be involved in the theft, authorities said. vvdailypress.com


Man accused of attacking women near the Florida Mall arrested The man deputies say attacked a woman at a shoe store near the Florida Mall will face a judge Wednesday morning. Deputies say 54-year-old Richard Whitehouse was arrested Tuesday night after someone recognized him from a surveillance video. Officials say Whitehouse is accused of attacking and robbing two women. Investigators say Whitehouse grabbed a female employee of the House of Shoes on Crystal Clear Lane by the hair, forced her into the bathroom and robbed her phone and some cash from the register. Deputies say Whitehouse attacked another woman the next day in the Doctor Phillip's area. myfoxorlando.com

Rushville, NE woman accused of hitting mall employee while fleeing shoplifting
A 33-year-old Rushville woman faces charges after she allegedly struck a Monument Mall employee with her vehicle while attempting to flee after an alleged shoplifting. Cassie Owen has been cited on charges, including theft by shoplifting, assault, child restraint violation and no proof of insurance, Capt. Tony Straub said Tuesday. The employee was not injured. starherald.com


Error in Police Report and Witness No-Shows give a Serial Shoplifter in Albuquerque a Big Break A man accused of shoplifting at an Albuquerque Home Depot five times in the last four weeks is arguably one of New Mexico's 'boomerang thugs' -- escaping justice time and time again. Adam Sedillo is just 25-years-old, yet he's already been named in nearly a dozen shoplifting cases since 2009. He made his first court appearance on Tuesday in connection to the Home Depot case. Albuquerque police reviewed surveillance video at the store, near Coors and Quail, which showed Sedillo inside on 5 different dates in July. They said he used tools from the store to remove security devices from other tools before concealing them in a backpack. The value of the stolen merchandise was $3,500. Court records prove that Sedillo was involved in another eight shoplifting cases dating back to 2009. Of those cases, seven were dismissed. In some cases, a witness failed to show or was uncooperative. In another, a Walmart LP Agent was assaulted during a failed apprehension, the cases was dismissed because a finalized police report was not filed in time to meet court deadlines. kob.com

Upper Darby, PA woman accused of Setting up KFC/Taco Bell heist
A Darby Borough woman and her nephew are facing robbery and conspiracy charges for allegedly orchestrating a holdup of the fast food restaurant where she worked as a manager. It was after closing and Dalton was working with another employee when she said the man threatened to kill them if they didn't give him money. He made off with $2,800 cash in a bank deposit bag. "She admitted that she set up the robbery with her nephew," Chitwood said. "She (allegedly) said she got $1,000 on her end for it." delcotimes.com

Employee at Tobacco Alley in Meyersdale, PA steals $50,000 in Lottery Tickets Police say surveillance video shows Porter tearing lottery tickets from a dispenser, scratching them off and throwing away the non-winning numbers. This one instance, police say, was while Porter was working alone in July. According to the criminal complaint Roth submitted a written statement to police, claiming Porter stole more than $17,000 worth of lottery tickets in June and July alone. In all, police say Porter stole $48,999.26 in lottery tickets... Guessing she didn't win. wjactv.com

Warren, OH man sentenced for three Akron Armed Robberies in four days; hit same Family Dollar twice A Warren man will spend eight years in prison for a four-day robbery spree in Akron capped off by a stand-off with police. Beason admitted to committing robberies in Akron between May 14 and May 17. The spree began with an attempted robbery at the Family Dollar store on North Arlington Street. He put a gun on the counter, demanded money and ran away. The next day, Beason went back to the same Family Dollar store and requested two packs of cigarettes. When the cashier rang up the sale, Beason demanded money and said he had a gun. cleveland.com

Massive identity theft ring uncovered in Salt Lake, UT
Salt Lake City Police are investigating one case of identity theft that involves hundreds of victims and tens of thousands of dollars. Police traced the fraud to an Ogden man identified as Paul Angelo Valencia, 30, with a long history of similar crimes. Officers from the Salt Lake City Police Financial Crimes Unit have arrested Valencia at a downtown hotel and confiscated thousands of documents with a search warrant. Found in the search: stolen and bogus bank and credit cars, personal and business checks, phony social security cards, property tax notices, insurance forms, credit card applications and other stolen mail. good4utah.com


UK: Heroic Shoppers try and Stop Smash-and-Grab Motorbike Jewelry Robbers Armed with Axes This is the jaw-dropping moment a gang of axe-wielding men on motorbikes made a shocking raid on a jewelers - as brave shoppers tried to take them on. The alleged raid took place at 10.50am this morning at a Winsor Bishop store on London Street, Norwich. In the video, three men are seen making their getaway from the shop, which has several windows smashed in. Onlookers watched on, fearful to confront the men because they appeared to be holding weapons including an axe and a hammer. However as they made their getaway, one man bravely chased them in a bid to carry out vigilante justice. mirror.co.uk

Fake waiter skims credit card for shopping spree in Salt Lake City

4 arrested in Milford, CT shoplifting at Sears and JC Penney; 1 found in stolen car

Detroit: 3 men sentenced to life in prison for deadly shooting of Clinton Township party store owner

Suspect Arrested for Robbery After Kicking Raley's Security Guard in the Groin

Farmer Brothers Coffee employee in Moline, IL steals $24,000 in cash and up to $100,000 in product

UK: Dyfed Powys Police in Wales investigating a $19,000 Jewelry store Distraction Theft


---

● B-Quick - Starkville, MS - Armed Robbery
● CoGo - Dormont, PA - Armed Robbery
● Currency Exchange - Chicago, IL - Employee Theft $3,300
● CVS - Kissimmee, FL - Robbery
● CVS - Bloomington, MN - Burglary
● CVS - Zionsville, IN - Armed Robbery
● Dollar General - Galesburg, MI - Armed Robbery
● Dollar General - Dallas, TX - Armed Robber / wanted on murder charges
● Dollar General - Lauderdale, MS - Robbery
● Kangaroo Express- Hopkinsville, KY - Armed Robbery
● La Quinta Inn - Tulsa, OK - Armed Robbery
● Metro PCS - Fort Worth, TX - Armed Robbery
● Mobile - Manchester, NH - Armed Robbery
● Shop-N-Go - Wilmington, NC - Armed Robbery
● Tigermart - Nashville, TN - Armed Robbery
● Walgreens - Broken Arrow, OK - Armed Robbery
● 7-Eleven - St Louis, MO - Armed Robbery
● 7-Eleven - Rochester, NY - Armed Robbery





To apply to today's Featured Jobs, Click Here



Limited Time Only - Post Your Multi-Unit LP jobs for FREE - Learn More Here




Today's Daily Job Postings from the Net - Appearing Today Only

To apply to today's Internet Jobs, Click Here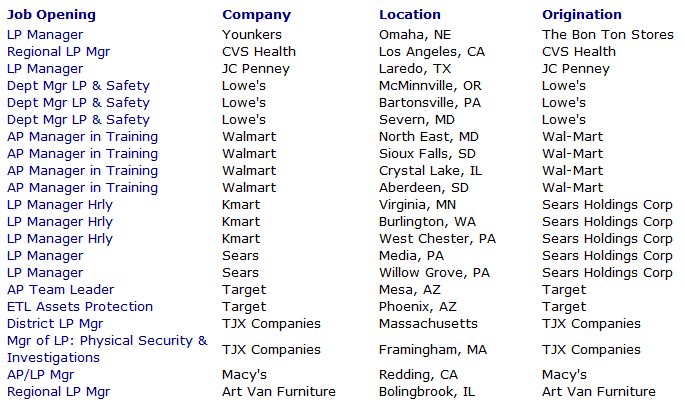 Jen Drake, CFI was named Loss Prevention Manager, Walmart Logistics for Walmart Canada.
Anthony Villanueva was promoted to Territory Operations Manager for The Home Depot.


9 Surprising Traits of Truly Phenomenal Bosses There are many good bosses in the workplace, but what it takes to be considered "phenomenal" lies not only in what your team sees you do, but what you get done behind the scenes as well. Here are some traits that make up bosses that are truly outstanding. Forgive and forget

Simple Leadership Advice for New Managers Many people who step into new leadership roles fine that it's not as easy as they think. It can take some time to find your footing and learn how to manage a team. Remember what skills and qualities got you the job in the first place and follow these strategies and you'll do just fine. Be yourself


10 Things Successful Leaders Remember When Things Go Wrong You may have everything planned to a T, a phenomenal team, and a solid plan to reach your goals. When things go wrong, it not only tests your ability to handle the challenge, it tests your leadership ability. Here are some things to remember through your next storm. Keep an upbeat attitude

The One Trait that Every 'Superboss' Needs Reaching 'superboss' status is no easy feat. It requires tactical mentoring and a heightened ability for generating talent. Incredible leaders like Oprah Winfrey and Jon Stewart all share one 'superboss' quality. They are superb in building talent. Here's how you too can perfect this talent. Push to the limits


Being too close to the trees to see the forest is an expression that also fits not appreciating the role you play on your own team. With the needs of the day seemingly always taking priority, it's difficult for some to step back and truly see the value you can add to your own team. Realizing it and accepting the responsibility as a team member is half the battle. But doing something with it and truly adding value is what helps the team win the game. Every group, every department is in fact a team and every member plays a vital role towards the success and the survival of that team. That's why that old expression - One for all and all for one - took such a hold in literature. Because it is that simple. The hard part is taking responsibility for it.

Just a Thought,
Gus Downing




Post Your Tip or Advice! Click Here

Please make sure to add d-ddaily@downing-downing.com to your contact list, address book, trusted sender list,
and/or company white list to ensure you receive our newsletter.
FEEDBACK / www.downing-downing.com / ADVERTISE WITH THE DAILY