Keynote Session:

Organized Retail Crime: Stories from Toronto's Crime Scene


Sep. 16th - The International Centre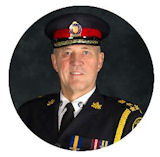 In his keynote presentation, Bill Blair, former Chief of Toronto Police will share some of the most detrimental and intense organized retail crime cases that he investigated during his 35 years of service with the Toronto Police. Chief Blair will share his unique perspective on leadership and will also offer advice on how LP teams could successfully work with law enforcement officials to combat crime.

Police investigate Smash and Grab incident at North Hill Centre in Calgary Calgary police are investigating after a vehicle crashed through a set of doors at North Hill Centre and then smashed into one of the stores inside. Police were called to the mall by security staff at about 4:30 a.m. and found a gaping hole in one of the south entrances when they arrived. A number of display cases in Paris Jewellers were broken but it is still unclear exactly what if anything was taken. Investigators are working to obtain surveillance video, which will help them identify the suspects and determine exactly what happened. Police located a white Ford truck believed to be involved in the incident a short distance away. ctvnews.ca

Rutland Mac's Store Robbed by 3 men
RCMP are searching for three men that robbed the Mac's Convenience Store on Rutland Road. The incident happened around 3:30 a.m. on August 2nd when three men entered the store wearing scarves over their faces and wearing hoods. One of the men ordered an employee to stand in a corner while the other two loaded grocery bags with cigarettes and energy drinks. No weapon was produced. The suspects then left on foot and headed in an easterly direction. kelownanow.com

Serial shoplifter sentenced to 115 days in jail in Sarnia, ON
A woman's motivation to end her drug addiction was questioned when she was sentenced to 115 days in jail for thefts and order violations in Sarnia court. Shannon Leigh Kerwin, 38, of Sarnia, was sentenced Wednesday after she previously pleaded guilty to five thefts from stores and court-order violations between 2013 and July 16, 2015. In August 2014, Kerwin stole $30 worth of goods from a store. She then went on to steal another $287 worth of goods - including books, tote bags, socks and underwear - from three stores in a plaza on Nov. 25, 2014. A police officer who knew Kerwin had a record for theft stopped her as she left the last store and found the stolen goods. But less than a month later, on Dec. 12, 2014, Kerwin loaded $1,300 worth of goods in a shopping cart before leaving a store without paying. She was stopped outside and the goods were recovered. theobserver.ca

Gas Station Skimmer found in Vernon, B.C.

Coquitlam RCMP seek help in suspected shoplifting case

RCMP in Nova Scotia and New Brunswick apprehend Cambridge man for three overnight robberies

2 arrested after Dartmouth pharmacy robbed

Kamloops Mounties release photos of credit-card skimmer




Alibaba upgrades anti-counterfeiting system following complaints - Launches English version of counterfeiting reporting system Amid complaints that the e-commerce company does little to fight fake goods, China's Alibaba Group is giving foreign vendors a direct line to report any counterfeit products spotted on its retail sites.

The e-commerce giant has introduced an English-language version of its counterfeit reporting system, the company said on Friday. This will better allow foreign companies to file complaints, so that Alibaba can take down the infringing goods on its Taobao and Tmall sites. Although Alibaba has its own internal anti-counterfeiting safeguards, the new English-language system will help it identify suspicious product listings that it's missed, the company said on Friday. cio.com

Tampa is the hot spot nationwide for online fraud - Hackers using your data centers to route traffic using stolen cc's Tampa No. 1 in a ranking of cities where online fraud occurs. A recent study found a correlation between top cities for fraud and those home to hosted data centers. In Tampa and in other top 10 cities, there were large concentrations of fraud attempts coming from recognized data centers within those cities, the company said.

Cybercriminals are reaping the rewards of high profile data breaches by exploiting hosted servers and using stolen identities to their advantage. "Transactions coming from hosted servers and data centers should automatically set off a red flag to businesses, as cybercriminals use these servers to fraudulently route traffic using stolen data. Instead of hosted servers, authentic customer transactions are likely to come from business, consumer and mobile networks."

Faulkner called data centers and hosted service providers "unwitting accomplices and victims of online fraud and cyberattacks," and urged them to put cybersecurity strategies in place that can accurately identify illegitimate usage in real time. bizjournals.com

Why Retail Breaches And ATM Hacks Won't Stop -- And How Organizations Can Protect Their Customers The 2014 deluge of cyber attacks against large merchants like Target , Kmart and Home Depot was just the tip of a very large iceberg. The success of those breaches is now encouraging hackers to attack even more retailers, some of which are probably already infected. Remember, it took Target six months to realize they'd been hacked. Even worse, a new trend looms that is equally troubling: ATM hacks. The highly publicized Carbanak attack was just the beginning; once cyber hackers realize how old and unsecure the ATM networks are, banks may be in for an unpleasant surprise.

It's important to realize that fraud occurs at the point of least resistance. Criminals are trying to do the least amount of work possible; otherwise, they'd have real jobs! And, as discussed, the current Achilles' heel of the financial and retail sectors is the legacy payments systems. Shore up these defenses, and fraud will (at least temporarily) decrease.

The following section outlines specific tactics that retailers and banks can use to prevent fraud

● Make sure you put more attention into your payments system, both back end and customer-facing. If you do not have time to do it yourself, hire an outside consultant to look at your system and give advice. A lot of the security bugs can be fixed fairly easily, but they require attention.

● If you're an administrator with control of accounts, change your password once a month. And do not use simple passwords.

● Make sure you are choosing a payment processing provider appropriate for your business. If your emphasis is online vs. offline, ask your provider whether their expertise fits your needs. If necessary, choose one provider for online commerce and a different one for offline.

● Choose the right payment implementation for your business. For example, if you are a small retailer, you can use a Hosted Payment Page, which is hosted on the provider's side. If your provider has a secure system, it's probably safer to do that than to host the payment page yourself.

● Enact policies that weed out fraudsters, including accepting payments only from authorized accounts.

● Pay attention to your customers' IP and mailing addresses: if they don't make sense, do not ship the order. forbes.com

Mobile Wallets Are Not Securing Data as It Goes to the Cloud

Mobile growth drives Etsy's sales nearly 25% higher in Q2

E-commerce equals 20% of Kate Spade's business


"Fraud is not a person - it is a dynamic grouping of statistics that deviate from the norm."
Stuart B. Levine, CFI, CFCI
CEO, The Zellman Group & Zelligent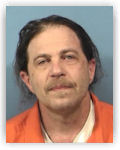 Florida man convicted in $2M Lego theft now held on $125K bond for shoplifting at Hobby Lobby in IL After hearing the criminal past of a Florida ex-convict who authorities said made $1 million selling Legos and other stolen goods online, Judge Brian Telander set the man's bail at $125,000 on a charge he stole paintbrushes from a Hobby Lobby. Ignatius Pollara, 49, of Tamarac, Fla., is charged with felony burglary. Authorities in DuPage and Cook counties were notified by Florida authorities that Pollara had planned a trip to the Chicago area, prosecutors said. A few minutes before 2 p.m. on July 3, Pollara went to the Hobby Lobby in Lombard. He took paintbrushes and hid them in the small of his back, then tried to leave the store. Pollara is seen as a possible flight risk. suntimes.com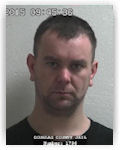 Wis. statewide investigation into man committing thefts, fraud and ID thefts statewide Police say David Lee Peterson often goes to gas stations and purchases gift cards using stolen checks. Peterson has also been known to create credit accounts at retail stores using other people's identities, according to the release. nbc15.com


Rochester's ORC thief 'most wanted' has been arrested
Last week's "Rochester's Most Wanted of the Week" - who had six active arrest warrants alleging retail crime - is currently in jail after being arrested in Dover. James Hepburn Jr., 38, of 36 Farmington Road, Apt. 3C1, Rochester, is charged with organized retail crime, three counts of willful concealment, theft by deception and being in contempt of the court. Two of the charges are from an April 15 incident, in which Hepburn allegedly stole from Walmart in Rochester. The next two charges are from a May 25 incident at Walmart. The other charges stem from a June 5 incident in which Hepburn allegedly stole from Kohl's in Rochester. fosters.com

Three arrested in Waco, TX following ORC Theft at Walmart
Three are in jail after attempting to steal hundreds of items from Walmart, police say. Rachel Leah Black, Crystal Lee Pruitt and George Wright Allen were all charged with engaging in organized crime. The two women and man were arrested by Waco police Wednesday for attempting to leave Walmart without paying for 124 different items. The suspects were still in the parking lot when police arrived. All items were recovered. kxxv.com


Franklin, NJ woman charged in shoplifting scam at Walmart
Another person has been arrested in an ongoing scam involving merchandise shoplifted from Walmart, police said. Detectives learned that several people have been stealing items from the store and returning them for store credit or gift cards. The cards and credit were then sold to area pawn shops, police said. A Franklin woman, Jacqueline Thompson, 24, was arrested Tuesday after police said she took part in the scheme. When she was arrested, police said Thompson was in possession of a benzodiazepine narcotic, marijuana, heroin, drug paraphernalia and needles at her home. She also had an air soft firearm but no permit or firearms identification card. nj.com

2 Cell Phone thieves wanted for shoplifting from Grovetown Walmart
Columbia County Sheriff's Deputies need your help identifying two people suspected of shoplifting from the Grovetown Walmart. One suspect is described as a black man with long dread-styled hair, wearing a multi-colored shirt, black pants, and a dark ball cap. He is accused of taking three cell phones. wrdw.com

Do you have an ORC case to share? Publishing it educates the LP & retail community
which might fuel even more jobs and funding.
Share your ORC news and help the industry grow


Six indicted for multi-million Nigerian scam - Five U.S. citizens & One Nigerian
A 19-count indictment alleges Franzen was part of an Internet-based scheme to defraud others through work-at-home and secret-shopper scams. According to the indictment, the scheme allegedly involved bogus checks, money orders and traveler's checks and the purchase of "high dollar" items with fraudulent credit card accounts. Homeland Security Investigations alleges Hassan and others directed the shipping of counterfeit checks and the purchases and reshipping of expensive clothes, jewelry, purses, computers and cellphones bought with fraudulent credit cards.

Illegal proceeds were wired or shipped to others in Nigeria, China, Ghana, Haiti, South Africa, Philippines and the United Arab Emirates. The indictment alleges the conspiracy ran about four years, from Aug. 13, 2011, through June 3. mantecabulletin.com

Teen Shot, Killed In Grocery Store Parking Lot In Denver
According to police, Jorge Elias Lopez-Ramirez, 17, was shot and killed last Friday just after 8 p.m. in the parking lot on the north side of the Lowe's Mercado grocery store located at South Federal Boulevard and Louisiana Avenue. So far police have no suspects in the shooting. cbslocal.com


Nashville, TN Police searching for man who robbed Kroger cashier at gunpoint Police are searching for a man who attempted to rob a grocery store cashier at gunpoint in south Nashville Thursday night. It happened at the Kroger at Nashboro Village around 11 p.m. A man walked into the store wearing a yellow bandana over his face and a hooded sweatshirt. He approached the cashier, pointed a gun at her and ordered her to open the register. A customer saw the man attempt to rob the woman and began running through the aisles, telling customers to go to the back of the store. The clerk was explaining she can't open the register without a key when the man grabs her and she pushes him away. The man eventually left the store empty-handed. A half-hour before the attempted robbery, another man got into an altercation with the same cashier. That man asked her for change for a $10 bill and then began touching her around her waist. Police are trying to determine if the two incidents related or if the men were working together. wkrn.com

Shoplifters Claim They Heard 'Free Holiday' Not 'Tax Free Holiday'
Two Georgia women blamed poor hearing for their alleged attempt to shoplift nearly $800 worth of clothing from a high-end Atlanta department store, police said. Simone Norris, 26, and Brittany Yawn, 23, said they understood the Perimeter Mall store was having a "free holiday" and interpreted the news to mean the items were free for the taking. springfieldnewssun.com



Authorities looking to ID 4 subjects who used fake credit card at Walgreens in Topeka, KS Crime Stoppers says that on July 26th, 2015, two unknown white males and two unknown white females entered the Walgreens store located at 2121 SW Fairlawn in Topeka. These subjects completed credit transactions using an illegal credit card. Surveillance images and video of the subjects were obtained. ksnt.com



DNA links person of interest to Under Armour store robbery in Bluffton, SC A person of interest in the case of a robbery at a Tanger Outlets store surrendered to authorities Thursday. Officials said Devin Thomas, 23, of Estill, was seen walking in the area after the robbery on July 28. They said Thomas was a former employee at the store and consented to a DNA test. Investigators said the robber entered through a rear door of the store before it opened for business. They said he was armed and masked when he demanded cash. Authorities said the gunman placed the money in an Under Armour backpack before fleeing through a rear door of the store. Officials said the DNA sample provided by Thomas matched a profile developed from evidence recovered from the robbery. Thomas faces several charges, including armed robbery. He is being held at the Beaufort County Detention Center. wjcl.com

Surveillance photos released in Michael Kors burglary in Memphis, TN
Less than one month after opening, burglars raided Michael Kors at Shops of Saddle Creek. The new store is located in the 7500 block of Poplar Avenue. Investigators say the crooks shattered the store's front windows with a sledgehammer to steal more than $12,000 in merchandise. Thirty-six handbags are missing, along with six backpacks, and six pairs of shoes. myfoxal.com



Thieves Committing Dozens Of Smash-&-Grabs Across Broward County, FL Since May, the Broward Sheriff's Office says a pair of smash-and-grab thieves have targeted nearly three dozen businesses throughout Broward and left a trail of broken doors, stolen cash registers and surveillance video behind. The Broward Sheriff's Office says the crooks strike between midnight and 10 a.m., smashing their way in through the front door of a business trying to get their hands on some cash. cbslocal.com

Gastonia, NC Police have responded to over 700 shoplifting calls, trend not slowing down Complaints about such theft pop up routinely in the daily case reports compiled by the Gastonia Police Department. Its not surprising since the city serves as Gaston County dominant retail hub. Through July of this year, Gastonia police took calls about 712 cases of shoplifting, involving everything from department stores to small gas stations. That figure puts the city more or less on pace with what was seen in 2013 and 2014, reflecting the fact that its a steadily occurring crime, said police spokeswoman Donna Lahser. We have not seen big spikes in shoplifting, she said. But it is a common problem. gastongazette.com

Dollar General Manager in Avon Park, FL stole a $3,000 Deposit, reported fake Armed Robbery When the manager of a Dollar General store reported on June 23 she was robbed while making a deposit, Highlands County deputies responded, formed a perimeter and searched. But after they failed to find a suspect, and as the investigation into the robbery continued, authorities say, the manager's story unraveled and evidence indicated that she had reported a fake crime that involved her and her boyfriend. Jessica Rivera and her boyfriend have been arrested by the Highlands County Sheriff's Office. highlandstoday.com

Arrest made in the Diamond Gems Armed Robbery in Jonesboro, AR

Univ. of Texas Offensive Lineman cited at Walmart for shoplifting

Manager of Joint Taco Bell-KFC Admits to Arranging Robbery of Own Store for $1,000

Minnesota Couple Caught with IDs, Bank Cards of 10 Victims

ATM Thieves Target Uptown Dallas Gas Station Early Friday Morning

Taylor Swift Battles Both China And 'Lucky 13' Clothing Line Over Trademark Issues

Smash and grab burglar snatches six Ukuleles from Hilo, HI gift shop



---

● Casey's General - Fargo, ND - Robbery
● Circle K - Miami, FL - Shooting
● Circle K - Decatur, IL - Armed Robbery / Murder
● Exxon - Fayetteville, NC - Robbery
● GameStop - Virginia Beach, VA - Robbery
● Kum & Go - Owasso, OK - Shooting / Murder
● Mi Pueblo Thrift Store - Martin Co, FL - Robbery
● S-Mart - Alexander City, GA - Robbery
● Shell - Dallas, TX - Burglary
● Smart 7 - Rochester, NY - Shooting/ 2nd day in a row
● Star Food - Galveston, TX - Burglary
● The Menz Room - Lakeview, IL - Burglary
● Valero - San Antonio, TX - Burglary





To apply to today's Featured Jobs, Click Here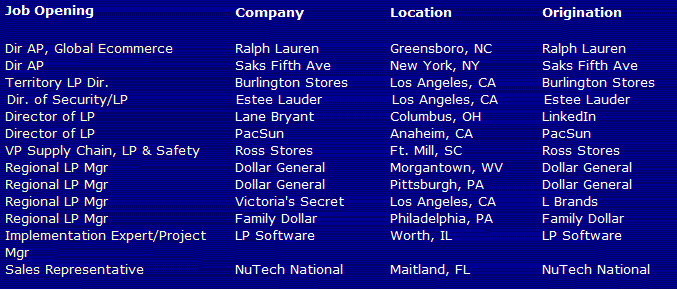 Limited Time Only - Post Your Multi-Unit LP jobs for FREE - Learn More Here




Today's Daily Job Postings from the Net - Appearing Today Only

To apply to today's Internet Jobs, Click Here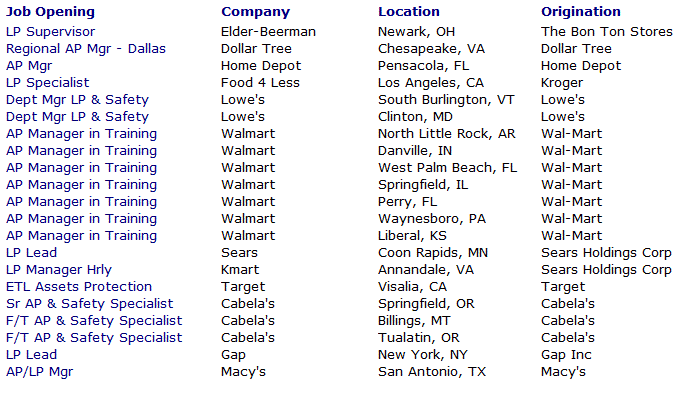 | | |
| --- | --- |
| | Denton Edwards was named Territory Operations Manager for Home Depot. |


Asking for advice is a great thing and we all need it from time to time merely because as the old adage goes we're too close to the trees to see the forest. However, the key is who you ask for it and what are their agendas, because we all have them and even well-intentioned advice can be swayed by an individual's need or desire to accomplish their objectives. Advice is the easiest thing to give and the hardest thing to practice. But getting a second opinion is always good. You've just got to realize that we're all just humans and even the best advice givers and mentors are influenced by their own needs.

Just a Thought,
Gus Downing




Post Your Tip or Advice! Click Here

Please make sure to add d-ddaily@downing-downing.com to your contact list, address book, trusted sender list,
and/or company white list to ensure you receive our newsletter.
FEEDBACK / www.downing-downing.com / ADVERTISE WITH THE DAILY