Costco, CVS, Rite Aid, and Wal-Mart Canada Online Photo Centers Still Down After Third Party Data Breach of PNI Digital Media Owned By Staples, on July 20th It's going to take some more time for Costco Wholesale Corp. to get its online photo center back up after a possible breach of customer credit card information collected by a third party in late July, according to an updated post on its photo website. Costco updated its online photo center website on Tuesday to say that it's still unable to take online orders, and the online photo centers for CVS Pharmacy Inc., Rite Aid Corp. and Wal-Mart Canada were also still down Friday following the report on July 20 of a suspected breach. The photo sites are all hosted and managed by third-party vendor PNI Digital Media, owned by Staples Inc., according to the companies. law360.com

Walmart, Gap, Macy's, among 100 brands demanding removal from Jet.com
Dozens of leading retailers, including Walmart, Gap, Macy's, and even competitor Amazon complained after discovering new online marketplace Jet had placed links to their sites without permission. Jet then promised its members cash back for making purchases after clicking on these retailers' links.

Jet's Chief Customer Officer Liza Landsman said some merchants requesting their brands be taken down view Jet as a competitor, and others wanted to negotiate a deal. However, another group of retailers was unaware but happy for the traffic Jet was driving to them. fireceretail.com

eCommerce Innovation and security go hand in hand
The electronic payments industry is innovating at a rapid pace, developing new methods involving cloud-based near field communication (NFC) mobile technology, e-commerce and in-app payment systems, to name a few. All these innovations help make electronic payments easier and more accessible. One of the most important initiatives for bolstering security in payments is to foster the collective responsibility of all the units in the payment ecosystem, which is made up of financial institutions, merchants and card networks. To sustain this ecosystem, every part of it should take measures to protect consumers from fraud. Predictive fraud analytics tools help payment works stay one step ahead by using advanced fraud monitoring and detection systems. The tool performs real-time correlation searches and anomaly detection, which means it can detect fraud as it happens and blocks the malicious transaction right then and there. By regularly auditing risks and monitoring problem areas, the tool becomes more efficient and builds a stronger and more accurate profile of fraudulent activity. iol.ca.za

Amazon to open first Chicago center 500,000-sq.-ft. center in Joliet, Illinois - 1,000 jobs - including a few LP jobs!

Neiman Marcus drives 25.8% of sales off website in first nine months of fiscal year

Android Fingerprint Scanners Open to Mobile Payment Hacks

As Amazon Dominates Marketplace Sales, Online Retailers Express Concern Over Its Market Share


"Fraud is not a person - it is a dynamic grouping of statistics that deviate from the norm."
Stuart B. Levine, CFI, CFCI
CEO, The Zellman Group & Zelligent




Fencing Operation: St. Augustine Pawn Shop Owner Arrested - ORC Ring Leader that hit Target, Wal-Mart, & Home Depot stores The owner of EZ Money Pawn Shop in St. Augustine was arrested Thursday in connection to a raid at the shop that occurred last month. Robert Benton Ellis, of St. Augustine, is accused of being a leader of a group that "initiated several grand thefts on several occasions from Target, Wal-Mart and Home Depot business," according to the arrest affidavit.

The group targeted stores in St. Johns and Duval counties, and the stolen property was sold to Ellis at his pawn shop, located at located at 2640 U.S. 1 South. Ellis, 56, would then pay cash for the merchandise. The suspects worked as a group at times and took orders from Robert Ellis for specific items," the affidavit said. The other suspects in the case told investigators the same story - they "stole several items at retail outlets at the request of Robert Ellis" and then "sold them to Robert Ellis at his business." The investigation is ongoing. jacksonville.com

Police, district attorney not ready to prosecute Janesville Landlord for Home Depot ORC retail theft ring - Landlord running major Home Depot Gift Card Ring
Police believe a Janesville landlord owning over 80 properties is participating if not running a shoplifting scheme involving thefts of more than $30,000, but the district attorney won't prosecute their case. District Attorney David O'Leary said police don't have proof to support their allegations, and he won't take the case to court.

Police are convinced the landlord is guilty of bankrolling the scheme. But after "countless" meetings with the investigators, O'Leary said he was not convinced police have definitive proof of the potential charge-conspiracy to commit retail theft.

Police interviewed dozens of people they believe stole items from Home Depot or returned items others had stolen for in-store credit. The credit was loaded onto plastic cards, which the shoplifters sold through an intermediary to the landlord for 50 cents or 60 cents on the dollar. Police believe Richard D. "Rick" Donahue, 3735 Skyview Drive, who owns numerous rental properties in the city, bought the Home Depot cards, knowing they were the result of shoplifting.

Police have Home Depot records showing Donahue used the cards to buy building materials to work on his properties, but only one witness can testify Donahue knew the cards were the result of thefts. That person is Tyler J. Groeller, 30, of 3704 Stuart St., No. 8, Janesville, an admitted heroin user and organizer of the thefts. He told police several different stories before telling them he organized the thefts to sell the cards to Donahue. Groeller told police he paid his "returners" and sold the cards to Donahue.

Home Depot requires identification when getting the cards and when using them, and company records show Donahue used cards that originated with 55 different Rock County residents, said officer Jennifer Reed, the primary investigator on the case. Police believe Donahue was taking advantage of disadvantaged and drug-addicted people and remodeling entire residences with the cards. gazettextra.com


ORC Ring of Thieves Steal $58,000 Worth of Cosmetics From CVS Stores in Five Southern California Counties - May be bigger operation A man and two women suspected of stealing nearly $60,000 worth of high-end cosmetics from CVS stores in five counties were arrested after the crimes were caught on security cameras.

The suspects are accused in the thefts of more than $58,650 worth of cosmetics at stores in Orange, Los Angeles, San Bernardino, Santa Barbara and Ventura counties. Seal Beach police arrested the three suspects earlier this week after detectives obtained the security camera video from thefts in Orange County.

The thefts began in June 2013. Video showed the subjects walking into the store and taking items from a wall of cosmetic items. The charges are in connection with crimes committed in Orange County It was not immediately clear whether authorities in other counties will pursue criminal charges. Two of the suspects are being held without bond. Police believe there's more to this case. nbclosangeles.com

Traveling fraudsters busted in Minneapolis - hit 8 cities with cloned credit cards buying gift cards Two men believed by police to have used fraudulent credit cards in at least eight metro area cities have been charged with identity theft and fraud. Josiel Turano, 25, and Ricorango Magdiel, 26, are accused of using four cloned credit cards at the White Bear Township Cub Foods to ring up $1,819.48 in gift card purchases. Turano and Magdiel left the Cub Foods in a rental car and were arrested in Rosemount. Police say video surveillance shows they were also involved in fraudulent in transactions in Eagan, Shakopee, Burnsville, West St. Paul, Cottage Grove, Inver Grove Heights and Woodbury. cbslocal.com

Four member Credit Card Fraud Ring busted Hitting Walmart stores in Evesham, N.J. Four people allegedly connected to a New York credit card fraud ring were arrested early Friday morning after reportedly ramming a police car in the parking lot of a local store the night before and fleeing the scene at a high rate of speed. Police were called to the Walmart on Route 70 about 9 p.m. Thursday for a report of four suspects who were identified by store security as being part of a credit card fraud ring that had been targeting Walmart stores in the area. The men had attempted to buy iPads with fraudulent credit cards but store staff turned them away, police said. When the suspects, all from Brooklyn, New York. burlingtoncountytimes.com

Shoplifter steals $2500 worth of cosmetics at Hermosa, South Dakota CVS
The suspect cleaned out an entire section of the cosmetics area and loaded the products into a store hand basket. "According to the manager, that's one of the most expensive things in the store," Hermosa Police Sgt. Kevin Averill said. " easyreadernews.com

Three Denton, TX men arrested for theft at JC Penney, Dillards and Zumies
Two 19-year-old men and one 17-year-old man were arrested and charged with organized retail theft between $50 to $500 after they took items from J.C. Penney, Zumiez and Dillard's, according to police reports. dentonrc.com

Serial Shoplifter arrested again at Walmart in Walnut Hill, CA
A Walnut Hill man with a history of shoplifting arrests is facing a felony charge for allegedly stealing a 32-gallon tote full of underwear. northescambia.com

Athens, GA: Women shoplift underwear from Victoria's Secret at Georgia Square Mall On Saturday, an Athens-Clarke County Police officer was dispatched to Victoria's Secret at Georgia Square Mall in reference to a shoplifting complaint. The employee told the officer that another customer approached her and told her they observed the women putting underwear into their purses. When the two women were approached, they walked out of the store. It was reported that $750 worth of underwear was taken from the store. onlineathens.com

Police bust man stealing 19 boxes of condoms from Rite Aid in the Bronx, NY

Do you have an ORC case to share? Publishing it educates the LP & retail community
which might fuel even more jobs and funding.
Share your ORC news and help the industry grow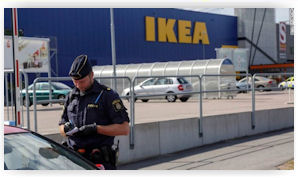 Two dead after stabbing at IKEA in Sweden
Two people have died after being stabbed at an IKEA store in Vasteras, Sweden on Monday, according to police. A third person was severely injured. Police said that a man has been arrested for murder, but did not provide further details on the incident or possible motives. IKEA confirmed the two casualties and said the injured victim is being treated at a hospital. IKEA said the store and the shopping center where it is located are closed while police investigate. Vasteras is about an hour away from Stockholm. cnn.com

Shopper sues store and security guard, saying she was slashed by convicted felon security guard at Conway store in Chicago A Chicago woman is suing multiple parties including an allegedly convicted felon, claiming negligence in a violent and suddent 2014 confrontation which she claims constituted unlawful assault in a department store. Shanisa Pinkson sued Conway Two LLC, doing business as Conway Department Store; Gail Seaton; and the store's successor in interest National Stores Inc., on Aug. 5 in Cook County Circuit Court, alleging negligence in a January 2014 incident. The suit states that Pinkson was a patron of the Conway Department Store at 7601 S. Cicero Ave., in Chicago's Ford City Mall, on Aug. 16, 2013, and that Seaton was present as a security guard.

According to the complaint, Pinkson purchased items and attempted to exit the store when Seaton blocked her way, grabbed the plaintiff by the pony tail, produced a razor and intentionally slashed the plaintiff's face along her jaw line just above her neck. The lawsuit states that Pinkson suffered bodily harm, pain, loss of blood, fright, distress, permanent disfigurement, and medical expenses. Additionally, she states that the attack was of an insulting and provoking nature.

Claiming that the store should have known Seaton would be armed due to her history and made no effort to help her while waiting for first responders, Pinkson charges the defendants severally with assault, premises liability, negligent hiring and supervision, and intentional infliction of emotional distress. The lawsuit includes documentation of Seaton's criminal record obtained from the court. cookcountyrecord.com


Family seeks arrest of security guards in DeKalb mall beating A trio of mall security guards caught on video punching a 15-year-old boy are scheduled to be in a DeKalb County courtroom Monday for a probable cause hearing that could bring criminal charges. The video, uploaded on YouTube in late June soon after the incident, generated outrage but no arrests. The guards were suspended without pay and no longer work at the Mall at Stonecrest in Lithonia, mall officials said at the time. The victim and his friends had reportedly been told to leave by the guards because they were unaccompanied minors. A verbal confrontation followed, and a witness who recorded the skirmish on her cellphone said she saw one of the guards throw the first punch. ajc.com

Fraud Alert: August is the Prime Month for Debit Card Skimmer Thieves
Thieves employing debit card "skimmers" at the pump find August-peak driving season nationwide-lucrative for fraud, ripping off distracted drivers. Skimmer devices are advertised for sale on Internet online criminal forums for about $1,500. The United States is the prime location for thieves to skim cards because American credit and debit cards are not "EMV-compliant" by containing an embedded global chip. breitbart.com

Montreal, CN: Shots fired during failed Garda Armoured truck Robbery in Île-Bizard Garda employees fired shots at a man attempting to rob their truck just after midnight in Île-Bizard Monday. The guards were at a Laurentian Bank on Jacques-Bizard Blvd. when a man approached them with a firearm. The guards immediately drew their weapons and fired toward the man, who fled to a nearby vehicle. Montreal police are searching for at least one suspect but do not have a description. montrealgazette.com

Augusta GA: Thieves steal 14 guns from Augusta's Cabela's Outpost
More than a dozen handguns were stolen early Sunday after thieves broke into Cabela's Outpost. At 2:44 a.m., deputies responded to an alarm activation. They saw two large concrete stones which were used to smash a glass window, according to an incident report. Both a sheriff's K-9 and helicopter unit were called to the scene, but no suspects were found. In all, 14 handguns were stolen, police say, with a value of nearly $5,000. augusta.com

Modesto, CA: Armed Robber hits GameStop
Modesto police responded to an armed robbery at a GameStop on Plaza Parkway on Saturday afternoon. Modesto police Sgt. Jerry Ramar said a man entered the video-game store with a handgun and told patrons inside to get on the floor. modbee.com

East Memphis, TN: Burglars smash their way into Target; thousands in electronics stolen Investigators with the Memphis Police Department are looking for suspects involved in robbing a Target store on Colonial on Sunday. A representative with Target assisted on the scene and went through video surveillance, which showed that the suspects broke into the store at 1:51 a.m. and left the store at 1:54 a.m., when they triggered the alarm. The suspects broke a display case and stole 21 headsets and a Samsung 32" TV, police said. Four cash registers were also damaged during the burglary and an undisclosed amount of cash was taken. myfoxmemphis.com

Indianapolis, IN: Simple changes could lower robbery rate
"Indiana: A State That Has the Most Pharmacy Robberies in the Nation." As a slogan, it's not as catchy as "A State That Works." But something needs to be done to focus Hoosiers' attention on a truly dangerous situation. As The Journal Gazette's Chris Meyers reported, the number of armed pharmacy robberies is up nationally, to 382 for the first five months of this year. Indiana, which has had one of the nation's worst records for several years, is No. 1, with 68 robberies. The number of robberies has far outpaced last year, when Indiana had 78 robberies for the entire year. southbendtribune.com

Man accused of taking upskirting photos of at least 15 women shopping in Oregon 24-year-old Tualatin man is accused of taking upskirting photos of at least 15 women at the Washington Square Mall in Tigard Saturday afternoon. According to a news release from Tigard Police, two young girls reported they saw a man positioning a phone under women's skirts at the H&M store. katu.com

NY Post: Why the rich feel entitled to shoplift
A surprising number of customers helping themselves to five-finger discounts in Manhattan are wealthy - and they feel their big spending entitles them to free stuff, retail workers tell The Post. nypost.com

Kim Richards Not Hospitalized Following Shoplifting Arrest
A source close to the former Real Housewives of Beverly Hills star told ET exclusively that she was out and about Los Angeles on Saturday. "Regardless of what is going on with her medically and mentally," the source said, "she is not currently locked up." Richards was arrested for allegedly shoplifting more than $600 worth of toys from a Target in Los Angeles' San Fernando Valley. etonline.com

UK: Six people charged with robbery in Jewelry Store raid in Norwich
Six males have been charged with robbery following a raid on a jewellery store in Norwich city centre on Wednesday last week. The robbery took place at the Winsor Bishop jewellery store on London Street shortly after 10:50am. The incident was caught on camera by passers-by, some of whom tried to tackle the robbers as they made their escape on mopeds. jewellryfocus.co.uk

UK: Sainsbury's working with Police on cracking down on "significant' rise in liquor thefts Expensive bottles of spirits including brandy have been stolen by thieves from its stores in Stourbridge and Kidderminster. Police are urging people who are offered cheap bottles of alcohol for sale in the towns to report offenders. Bosses have been working with police to step up security at the stores, in Sandringham Way, Amblecote, and in Carpet Trades Way, Kidderminster. expressandstar.com

Eight sentenced in $24 million fraud ring; stealing tax refunds from Solders
"These conspirators abused their access to government and private databases to steal thousands of identities, including those of soldiers deployed in Afghanistan, and filed false tax returns seeking over $20 million in fraudulent refund claims." wdam.com

Two men busted hitting Orlando Mall with 30 fake credit cards - shopping spree hitting numerous stores

Reno Home Depot shoplifter fires small caliber gun during apprehension - no one was hit

Montgomery Twp, PA: Chick-fill-A Employees' half-cooked Robbery scheme went afoul

Helzburg Diamonds in the Northtown Mall, Blaine, MN hit with a Diamond Switch

Helzburg Diamonds in the Antelope Valley Mall, Palmdale, CA the victim of a Grab and Run



---

● Aloha Island Mart- Honolulu, HI - Armed Robbery
● AT&T - Huntington Beach, CA - Burglary
● Boost Mobile - Slidell, LA - Armed Robbery
● C-Store - Houston, TX - Burglary/ ATM Theft
● Circle K - Springfield, IL - Armed Robbery/ Murder
● CoGo - Pittsburgh, PA - Armed Robbery
● Dollar General - Somerset, PA - Robbery
● Family Dollar - Macon, GA - Armed Robbery
● Family Video - Beloit, WI - Armed Robbery
● GameStop - Modesto, CA - Armed Robbery
● Golden Burma - Buffalo, NY - Burglary
● Han-Dee Hugo's - Raleigh, NC - Burglary
● Little Caesars - West Jordan, UT - Armed Robbery
● Metro PCS - Jackson, MS Armed Robbery
● Mid Town - Omaha, NE - Burglary
● Pilot - Danville, VA - Armed Robbery
● Quik Fil - Uniontown, PA - Armed Robbery
● Rite Aid - State College, PA - Robbery
● Sunoco - Uniontown, PA - Armed Robbery
● Turkey Hill - Wilkes-Barre, PA - Armed Robbery
● Walgreens - Oak Lawn, IL - Armed Robbery
● Walgreens - Desloge, MO - Burglary / 2nd this year
● 7-Eleven - Rochester, NY - Armed Robbery





To apply to today's Featured Jobs, Click Here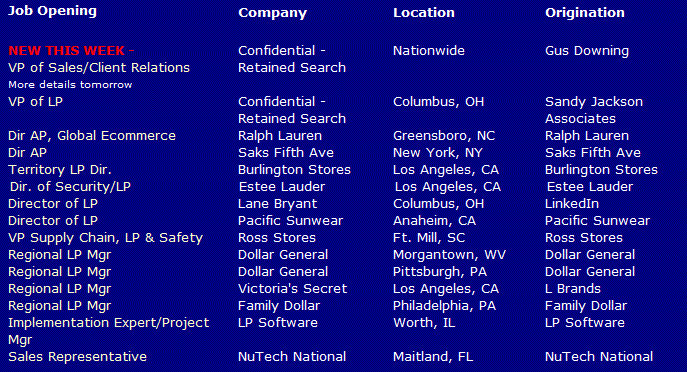 Limited Time Only - Post Your Multi-Unit LP jobs for FREE - Learn More Here




Today's Daily Job Postings from the Net - Appearing Today Only

To apply to today's Internet Jobs, Click Here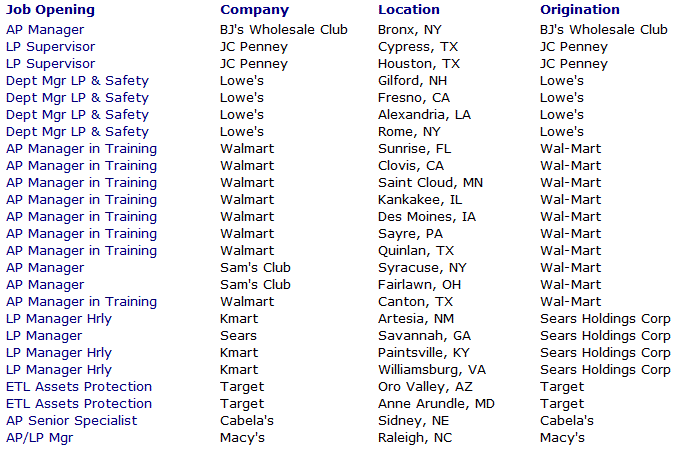 | | |
| --- | --- |
| | Jason Belek was named Regional Loss Prevention Manager for Victoria's Secret. |
| | Cindy Shelton was promoted to Territory Asset and Profit Protection Manager for In-Home North Region 820 for Sears Holdings Corporation. |
| | Jeremy Cross was named Area Loss Prevention Manager for Bed Bath & Beyond. |
| | Mellisa Slavik was named Regional Loss Prevention Manger - Northeast for The Swatch Group (U.S.) Inc. |
| | Jerry Volpe was promoted to Executive Team Leader - Operations for Target. |



Break Through by Providing Helpful Advice, Not Rules While giving commands certainly catches people's attention, there are other ways you can get someone to work on a project or go about their tasks in a different way. Instead of giving orders, try giving guidance in the form of a "how-to." Helping Hand

Measuring Employee Morale in the Organization With meetings, projects and a company to run taking up most of your focus, it's important not to forget to pay attention to your employees' morale. Keeping tabs on the general mood of the workplace is critical to maintaining happiness and productivity. Check in

Last week's most popular articles--

Don't Wish to Be Successful. Expect to Be. Success doesn't come by hoping, praying or asking a genie to grant you a wish. It comes from digging deep down into yourself and expecting success. When you expect to be successful, you know you will end up where you want to be, no matter the costs. Expect the best

9 Surprising Traits of Truly Phenomenal Bosses There are many good bosses in the workplace, but what it takes to be considered "phenomenal" lies not only in what your team sees you do, but what you get done behind the scenes as well. Here are some traits that make up bosses that are truly outstanding. Forgive and forget


The Ridiculous Myth That Ego Can Ever Be Left at the Door
Our ego-denial is not only ridiculous but makes us behave stupidly at work. Real life tells us that at work almost everything is ego - and science tells us the same. There are two studies that present two very basic truths.

The first shows how everyone routinely overestimates their own role. Psychologists from Harvard and the University of Chicago asked academics who co-wrote papers to estimate what percentage of the work each was responsible for; added together the estimates came to an average of 140 per cent. A similar study with MBAs produced a similar result. Our egos make us think we are more important than we are, or, as the academics put it, there is an "egocentric bias in responsibility allocation".

The second study, carried out by psychologists at Harvard, proves another truth: everyone adores talking about themselves. In the experiment people were given a choice: they could either answer questions about their own opinions for a small financial reward, or, for a larger reward, could answer questions about someone else, like Barack Obama. Most people were happy to forgo extra money, so long as they could hold forth on their favorite subject: themselves.

The surest way to win in the ego game is to allow the other person to go on about their life and opinions, while you laugh and ask questions as appropriate.

There are two laws about egos. The first is that they inevitably get bigger as people get more successful and more senior. The second is that not all egos are the same. Some you can see, and some you can't.

The visible sort of ego, the kind that throws its weight around, is the most tiresome. But the silent sort, that tricks you into thinking it isn't there, is the most dangerous. cfo.com

Editor's Note: I ran across this article and just had to include it in today's Tip column because quite frankly it's something we must all be aware of in all of our interactions. Even those that are merely part of our daily routines as they tend to have the most impact over time. Just a thought.

Just a Thought,
Gus Downing




Post Your Tip or Advice! Click Here

Please make sure to add d-ddaily@downing-downing.com to your contact list, address book, trusted sender list,
and/or company white list to ensure you receive our newsletter.
FEEDBACK / www.downing-downing.com / ADVERTISE WITH THE DAILY