EU Cybersecurity Law Cracks Down On Internet Giants
Reuters reported that it obtained documents last week detailing a Network and Information Security Directive that has been initiated between member states and EU lawmakers. The details of the security plans, however, remain a subject of debate as some regulators aren't sure which companies should be bound by the rules.

The regulations are aimed at having search engines, social networks, eCommerce sites and cloud-computing providers keep authorities informed about potential breaches. While some are arguing to include more companies, some members of the European Parliament suggest that it should only be implemented for major sectors, including energy, transport and finance, Reuters reported.

Now, however, the Internet platforms have been tossed back into the discussion, according to details listed in the documents. Digital platforms would be subject to the EU law, according to recent updates that reportedly came after months of negotiations. Those platforms might be able to be held at a lesser standard than the other sectors listed though since they aren't as linked to physical infrastructure and national security issues. pymnts.com

Visa to launch payments service for mobile phones in September

Social Networks Know What's Next for Mobile Payments


"Fraud is not a person - it is a dynamic grouping of statistics that deviate from the norm."
Stuart B. Levine, CFI, CFCI
CEO, The Zellman Group & Zelligent



Marion Co. deputies arrest 31 in retail theft ring hitting Walmart, Target and Publix The Marion County Jail has 31 new inmates Tuesday after deputies cracked down on a major crime trend. Deputies say they were part of a massive retail theft ring. The Marion County Sheriff's Office and the Ocala Police Department teamed up with several local retailers to investigate thefts. Deputies say over the course of two days last week they arrested 31 people for stealing items from stores like Walmart, Target and Publix. Last year, Marion County deputies and Ocala Police busted a similar theft ring resulting in the arrest of 33 people. myfoxorlando.com

Eight plead guilty to their roles in two organized retail crime scams in Albany County In the first incident, three men pleaded guilty and one was sentenced before County Judge Thomas Breslin in a counterfeit bill scam, the district attorney's office said. On Nov. 22, the four men made small purchases to get change from counterfeit $100 bills at stores in Colonie, the district attorney's office said. When they were stopped, they also had additional counterfeit $100 bills in their car.

In a separate case, one man was sentenced and three others pleaded guilty before Judge Stephen Herrick for their roles in a credit card scam involving 30 fraudulent cards. At 8:33 p.m. Nov. 17, State Police stopped a car for speeding on I-90 in Guilderland and found four people with 30 fraudulent credit and debit cards. State Police also recovered iPads, iPods and other electronics that were purchased using fake cards at different Best Buy stores. All four pleaded guilty between April and August to one count each of felony criminal possession of a forged instrument and misdemeanor conspiracy. timesunion.com


Durham, Raleigh target 'Organized Retail Crime' after man's 18th arrest - Detective partnering with Macy's for training Durham Police are taking action following a string of retail crimes, they say, were all committed by the same person. O'Marshall Mason's been arrested 18 times for a variety of offenses, including several cases of larceny. Police say Mason pleaded guilty and is now in jail, after he was caught on surveillance video stealing soap from a Durham Walmart last year. They say he's also stolen items from TJ Maxx, Home Depot and Macys, as part of a scheme they call "Organized Retail Crime." What he's doing is not shoplifting. That is organized retail crime," Detective Deborah Smith with Durham Police said. "Larceny and shoplifting is normally one person taking something for their personal use. They usually don't go out and take that one little item and try to sell it and get financial gain for it." That case prompted Detective Smith, along with a Raleigh officer to partner with Macys for a special training to help stop that kind of crime. wncn.com

Woman charged in connection with $360,000 fraud ring involving Disney theme park tickets An Orange County woman appeared in federal court Monday afternoon, charged with being part of a fraud ring involving hundreds of thousands of dollars worth of Disney theme park tickets. Hightower pleaded not guilty on Monday. The Secret Service said Hightower and at least three accomplices used other people's credit card accounts to make $360,000 in fraudulent purchases in the last eight months at a dozen Orlando area resorts, mostly to buy large amounts of Walt Disney World theme park tickets. According to court documents, Hightower has worked previously reselling theme park tickets. wesh.com



Jackson, TN: Woman accused of stealing more than $4K in Polo items from Old Hickory Mall Kearea Ward is accused of taking 67 Polo brand items from Belk around 8 p.m. Wednesday valued at a total of $4,498. Police say Ward had been taken into custody in a separate incident and that store loss prevention contacted them about surveillance video showing her taking the merchandise. During an investigation, several items were recovered from the car Ward was in during her arrest, the document states. wbbjtv.com



Surprise, AZ: Police seek help IDing Target theft suspect
Surprise Police are looking for a suspect in an organized retail theft that occurred at 5 p.m. July 14 at a Target store in the area of Bell Road and Grand Avenue in Surprise. Upon arrival, officers discovered a suspect used a utility knife to cut security cables, removed electronic merchandise from a secured display, and exited the store without paying for the items. yourwestvalley.com

Do you have an ORC case to share? Publishing it educates the LP & retail community
which might fuel even more jobs and funding.
Share your ORC news and help the industry grow


H.E.B. & Cisco Systems network engineer sentenced to 3 yrs prison for $875,000 computer parts theft In San Antonio, a federal judge sentenced 41-year-old Javier Guerra of Austin, TX, to 33 months in federal prison and ordered him to pay $874,801 restitution to two employers for fraudulently selling their computer parts. Also ordered that Guerra, a computer network engineer, be placed on supervised release for a period of three years after completing his prison term.

On August 6, 2014, Guerra pleaded guilty to one count of wire fraud. By pleading guilty, Guerra admitted that between 2008 and 2012, he stole computer related equipment from Cisco Systems, Inc. and H.E.B., then sold the equipment using the Internet for personal financial gain. The equipment Guerra sold included existing business inventory as well as replacement parts delivered to him based upon false declarations he made to his employer that the equipment was either damaged or defective.

This case was investigated by the Federal Bureau of Investigation with assistance from Cisco Systems Brand Protection investigators and H.E.B. Assistant U.S. Attorney Michael Hardy prosecuted this case on behalf of the Government. fbi.gov redbluffdailynews.com

Teen sent to prison for fatal Dayton Mall robbery attempt - all for a pair of Air Jordan sneakers Keyan Moore, 17, was with Jawaad Jabbar, 16, of Middletown, when he tried to rob a man of his new limited-edition Air Jordan sneakers at the Dayton Mall days before Christmas 2014. But the victim pulled his own concealed weapon and shot Jabbar, killing him. But the victim pulled his own concealed weapon and shot Jabbar, killing him. Under Ohio law, a suspect can be held responsible for an accomplice's death during a robbery. He was sentenced Tuesday to two years in prison and three years of probation, minus 79 days for time served. wlwt.com

General Manager of The Garden Depot embezzles $250,000 over six years in Palm Beach County Melissa De La Cruz was hired as general manager by The Garden Depot at 17660 Rocky Pines Road in late June 2008 and began cutting multiple paychecks for herself and cashing authorized checks almost immediately, a probable cause affidavit shows. The last phony check was cashed in February, 2014, according to the report. PBSO detectives allegedly found that De La Cruz forged more than $250,000 worth of checks and also utilized business credit cards to ring up more than $7,500 of unauthorized purchases. palmbeachpost.com

Franklin County, MO: Dollar General Armed Robbery ends with Police shooting Monday afternoon a Franklin County Sheriff's Deputy was involved in the shooting of an armed robbery suspect. The shooting happened around 1 pm near 178 and Old Highway 100 near Villa Ridge Missouri. The Sheriff's Office says the suspect had committed an armed robbery of a Dollar General earlier Monday. When the deputy confronted the suspect, he pulled out a weapon. The deputy pulled out his weapon, and a struggle ensued. During the struggle, the suspect was shot in the head. fox2now.com

Derby, KS: Customer shot during Armed Robbery attempt at AT&T store
Derby police responded to a shooting at the AT&T store at 630 North Rock Road. According to officials, a man tried to rob the AT&T store. The suspect ended up shooting a customer several times. She received multiple gunshot wounds. She was transported to the hospital in critical condition. ksn.com

A look at the crazy underground world of shoplifting fanatics on Tumblr
If you look on Tumblr, you'll find that plenty of bored young people are creating blogs like Shoplifting Guide and lifting loser to talk about their swiping skills - and it's not hard to imagine some of the bourgeois boosters described by the Post checking out Tumblr for tips. On these Tumblr blogs, users keep a running count of how much they claim to have stolen so far this year. They're not in it for the expensive clothes or Sephora eye shadow palettes, but because they love the thrill - just like the women described by the Post. The blogs also contain tips about how to lift from mall stores, and which chains to flat out avoid (one user mentioned Kohl's). Another contributor suggested staying away from beauty department store Ulta for those "new to shoplifting." And then they explain why - writing hundreds of words about the science and skill of lifting from various locations. techinsider.com




Chesterfield, VA: 4 Arrested, 1 Detained in Gun store Burglary A tipster providing police with the name and cellphone number of a Newport News woman led investigators to identify and then arrest five people in Friday's break-in at Southern Police Equipment and the theft of 32 firearms. richmond.com



South Jersey, NJ: Police seek serial Dunkin' Donuts burglars
Investigators are trying to find two suspects who burglarized three South Jersey Dunkin' Donuts shops in a two-hour span. Police believe the same pair is behind the smash-and-grab-style heists in Gloucester Township, Pine Hill and Clementon, all between 1 and 3 a.m. Monday. The suspects took cash from the three stores, police said. philly.com




Rossford, OH: Police release image of $1,300 GameStop thief
Rossford police have released security camera images of a man they said stole more than $1,300 worth of merchandise from the Rossford Game Stop store on U.S. 20 between July 30 and Aug. 3. toledoblade.com




Rochester, MN: Alleged shoplifter takes limo to, from Scheels All Sports store
The limo driver was instrumental in helping police find the woman, who allegedly fought with store security before running away with about $300 in headbands and miscellaneous clothing items from Scheels All Sports, said Lt. Jim Evenson. The driver told police the suspect had called earlier to be picked up at the Kahler Grand Hotel and asked to be taken to Apache Mall. After the shoplifting incident, she apparently called for a ride back to the hotel, where she claimed to be staying. postbulletin.com

Ottawa, CN: Pair Sought For $9,000 Credit Card Fraud
The Ottawa Police Service is seeking public assistance in identifying two men. They are believed to be involved in the fraudulent use of credit cards. The men are suspected of having made several transactions, totaling over $9,000, during May this year. All the transactions occurred all within the area of the Market and Rideau Centre. windsorsquare.ca

Perth, AU: $50,000 in damages after Arsonists sets fire inside a Ocean Keys Department store Arsonists set alight women's underwear causing $50,000 damage to a department store in the Ocean Keys shopping centre in Clarkson on Monday afternoon. About 3.35pm offenders went into the shop and set fire to clothing which quickly spread to other clothing displays. Staff evacuated the store and put out the fire. news.com

Chip Card ATM 'Shimmer' Found in Mexico

Card Skimmers Found On Two Sioux Falls ATMs

Three credit card skimming devices found attached to gasoline pumps in Dowagiac, MI

Baton Rouge, LA: Man sentenced to death by lethal injection for double murder at CarQuest Auto Parts store

Miami, FL: Store Owner Takes To Social Media To Oust High-end Thieves

San Jose, CA: Attempted carjacking near Eastridge Mall

Kay Jewelers in The Waterfront at Port Chester, Port Chester, NY reported a Grab and Run; merchandise valued at $8,399

Jared "The Galleria of Jewelry" in the Great Northern Mall, North Olmsted, Ohio reported an Armed Robbery/ Smash and Grab; over 50 items were stolen, total value over $200,000; No injuries were reported



---

● AT&T - Winston-Salem, NC - Armed Robbery
● Casey's - Council Bluffs, IA - Robbery
● Cellular Phone - Uniondale, NY - Robbery/ Assault
● CVS - Jackson, TN - Robbery
● Dollar General - Madison Co, TN - Robbery/ Assault
● Dollar General - Somerset, PA - Robbery
● Dollar General - Franklin, Co, MO - Armed Robbery
● Dunkin Donut - Philadelphia, PA - Burglary
● Game Star - Lower Twp, NJ - Burglary
● Great Harvest Bread - Racine, WI - Burglary
● Oak Cliff Pharmacy - Dallas, TX - Burglary
● Oak Grove Pharmacy - Concord, CA - Robbery
● M&K Grocery - Hillyard, WA - Roof top Burglary
● McDonald's - Massena, NY - Shooting
● Mac's - Lindsay, ON - Robbery
● Northside Tobacco - Jackson, TN - Robbery
● Reynold's General Store - Lyme, CT - Armed Robbery
● Rite Aid - Chicopee, MA - Armed Robbery
● S&J Grocery - Wilkes-Barre, PA - Robbery
● Southern Police Equipment - Chesterfield, VA - Burglary
● Verizon -Racine, WI - Burglary
● Verizon - Delray Beach, FL - Armed Robbery
● 7-Eleven - Joppa, MD - Armed Robbery





To apply to today's Featured Jobs, Click Here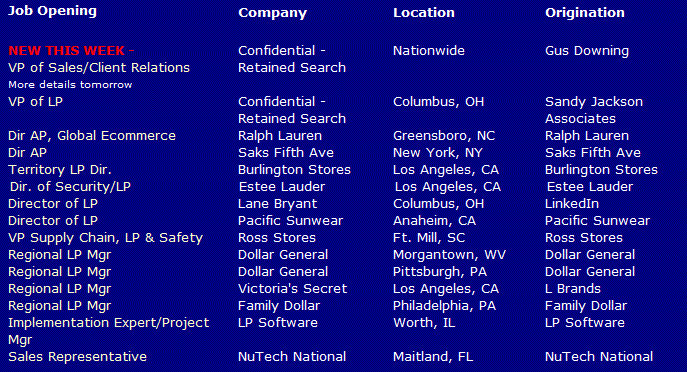 Limited Time Only - Post Your Multi-Unit LP jobs for FREE - Learn More Here




Today's Daily Job Postings from the Net - Appearing Today Only

To apply to today's Internet Jobs, Click Here



| | |
| --- | --- |
| | Wallace Phillips, CFI was promoted to Director Asset Protection for Saks Fifth Avenue. |

5 Characteristics of Those Who Earn the Right to Lead Embodying the traits of any great leader doesn't just happen in the blink of an eye. It takes years of training, gaining the right experience and finding what makes you a good leader. Here are some qualities that are certainly a good start to becoming great leader. Do you love it

How to 'Ripple' Your Leadership
Leadership is like skipping a stone in a pond. With each encouraging conversation you have with others, and helping them evolve their skills, you are creating a ripple effect. To create long-lasting ripples, use these tips. What matters


10 Behaviors of Real Leaders
There are leaders in every facet of our world. In the animal kingdom there's a certain pecking order, and it's very similar for us humans as well. Leadership is an instinctive behavior and one that has helped us survive for millions of years. Here's what makes someone a leader. People listen

Leader or Manager? 10 Important Distinctions There's a difference between being a leader and being a manger. The skills required to be good at either one are separate and very different. Here are the key differences between managing and leading. Vision vs. tenacity

How you leave an employer and how you start with a new employer are very critical segments of time because they can tend to label executives and those labels can last a very long time. Interesting how short the time periods are relative to an executive's actual career. But the exiting process and the on-boarding periods leave long-term impressions that follow executives. Regardless of why an executive leaves, the important thing is to leave professionally, quietly and making sure the employer has a detailed report on all of your projects and work. And most certainly respect their intellectual property which, in today's world, virtually every company has been a victim of intellectual property theft. According to most recent surveys, 33% of employees have stolen intellectual property and this is a major concern for every company and is the primary reason some employers require the departing executive to leave the day of their resignation.

Just a Thought,
Gus Downing




Post Your Tip or Advice! Click Here

Please make sure to add d-ddaily@downing-downing.com to your contact list, address book, trusted sender list,
and/or company white list to ensure you receive our newsletter.
FEEDBACK / www.downing-downing.com / ADVERTISE WITH THE DAILY