Congress Should Pay More Attention to Payment Security
In the wake of data breaches at government agencies and several companies, credit monitoring services have increasingly been offered to breach victims to help mitigate any fraudulent activity. While those services may have some merit, the best way to protect consumers from fraud is by strengthening security measures at their most fundamental level: the point-of-sale. Consumer credit card transactions should be much more secure, and could be, but the United States continues to unnecessarily lag behind the rest of the world because credit card companies and banks insist on using a less secure alternative. In the blog, Berlyn, who is president of Consumer Policy Solutions and director of the Consumer Awareness Project, writes: "For some time, I have advocated for the implementation of chip and PIN technology. ...Should a thief attempt to use a stolen chip and PIN card for an in-store purchase, it would be useless without knowledge of the PIN. Furthermore, we could extend those protections even further if we had more robust mechanisms available to consumers to securely use their PINs during online transactions. The technology certainly exists, it is just not widely used." "Given the increased momentum on Capitol Hill to protect consumers from financial harm, an opportunity exists for the country's leaders to help provide those protections by championing chip and PIN," writes Berlyn. "Congress can play an important role by urging the nation's largest banks and credit card companies to do everything they can to provide American consumers with chip and PIN equipped cards to protect their financial transactions and help reduce fraud." nacsonline.com

Online Retailers Run Risks Under ADA's Title III
Given the lack of formal guidance on website accessibility under the Americans with Disabilities Act, "www" might as well stand for the "Wild Wild West." Despite the lack of formal standards from the U.S. Department of Justice or consistent interpretation from the courts, retailers whose websites are not sufficiently accessible to disabled users may be liable under the Americans with Disabilities Act. As the number of lawsuits and DOJ actions targeting retailers' websites under the ADA continues to increase, retailers can no longer afford to wait for formal guidance before making their websites accessible, say Stephanie Sheridan and Meegan Brooks of Sedgwick LLP. law360.com

Alibaba Q2 revenue $3.26B up 28%, GMV (gross merchandise value) $109B up 34%

Macy's partners with Alibaba for e-commerce in China

Online sales and staffing surge at hhgregg - online sales up 25% in Q1

American Express adds Apple Pay for corporate cards


"Fraud is not a person - it is a dynamic grouping of statistics that deviate from the norm."
Stuart B. Levine, CFI, CFCI
CEO, The Zellman Group & Zelligent




Over $14,500 worth of iPhones stolen from Virginia Beach Walmart Police are searching for a man who stole over $14,500 worth of iPhones from the Walmart Tuesday morning. At approximately 3:20 a.m. the man entered the Walmart, selected a duffel bag off the shelf and headed straight to the electronics section of the store. He used a tool to break the glass where the iPhones are stored, placed over 20 iPhones valued at over $14,500 into his recently acquired duffel bag, and walked out of the store without paying. wtkr.com


Male ORC thief busted stealing electronics from Walmart stores in Waterville, Maine A man who allegedly tried to shoplift electronics from Wal-Mart on Waterville Commons Drive fled the store in a car full of items police say were stolen from another Wal-Mart location. Noah Herrin, 29, listed as a transient from Lewiston, was arrested Monday night and charged with felony theft and possession of stolen property. Herrin has at least five prior convictions for theft, police said. Minutes before Waterville police arrested him, Herrin had fled Wal-Mart after trying to steal two Acer laptop computers and a computer monitor valued at more than $900. The store's loss-prevention staff called police and tried to stop Herrin as he left the store, but he ditched a shopping cart containing the items and left in a gray 2003 Ford Focus. In a search of the vehicle, officers found a "large amount" of electronics that were suspected to be stolen, including a 50-inch VIZIO flat-screen TV and a Pioneer amplifier. Officers also found an empty 32-inch VIZIO TV box and a box for an Acer computer that was also empty, Rumsey said. centralmaine.com

Peoria, IL: Judge issues Probation and a Stern Warning to Walmart baby formula thief A woman who sold stolen baby formula on the black market for money to buy drugs received probation and a Tazewell County judge's stern warning this week. She was arrested July 24 at the county jail when she visited her alleged partner in the thefts, after he told police of her role in them. Together Hitesman and Joseph Guyton, stole more than 100 cans of baby formula from the store over the month that ended with Guyton's capture in the act on July 12. Hitesman said she regularly entered the store with an infant in a stroller and left without paying for cases of formula that she hid in the stroller's bottom rack. She and Guyton then sold the formula for $6 a can to a food store on Peoria's south side. pekintimes.com

Interlachen woman jailed after 4 chain saws stolen over three days from Palatka, Fla., store

Fake credit card ring of five operating in Coquitlam, BC, Canada

Do you have an ORC case to share? Publishing it educates the LP & retail community
which might fuel even more jobs and funding.
Share your ORC news and help the industry grow


Waco, TX: Alleged shoplifter with knife shot by police at HEB remains in extremely critical condition A suspected shoplifter at a North Waco grocery store remained in extremely critical condition Tuesday night. He was shot by police after officers say he threatened them with a knife. Waco Police responded to the H.E.B located at the 3801 North 19th Street after 3:20 p.m. for a shoplifting incident. The 48-year-old white man is accused of stealing $80 worth of brisket. "The officers reacted out of fear for their lives and their partner's life and had to use their weapons," Sgt. Swanton, said. He said at that point, the female officer activated a stun gun, which did not work on that individual. Soon after the male officer fired at least two rounds at the suspect, according to Waco Police. kxxv.com

Washington DC: Macy's security Stabbed at store nearby Metro Center; suspect arrested Police say a suspected shoplifter stabbed a security guard at the Macy's store near Metro Center in downtown Washington D.C. It all happened at around 3:45 p.m. Detectives said the security guard followed the suspect to the store's underground entrance. The suspect eventually turned around and stabbed the employee in the shoulder and wrist. The suspect was arrested a short time later at Union Station. The security guard is recovering at George Washington University Hospital and is expected to be okay. myfoxdc.com

Houston, TX: Burglars take safe after smashing into Family Dollar
Houston police responded to another smash-and-grab at an area Family Dollar store overnight. The latest occurred early Wednesday morning at the location on Long Point at Gessner in northwest Houston. Around 3:30 a.m. several men in a white cargo van backed into the front glass window of the store. They took the safe and got away in another vehicle, leaving the stolen van behind. Police say it's unknown how much money was in the safe. khou.com

Dawsonville, GA: Woman sought in Zales jewelry heist at Georgia Premium Outlet mall Employees at Zales told investigators the woman entered the store shortly after it opened at 10 a.m. Aug. 5, brandished a pistol and forced them into the back of the store where she zip-tied their hands. "She was able to get away with an undisclosed amount of jewelry," said Dawson County. dawsonnews.com



Oklahoma City, OK: Truck crashes into Cash America Pawn shop in failed smash-and-grab Police are looking for the driver of a truck that crashed into a store early Wednesday morning in northwest Oklahoma City. About 2:45 a.m., police responded to an alarm at Cash America Pawn. When they arrived, a truck was backed through the store's wall and it was stuck and still running. The driver had fled the scene. Police said they believe it was a smash-and-grab gone wrong, nothing was taken from the shop. koco.com


Berea, OH: Convicted Walmart Shoplifter Bolts From Ohio Courtroom Berea Police said Stephanie Rybkoski was in court on Friday and had just been sentenced to 180 days in jail for a theft charge in Strongsville. After the sentencing, Rybkoski asked if she could use her cellphone to call home. While on the phone, Bedford said Rybkoski took off down the stairs, out the front doors and into the parking lot. Rybkoski jumped in her car, put it in reverse, cut the wheel and backed up over Bailiff Bedford's right leg, according to the police report. Bedford suffered minor injuries and refused treatment. Rybkoski is now wanted for escape, assault, and resisting arrest. liveleak.com

Sacramento, CA: California DMV employees allegedly traded cash for Commercial licenses At least 100 commercial truck drivers paid up to $5,000 each to bribe California Department of Motor Vehicles employees for illegal licenses, federal authorities said on Tuesday. Officials said up to 23 traffic accidents could be related to the fraud, though there were no fatalities. Three State DMV employees and 3 Trucking School employees have pleaded guilty to commit bribery and identity fraud. foxnews.com

Crowle, UK: Police release suspect without charges in Tesco Express Robbery
A man who was arrested in connection with a suspected armed robbery at a Tesco Express store has been released without charge. The man was arrested earlier this week after the robbery at the store in Crowle, which happened on Wednesday, July 29 between 9.20 and 9.30pm. Today (Wednesday, August 12), Humberside Police say he has been released unconditionally without charge and the force has reissued an appeal for witnesses to the incident. scunthorpetelegraph.co.uk

Two former Walmart employees steal thousands loading store funds onto debit cards in Williston, N.D.

ATM skimming device found at Citizens Bank in Wilmington

Jacksonville, FL: Man sought in Dive Shop Smash and Grab Burglary; stole 3 spear guns

Ottawa, CN: Police charge man, seek suspect in Hazeldean Jewelry Smash-and-Grab

Volusia Co, FL: Suspect sought in Credit Card Fraud, hitting Dollar General and Publix

Hanover Co, VA: Hanover Sheriffs seek credit card fraud suspect

Marks & Morgan in the Hamilton Place, Chattanooga, TN reported a Grab and Run; merchandise valued at $8,100; No injuries were reported

Toronto, CN: The Insurance Bureau of Canada, the RCMP and the Atlantic Provinces Trucking Association will announce details today about a program to combat the growing problem of cargo theft

Kay Jewelers Outlet in the Tanger National, Oxon Hills, Maryland reported the Grab and Run of a Pre-Owned Rolex Watch, valued at $12,800


---

● All American Check Cashing - Meridian, MS - Armed Robbery
● AT&T - Tulsa, OK - Armed Robbery/ Shooting -suspect arrested
● Boost Mobile - South Gate, CA - Armed Robbery/ Shooting
● Buck's - Corinth, MS - Armed Robbery
● Budgetel Inn - Wilmington, NC - Armed Robbery
● Community Pharmacy - Saco, ME - Robbery
● Cook's Gun Shop - D'Iberville, MS - Burglary
● County Line Farm - Massapequa, NY - Robbery
● Dollar General - Union, MO - Robbery
● Dollar General - Lubbock, TX - Armed Robbery
● Family Dollar - Houston, TX - Burglary
● Grove Pharmacy - Concord, CA - Armed Robbery
● Handy Mart - Jacksonville, NC - Shooting
● Makawao Pharmacy - Makawao, Maui, HI - Armed Robbery
● Marathon - Lake Wales, FL - Burglary
● Metro PCS - East Point, GA - Armed Robbery/ Sexual Assault
● Pacific Outfitters - Eureka, CA - Burglary
● Phillips 66 - Odessa, TX - shooting
● Turkey Hill - Spring Garden, PA - Robbery
● Walgreens - Tulsa, OK - Robbery
● Zoom Zoom - Wichita Falls, TX - Robbery
● 7-Eleven - Holiday, FL - Armed Robbery





To apply to today's Featured Jobs, Click Here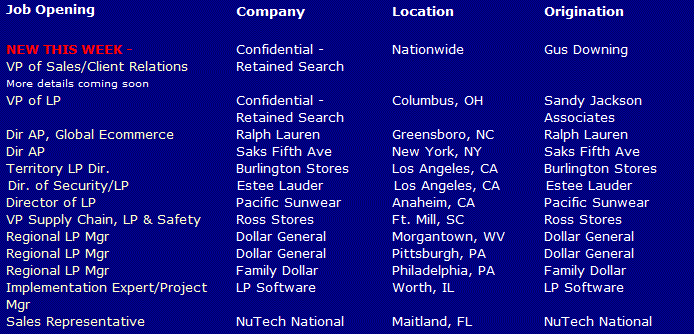 Limited Time Only - Post Your Multi-Unit LP jobs for FREE - Learn More Here




Today's Daily Job Postings from the Net - Appearing Today Only

To apply to today's Internet Jobs, Click Here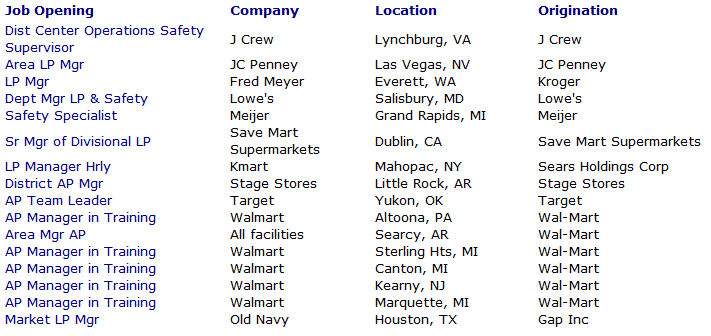 | | |
| --- | --- |
| | Sherry Nichols was named Regional Loss Prevention Manager for Dollar General. |
| | Tony Carrico was named District Loss Prevention Manager for BCBG Max Azria Group, LLC. |
| | Jay Ganal was named District Loss Prevention Manager for BCBG Max Azria Group, LLC. |
| | Ivan Kastelan was named District Loss Prevention Manager for BCBG Max Azria Group, LLC. |
| | Nick Cuciti was named District Loss Prevention Manager for BCBG Max Azria Group, LLC. |

The Massive Problem with Motivation
Our problem is not motivation, it's following through with the things we need to get done. We all can feel motivated, but until we start acting upon it, achieving those goals will be halted. The secret is to stop your brain from talking you out of it. Just do it

3 Characteristics of High Performing Teams When it comes to what makes a great team, there are three things that must be included, so that your team can perform at optimal levels. High-performing teams have these qualities in common and never lose sight of them as they achieve greatness. Don't be selfish


5 Steps and 1 Week to Higher Team Productivity Productivity isn't just limited to individual's tasks. Just as your teams work together as a unit, your teams need to be connected in getting their tasks done. Here are some ways you can help your teams get more done in just five easy steps. Mix it up

The Chemistry of Building Better Habits
There's a concept in chemistry known as activation energy. It's the minimum amount of energy needed for a chemical reaction to occur. Building habits happens in a similar fashion: when you want to build good habits, you need a certain amount of effort to start. Goals vs. habits


Transitioning to a new position, a new job, a new market is a great opportunity to reinvent yourself and your brand so to speak. It gives you the perfect chance to look at yourself and say how can I improve and be truly what I want to be. It erases your blackboard and allows you the chance to write something new, something you've always wanted to be. A move, oftentimes referred to as a geographical cure, can be just the medicine to help start a new you.

Just a Thought,
Gus Downing




Post Your Tip or Advice! Click Here

Please make sure to add d-ddaily@downing-downing.com to your contact list, address book, trusted sender list,
and/or company white list to ensure you receive our newsletter.
FEEDBACK / www.downing-downing.com / ADVERTISE WITH THE DAILY