Canada's London Drugs post 'Assistant General Manager - Loss Prevention Manager' position in Vancouver, BC - The #2 LP position in company Reporting to the General Manager - Loss Prevention for the company this is the number two position. The Assistant General Manager, Loss Prevention is a senior management position responsible for meeting company objectives in all areas of retail Loss Prevention and security for London Drugs. This includes LP Operations, Investigations, Asset Protection and Physical Security of all locations and business units.
London Drugs is 100% Canadian owned and is focused on local customers' satisfaction. Across Alberta, Saskatchewan, Manitoba and British Columbia, London Drugs' 78 stores employ more than 7000 staff dedicated to providing our customers with a superior shopping experience. londondrugs.com

Sephora continues to expand beauty presence in Canada
Sephora, the leader in specialty retail and e-commerce, continues to revolutionize the Canadian retail landscape with the launch of a newly optimized Canadian Sephora.ca experience and the opening of a distribution centre. equities.com

Saks OFF 5TH to open 8 Canadian stores in 2016, plans 25 by 2021 - This means LP Jobs Saks OFF 5TH's first Canadian locations will include a 28,000 square foot location at Tanger Outlets Ottawa, a 32,500 square foot store at Outlet Collection at Niagara in Niagara-on-the Lake, Ontario, as well as a 35,000 square foot location at Vaughan Mills, just north of Toronto. All locations will open in the spring of 2016, along with full-priced Saks Fifth Avenue stores at Toronto Eaton Centre and Sherway Gardens. retail-insider.com

Nordstrom plans 9 stores for Canada and 12 to 15 Rack stores

Strellson Plans Substantial Canadian Expansion

Herbal Magic closes stores across the country


Retail Fast Facts: July 2015

Highlights:
● Total monthly retail sales changed by 1.2 per cent over the comparable month last year.
● Total sales excluding food, automotive and gasoline changed by 3.8 per cent over the comparable month last year. Read more



Cargo theft crackdown urged in Atlantic Canada
Cargo theft in New Brunswick is resulting in businesses losing "tens of millions" of dollars annually and holds the potential to force companies out of business, says the executive director of the Atlantic Provinces Trucking Association. Cargo theft is costing the Canadian economy "billions of dollars" annually, says the Insurance Bureau of Canada. (Nampa PD/The Associated Press. The trucking association, the RCMP and the Insurance Bureau of Canada launched a new reporting program for cargo theft in Atlantic Canada on Wednesday. The reporting program hopes to raise awareness about the crime and bring together stakeholders to crack down on it. A similar reporting database in Ontario last year helped lead to the recovery of $1.4 million in stolen goods. cbc.ca

Two male credit card fraudsters hit two stores in Brockville, On. - Police looking for suspects Two males with French accents tried to use a credit card to purchase high-end tools at the Canadian Tire store in the city on Wednesday afternoon. City police had indicated on Wednesday that fraudulent credit cards were used at Superstore on Tuesday to try to purchase VISA cards. A black SUV-type vehicle with Quebec plates was involved. There were two male and one female suspects. insidebrockville.com

Toronto, CN: Dangerous Prescription drug Fentanyl stolen
Toronto Police are warning the public after fentanyl patches were stolen from a car on Tuesday. Approximately 20 prescription fentanyl patches were stolen in the Yonge Street and Finch Avenue area. The police say the drug can be fatal when the patch is altered. Fentanyl is an opiate used to relieve pain. myinforms.com

Ottawa police lay charges against Hazeldean Mall robbery suspect
Ottawa police have charged a man who allegedly walked into a jewelry store in the Hazeldean Mall, smashed a display case with a hammer and threatened to kill a witness. At one point during the robbery, police say, the man revealed a handgun tucked into the waistband of his pants. The man then fled to a waiting vehicle with another person behind the wheel and drove off. metronews.ca

Two men sought for Vaughan grocery store theft
Crime Stoppers of York Region is asking for the public's help in finding a pair of men who shoplifted from a Longo's grocery store in Vaughan on July 1. One of the suspects stole a large number of baby formula packages hidden in orange shopping bags and under his coat, walking out while the other suspect appeared to act as a lookout. toronto-easy.com



Kering's Gucci wins a round barring Alibaba merchants' from selling fakes
Kering's Gucci America and other units won a U.S. court order barring sales of counterfeit goods by merchants on Alibaba Group Holding Ltd.'s e-commerce site. Alibaba, accused in the trademark-infringement lawsuit of facilitating sales of illegal goods, isn't directly affected by the temporary restraining order issued Thursday by a Manhattan federal judge.U.S. District Judge P. Kevin Castel also ordered that financial records be turned over to Kering. The Alibaba vendors covered by the order include Brand Bag Boutique, Yun Mi's Store, Kou Kou Dai (Buckle and Pocket), Europe and E News, Picasso Trend, Lehui Textile Behalf and Amy Luxury Goods, among others. internetretailrer.com

NRA releases mobile payments guide for restaurateurs
The National Restaurant Association has released a guide focused on the future of mobile payments technology and its important growth in the restaurant industry, according to a recent report. The guide is titled, "Mobile Invasion: Mobile Payments in Restaurants" and focuses on research and tools that help restaurant owners understand the advantages of implementing mobile payments in order to grow their business. mobilepaymentstoday.com

New titan in the mobile payment wars
Samsung Electronics Co. on Thursday announced Samsung Pay, a mobile payment service that will let customers pay with their phones at nearly any credit-card terminal. Samsung is using a new technology called "Magnetic Secure Transmission" that will allow Samsung Pay phones to communicate with the magnetic strip reader typically found in credit card terminals around the country. retailingtoday.com

Nordstromrack.com/HauteLook sales up 50% for second consecutive quarter

Alibaba Adds Macy's To Its Online Retail Platform

Kohl's bets big on buy online and pick up in store

Square Adds Instant Deposit For All Merchants


"Fraud is not a person - it is a dynamic grouping of statistics that deviate from the norm."
Stuart B. Levine, CFI, CFCI
CEO, The Zellman Group & Zelligent



Tallahassee, FL: Massive Shoplifting Ring busted, targeted nearly 100 Grocery Stores A massive shoplifting ring targeting North and Central Florida grocery stores has been busted. Attorney General Pam Bondi and Marion County Sheriff Chris Blair announced the arrests of five suspects Thursday. According to arrest warrants, the suspects stole more than $50,000 worth of beauty, dental care, medical and other products from Publix and Winn-Dixie stores and then sold the items on eBay. "This unsophisticated, yet massive effort to sell stolen goods online has produced strong evidence for my statewide prosecutors to bring charges against these individuals in connection with shoplifting products from nearly 100 Florida grocery stores," said Bondi. Each time, between $100 to $1,400 worth of products was allegedly stolen including whitening dental strips, electronic toothbrushes, shaving razors, allergy medicines, batteries and more. Most of the shoplifting occurred in June and July of this year. After identifying the suspects, undercover detectives were able to track eBay user identification information to determine that items being sold through the suspects' eBay accounts matched the items stolen from the grocery stores. myfloridalegal.com

Beachwood, OH: Man fraudulently charges $12,000 at Saks in Beachwood Place Mall About 6:15 p.m. August 7, officers responded to the Saks Fifth Avenue department store at Beachwood Place Mall for a report of fraudulent credit card charges. Officers learned that a man had used a fraudulent credit card to make several purchases at the mall. The man was identified and arrested. The fraudulent charges totaled over $12,000. cleveland.com

Pickpockets and Purse Thieves Targeting I-94 across Michigan, Indiana and Illinois Police say the perpetrators are seasoned professionals. Kalamazoo Co Undersheriff Paul Matyas says the crimes have been occurring since 2012. The thieves focus on Interstate 94, also hitting restaurants in Indiana and Illinois. Deputies say the thieves are targeting people who put their purses on the back of their chairs, and when you're not paying attention, that's when they reach in and make off with your wallet. "Right after they get that, they go to the nearest big box store and they use the credit card as quickly as they can and then they just take the purse and pitch it out the window," said Matyas. wwmt.com


Oro Valley, AZ: Police identify suspects in Marshalls shoplifting case The Oro Valley Police would like to thank the public for their assistance in the Marshalls shoplifting cases from June 6 and June 16. The suspects have been identified as Esteban Morales and Angelina Robles. Morales was arrested and charged with two counts of aggravated shoplifting and one count of shoplifting with an artifice, which are all class four felonies. Robles has three shoplifting related misdemeanor charges pending. tucsonlocalmedia.com


Do you have an ORC case to share? Publishing it educates the LP & retail community
which might fuel even more jobs and funding.
Share your ORC news and help the industry grow


Beech Grove, IN: Police identify man who shot himself after shoplifting incident Beech Grove police say a man shot himself in the head after a shoplifting incident at an area Walmart store. Asset protection associates and an off-duty Marion County sheriff's deputy escorted two men-later identified as Gillace Samples, 42, and Johnny Maxey, 42-to the loss prevention office just after 11 a.m. Thursday. Samples pulled a handgun and left the store. The deputy chased after him on foot, as did officers from the Beech Grove and Indianapolis Metro Police. Witnesses helped officers find Samples hiding in the bathroom at a Chinese restaurant near the Walmart. While police moved in to arrest Samples, he shot himself in the head. Police said he remained in critical condition Thursday. According to Beech Grove police, Samples had two outstanding warrants: one for a parole violation and another for begin a serious violent felon in possession of a firearm in connection with a July 29 shooting in Indianapolis. Maxey, the second man in the case, was arrested and charged with theft. fox59.com

Violence leads Beech Grove's Mayor to declare Walmart public nuisance
The Beech Grove Walmart already has a bad reputation after the infamous video of two woman fighting in the shampoo aisle went viral. The mayor says he has had enough of the issues and is sick of Walmart tainting his city's reputation, declaring them a public nuisance for the first time. "There is a 10-day grace period. Then after that, we will issue them a ticket every time we go down to Walmart for being a nuisance. The intent is to discourage the behavior," the mayor said. wafb.com

Mall in Albany, NY locked down because of Shooting - reported 11:50 last night
Colonie Center is on lock down as police search for a possibly armed suspect. Police are searching the area of Wolf Road for the suspect. A New York State Police helicopter is also searching from above. A victim was taken to Albany Medical Center Thursday night after being shot near the mall, according to police. Mall security would not give any details about what happened, but they said the mall was starting to close as the incident occurred. The suspect is still on the loose. Police have not released any suspect information, yet. wsav.com

Palo Alto, CA: Suspects net 22 iPhones in 30-second heist of Apple store
Police continued their search today for four men who dashed into a downtown Apple Store and stole 22 iPhones in 30 seconds. The suspects stole $16,000 worth of cellphones on Tuesday from the store at 340 University Ave., according to patrol Sgt. Wayne Benitez. Detectives are working with Apple security to see if the incident is connected to similar shoplifting cases in the Bay Area and also reviewing surveillance video from surrounding streets to see if the suspects left the area in a car, Benitez said. No one was injured. mercurynews.com

San Diego, CA: Four "takeover" robbery suspects arrested
Four men accused in a string of takeover-style armed robberies in North County since March were arrested during early-morning raids Wednesday, authorities said. More than 30 police officers, detectives, and sheriff's deputies simultaneously raided four separate addresses. Two of the robberies occurred in Oceanside, one at a GameStop on Aug. 5 and the other at Oceanside Pharmacy on July 10. The other heists were in Vista, at a GameStop on July 15 and at Sunny's Beauty Supply and Salon on March 18. The robbers brandished firearms, then restrained victims with zip-ties and forced them into other rooms. sandiegouniontribune.com

Scranton, PA: Woman shot pepper spray at TJ Maxx Loss Prevention Agent
A Scranton woman sprayed pepper spray at security officers who tried to take her into custody for shoplifting on Wednesday. Jennifer Bell, 39, was detained by store security at T.J. Maxx in Arena Hub Plaza on Wednesday afternoon after she allegedly stole $474.94 worth of merchandise. Security officers told police that when they escorted Bell into the store's security office, she sprayed pepper spray at them and attempted to flee. The officers managed to restrain Bell, police said. citizensvoice.com


Durham, NC: Burglar charged with stealing power tools at Lowe's Authorities in Durham have arrested a man who allegedly stole power tools from a Lowe's hardware store. Investigators said they located 24-year-old Alexey Alexandrovich Vasilyev of Chapel Hill Thursday, who was wanted in connection with a burglary at the store in the 4400 block of Fayetteville Road last month. Police say a man broke two glass doors and entered the business around 3 a.m. on July 23. He then fled with several power tools. abc11.com

Newport News, VA: $3K reward put on gun theft from police supply store
The incident happened in June at the Quartermaster Police Supply on Warwick Boulevard. Police say the suspect forced his way into the store and took three guns. Newport News police, the Bureau of Alcohol, Tobacco, Firearms and Explosives and the National Shooting Sports Foundation have put a $3,000 reward on any information that leads to an arrest. wavy.com

Jacksonville, FL: 12-year-old arrested for crime spree across Duval County
A 12-year-old is accused of a crime spree across Duval County which ended with inappropriately touching a woman, who he then robbed. Jacksonville Beach Police have arrested Kaleb James Herron. Herron allegedly broke in to several cars in Neptune Beach and stole a bicycle to ride over to Jacksonville Beach. He's accused of stealing a toy gun from a Dollar General as well as cologne and other items from Walgreens. Police say Herron then slapped the rear end of a woman walking on 2nd Street South, demanded money, and pulled up his shirt to reveal the handle of the toy gun. wokv.com

Operation targets credit card skimmers in Ventura County
Officials from more than a dozen agencies fanned out Thursday to inspect gas pumps throughout Ventura County and found three devices used to steal credit and debit card numbers. vcstar.com

Laredo, TX: Police searching for Shoplifter who Assaulted an LP Agent
Laredo police said this week they need the community's help to track down a shoplifter who assaulted a loss prevention officer at Wal-Mart. The case was reported at about 8 p.m. July 30. Police arrived at the store, 5610 San Bernardo Ave., and met with a loss prevention officer who stated that he had been assaulted during a theft, reports state. lmtonline.com

Cedar Rapids, IA: Toys R Us Burglar ends up in the Trash Bin
A Cedar Rapids man's failed getaway from a burglary landed him in a trash bin and police custody. According to the Linn County Attorney's Office, police were called to Toys R Us around 3:30 a.m. Friday for a burglary alarm. Responding officers found 33-year-old Danny A. Akers in a garbage receptacle. Police said Akers had stolen more than $1,000 worth of merchandise from the toy store and attempted to exit through a chute, which deposited him in the trash bin. Akers was arrested and faces charges of third-degree burglary and second-degree theft. kcrg.com

Two men busted at Ocean State Job Lot's using fake credit cards in Marlboro

Mount Pleasant, WI: Herslof Opticians gave employee 2nd chance after $2,500 theft, this time she stole $5,000

Lubbock, TX: Woman accused of hitting Officer with Vehicle during Burlington Coat theft

Charlottesville, VA: Police Search For Man Suspected in Credit Card Fraud Investigation

Colerain Twp, OH: Zale's employee Admits to $2,800 theft

Panama City Beach, FL: Reed's Jewelers in Pier Park, was the victim of an Armed Robbery

Lexington, KY: Kay Jewelers in the Fayette Mall reports a Distraction Theft, merchandise valued at $2,499

Chattanooga, TN: Kay Jewelers in the Northgate Mall reports a Grab and Run, merchandise valued at $6,999

Ephrata, WA: Repeat Walmart shoplifter faces jail time for $1,000 theft

UK: International Marine Contractors Association to stage Competence Seminar in Aberdeen


---

● AT&T - Wichita, KS - Armed Robbery
● Byrne Dairy - Elmira, NY - Armed Robbery
● Cash Express - McCracken Co, KY - Armed Robbery
● Circle K - Yuma, AZ - Armed Robbery
● CVS - Ferndale, MI - Robbery
● CVS - Jefferson Co, AL - Armed Robbery
● Dollar Tree - Dover, DE - Armed Robbery
● Plaid Pantry - Beaverton, OR - Robbery
● Smile Line - Panama City, FL - Armed Robbery
● Sports Chalet - Bakersfield, CA - Armed Robbery
● SweetFrog - Alexandria, VA - Robbery
● Tesco Express - Crowle, UK - Armed Robbery
● Tes Mart - Lockeford, CA - Robbery
● Verizon - Michigan City, IN - Armed Robbery
● Walgreens - Memphis, TN - Armed Robbery
● 745-CASH - Memphis, TN - Armed Robbery
● 7-Eleven - Lockport, NY - Armed Robbery
● 7-Eleven - Salem, VA - Robbery
● 7-Eleven - Arlington, VA - Robbery
● 7-Eleven - Denver, CO - Robbery





To apply to today's Featured Jobs, Click Here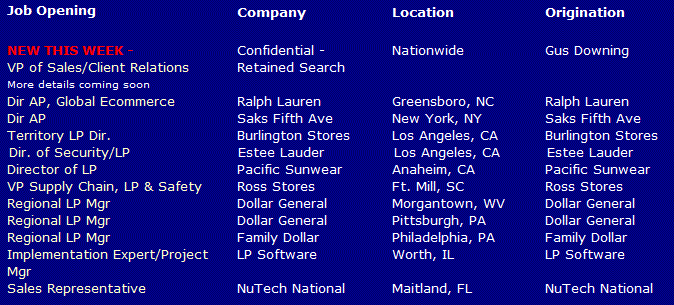 Limited Time Only - Post Your Multi-Unit LP jobs for FREE - Learn More Here




Today's Daily Job Postings from the Net - Appearing Today Only

To apply to today's Internet Jobs, Click Here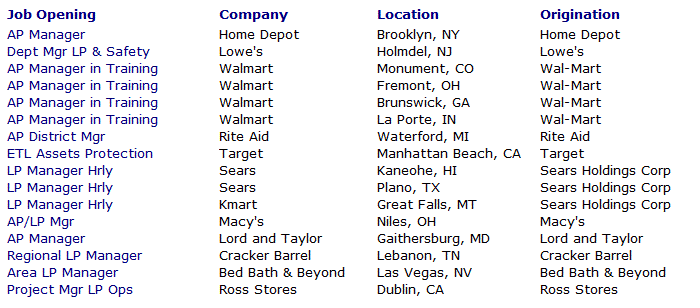 Jessi Dudley was promoted to Operations Manager for the Loss Prevention Research Council.


Humility: The Missing Ingredient to Your Success What qualities or skills influence your leadership ability the greatest? Experience? Communication skills? Your authoritative style? How about humility? Turns out humility is absolutely essential and could be the missing ingredient. Admit to errors

4 Ways to Turn Anxiety into Confidence
Facing the fear of the unknown is hard. We trick ourselves into thinking the problems we fear are bigger than we can handle. Being able to face these fears head on is important for building up your self-confidence as a leader. Here are some strategies you can use to turn anxiety into confidence. Remember your blessings

Loyalty is one of the most precious values there is and a loyal team that's unified in its goals and objectives, even in defeat, is strong and supportive. Loyal teams can make the largest tasks seem effortless and they create a sense of ownership of family that inspires individual performance and comforts individual failure. Earned slowly and grown daily, loyalty is a commodity no leader can be without because it fuels success, unifies purpose, and gives birth to exceptional performance. Without loyalty, teams splinter and lose focus on the true objectives. It's rare to build a truly loyal team and it's incredibly difficult to keep them together long term with private agendas always pressuring the balance. And yes, even loyal teams require balancing because at the end of the day it's always about personal agendas. Professional sports teams are constantly looking for that balance and the right players to fit as a team and the same holds true in business. With the right team, anything is possible and conversely one team member can destroy the entire balance. So being a team player is important even when you decide not to be.

Just a Thought,
Gus Downing




Post Your Tip or Advice! Click Here

Please make sure to add d-ddaily@downing-downing.com to your contact list, address book, trusted sender list,
and/or company white list to ensure you receive our newsletter.
FEEDBACK / www.downing-downing.com / ADVERTISE WITH THE DAILY