Amazon's Culture Story Continues - The Good and the Bad -
The Future Workplace?
Depiction of Amazon Stirs a Debate About Work Culture - Over 4,000 Comments on Yesterday's NY Times Article The reaction to the story was voluminous and spirited. On websites like Reddit and Hacker News, tech workers, Amazon employees and friends and relatives offered thoughtful and detailed reflections of their experiences at the company. Jeff Bezos, its chief executive, also weighed in. Many of the more than 4,000 comments posted to nytimes.com recounted what life was like at Amazon.

Dozens of current and former employees, as well as loved ones, wrote in to talk about how difficult it was to maintain a work/life balance. Many pointed out that the two year-mark was often the cut off for how long they could last there. The depiction of life at Amazon left many commenters wondering whether they should continue shopping with the company.

Not everyone, however, was so quick to lambaste it and its practices. Some current Amazon employees said their experiences matched the most upbeat ones described in the original article. Another Amazon employee echoed that experience. He pointed to the climate inside the company as a place that fosters projects that can have a huge impact on millions of people. nytimes.com

Hard Labor at Amazon? Wall Street Shrugs
Shares of the company rose 0.7 percent today despite a blistering expose in Sunday's New York Times that cast working conditions at the e-tailer as harsh to a Dickensian degree, but also high-paced and laser-focused on delivering for the consumer.

The New York Times executive editor Dean Baquet told WWD, "I think this was a powerful story driven by on-the-record interviews. It told the story of people who feel burdened by the Amazon workplace and those who feel exhilarated by it. In other words, an exemplary piece of journalism. And the comments on our site from present and former workers attest to that."

"The thing about the [Amazon] corporate culture is that it's one that's consistent," said a former Amazon executive who spoke on the condition of anonymity. "They do a really good job of being consistent. They weed out the people that the system doesn't work for and burn through those people, and they also find people that this system works for."

This modus operandi has worked well for Amazon, although the executive said new hires sometimes get to Amazon and are shocked by the lack of "social cohesions" at the company. The former Amazon executive said this bout of bad press might push the e-tailer to make some changes in its corporate culture.

"I don't think the article will change things," Melich said. "It won't change consumer shopping habits. If they need to keep a certain level of customer service, they'll find the right people to do that. They'll react to the customer, so if their customer tells them that their service has slipped, if their renewal rates for Amazon Prime drop, they might react.

Retail consultant Brian Kelly said pioneers are known for their work ethic.

"When I was [chief marketing officer] at Lane Bryant, there was a hugely focused business model left over from the Les Wexner days," he said. "It required six workdays a week. When Sam Walton was starting Wal-Mart, it also was known as a slavish work environment. And Wal-Mart changed the retail world. That is what Jeff Bezos is doing. Now it's his turn, and I am sure he has studied both Walton and Wexner."

One of the Times reporters on the story, Jodi Kantor, told "CBS This Morning": "So many of us know Amazon as customers, but what we realized is that we don't know how the company works inside. Employees had very powerful things to say about it. They really spoke to the strengths of working at the company. They said that they love the innovation, the customer focus, the quality of the people who work at Amazon, but they were essentially questioning, 'is our workplace - it's designed to be tough - but is it too tough?' A former human resources director at Amazon used the phrase 'purposeful Darwinism' to describe the company's method of constantly getting employees to do more and to improve.

Asked about the commonality of a tough workplace in today's landscape, Kantor said, "what we found so fascinating in reporting this article is Amazon is singular. They call themselves peculiar. They pride themselves on being different. That's a consistent message inside the company. On the other hand, it does reflect the future of the workplace - more efficiency, more data, come-and-go relationships between employer and employees - the question is how far is too far? Are there limits on how hard employees can work?" wwd.com

CEO Jeff Bezos certainly has good reasons to put a kinder face on the company he founded 21 years ago: 4,537 good reasons, to be exact That is the number of open jobs Amazon lists on its recruiting page for its Seattle offices alone. Amazon has exploded in size: More than 18,000 full and part-time workers were hired in the second quarter alone, a jump of 11%. And timing makes this an especially sensitive issue: Amazon typically boosts its hiring in the third quarter to staff up fulfillment centers ahead of the holidays. wsj.com

Bitcoin CEO Arrested On $389M (250m pound) Fraud Charges
Police in Japan have arrested Mark Karpeles, 30, who headed the MtGox Bitcoin Exchange until the business collapsed in February 2013. At the time, MtGox was one of the leading international Bitcoin exchanges and held millions of pounds worth of the online currency in supposedly secure electronic vaults for customers. Karpeles is alleged to have spoofed the company's computer systems into transferring the lost cash into his personal accounts. The company filed for bankruptcy claiming the 250 million pounds of Bitcoin had been stolen by hackers. A police investigation has uncovered tampering with the company's computer systems and evidence that Karpeles manipulated the MtGox network to pay himself the missing Bitcoin. parsherald.com

PayPal Pairs With Commerce Dept. To Harness Economic Data

QVC will acquire e-retailer zulily for $2.4 billion

Competitors giving Alibaba a run for its money

Gift Cards As A Second Currency


"Fraud is not a person - it is a dynamic grouping of statistics that deviate from the norm."
Stuart B. Levine, CFI, CFCI
CEO, The Zellman Group & Zelligent



ORC suspects get jail time for hitting Lord and Taylor at King of Prussia Mall - 9 to 23 months each Darrin Orr, 49, pleaded guilty to one count of criminal conspiracy to commit retail theft and was sentenced to nine to 23 months in Montgomery County Correctional Facility. Orr was also sentenced to three years of probation and was ordered to pay $8,575 in restitution with his codefendant Shareef Haynes. Tykee White, the third man involved in the theft, was sentenced to nine to 23 months and three years of probation after pleading guilty to retail theft in August 2014. On Nov. 5, 2012 at 3:07 p.m. the loss prevention officer at Lord and Taylor was working and saw three men - White, Orr and Haynes - walking through the mall who were suspects in previous theft cases at the store. At 8:30 p.m. the same men were seen in the store looking at the leather jackets. The men then grabbed several jackets and were seen running with them out of the store without stopping to pay for them. An inventory of the store determined the men stole 23 leather jackets and vests costing the store $8,575. timesherald.com


Elizabeth, NJ: 14 Crips gang members indicted in identity fraud scams They are 14 members of an Elizabeth-based street gang, but they now face a 49-count indictment for "white-collar crimes," including filing false tax returns and manufacturing fake gift cards to collect thousands of dollars, Union County officials said today. Money from the scams was use to support members of the 111 Neighborhood Crips and to aid other gang members who were in jail or prison, acting Union County Prosecutor Grace Park said today. All 14 defendants face charges under New Jersey's Racketeer Influenced and Corrupt Organizations (RICO) statute, Park said. In addition to the RICO indictments, two of the suspects face indictments on murder or attempted charges. nj.com


Foley, AL: "Boost Bags" Used In $4,000 Theft Incident at Old Navy Many stores have security systems near the front door that trigger a loud alarm if someone tries to steal merchandise. Foley police say four people found a way to by-pass the EAS system at the Old Navy store at Tanger Outlets and walk out with more than $4,000 dollars worth of merchandise. All four were arrested moments after the alleged crimes. They've all been charged with felony theft. Two were also charged with giving false information to a police officer. Police say the alleged shoplifters used what's called "boost bags"- homemade bags made with duct tape to steal the clothes. wkrg.com

Murfreesboro, TN: $3675 in Push Up Bras stolen from the Victoria's Secret Store There has been another sizable theft at Victoria's Secret in Murfreesboro. This time around, two Hispanic males and one Hispanic female entered the store with several bags from nearby stores and reportedly started selecting merchandise with total disregard to size or price. They placed the merchandise inside their bags and never made it to the cash register. When a store employee at the Avenue location approached one of the three subjects to ask if they needed help, they left the store in various directions on foot. They reportedly left with over $3,600 in push up bras. Since 2012, over $20,000 in merchandise has been shoplifted from the two Victoria's Secret Stores in Murfreesboro. wgnsradio.com

Concord, NH: Man Busted with Nearly $1,800 Worth of Stolen Items from Target and Walmart A store employee told the officer that he was tipped off by a patron who was in the store earlier and thought a theft might have taken place in the garden center. The officer eyed video and reportedly saw a man leave the store with a full cart of merchandise along with a child seated in the cart. patch.com

Hoover, AL: Police focusing on issue of Shoplifting; Releasing a series of information on social media Captain Gregg Rector says with Hoover being one of the biggest shopping areas in the state, shoplifting is always a concern for businesses and police. "Probably one of the primary reasons behind the shoplifting we see in our city is individuals that are funding drug habits and it's been that way for quite some time now," Rector points out. Rector also says larger retailers typically have the most success in dealing with shoplifting cases because of their ability to afford security cameras and loss prevention. The Hoover PD plans to post shoplifting-related information on its Facebook page throughout the week, including pictures of those caught in the act. wtvm13.com



Hoover, AL: Woman accused of stealing 2 pair of jeans, valued at nearly $1000 A 38-year old Warrior woman is facing theft charges. Hoover police arrested Pamela Burr on August 10th. Loss Prevention employees at Von Maur Department say they saw the woman concealed two pair of "Robin Brand" jeans inside her purse. After she left the store, Burr was taken into custody and officers were called. The stolen jeans were recovered. abc3340.com

Do you have an ORC case to share? Publishing it educates the LP & retail community
which might fuel even more jobs and funding.
Share your ORC news and help the industry grow


Romanian National Admits To International ATM Skimming Scheme - Hitting ATMs Across the U.S. on Road Trips - Faces 25 yrs in prison Zoltan Deak, 39, of Hunedoara, Romania, pleaded guilty today to conspiracy to commit wire fraud and conspiracy to commit money laundering. U.S. District Court Judge Jeffrey L. Schmehl scheduled a sentencing hearing for December 7, 2015. Deak was part of an international conspiracy which placed skimming devices on ATM machines and subsequently stole money from the compromised bank accounts.

Zegrean and Dragan took road trips across the United States stopping every few miles to withdraw funds from the compromised bank accounts. In June 2013, Deak traveled to the United States intending to withdraw funds from the compromised bank accounts and to assist Zegrean place skimming devices on ATM machines in the United States. Deak, Zegrean, and Dragan took a road trip from Reading, PA to Florida to withdraw funds from previously compromised accounts. Returning from their trip to Florida, Sheriff Deputies in Clarendon County, South Carolina, stopped Zegrean's Range Rover and searched their vehicle. Inside the vehicle, Deputies found approximately $15,000 in stolen funds, 1,704 stolen bank card numbers, and various ATM skimming devices. Wyomissing Police later seized another stolen 2,879 bank card numbers from Zegrean's computers. justice.gov

N.J. couple accused of roles in $15M counterfeit watch international smuggling ring Prosecutors say a central New Jersey couple was involved in international trafficking ring that smuggled counterfeit high-end wrist watches between Hong Kong and New Jersey. They say a search of the couple's home uncovered more than 150,000 counterfeit watches, watch parts and equipment used to assemble wrist watches. The retail value of authentic watches was estimated at more than $15 million. northjersey.com

Omaha, NE: Man convicted in Fatal Shooting of 71 year old Jewelry Store Owner An Omaha man has been convicted of first-degree murder in the 2014 fatal shooting of a jewelry store owner during a botched robbery. Douglas County District Judge Marlon Polk issued a guilty verdict Monday in the bench trial for 19-year-old Milton Dortch Jr. The conviction carries a life in prison sentence. Prosecutors say Dortch was 18 when he entered James Minshall Sr.'s Omaha jewelry store in September 2014 and attempted to rob it. Dortch says he shot at Minshall because he saw the 71-year-old man attempt to retrieve a gun. Dortch testified during his short trial that he never intended to shoot his gun or kill anyone. theindependent.com


Pittsburgh, PA: Store clerk and Armed Robber battle with swords For a few tense, surreal moments Friday night, a Pittsburgh corner store was transformed into something out of Game of Thrones. That's because a would-be robber tried to hold up the store with a sword - only to discover the clerk was armed with a sword of his own. It happened this past Friday night at the Perry Market in Pittsburgh, Pennsylvania. Two unknown juveniles ran into the store, one of whom was brandishing a sword or very large knife. The unknown man holding the sword ran behind the counter to demand cash, and that's when the store clerk reached for a blade of his own: a full-length scimitar. globalnews.ca




Buckhead, (Atlanta) GA: Neiman Marcus Last Call the victim of a Smash and Grab Atlanta police were investigating a smash-and-grab burglary Tuesday morning at a Buckhead store. Two suspects wearing yellow scarves on their faces were seen leaving the area in a red sedan without a tag, Police said. It was not immediately known how much merchandise was stolen from the store ajc.com


Kansas City, KS: Is the Felony Lane Gang targeting Johnson County?
Car break-ins Sunday night have Johnson County Park Police worried the Felony Lane Gang could be up to its old tricks. The group travels around the country targeting purses left out in the open before moving on to another city and new victims. Sunday's smash and grab robberies at the Mid-America Sports Complex in Shawnee have authorities wondering if the Felony Lane Gang might be responsible. So far, they say it doesn't appear so, but they're not taking that for granted. kctv5.com

Myrtle Beach, SC: Man charged with Shoplifting $10,000 of merchandise from Empress Jewelers A Summerton man was arrested late Sunday evening for his alleged role in a Horry County jewelry heist. Tanniah B. Whitfield, 30, was charged by the Horry County Sheriff's Office with shoplifting of a value more than $10,000. Deputies told WPDE that officers were called 6 p.m. Sunday to Empress Jewelers at Myrtle Beach Mall for shoplifting of more than $10,000 in merchandise. They said they are still looking for the get-away driver, who took off in a white, 1999 Ford Crown Victoria. manninglive.com

San Diego, CA: Security Guard Robbed While Working at Ralph's Grocery Store
A security guard says he was robbed while he was working at a downtown San Diego grocery store early Tuesday. San Diego Police were called just after 3 a.m. to the Ralph's in the East Village community. Raymond Wyatt said his wallet was in his backpack near the flower section of the store when Wyatt noticed a man take the wallet. Wyatt confronted the suspect and told NBC 7 the man threatened the guard, saying that he had a gun and would shoot him. nbcsandiego.com


Russia: Police bust $30 million contraband cheese ring Russian police said Tuesday they have busted an international ring involved in producing contraband cheese worth about $30 million, arresting six people. The arrests are part of a government campaign to enforce a ban on imports of Western cheese and other agricultural products imposed a year ago in retaliation for U.S. and European Union sanctions on Russia. Police said the ring, whose operations began in March, had been supplying "as cheese a product made from cheese rennet whose import into Russia is forbidden." The product was then fixed with counterfeit labels of known foreign cheese producers and sold in supermarket chains and distribution centers in Moscow and St. Petersburg. nypost.com

Woman charged with identity theft, running up $3,100 in charges on credit cards

Lancaster, PA: Police seek two men accused of stealing oxycodone during armed robbery of CVS

Newton, NC: Police Arrest Man On Felony Identity Theft Charge

Sort Pump, VA: Man charged with 'Upskirting' girl in Barnes and Noble

Houston, TX: Houston Furniture Bank temporarily closed after Arson Fire

Kay Jewelers in the Valley Mall, Hagerstown, MD reported a Grab and Run, merchandise valued at $1,895

Kay Jewelers in the Cascade Station, Portland, OR reported a Grab and Run, merchandise valued at $1,300


---

● AT&T - Virginia Beach, VA - Robbery
● Andy's - Dania Beach, FL - Burglary
● Anderson Guns - Anderson, IN - Burglary
● Boost Mobile - Slidell, LA - Armed Robbery
● Carlisle Food Mart - Carlisle, PA - Burglary/ 3rd this year
● Circle K - Yuma, AZ - Robbery
● CVS - Augusta, GA - Robbery
● CVS - Lancaster, PA - Armed Robbery
● Denver E Cigs - Denver, CO - Burglary
● Dollar General - Waco, TX - Armed Robbery
● Dollar General - Pueblo, CO - Robbery
● Little Caesars - Holland, MI - Robbery
● McDonald's - Austin, TX - Armed Robbery/ Police Shooting
● Q-Mart - Austin, TX - Armed Robbery/ Police Shooting
● Rite Aid - Springfield, PA - Robbery
● Rite Aid - Augusta, ME - Robbery
● Slippin Southern - New Orleans, LA - Burglary
● Subway - Houston, TX - Burglary
● Yogen Fruz - Northbrook, IL - Robbery
● 7-Eleven - Denver, CO - Armed Robbery





To apply to today's Featured Jobs, Click Here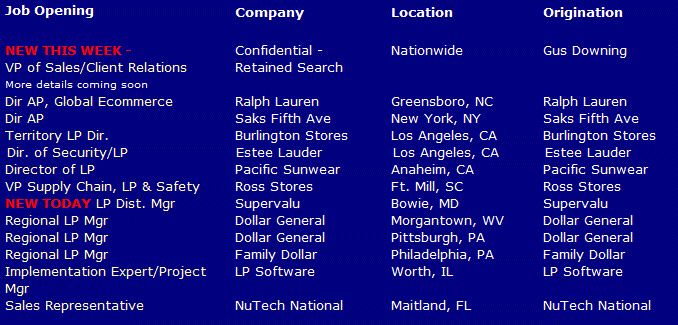 Limited Time Only - Post Your Multi-Unit LP jobs for FREE - Learn More Here




Today's Daily Job Postings from the Net - Appearing Today Only

To apply to today's Internet Jobs, Click Here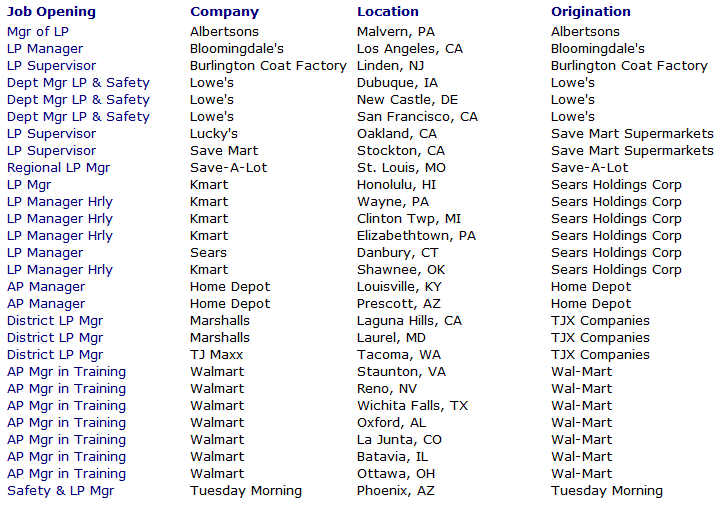 Brandon Perego was named Corporate Organized Retail Crime Investigator at The Home Depot.



Individual growth is an overly used phrase for something that is extremely difficult to truly accomplish. Corporate America tends to force it faster than many can absorb. Out of necessity or by design it requires a mental investment and a conscious effort on the part of the executive to truly grow beyond their current capabilities. Consequently, growth is oftentimes as a result of direct force or life-changing events. But it is a necessity if one expects to advance and stay current with the industry. Technology represents the Loss Prevention industry's biggest opportunity for growth and if one expects to be a leader tomorrow it would be wise to grow your technology education.

Just a Thought,
Gus Downing




Post Your Tip or Advice! Click Here

Please make sure to add d-ddaily@downing-downing.com to your contact list, address book, trusted sender list,
and/or company white list to ensure you receive our newsletter.
FEEDBACK / www.downing-downing.com / ADVERTISE WITH THE DAILY