Tech Guest Viewpoint: EMV: Why Online Retailers Should Pay Attention
If you only sell online, do you really need to care about EMV? The short answer: Yep. And that's because we - along with many payment experts - believe that while the overall net effect of introducing EMV may be positive, it's also likely to cause an increase in card-not-present (CNP) fraud. Are you prepared? Fraudsters gonna fraud

Learning from the U.K., Canada, France and Australia
Since 2003, more than 60 countries have rolled out EMV. The U.S. is fairly late to the game, so we can look at fraud trends from other countries to get a hint at what's to come - and while card present fraud declined significantly across the board, increases in CNP fraud offset some of those gains. In the U.K., CNP fraud grew by 79% between 2005 (the EMV liability shift) and 2008. France (adopted in 2002) and Australia (2012) both saw CNP fraud climb about 20% in the first few years after the EMV migration. And Canada? A 133% spike in CNP fraud between 2008 and 2013.

The expected uptick in CNP fraud after the EMV migration "reinforces the need for a layered approach to security," according to the Smart Card Alliance, a multi-industry association of payments experts. It's the perfect time to look at your options for mitigating risk, so you can focus on what matters: building your business. chainstoreage.com

Online Fraud to Increase 50% Come This October
This is according to security firm Forter and its reasoning is thus: October is the month that the EMV payment standard goes into effect in the U.S. Cyber thieves will double down on online fraud once it rolls out. "The truth is, fraudsters take the path of least resistance. If the point-of-sale at physical retailers is hardened they won't go there if there are easier targets."

Forter believes that New York is the top state for mobile fraud, according to an analysis it performed for Forbes.com. "A highly-populated state like New York is going to have a lot of public Wi-Fi," Zielke says. Forter says it accounts for 39.3 percent of all mobile fraud. Ditto the next states on its list: Maryland, at 27.7 percent, Washington DC, at 23.5 percent, California's 22 percent and Connecticut's 21.5 percent. It is logical, then, that when the EMV goes into affect, mobile fraud will increase the most in these states for all of the aforementioned reasons. forbes.com

Is Alibaba's eCommerce Edge At Risk?
Alibaba's latest quarterly earnings showed that its growth is slowing - and slowing in a way that has some analysts concerned - but that doesn't mean the eCommerce giant hasn't come up with ways to keep its edge ahead of its smaller rivals. Those newer players in the crowded Chinese eCommerce space have kept Alibaba on its toes recently, and that topic was the subject of a recent Wall Street Journal piece that dug into the rivalry referred to as "the great cat and dog war," between Alibaba and JD.com. But no matter how hard JD tries to keep up with Alibaba, it's like the physical retailers trying to keep up with Amazon. Alibaba just has the edge, even during times of slowed growth. This has included Alibaba's plans to grow its global retail presence, which is being done through recent exclusive deals that it's tied up with more than 20 apparel brands. This deal helps propel Alibaba's mission of driving retail sales from its site outside of China and across the globe. These newfound partnerships will enable Alibaba to use its most popular marketplace, Tmall.com, as its landing ground for selling the third-party brands on its platform. pymnts.com

'Buy now' disrupts online retail
The future of online retail lies with the 'buy now' button as users come to expect instant gratification, a development that could also fuel growth in scannable advertising. Consumers would see items they wanted on Facebook or Pinterest and would then expect to be able to simply scan the image, hit 'buy' and have it delivered. "In the very near future, consumers will care less about 'who' delivers their purchases," he added. "This will disintermediate many of today's online shopping services," Larry Logan told Luxury Daily. warc.com

Mobile commerce is now 30% of all U.S. e-commerce
In 2015 U.S. mobile commerce sales will total $104.05 billion, up 38.7% from $75.03 billion in 2014. Internet Retailer estimates that mobile commerce in 2015 will grow 2.58 times faster than total e-commerce sales, which Internet Retailer projects will grow 15% this year to an estimated $350.64 billion. internetretailer.com

Mobile accounts for 30% of Urban Outfitters' Q2 online sales

Dick's Sporting Goods online sales up 24.4% in Q2 = 7.3% of sales

Walmart opens e-commerce fulfilment centre in Indiana

Global E-commerce generates $1.2 million revenue every 30 seconds: Study


"Fraud is not a person - it is a dynamic grouping of statistics that deviate from the norm."
Stuart B. Levine, CFI, CFCI
CEO, The Zellman Group & Zelligent



Buckhead (Atlanta) GA: 15 thieves take $60,000 in handbags in Christian Louboutin store smash-and-grab burglary Police said a large rock was used to break the front window and video surveillance showed about 15 teenage males entering the store with their faces covered. The store owner arrived and reported that about 20 to 30 high end hand bags were missing from the store, valued at $60,000. There were several shoe display models taken as well. wtoc.com



Springfield, MO: Police raid home looking for shoplifted ammo
Springfield police served a search warrant last week at the home of a man accused of walking out of at least two different Academy Sports stores without paying for carts full of ammunition. What authorities found, according to court documents, was 375 boxes of ammunition, along with two rifles, dozens of gun accessories and various sporting goods like sleeping bags, a raft and a tent. The warrant says 315 of the boxes police recovered were rifle and pistol ammo, and 60 of the boxes contained shotgun ammo. news-leader.com

St Louis, MO: Woman caught stealing $500 worth of panties from American Eagle St Louis woman confessed to stealing over $500 worth of panties from an American Eagle store at the South County Center. Bobbie Winston, 34, police said, took 50 pairs of panties, valued at $10 each, from displays at the store and concealed them inside a shopping bag on July 25. According to court documents, while walking out of the store without paying for the merchandise, Winston was apprehended and confessed to the theft. kmov.com

Detroit man arrested stealing 26 cans of baby formula from New Hudson Walmart store

Do you have an ORC case to share? Publishing it educates the LP & retail community
which might fuel even more jobs and funding.
Share your ORC news and help the industry grow


South Burlington, VT: JC Penney Shoplifter found dead in her Cell at Chittenden Correctional Facility; facing 6 cases for failure to appear No foul play is suspected in the death of Kristine L. Brennan, 49, who was found unresponsive in her cell just after 3 p.m. Monday, Lt. Brian Miller said. South Burlington Fire and Rescue provided immediate aid and Brennan was taken to the Univ. of Vermont Medical Center, where she was pronounced dead. Brennan had been at the women's prison on Farrell Street since Saturday afternoon. South Burlington Police said they arrested her on a charge of retail theft for about $65 worth of merchandise at JC Penney at the University Mall. South Burlington Police Chief said while processing her at the police station, city officers found Brennan in possession of two tablets that appeared to be controlled substances. burlingtonfreepress.com

New York, NY: 6 charged in JFK Airport Cargo Theft; $250,000 cash
Six people have been charged in a scheme to steal mail containing an estimated $250,000 in cash at New York's Kennedy Airport. Federal prosecutors in Brooklyn say three of the defendants were cargo handlers who targeted international flights transporting mail with foreign currency. They say the crew would use currency exchange businesses at Kennedy to convert their haul into U.S. dollars. The case is the latest targeting rip-offs of cash and merchandise by cargo handlers at Kennedy and LaGuardia airports. There have been 12 other arrests. Agents nabbed the latest defendants on Tuesday morning. The defendants are scheduled to appear in court later. njherald.com

Two Florida men arrested in Willoughby, Oh with cloned credit cards
Humberto Delgado-Valdes, 27, and Esniel Delgado, 20, were arrested by Willoughby Police. The two men are from Hialeah, FL. According to police, the two males were positively identified as using a cloned credit card of one of the victims to make several purchases at that gas station. The suspects were purchasing loadable Vanilla Cards in increments of hundreds of dollars. Police learned the two males were staying for several days at the Days Inn Hotel on state Route 306. A search warrant was conducted on Monday, in which detectives recovered more than 45 cloned credit cards and Vanilla cards. 19actionnews.com

Juneau, AK: One of two $41,000 Costco jewelry burglars sentenced
One of the two men involved in the 2014 smash-and-grab burglary at Costco was sentenced Monday to serve four years and two months in prison for a federal drug crime. U.S. District Court Judge Timothy Burgess imposed Stanley Van D. Stauffer's sentence for drug conspiracy during a hearing in Juneau federal court. Stauffer, 36, and Joseph John Finn, 32, were arrested in Juneau after they worked together to steal about $41,000 worth of jewelry from Costco on Sept. 17, 2014. juneauempire.com


Americus, GA: Sonic employees arrested after 'fake' robbery Two men are charged with lying to police about getting robbed. Cadare Bonner and Donkier Morgan told police that two masked men held them at gunpoint last Thursday night after they got off work at Sonic. Investigators now believe the workers either set up the crime or made up the whole thing. "We are going to be reviewing the video tape of the building and the surrounding area to see what else we can come up with," said Americus Interim Police Chief Herman Lamar. Bonner and Morgan are charged with theft by taking, making false statements, and false report of a crime. walb.com



Lumberton, SC : Two men wanted in Jewelry Store Robbery inside Biggs Park Mall Lumberton police need the community's help in identifying two men wanted in connection with a jewelry story burglary. Detective Leavitt with says two men entered McNeill's Jewelry Store on July 24, inside Biggs Park Mall and stole several items of jewelry. While one of the suspects distracted the sales person, the other suspect grabbed a tray of rings from inside the display counter. wmbfnews.com


Smithfield, NC: Kay Jewelers burglary suspect sought, Police release photo Smithfield Police are looking for the suspect who they say broke into a Kay Jewelers store on Aug. 12. Police said the suspect broke into the Kay Jewelers on Outlet Center Drive in Smithfield. wncn.com

Baltimore, MD: FBI Searching For Serial Cell Phone Store Armed Robber
The FBI is offering up a $5,000 rewards for information leading to the arrest of a serial armed robber. Investigators say the suspect has robbed six cell phone stores in the Baltimore area. The most recent robbery was at Cricket Wireless store at 3226 Greenmont Avenue on August 10. The suspect could be responsible for the following robberies as well: July 20- Cricket Wireless, July 23 - Metro PCS, July 27- Metro PCS, Aug 1 - Metro PCS, Aug. 6 - Metro PCS. cbslocal.com

Woman, teen arrested after stealing 59 items from Belk at Riverchase Galleria in Montgomery, AL

Cumberland Co, TN: Cumberland County Sheriff prevents explosion at Family Dollar

Milwaukee, WI: Witnesses help police find suspects in Foot Locker robbery

Homer Glen, IL: Man steals Menards merchandise under clothing

Mobile, AL: Two wanted by Police, accused of using credit card stolen in burglary

Thornton, CO: Burglars steal undetermined amount of Jewelry and Cash from D&D Fine Jewelry

Cedar Hills, TX: Kay Jewelers reported a Credit Card Abuse incident, merchandise lost was valued at $2,056

Commerce, CA: Zales Outlet reported a 4am Burglary; loss has yet to be determined


---

● Abel's Quik Shop - Hannibal, MO - Armed Robbery/ Murder of clerk
● Advance America - Hutchinson, KS - Armed Robbery
● AT&T - Derby, KS - Armed Robbery/ Customer shot
● Boost Mobile - Gulfport, MS - Armed Robbery
● Burger King - Oklahoma City, OK - Robbery/ Assault
● CAD Auto Parts - Oakland Park, FL - Armed Robbery/ suspect shot
● CVS - Lancaster, PA - Armed Robbery/ Photo released
● CVS - Houma, LA - Robbery
● Dollar General - Nashville, TN - Armed Robbery
● Kleins - Regina, ON, CN - Armed Robbery
● Metro PCS - Jackson, MS - Armed Robbery
● Sonic - Americus, GA - Employee Theft/ Staged Armed Robbery
● SnoWizard - New Orleans, LA - Armed Robbery
● T-Mobile - Miami, FL - Burglary
● Turkey Hill - Brodheadsville, PA - Armed Robbery
● Verizon - Anne Arundel Co, MD - Armed Robbery





To apply to today's Featured Jobs, Click Here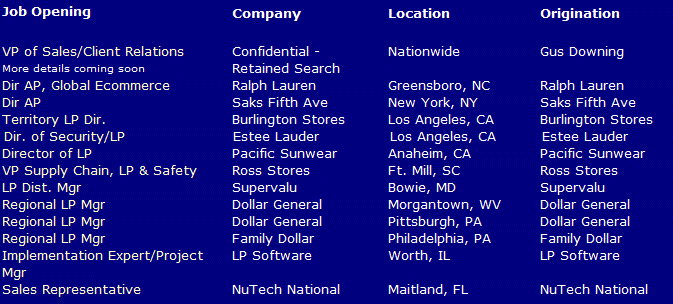 Limited Time Only - Post Your Multi-Unit LP jobs for FREE - Learn More Here




Today's Daily Job Postings from the Net - Appearing Today Only

To apply to today's Internet Jobs, Click Here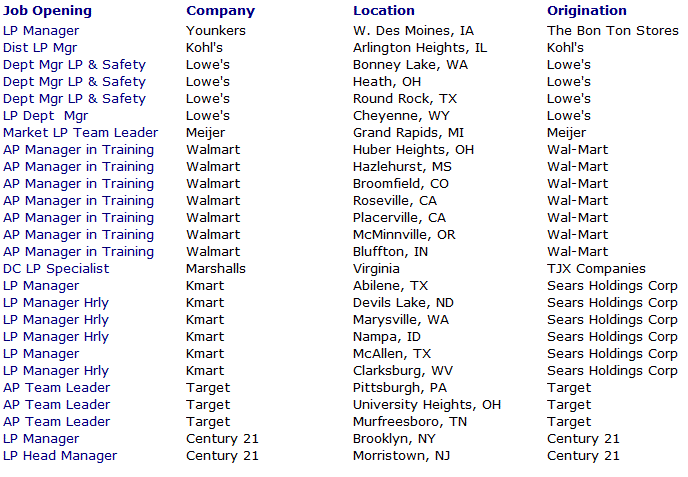 | | |
| --- | --- |
| | Ryan Torres was named Distribution Center Asset Protection Lead for Five Below. |
| | Jason Brandon was named Loss Prevention Manager for Lowe's. |
| | Bill Maxwell, CFI was promoted to District Loss Prevention Manager for Gap Inc. |


Healthy debate in any industry spurs growth, understanding and challenges the status quo. Without it, the normal evolutionary processes which are slow to begin will slow even further. It is those who have the courage to debate that make a difference and create change. However, as in the case of any debate, interpreting and understanding the messages is critical in order for it to have a positive impact and facilitate change.

Usually driven by opposing sides, debates are driven by individual experience and environmental influences that are oftentimes invisible and, therefore, unrealized. But at the end of the day, regardless of opinion, all debates spur discussion, thought and emotion and that is what causes change and understanding.

While interpretation is an individual experience, the experience itself has the ability to impact and educate.

Just a Thought,
Gus Downing




Post Your Tip or Advice! Click Here

Please make sure to add d-ddaily@downing-downing.com to your contact list, address book, trusted sender list,
and/or company white list to ensure you receive our newsletter.
FEEDBACK / www.downing-downing.com / ADVERTISE WITH THE DAILY