Canadian Retailers Increasingly Facing Stronger Headwinds - Retail Sales Growth Slows - Amazon Takes A $1B Bite U.S. and international retailers have sharply escalated the pace of new store openings in Canada over the past five years, with many seeing Canada as an engine to fuel top-line growth. The Canadian retail market has experienced slower growth in 2015, however, largely due to a softer Canadian economy. While both luxury and value retailers are seeing continued growth, a number of 'middle-market' retailers that are failing to differentiate themselves are struggling and in some cases, shuttering.

Retail Council of Canada numbers indicate that the annual rate of Canadian retail top-line growth for the year to July 2015 was only 1.7%, compared with 4.6% and 4.3% in the corresponding two prior years.

There are two 'silver linings', however - cross-border shopping trips to the U.S. are estimated to have decreased by 25%, resulting in the repatriation of those retail sales to merchants in Canada. Canadian will save $1,500 annually as a result of the reduction in retail gas prices, resulting in an additional $15-20 billion in the hands of Canadian consumers.

In addition to the above macro-economic headwinds being faced by retailers operating in Canada, the significant increase in competition both from new entrants into the Canadian market as well as from e-commerce pure-plays (it has been estimated by some that Amazon's Canadian business is now over $1 billion) is impacting the overall market share for incumbent retailers as a group. retail-insider.com

Amazon's corporate culture raises questions about Canadian similarities
The excesses of Amazon.com's hard-driving corporate culture made headlines this week, raising questions about whether similar problems are possible at Canadian companies. Parker said a company based in Canada with a similar mission would likely demand the same of its employees.

"Amazon knows who they are," he said. "They're trying to take over the world and they recruit people based on that." That type of extreme workplace environment is often seen in high-volume, low-margin industries like retail, where efficiency is paramount. The biggest problems arise, Parker added, when managers down the line from Bezos do their best to implement their own interpretations of his uncompromising vision for productivity. They're going to be representing that culture every day and some of them are just going to take it way too far," he said.

"The idea that employees should be radically flexible, always on call, always serving the customer, and sacrificing themselves to help the company is something we find all over the world," he said.

Yet Steven Murphy, dean of Ryerson University's Ted Rogers School of Management, said it's less likely for a Canadian company to drive its workers as hard as Amazon allegedly does. "A lot of U.S. corporations, and especially tech, ride that balance between dedication and a level of commitment that we may not see in Canadian organizations," he said. ctvnews.ca

"Canada remains one of the most favourable markets in the world for supermarkets," Loblaw & Metro Continue to Grow Canadian consumers are spending more on food, and competition among supermarkets has settled down after several years of intense competition, according to CIBC World Markets analyst Perry Caicco. "It now looks like the glory days will extend into 2016, and possibly beyond," said Caicco, who upgraded his outlook on Loblaw Cos. and Metro. financialpost.com

Jeweller Michael Hill plans to almost double its Canadian store count
With 60 stores and eight new ones this year, they plan on opening six in 2016 and six in 2017. Plan on 110. retail-insider.com

Sears to close Seaway Mall, Welland location - affecting 55 employees

Toronto's high-end grocer Pusateri's will rebuild flagship after last weekend's fire Saturday night

Retail Fast Facts: July 2015

Highlights:
● Total monthly retail sales changed by 1.2 per cent over the comparable month last year.
● Total sales excluding food, automotive and gasoline changed by 3.8 per cent over the comparable month last year. Read more

Keynote Session:

The Boston Bombing!
Leadership Lessons From the Hero Who Saved the Day


Sep. 16th - The International Centre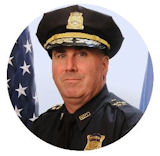 As the Superintendent-in-Chief of the Boston Police Department, Dan Linskey was thrust into managing one of the largest law enforcement operations in history. In this compelling talk on leadership and emergency response planning, Chief Linskey will share how he transformed his intense emotional response into the coolest, most calm he's ever been, the importance of specificity of training, why it's important to maintain a team of "Evil Geniuses," why you should never have a "not my job" mentality, and why too much help can be a bad thing. This is a half hour lesson in leadership that every LP professional should hear, regardless of the size and scope of the incident you will be called to lead.


Two arrested after TVs, electronic equipment stolen from Canadian Tire in Stephenville RCMP on the west coast have busted a man and a woman who got away with thousands of dollars in merchandise from stores in the Stephenville area. But as VOCM's Brian Madore reports, the woman didn't exactly surrender peacefully. They got a call during the supper hour yesterday about a possible theft in progress at the Canadian Tire store on Prince Rupert Drive, and later arrested a 28-year-old man and a 21-year-old woman outside the apartment belonging to the woman, less than 1/2 a kilometre from the store. Police also recovered several flat screen TV's and other electronic devices which were later found to have been stolen from Canadian Tire earlier in the day. RCMP then got a search warrant for the woman's apartment and recovered additional items from Canadian Tire and other stores in the area. thetelegram.com

Sobeys shoplifting suspect arrested in Cow Bay after RCMP release photo
Nova Scotia RCMP have arrested a woman wanted for assaulting a staff member at Sobeys in Cole Harbour in June. When the Sobeys staff confronted the woman about shoplifting on June 19, police say she assaulted a staff member and fled the store with merchandise. On Tuesday, police released a photo of the woman taken from a surveillance camera. And during the evening, RCMP and Halifax Regional Police were investigating another case in Cow Bay when an Halifax Regional Police officer recognized the woman. The officer arrested her and she was handed over to RCMP. The 42-year-old woman faces charges of assault and theft under $5,000. cbc.ca

Bonnyville RCMP searching for liquor store thieves
Bonnyville RCMP is requesting the public's assistance in helping to identify four male suspects who broke into several stores in town early Monday morning. According to a police report the suspects used an axe to break through windows and security doors at the Bonnyville Liquor Store and Liquor Depot before stealing a large quantity of liquor. All four suspects were able to somewhat conceal their faces from security cameras. bonnyvillenouvelle.ca

Attempted Armed Robbery in Torbay thwarted by c-store staff

Kelowna RCMP Warn About Credit Card Skimmers at Fuel Pumps



E-commerce Fraud Jumps 20% as Scammers Open New Accounts
Fraud attacks on e-commerce companies rose 20% in the second quarter of the year to reach 36 million, according to new data from security company ThreatMetrix. The fraud screening firm's latest ThreatMetrix Cybercrime Report, monitoring one billion transactions globally each month for its customers, showed that its Digital Identity Network had blocked a total of 75 million high risk transactions during the period, across all sectors.

Online commerce was particularly badly hit, with 36 million fraud attempts stopped. ThreatMetrix estimated the losses to online traders could have reached as high as $3 billion if the transactions were allowed to go through. Account creation fraud was the highest risk, as nearly 7% of transactions monitored were blocked by the firm. This is despite account creation transactions accounting for just 1% of the total volume monitored. infosecurity-magazine.com

Retailers See Gains in Serving E-Commerce Supply Chains - Fulfillment centers growth and LP jobs creation The big retailers said in earnings calls with analysts this week that they have seen greater efficiency this year in using dedicated fulfillment centers for online orders. Home Depot, Target, and Wal-Mart are building out fulfillment centers to package and ship parcels. " Target now has six dedicated fulfillment centers for online orders, Wal-Mart Stores Inc is opening two automated fulfillment centers in the next six months. Home Depot said it is close to bringing its third e-commerce fulfillment center online in Ohio, which executives said will expand its distribution footprint enough to enable two-day parcel delivery to 90% of its U.S. customers. Editor's Note: Not to mention all the other retailers opening fulfillment centers dedicated to e-commerce and the dozens of Amazon's already operating. This part of our business is growing rapidly and won't stop. However while the growth is a great development for new position creation it doesn't offset the numbers lost in a shrinking store market. wsj.com

Payments Landscape Shifting for Retailers, Leading to New Opportunities
In the ever shifting retail payments landscape, the transaction itself is just a point on a broad spectrum of services and data that range from bricks-and-mortar locations to mobile apps. A white paper released last month titled "The New Payment Landscape for Retailers: Think Mechanics and Marketing," states that "the retail industry finds itself smack dab in the middle of a revolution," powered by technology - as revolutions so often are. The increasing adoption of mobile payments is a powerful change agent for retailers. With such a heady pace of adoption in the works, retailers themselves need to play a bit of catch up, and many companies will have to fund "massive investment in a new payment infrastructure," the white paper stated, which will need to go beyond mobile payments themselves to embrace security and marketing platforms. pymnts.com

Will mobile payments kill cash?
"U.S. Mobile Payments: Do They Disrupt Cash?" examines the impact of mobile payments on cash today and in the future. The paper reviews all segments of the U.S. retail payments ecosystem, and all payment schemes that compete with cash, including debit, credit and gift cards, and open- and closed-loop prepaid cards. Tremont's research shows that mobile payments are catching on to some extent, but slowly, and with small numbers of consumers and retailers to date. And while the paper finds promise in mobile payments, it also determines that they present little threat to cash through the forecast period of 2015-2020. mobilepaymentstoday.com


"Fraud is not a person - it is a dynamic grouping of statistics that deviate from the norm."
Stuart B. Levine, CFI, CFCI
CEO, The Zellman Group & Zelligent



Baltimore, MD., Ringleader in Check and Counterfeit Credit Card Fraud Schemes Sentenced to Over 5 Years in Federal Prison U.S. District Judge Richard D. Bennett sentenced Egwolo Wilfred Otete, age 31, of formerly of Jacksonville, Florida and Beltsville, Maryland today, to 61 months in federal prison, followed by two years of supervised release, for check and credit card fraud schemes with over 250 victims and losses of more than $468,000. In addition to the check fraud scheme, from October 2010 through November 2012, Otete conspired with co-defendants Aderomilehin, Fakeye, Akintuyi, Okpala, Hannah Moekay Konteh and others to execute a second scheme by obtaining stolen credit card numbers from individuals who worked in local businesses and "skimmed" credit cards. The skimmed numbers were used to re-encode credit cards the defendants already had. They directed co-defendants as to what to purchase. Individuals traveled to North Carolina, Pennsylvania, Georgia and other locations to conduct transactions. Otete and his co-conspirators attempted to obtain between $400,000 and $1 million as a result of the two fraud conspiracies, using the identities of more than 250 victims. justice.gov


Bedford Hills, NY: Pair Of Thieves Target High-End Consignment Shop A thrift shop in an upscale Westchester neighborhood has become the target of thieves. Police said a couple walked into a consignment shop full of security cameras and walked out with more than $24,000 worth of purses. There was 13 security cameras and five employees and still, the man and woman were slick enough to spend about 40 minutes grabbing expensive bags completely undetected. And this may not be the first time the pair have done this. cbslocal.com

College Station, TX: Man and woman face a felony charge after stealing $5,000 worth of clothes from Sears A man and woman face a felony charge after they allegedly stole more than $5,000 worth of clothes from the Sears at Post Oak Mall. Guillermo Andres Urbina and Iris Emerite Valle are charged with theft of property between the value of $1,500 and $20,000. Urbina is also charged with failure to identify for allegedly giving police a false name. According to Police, the pair allegedly stole 63 pairs of jeans and 56 shirts from the store. A manager who noticed a large amount of clothing missing on Aug. 12 viewed video surveillance, which police say showed Urbina taking stacks of clothing off shelves and Valle loading the items into a cart. On Aug. 19, a loss prevention officer noticed the two back in Sears, which led to their arrest. theeagle.com

Fort Lauderdale, FL: Trio sought in theft of tools from Home Depot
A theft of tools from a Home Depot is being investigated by Fort Lauderdale police. Investigators say several hammer drills worth about $2,000 were taken around 9:30 p.m. Monday from the store at 1000 NE Fourth Ave., said Fort Lauderdale Detective Keven Dupree. sun-sentinel.com




China: Family theft ring steals nearly 1,000 items across the county Items stolen by a couple and members of their family are on display in Xi'an, Northwest China's Shannxi province. The couple, both in their 30s, abetted four children - the oldest 15 and youngest 11 - to commit more than 50 thefts in several cities, including Beijing and Nanjing. They have stolen nearly 1,000 items, including bicycles, shoes and bags. ecns.cn

Lincoln County, N.C. ORC male suspect arrested stealing electronics from Walmart stores - selling online - investigation ongoing

Do you have an ORC case to share? Publishing it educates the LP & retail community
which might fuel even more jobs and funding.
Share your ORC news and help the industry grow


Lincoln, NE: Serial Diamond Thief Caught; 3 stores and over $18,000 in merchandise A man who allegedly stole $18,100 worth of diamonds and jewelry from three Lincoln stores was arrested on Wednesday. Police say Shawn McClease, 43 entered Darold's Jewelry to buy a loose diamond. When an employee swiped his credit card, it was declined. McClease told the clerk he was going to get a different card and left. That's when the clerk noticed the 1.5 karat diamond, estimated at $13,500, was gone. McClease is also believed to have been involved in a theft on August 12th at Michael Tish Jewelry where he pretended to be interested in buying a one karat diamond. Police say he told the clerk he needed to step outside and never came back. The diamond, worth $3,100 was missing. Police say McClease was also involved in a theft on July 2nd at Elder Jewelry where he allegedly took a 1 karat diamond ring valued at $1,500. wowt.com

Ventura County, Calif., Countywide skimming sweep of 1,512 fuel pumps finds 3 skimmers Losses from a single illegal skimming device on a fuel pump usually average between $50,000 and $100,000. mpacorn.com

Wichita, KS: Kohl's employee threatened with a knife while attempting a stop
A shoplifter was arrested Thursday after he pulled a knife on a store employee. The incident happened at 7:15 p.m. at Kohl's, in West Wichita. Police said the employee tried to stop the shoplifter when the suspect pulled a knife and tried to cut the worker. The worker wasn't hurt. kake.com

Goshen, IN: MC Sports robbery suspect pleads guilty to eight charges
A man accused of being involved in a robbery at a sports store in December 2013 admitted to all eight criminal charges against him. Willie P. Jackson, 20, Mishawaka, pleaded guilty to two counts of robbery, five counts of criminal confinement and one count of conspiracy. Jackson and co-defendant Shaquan Moorer, 23, were arrested in October 2014 following an investigation from the Goshen Police Department. elkharttruth.com

Uniontown, PA: Dollar General Robbery suspect admits to 14 separate Armed Robberies Pennsylvania State police said the man who robbed a Dollar General store at gunpoint in Somerset County is responsible for more than a dozen other robberies in several counties across the region. According to the criminal complaint, William Hall admitted to robbing the Dollar General on Glades Pike in Somerset Township Aug. 10. State police said Hall admitted to 13 other robberies that took place in Fayette County, Pittsburgh and Fairmont, W. Va. wjactv.com

White Hall, AR: Five arrested in theft of over 80 guns from a local sporting goods store An investigation into a series of burglaries last winter at the Hunter's Refuge sporting goods store in White Hall led to the early morning arrests Thursday of five people who were indicted Aug. 5 on federal charges of possessing stolen guns. ATF's investigation revealed that 24 handguns were stolen from locked glass display cases when a group of burglars broke into the store Dec. 18. A second break-in Jan. 8 resulted in the theft of 62 more guns, including eight assault rifles, for a total of 86 weapons taken. A number of the stolen guns have since been recovered. arkansasonline.com

Eau Claire, WI: GNC employee busted for theft, $4,800 in merchandise recovered An official at GNC at Oakwood Mall told police on July 22 that Khamphouy, a store employee, took a large amount of merchandise on July 4. Khamphouy was confronted about the theft. He admitted that since he began working at the store in March, he has taken a large amount of merchandise and still has a significant amount of the stolen merchandise at his residence. Khamphouy went home and brought back the merchandise, which was valued at $4,800. He told police he took the items from the store during every shift he worked, which was about 35 times from March to July. leadertelegram.com

Lone Tree, CO: 4 men apprehended after Smash and Grab robbery at Park Meadows Jewelry store Four men are in custody after authorities said they into a jewelry store inside Park Meadows Mall, smashed glass displays and took jewelry, the Lone Tree Police Department said Thursday night. Police said the incident happened at Ben Bridge Jewelers about 7:10 p.m. Thursday. The men were caught and taken into custody after they left the mall on foot, police said. kdvr.com

Youngstown, OH: Boardman Police have a suspect in Jewelry store heists Township police now have a suspect in what they believe are related jewelry-store heists. Police alerted area hospitals to be on the lookout for a man with a gunshot wound to the shoulder after an attempted burglary at Cirelli Jewelers on Market Street Tuesday night in which the business owner shot and injured a man attempting to steal nearly $100,000 worth of jewelry. Beaver Falls, Pa., police alerted township police Thursday afternoon a man fitting that description showed up at an area hospital for treatment. vindy.com

Miami, FL: Man Faces Federal Charges in C-Store Robbery
The FBI announced Thursday that 32-year-old Antron Latroy Langston of Miami was indicted by a federal grand jury under the Hobbs Act, which allows prosecutors to prosecute violent habitual criminals who commit armed robbery involved in interstate commerce. Langston is accused of robbing a One Stop Mini Mart in Miami on May 3. During the robbery, Langston and Dalton Armster confronted the store clerk and forcibly took money from the register while pointing a firearm at the store clerk. nbcmiami.com

Fountain, CO: Police searching for Safeway supermarket burglar
Fountain Police are trying to find the man who walked into a Safeway grocery store and stole money. Police said the man went to the Safeway on the 6200 block of Mesa Ridge Parkway and entered the employee office near the front of the store. Officers said he got away with an undisclosed amount of money. The burglary happened around 9:45 on Thursday, July 30th. koaa.com


Ottawa, IL Police revise pursuit policy
The chase began around 7 p.m. after receiving a report of a retail theft at Wal-Mart on Ottawa's North Side off Route 23. With sirens screaming and emergency lights on, a speeding parade of police vehicles from the city, county and state chased the car - driven by 20-year-old Jeffrey Hankerson - for a short time on Interstate 80 and followed him through the length of the city. Hankerson's car struck another vehicle, crashed and overturned on its roof at the intersection of Columbus and Madison streets. The suspect, who fled the crash, was apprehended following a short foot chase. mywebtimes.com

Levittown, NY: $3,000 worth of sunglasses were stolen from Macy's in the Oxford Valley Mall

Belmont, MI., Skimmer found in Citgo gas pump

Lake Havasu, AZ: Man arrested on suspicion of retail fraud at Walmart; return scam

Chicago, IL: Woman killed, 2 injured after shooting outside liquor store on West Side

Kay Jewelers in the Hamilton Place, Chattanooga, TN reports a Grab and Run, merchandise valued $4,399


---

● Carbon Glass Tech - Hollywood, FL - Burglary
● Casey's - Charleston, MO - Armed Robbery
● Cellspot - Santa Ana, CA - Robbery
● Dollar General - Somerset, PA - Armed Robbery
● Family Dollar - Cincinnati, OH - Armed Robbery
● Jacob's Food - Gastonia, NC - Armed Robbery
● McDonalds - Houston, TX - Armed Robbery
● Metro PCS - Houston, TX - Robbery
● Patois - New Orleans, LA - Armed Robbery
● Rockstar Pets - Tooele, UT - Burglary / 2 iguanas stolen
● Seng's - Lowell, MA - Armed Robbery/ Shooting
● Sky Beverage - Fort Valley, GA - Armed Robbery
● Star Wireless - Nashville, TN - Burglary
● Subway - Dayton, OH - Armed Robbery
● T-Mobile - Miami, FL - Burglary





To apply to today's Featured Jobs, Click Here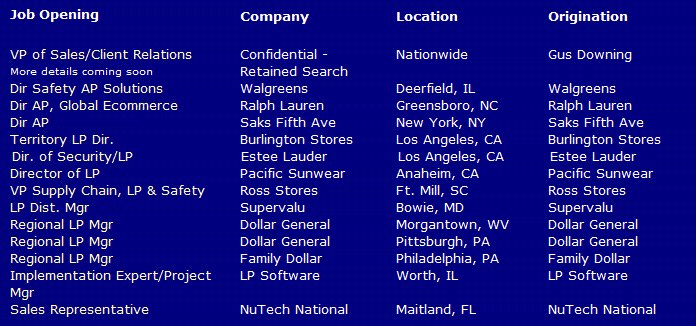 Limited Time Only - Post Your Multi-Unit LP jobs for FREE - Learn More Here




Today's Daily Job Postings from the Net - Appearing Today Only

To apply to today's Internet Jobs, Click Here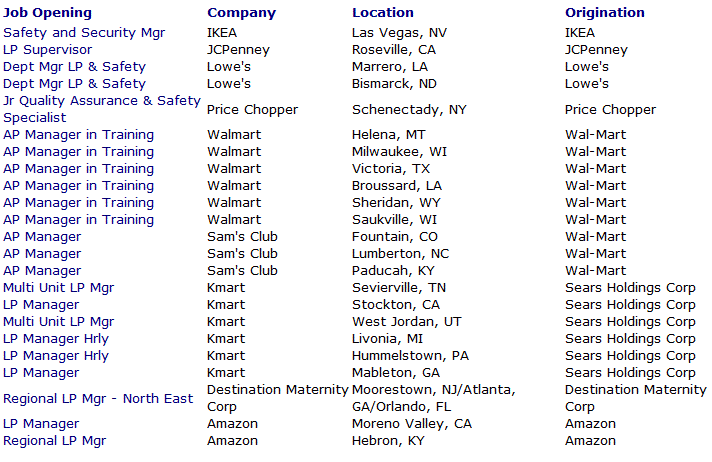 | | |
| --- | --- |
| | Brad Baker was promoted to Senior Director, Field Implementation for Walmart Canada. |
| | Clark Craddock was named Sr. Manager of Internal Investigations for Rite Aid. |
| | Shaun Vanderwerf, CFI was promoted to Regional Loss Prevention Manager for Beall's Inc. |
| | Dawn Roller was promoted to Divisional Loss Prevention Manager for The Great Atlantic & Pacific Tea Company. |
| | Jennifer Escobar was promoted to Regional Loss Prevention Manager - Southeast for The Swatch Group. |


Managing your career upwards sometimes has to do with the exposure you get to new executives and new responsibilities. The easiest way to get that exposure is to volunteer for projects, assignments, or new rollouts. Going above and beyond your current job description is always a way to gain respect and be noticed. The only issue there is that you've got to perform at a high level and deliver results because the worst thing one can do is volunteer and not pull it off.

Just a Thought,
Gus Downing




Post Your Tip or Advice! Click Here

Please make sure to add d-ddaily@downing-downing.com to your contact list, address book, trusted sender list,
and/or company white list to ensure you receive our newsletter.
FEEDBACK / www.downing-downing.com / ADVERTISE WITH THE DAILY