Released Today
Q2 & Half Year 'Retail Violent Deaths Report'
With a 15% increase in violent deaths over the first half of 2016, the most alarming numbers are the sharp 32% increase in victims deaths and 35% decrease in suspects deaths in the second quarter of this year, with 61 customers, 14 employees, and 4 law enforcement and LP associates' deaths.

The three trends that continue unchanged are the day of the week, with Saturday, Sunday and Monday being the most violent and deadly days in retail, and males being predominately shot and killed being the most prevalent.

Interesting as well, is the top five states, that almost line up with ORC activity, with California, Florida, Texas, and Georgia leading the way and Tennessee and Arkansas tying for bottom.

It's probably the most difficult piece to report on here at the Daily, as we continue to refine and develop our reporting methods. Read full report here
---
Armed Robberies - A Nationwide Epidemic
Cartels Dumping Cheap Meth & Heroin on America's Streets

Armed and Dangerous: Can we stem the onslaught of armed robbery?
Albuquerque is in the throes of an armed robbery epidemic
Mayor Berry and District Attorney Raúl Torrez, together with business leaders, are working on strategies that range from making businesses and their employees less vulnerable to overhauling how police and prosecutors do their jobs.

One of those strategies is "target hardening." In some instances, they have installed timed safes so employees can't open them when robbers hit. They have spent thousands of dollars installing digital cameras and have links to APD's Real Time Crime Center in case of a robbery.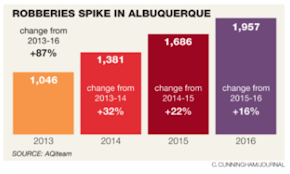 Armed robberies are being committed more than five times a day in the city, a rate that equals the high water mark of 1996.

Terri Cole, president and CEO of the Greater Albuquerque Chamber of Commerce, said the "business community is very worried" about the sharp increase in armed robberies. "We are aggressively working with the police department, the mayor and district attorney to create a system that takes these high risk repeat offenders off the streets."

Many attribute the rapid rise in armed robberies, from a low of 940 in 2010 to almost 2,000 in 2016, to a number of factors, including cheap and widely available methamphetamine and heroin from Mexico and access to cheap firearms on the street. Changes in court procedures to speed up trials, clear case backlogs and help empty an overcrowded jail are also considered factors by police and prosecutors.

Working on a number of initiatives: A Crime Strategy Unit that would use police and court computer systems to help identify high risk and low risk offenders when they are arrested, allowing prosecutors to direct resources at the higher-risk criminals.

The Security Camera Analytic Network, a voluntary registry of commercial and home security camera systems that would let police and prosecutors know if there is potential video of crime scenes or near crime scenes.

ABQ i-team, which has used a Bloomberg Philanthropies Grant to develop in-depth information on crime in the city to let APD assign officers based on the frequency of crime.

Improving the flow of criminal case information from APD to the District Attorney's Office in order to meet tighter timelines for turning over evidence to defense attorneys in criminal cases.

The Real Time Crime Center will search the network as calls for service come in and advise officers in the field when cameras are near the scene of the crime. Officers will be able to see the security camera map along with contact information for the system owners.

APD's Real Time Crime Center also has a program that allows businesses to tie their security cameras into APD's center and allows APD to immediately view and monitor the cameras when an alarm is activated.

In the last few months, APD and federal agencies formed ALeRT (Analysis Led e Recidivism Team) that meets weekly to target habitual offenders, try to get charges filed against them in federal court and make sure prosecutors have all the possible information to give to judges in state court cases.

The FBI, DEA and ATF all participate.

The FBI has been adopting APD investigations into serial armed robbers, because many of the chain restaurants and stores targeted by armed robbers are involved in interstate commerce.

Editor's Note: You can magnify this story to virtually every major city in the U.S. abqjournal.com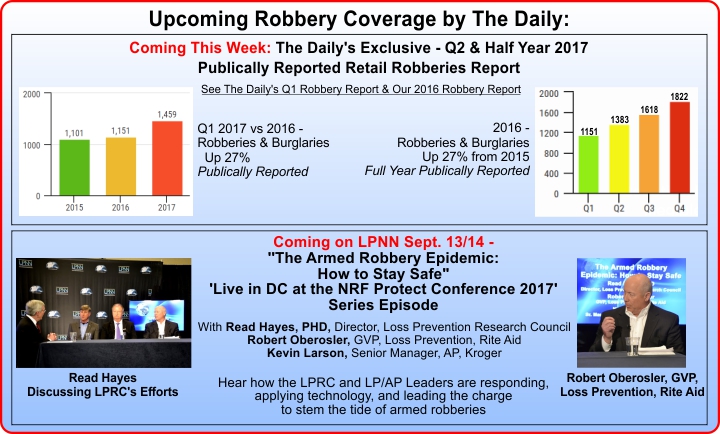 ---
CEO's Taking A Stand & Protestors Across America

Protesters Flood Streets, and Trump Offers a Measure of Praise
BOSTON - Tens of thousands of demonstrators, emboldened and unnerved by the eruption of fatal violence in Virginia last weekend, surged into the nation's streets and parks on Saturday to denounce racism, white supremacy and Nazism.

Demonstrations were boisterous but broadly peaceful, even as tension and worry coursed through protests from Boston Common, the nation's oldest public park, to Hot Springs, Ark., and to the bridges that cross the Willamette River in Portland, Ore. Other rallies played out in Atlanta, Dallas, Houston, Memphis and New Orleans, among other cities.

The demonstrations - which drew 40,000 people in Boston alone, according to police estimates - came one week after a 32-year-old woman died amid clashes between white nationalists and counterprotesters in Charlottesville, Va., and they unfolded as the nation was again confronting questions about race, violence and the standing of Confederate symbols. nytimes.com

The Times They are a Changing
The Moral Voice of Corporate America
The nation has split into political tribes. The culture wars are back, waged over transgender rights and immigration. White nationalists are on the march.

Amid this turbulence, a surprising group of Americans is testing its moral voice more forcefully than ever: C.E.O.s.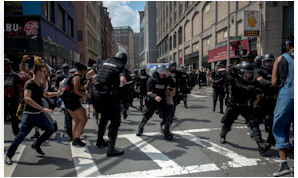 A chorus of business leaders rose up this past week to condemn hate groups and espouse tolerance and inclusion. And as lawmakers in Texas tried to restrict the rights of transgender people to use public bathrooms, corporate executives joined activists to kill the bill.

These and other actions are part of a broad recasting of the voice of business in the nation's political and social dialogue, a transformation that has gained momentum in recent years as the country has engaged in fraught debates over everything from climate change to health care.

Walmart's chief executive, Doug McMillon, criticized Mr. Trump by name for his handling of the violence in Charlottesville, and called for healing.

The forthright engagement of these and other executives with one of the most charged political issues in years - the swelling confidence of a torch-bearing, swastika-saluting, whites-first movement - is "a seminal moment in the history of business in America," "In this maelstrom, the most clarifying voice has been the voice of business," he said. "These C.E.O.s have taken the risk to speak truth to power."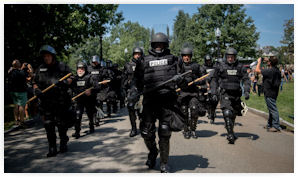 They also faced notable and new kinds of pressure from within - from employees who expect or encourage their company to stake out positions on numerous controversial social or economic causes, and from board members concerned with reputational issues. In the past week, business leaders have responded with all-staff memos and town-hall meetings.

In short, while companies are naturally designed to be moneymaking enterprises, they are adapting to meet new social and political expectations in sometimes startling ways.

"Not every business decision is an economic one," said Howard Schultz, the chairman of Starbucks, who was one of the country's first company leaders to proactively address social issues. "The reason people are speaking up is that we are fighting for what we love and believe in, and that is the idealism and the aspiration of America, the promise of America, the America that we all know and hold so true." nytimes.com

What's this mean to Retailers?
While this weekend's protestors were peaceful and tightly controlled by law enforcement, the retail industry still must keep a watchful eye on any future demonstrations with the focus obviously being on estimated sizes and permitted hours and paths of the groups. With the key being collaborating with local law enforcement and proactively, if possible, finding out when the permits are granted and obtaining a copy of it. Obviously with the stores along the path falling into the emergency preparedness protocols.

How a Charlottesville Association Responded to the Alt-Right March
In advance of last weekend's "Unite the Right" rally, which ultimately turned violent, the Downtown Business Association of Charlottesville helped businesses stay open and connected.

Jane Fenton, DBAC chairperson, knew something big would be coming to the Virginia college town last weekend. The frustrating part was not knowing exactly what, or how big it would become.

DBAC took its own initiative, joining a group of business that delivered a letter to the Charlottesville police chief asking for strong security measures that would allow businesses to remain open. It would also mean that rally attendees will find it difficult to find a place to use a toilet, cool down, or buy food or water."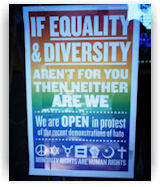 A poster displayed on many businesses in Charlottesville this weekend.

Fenton also directed DBAC members to an email thread, and later a Slack discussion, where local businesses coordinated what services they would provide and whether they would remain open. Another group, Unity C'ville, helped produce and distribute posters that let businesses announce their disapproval of the alt-right protesters, regardless of whether their doors were closed or open.

As a result, Fenton says, 60 of 80 stores affiliated with the DBAC stayed open on August 12. About half of those closed early, either by plan or in response to the incident in which one far-right protester drove into a crowd of anti-racism marchers, killing a woman. Gov. Terry McAuliffe declared a state of emergency in the city shortly after the incident.

Throughout last weekend, Fenton maintained a list of what business owners were doing. She shared that information with authorities and others who needed a clearer picture of the situation downtown-or who simply wanted to know where the available safe havens were that day. associationsnow.com
---
Mastermind of Multi-State Lottery Rigging Scheme
Information Security Director Facing 25 Yrs
Tipton, 54, arrested in 2015, scheduled for sentencing Tuesday
Reported on the Daily June 13th the former Iowa lottery information security director was found guilty July 2015 of rigging a computerized Hot Lotto game so he could win a $14 million jackpot then trying to get acquaintances to cash the prize for him without revealing his identity.


"The depth of his deceit is dumbfounding," Assistant Iowa Attorney General Rob Sand said in court filings seeking a 25-year prison term for Tipton when he is sentenced Tuesday in Des Moines. "Such crimes cannot be answered without a prison sentence."

Tipton admitted to masterminding the lottery rigging scheme as part of a plea deal reached with Sand to resolve charges in all states from which he had won jackpots. Tipton agreed to detail for authorities how he altered the computers, reveal all the games he had fixed and who helped him.

Tipton would go on to fix six more lottery games across five states, netting more than $2 million for himself.

Prosecutors said Eddie Tipton inserted a stealth program into the computer that randomly picked the numbers then deleted it so it could not be detected.

The agreement shows Tipton pled guilty to three felony charges in Iowa and Wisconsin for his central role in a six-year scheme that prosecutors say allowed him, brother Tommy Tipton and a close friend to cash in on $3M in lottery drawings in Wisconsin, Kansas, Oklahoma and Colorado. nypost.com d-ddaily.com

Oregon: State wants power to order Emotional Fitness Exams for Armed Guards
The state wants the power to order medical exams for armed security guards who are suspected of having emotional problems that endanger public safety.

Under a proposed rule, the Oregon Department of Public Safety Standards and Training would be able to act if it received information that a private security officer poses that serious of a risk. The department adopted the rule temporarily on June 23 and is looking to make it permanent.

The change stops short of allowing regulators to immediately disarm guards or to suspend their certifications. The rule applies only to armed security guards and private security firearms instructors, and not to other public safety workers subject to state licensing, such as police officers and corrections officers. oregonlive.com

Cost of eclipse fever for workplaces? Could be $694M
Today was eclipse day and as the clock ticks toward 11:54 a.m. and workers across Chicago abandon their desks to glimpse, what for many will be a once-in-a-lifetime astronomical phenomenon. "It's pretty hard to imagine that every single person in the office is not going to stream out to take part in this."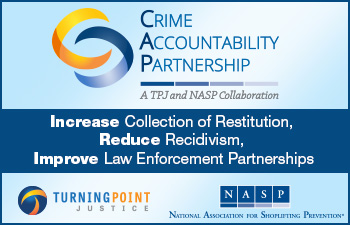 Eclipse fever could cost employers $694 million nationwide from lost productivity, according to a Challenger calculation. That estimate assumes everyone working during the eclipse takes 20 minutes off to watch, and doesn't account for the time spent debriefing with colleagues after.

Some employers are holding space-themed watch parties to celebrate, using the opportunity for employee bonding and to show off how cool it is to have a rooftop deck. Keeping employees from burning their retinas should be top of mind for employers during eclipse celebrations, employment attorneys advise. chicagotribune.com


Walmart Wants to Take on Amazon With Flying Warehouses
The world's largest retailer has applied for a U.S. patent for a floating warehouse that could make deliveries via drones, which would bring products from the aircraft down to shoppers' homes. The blimp-style machine would fly at heights between 500 feet and 1,000 feet (as much as 305 meters), contain multiple launching bays, and be operated autonomously or by a remote human pilot. Amazon was granted a patent for a similar vessel in April 2016. fortune.com

Office Depot & Office Max - Director, Retail Loss Prevention and Safety,
Boca Raton, FL
The Director, Retail Loss Prevention and Safety is responsible for developing and directing pro-active shrink reduction initiatives, asset protection strategies and accident prevention practices for all Retail Stores. This position works collaboratively with all operations partners to execute agreed upon strategies through oversight of operational audits, integrity/dishonesty investigations, physical security reviews, and training/awareness programs. This position partners with human resources, retail operations and corporate support teams in analyzing key metrics to identify emerging trends and mitigate risks in the retail business segment. officedepot.com

The company had 2016 annual sales of approximately $11 billion, employed approximately 38,000 associates, and served consumers and businesses in North America and abroad with approximately 1,400 retail stores, award-winning e-commerce sites and a dedicated business-to-business sales organization with a global network of wholly owned operations, franchisees, licensees and alliance partners. The company operates under several banner brands including Office Depot, OfficeMax and Grand & Toy. The company's portfolio of exclusive product brands include TUL, Foray, Brenton Studio, Ativa, WorkPro, Realspace and Highmark. officedepot.com

One of the biggest Jobs in the Solution Provider World
TYCO RETAIL SOLUTIONS
General Manager North America, Retail Loss Prevention Johnson Controls,
Chicago, IL
Location Flexible Major City (Atlanta, Chicago, Boca Raton, Dallas etc)
Reporting to the VP & GM Global Loss Prevention, Tyco Retail Solutions the North America leader requires a strategic perspective and capabilities around articulating and driving the vision and value proposition for the $400 million NA team.

The incumbent will provide leadership to position the Tyco Retails Solution NA Loss Prevention business at forefront of the industry; focusing on sales and profitability, aligned with customer service, customer and employee engagement.

The Leader will have responsibility for the development and execution of scalable, go-to-market strategies to acquire, retain and grow customers. This leader will focus on Business Development efforts setting both short-term and long-term activities supporting financial goals, and achieving those goals. P&L ownership for North America, inclusive of accurate forecasting, operational excellence efficiencies, minimizing expenses and maximizing profitability.

Core to the role is the ability to capture the voice of the customer to feed potential product innovations that will lead to enhanced customer satisfaction and greater market share. Must have demonstrated leadership experience driving transformation within an industry and managing change across a diverse employee population. This role will require the ability to navigate and execute with excellence in a highly matrixed organization with the capabilities to identify, build and cultivate working relationships across functions and teams. jobs.net

Head of Risk Assessment - Ops Risk & Compliance Mgr 5 for Wells Fargo & Company
Location Minneapolis, Minnesota, San Francisco, California, Charlotte, North Carolina
Wells Fargo & Company is a diversified, community-based financial services company with $1.9 trillion in assets. Founded in 1852, Wells Fargo provides banking, insurance, investments, mortgage, and consumer and commercial financial services through more than 8,600 locations, 13,000 ATMs, online (wellsfargo.com), and mobile devices.

Headquartered in San Francisco, but we're decentralized so every local Wells Fargo location is a headquarters for satisfying our customers' financial needs and helping them succeed financially. We do business with 70 million customers and one in three U.S. households. Wells Fargo has approximately 269,000 team members in 36 countries and territories across our more than 90 businesses.

Corporate Risk helps all Wells Fargo businesses identify and manage risk. The team focuses on several key risk areas including credit risk, operational risk, market risk, strategic risk, and compliance risk. Corporate Risk strives to ensure that all Wells Fargo corporate functions and lines of business soundly manage risk, comply with applicable laws and regulations, and offer products and services that meet the needs of our customers.
The Head of Risk Assessment has overall accountability for leading the risk assessment activities within the Conduct Management Office.

Editor's Note: Not surprising to see this job opening. wellsfargojobs.com

An Employee Failed a Drug Test. Now What?

Sunoco to lay off 94 after $3.3B deal with 7-Eleven

Dollar General opens its 14,000th store

Quarterly Same Store Sales Results
Stein Mart Q2 comp's down 5%, sales down 2.7%


Last week's #1 article --
It's Official Sycamore to sell Staples U.S. & Canadian retail businesses
Cybersecurity - NIST Special Report Outlining Security & Privacy Controls
The National Institute of Standards and Technology, the federal agency responsible for setting numerous standards including for cybersecurity, issued a draft revision of a special report outlining security and privacy controls for information systems. The report provides a catalog of operational protocols intended to protect all types of computer platforms including general purpose computing systems and internet of things devices from hostile attacks, natural disasters, human errors and privacy risks. The draft revision is open for public comment through Sept. 12. chainstoreage.com

Why Your Face Will Soon Be the Key to All Your Devices
Better-than-ever face-recognition tech means you will be able to forget your passwords-with more security
Using our faces to unlock things could soon become routine, rather than the purview of spies and superheroes.

Qualcomm Inc., an industry leader in mobile device chips, recently introduced its Spectra imaging system, which can extract depth information from objects including faces.

This technology is different from, but related to, the facial recognition increasingly built into security cameras around the world, which cross-references pictures of your face against databases of millions. That tech is growing in capability and in use-especially in China, where its applications range from surveillance to payments.

"The interesting thing about face recognition is that it has the ability to be much more ubiquitous than fingerprint scanning because camera sensors are that much easier to deploy," Mr. Pritikin says. "I think it's just a matter of time before our daily routine will reflect a number of seamless biometric authentications."

Perhaps the most remarkable thing about all this facial recognition is how mundane it has the potential to become, and fast. As a security measure that requires us only to look at our device, it's easily taken for granted. wsj.com

Meijer to restructure I.T. department amid changing retail landscape
Amid intense competition in the retail grocery sector, Meijer Inc. will trim and restructure its information technology services (ITS) staff in the coming months.

While declining to discuss specific numbers, a senior spokesperson for the Walker-based superstore retailer confirmed that Meijer announced changes last month within its ITS workforce and that some staffers had been or would be "displaced."

Guglielmi declined to discuss Meijer's strategy or any specific numbers regarding the restructuring of the department. However, a source directly familiar with Meijer's I.T. department said the changes affected about 10 percent of staff.

The source - who talked to MiBiz on the condition of anonymity because the person was not authorized to speak publicly - said the company would lay off 46 employees and that another 25 would have their employment transferred to CapGemini. mibiz.com

Liquor Chain Wants 5th Circ. To Revive Data Breach Coverage Suit
A Texas liquor store chain urged the Fifth Circuit on Friday to reverse the lower court ruling that found Hanover Insurance was not obligated to pay the costs of a lawsuit seeking recovery of $4 million charged by the chain's credit card processor following two data breaches, arguing the policy exclusions were wrongly interpreted.

Spec's Family Partners Ltd. told the panel that the lower court had wrongly interpreted its contract with Hanover Insurance Co. by finding that a section of the policy meant that no coverage was owed to Spec's for the costs of a 2014 suit against payment processor FirstData Merchant Services Corp. This exclusion allows for denial of coverage when the claim arises from an "actual or alleged liability under a written or oral contract or agreement."

Spec's, which has roughly 160 locations in Texas, sued Hanover in February 2016 after the insurer had refused to pay the costs of Spec's 2014 Tennessee lawsuit against FirstData Merchant Services. The retailer alleged that Hanover had agreed to cover defense costs after FirstData withheld $4.2 million in receipts to help cover nearly $10 million in losses stemming from Spec's data breaches in 2012 and 2014. law360.com

10% of Data Breaches By Ex-Employees
50% of Ex-Employees Can Still Access Corporate Apps
Businesses drive the risk for data breaches when they fail to terminate employees' access to corporate apps after they leave.

Researchers at identity management firm OneLogin polled 500 IT decision makers to learn about how they provision and deprovision, or terminate, staff login information in-house. Results indicate most aren't doing enough to protect against the threat of ex-employees.

Twenty percent of respondents report their failure to deprovision employees from corporate applications has contributed to a data breach at their organization. Of those, 47% say more than 10% of all data breaches have been the result of ex-employees.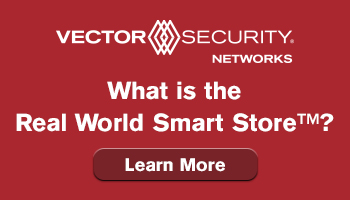 Nearly half of respondents are aware of former employees who can still access enterprise applications following their departure. Half of ex-employees' accounts remain active for longer than a day after they leave. One-quarter of respondents take longer than one week to deprovision former employees, and one-quarter don't know how long accounts remain active after workers leave.

The threat of ex-employees has grown as companies adopt third-party apps for various processes. "There's this proliferation of applications," Hoyos continues. "Because of that, the risk has increased exponentially."

The amount of time it takes to deprovision an employee depends on how many applications they used and how long they've been gone from the business, says Hoyos. Terminating someone can take minutes or hours, depending on the application. Admins also have to think about how different tools integrate with one another.

Businesses are still grappling with how to tackle the insider threat. Sixteen percent of respondents in the Dark Reading Strategic Security Survey said preventing data theft by employees was one of their greatest IT security challenges.

Verizon's Data Breach Investigations Report found in 60% of cases involving insider and privilege misuse, insiders leave with data in the hope of converting it into cash. Sometimes it's unsanctioned snooping (17%) or taking data to a new employer to start a rival company. darkreading.com

Director of Information Security Hallmark Cards Company Location Kansas City, Missouri
The Director of Information Security reports to the Vice President of Information Security and is responsible for working within Hallmark implementing and managing security policies, processes, and standards to establish acceptable levels of risk, and proactively reduce the potential for security incidents. The Director of Information Security works closely with application and infrastructure partners to integrate security controls within applications and architectures. The Director leads a team of architects, engineers, and analysts who are responsible for conducting security assessments, implementing and managing security controls, and supporting the day to day information security operations for Hallmark's global businesses.

Hallmark has a diverse portfolio of six businesses that offer a wide range of products distributed in more than 100 countries and 100,000 rooftops worldwide. These include top mass retailers and more than 2,000 company and independently owned Hallmark Gold Crown stores. hallmark.com

Does Your Breach Incident Response Plan Have Holes?

Shootings & Death
Dallas, TX: Man robbed and fatally shot outside 7-Eleven
Officers found 35-year-old Jose Sanchez shot in the head next to a gas pump. Witnesses said two or three teenagers approached Sanchez as he was pumping gas, tried to rob him and ran toward a nearby apartment complex after the shooting. fox4news.com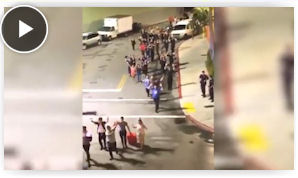 Miami-Dade County, FL: No Active Shooter, but video shows chaos inside Dolphin Mall as shoppers run for exits
Video shows chaos inside Dolphin Mall as shopper run for exits after reports of an active shooter on Aug. 19, 2017. Their fears were genuine. The shooting and the gunman weren't. About two hours after the first report of gunfire inside the Dolphin Mall at 9:07 p.m., Sweetwater Mayor Orlando Lopez told reporters that police had declared the story the mother of all false alarms. "Nothing that these people are saying is the truth," said Lopez, in whose tiny West Miami-Dade city the mall is located. "There's no attacker here, much less any wounded." miamiherald.com

Henderson, NC: Food Lion employee shot outside store in domestic-violence incident
A Food Lion employee who had just stepped outside for her break was shot Saturday, in what appears to be a domestic violence situation. City officials said the "young lady" was sitting on a bench near the store's entrance when "her boyfriend approached and shot her." Police have obtained a warrant for Marcus Tyrell Hargrove, 23, he is considered armed and dangerous. myfox8.com

Update: Colorado Springs, CO: Authorities identify Police Officer in Walmart shoplifting shooting
Authorities have identified the Colorado Springs Police officer who shot and killed a suspected shoplifter as a nine-year veteran of the force. Officer Anthony Voltz's name was released Friday. Voltz is on paid leave while the El Paso County Sheriff's Department investigates. Authorities say Voltz was responding to a report of shoplifting at a Walmart on Monday when the suspect fled, brandishing a weapon. Investigators say the weapon was a pellet pistol that was a close replica of a firearm. denverpost.com

Fairchance, PA: Pennsylvania State Troopers wounded in robbery investigation; suspect killed
Robberies & Thefts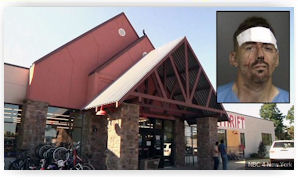 Centereach, NY: Store Manager Grabs Shotgun From Robber
Ronald J. Kelly was charged with robbery and possession of a controlled substance. Kelly is accused of pointing a shotgun at the manager and five employees of Island Thrift. He demanded money, police said. The store manager, a woman, grabbed the shotgun. Two employees joined the struggle, secured the weapon and wrestled Kelly to the ground. They held him down until police arrived. nbcnewyork.com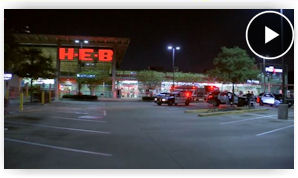 Houston, TX: Two H.E.B store Robberies end with Police Chase
A tow truck driver is being credited with tackling one of four robbers who held up a grocery store pharmacy in southwest Houston early Monday. Investigators say four men targeted the H-E-B on Buffalo Speedway and Bissonnet around 3 Monday morning. abc13.com



Livonia, LA: Overnight crime spree ends with hostage situation
According to the Livonia Police Department, the suspect kidnapped a victim in St. Landry Parish and forced them to drive him to Livonia. Once in Livonia, Mauldwin attempted an armed robbery at a local convenience store. The suspect allegedly shot at a store clerk and police officers that were responding to the scene. The driver of the vehicle fled as Mauldwin got out of the car. He then allegedly fled to a nearby home, where he forcefully entered and held the residents hostage. wbrz.com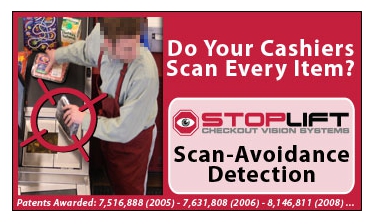 Ort Orchard, WA: Local Restaurant Waitress charged with $30,000 cash theft; caught with new register software

Marion County, FL: Couple responsible for 18 Armed Robberies since January in Levy and Marion Counties

Suffolk County, NY: Heroin Addict arrested in 4 Armed Robberies; Dunkin Donuts, 7-Eleven, Rite Aid and Burger King


Fire & Arson
Somerset, KY: Three charged in Kroger Arson
Two adults and a juvenile have reportedly been arrested in connect with the Wednesday night fire at the Kroger Marketplace store on South U.S. 27. Customers evacuated the building, and the store had to close until the next day. The store's sprinkler system activated and contained the fire to the one aisle. He said there was no damage to the building, but said the store suffered a significant loss of merchandise due to smoke and water damage. No reported injuries. somerset-kentucky.com

Surgut, Russia: Terrorist worked as guard in supermarket
Islamic State claims responsibility
Artur Gadzhiev tried to set fire to the Severny shopping center, then he began to attack the visitors with an ax and a knife, and later, after running outside, he stabbed random people in the street. Four out of the eight wounded are severely injured. Islamic State assumes responsibility for massacre in Surgut. crimerussia.com
Counterfeit
Two Chinese shop owners arrested for knock-off shoes; 160,000 pairs of counterfeit shoes bearing the fake logos of Nike, Converse and Adidas
Credit Card Fraud
Hallandale Beach, FL: City Commissioner says she's victim of Identity Theft, blames political foes