2014's GLPS's - Group LP Selfie's

Your Team - Your Pride - Our Industry
One Selfie at a Time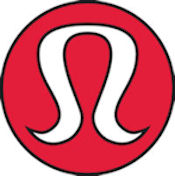 lululemon athletica
Asset Protection Field Team

"When we govern ourselves according to the practice of Asteya, we will enhance our culture of honesty and integrity and naturally achieve our asset protection goals."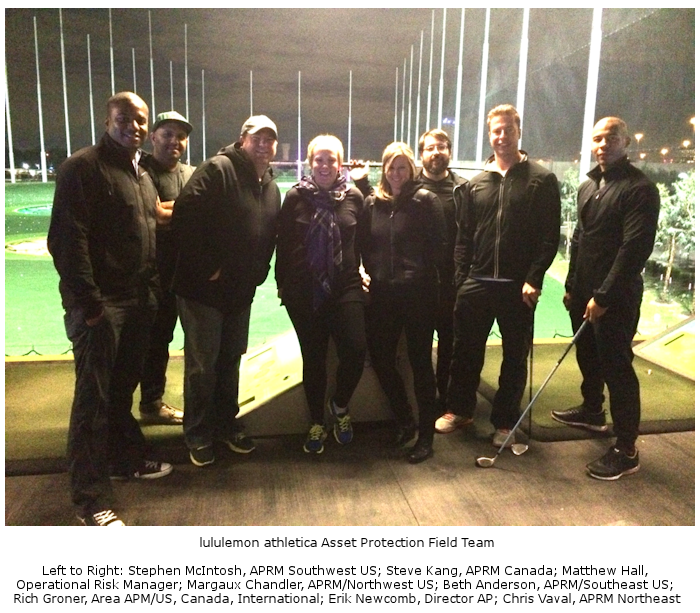 *Published on November 21, 2014
Show Your Industry Your Group LP Selfie
Building the LP/AP Industry One Selfie at a Time
---

View all the selfies here. Send us your Group LP Selfie!


'Prevention better than cure' when it comes to online fraud
Around half of banks and payment systems prefer to handle cyber incidents when they happen, rather than invest in tools which can prevent them - new research has found. Some 48% of financial organisations said they take measures to protect their clients from online fraud, aiming at mitigating the consequences rather than preventing incidents entirely. The study, conducted by software security group Kaspersky Lab in cooperation with B2B International, also found that 29% of companies believe it is cheaper and more effective to address cases of fraud as they occur, rather than to invest in preventative measures. "Relying solely on mitigating the negative consequences of fraud is similar to trying to treat the symptoms of an illness rather than its root cause," Ross Hogan explained. The symptoms will recur, and the illness will progress. In this respect, Kaspersky Lab recommends that you do not forget how important prevention is. Many of the world's leading banks have acknowledged this and have implemented 'root cause fraud prevention', but alarmingly many still rely on 'reactive fraud detection'." essentialretal.com

Credit cards: Unsuitable for online payments
The credit card was originally designed for making cashless purchases at stationary retailers. The idea was that the cardholder would produce the signed card when paying. When he or she then signed the receipt, the two signatures would be compared, conclusively confirming the link between the cardholder and the card. The credit card was a success, becoming the world's most popular payment method after cash. As, in the 1990s, e-commerce became increasingly significant, it also became an approved method of payment for online purchases. As a result, however, fraud figures skyrocketed. "Card-not-present" transactions (in which the card is not physically provided) lack crucial control mechanisms like signature or photo comparisons, and chip-and-PIN processes cannot be implemented online. Over the past 20 years, therefore, the credit card industry has made various attempts to stem the accelerating fraud.

The bottom line is that numerous efforts to make the credit card a secure method for online payment have had no lasting effect. Instead, criminals have always found loopholes. After all, processes to increase online security are always implemented at the expense of convenience, and making things more complicated causes rises in cancelled orders. When it comes to card payments, there is, unfortunately, no solution to this dilemma. These payments must always be initiated by retailers, who require data to be transmitted or stored in some form. There is, therefore, always a back door open for data thieves. Credit cards are an integral part of online shopping, but a "healthy mix" is recommended. Online retailers should always offer push payment methods as well, including invoicing, prepayment and real-time bank transfer systems. itproportal.com

Amazon's Only Real Sin May Be Secrecy - In Defense of Amazon
The Times' public editor Margaret Sullivan wrote Tuesday that the story "was driven less by irrefutable proof than by generalization and anecdote." I am sure there are many accurate facts in the story, but as Ms. Sullivan pointed out, many companies in the tech industry have similar policies and cultures. And some anonymous employee sources seemed to be looking for a way to vent.

If many fast-moving tech companies today are managed the way Amazon is internally, perhaps the only real sin at the company is its secretiveness. Tens of millions of Americans know Amazon as customers, but life inside its corporate offices is largely a mystery. Secrecy is required; even low-level employees sign a lengthy confidentiality agreement. The company authorized only a handful of senior managers to talk to reporters for this article, declining requests for interviews with Mr. Bezos and his top leaders. Even Mr. Ciubotariu, whose LinkedIn piece was almost entirely positive, suggested that he was violating company policy by publishing it. wsj.com

Alibaba.com enhances a service that vets the reliability of Chinese suppliers - Fighting Fraud & Counterfeit The Alibaba Trade Assurance program, introduced in January, has been limited to transactions completed via bank transfers, but will soon also cover purchases made with credit cards. In addition, the program, which until now will only covered Chinese suppliers selling on the business-to-business Alibaba.com platform, will be extended to other manufacturers and distributors in other countries. India will be the next country added, he said. internetretailer.com

Foot Locker domestic online sales up 40% in Q2

Amazon to open a fifth Texas fulfillment center in San Marcos Texas



"Fraud is not a person - it is a dynamic grouping of statistics that deviate from the norm."
Stuart B. Levine, CFI, CFCI
CEO, The Zellman Group & Zelligent



Weston, FL: Thieves cut hole in roof, steal $100,000 worth of sunglasses from a warehouse The Broward Sheriff's Office is searching for a group of thieves who broke into a Weston warehouse filled with designer sunglasses. Detectives said the burglary happened sometime between Aug. 14 and Aug. 16 while no employees were at the warehouse. Employees arrived at work the following Monday to find that the crooks had cut a hole through the roof to enter the Groupe Logo warehouse at 1840 N. Commerce Parkway. About $100,000 worth of Fred, Boeing and Tag Heuer sunglasses were stolen. local10.com

Piedmont, CA: Identity Thief hit 12 people, used info to steal $24,000 in merchandise from Nordstrom After a two-month investigation into reported identity theft, a Fremont resident was arrested on suspicion of using others' Nordstrom account information to buy items and then return them for cash. Holly Lynn Pigeon, 31, was arrested by Piedmont police Aug. 11 after she allegedly took $24,000 worth of merchandise from Bay Area stores, including Pleasanton's Nordstrom at the Stoneridge Shopping Center. pleasontonweekly.com

Lockport, NY: Father -Daughter team hitting Walmarts in Buffalo area
Police say they are preparing arrest warrants for a father-and-daughter shoplifting team said to be responsible for the recent large theft from the Super Walmart store on South Transit Road. The pair, along with a woman, are also said to be suspects in recent thefts from a Walmart store in Hamburg. The elder suspect, known to store employees from previous thefts at the Lockport store, is said to have entered the store on Aug. 13, along with his daughter and another woman. Store officials said he began removing security devices from cellphone packages, then did the same for two TV sets. After picking up additional items, he left the stores but was confronted in the parking lot by store employees, as he attempted to load the TVs into a car. The employees, meanwhile, took a photo of the vehicle, which was traced to a Buffalo woman currently on probation. Investigators said they plan to contact the probation officer. buffalonews.com


Baby formula thief strikes Bristol, VA and Kingsport, TN stores Police in Bristol, Virginia, and Kingsport, Tennessee, say a man walked out of stores without paying for a buggy full of baby formula. On Wednesday, the Bristol Virginia Police responded Walmart to investigate a shoplifting call. Police said a man driving a black vehicle stole a buggy full of baby formula from the store. Earlier this month, on Aug. 4, a man shoplifted 25 cans of Similac baby formula and a large pack of diapers from the Walmart on West Stone Drive, according to the Kingsport Police Department. The total value of the stolen property in Kingsport was $665. Loss prevention officers spotted him leaving the store; however, they were unable to successfully apprehend him. heraldcourier.com

TJ Maxx Loss Prevention apprehend suspect with $750 in merchandise in Middletown, PA Maria Smith, 27, of Trenton, was recently arrested after she allegedly stole $756 worth of merchandise from T.J. Maxx in Lincoln Plaza. Smith is charged with retail theft and possession of an instrument of a crime. trentonian.com

Austin, TX: Man arrested for trying to shoplift nearly $500 worth of dresses from Macy's A loss prevention employee with Macy's noticed the man, George Jones, stuff six dresses into a shoulder bag on the security camera located at the Domain. The employee told Austin police that he recognized Jones from previous shoplifting at other Macy's. When the employee saw Jones leave through the door, he went out to meet and stop the alleged shoplifter. After attempting to place handcuffs on Jones, he refused, which led to a struggle on the ground. The employee managed to finally handcuff Jones before he was transported to the Travis County Sheriff's Office. kvue.com

Fayetteville, N.C. Male charged with ORC
Jeffrey Brandon Merritt, 25, of the 400 block of Race Track Road, was charged Thursday with five counts of larceny, three counts of possession of stolen goods and one count each of organized retail theft. Bail was set at $15,000. fayobserver.com

Do you have an ORC case to share? Publishing it educates the LP & retail community
which might fuel even more jobs and funding.
Share your ORC news and help the industry grow


Morrow, GA: Costco evacuated, Armed Robbery suspect may have entered store The Costco in Morrow has been evacuated because an armed robbery suspect may have entered the store. Several armed robberies were reported earlier in the day. Police tracked the suspect's car to Costco. They are unsure if the suspect entered the store. The SWAT team was called to the store. cbs46.com


Baltimore, MD: State Trooper Shoots and Kills Man outside North East Walmart State police said a trooper had just finished answering a call at the auto parts store in Northeast Plaza when he recognized a man wanted on a warrant from the Cecil County Sheriff's Office. "He advised him he was under arrest, the man refused to submit, resisted and a physical altercation began between the wanted person and the trooper. This actually moved to the driver's side of the suspect's vehicle, a physical struggle was going on, the suspect was able to get his key into the ignition, get the vehicle started," said Maryland State Police, Greg Shipley. Police say they were still struggling as the suspect pulled out of the parking space. "So the trooper during this struggle as the vehicle was accelerating fired his department issued pistol and fatally wounded this individual," Shipley said. cbslocal.com


Portland, OR: Kohl's shoplifting suspects arrested after police chase, crash in Portland A pair of shoplifting suspects were arrested after speeding away from officers and then crashing into another car. Officers responded to the Kohl's store in northeast Portland's Gateway District at 9 p.m. Saturday on the report of a theft in progress. Store security provided police with descriptions of the suspects and an associated car. An officer arrived at the store, spotted the suspects' vehicle and attempted to conduct a traffic stop. Police said the driver failed to stop and led officers on a chase that they had to abandon due to public safety concerns. A short time later, an officer at Southeast 102nd Avenue and Washington Street came upon a two-vehicle crash involving the shoplifting suspects. kptv.com

Las Vegas, NV: Loss Prevention Agent stabbed several times during clash at Savers A suspected shoplifter stabbed a security guard several times during a confrontation at a central valley Savers on Thursday. Police said the suspected thief got into a struggle with a security guard about 4 p.m. The guard was stabbed several times and taken to an area hospital in serious condition, Metro supervisor Lt. Will Huddler said. Patrol officers were still searching for the suspect. reviewjournal.com




Jacksonville, FL: River City Marketplace Walmart Armed Robbery A woman who was at the store when it opened around 6 a.m. told News4Jax two men robbed the store. She said one had on a Walmart vest and had a gun. She said the other man was in a getaway car. The store was locked down for over an hour before police allowed anyone to leave. news4jax.com


Baton Rouge, LA: Police suspect same man behind three Armed Robberies
A Whitney Bank, Circle K in Baton Rouge were robbed at gunpoint Saturday morning, Subway was hit by the same suspect on Friday morning. theadvocate.com


Gainesville, FL: UPS Employee targeting Apple products Management at the UPS shipping facility located an empty shipping box that was supposed to contain a laptop. "Thankfully the management caught the alleged theft very early on with enough time to notify law enforcement and were actually still able to find that laptop listed for sale on Craigslist," says Ben Tobias, a spokesperson for the Gainesville Police Department. An internal investigation revealed that 20-year-old James Cloutier, an employee at the UPS store, was responsible for the theft, after investigators located the item being sold on Craigslist. "He quickly realized we were law enforcement and we were able to place him under arrest very quickly," says Tobias. wcjb.com



Chula Vista, CA: King's Jewelers mid-day Robbery; suspect looked "very normal" Police are looking for the suspect who robbed a California jewelry store in the middle of the day while it was full of customers. David Rossi, who owns King Jewelers in Chula Vista, said the suspect came in and looked "very normal." "One of my employees asked if he could help him and he said, no, I'm just looking around," said Rossi. Within seconds, with employees and other customers around, Rossi said the man grabbed a display case and ran out of the store. whdh.com

Kay Jewelers in the Stoneridge Mall, Pleasanton, CA the victim of an Armed Robbery One suspect entered the store at 5:oopm on Friday evening, displayed a handgun and grabbed the $16,000 diamond engagement ring from the employee.

Johannesburg, SA: Thieves steal $23,000 in cell phones in shoot-out inside mall "They were shooting like cowboys" an eyewitness has recounted seeing a group of heavily armed robbers fleeing Centurion Mall on Sunday, where they had just stolen $23,000 worth of cellphones. It was the second mall robbery in the area that day, committed an hour after the first. news24.com

Zales Outlet in Concord, CA hit by a Distraction Theft Team; loss of over $85,000 in merchandise

Terra's Sterling Jewelry in Bradenton, FL the victim of a Burglary

Kay Jewelers in the Meadows Mall, Las Vegas, Nevada hit with a Grab and Run, merchandise valued at $3,149

Amherst County, Va., Quick Change trio hits Walmart

Etowah County, AL agencies participate in Active Shooter Drills at Gadsden Mall

Lafayette, IN: Five teens arrested in Citi Trends store roof-top heist

Madison, AL: Limestone Furniture Mart owner gets 3 years prison for $118,000 thefts from customers

Sturgeon Falls, CN: West Nipissing Police "pivotal" in arrest 3 suspects in the Canadian Tire store robbery

Toronto, CN: Over 10 Suspects Arrested in Brampton Firearm Theft

UK: Mother who claimed she was assaulted by a Primark security guard in court

---

● AT&T - Bloomington, IL - Armed Robbery
● Chester's Chicken - Des Moines, IA - Armed Robbery
● Circle K - Greene, ME - Armed Robbery
● Circle K - Orange Co, FL - Shooting
● Corner Store - San Antonio, TX - Shooting
● DC Donuts - Riverside, CA - Armed Robbery
● Dollar General - Fort Wayne, IN - Armed Robbery/ Shooting
● Domino's - Rapid City, SD - Armed Robbery
● Family Dollar - Sparks, NV - Armed Robbery
● Family Dollar - Lexington, KY - Robbery
● Graeter's - Newport, KY - Burglary
● Jacob's Country - Sapulpa, OK - Robbery
● Kwik Shop - Wauconda, IL - Armed Robbery / suspect killed
● Little General - Kanawha Co, WV - Burglary
● Petro - Wichita, KS - Armed Robbery
● Rite Aid - Manchester, NH - Armed Robbery
● Rite Aid - Jersey, City, NJ - Armed Robbery
● Subway - Phoenix, AZ - Robbery
● SuperAmerica - Coon Rapids, MN - Armed Robbery
● Terra's Jewelry - Bradenton, FL - Burglary
● The Pop Shop - Greensboro, NC - Armed Robbery
● True North - Jefferson, OH - Shooting/ Police Officer injured
● Verizon - Olney, MD - Armed Robbery/ Police chase
● Winn's - Edgefiend Co, SC - Armed Robbery/ Store Owner killed
● 7-Eleven - Dale City, VA- Armed Robbery
● 7-Eleven - Dallas, TX - Armed Robbery/ store hit 2x in 2 days





To apply to today's Featured Jobs, Click Here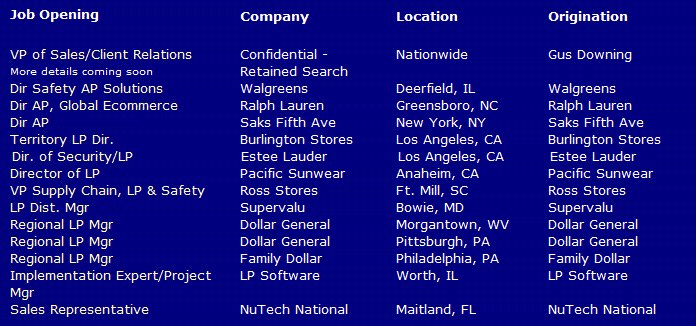 Limited Time Only - Post Your Multi-Unit LP jobs for FREE - Learn More Here




Today's Daily Job Postings from the Net - Appearing Today Only

To apply to today's Internet Jobs, Click Here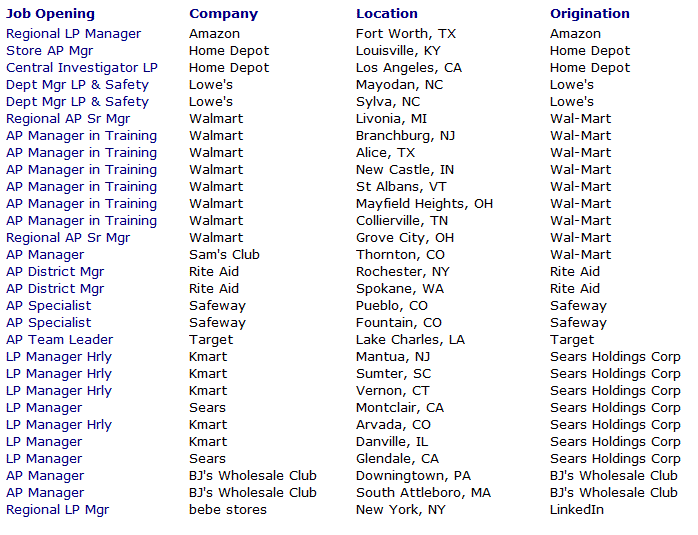 | | |
| --- | --- |
| | Joe Banaag was named District Loss Prevention Manager for Smart & Final. |
| | Jeff Sandford was promoted to Regional Asset Protection Manager - Dual Regions for Advance Auto Parts. Jeff Sandford joined Advance Auto Parts in October 2014, in the role of Manager, Asset Protection. Sandford is responsible for overseeing all AP/LP & safety management for 2 regions with 313 locations in AL, MS, LA, the Florida panhandle, & Columbus, GA DMA. Prior to Advance, Sandford was at CVS Health as a Regional LP Manager. |
| | Carla Brown was promoted to Territory Operations Manager for The Home Depot. |
| | Leo Dominguez was promoted to Territory Operations Manager for The Home Depot. |


Finding the right network into a company is critical if one expects to truly be able to compete in this job market. Going beyond the HR executives and finding the hiring managers and other decision makers and being able to communicate with them or have your network of colleagues communicate with them is important. Managing those communications is no easy task and ensuring that the information is handled correctly and expediently can be delicate.

Just a Thought,
Gus Downing




Post Your Tip or Advice! Click Here

Please make sure to add d-ddaily@downing-downing.com to your contact list, address book, trusted sender list,
and/or company white list to ensure you receive our newsletter.
FEEDBACK / www.downing-downing.com / ADVERTISE WITH THE DAILY